Peanut Butter Coconut Oatmeal Cookies (V, GF): an easy recipe for deliciously thick, chewy peanut butter cookies bursting with coconut and oats. Vegan, Gluten Free, Dairy-Free, Oat Flour, Whole Grain.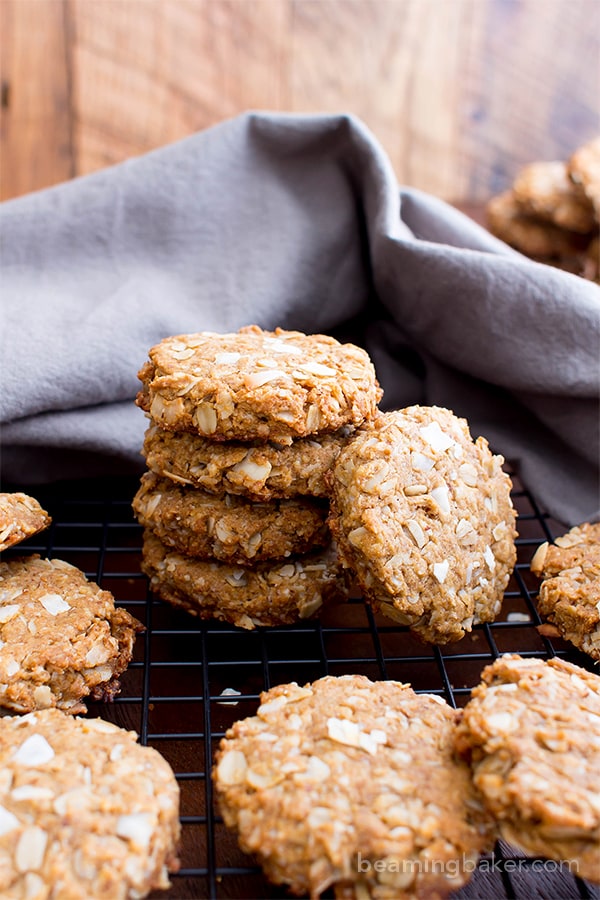 "You should be a food blogger."
"No, I don't think so… It's really, really hard. It takes someone who's a kitchen genius, a wizard with words, someone who's great at photography. Someone… who isn't me."
I heard the first line many times over, during the course of about two years, when my life was hard, when things never seemed to work out… when I truly didn't believe in myself.
The second line I said to others and to myself, many times over, during the course of those two years, convincing myself that I could never be what I wanted to be, do the things I wanted to do… achieve the dreams I was too afraid to even think about.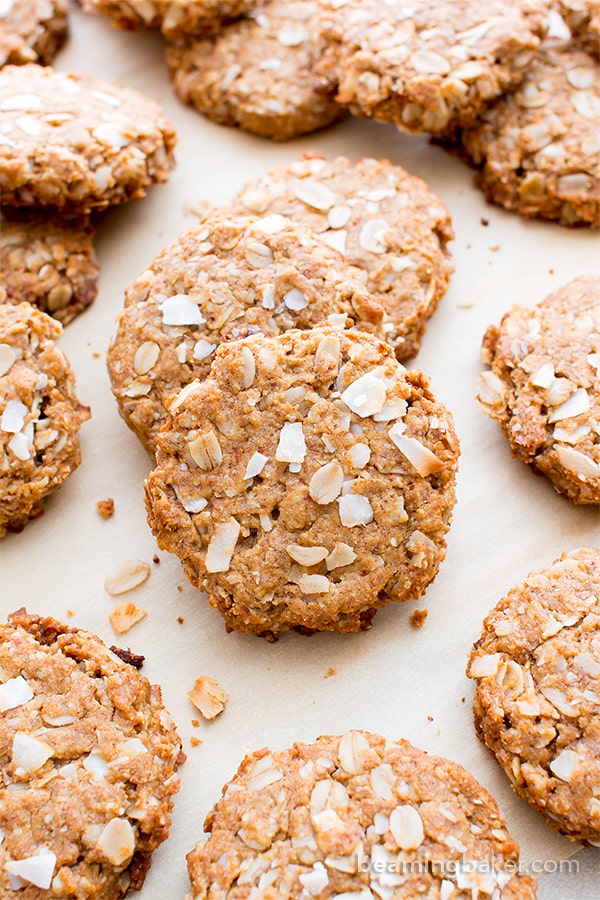 Back then, Erik and I were living in San Diego, dealing with a lot of family issues, tragedy and heartbreaking loss. It was a dark period for my mom, my sisters, Erik and our families. Not one day passed where I didn't think for a moment that things would never truly get better.
Throughout that time, I had baking. And baking had me. I took solace in our tiny, hot—like 110 degrees hot—kitchen, baking until I could bake no more. My mom, who went through so many days full of tears, heartache and despair, would actually light up when I presented her with a baked treat. Made just for her.
Erik would laugh for the first time in ages because of some silly thing I did in the kitchen (spilled almond butter all over the counter & myself; made cookies the size of M&M's just for kicks; drizzled chocolate into the form of Homer J. Simpson to make him smile).
My sisters would call the second they saw the surprise on their doorsteps: a care package of 4 different kinds of cookies and candy, made to show them how much they mattered. How much they were loved.
During that time, I baked everyday. And everyday, I would take photos on my tablet and send them to my sisters. And everyday, I would hear, "You should be a food blogger."
And everyday, I would read my favorite food blogs and dream about the day that I might take the chance.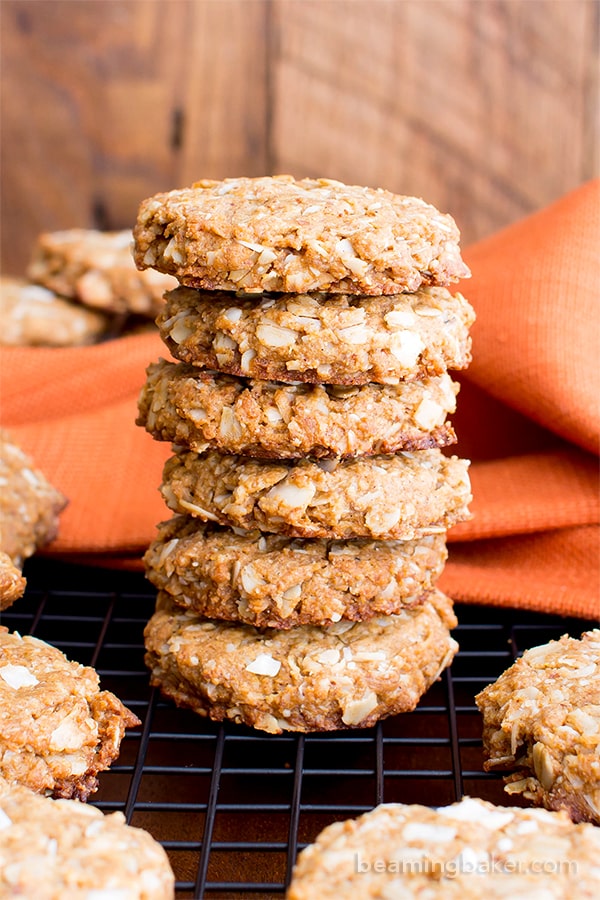 But I doubted myself. I doubted my writing, my kitchen skills, my photography, my everything. I had never taken a chance on myself and proven that risk, that faith, that passion (and hard work) can amount to more than other people's expectations and pressures.
I felt this pull to do something more; but I also felt the weight of doubt that had been drilled into me from a very young age. I wanted to pursue this passion, but I was too afraid of how I might fail. Epically.
A little over a year ago, I realized that life is just too damn short to hold back. It's too damn short to live in fear of failure. It's too damn short to not just try.
Since I made the decision to take the leap, everything has changed. Some things more slowly, and other things, very quickly. Every day is full of fear, doubt, and stress. But it's also full of risk, adventure, and happiness.
In less than one year, Beaming Baker reached over 1 million views. In less than one year, Beaming Baker's Instagram account reached over 20,000 followers. In less than one year, Twitter—wait a minute, forget Twitter. That one's better left in the back of the closet. 😉
In less than one year, you shared over 100 photos of Beaming Baker creations on Instagram–made with your own hands, in your own kitchen, and so full of love. In less than one year, you showed me what it really means to connect. To grow, to love, to be a community—all through our shared passion for food and for creating… everything.
We took all of our doubts, our worries, our regrets and baked (and no-baked) until they disappeared. We learned how to bake better, create more openly and pursue our passions. Together.
Thank you. Thank you for showing me and each other that we can be enough. Inside of the kitchen and out.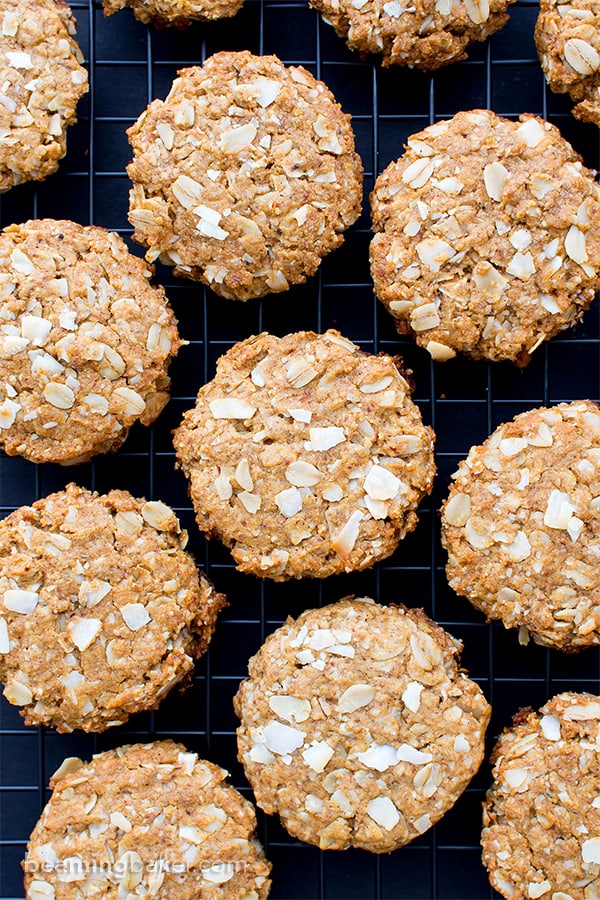 Everyday, I learn more about myself. I learn that I'm enough—that I'm worth the risk and the effort. The things I care about and the things I've always had a passion for—they mean more than pleasing someone else, or meeting someone else's expectations.
I've never worked so hard in my life. I've never met so many amazing people. I've never betted on myself and found myself to be enough. Until now. Beaming Baker is now 1 year and 1 month old. There is so much more to see, experience, share and laugh about.
I hope that you stay with me, grow with me, and take the risk and make the leap you've been too afraid to take. You're stronger than you know. And you're totally worth it.
So instead of celebrating with cake (like we're "supposed" to, I think), we're gonna make COOKIES. Let's face it, cookies are one of my very true loves in life (don't overthink it, Erik). 😉
Just about a year ago, I published this recipe for Peanut Butter Coconut Oatmeal Cookies and fretted over what people would think. I had such a blast photographing it, but was very unsure of what direction to go in. Did people want to see the cookies on the sheet? How do I take a photo of a stack of cookies on a plate? Why didn't I stay awake during that one photography tutorial??
This year, we return to this recipe. A bit more sure of ourselves. 🙂 This time, we're gonna enjoy a big, warm plate, with an ice cold glass of almond milk (or steaming hot coffee, because: duh).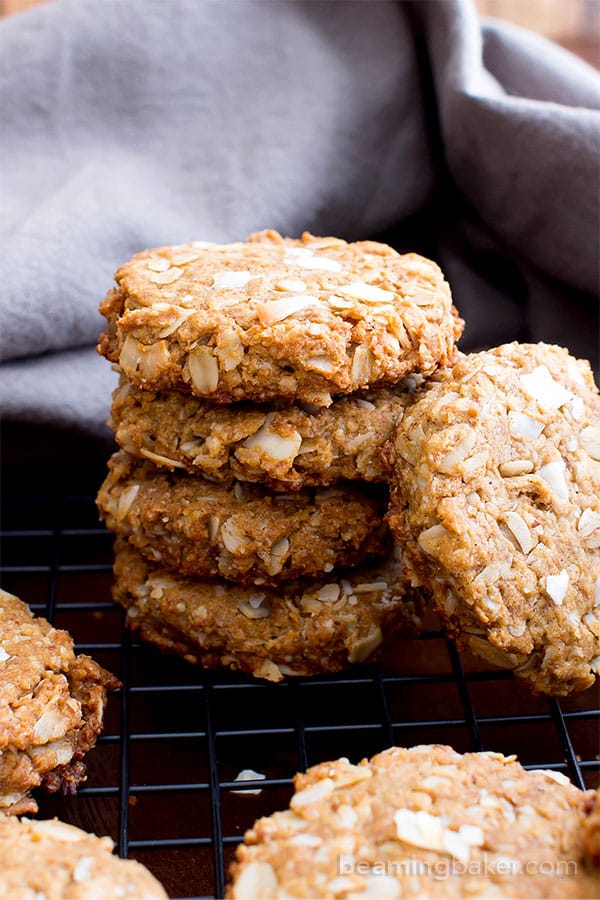 The best thing about these cookies? They're even better than they look.
Allow me to tell you all about them. These Peanut Butter Coconut Oatmeal Cookies are:
crispy on the outside, chewy on the inside
packed full of oats, coconut and peanut butter
vegan, gluten free, dairy-free and whole grain
totally flourless, because oat flour doesn't count (don't ask me why)
super easy to make
the perfect balance of your favorite flavors
texture-rich, 'cuz ya know that's how we roll
packed with protein goodness
perfect for an energy-boosting snack or dessert
plant-based and allergy-friendly
bursting with YUM, as confidently as ever, for our 1 year anniversary
Will you grab two bowls, a few ingredients and your brightest, most beaming smile… and join me in the kitchen? It's time to make some edible-awesome magic. Thank you for spending time with me, baking, no-baking, blending, loving, opening up, and sharing All the Things.
I can never express to you how grateful I am that you're here.
Sending you all my love and maybe even a dove (forever and always), xo Demeter ❤
☀︎ Click below to Pin ☀︎

☀︎ Did you make this recipe? Take a pic and share it on Instagram with the hashtag #beamingbaker and tag @beamingbaker. I would love to see it! ☀︎
Print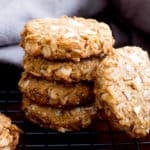 Peanut Butter Coconut Oatmeal Cookies (Vegan, Gluten Free, Dairy-Free, Whole Grain)
---
Description
Peanut Butter Coconut Oatmeal Cookies (V, GF): an easy recipe for deliciously thick, chewy peanut butter cookies bursting with coconut and oats. Vegan, Gluten Free, Dairy-Free, Whole Grain, Oat Flour.
---
Scale
Ingredients
Dry Ingredients
1 ½ cup

s gluten free rolled oats

½ cup

gluten free oat flour

½ cup

almond meal

1 cup

unsweetened coconut flakes or shreds

¾ teaspoon

baking soda

¾ teaspoon

baking powder

1 teaspoon

ground cinnamon

¼ teaspoon

salt
Wet Ingredients
1 cup

natural, unsalted creamy peanut butter

¼ cup

melted coconut oil

½ cup

coconut sugar

¼ cup

pure maple syrup

2

flax eggs (

2 tablespoon

s ground flax +

6 tablespoon

s water, whisked together, set for 15 mins)

1 teaspoon

pure vanilla extract
---
Instructions
Preheat oven to 350°F. Line a cookie sheet with parchment paper or greased foil. Set aside.
In a medium bowl, whisk together the dry ingredients: oats, oat flour, almond meal, coconut, baking soda, baking powder, cinnamon and salt.
In a large bowl, whisk together all the wet ingredients: peanut butter, coconut oil, sugar, maple syrup, flax eggs and vanilla.
Add the dry mixture to the wet mixture. Using a rubber spatula, stir and fold until well incorporated.
Scoop 2 tablespoon-sized cookie dough balls onto the cookie sheet, spaced evenly apart. Using a fork, flatten cookies to desired thickness—they won't spread much during baking.
Bake for 10-14 minutes. Using a heatproof spatula, gently lift and transfer cookies to a cooling rack. Allow to cool completely. Enjoy! Storing instructions below.
---
Category:

Cookies, Vegan, Gluten Free, Dairy-Free, Whole Grain, Oat Flour
© beamingbaker.com. All content and images are protected by copyright. Please do not use my images or recipe without my permission. If you wish to republish this recipe, please re-write the entire recipe using your own words and include a link to this post for the recipe.
☀︎ More Vegan Gluten Free Cookie Recipes
If you love my Peanut Butter Coconut Oatmeal Cookies, you'll just love these:
Peanut Butter Chocolate Chip Oatmeal Cookies | No Bake Fruit & Nut Cookies | Dark Chocolate Almond Trail Mix Cookies | Good Morning Breakfast Cookies | Peanut Butter Chocolate Chip Oatmeal Breakfast Bars | Double Chocolate Chip Oatmeal Cookies | 4 Ingredient No Bake Peanut Butter Coconut Cookies | Gluten Free Vegan Oat Flour Chocolate Chip Cookies | Easy Gluten Free Vegan Oatmeal Raisin Cookies
This post may contain affiliate links, which allow me to make a small commission for my referral, at no additional cost to you. Thank you for supporting Beaming Baker.
Facebook ☀︎ Pinterest ☀︎ Twitter ☀︎ Instagram