Keto Coconut Macaroons – 3 Low Carb Recipes!
Chewy, soft centers, lightly crisp edges, and bursting with coconut flavor, these keto coconut macaroons are the best low carb macaroons!
Magically Delicious Keto Macaroons!
Oh goodness, did I go deep into a rabbit hole looking up the term "magically delicious" today. Let's just say there's an irresistible remix of this song and I can't look/listen away. Meanwhile, let's get into the magic that is today's keto macaroons! These low carb coconut macaroons are perfectly baked, with moist and chewy centers bursting with coconut deliciousness and crisp edges… all made with keto-friendly ingredients. Ready to bake this? Let's go!
Just 4 Ingredients to Make the Best Keto Coconut Macaroons
All you need are 4 keto ingredients to make the best keto coconut macaroons! These simple ingredients are most likely already in your pantry.
Unsweetened Coconut – be sure to use unsweetened coconut for this recipe, as using the sweetened version will jack up the carbs, and render your keto macaroons not keto-friendly.
Coconut Flour – if you've been on the keto diet for a while, then you probably already have a big bag of coconut flour in your kitchen. Coconut flour is one of the key ingredients to keto macaroons because it's low carb, has a subtle coconut flavor, and works so beautifully with just 2 tablespoons in the entire recipe.
Coconut Oil – Another fantastically low carb ingredient that just so happens to be another coconut-derived component of these macaroons. Coconut oil is fun because it's keto-friendly and it adds in another coconut flavor boost to your keto macaroons.
Keto Honey – one of my favorite keto pantry items to date. This keto honey adds a thickened liquid sweetener that's just right for many of my keto-friendly recipes. It's low carb and so delicious.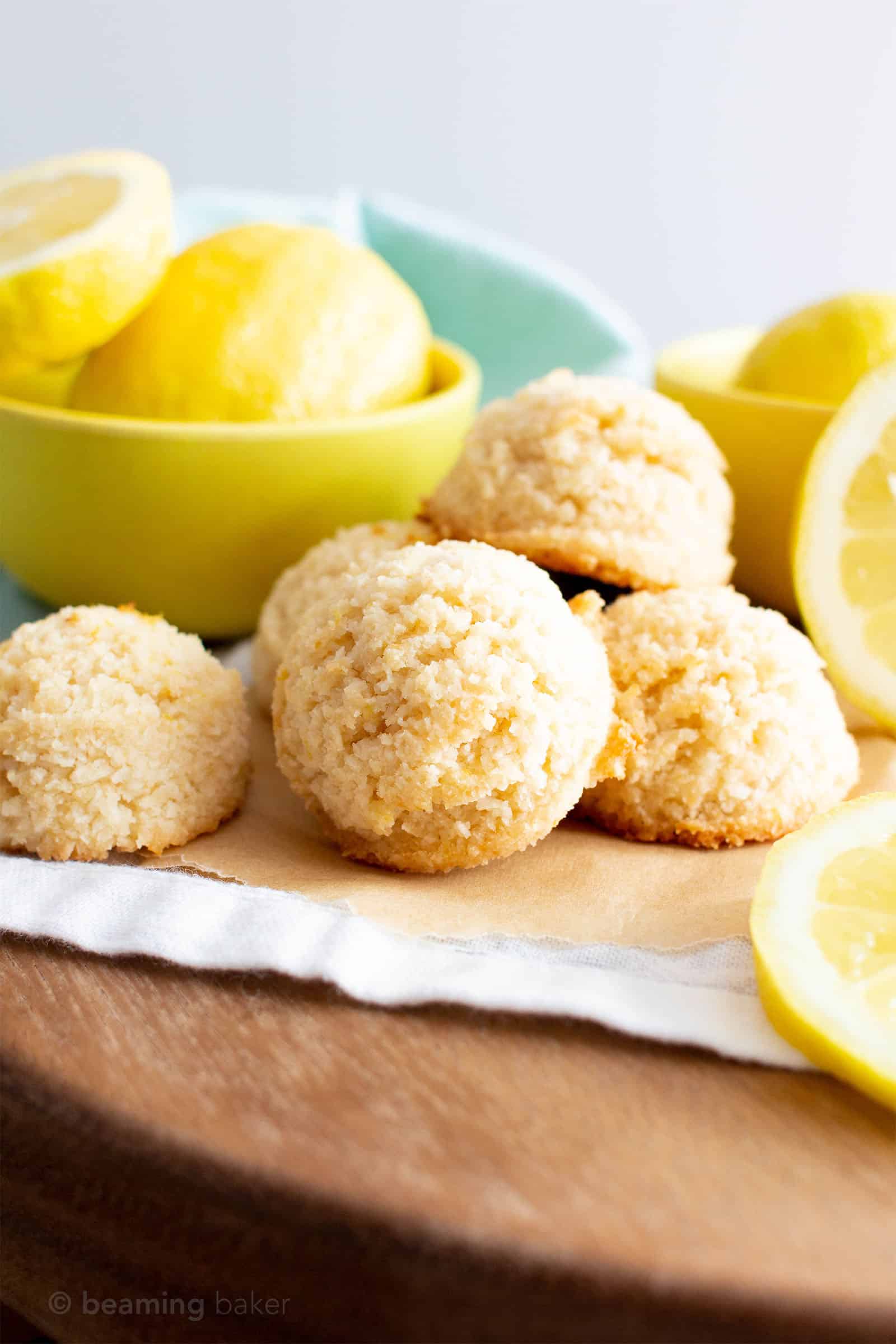 How to Make Low Carb Coconut Macaroons
It's so easy to make low carb coconut macaroons that you'll be dumbfounded that you're already done preparing the dough before you know it!
First things first, go ahead and preheat your oven to 350°F. Then, you'll grab your favorite baking sheet and line it with parchment paper or lightly greased foil (just enough to be evenly coated, not so much that it affects the recipe).
Then, you'll add shredded coconut, coconut flour, solid coconut oil and keto honey into a good food processor. Hit the blend button and process all the ingredients together until you get a thick, sticky macaroon dough. Be sure to stop in between processing to scrape down the sides of the food processor bin and scoop up any bits of honey or oil that's stuck on the bottom.
Once your dough is ready, grab a cookie scoop and pack the dough into tight balls in the scoop. Release those keto macaroons balls onto the prepared baking sheet, making sure to keep all of them evenly spaced apart.
Bake for about 14 minutes, then remove the sheet from the oven and place it on a cooling rack. Cool, then enjoy the best keto macaroons!
3 Ways to make Keto Macaroons
Classic Coconut Keto Macaroons
If you love the classic flavor of coconut macaroons, then try this base recipe for macaroons. These macaroons have crispy edges, moist and super coconutty centers, and are made with just 4 ingredients. Get the recipe & more details here>>> Keto Coconut Macaroons or check out the recipe card below.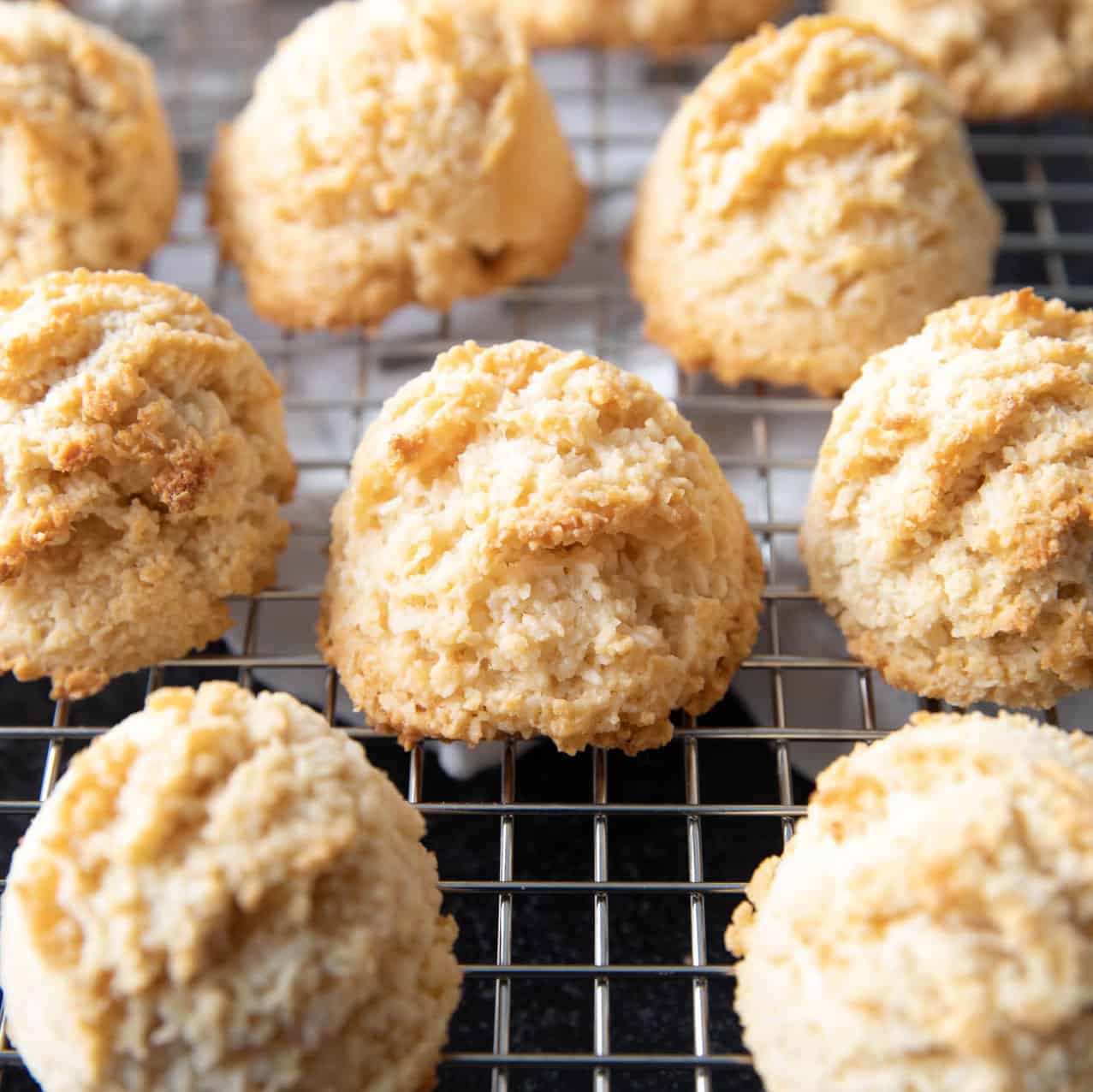 Lemon Keto Macaroons
Bright lemon flavor three delicious ways in these amazing lemon low carb macaroons, with lemon zest, lemon juice and lemon glaze.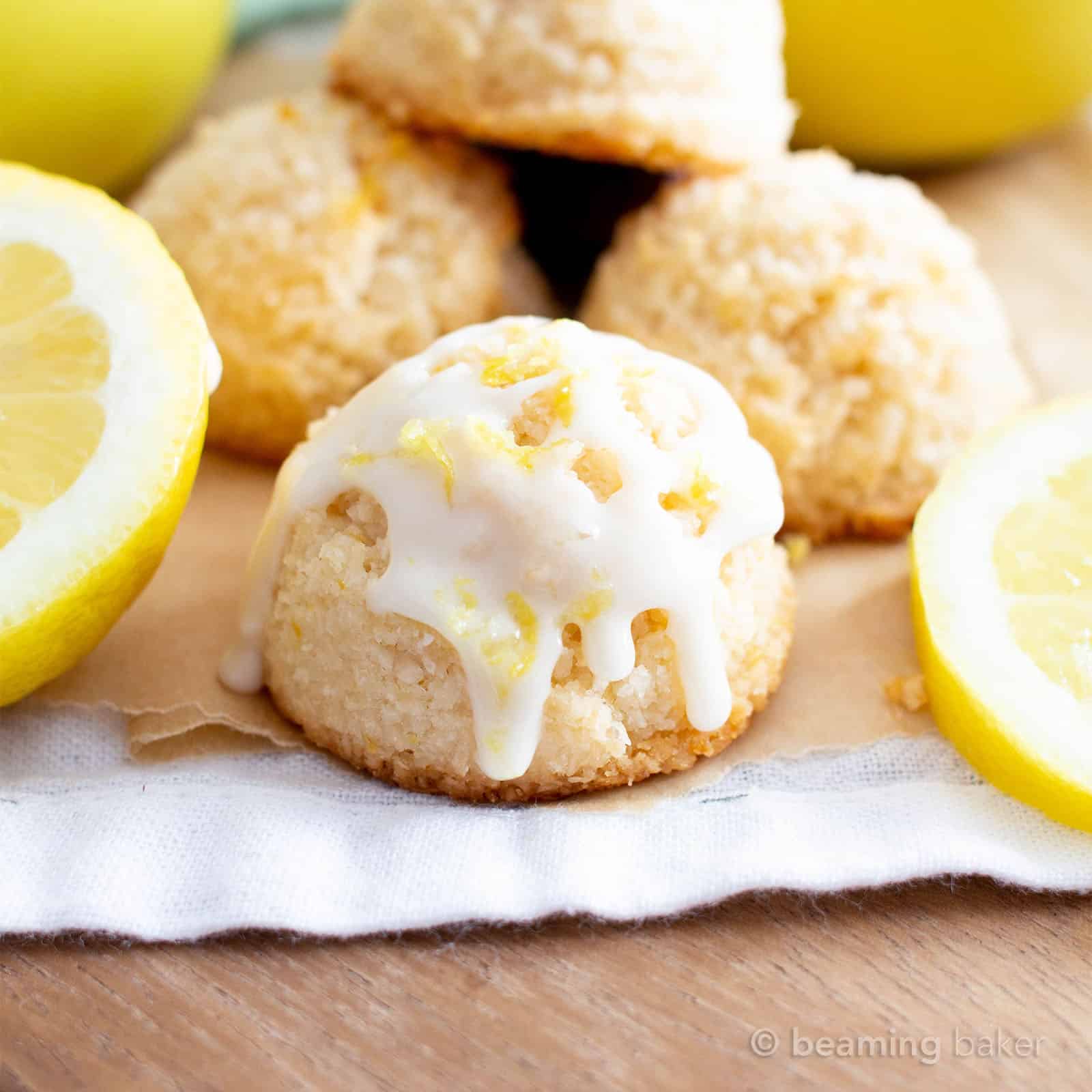 Double Chocolate Keto Coconut Macaroons
So much chocolate, so little time… Cocoa Keto Chocolate Macaroons made with melty chocolate chips for twice the chocolate love. These keto macaroons are bursting with deep chocolate flavor that pairs beautifully with sweet coconut deliciousness.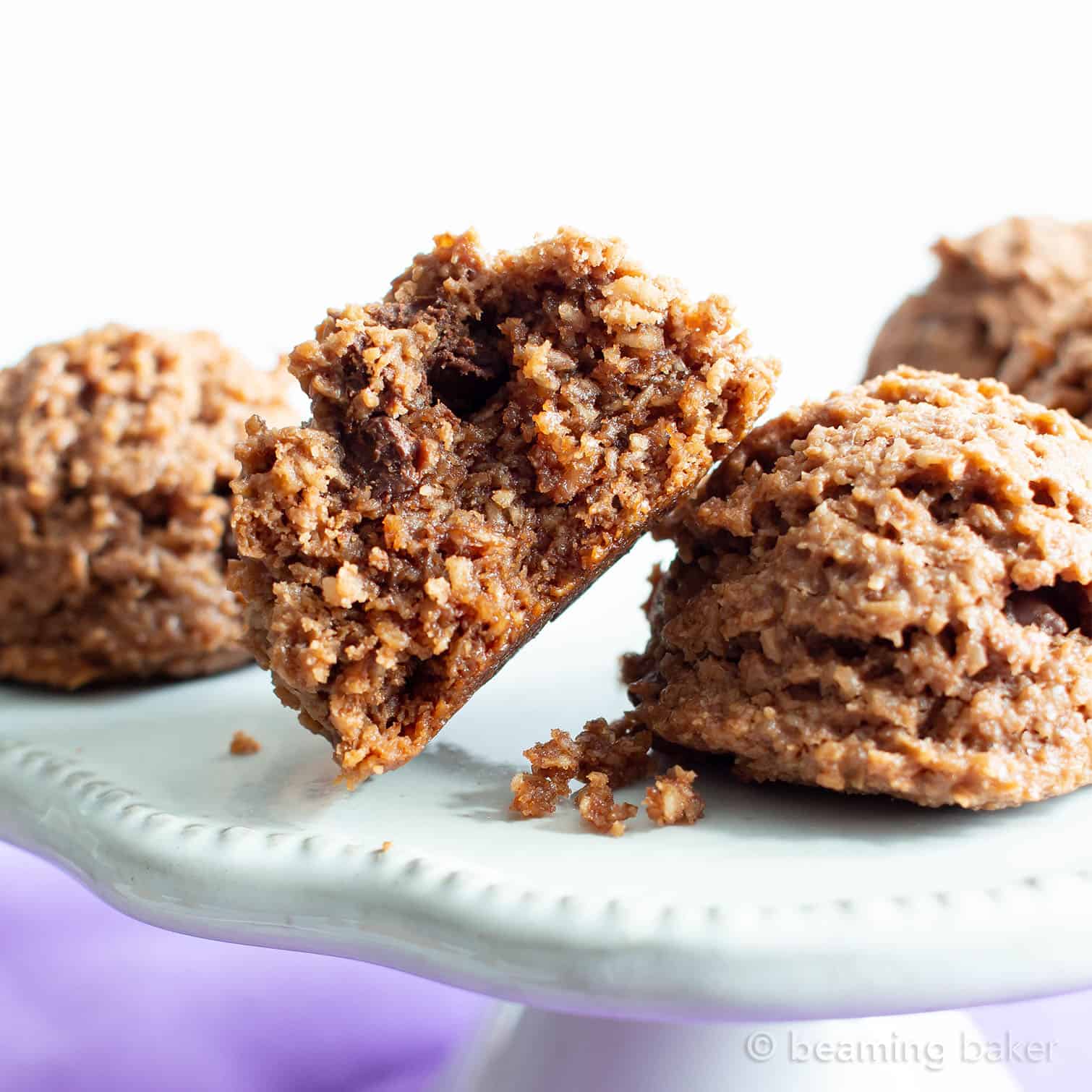 Deliciously chewy low carb coconut macaroons made with keto-friendly ingredients and big coconut flavor.
Keto & Coconut Recipes You Need to Try, Like Right Now.
Here are some of my very favorite keto recipes ever! Some of them have coconut, some of them don't. Enjoy!
Tools You Need
Keto in the Morning, Keto in the Evening… Keto Macaroons all the Time!
Admit it, you went and listened to the song! And you came back to me? Yay!! Thanks for stopping by and enjoying in the keto-magic that is today's coconut macaroons. If you make 'em, be sure to take a pic and share it on Instagram, tagging @beamingbaker. I can't wait to see it! 'Til our next sweet adventure…
Sending you all my love and maybe even a dove, xo Demeter ❤️
🥥 📸 🌴
📸 Did you make this keto macaroons recipe? Take a pic and share it on Instagram with the hashtag #beamingbaker & tag @beamingbaker. I'd love to see it! 📸
Print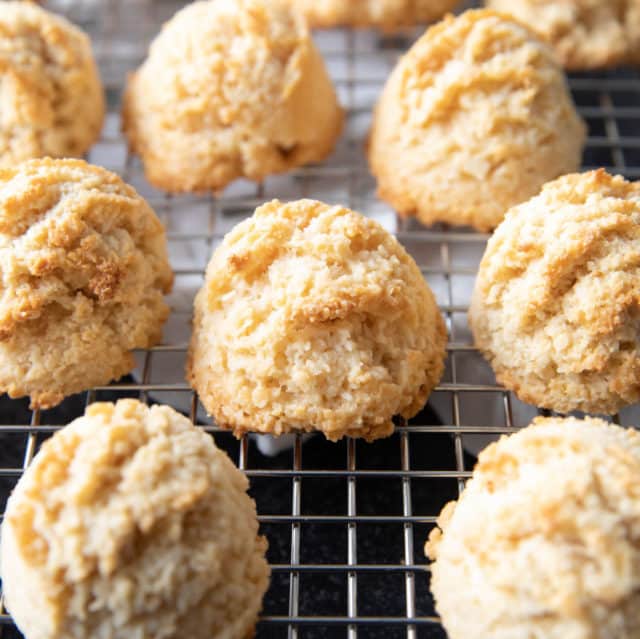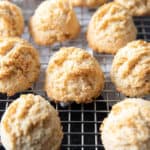 Keto Coconut Macaroons – 3 Low Carb Recipes!
---
Description
Chewy, soft centers, lightly crisp edges, and bursting with coconut flavor, these keto coconut macaroons are the best low carb macaroons!
---
For Classic Keto Coconut Macaroons
VARIATIONS:
For Keto Lemon Macaroons:
Add to the Classic macaroon dough:

1 tablespoon

fresh lemon juice

1 ½ tablespoons

lemon zest

After cooling, whisk this glaze in a small bowl and drizzle over lemon macaroons:
For Double Chocolate Keto Macaroons:
For the Dough:

1 ¼ cups

unsweetened small coconut flakes

2 tablespoons

finely ground, blanched almond flour

2 tablespoons

unsweetened cocoa powder

3 tablespoons

solid coconut oil

¼ cup

keto honey

After dough is prepped, fold in or blend in:
---
Instructions
Preheat oven to 350°F. Line a baking sheet with parchment paper or greased foil. Set aside.
Add small coconut shreds and coconut flour to the food processor. Give the bin a shake to create a smooth, even layer. Make sure to use small coconut shreds, as large ones will result in flat, spread out cookies.
Add solid coconut oil and keto honey to the food processor.
Blend until you get a thick and sticky mixture that holds together, with smaller, but still noticeable coconut pieces. Scrape down the sides of the food processor as needed. The keto honey is very thick and sticky, so you'll need to use a bit of arm muscle to scrape it off the walls of the food processor.
Using a medium cookie scoop, scoop firmly-packed balls of coconut mixture onto the prepared baking sheet, making sure to space balls evenly apart. Cookies will inflate and enlarge just a bit as they bake.
Bake for 12-16 mins, until golden around the edges and slightly golden on top. Mine took 14 mins for large ones.
Place baking sheet onto a cooling rack and allow cookies to cool for 5-10 minutes, until firm. Using a heatproof spatula, transfer cookies directly onto the cooling rack to cool completely, about 30 mins-1 hour. Enjoy! Storing instructions below.
Equipment
Notes
*You must use small coconut flakes for this recipe. The coconut flakes should be the size of sprinkles, or about half a grain of rice. Large coconut flakes will result in flat, spread out cookies (not like the round macaroons you see in the pictures). Here's the small, shredded coconut that I use.
**Solid coconut oil is best for this recipe. Using melted coconut oil will result in smaller macaroons.
Storing Instructions: Store in an airtight container for up to 1 month at room temperature.
Freezing Instructions: If freezing, store in an airtight, freezer-friendly container for up to 2 months. Allow to thaw for 15 minutes before enjoying
Additional Notes: You can easily double the batch to make more cookies! For smaller cookies using a small cookie scoop, bake for 11-13 mins.
Prep Time:

15 minutes

Cook Time:

14 minutes

Category:

Dessert

Method:

Bake

Cuisine:

American
Keywords: keto macaroons, keto coconut macaroons, low carb coconut macaroons
© beamingbaker.com. All content and images are protected by copyright. Please do not use my images or recipe without my permission. Please do not republish this recipe, instead, include a link to this post for the recipe.
Wanna help grow the Beaming Baker community? ☀️
You play such an important part in the livelihood of Beaming Baker–and just know that Erik and I truly appreciate it. 🧡 If you want to help grow the BB community, you can do the following:
📝 Leave a comment & rating. When you try a recipe, leave a comment and star rating to let us know how you liked the recipe. It truly helps all of our readers discover which recipe works best–and keeps us going in the right direction.
📸 Instagram. Made a recipe? Take a photo and share it on Instagram with the tag #beamingbaker and tag us at @beamingbaker. It makes our day to see how the recipe turned out for you!
👭 Tell a friend. You know when you love something, you can't help but tell others about it? If you love any of the recipes on Beaming Baker, tell a friend. 🙂 It truly helps to grow the BB community. ☀️
This post may contain affiliate links, which allow me to make a small commission for my referral, at no additional cost to you.