Mango Coconut Popsicles (Vegan, Gluten Free, Dairy-Free, Paleo, 3 Ingredient)
Mango Coconut Popsicles (V, GF, DF): a 3 ingredient recipe for creamy and refreshing popsicles packed with mango and coconut! Paleo, Vegan, Dairy-Free, Gluten-Free.
Remember when you were in 1st grade and you were asked the super hard, age-old question: what does ______ mean to you? And told to insert super heavy topic in the blank.
Well, every summer, I think about what summer means to me. I've happily removed the heavy topic, and replaced it with a lighter, frothier (or something), more playful alternative.
To me, summer is just like these Mango Coconut Popsicles. They're easy, enjoyable, fun and carefree. Yep, popsicles can totally be carefree. Don't you agree? (Apparently, if you don't, I won't stop rhyming.)
Anyway, back on point, summer feels like that wonderful opportunity you've been waiting for all year—to relax, to slow down, to just let go a bit. Like, the beginning of the year is when you've got to get your engines going—you're in the mood to start new projects and change something you weren't happy about last year.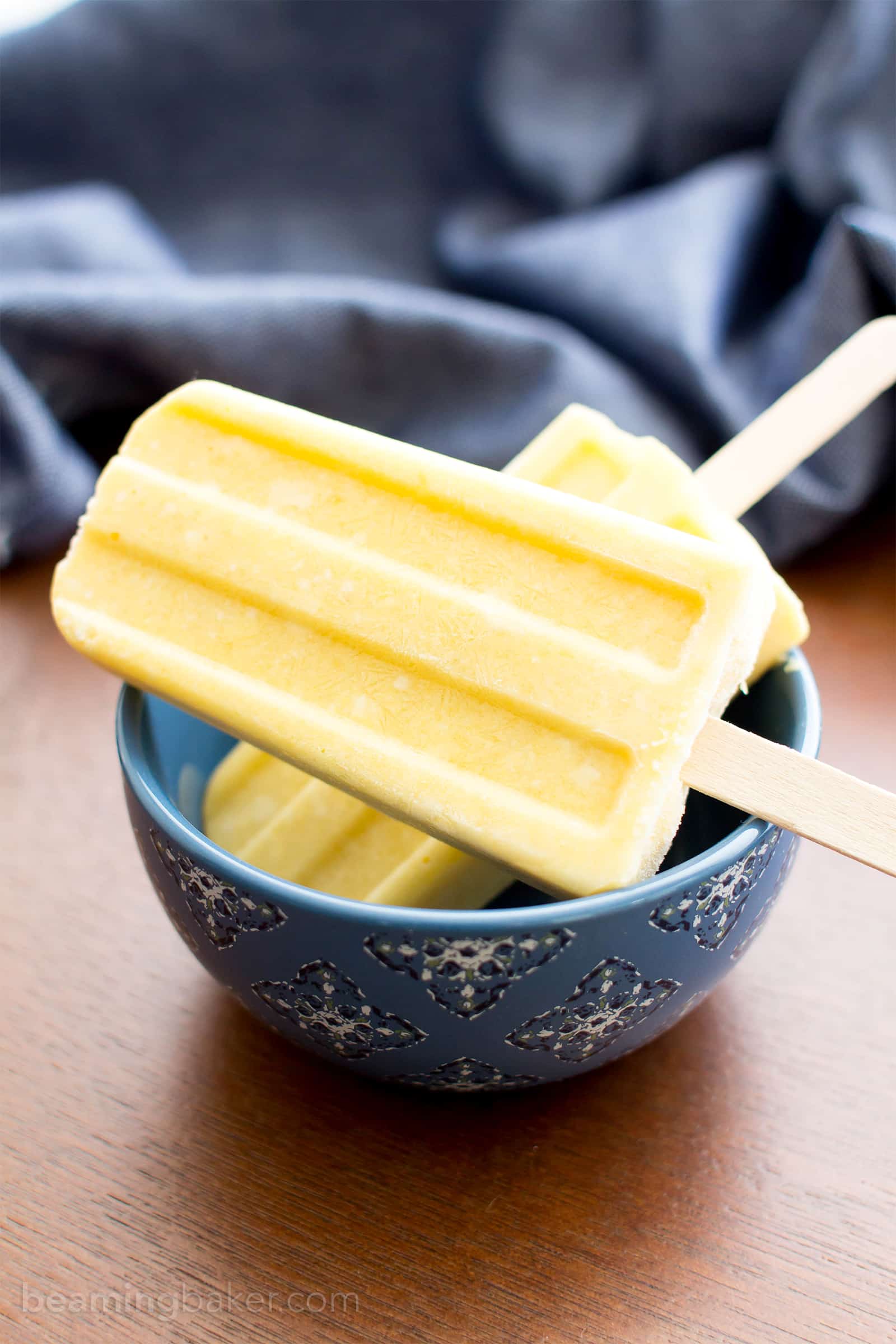 Spring is when those new projects have evolved into something permanent, part of your routine… or you've chucked those ideas that you realized were crazy (happens to me and Erik every year).
And fall/winter is when you start getting cozy, but you also have to dive into all kinds of social events/social planning/making all the things happen for the holidays.
But summer. Oh, summer…. filled with peanut butter ice cream and strawberry coconut sorbet. Can you feel my happy sigh right here?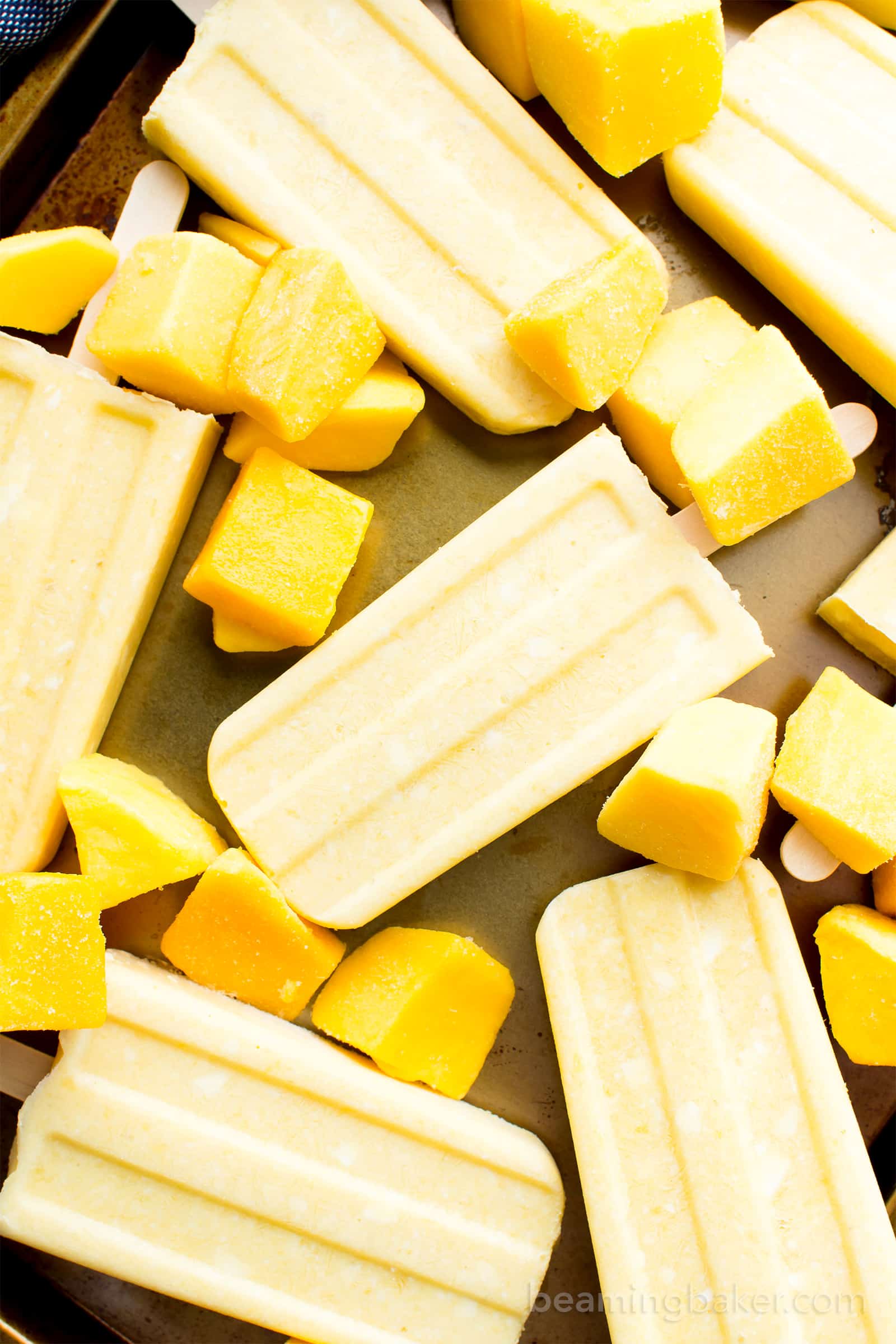 Summer is that resting point, that hammock swinging lightly between two palm trees, that lazy afternoon picnic paired with an afternoon nap in the sun, that day off from work where you sleep in and treat yourself to a new book plus those shoes you've wanted forever… that quiet moment when you're just soaking it all in.
Summer is fresh mangoes and coconuts all beautifully blended up into two popsicles each… just to fuel up and cool down for the next 20 minutes of playing tag on the wet lawn.
This summer, I hope you get to turn off your alarms for a bit, set your mind to vacation mode, and indulge in some of the fun, special, sweet things you've held off on.
Because you totally deserve it.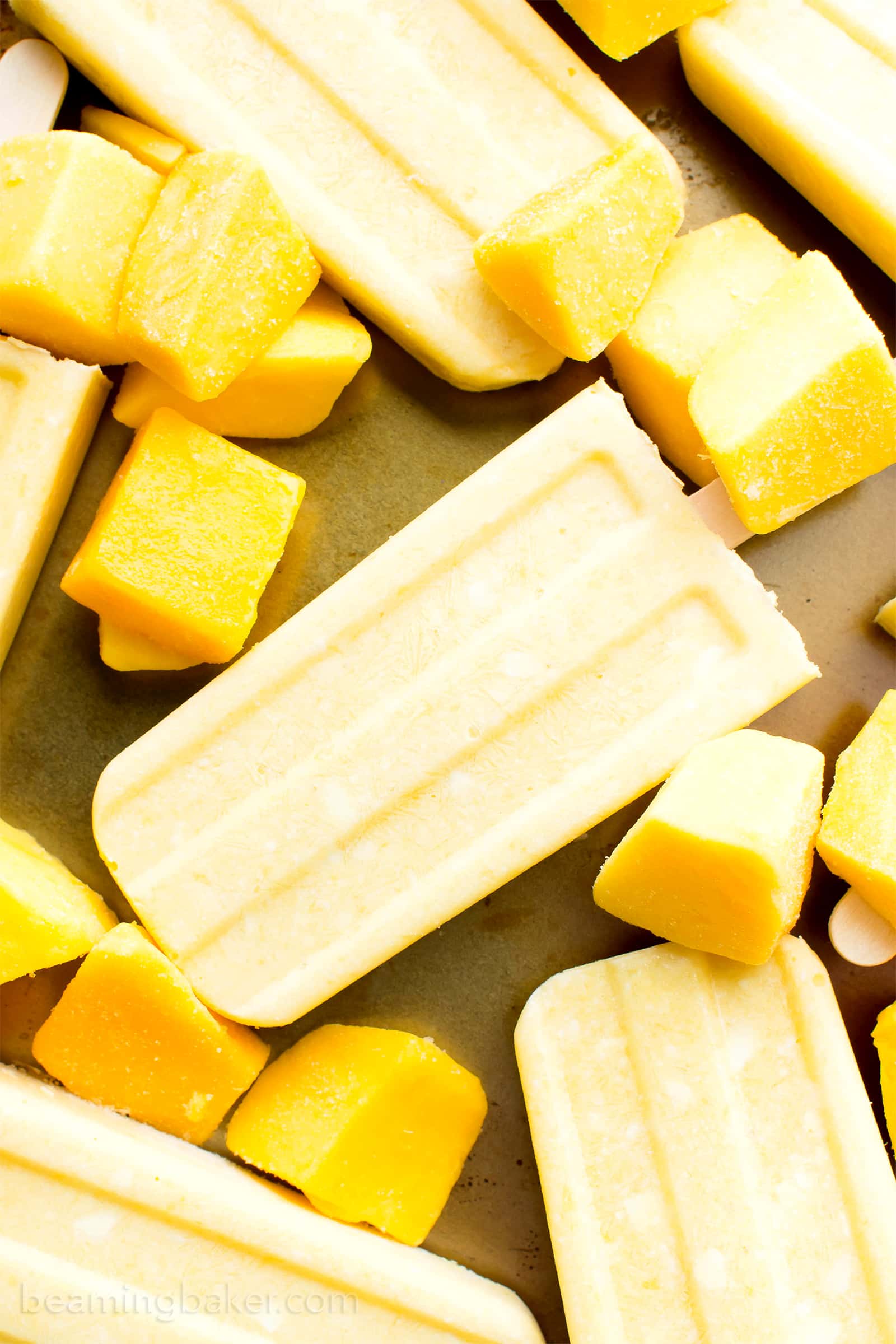 I hope you share some of your summer plans with me below. While I wait to hear all about it, let me tell you about my Ode to Summer popsicles… otherwise known as my Mango Coconut Popsicles. They're:
the perfect balance between creamy and fruity
made with just 3 ingredients (or 4, if ya use the maple syrup)
prepared in just 5 minutes
super fun to make in this amazing popsicle mold ☺
vegan, gluten free, dairy-free, paleo
refreshing, cool (what with it being frozen), and perfect for the summer heat
made with the healthy, whole ingredients you love
wonderfully refined sugar-free
plant-based and allergy-friendly
perfect for dessert, an afternoon snack, or even a cool breakfast (because: summer!)
So… what does summer mean to you? Let's grab our 4 ingredients and head to the kitchen! It's about time to get our summer YUM on! It's the very best feeling to be making these homemade treats with you. I'm so grateful for our little Beaming Baker community. 🙂 I can't wait to hear what you think, see your snaps on Instagram and more. While I wait, tell me:
What's your favorite summer activity?
Sending you all my love and maybe even a dove, xo Demeter ❤
☀︎ Click below to Pin ☀︎

☀︎ Did you make this recipe? Take a pic and share it on Instagram with the hashtag #beamingbaker and tag @beamingbaker. I would love to see it! ☀︎
More Frozen Desserts & Mango Treats
Print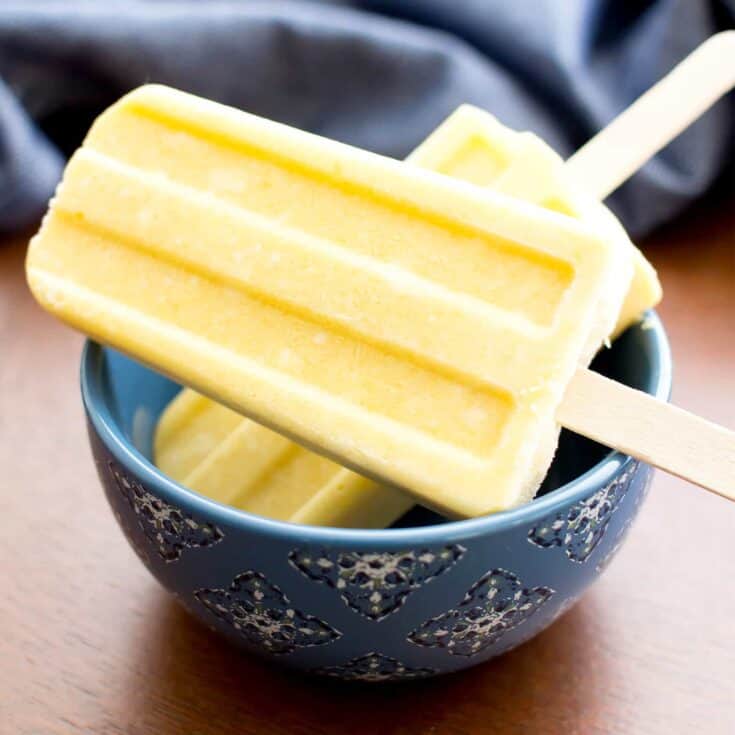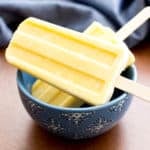 Mango Coconut Popsicles (Vegan, Gluten Free, Dairy-Free, Paleo, 3 Ingredient)
---
Description
Mango Coconut Popsicles (V, GF, DF): a 3 ingredient recipe for creamy and refreshing popsicles packed with mango and coconut! Paleo, Vegan, Dairy-Free, Gluten-Free
---
---
Instructions
Add mangoes to a blender or food processor. Blend until crumbly.
Add coconut milk and maple syrup (if using), blending until smooth. Scrape down the sides of the blender as needed. Add coconut and pulse a few times, until well mixed.
Pour this mixture into a popsicle mold. Make sure to leave about ¼" of space at the top of the mold to allow the popsicles to expand in the freezer. Insert popsicle sticks into the mold, or follow instructions for your mold.
Freeze for 6-8 hours.
Remove from freezer. If needed, allow to thaw for a few minutes. Run popsicle mold under a bit of lukewarm water to help them loosen.
Place the popsicle mold on a flat surface and wiggle the popsicles out. Enjoy!
Adapted from my Mango Coconut Ice Cream and Pineapple Coconut Sorbet recipes.
More Delicious Frozen Desserts
Equipment
Notes
Store in an airtight container in the freezer for up to 1 week. Before serving, allow to thaw for about 5-15 minutes. Scoop and enjoy!
Here is the amazing popsicle mold that I use and love. 🙂
Category:

Frozen Desserts, Popsicles, Paleo, Dairy-Free, Vegan, Gluten-Free, Refined Sugar-Free
© beamingbaker.com. All content and images are protected by copyright. Please do not use my images or recipe without my permission. If you wish to republish this recipe, please re-write the entire recipe using your own words and include a link to this post for the recipe.
If you enjoyed this Mango Coconut Popsicles recipe, then you'll just love these plant-based, allergy-friendly recipes:
Facebook ☀︎ Pinterest ☀︎ Twitter ☀︎ Instagram