No Bake Cranberry Coconut Energy Bites (Vegan, Gluten Free, Dairy Free)
No Bake Cranberry Coconut Energy Bites (V, GF, DF): just 7 simple ingredients for delicious protein-packed energy bites. Vegan, Gluten Free, Dairy Free.
These No Bake Cranberry Coconut Energy Bites taste like a burst of fresh, delightfully textured and energy-pizzazzing portable awesomeness. Just sayin'. But before I sing their praises, here's the wedding update (from my sister Penny's wedding) that I promised. 😉
Remember how I told you guys about my sister getting married this summer? Well… it happened. And it was amazing. I'll be honest (as if that were a non-regular occurrence for the likes of me), I'm not really one for weddings. Yes, even if there were sparkly pink bowler hats involved.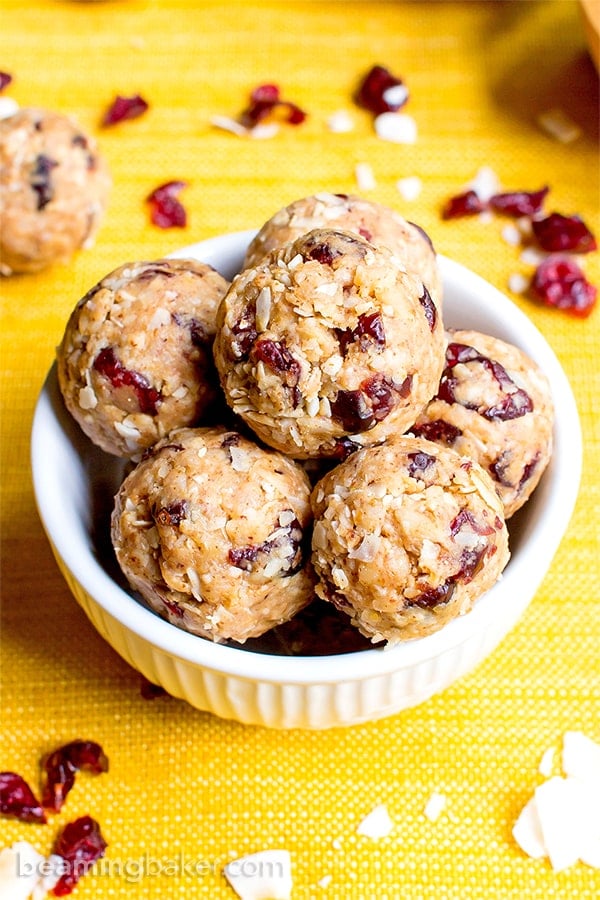 They're usually a tad (or A LOT) stressful, there's so much tension, pressure, expectations shooting from one person to another, and the whole "where are you in your life" status check that immediately devolves to "you suck." Gee, thanks!
But you know what? This wasn't that. At all. It was a true celebration of love, kindness, happiness, support and community. My sister Penny and I live really far from each other. Make that nearly 3,500 miles apart. Being the amazing sister that she is, I always worry that she's not as happy or as loved as she deserves. She's the type to give everything and not say a word about getting anything in return.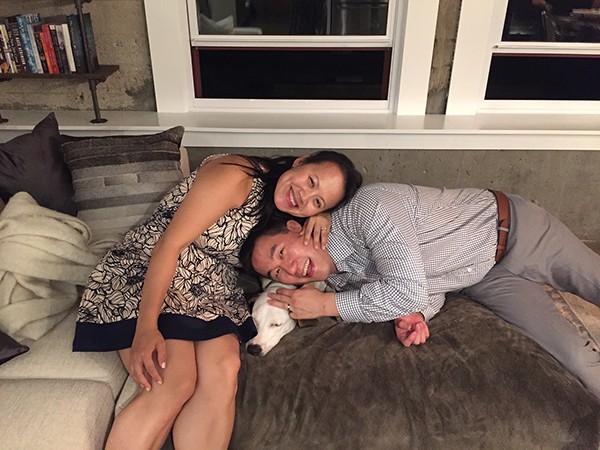 After everything I saw and experienced, I know that I have nothing to worry about. You guys, she has the MOST amazing friends and community. If you've ever seen Friends or shows about how your family might just include people you aren't actually related to—this was exactly that. 🙂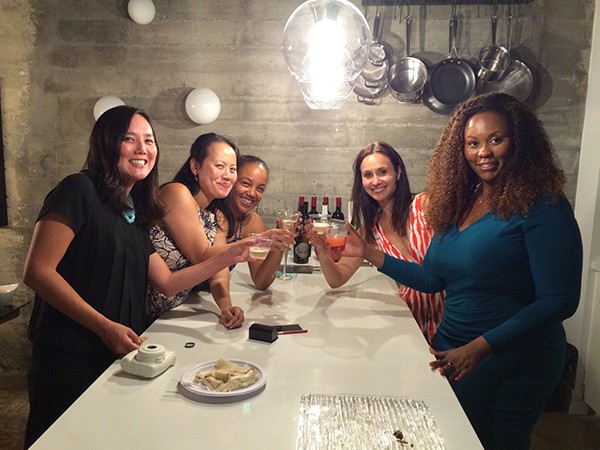 I have never felt so much positivity and support, all in one room. It was such a great reminder to me, Erik and my mom (bc we can be a bit cynical) that there is so much goodness in the world. I'll tell you more about the wedding in the next post. But for now, onto the wedding shower!
And just in case you were wondering, there was no knitting of newlywed pillowcases (darn it!) or sparkly pink bowler hats. But there was plenty of love. See photo of the actual word "love" below for evidentiary purposes. 😉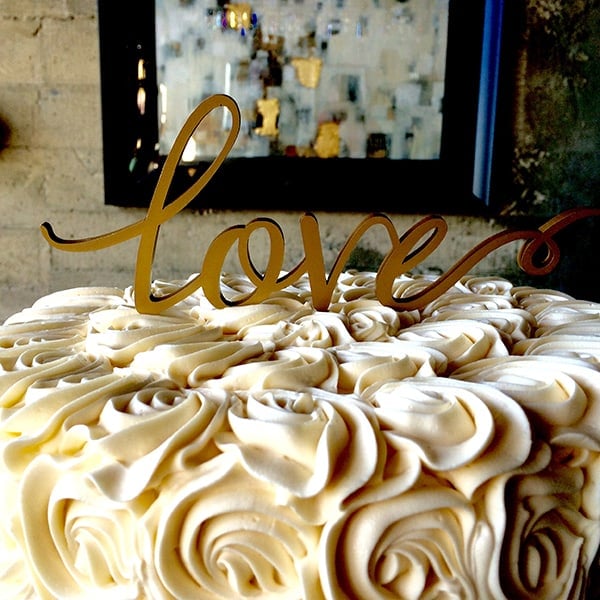 Her friend, Theresa, who she met in law school, is the absolute BEST. Btw, Happy Birthday Theresa! 🙂 She gave a speech that I get all choked up just thinking about. ❤️ Seriously, whenever I relive that speech, I have to think about something gross to distract me from crying. Imagine my face going from scrunched-up cryface to furrowed-brow disgusted. It's quite the scene!
Here's a photo of my No Bake Cranberry Coconut Energy Bites. They were not at the wedding shower… but they coulda been. In theory. 😉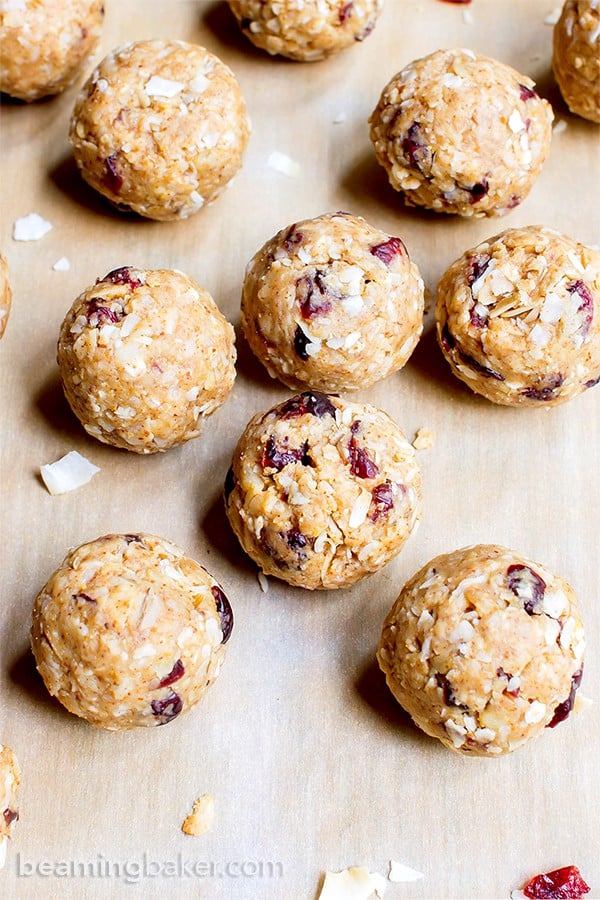 Here Kevin (Monica's man), Monica, Penny, me and Erik are, posing in the parking lot of BevMo like the fantastically normal people we are. As you can see, I'm the Khloe of my family. How else would I toss my sisters into the air as if they were tiny stuffed animals?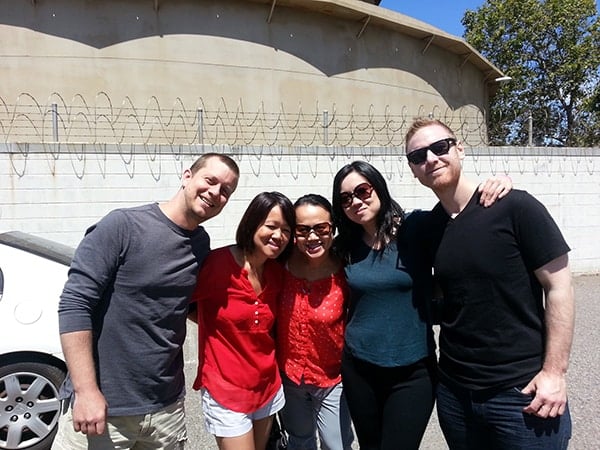 Penny's good friends, Jennie and Chess, hosted the super stylish party in her incredible apartment. (I honestly don't know how Erik and I got invited.) Check out the table they were serving everything on! Unfortunately, it couldn't fit in my suitcase, so I wasn't able to take it home as a party favor.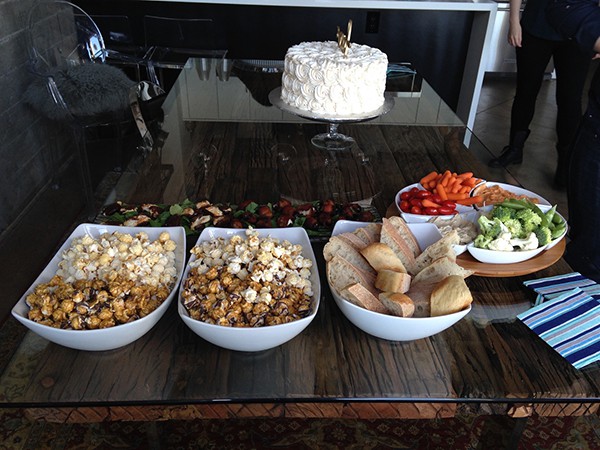 Can you believe, about 15 minutes later, that ENTIRE gorgeous table was covered in food. There were so many fancy crackers, dips, veggies and all kinds of things I'm too lowbrow to name, let alone pronounce. And it was all beautiful. 🙂
It's Bro Time! Andrew (the groom), Erik (Official Beaming Baker Taste Tester), and Kevin (Monica's Partner in Crime).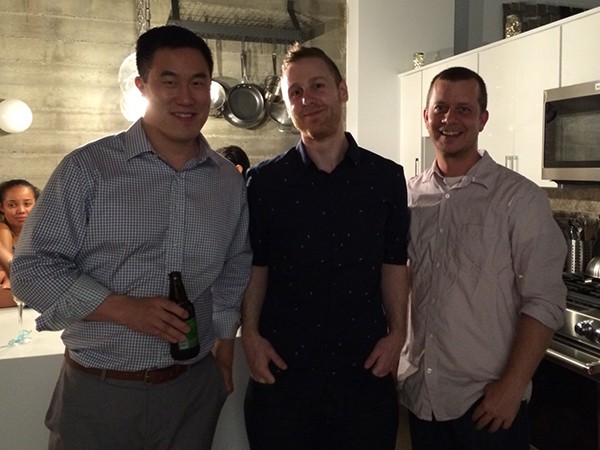 At the end of the shower, Penny's friend made Penny and Andrew (or Pandy, if you will) cut the Love cake. They simply refused to keep a slice in their freezer to "enjoy" in one year. I tried to horn in with tips about wrapping it in wax paper, airtight containers, blah blah blah, and had to admit that it would taste like freezer in one year. Make that Old Freezer. Yum.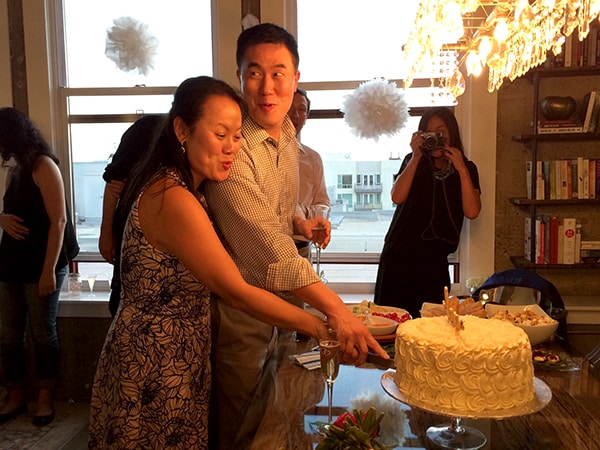 The wedding shower was a wonderful kickoff to a weekend full of group hugs (my fave), sarcastic quips (tight second), LOTS of eating, goofy dance parties and more. Living the life of a food blogger in Maine, I don't see many people and I tend to get a bit socially awkward like… all the time. But this was so good for the soul. 🙂 If you ever meet me in person, my sincerest apologies in advance. I do mean well. 😉
I'll share more in the next post with lots of fun photos from the wedding reception! In the mean time, let me very casually and smoothly transition into no bake awesomeness talk. Ahem.
Y'all know that I love no bake treats. There's just everything to love about 'em: easy to make, short list of ingredients, super portable, tasty, good for you, plus, can keep at room temperature. And if you have constant snack cravings like I do, and you simply cannot find a way to tote a small refrigerator in your purse, then you know the basic dilemma when it comes to snacking.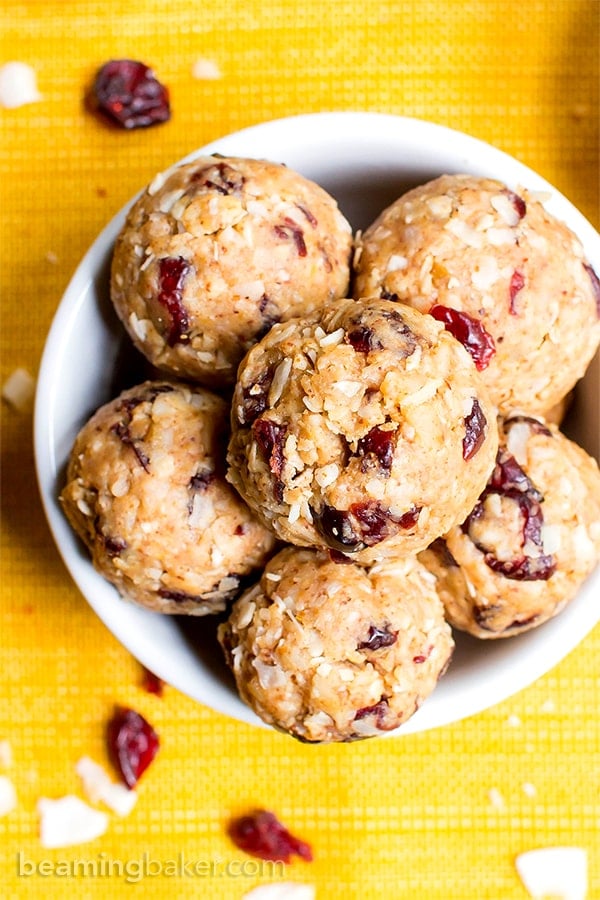 The Snack Dilemma: dry snacks usually aren't too good, and the wet/need refrigeration ones just refuse to understand that there aren't many cute purses that can hold an actual fridge. Darn it. But the answer to all of this lies in the Power of No Bake. Oh YES.
These sweet (and I do mean that literally) No Bake Cranberry Coconut Energy Bites are everything you and your fridge-less purse could ever need. They are:
packed with protein in every bite
made with just 7 simple ingredients
full of delicious cranberry and coconut flavor
vegan, gluten free, dairy free and awesome
yummy at room temperature for days and days (hello, purse!)
plant-based and allergy-friendly
portable like nobody's business
super easy to whip up
lightly sweet and perfectly textured
So whatcha waitin' for? A built-in fridge-equipped purse to come along? You have to tell me if you find one of these. But I think they might be bad for your back. Or at least your social life. Whichevs… Get these 7 simple ingredients together. It's time to get your No Bake Cranberry Coconut Energy Bites snack on!
Sending you all my love, and maybe even a dove. xo Demeter ❤️
☀︎ Click below to Pin ☀︎

☀︎ Did you make this recipe? Take a pic and share it on Instagram with the hashtag #beamingbaker and tag @beamingbaker. I would love to see it! ☀︎
More Healthy Gluten Free Vegan Snacks
Print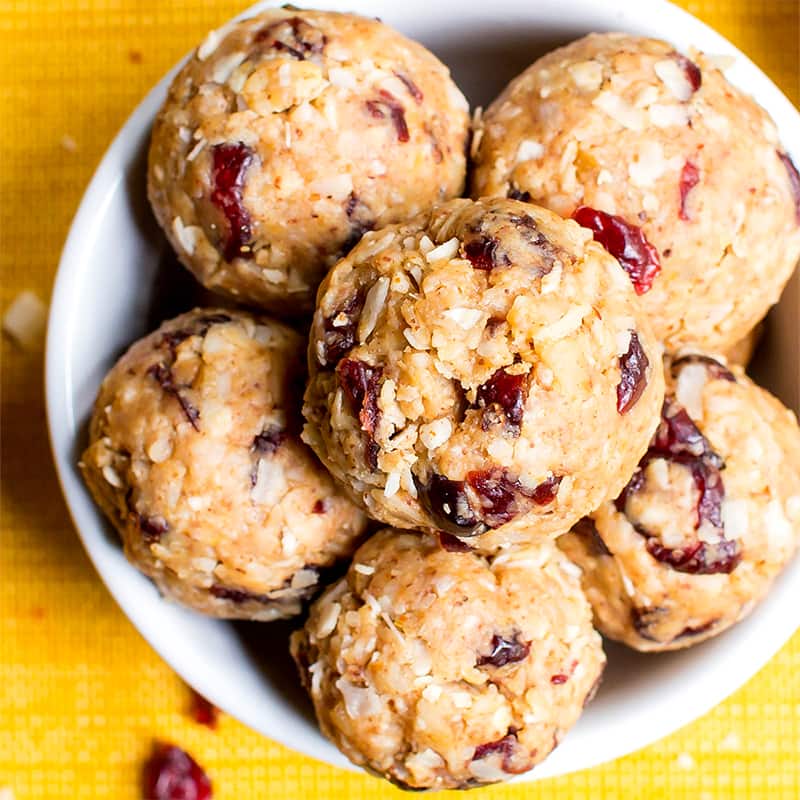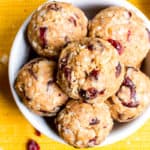 No Bake Cranberry Coconut Energy Bites (Vegan, Gluten Free, Dairy Free)
---
Description
No Bake Cranberry Coconut Energy Bites: an easy, 7 ingredient recipe for delicious protein-packed energy bites made from simple ingredients. Vegan, Dairy Free, Gluten Free.
---
Dry Ingredients
½ cup

dried cranberries, chopped

¼ cup

walnuts, finely chopped

½ cup

gluten-free rolled oats

1 cup

unsweetened coconut shreds or flakes

¼ cup

ground flaxseed
Wet Ingredients
¾ cup

natural, unsalted almond butter*

¼ cup

pure maple syrup
---
Instructions
In a large bowl, mix together all of the dry ingredients: cranberries, walnuts, oats, coconut and flax.
Add almond butter and maple syrup. Using a sturdy spatula, stir and fold together until well incorporated.
Scoop mixture into your hands (mine are 2 tablespoons each). Roll and press into bites. If the mixture is too dry, add in a bit more almond butter or maple syrup. If the mixture is too wet, add in a bit more coconut or oats. You want a slightly sticky dough texture.
Enjoy!
Category:

No Bake, Snacks, Vegan, Gluten Free, Dairy Free
Nutrition
Serving Size:

1 bite

Calories:

117

Sugar:

6

Fat:

8

Carbohydrates:

9

Protein:

3
© beamingbaker.com. All content and images are protected by copyright. Please do not use my images without my permission. If you wish to republish this recipe, please re-write the entire recipe using your own words and include a link to this post for the recipe.
Peanut Butter Love at its finest. Try my No Bake Peanut Butter Coconut Bites (Vegan, Gluten Free, Dairy Free). My most popular recipe, for good reason. 😉
So I hear you're a fan of no-bake. Is that right? 😉 Try my No Bake Chewy Chocolate Chip Granola Bars (Vegan, Gluten Free, Dairy Free). They're absolutely fantastic.
How do you love no bake bites, let's all count the ways. Try my No Bake Almond Butter Coconut Bites (Vegan, Gluten Free, Dairy Free). Instant almond butter bliss.
This post may contain affiliate links, which allow me to make a small commission for my referral, at no additional cost to you. Thank you for supporting Beaming Baker.
Facebook ☀︎ Pinterest ☀︎ Twitter ☀︎ Instagram