3 Ingredient Homemade KIND Coconut Almond Bar Recipe (V, GF): an easy recipe for homemade paleo KIND bars packed with crunchy almonds and sweet coconut. Only 107 calories, 5g sugar, 7g carbs each. Paleo, Vegan, Gluten-Free, Dairy-Free, Oil-Free.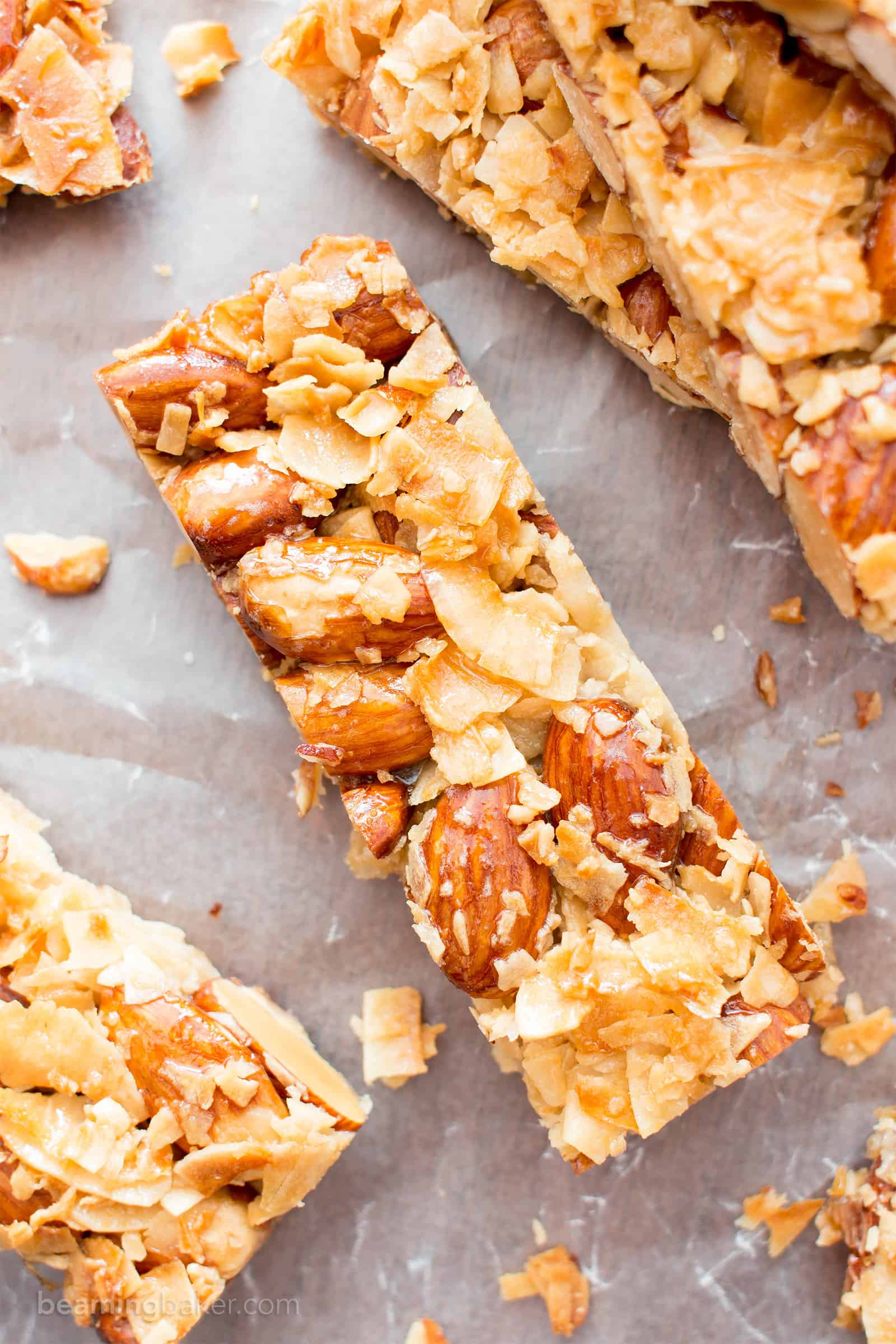 "See, THIS is why it pays to be friends with a food blogger!!! Uh, I mean sisters with one!!" My sister, Penny's, reaction when I mischieviously and happily gave her a box of treats over holiday vacation. 🙂
The thing is, as a food blogger, I'm always getting requests for baked goods: cookies, cakes, bars, bites, free chocolate chips, muffins, free peanut butter and more. For some reason, my family thinks I get a bunch of free edible goodies that they'd be "happy" to take off my hands.
They're quite the classy bunch, I tell ya. 😉 J/k, love you guys! … For FREE!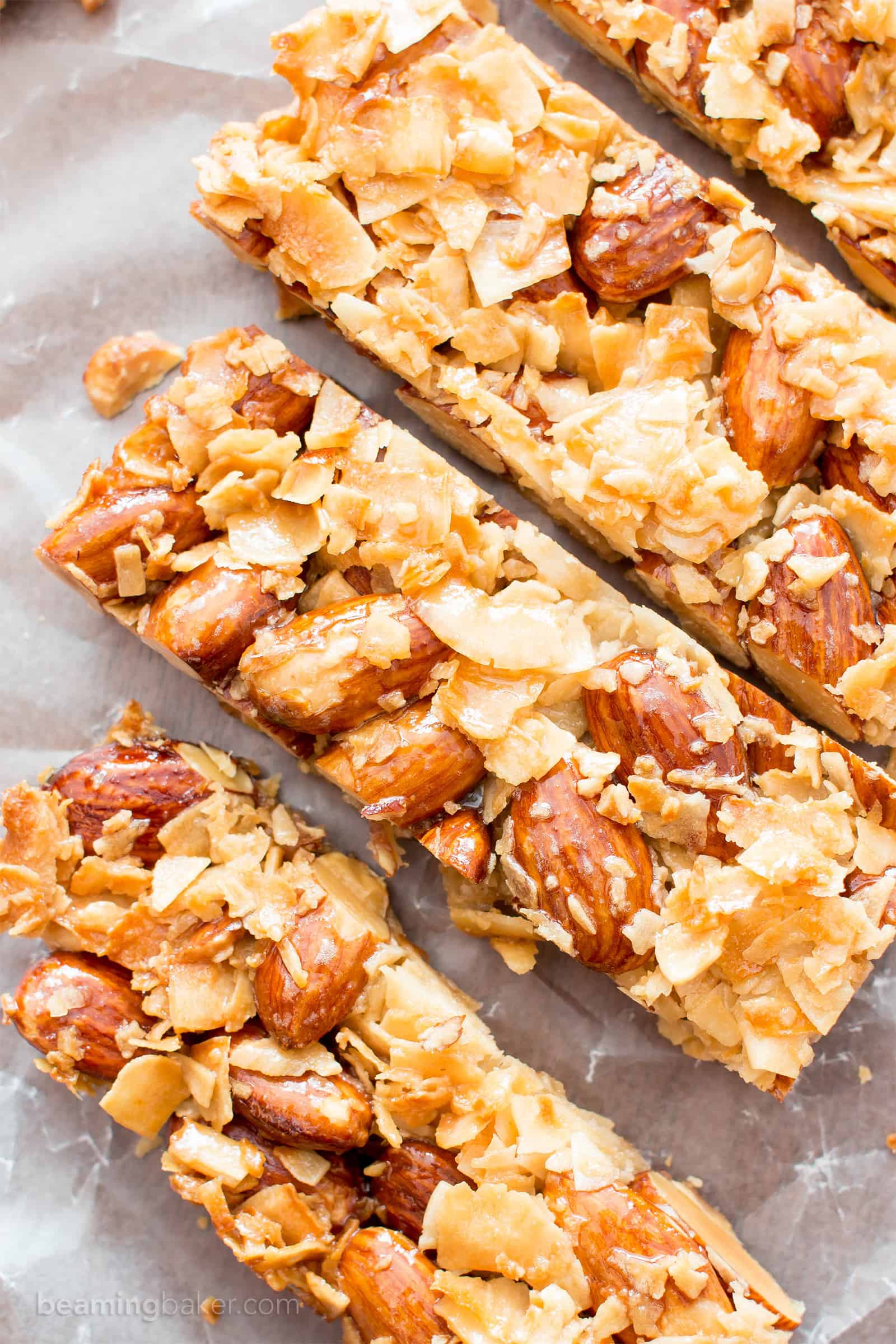 Well, do you guys remember my 5 Ingredient Homemade KIND Nut Bars? To my surprise, they've done really, really well: on Facebook, the ol' blogeroo, and Instagram. Some folks have told me they've made them over 10 times! And yes, I'm unbelievably proud. 🙂
Well, literally the second my sister saw that recipe, she was like, "so… my favorite KIND bar of all time is the Coconut & Almond KIND bar."
Me: Oh, that's cool!
Penny: Yeah, it's really, really good!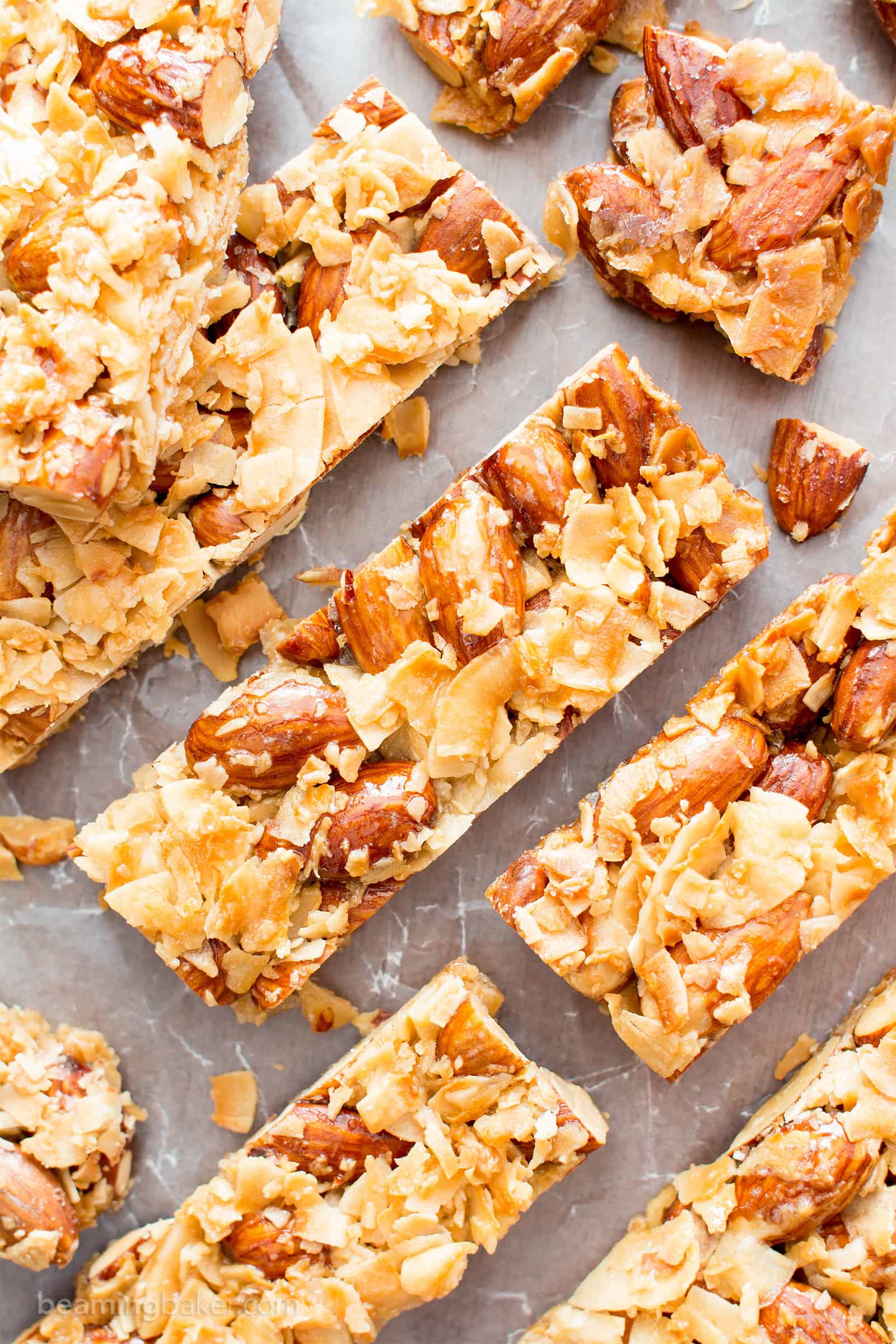 Me: Uh-huh.
P: And the flavor is just incredible! It's so simple: just coconut and almonds.
Me: That is simple!
P: Yeah, so…
Me: So…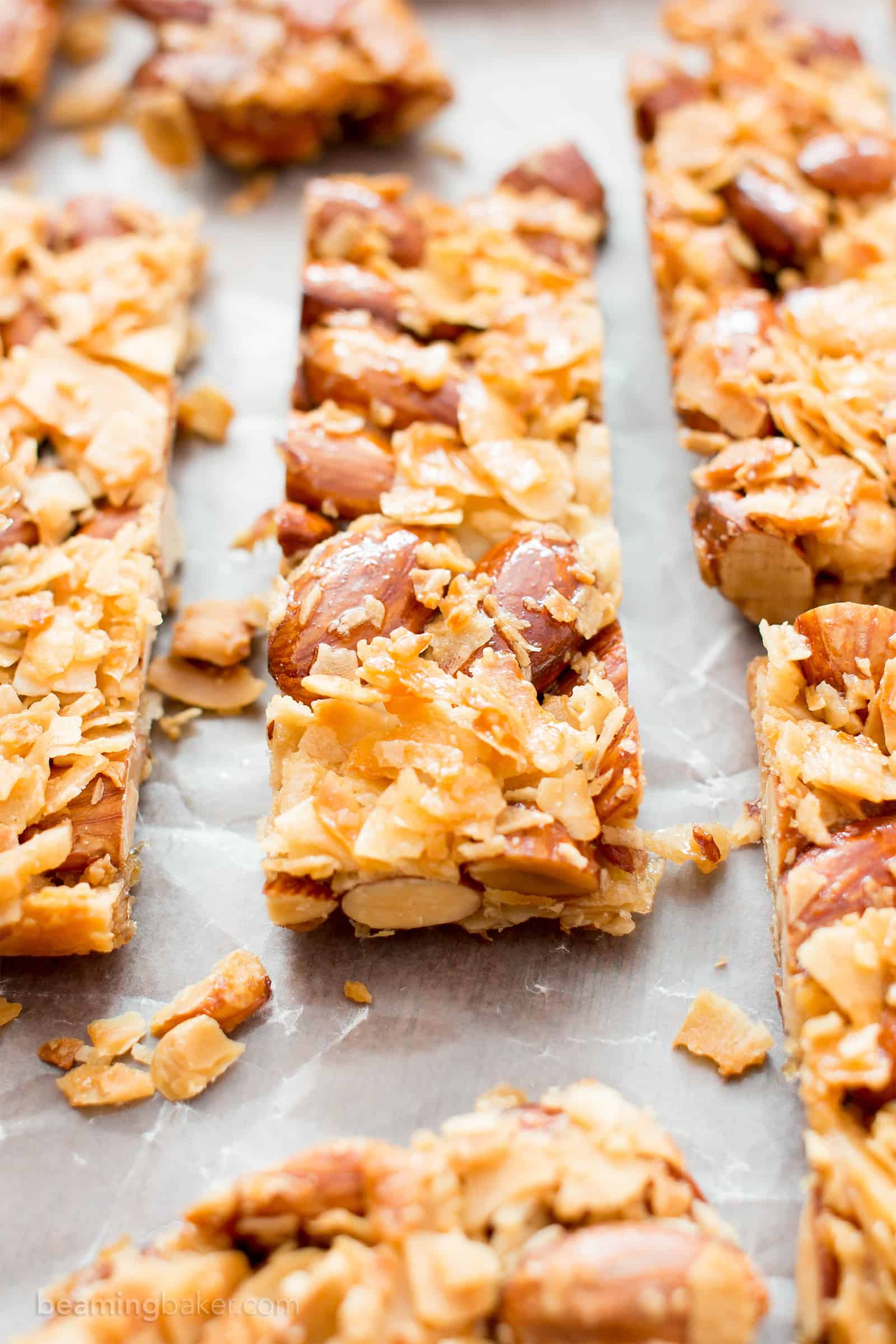 P: And I saw that lots of your readers commented that they'd be VERY happy if you shared a 3 Ingredient Homemade KIND Coconut Almond Bar recipe.
M: Uh-huh.
P: So… could you…
M: You know what would be a great idea? I just came up with this!! Like, all by myself. How about I make a 3 Ingredient Homemade KIND Coconut Almond Bar recipe? What do you think? Is that too unexpected?
P: YAAAAAAAAAAAAAAAAS!! And you're so creative!!!!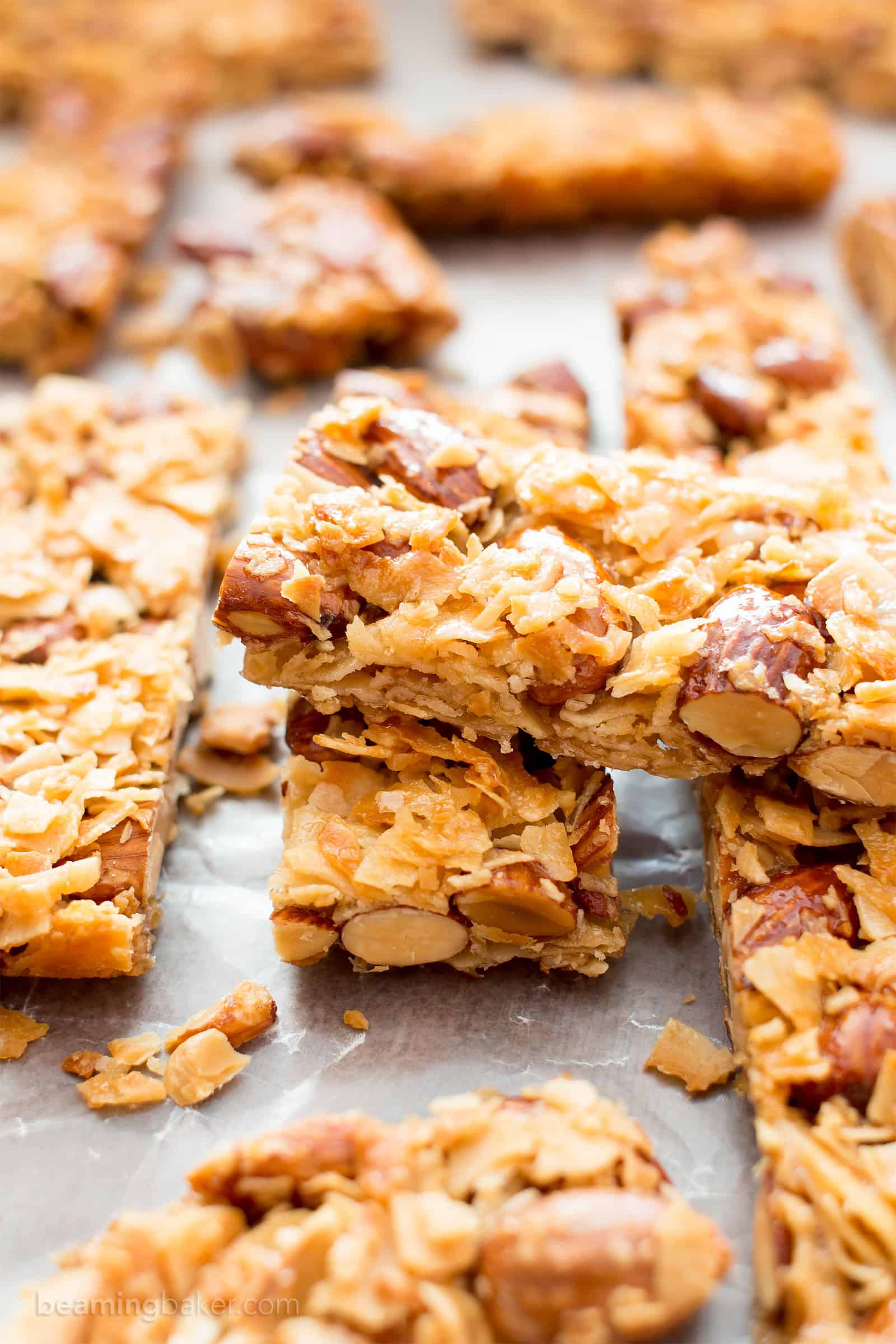 Just kidding! I totally did not say that it was all my idea. Haha. But Penny would've rolled with it, secretly thinking that she was so clever in inception-ing me (as Erik calls it). She was pleased as a peach when I told her I might consider it. No promises, even though I would love to give her the world. Sometimes, recipe testing is unexpectedly curveball-filled and I don't like to make promises I can't keep.
But this time, it all worked out!
Phew! Now tell me, what's your favorite KIND bar flavor? I might just take a stab at it, even though that expression totally spooks me out. My plan is to create the most epic of homemade KIND bar recipe roundups! So far I also have Homemade Dark Chocolate Sea Salt KIND Nut Bars. If you try those too, let me know what you think!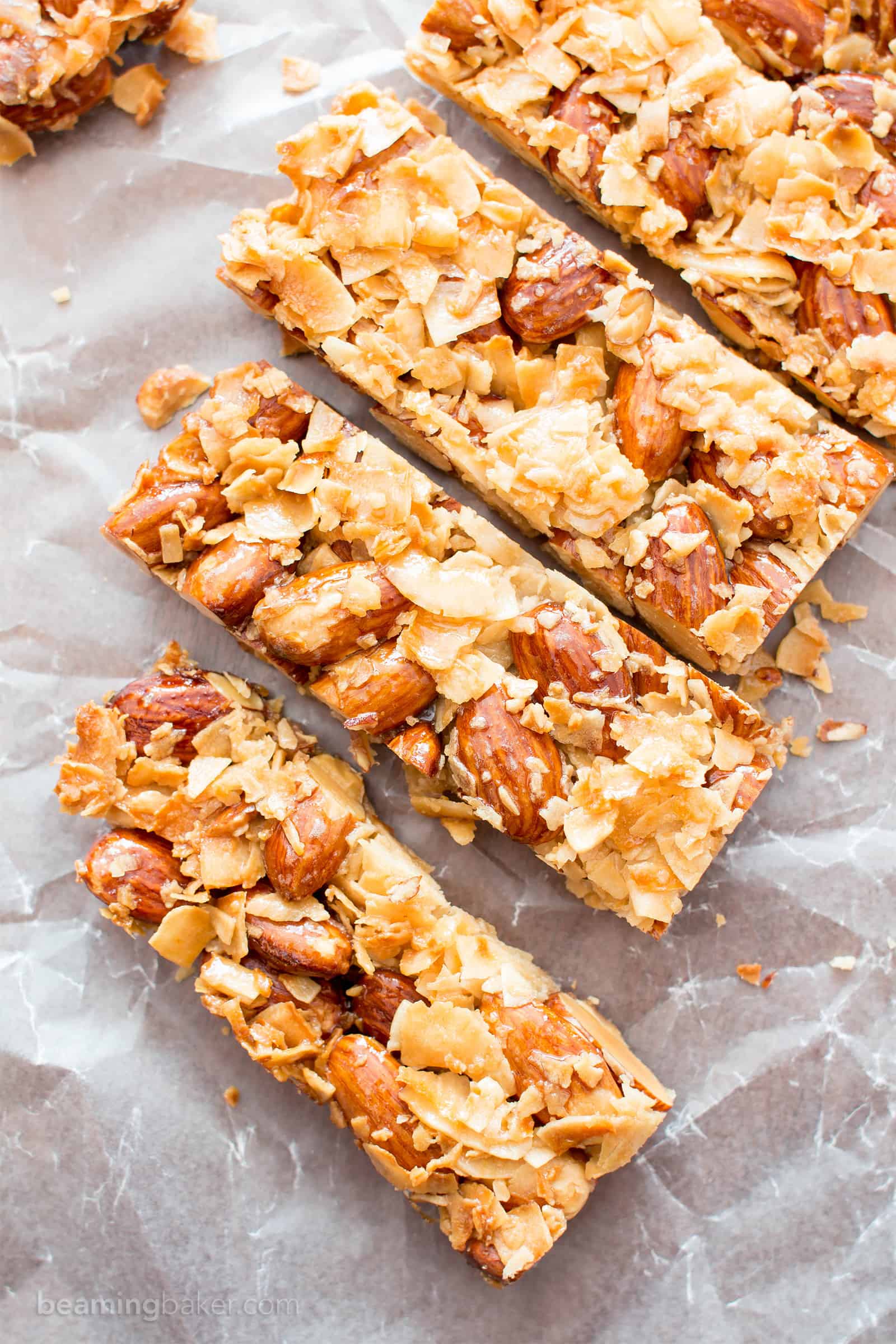 In the meantime, let's talk about all the awesome things about these 3 Ingredient Homemade KIND Coconut Almond Bars. They're:
made with just 3 ingredients
super easy to make, and prepared in just 5 minutes
no seriously, so easy that you'll be suspicious of it not taking longer! 😉
only 107 calories each!
awesomely paleo
with just 7g of carbs and 5g of sugar
vegan, gluten-free, dairy-free
your new favorite KIND bar recipe, packed with coconut and almond
deliciously refined sugar-free
the best homemade KIND bars you'll ever make (except for the 5 ingredient ones, of course!) 😉
made with the whole, simple and healthy ingredients you love
just the vegan healthy snack you're looking for
or perhaps just the paleo granola bar recipe you've been searching for
specially requested by my sister Penny, who deserves all the homemade treats in the world!
So are you ready to create the kindest of homemade KIND bars? I'll grab all the almonds, you grab the coconut! Let's make this! I'm so happy that you're here, stirring, baking, whisking and just… making the wonderful treats you and your loved ones deserve. It's extra special to share this with you. 🙂 I can't wait to hear what you think of this recipe! In the meantime, tell me:
What homemade KIND bar recipe would you like for me to share next?
Sending you all my love and maybe even a dove, xo Demeter ❤
☀︎ Click below to Pin ☀︎

☀︎ Did you make this recipe? Take a pic and share it on Instagram with the hashtag #beamingbaker and tag @beamingbaker. I would love to see it! ☀︎
If you enjoyed this easy, healthy 3 Ingredient Homemade KIND Coconut Almond Bar recipe, then you'll just love these amazing homemade snacks recipes:
☀︎ More Delicious Healthy Snack & Sweet Treat Recipes ☀︎
Print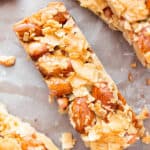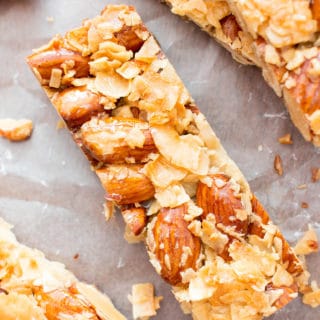 3 Ingredient Kind Bars Recipe – Almond Coconut
---
Description
3 Ingredient Kind Bars Recipe – Almond Coconut: the easiest Kind bars, coconut and almond flavored. Just 3 ingredients for chewy, crunchy, healthy coconut almond bars!
---
---
Instructions
Preheat oven to 325°F. Line an 8-inch square baking pan with parchment paper. Set aside.
Add almonds, coconut and salt (if using) to a large bowl. Stir until well mixed. Pour maple syrup over this mixture. Fold until well incorporated.
Pour this mixture into the prepared baking pan. Using a rubber spatula, press down on mixture and smooth into a tightly-packed, even layer. Bake for 28-38 minutes (mine took 33 mins). Bars must bake thoroughly, or they won't hold together when cooled.
Allow to cool for 1 hour (or until completely cooled), in the pan on a cooling rack. Pinching opposite ends of the parchment paper lining, lift bars out of pan. Gently peel parchment paper off the bottom of the bars. Slice into 12 bars (6 rows by 2 columns). Enjoy! Storing instructions below.
More Easy & Healthy Snacks
Equipment
Notes
Adapted from my 5 Ingredient Homemade KIND Nut Bars.
Storing Instructions: Store in an airtight container at room temperature for up 1 month.
Nutrition Info is an estimate based on 12 total bars, with no salt used.
Category:

Snacks

Method:

Bake

Cuisine:

American
Nutrition
Serving Size:

1 bar

Calories:

107

Sugar:

5g

Sodium:

2mg

Fat:

8g

Carbohydrates:

7g

Protein:

3g
© beamingbaker.com. All content and images are protected by copyright. Please do not use my images or recipe without my permission. If you wish to republish this recipe, please re-write the entire recipe using your own words and include a link to this post for the recipe.
SHOP THE RECIPE
Here are a few items I used in today's recipe. 🙂
Baking Pan (8-inch) | Maple Syrup | Glass Mixing Bowls | Silicone Spatulas | Parchment Paper Sheets
This post may contain affiliate links, which allow me to make a small commission for my referral, at no additional cost to you. Thank you for supporting Beaming Baker.
Facebook ☀︎ Pinterest ☀︎ Twitter ☀︎ Instagram