Cranberry Chia Gluten Free Vegan Snack Bars (Healthy, V, GF, Dairy Free)
Cranberry Chia Gluten Free Vegan Snack Bars: this healthy vegan snack bars recipe yields chewy & satisfying bars! The best vegan snack bars recipe—packed with chia & flax to keep you full! Gluten-Free, Vegan, Healthy.
So… I had to take a drivers test!!
For the first time in 15+ years, I had to take a friggin' drivers exam. Thank goodness it was only a written exam, or else I'd probably be sweating bullets on the road exam.
Just a couple weeks ago, I discovered that I had to re-take the written driver's exam to transfer my license from Massachusetts to Minnesota. Before moving here, I'd already done the research and learned that I'd have to so do.
But. Isn't there always a but? I didn't learn that I'd have to take the exam within 60 days of gaining residency until, well, 3 weeks before the end of that 60 days. . .
So there I was cramming for the exam like it was the end of days. Y'all should have seen how sweaty, nervous and intense I was. Then again… I'm quite glad that you didn't have to see that side of me.
Erik and I studied (yep, he had to take it too) like we were newly-minted college students—staying up late, skipping meals, taking "breaks" to make some gluten free banana chocolate chip oatmeal breakfast bars as study snacks because we were so hungry, and snapping at each other/holding hands and promising to trade hand signals to help one another during the test, then scrapping the idea because no one wants to get kicked out of the DMV.
Well, with all of that said… we PASSED!!! Without cheating at all!!! Go us. Lol.
And boy do I wish we had these cranberry chia gluten free vegan snack bars with us so we could've easily & healthily fueled up.
And boy do I wish we never, ever have to study like that again.
Ya hear?
So, yeah, like make a triple batch of these gluten free vegan snack bars and freeze them… just so you're ready for surprise drivers exams, unexpected events, work/family overload, etc. so you have something to keep ya going! 😉 In case of emergency! (And lack of desire to cheat. On tests. And on food.)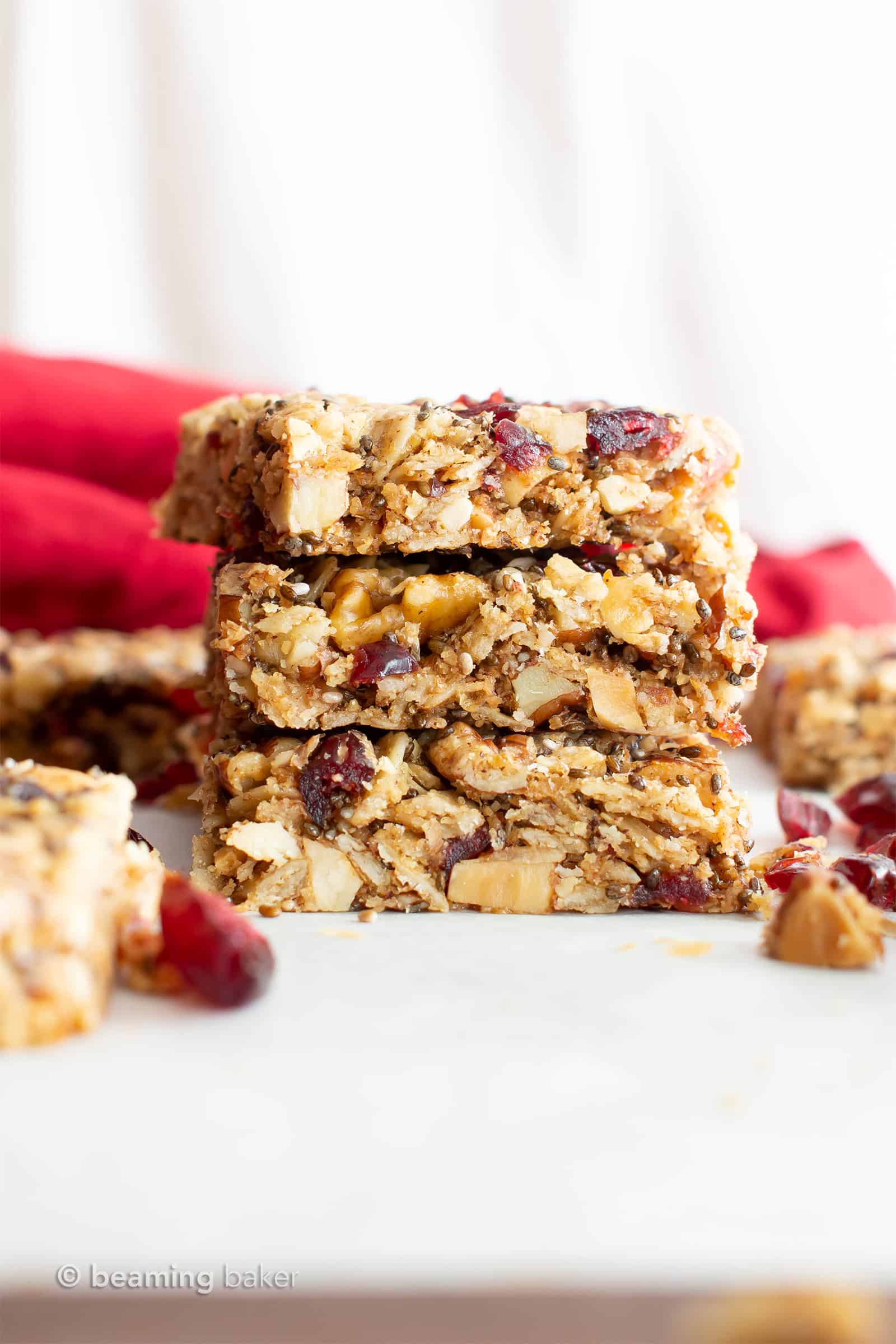 Cranberry Chia Gluten Free Vegan Snack Bars
If you're like me, you're probably spending way too much time in the snack aisle, frowning/reading nutrition labels, negotiating the delicate balance between high prices & healthy ingredients (and totally losing), and leaving the store feeling completely helpless. And dizzy.
Why not make your own snack bars? I mean, it's ridiculously hard to find gluten free vegan snacks bars anywho… This way, you can make them & know exactly what ingredients are used and you can customize them! Without any dizziness involved!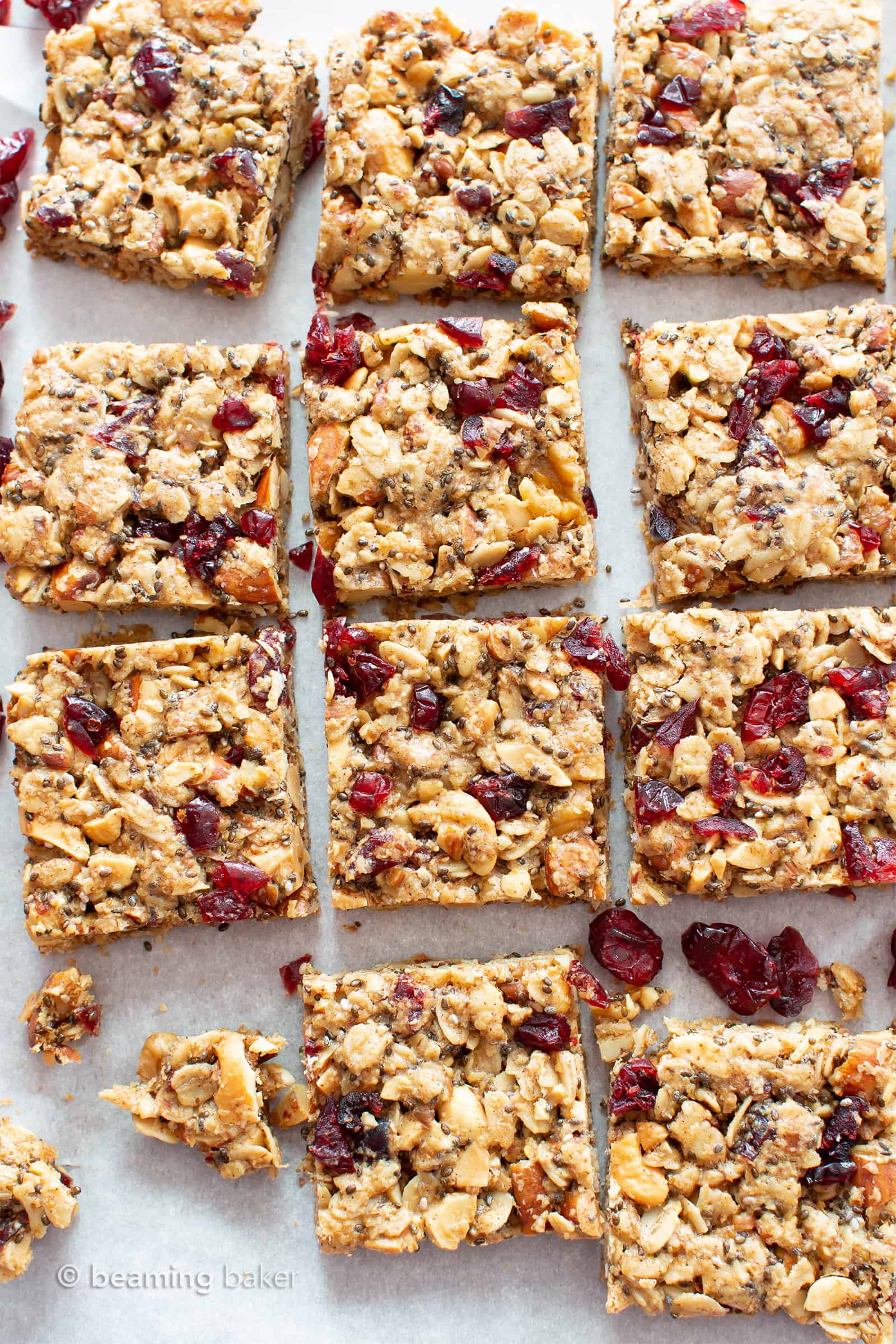 How do these Healthy Vegan Snack Bars Taste?
Wondering how these healthy vegan snack bars taste? Let's see… these Cranberry Chia Gluten Free Snack Bars are the perfect combo of sweet & tart (due to delicious dried cranberries, which I've been loving in my snacks ever since I first made these no bake cranberry coconut energy bites). There's a tasty nuttiness from healthy flaxseed and an entire cup of nuts that balances out the caramel flavor courtesy of the coconut sugar and maple syrup in this recipe.
The texture: These cranberry chia vegan snack bars are soft 'n chewy on the inside and crispy on the outside. Packed full of crunchy & hearty chia seeds, these healthy snack bars will keep you full and satisfied.
Storing Instructions for the BEST Vegan Snack Bars
Be sure to store your gluten free vegan snack bars in an airtight container. Keep the bars for 1-2 months. Just make sure to keep your snacks bars out of direct sunlight & away from heat sources.
You can also freeze these vegan snack bars for up to 3 months!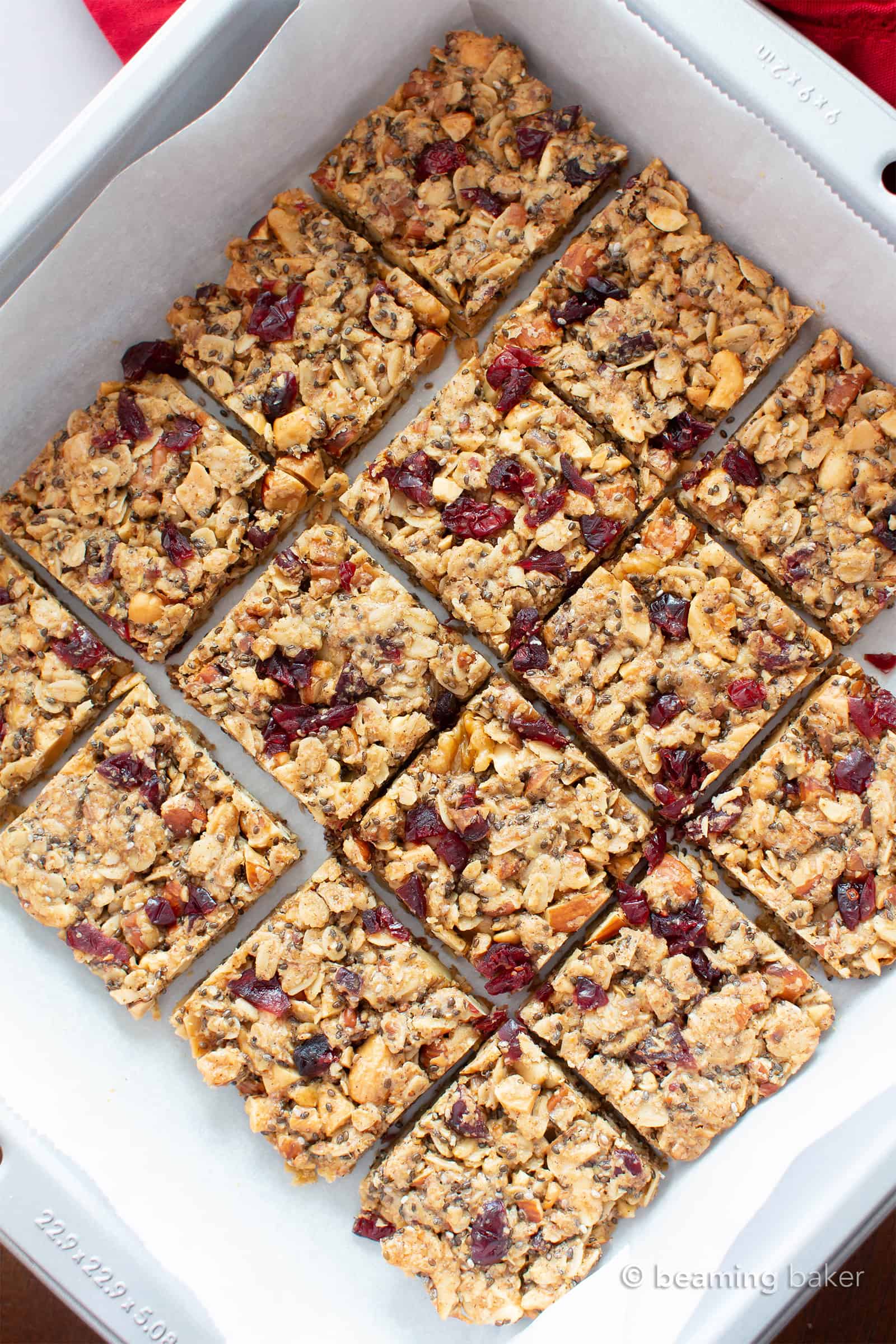 Tools for the Best Vegan Snack Bars with Cranberry & Chia!
Click below to explore the exact tools & ingredients I use to make these healthy vegan snack bars:
So… have you had any unexpected exams or the like come up recently? Tell me all about it! 🙂 In the meantime, if you try my Cranberry Chia Vegan Snack Bars recipe, let me know what you think by commenting below! It's always a pleasure to chat with you. 'Til the next kitchen adventure…
Sending you all my love and maybe even a dove, xo Demeter ❤️
Click below to Pin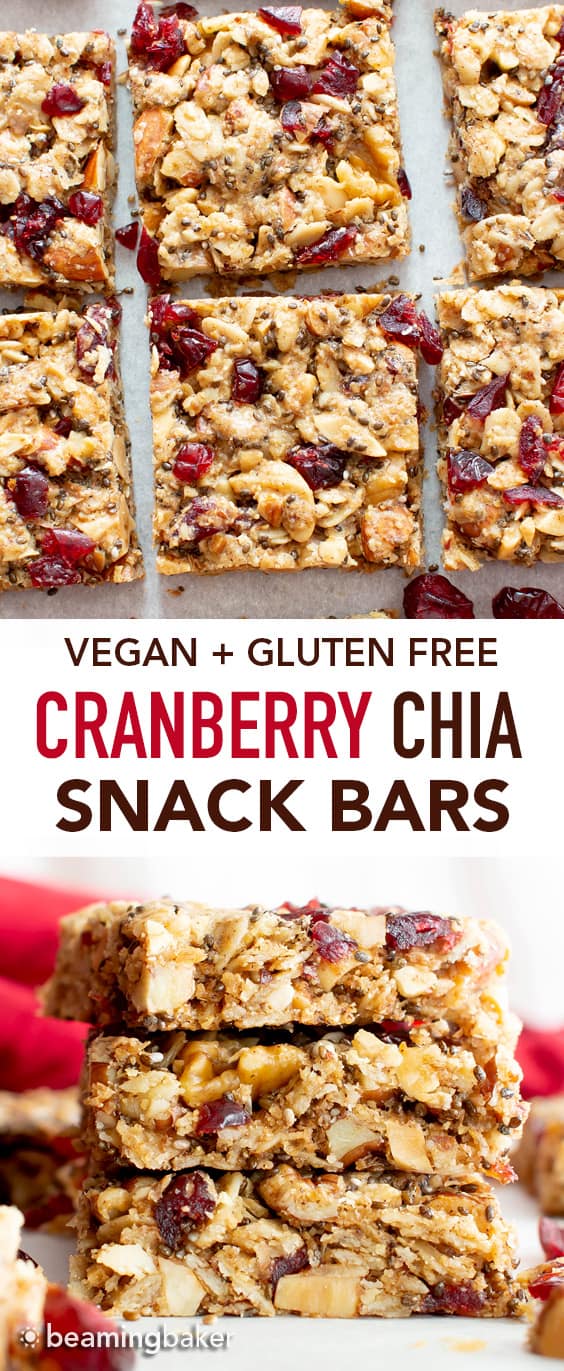 Did you make this healthy vegan snack bars recipe? Take a pic & share it on Instagram with the hashtag #beamingbaker & tag @beamingbaker. I'd love to see it!
More Gluten Free Vegan Snack Bars
Print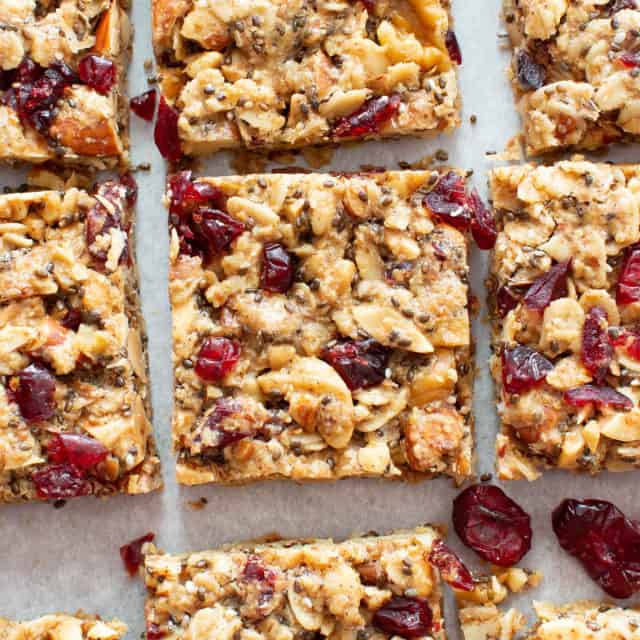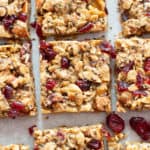 Cranberry Chia Gluten Free Vegan Snack Bars (Healthy, GF, Dairy Free)
---
Description
Cranberry Chia Gluten Free Vegan Snack Bars: this healthy vegan snack bars recipe yields chewy & satisfying bars! The best vegan snack bars recipe—packed with chia & flax to keep you full! Gluten-Free, Vegan, Healthy, Dairy-Free.
---
Dry Ingredients
Wet Ingredients
Optional Topping
1 tablespoon

dried cranberries, chopped
---
Instructions
Preheat the oven to 325°F. Line an 8-inch square baking pan with parchment paper or greased foil. Set aside for later. You can also use this Energy Bar Mold to make rectangular granola-bar style bars.
Add all dry ingredients to a large bowl: nuts, oats, cranberries, chia seeds, flaxseed, and spices/salt if using. Stir until well mixed.
Add all wet ingredients to a medium bowl: coconut sugar, coconut oil, almond butter and maple syrup. Whisk until well incorporated.
Pour wet ingredients over dry ingredients. Using a rubber spatula, stir and fold until very well mixed.
Pour the mixture into the prepared baking pan. Using the spatula, nudge the mixture until loosely and evenly spread out. Then, use the spatula to press the mixture firmly down into an even, very tightly-packed layer. Optionally, press chopped cranberries into the bars.
Bake for 22-27 minutes. Mine took 25 minutes.
Place baking pan onto a cooling rack to cool for about 30 minutes, or until completely firm. After, lift bars and parchment paper onto the cooling rack to finish cooling for 1-2 hours. Slice and enjoy! Storing instructions below.
Adapted from my Easy Paleo Snack Bars Recipe.
More Gluten Free Vegan Snack Bars:
Equipment
Notes
*My go-to mixture of nuts: 1/3 cup almonds, 1/3 cup pecans, 1/3 walnuts. You can try other types of nuts and see what you like best! 🙂
Storage Notes: Store in an airtight container for 1-2 months at room temperature.
To Freeze: store in a freezer friendly container for 1-3 months.
Where to Buy Ingredients: Chia Seeds | Ground Flaxseed | Coconut Sugar | Raw Walnuts | Unsalted Almonds | Pecans
Nutrition Information: is an estimate based on the best-selling, most common brands per ingredient. Also, it's estimated based on 16 servings per recipe, made without optional ingredients.
Prep Time:

10 min

Cook Time:

25 min

Category:

Snack, Dessert, Breakfast

Method:

Bake

Cuisine:

American
Nutrition
Serving Size:

1 square

Calories:

107

Sugar:

4g

Sodium:

2mg

Fat:

8g

Saturated Fat:

2g

Trans Fat:

0g

Carbohydrates:

8g

Fiber:

1g

Protein:

2g

Cholesterol:

0mg
Keywords: best vegan snack bars, healthy vegan snack bars, gluten free vegan snack bars
© beamingbaker.com. All content and images are protected by copyright. Please do not use my images or recipe without my permission. Please do not republish this recipe, instead, include a link to this post for the recipe.
This post may contain affiliate links, which allow me to make a small commission for my referral, at no additional cost to you.