Oatmeal Raisin Vegan Granola Recipe
Oatmeal Raisin Vegan Granola Recipe: super CHUNKY, big cluster homemade vegan granola with juicy raisins and fiber-rich oats! Gluten Free, Healthy, Dairy-Free.
So lately Erik and I've been thinking about where we're going to be moving in a few years. (I know. We just moved and we're talking about where to go again!!) The thing is, we're kinda tired of renting and thinking about the next big, adult step we're gonna make…
And that adult step entails buying a house.
Say whaaaa?!? I know, I just wrote that down for the first time. Ever. And it's giving me a mini heart attack right now. But even still, I think we're ready. Ahhhh!!
If I'm being boldly honest with you, we moved to Minnesota so we could start looking for an affordable, nice and less high-paced way of life. We were so tired of the fast-paced, super stressful lifestyle in Boston, San Francisco and the other big cities we lived in. So Minneapolis was our transition place.
Now, we're thinking a couple years down the road, we might move further out from Minneapolis (yep, still a big city) and head to somewhere quieter to look for a place to live. If you're familiar with Minnesota, do you have any suggestions?
In the meantime, let's talk about something a little lighter and something that requires just a little less planning. Hehe! Drumroll please: Oatmeal Raisin Vegan Granola!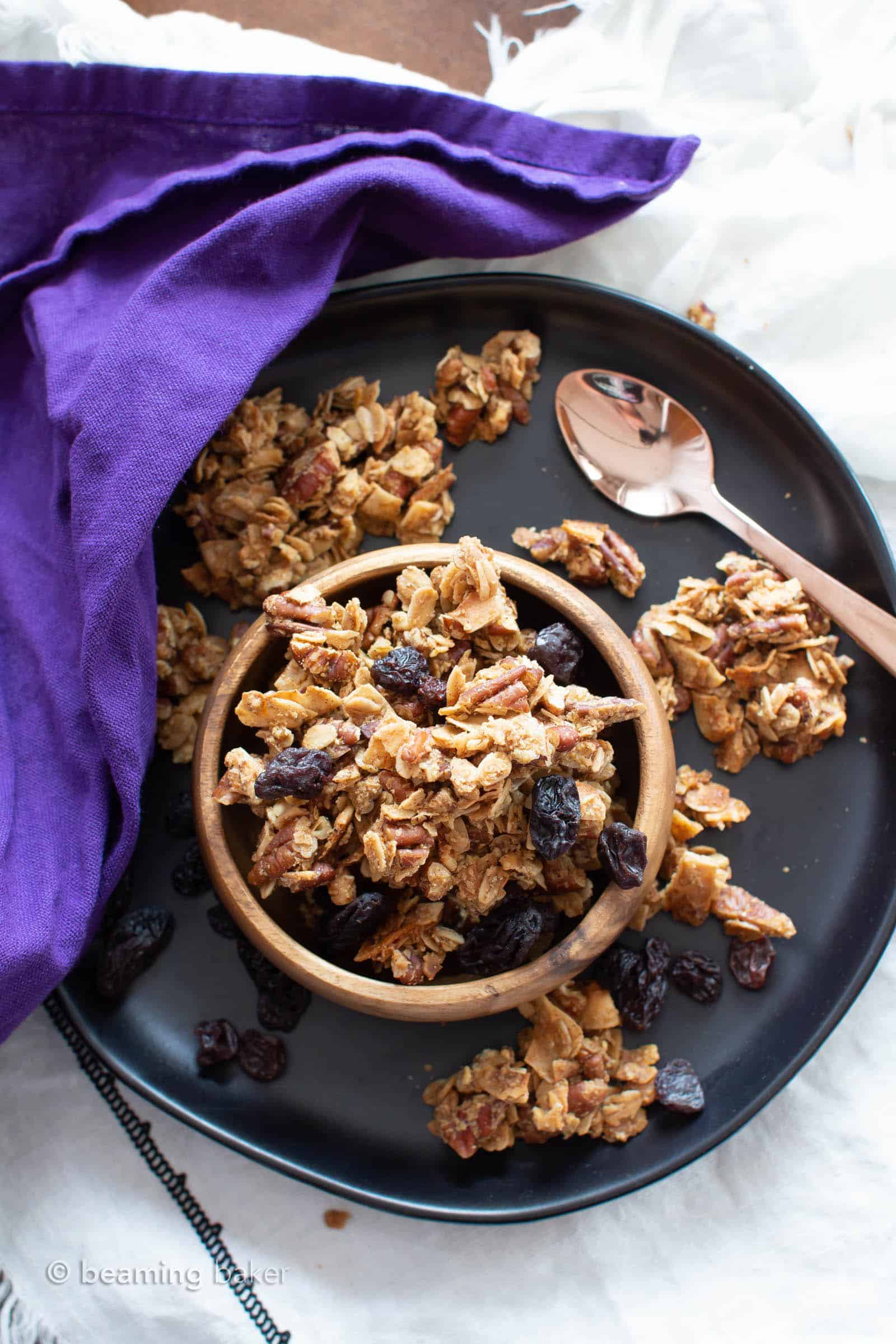 Oatmeal Raisin Vegan Granola Recipe
Who's been totally feeling this vegan granola kick we've been on lately? I've been having so much fun remixing my Healthy Chunky Granola Recipe with different kinds of add-ins like dried fruit and cinnamon, that I thought I'd share this one with you.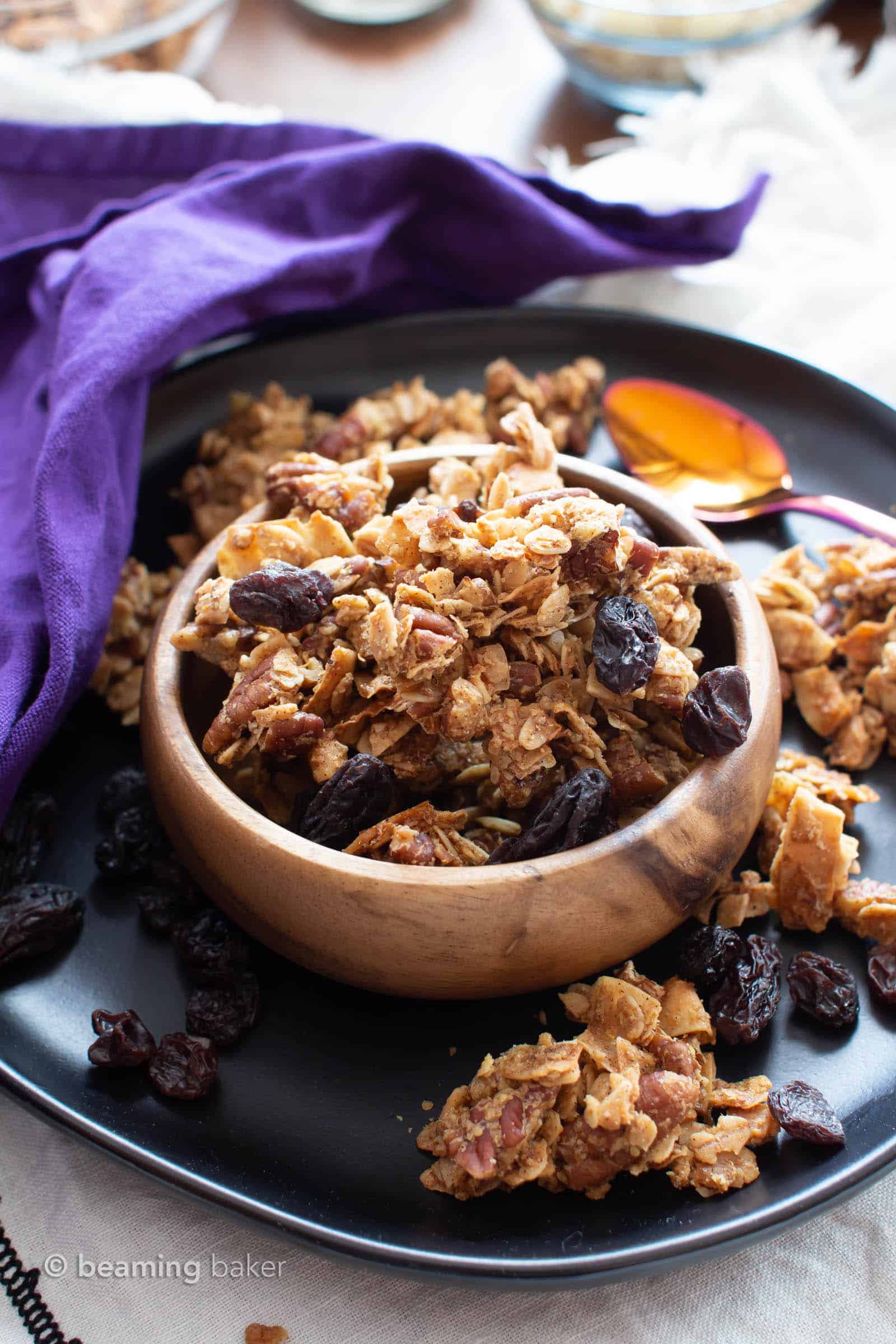 Super CHUNKY Vegan Granola!
As you know, this oatmeal raisin vegan granola recipe is based off of my super duper, insanely CHUNKY vegan granola… Healthy Chunky Granola Recipe (Vegan, Gluten Free). As such, it boasts super big, like sheet-big chunks of vegan granola clusters. You basically bake the vegan granola mixture in a sheet, then break up that sheet into as many (or as few) gigantic chunks of granola as you'd like. YES!! Feel free to eat the sheets as-is! You do you.
How to Store ­­­Oatmeal Raisin Vegan Granola Recipe
Storing this vegan granola recipe is super easy! Simply cool granola completely and store in an airtight container for 1 month. Yep, this oatmeal raisin granola stays good for that long!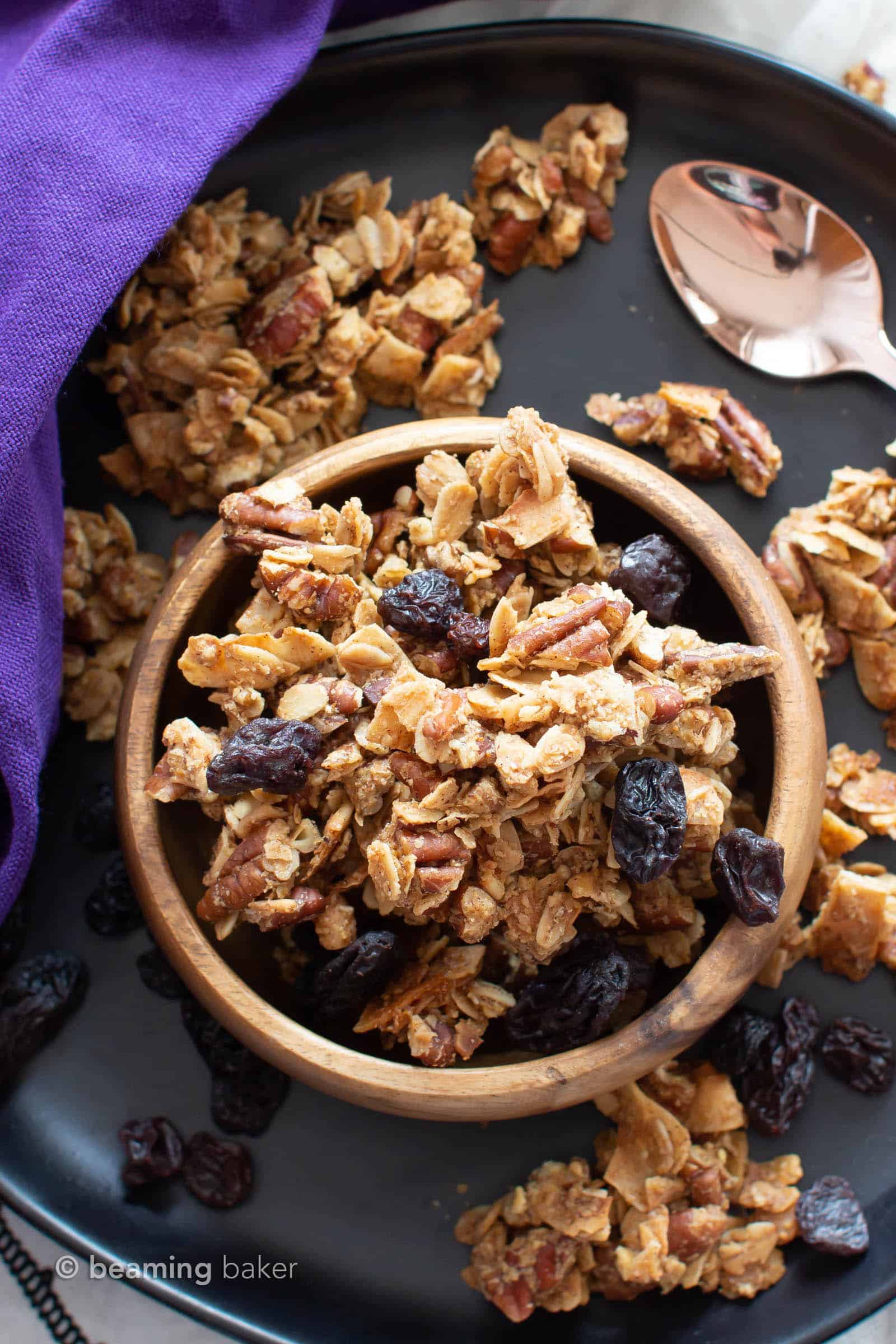 Best Tools for ­­­Oatmeal Raisin Vegan Granola Recipe
Ready to get your granola on? Let's do it! I can't wait to hear what you think of my vegan granola recipe. 🙂 Thank you for joining me on another tasty recipe adventure. 'Til the next one…
Sending you all my love and maybe even a dove, xo Demeter ❤️
. Click below to Pin .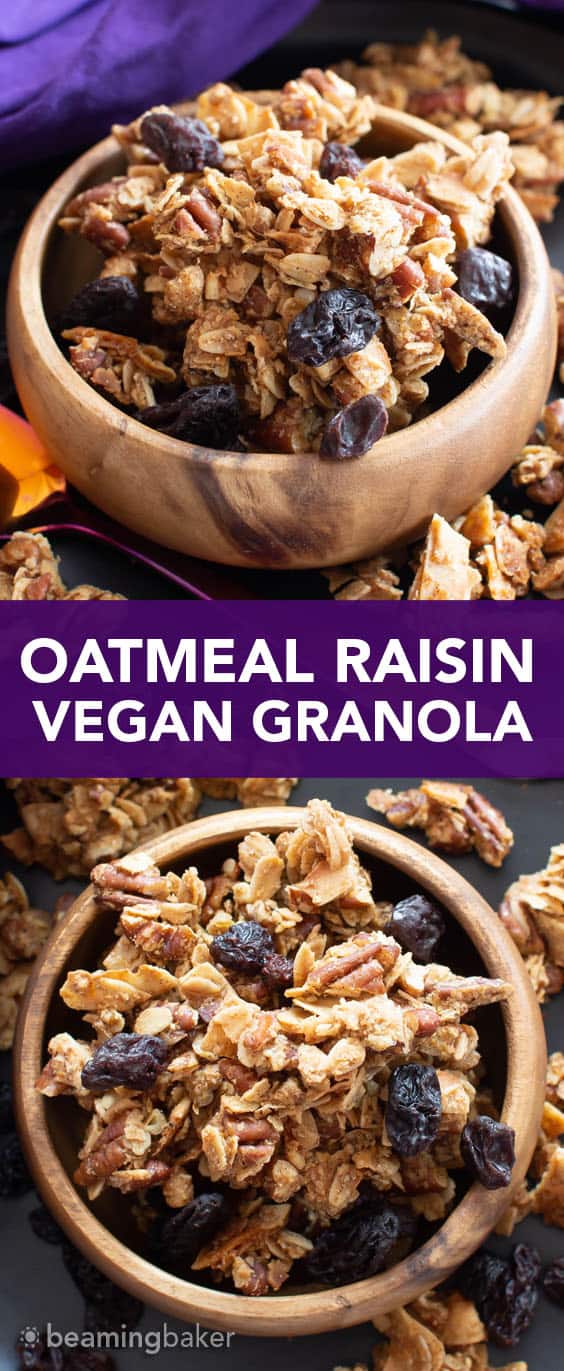 . Did you make this vegan granola recipe? Take a pic and share it on Instagram with the hashtag #beamingbaker & tag @beamingbaker. I'd love to see it! .
More Delicious Vegan Granola Recipes
Print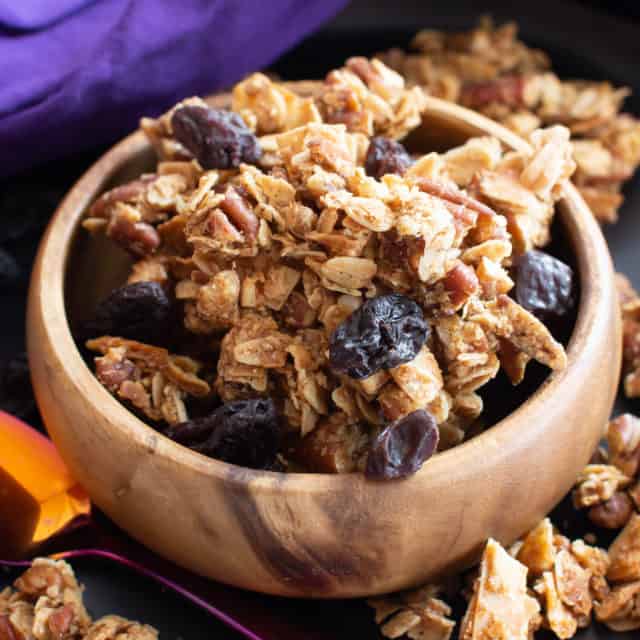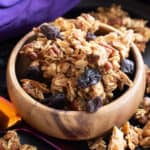 Oatmeal Raisin Vegan Granola Recipe
---
Description
Oatmeal Raisin Vegan Granola Recipe: super CHUNKY, big cluster homemade vegan granola with juicy raisins and fiber-rich oats! Gluten Free, Healthy, Dairy-Free.
---
---
Instructions
Preheat oven to 300°F. Line a medium or large baking sheet with parchment paper or greased foil. Set aside for later.
Add all ingredients except coconut oil and maple syrup to a large bowl. Stir until well mixed.
Add coconut oil and maple syrup. Using a rubber spatula, stir and fold until well mixed.
Pour mixture onto the prepared baking sheet. Using a rubber spatula, press down and pack the granola mixture together to create an even, flat, and very tightly-packed layer, about ½ inch thick. Your granola may not cover the entire baking sheet. Now, nudge the sheet of granola apart in the center (dividing the tightly-packed layer in half), to let air through.
Bake for 20 minutes. Rotate baking sheet. Bake for 18-22 more minutes, until granola is a deep golden brown. Mine took 40 minutes total. Do not flip or move granola—it is fragile and needs to crisp up while cooling.
Place baking sheet on a cooling rack. Allow to cool for about 30 minutes, or until completely cooled and firm. Break sheets of granola into clusters. Enjoy! Storing instructions below.
More Healthy Gluten Free Vegan Granola Recipes
Equipment
Prep Time:

10 minutes

Cook Time:

40 minutes

Category:

Healthy Snacks, Breakfast

Method:

Bake

Cuisine:

American
© beamingbaker.com. All content and images are protected by copyright. Please do not use my images or recipe without my permission. Please do not republish this recipe, instead, include a link to this post for the recipe.
This post may contain affiliate links, which allow me to make a small commission for my referral, at no additional cost to you.