Low Calorie Granola (Low Carb, Low Sugar, Low Fat)
Low Calorie Granola: 5 mins of prep for the best low carb, low sugar, low fat granola! Crispy, crunchy and perfectly sweet.
The best low calorie granola: only 74 calories, 3.6g of sugar and 7g carbs per serving.
Granola: so good, so healthy… so easy to OVEREAT! At that point, it basically becomes super unhealthy and totally guilt-ridden because you've eaten like 10x more than you probably should've…
I've been there. You've been there. Who hasn't been there?
I mean… we all know Erik's been there…
So when I started brainstorming ideas for January recipes, I figured NOW would be the time for finally cracking a low sugar, low calorie granola recipe that all of us could enjoy—without the guilt, without the high carbs.
One of my favorite food blogs from way back in the day, was Oh She Glows. Angela, the amazing blogger behind OSG, taught me the importance of volume! Like… who wants to eat a cookie that's the size of a penny? We want at least 2 pennies! J/k… we want at least two full-sized cookies!
And as long as we make sure the ingredients are healthy and whole (and keep an eye on the amount of sugar in it, etc.), we can go to town on those cookies! <– Volume, baby!
So are you ready to bake this? Let's do it!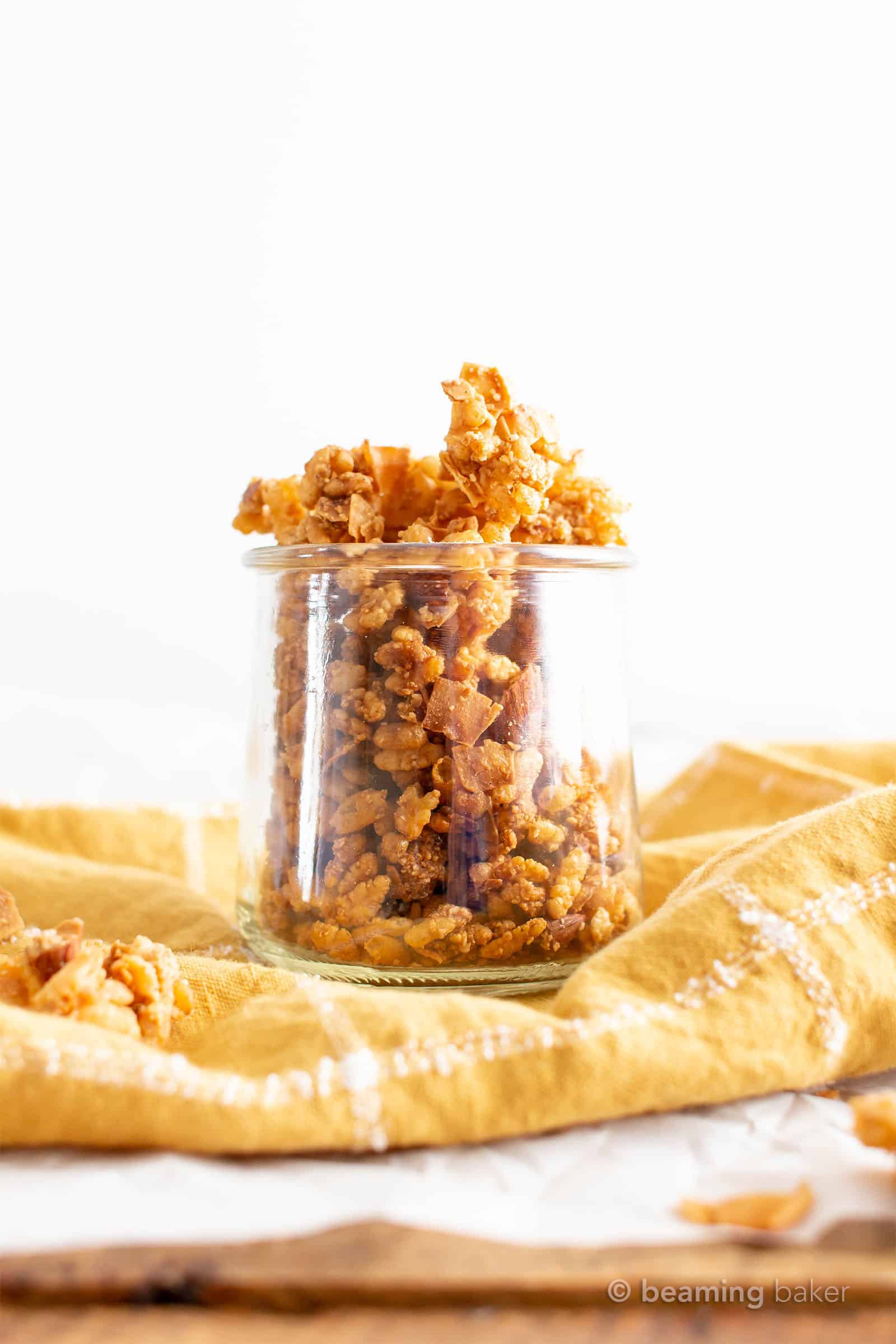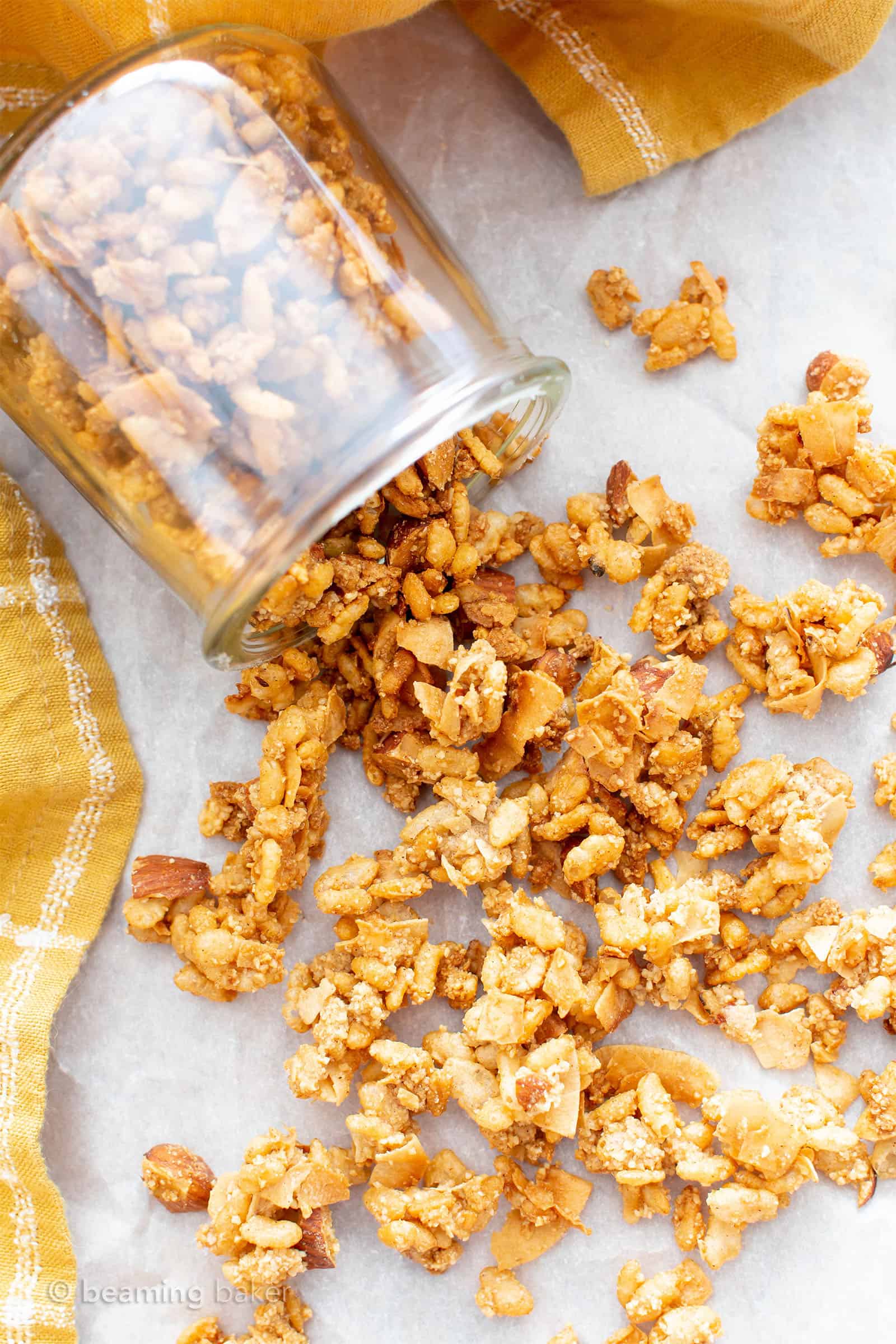 How to Make Low Calorie Granola
Making your very own low calorie granola is super easy! Check out how easy it is below:
Preheat
Make sure to preheat your oven to 325°F before you get started with anything else. Line a large baking sheet with parchment paper.
Mix all Ingredients
Add all low calorie granola ingredients to a large bowl: vegan gluten free brown rice crisp cereal [here is where I get mine], almonds, coconut, almond flour, cinnamon and maple syrup. Stir and fold it all together until clusters form and everything is well mixed.
Pour
Pour your low calorie granola mixture onto your prepared baking sheet. Nudge the granola to create empty space between so air can circulate through during baking—this will make your granola crispy!
Bake, Cool and Enjoy
Bake your granola for about 15 minutes, flip, then bake again for about 5-10 additional minutes. Cool, then enjoy the tastiest low sugar, low fat and low calorie granola ever!
Low Cal Granola: Nutrition Facts
Granola Calories: 74 cal
Granola Carbs: 7g
Granola Sugar: 3.6g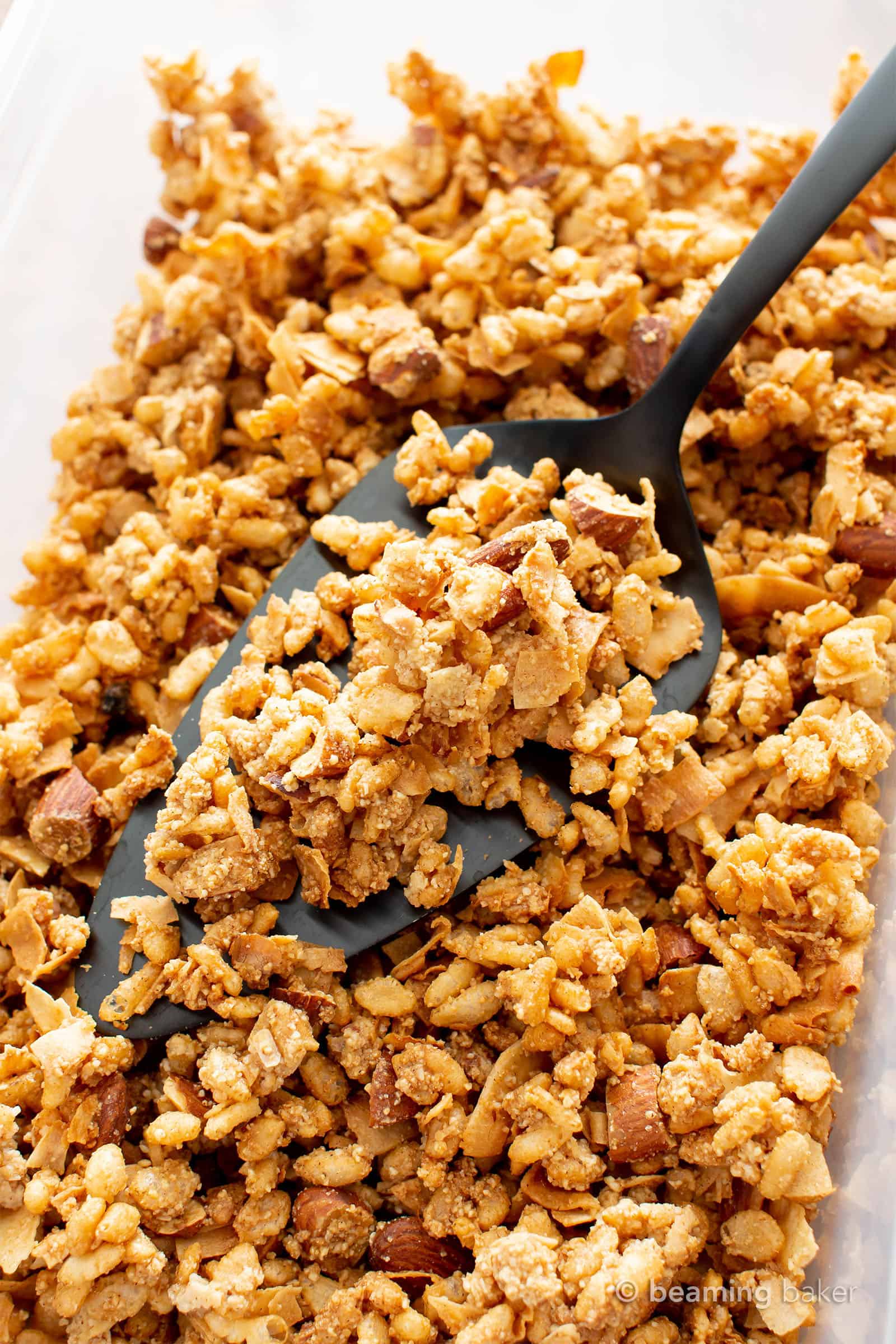 Testimonials
Jacqueline says, "I went looking for a low calorie granola recipe to have on top of homemade vegan yogurt and found your post. I tried it and shared some with a friend who is also cutting calories. She has already requested more! It is a simple and super tasty granola, so thank you!"
Donna says, "This will now be a staple recipe for me! It is so quick and easy to make. It tastes delicious. I also added some sugar free chocolate chips. Thanks so much for the recipe."
Amanda says, "Made this last night and it's delicious! Had to sub regular unsweetened coconut for the large flake, and it still turned out great. Lots of crunch and big clusters. Thanks for this recipe!"
My sister Penny: our Resident Granola Expert, simply loves this low calorie granola. No bias or anything… especially since my blog is only her 2nd favorite food blog (damn you, Deb of Smitten Kitchen!!). Lol. J/k! 🙂
Storing and Freezing Your Low Calorie Granola
Great news! After cooling completely, you can store your low calorie granola for 1-2 months at room temperature. Isn't that awesome? I love making a double or even triple batch so I can have it on hand for months to come.
Simply delicious low calorie granola that crispy 'n crunchy with a cozy toasted flavor. Low Fat, Low Sugar.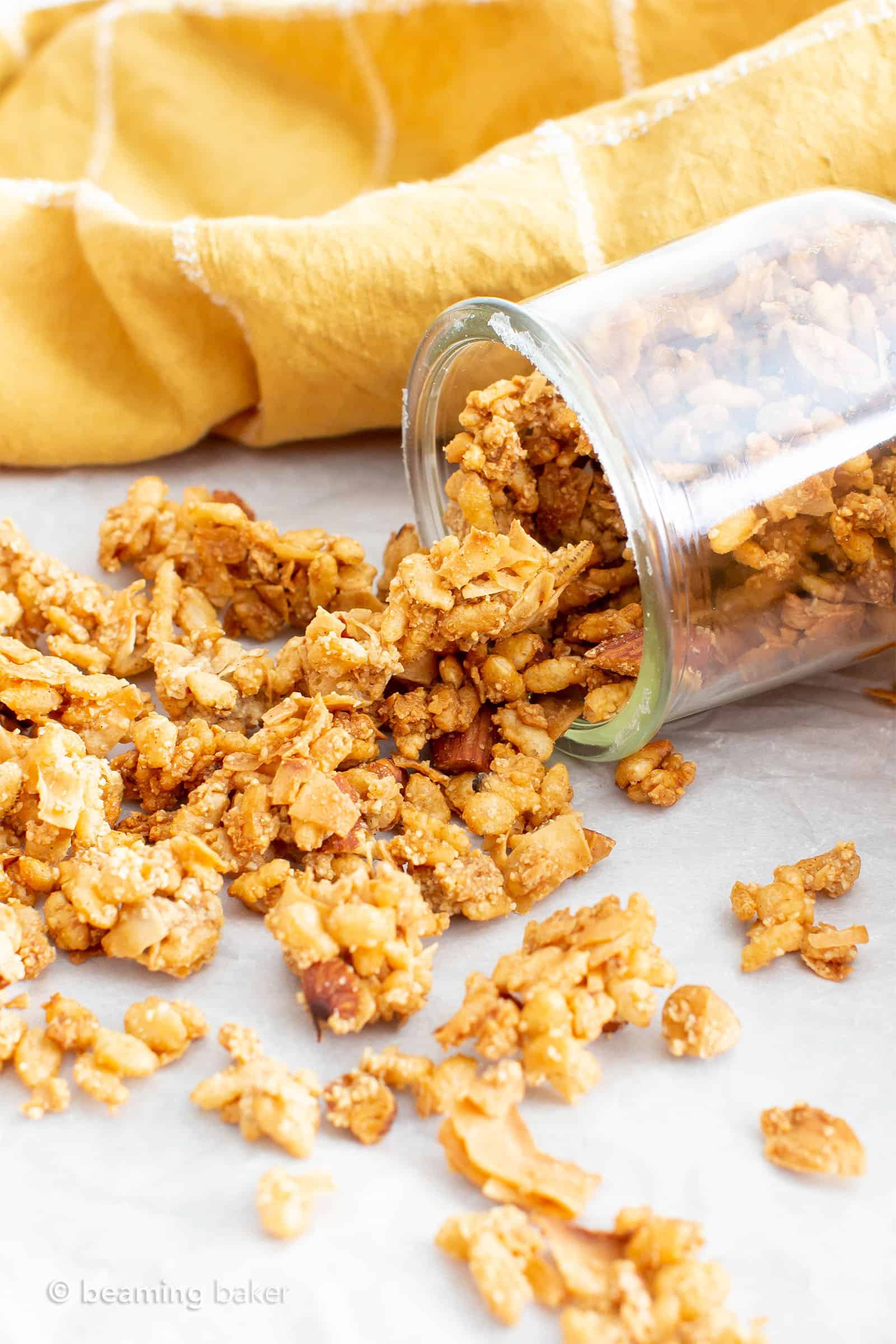 I'm SO excited to hear what you think of my low calorie granola recipe! You know I seriously look forward to hearing your comments, seeing pics (!!) on Instagram, and reading feedback on Facebook. Are you ready to do this? You grab the brown rice crisps cereal, I'll grab everything else. Meet ya in the kitchen! Sending you great, big hugs & gratitude for enjoying these kitchen adventures with me.
Sending you all my love and maybe even a dove, xo Demeter ❤️
☀ Click below to Pin ☀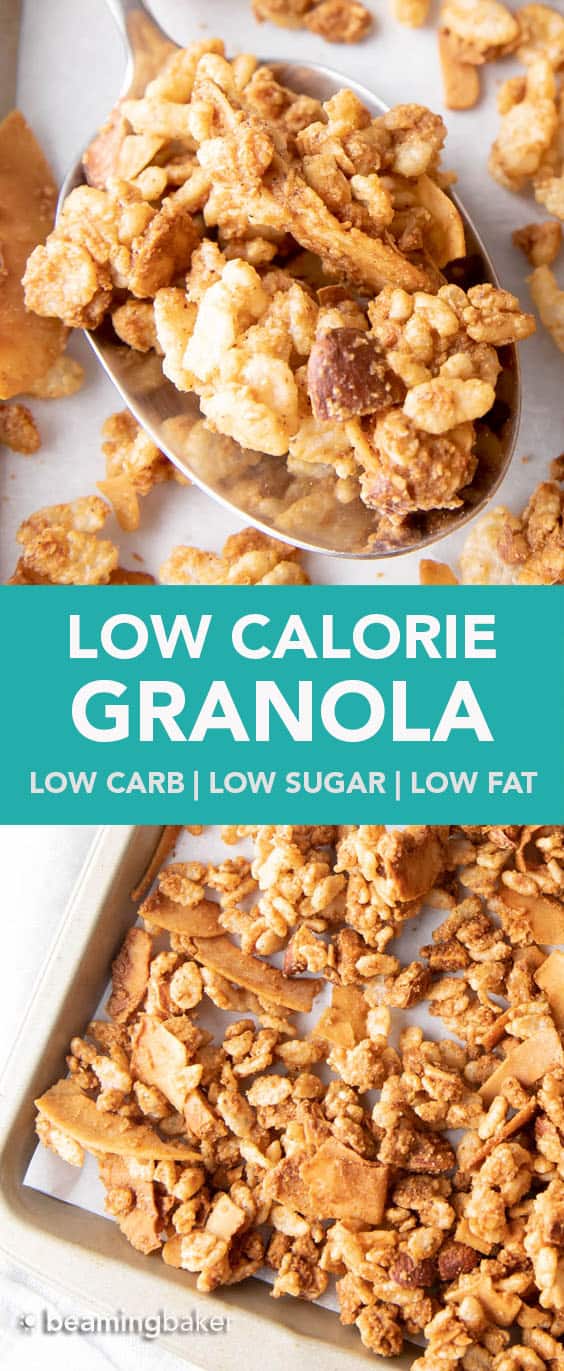 📸 Did you make this low calorie granola recipe? Take a pic and share it on Instagram with the hashtag #beamingbaker & tag @beamingbaker. I'd love to see it! 📸
More Delicious Granola Recipes
Print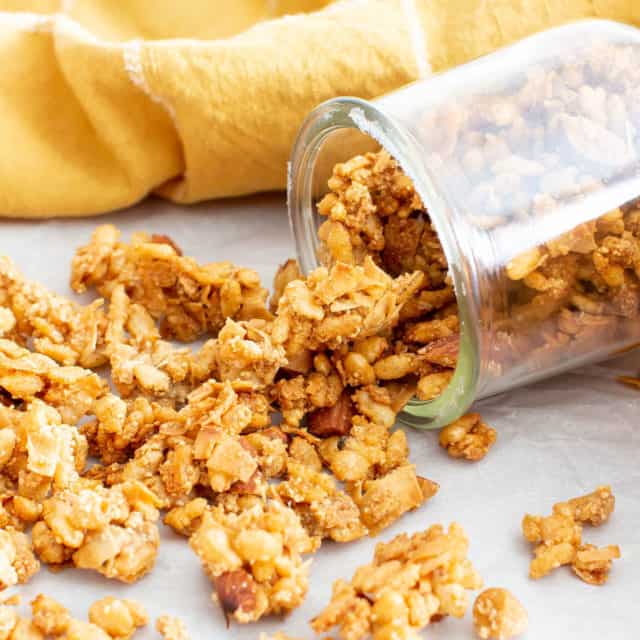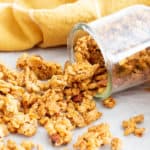 Low Calorie Granola (Low Carb, Low Sugar, Low Fat)
---
Description
Low Calorie Granola: 5 mins of prep for the best low carb, low sugar, low fat granola! Crispy, crunchy and perfectly sweet. Only 74 calories, 3.6g of sugar and 7g carbs per serving.
---
---
Instructions
Preheat oven to 325°F. Line a large baking sheet with parchment paper or greased foil. Set aside for later.
Add all ingredients to a large bowl. Using a rubber spatula, fold until clusters form and mixture is well mixed.
Pour onto the prepared baking sheet. Using the rubber spatula, gently nudge granola into an even layer, making sure to keep clusters intact. Create empty pockets at regular intervals to let air through to crisp up the granola.
Bake for 15-20 minutes—until granola clusters are just solid enough to flip. Using a heatproof spatula, gently flip granola, making sure to keep clusters intact. Bake for an additional 5-10 minutes, until edges are a deep golden brown and granola is just slightly soft. Mine took a total of 25 minutes. Granola will crisp up while cooling.
Place baking sheet on a cooling rack. Allow to cool for about 30 minutes, or until completely cooled. Enjoy! Storing instructions below.
More Granola Recipes You'll Love
Equipment
Prep Time:

5 mins

Cook Time:

25 mins

Category:

Granola, Breakfast, Snacks, Gluten-Free, Low Carb, Vegan, Refined Sugar-Free, Dairy-Free

Method:

Bake

Cuisine:

American
Keywords: low calorie granola, low fat granola, low carb granola
© beamingbaker.com. All content and images are protected by copyright. Please do not use my images or recipe without my permission. Please do not republish this recipe, instead, include a link to this post for the recipe.
This post may contain affiliate links, which allow me to make a small commission for my referral, at no additional cost to you.