Vegan Ice Cream Bars (Dairy Free, Gluten Free, Paleo)
Vegan Ice Cream Bars (V+GF): an 8 ingredient recipe for the BEST decadent chocolate-dipped vegan ice cream bars made with whole ingredients. Vegan, Dairy Free, Gluten Free, Paleo.
You guys! This is IT. This is the one you've been waiting for. Hang up the phone and cancel all of your appointments. In fact, turn off your TV, this is IT. Yeah, I said it. Turn off your TV. This is getting serious.
This is the dessert you've been waiting for. In fact, this is THE dessert my family's been drooling over, enjoying like WOAH, and been asking me to make again and again. Like, even while they're eating it.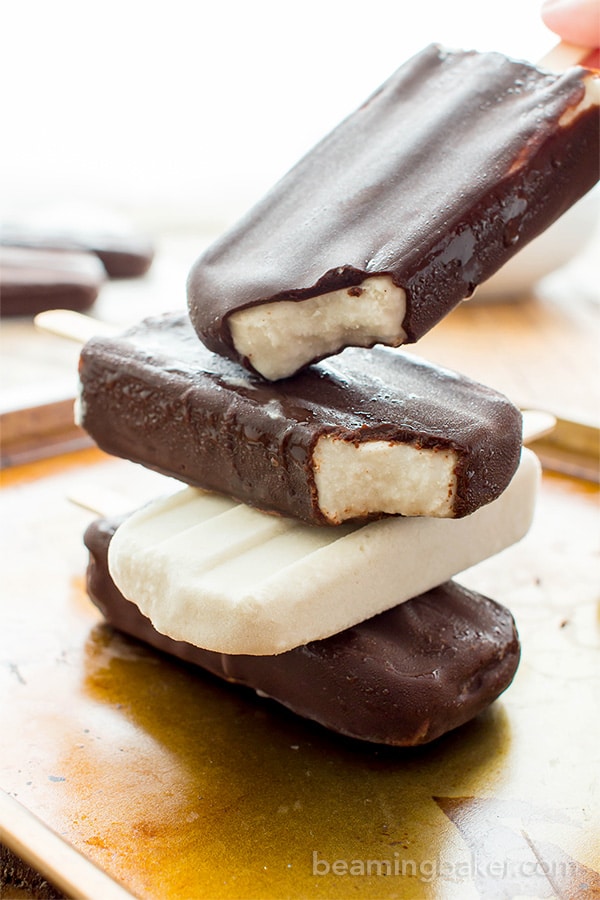 I say this with the utmost respect for my other recipes, this is my favorite dessert EVER. Yup, I just said it. Even better than my best vegan brownies. And I just felt all good typing "best vegan brownies."
Okay, so you know I've had a long and devoted love affair with sweets, desserts, cookies, cakes, cakes shaped like cookies, ice cream shaped like cakes, and cakes shaped like oh, you know. But basically, ALL of the sweets are my love. No offense, Erik.
But these vegan ice cream bars are everything I couldn't have even dreamed of. Because, seriously, sometimes my imagination is limited by the real world and junk. Lame… 😉
In any case, it was a few weeks ago when Erik and I happily welcomed our new popsicle mold into the family. We had too much fun making this, this, and this. It was all the popsicles, all the time. I mean, if we could've stepped into a time machine and asked our childhood selves what we wanted, this would've been it.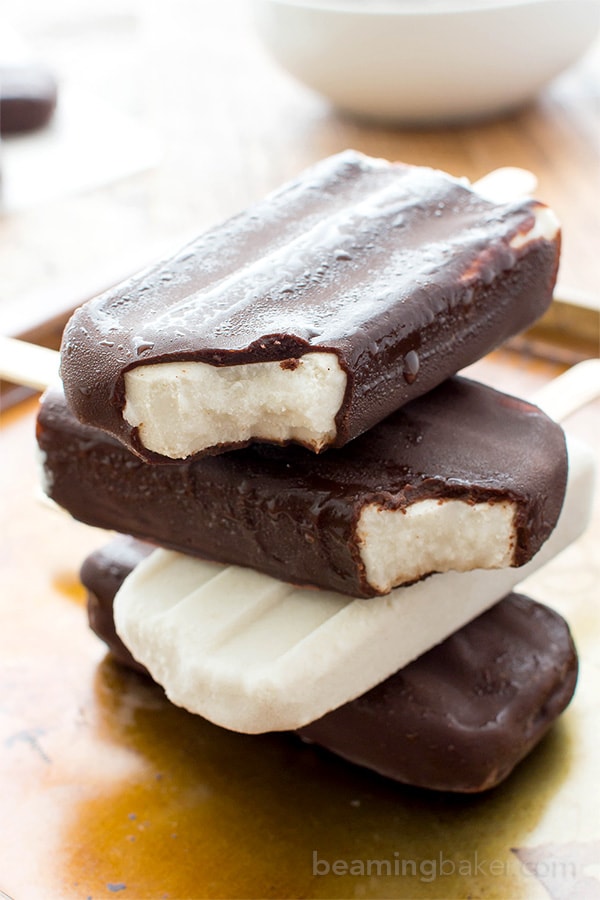 But, as much fun as those popsicles were, we knew something was missing. And oh YES, it was THIS ice cream bar. Screaming required. They're basically popsicle versions of ice cream. And need I mention my love of cake-shaped ice cream or cookie-shaped cakes? Well hello to you, popsicle-shaped ice cream. Nice to meet ya!
So why not try making our own? You see, I've been toying with an ice cream recipe for awhile now, still fiddling with the creamy/icy/thick-but-not-too-thick factor, when I just went ahead and poured one test batch mixture into our popsicle mold. Because. Summer. Yep, I've said it before and I'll say it again (there goes that wonderful imagination of mine).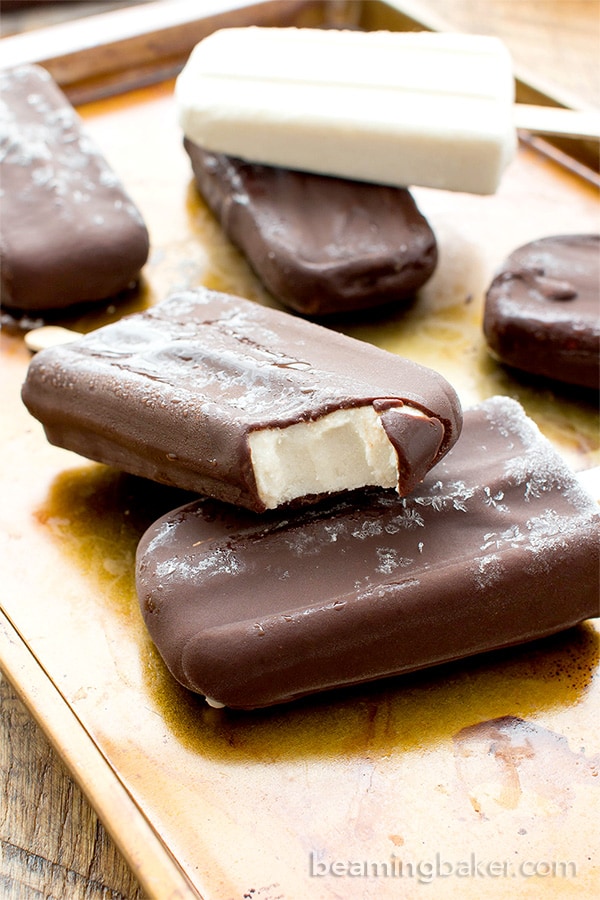 And guess what came out a mere few (okay, more like 4-6) hours later? The most perfect ice cream bars. But wait, there's more! (Suddenly, I've become Joey selling that amazing milk-pouring spout thingy.) No, there wasn't any flingin' flangin' liquid pouring disasters here, just a need for a nice, thick chocolate shell.
So I mixed up the wonderfully simple recipe for homemade vegan chocolate shell: cocoa powder, maple syrup and coconut oil. All at once, you could almost hear the dessert angels sing. And you could definitely hear Joey sayin' "How you doin'?" to these ice cream bars.
Then, I did a bit of dipping, a bit of tasting, maybe some dripping (on my clothes and maybe even the floor), and a WHOLE lotta eating.
The second you bite into this vegan ice cream bar, you'll see exactly what I mean. The crunch of that perfectly thick chocolate shell, the cool creaminess of the ice cream interior: instant, and all-consuming perfect dessert bliss.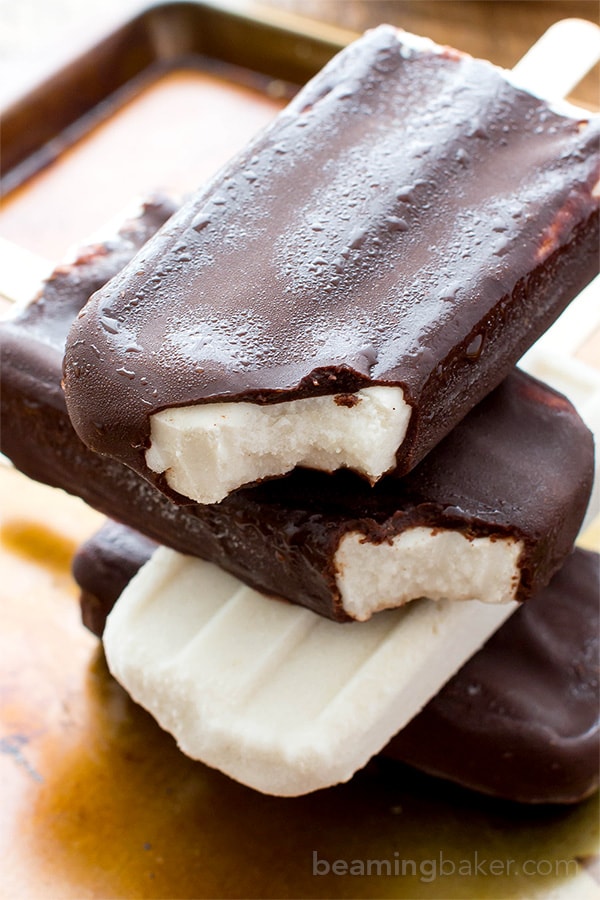 How do we love these? Let us count the ways. These incredible Vegan Ice Cream Bars are:
simply made with guilt-free, whole ingredients
perfectly creamy, perfectly chocolatey
vegan, gluten free, and dairy free
wonderfully homemade
made with just 8 ingredients
the dessert you've been waiting for
like, forever
plant-based and allergy-friendly
the BEST ice cream bar you'll ever make
So whip up a batch and see what the fuss is all about. Nothing's better than homemade vegan ice cream bars and perhaps a long, lovely afternoon of relaxation. Here's to enjoying the quiet, blissful moments in life. I'll see you by the pool. 🙂
☀︎ Click below to Pin ☀︎

☀︎ Did you make this recipe? Take a pic and share it on Instagram with the hashtag #beamingbaker. I would love to see it! ☀︎
SHOP THIS RECIPE
Here are a few items I used in today's recipe. 🙂
Popsicle Mold | Coconut Milk | Popsicle Sticks | Food Processor | Blender | Maple Syrup
Print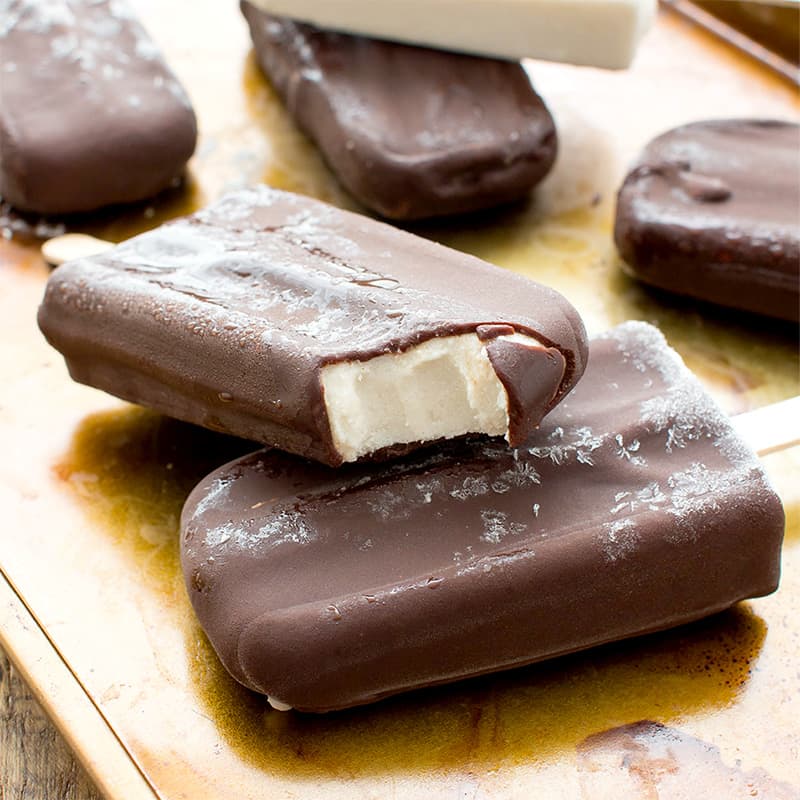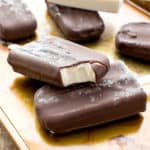 Vegan Ice Cream Bars (Dairy Free, Gluten Free, Paleo)
---
Description
Vegan Ice Cream Bars (V+GF): an 8 ingredient recipe for the BEST decadent chocolate-dipped vegan ice cream bars made with whole ingredients. Vegan, Dairy Free, Gluten Free.
---
Vanilla Ice Cream Bars
Chocolate Shell Coating
½ cup

melted coconut oil

½ cup

pure maple syrup

½ cup

unsweetened cocoa powder
---
Instructions
The night before, or for 3-4 hours, soak the cashews. Also, refrigerate the can of full-fat coconut milk.
Make the ice cream bars: Drain and rinse the cashews. Add cashews and half the can of lite coconut milk into a blender. Blend until smooth, scraping down the sides of the blender as needed. Add in the remaining half can of lite coconut milk.
Remove the can of full-fat coconut milk from the fridge and flip it upside down. Open and pour out the translucent coconut juice, making sure to keep the thick, white coconut fat in the can. Save the coconut juice for another recipe or a smoothie.
Scoop the coconut fat into the blender. Add maple syrup, vanilla and salt. Blend until smooth.
Pour this ice cream mixture into your popsicle mold, leaving about ¼" of space at the top of the mold to allow the popsicles to expand in the freezer. Insert popsicle sticks into slots, or follow instructions for your mold.
Freeze for 6-8 hours.
Remove from freezer. Line a large baking sheet with wax paper or parchment paper. Clear some space out in the freezer for this sheet.
If needed, allow popsicles to thaw for a few minutes. Optionally, run popsicle mold under a bit of lukewarm water to loosen the bars. Place the popsicle mold on a flat surface and wiggle the ice cream bars out.
Lay the ice cream bars evenly spaced apart on the prepared baking sheet. Freeze for 1 hour, or until completely frozen. This allows the bars to harden for smooth dipping.
Make the chocolate coating: About 10 minutes before the bars are done freezing, prepare the chocolate coating. In a medium bowl, whisk together the coconut oil, maple syrup and cocoa powder. Whisk until thickened and smooth, like melted chocolate.
Dip the ice cream bars: Prepare your work area. Lay a large sheet of wax paper or parchment on a flat surface. Remove the bars from the freezer. Pour about 1/4 cup of chocolate coating directly onto the prepared work surface. Using a rubber spatula, scrape the chocolate into a rectangular shape that's larger than one ice cream bar.
Lay the bar right on top of the chocolate rectangle you've created. Press down, then pull back and up, coating from the bottom of the bar to the top. You will have coated one side and the top of the bar. Tilt the bar to the side, coating an edge in chocolate. Repeat for the other edge. Flip the bar over, pressing the uncoated side in chocolate. Pull back and up, finishing off the coating. Use a spoon to seal up any areas that aren't coated. Return the chocolate-coated bar back onto the prepared baking sheet.
Pour more chocolate mixture onto the work area, using the rubber spatula as needed to scrape it into a rectangular shape. Repeat coating.
Enjoy!* Storing notes below.
Also try these tasty frozen desserts!
Equipment
Category:

Dessert

Method:

Freeze

Cuisine:

American
© beamingbaker.com. All content and images are protected by copyright. Please do not use my images without my permission. If you wish to republish this recipe, please re-write the entire recipe using your own words and include a link to this post for the recipe.
Feeling like a nice, big bowl of ice cream? Enjoy my Dark Chocolate Nice Cream (Vegan, Gluten Free, Dairy Free).
Nice cream just got upgraded, fellow Coconut Lovers! Try my Toasted Coconut Nice Cream (Vegan, Gluten Free, Dairy Free).
Blueberries + Coconut = Meant to Be. Try my Vegan Blueberry Coconut Popsicles (Dairy Free, Gluten Free).
This post may contain affiliate links, which allow me to make a small commission for my referral, at no additional cost to you. Thank you for supporting Beaming Baker.
Facebook ☀︎ Pinterest ☀︎ Twitter ☀︎ Instagram