Vegan Gluten Free Chocolate Cake Recipe: this gluten free dairy free cake yields moist & rich chocolate cake covered in irresistible creamy chocolate frosting. My favorite vegan gluten free cake recipe!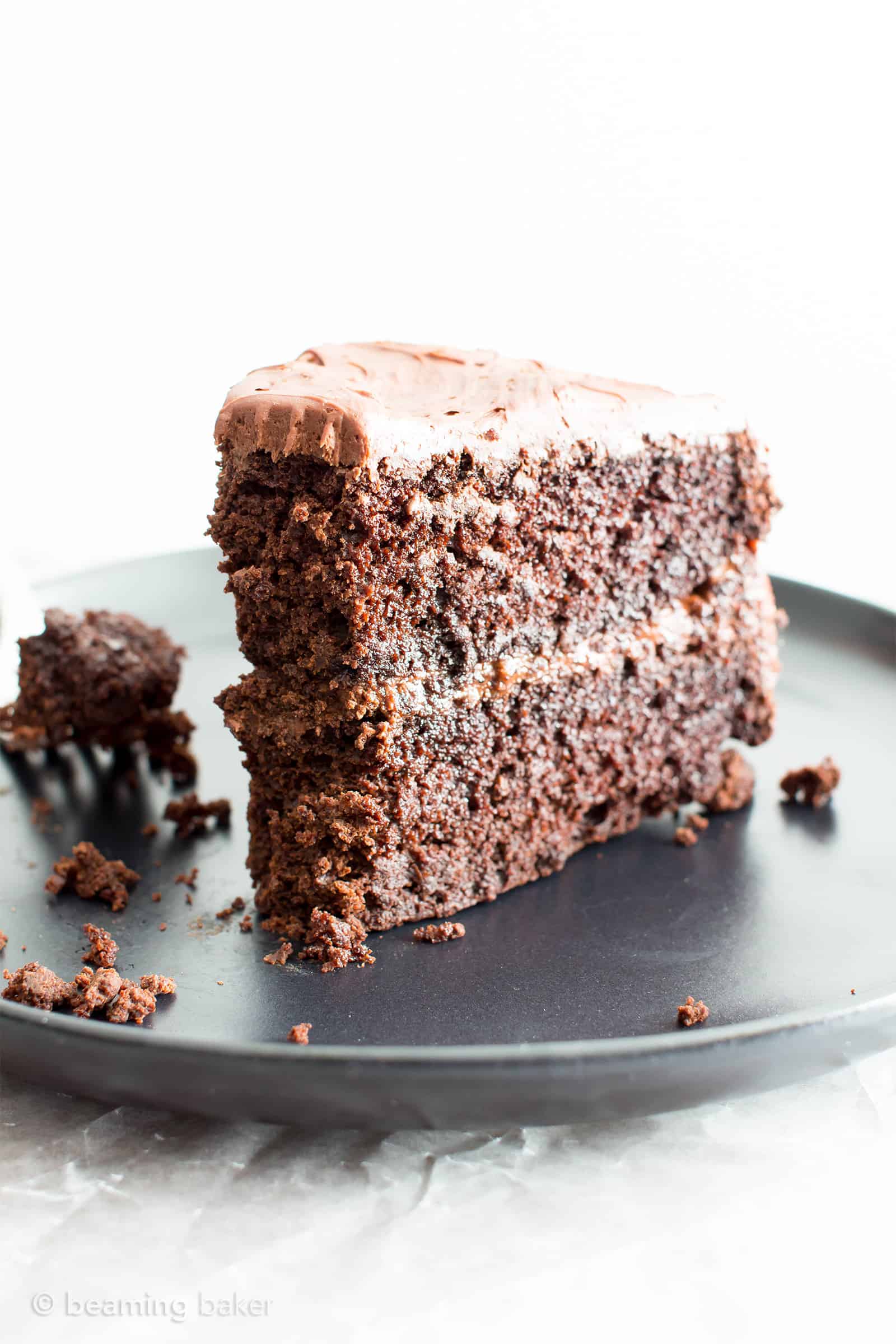 My Favorite Vegan Gluten Free Chocolate Cake Recipe
Join me as we take a dive back into the most popular Vegan Gluten Free Chocolate Cake Recipe on the internet—my favorite two-year-old gluten free dairy free cake recipe. Today, I'm sharing new tips and tricks for the BEST vegan gluten free chocolate cake! Let's do it!
Moist. Rich. Chocolatey. And just about EVERYTHING you'd want in the perfect vegan chocolate cake. Yeah, I said it. PERFECT. .
Do you have a favorite cake flavor? Without having to think too hard, you'd probably guess that my favorite cake of all time is vegan gluten free chocolate cake. I mean, you'd guess this so easily considering the majority of my recipes sound like Ultimate Fudgy Paleo Vegan Brownies, Gluten Free Vegan Dark Chocolate Muffins and Vegan Gluten Free Chocolate Cupcakes (this one seems too obvious).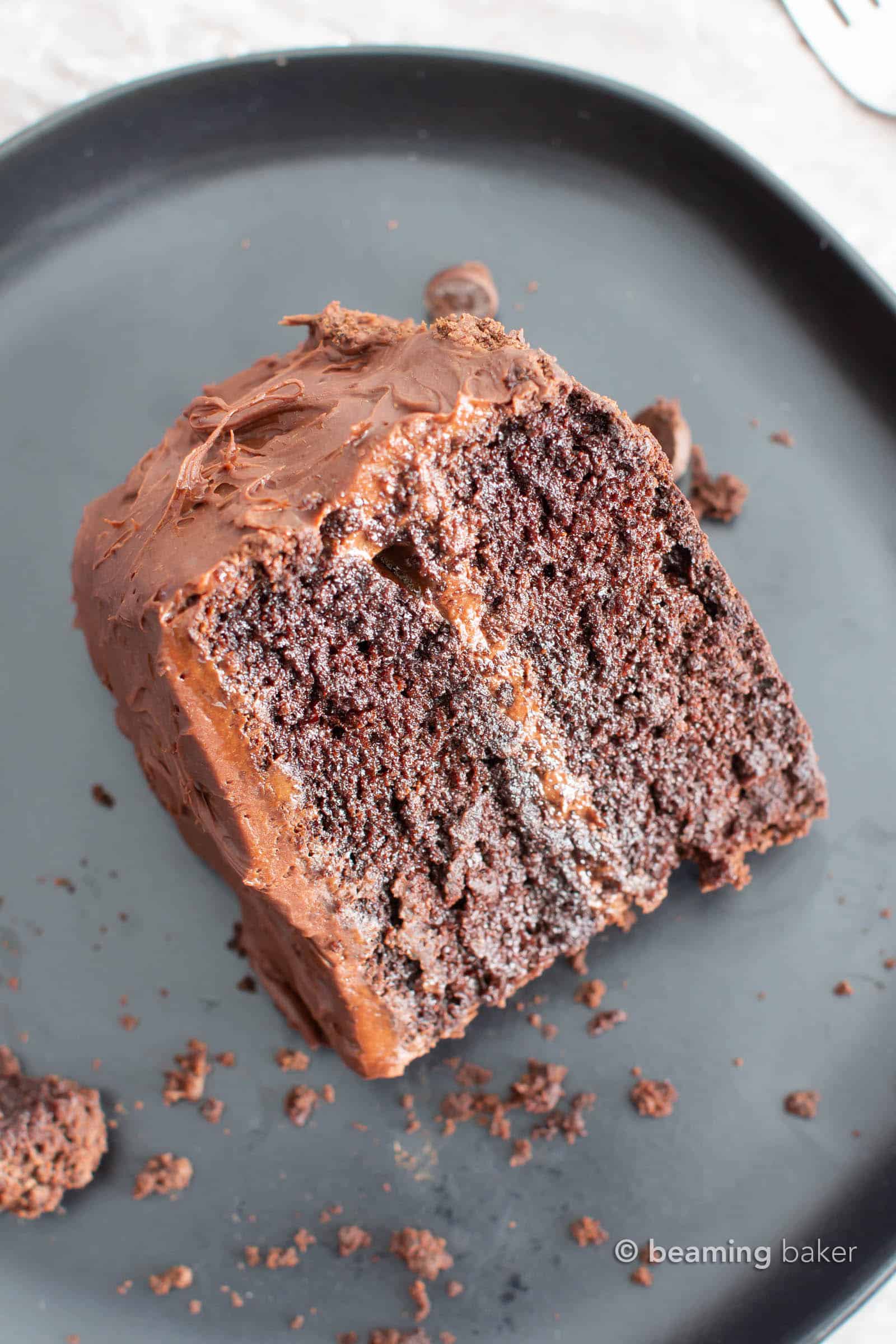 There's just something about having my cake and eating it too that makes life so much sweeter. Of course now I have to tangent into the age-old discussion of why you would have cake and not eat it??? What's up with that saying? It's always bothered me!!
So after many long-winded discussions (and absolutely no internet research because obviously it's way more fun to speculate than to look stuff up), Erik and I agreed on the following:
Having your cake = being in possession of it… meaning you have 1 cake to your name.
Eating your cake = enjoying the cake… and soon-to-be not having any more cake to your name = you can't have the cake because you're eating/disappearing it.
Oh goodness, doesn't "disappearing it" sound oddly brutal? Meanwhile, I'm all up for "disappearing" some of this vegan gluten free chocolate cake right now… . Either way, you can have this vegan gluten free chocolate cake and eat it too! Win win!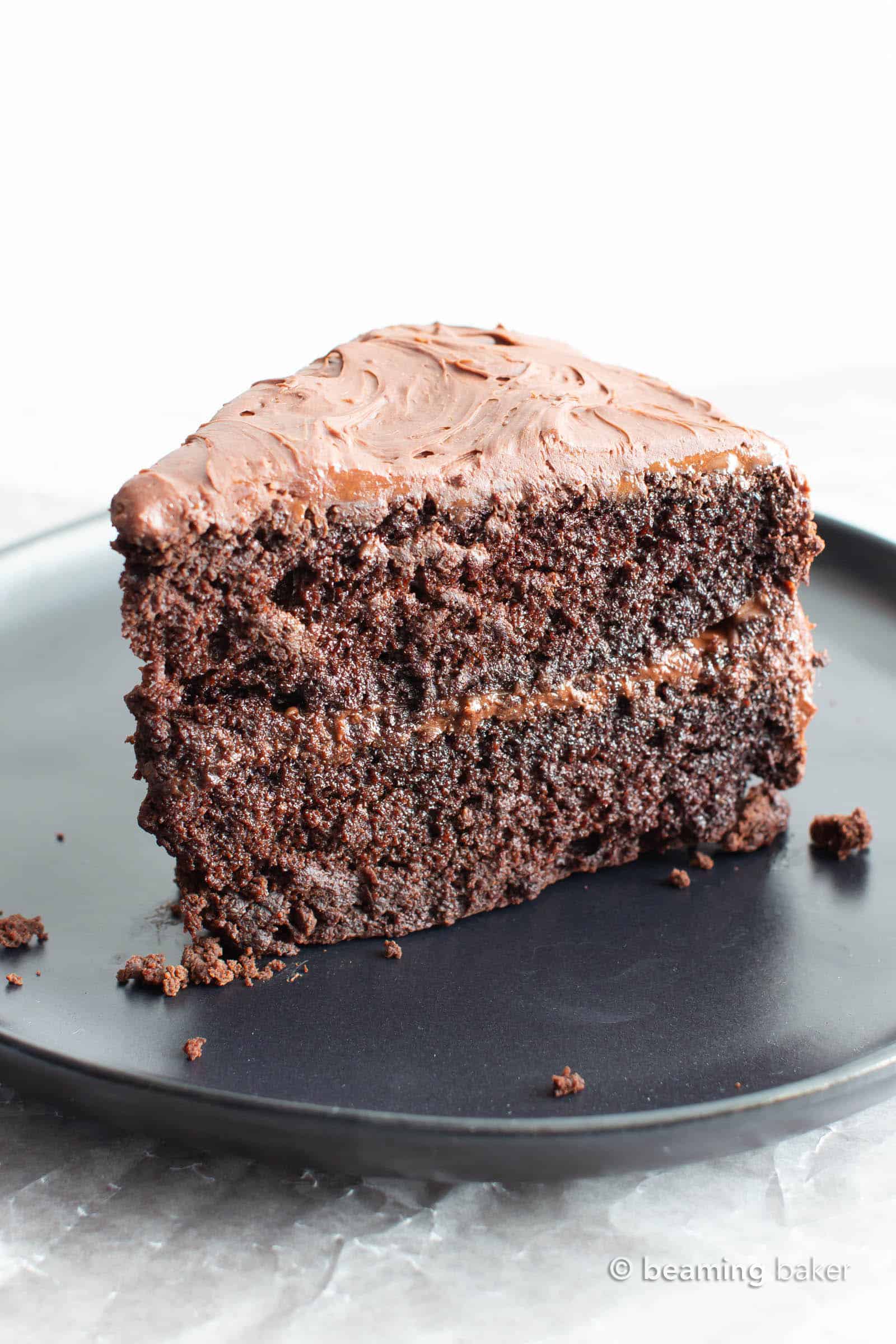 The Taste: Vegan Gluten Free Cake: Chocolate Edition
This vegan gluten free cake is one of the most popular on the internet for a reason. It's GOOD. Like, hella good.
The Vegan Gluten Free Chocolate Cake: is moist and fluffy with rich, deep chocolate flavor and the perfect crumb. It's not too light and not too dense—landing somewhere perfectly in between.
The Vegan Chocolate Frosting: rich, creamy and delightfully chocolatey. While the cake portion of this vegan GF cake is lightly sweet, the 2 ingredient vegan chocolate frosting is on the sweeter, creamier side to balance out the dark chocolate flavors of the cake.
Together, these two components make for the best vegan gluten free cake recipe ever. Try if for yourself and see. 😉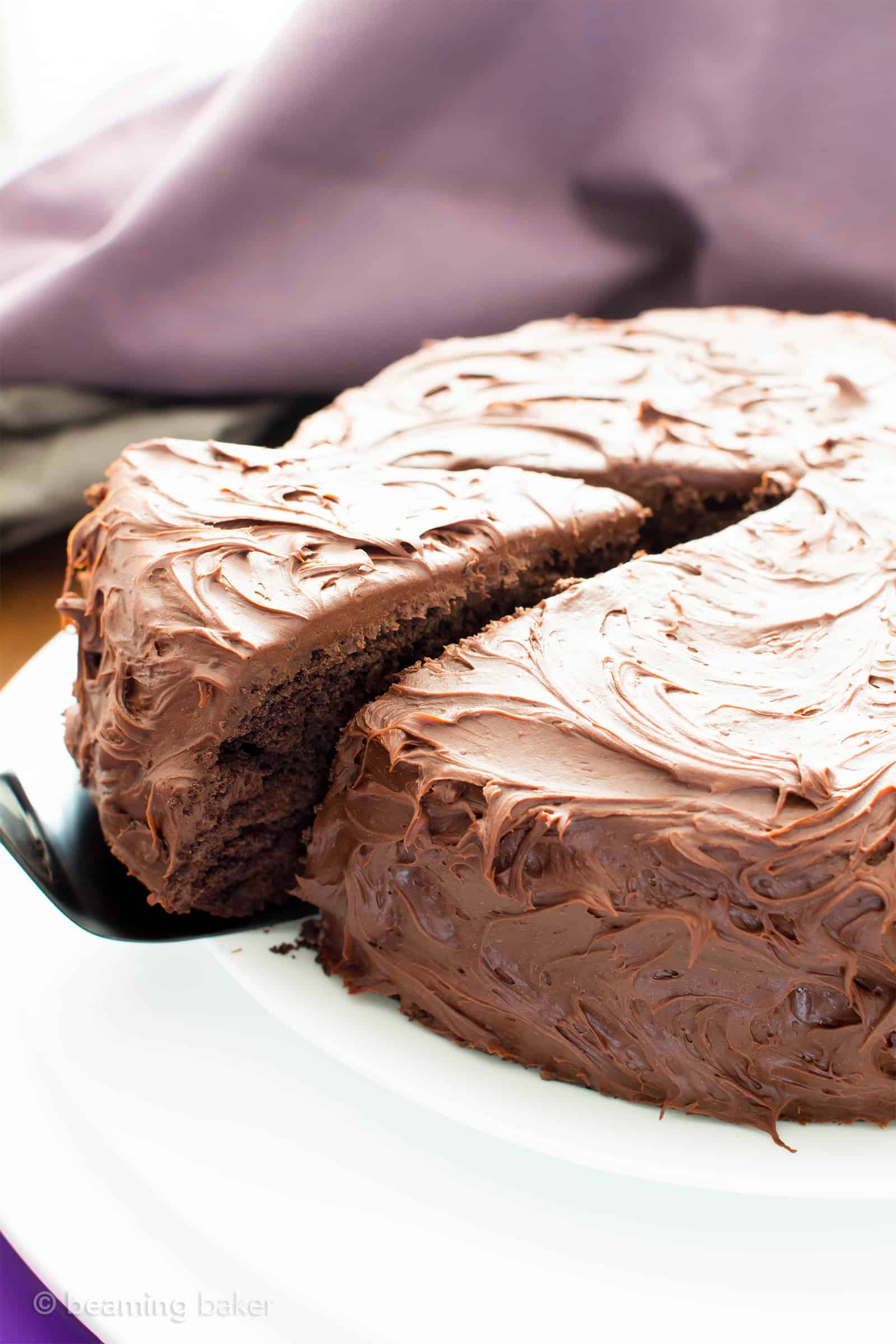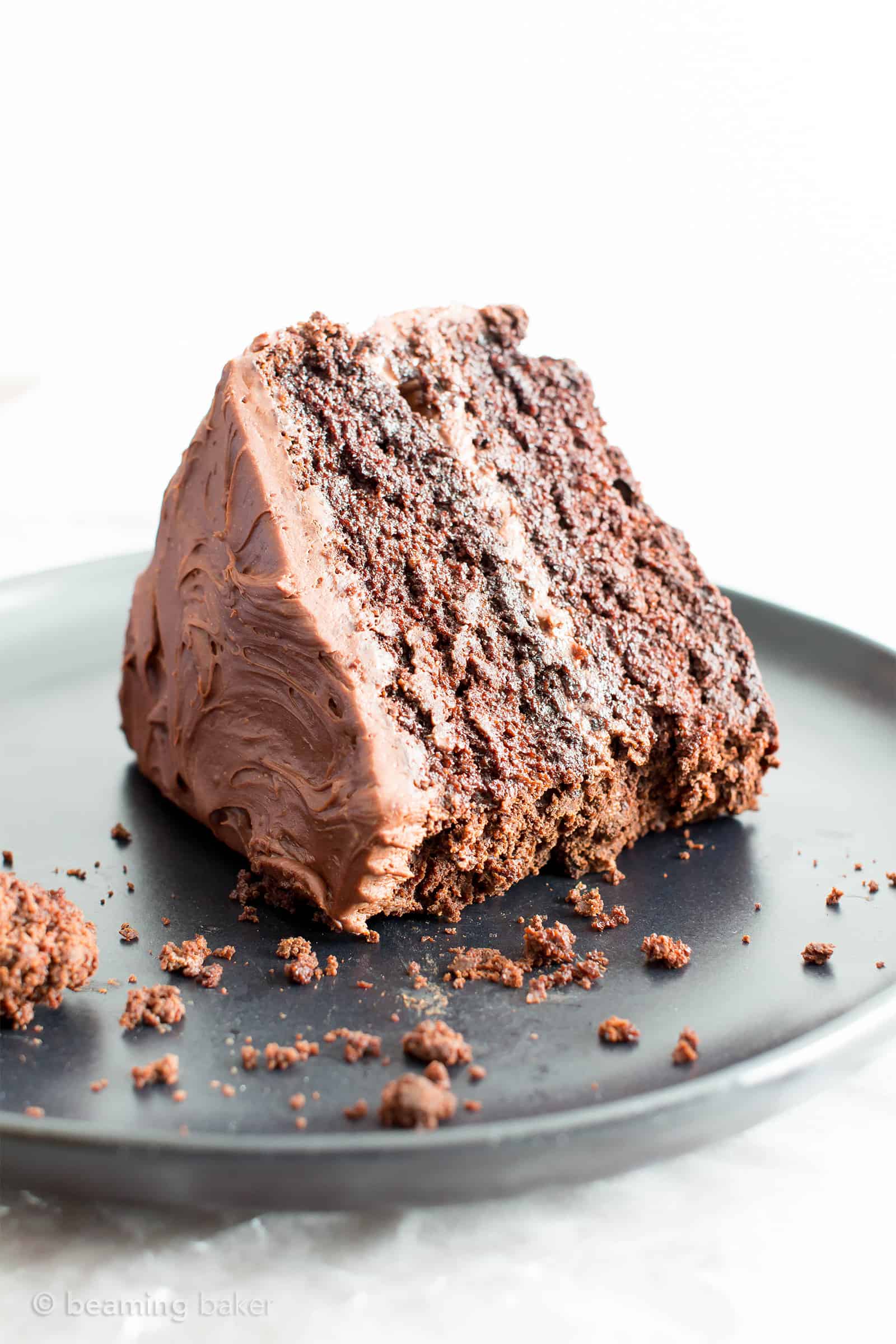 How to Store this Vegan Gluten Free Chocolate Cake Recipe
To store after frosting: store your cake in an airtight container like this one for 1-3 days, in a cool environment. Keep out of direct sunlight and way from heat sources.
To store before frosting: you may freeze the cake and frost before serving (up to 3 days before). Wrap cake layers in parchment paper or plastic wrap and store in an airtight, freezer-friendly container. Do not make frosting until you are ready to whip and frost the vegan chocolate cake.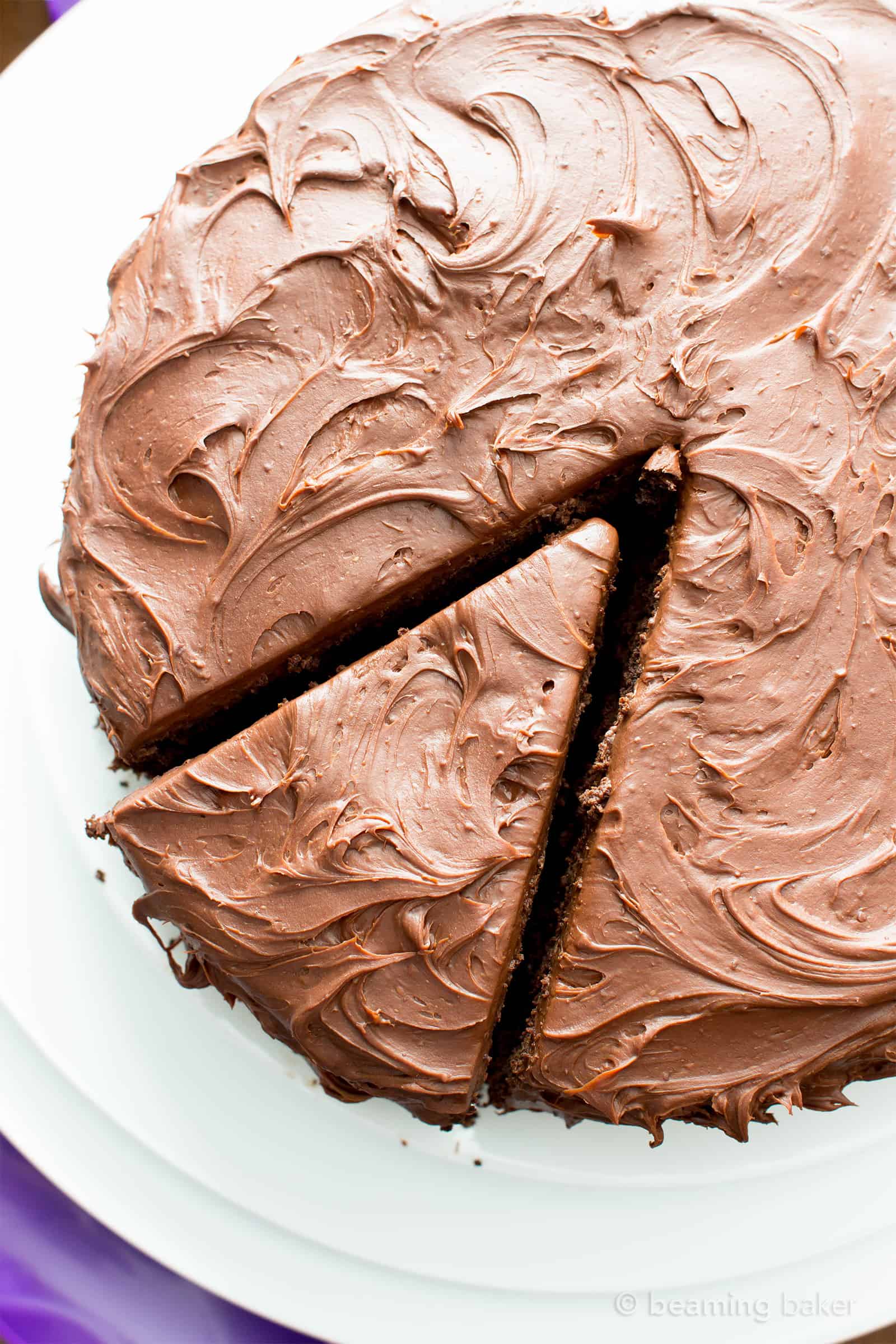 Tips for Vegan Gluten Free Chocolate Cake
Here are a few tips to making your vegan gluten free chocolate cake a success!
Do not make substitutes.
I designed this recipe specifically around the ingredients and amounts listed. If you make any substitutes at all, the recipe is different and I can't guarantee the results. Any small change, even if it's swapping one flour for another, can cause terrible results. And definitely do not use almond flour, coconut flour or any other kind of flour expecting ideal results. All of those flours work very differently in this recipe. 🙂
If using homemade oat flour, remember to sift, sift, sift!
It is difficult to grind homemade oat flour to the degree that big companies with fancy equipment can. So, if you're making your own, making sure to sift out coarse bits that can cause your chocolate cake to become crumbly, or overly moist. Then, after sifting, measure your oat flour and use.
To "Butter" Pans with Coconut Oil
Start with slightly softened coconut oil. Drop about 2 teaspoons onto a cake pan. Using a rubber spatula, spread coconut oil. The more you spread, the softer and easier the coconut oil will be to work with.
To "Flour" Pans with Cocoa Powder
Use a sifter to evenly drop cocoa powder over pan (or else you'll just get big clumps)
Then, tap the pan around to get the cocoa powder to spread.
For the sides, you have to aggressively tap and hold the pan on its side, getting the cocoa powder to fall down onto the opposite side. Rotate as you tap so the cocoa powder will fall and coat more and more of the side of the cake pan.
For a Visual Guide + Tips on Making Homemade Chocolate Frosting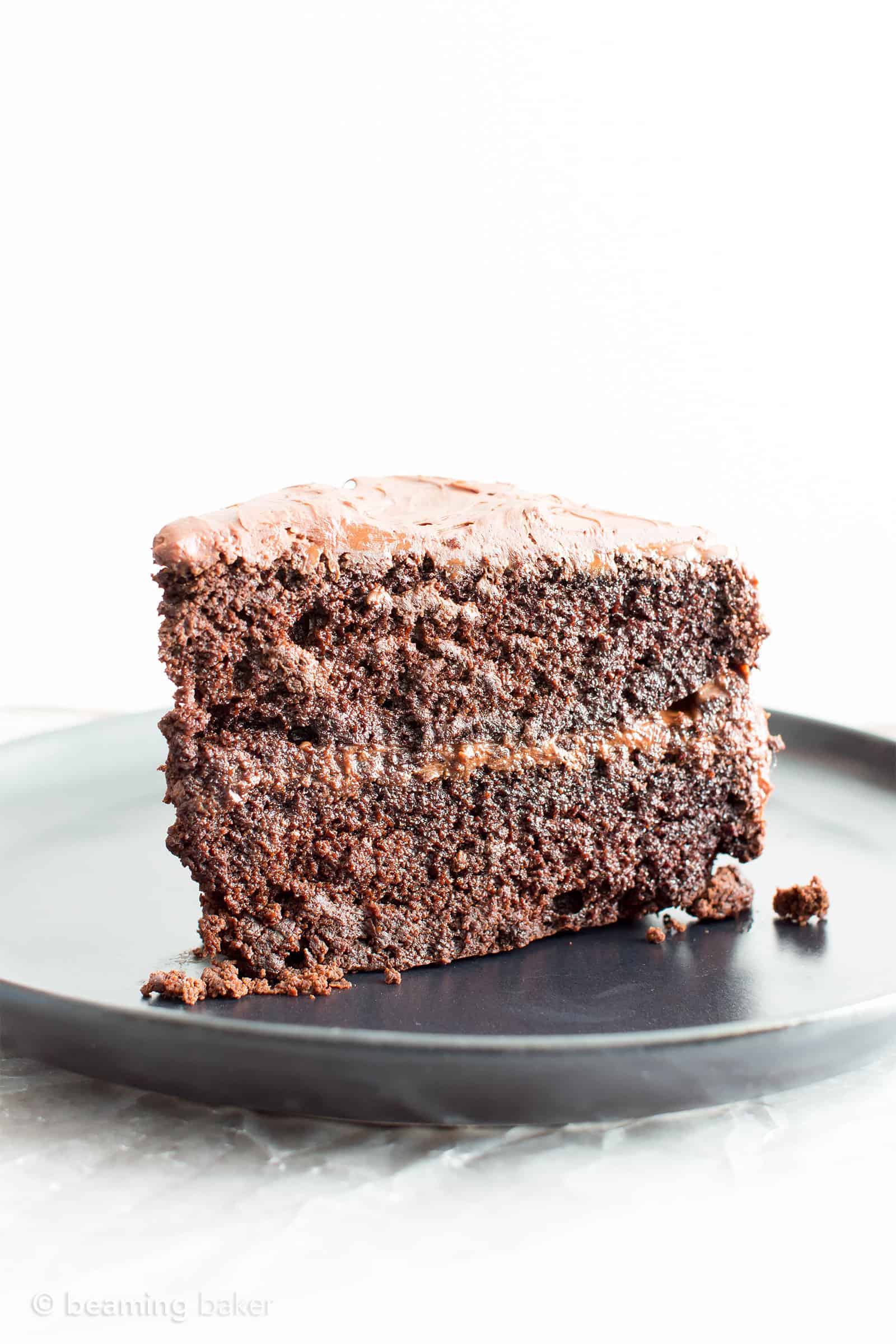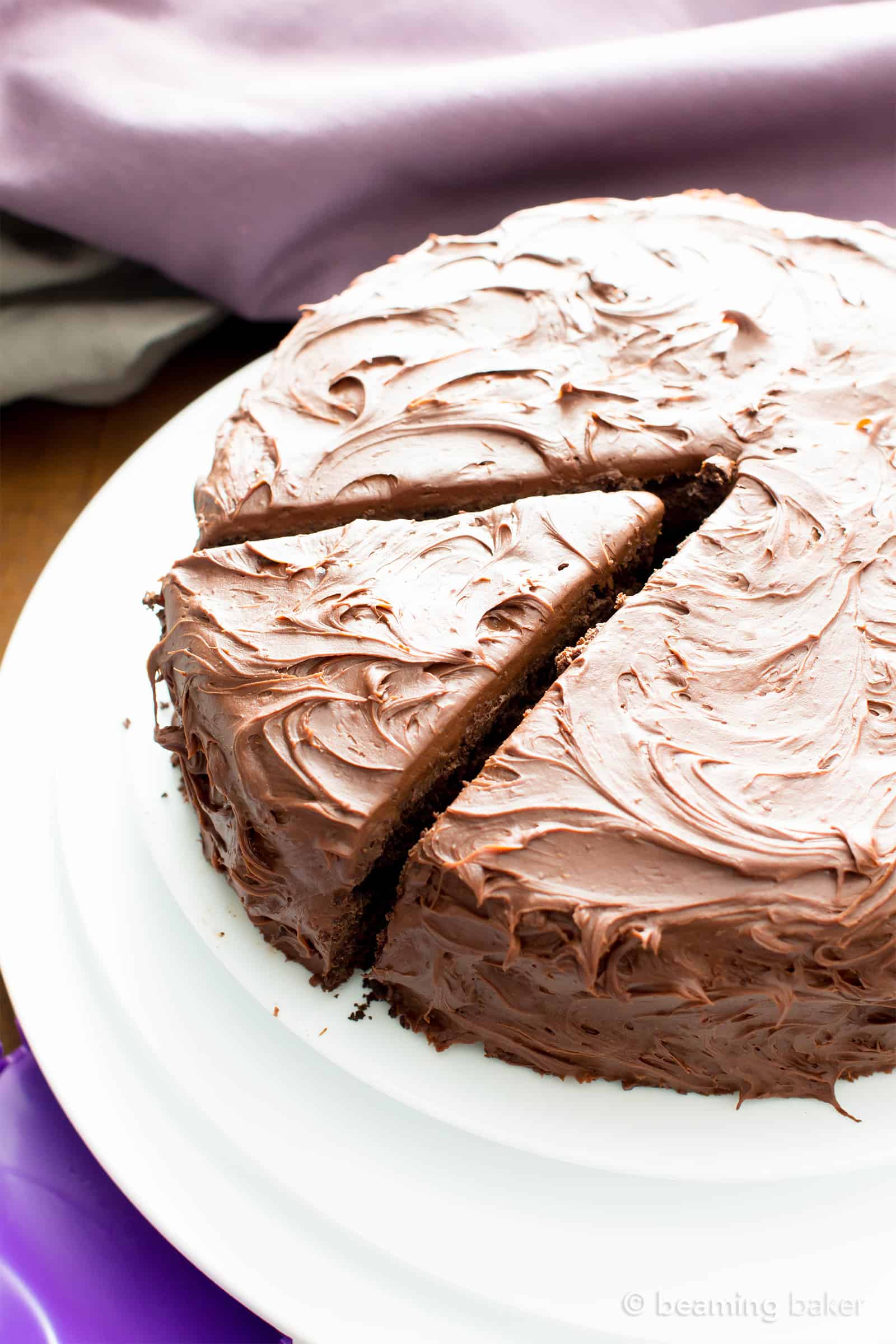 Best Tools for the Best Gluten Free Dairy Free Cake
Are you ready to get your vegan gluten free cake on? Let's do it! I can't wait to hear what you think of my recipe! Let me know if you try my recipe—I love hearing from you! Thank you so much for stopping by and joining in on the kitchen fun! 'Til the next kitchen adventure…
Sending you all my love and maybe even a dove, xo Demeter ❤️
Click below to Pin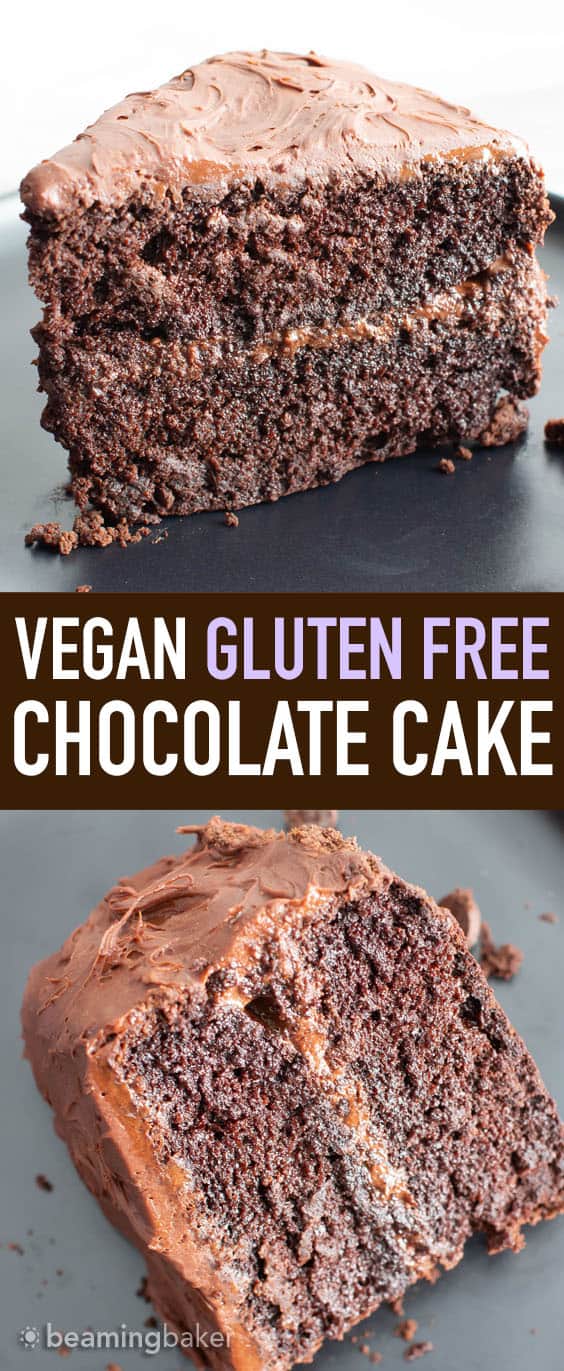 Did you make this vegan gluten free cake recipe? Take a pic and share it on Instagram with the hashtag #beamingbaker & tag @beamingbaker. I'd love to see it!
Vegan Gluten Free Cake Recipes & More
Print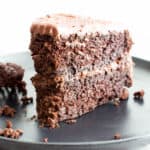 Vegan Gluten Free Chocolate Cake Recipe (Dairy-Free)
---
Description
Vegan Gluten Free Chocolate Cake Recipe: this gluten free dairy free cake yields moist & rich chocolate cake covered in irresistible creamy chocolate frosting! My favorite vegan gluten free cake recipe! Vegan, Gluten-Free, Dairy-Free.
---
FROSTING
CHOCOLATE CAKE
Dry Ingredients
Wet Ingredients
---
Instructions
Prepare the frosting: The night before, begin preparing a double batch of this Vegan Chocolate Frosting. Do not whip the frosting until the cake is cooled and ready to be frosted.
Make the cake: Preheat the oven to 350°F. Prepare two 9-inch round cake pans as follows: coat with softened coconut oil, then dust completely with cocoa powder. Set aside.
In a large bowl, sift together the dry ingredients: oat flour, cocoa powder, baking soda and salt. Set aside.
Add water and milk to a microwave-safe bowl. Heat in 10-second increments until just warm. This will prevent the melted coconut oil from solidifying once mixed with these liquids.
In a medium bowl, whisk together all wet ingredients: water, milk, coconut oil, sugar, maple syrup and vanilla. Whisk until well incorporated. Add wet ingredients to dry ingredients. Whisk until just incorporated, making sure no flour patches remain.
Pour batter evenly into prepared cake pans. Tap the pans several times to even out the batter and release bubbles that have formed in the batter. Bake for 22-26 minutes. Mine took 24 minutes. Test for doneness with a toothpick—it should come out clean when done.
Place pans on a cooling rack to cool for 25 minutes. Afterward, use a plastic knife to cut around the interior edges of the cake pan to loosen the cake. Shake the pan a few times until you hear the cake pop loose. Place a large plate or cooling rack upside down, on top of one cake pan. Grasping both the pan and the plate tightly, flip the cake onto the plate/rack. Repeat with second layer. Allow cake to cool completely before frosting (about 1 hour).
Frost the cake: Whip the frosting as instructed. Frost the cake. Enjoy! Storing instructions below!
If you prefer cupcakes, try these Vegan Gluten Free Chocolate Cupcakes or these grain-free Paleo Chocolate Cupcakes!
Equipment
Prep Time:

45 mins

Cook Time:

24 mins

Category:

Dessert

Method:

Bake

Cuisine:

American
© beamingbaker.com. All content and images are protected by copyright. Please do not use my images or recipe without my permission. Please do not republish this recipe, instead, include a link to this post for the recipe.

This post may contain affiliate links, which allow me to make a small commission for my referral, at no additional cost to you. Thank you for supporting Beaming Baker.