Chocolate Peanut Butter Rice Crispy Treats (Vegan, Gluten Free, Dairy Free)
Chocolate Peanut Butter Rice Crispy Treats (V, GF, DF): an easy 5 ingredient recipe for chocolate-topped PB rice crispy treats that taste like peanut butter cups. Vegan, Gluten Free, Dairy Free.
How did it get to be October 10th already?! As the second week of Halloween Month, we've got to start getting our act together for the Big Day! See Halloween-perfect treats such as: 3 Ingredient Healthy Vegan Rice Crispy Treats, No Bake Chocolate Peanut Butter Bars, and Homemade Crunch Bars. .And since I know that some of you might not be huge fans of Halloween like my family is (or call Halloween "the Big Day"), we're gonna be making treats that can work for the holiday or against it.
J/k! We're gonna be making treats that you can enjoy any time of the year. 🙂
Allow me to present to you: my Chocolate Peanut Butter Rice Crispy Treats!! I soooo had to put two exclamation marks at the end of that. I would be remiss not to!! Ahem. Plus, who doesn't need a good dose of chocolate and peanut butter on a Monday?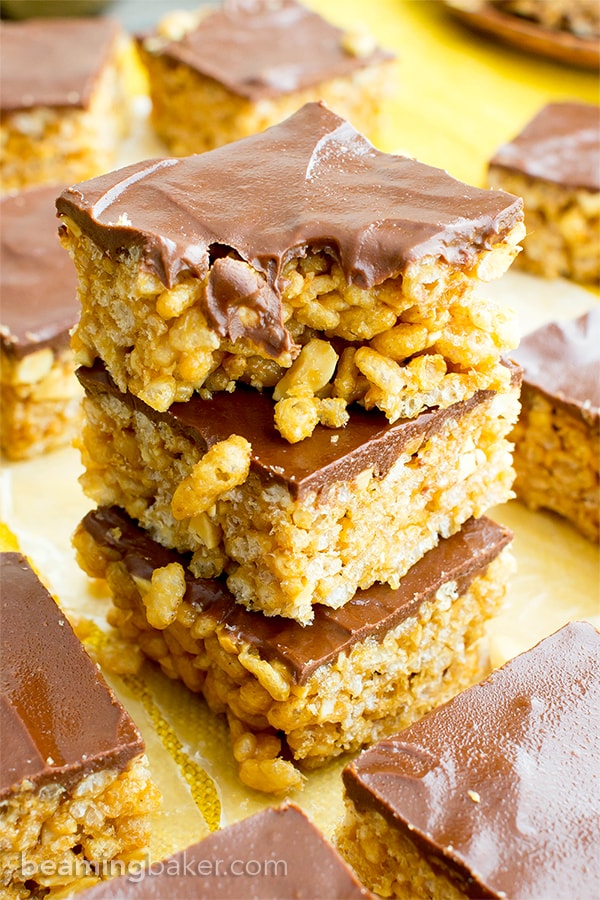 You might know that Halloween has an extra special spot in my heart because of certain spookiriffic All Hallows' Eve shenanigans with my mom. Also because I love finding ways to mash the word spooky and an overexuberantly positive adjective together. Any suggestions?
Anyway… it's been years since that incident, and well… this incident with my sister Monica, but there've also been so many wonderful Halloween family bonding events since then. The thing is, I spent so many years away from home that I probably worked myself up into a tizzy missing my fam over the holidays. But in the past years, I've been lucky enough to spend the big ones with them: Halloween, Christmas, and birthdays!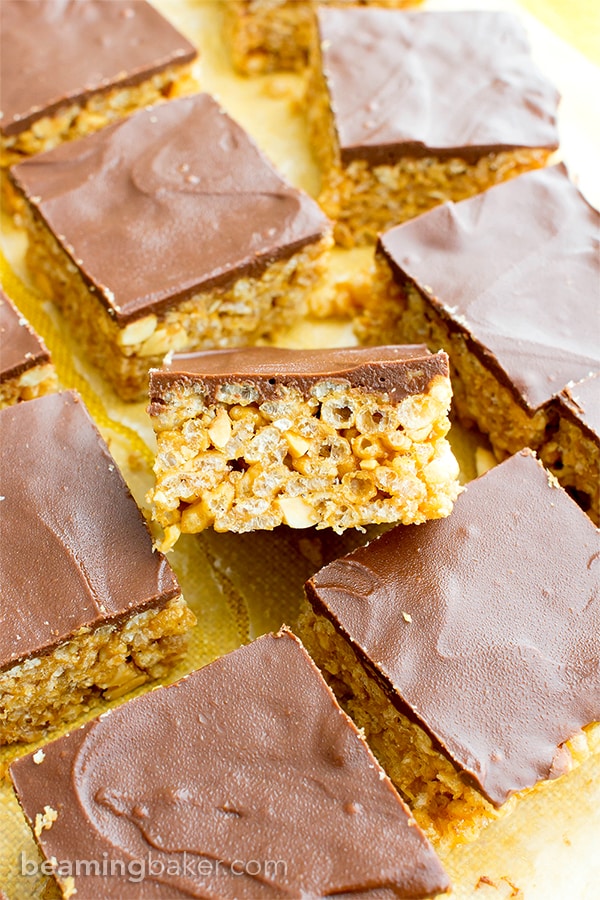 The last couple of years, my mom, my sister Jenny, her dynamic superhero-in-the-making three-year-old Dylan, Erik and I have developed a new family tradition for Halloween: get amped up on healthy sweets (like these seriously amazing peanut butter cup rice crispy treats), paste ghost-, mummy-, zombie-, and witch-shaped stickers all over Jenny's house, visit our local fave plant-based restaurant and… wait for it… hit up all the Halloween family-friendly events that we can.
My sisters Monica and Penny will FaceTime us and have a great giggle over all of our half-finished costumes, suggest Grams (my mom) join the Halloween bike-race thingy where everyone gets dressed up in mainly scantily-clad outfits, send over a ton of fun treats and ask PB (Dylan's nickname—long story) what superhero he's going as, and ask for a show-and-tell from Erik and I on all the homemade Halloween treats we've made.
Side note: Erik's a most excellent candy-dipper, which soooo comes in handy during Christmas treat-bag making time! But I'm getting ahead of myself, as per usual. Anywho, here's a couple pics from last year:
PB and I having a super, SUPER serious intellectual discussion about the merits of lollipops over stickers.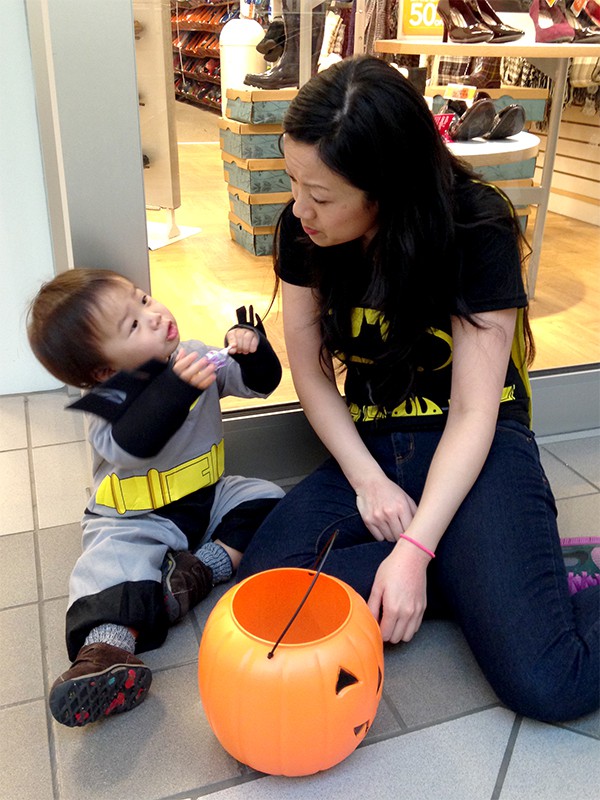 Grams, Jenny, PB, Erik and I all decked out in our half-costume-ish gear during the local mall's Halloween trick-or-treat event. PB has clearly noticed someone doing something wrong that his superhero self MUST correct, to heck with the photo-op!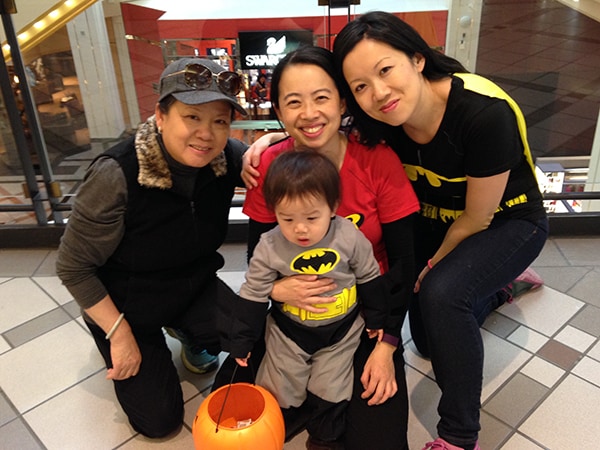 Erik and I looking like perfect jack… -o-lanterns! Yes, that's what I was gonna say.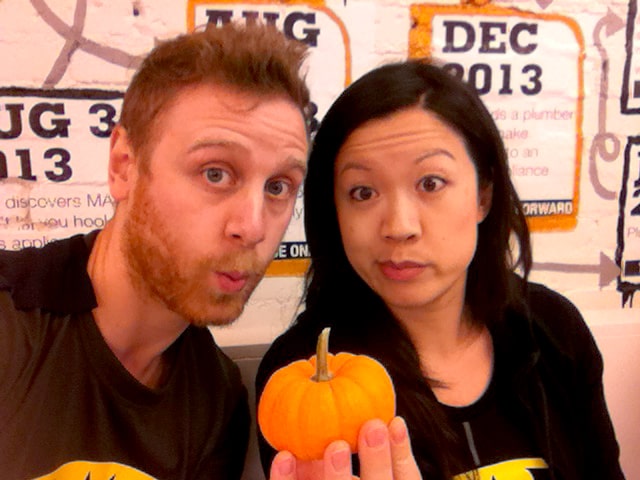 We're all SO excited for this year's lovely jaunt! We've just started our usual annual scramble for a family-themed costume. As always, we're gonna aim really high (think hand-stitched, real-lasers-included lightsaber-wielding Skywalker family costumes) and realistically all end up wearing partially decorated t-shirts maybe/sorta encompassing a passable theme. 😉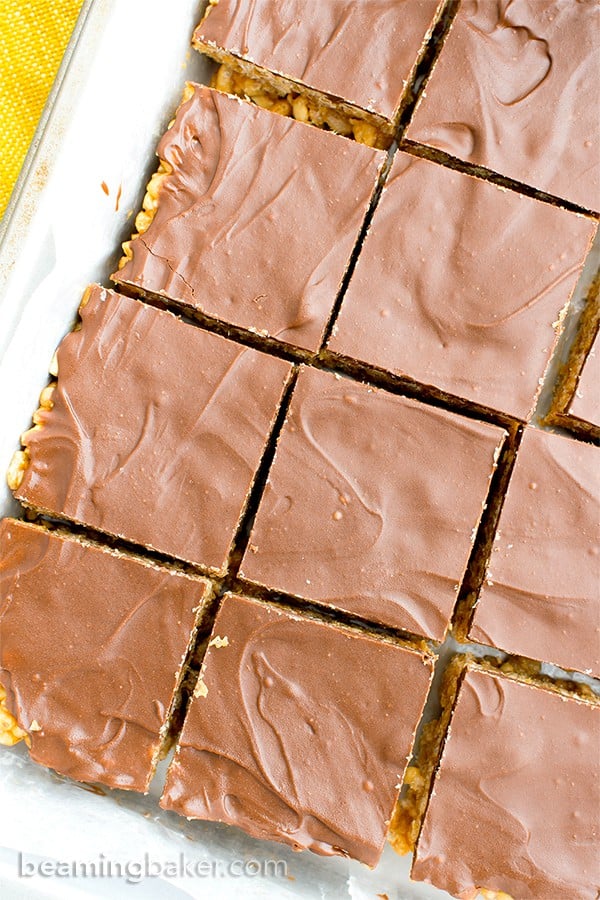 But of course, it's not the facts that count, it's the planning, the thought, and the speculation that does! Who hasn't had loads of fun scrolling through costumes on Amazon? Have you seen the real-life photos people post of their Halloween awesomeness in their reviews? Totally inspiring. But not too much because we just end up getting the low-key t-shirts. Ahem.
Last year, Erik and I were running super late for the annual Halloween mall trick-or-treat jaunt. Grams and PB had already left for the mall. Jenny was meeting them early, coming straight from work. In typical fashion, we STILL hadn't figured out our costumes.
So, we ran ALL the way to the Halloween costume store, darted through the store like we were made of lightning and hurriedly purchased two shirts that would fit the bill.
And that folks, is how we do Halloween.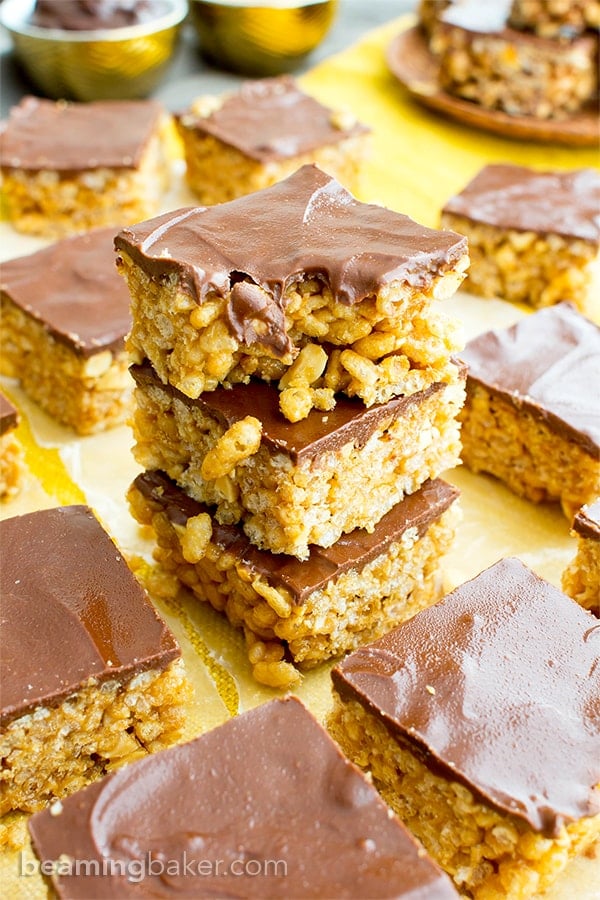 Heh. Heh. <– Is it just me, or did that sound really sinister in your mind? It might just be the fact that I'm listening to The Nightmare Before Christmas soundtrack as I write this… And eating some of these…
Anyway, this year, we're gonna do it right! No last minute costume shopping trips for us. Okay, that's probably still gonna happen. But let's try to stay positive here, folks! But we're for-suresies gonna make these chocolate peanut butter rice crispy treats, and totally gonna try to talk my mom into wearing the Hawkeye outfit my lil nephew picked out for her.
So what are your plans for Halloween? If you're not big on Halloween, are you gonna be heading straight for the mall and shopping for Christmas decorations? Come on, we're friends, there's no need to be embarrassed about your Christmas exuberance! Let's be honest, those orange and black lights we have hanging up are really just a covert way to get us pumped for Xmas!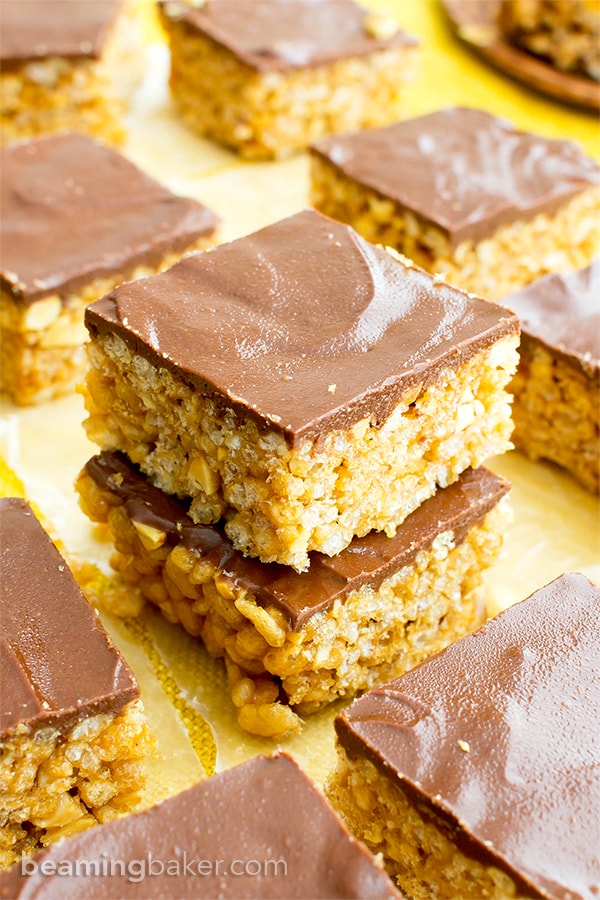 And before we both get totally sidetracked thinking about the next couple holidays (sorry for the lack of love, Thanksgiving… and hey Kwanzaa, how's it going? Hanukkah, we'll see ya soon!)… let me tell you all about these vegan and gluten free treats.
These seriously amazing Chocolate Peanut Butter Rice Crispy Treats are:
tasty, just like a crispy peanut butter cup. Yep, I said it.
made with just 5 ingredients
vegan, gluten free and dairy free
super thick, for maximum treat-satisfaction
packed with peanut butter
coated with a perfectly rich layer of chocolate topping
plant-based and allergy-friendly
so good Erik and I had to freeze the rest of the batch to keep it safely away from us
but still gonna be eaten super fast, bc: who are we kidding?
made with ingredients you can feel good about
perfect for Halloween, a party, or just a night in watching movies
So grab your favorite V+GF brown rice crisp cereal, your fave natural peanut butter and your healthiest appetite, it's time to get snackerrific up in here. And forgive me for saying snackerrific? Friends let friends be embarrassing. And then some. I can't wait to spend the holidays with you (or at least help you get some great goodies on the table!). Tell me, do you celebrate Halloween? Or are you looking forward to another holiday this season?
Sending you all my love and maybe even a dove (but lately it's been a raven, because: HALLOWEEN). xo Demeter ❤️
☀︎ Click below to Pin ☀︎

☀︎ Did you make this recipe? Take a pic and share it on Instagram with the hashtag #beamingbaker and tag @beamingbaker. I would love to see it! ☀︎
Related Vegan Gluten Free Dessert Recipes
Print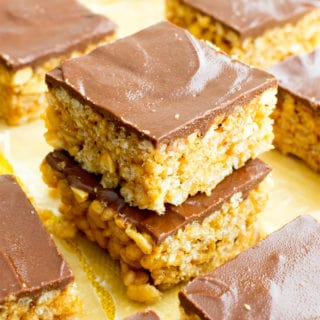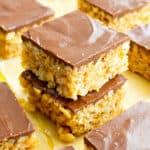 Chocolate Peanut Butter Rice Crispy Treats (Vegan, Gluten Free, Dairy Free)
---
Description
Chocolate Peanut Butter Rice Crispy Treats (V, GF, DF): an easy 5 ingredient recipe for chocolate-topped PB rice crispy treats that taste like peanut butter cups. Vegan, Gluten Free, Dairy Free.
---
Rice Crispy Treats
3 cups

vegan gluten free brown rice crisp cereal

1/3 cup

unsalted peanuts, finely chopped

1/3 cup

unsalted, natural peanut butter

1/3 cup

pure maple syrup
Chocolate Topping
---
Instructions
Make the rice crispy treats: Line an 8-inch square baking pan with wax paper, parchment or greased foil. Set aside for later. Add cereal and peanuts to a large mixing bowl. Stir together and set aside.
In a small saucepan over medium-low heat, add peanut butter and maple syrup. Whisk until well incorporated. Then, stir occasionally, heating until this mixture begins to bubble. Stir frequently for about 2 minutes. The mixture will resemble thick caramel. Remove from heat and carefully pour over the dry mixture. Stir and fold until well-incorporated.
Pour this mixture into the prepared baking pan. Using a rubber spatula, press down firmly, smoothing the treats into an even, tightly packed layer. Chill in the freezer for 25-30 minutes.
Make the chocolate topping: About 5 minutes before the treats are done freezing, prepare the chocolate topping. In a medium, microwave-safe bowl, add the Chocolate Layer ingredients: 1/3 cup chocolate chips and 3 tablespoons peanut butter. Heat in 20-second increments until just slightly softened and melted. Stir until smooth and well-incorporated.
Remove treats from freezer. Grab the lining and lift treats out of the baking pan. Set onto an flat surface. Using a rubber spatula, pour the chocolate mixture over the treats and spread into an even layer. Place back into the freezer for 10-15 minutes, until the chocolate tops are hardened.
Remove treats from freezer. Cut into 16 squares. Enjoy! Storing notes below.

In the mood for more irresistible goodies? Try my 3 Ingredient Healthy Vegan Rice Crispy Treats and my Peanut Butter Cup Rice Crispy Treats.
Category:

Dessert, Snacks, No Bake, Vegan, Gluten Free, Dairy Free
© beamingbaker.com. All content and images are protected by copyright. Please do not use my images without my permission. If you wish to republish this recipe, please re-write the entire recipe using your own words and include a link to this post for the recipe.
Chocolate and Peanut Butter = Soul Mates. If you think so too, try my Gluten Free Vegan Peanut Butter Cups (V, GF, Dairy Free). So. Good.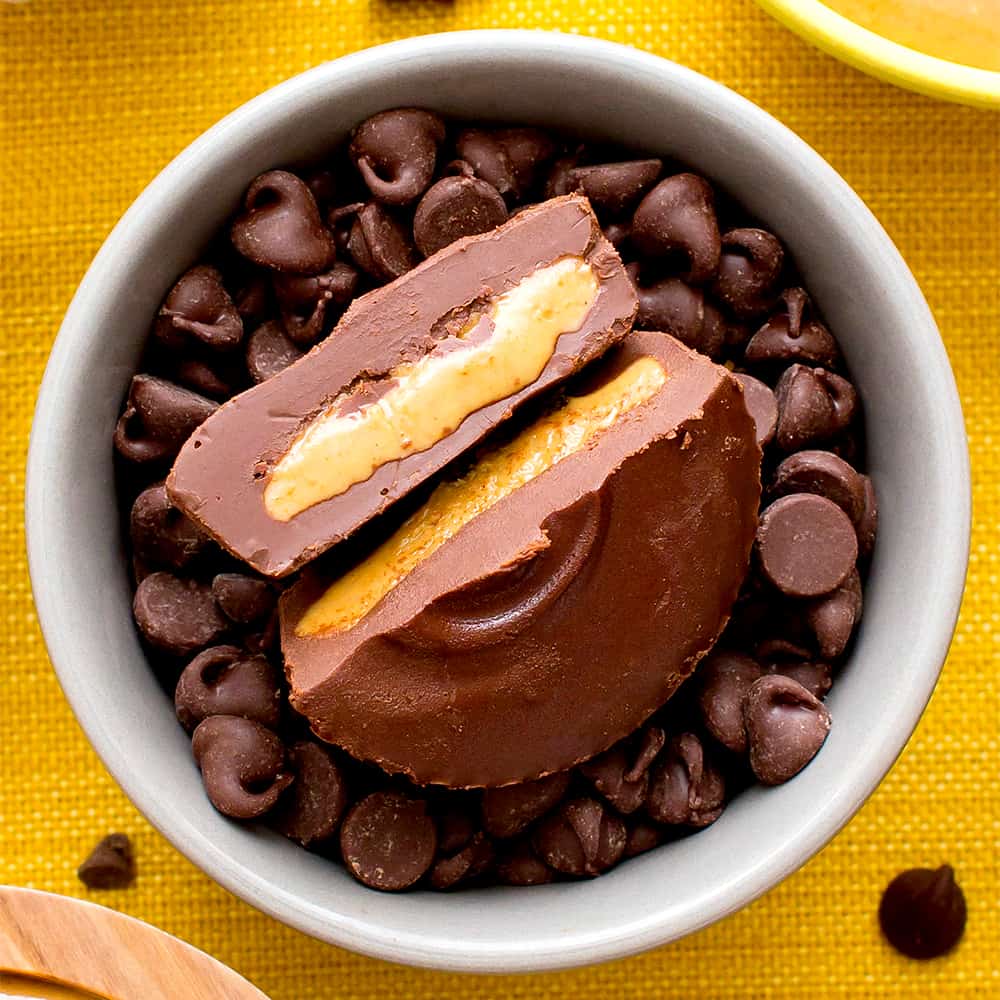 If you love cookie dough and peanut butter, this recipe's got your name all over it. Try my Peanut Butter Chocolate Chip Cookie Dough Bites (Vegan, Gluten Free, Dairy Free). Okay, it doesn't literally have your name on it… but it could. If you write it in chocolate chips. Or something.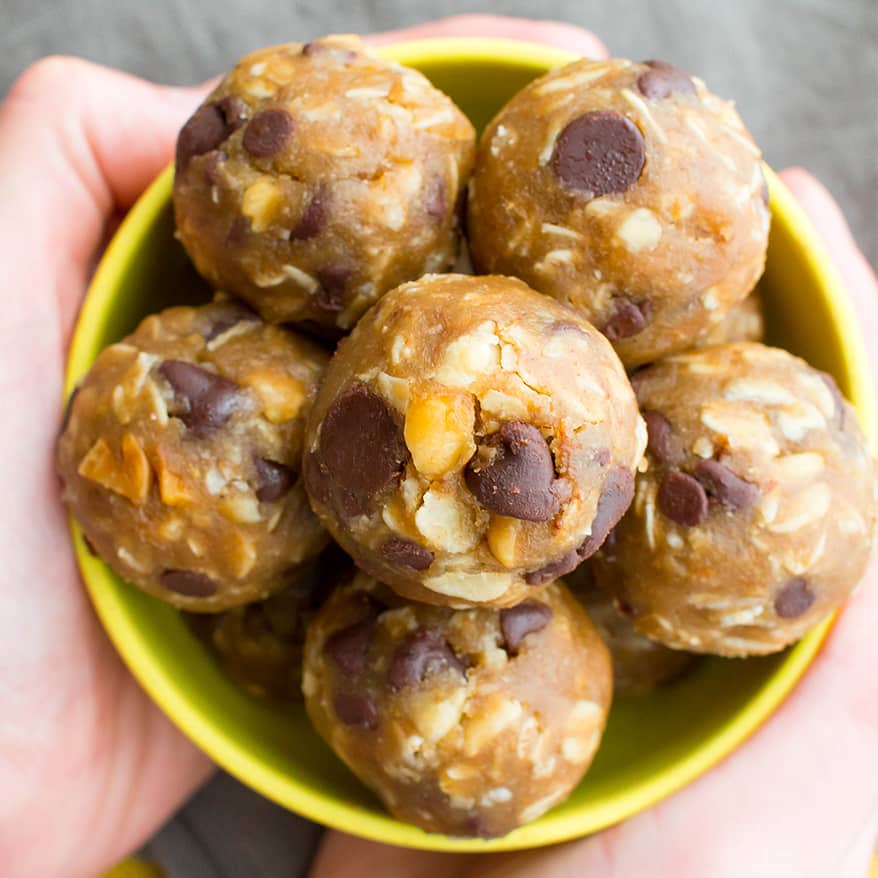 Halloween Treat Idea #5: Gluten Free Vegan Peanut Butter Cup Brownies. Even better than they look.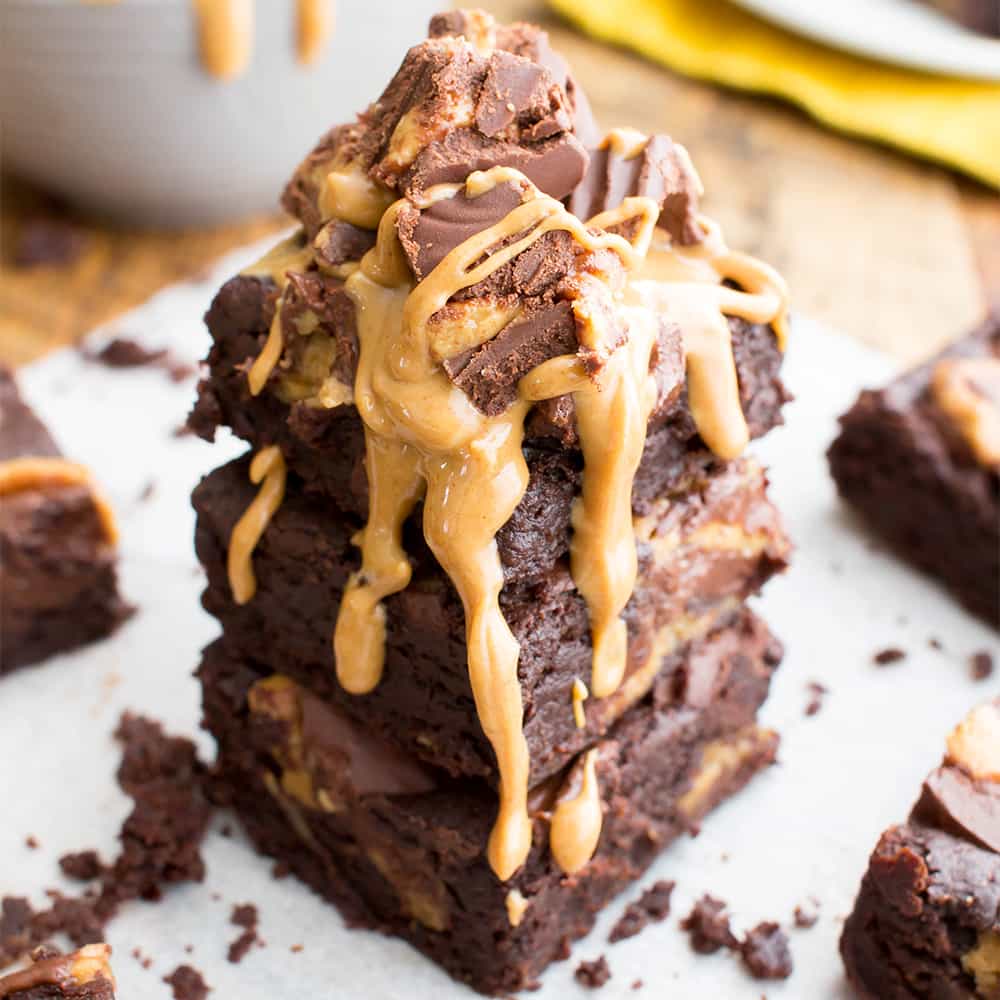 Nightmare Before Christmas FUN. Try my Jack Skellington Mounds Cups (Paleo, Vegan, Gluten Free, Dairy Free). Just 4 ingredients to creeptacular deliciousness.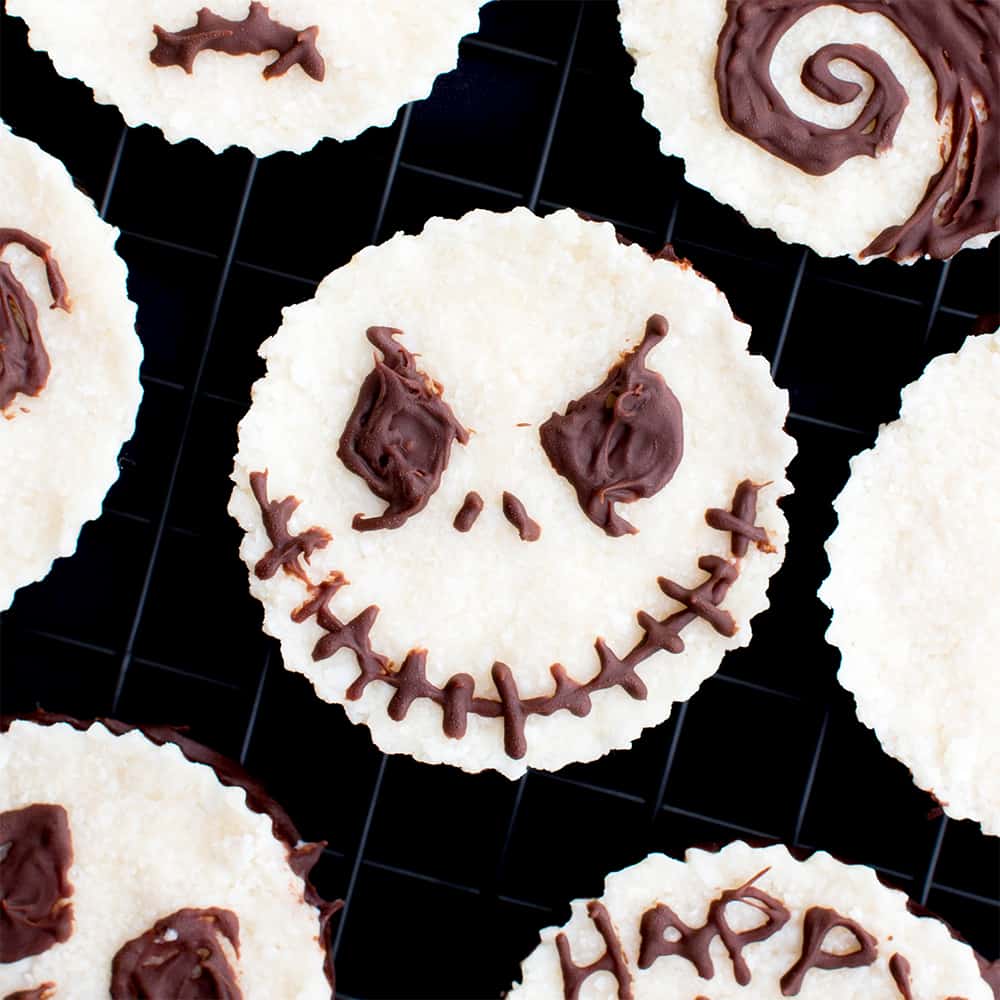 What's your favorite flavor combo?
I can't wait to hear your responses.