3 Ingredient Paleo KIND Bar Recipe (Vegan, GF) – Easy DIY Homemade KIND Bars!
This vegan paleo homemade kind bar recipe is so easy with 3 ingredients! It's the best way to learn how to make diy copycat kind bars – easy, healthy, and prep'd in 5 minutes! Just 103 calories per bar, 5g of sugar and 8g of carbs! 2g of protein & 2g of fiber per bar. 🙂
Homemade. That word can strike fear in your heart, make you quiver in your new cute boots, or, well, make you kinda hungry. I mean, just typing the word made me hangry. Yes, I really need to get some help for this "issue."
But if I did, there would be no blog! Hehe.
Okay, let me reel myself back from whatever tangent I was destined to get lost in… So: homemade. Before I started my blog, I feared the word like no other. Sure, I got stuck cooking dinner a bunch (where was my butler and private chef when I needed them???). But homemade baked goods were always a bit tricky (translation: frightening as heck.)
But guess what? I got super fed up with buying truck-tons of pre-packaged, storebought granola bars, KIND bars, trail mix cookies, and whatnot. So I started baking my own healthy snacks. I made homemade granola, homemade granola bars, homemade paleo energy balls, and more.
So when I got really good (or at least, much better) at making homemade versions of stuff, I went ahead and tackled my beloved KIND bars! I made version after version of these homemade KIND bars, and I absolutely loved them.
Psst: so did you! So today, I'm going to be sharing the easiest, simplest, and yummiest homemade KIND bar recipe ever: my 3 Ingredient Paleo KIND Bar Recipe! They're vegan, gluten-free, paleo (in case ya didn't read the title), dairy-free, refined sugar-free, and I'm sure more free's I'm not thinking of. Oh right, grain-free! Woohoo!
Without further ado, let's tackle all of your common questions, my tips and tricks for the perfect diy kind bars, and more!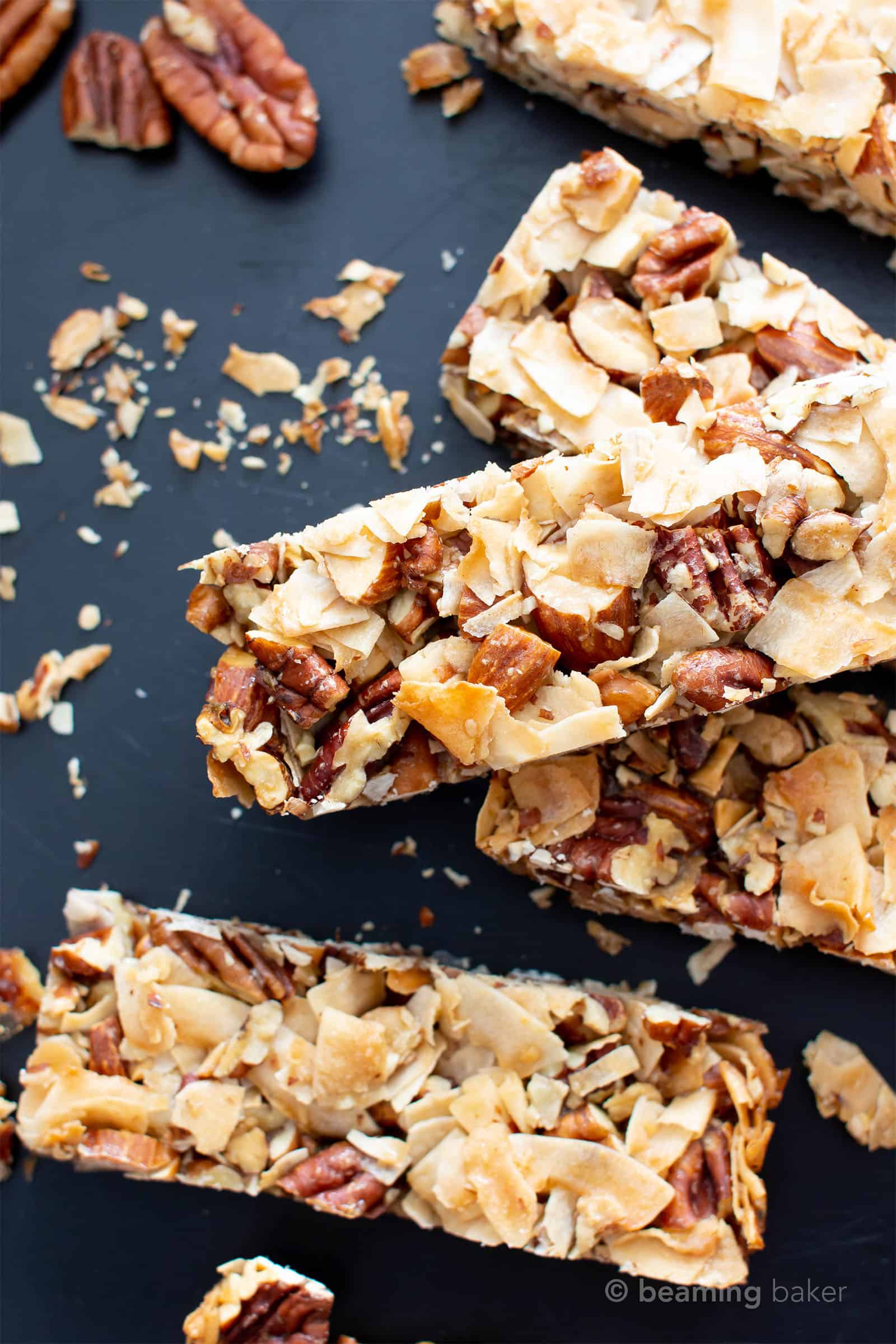 What is a KIND Bar?
A KIND bar is a storebought snack bar that's made with a variety of nuts, seeds and/or grains. It's mostly made of nuts and held together with honey and a few other ingredients.
Today, we're making our very own diy kind bars at home. True: they're super easy to buy, but unfortunately, I've yet to find a vegan version. 😉 The homemade kind bar copycat recipe I'm sharing with you today comes together in 5 minutes and is vegan, paleo and refined sugar-free. Woohoo!
How to Make Kind Bars at Home? DIY Kind Bars?
The process for making homemade kind bars is pretty quick and simple. This time around (since I make & share a ton of homemade KIND bar recipes on the reg), I really wanted to share the simplest and easiest KIND bar recipe, which also happens to be paleo. 😉
To make these paleo kind bars, all you have to do is stir together your nuts, coconut and salt (if using) in a bowl. Add maple syrup and stir until all the bits are well coated. Pour into a lined baking pan and bake! Allow to cool, slice and voila: you've got your very own homemade kind bars!

Tricks for Perfect Homemade KIND Bars
While this recipe is super easy, it can be a bit tricky to slice the bars and have all the kind bars come out perfectly whole. Here are some tips for making the perfect DIY Kind bars:
Proceed with caution when making swaps: I've found that

this exact ratio

of nuts to coconut to maple syrup is perfect for easily sliceable homemade Kind bars. The coconut lays flat and sticks together really well, making the slicing process much easier.
If using nuts, make sure they're not too chunky. The bigger the nuts, the harder it will be to tightly pack them in the baking pan before baking. The less packed the add-ins (nuts, coconut, etc.), the more likely it will be that the bars will fall apart when slicing.
Tightly pack the kind bar mixture before baking. The more tightly packed the ingredients, the more cohesive the bars will be after baking. Any holes or gaps in the mixture will lead to a lack of structural integrity. (Yep, I said that.)
Remember: this is fun!! If your homemade paleo kind bars fall apart the first time, it's okay. Perfection is not interesting, nor is it conducive to having any sort of enjoyment in the kitchen (trust me, I've been through this way too many times to count). Tweak your technique the next time, use some of the tips above, and you'll make it even more awesome the second try!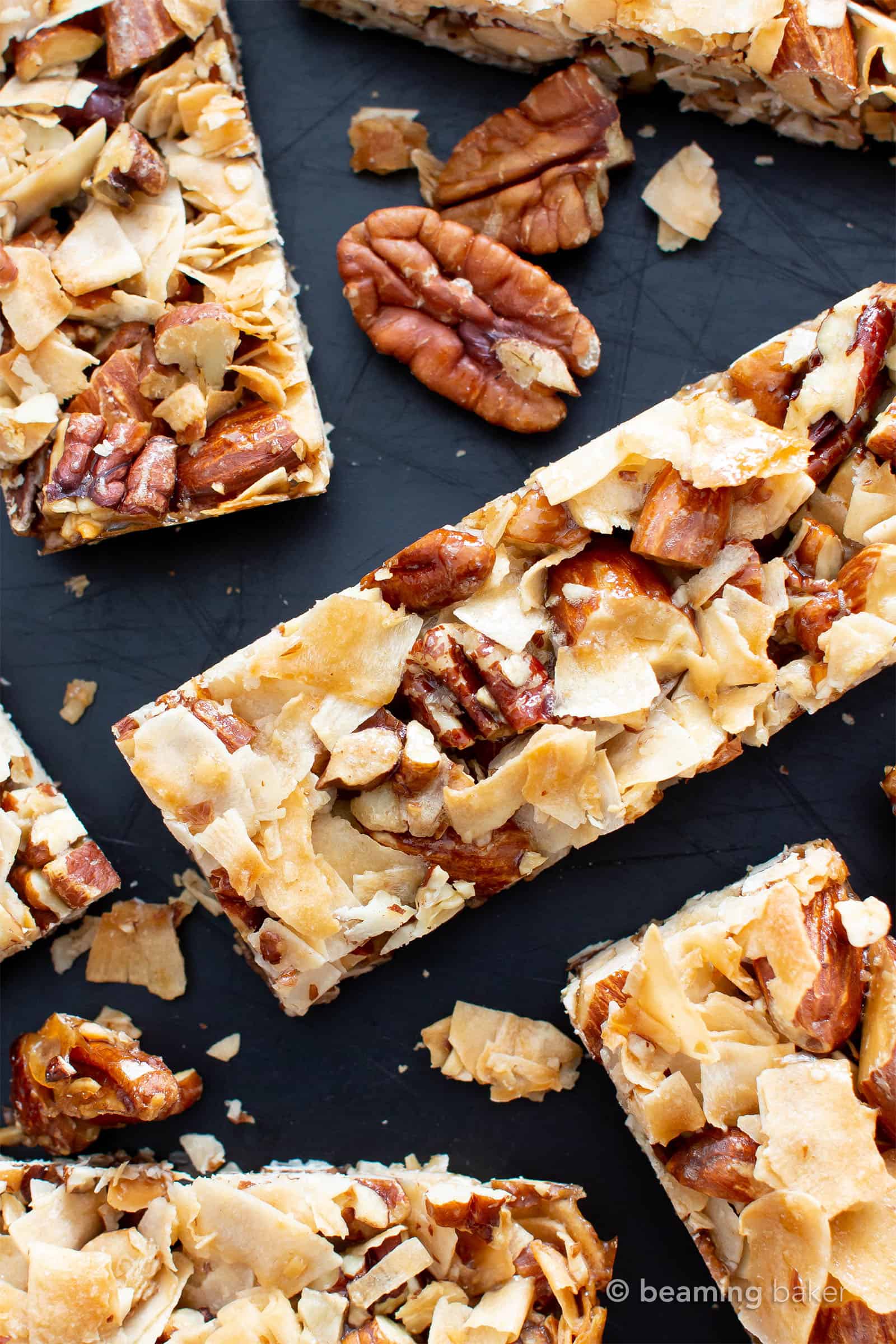 Substitution Notes for this Healthy Homemade Paleo KIND Bars Recipe
How to swap nuts, change add-ins: Check out my notes above first! 😉 Okay, so swap one ingredient for exactly the same amount of another ingredient. Never just add another ingredient in without reducing another. So if you swap in ¼ cup of seeds, make sure to remove ¼ cup of nuts.
Other sweeteners: Readers have used a variety of sweeteners in place of the pure maple syrup in recipes similar to this paleo kind bar, from brown rice syrup, honey, date syrup, agave, to sugar free maple syrup. With varying results. Try your hand at a different liquid sweetener, but know that the results may not be ideal with your changes.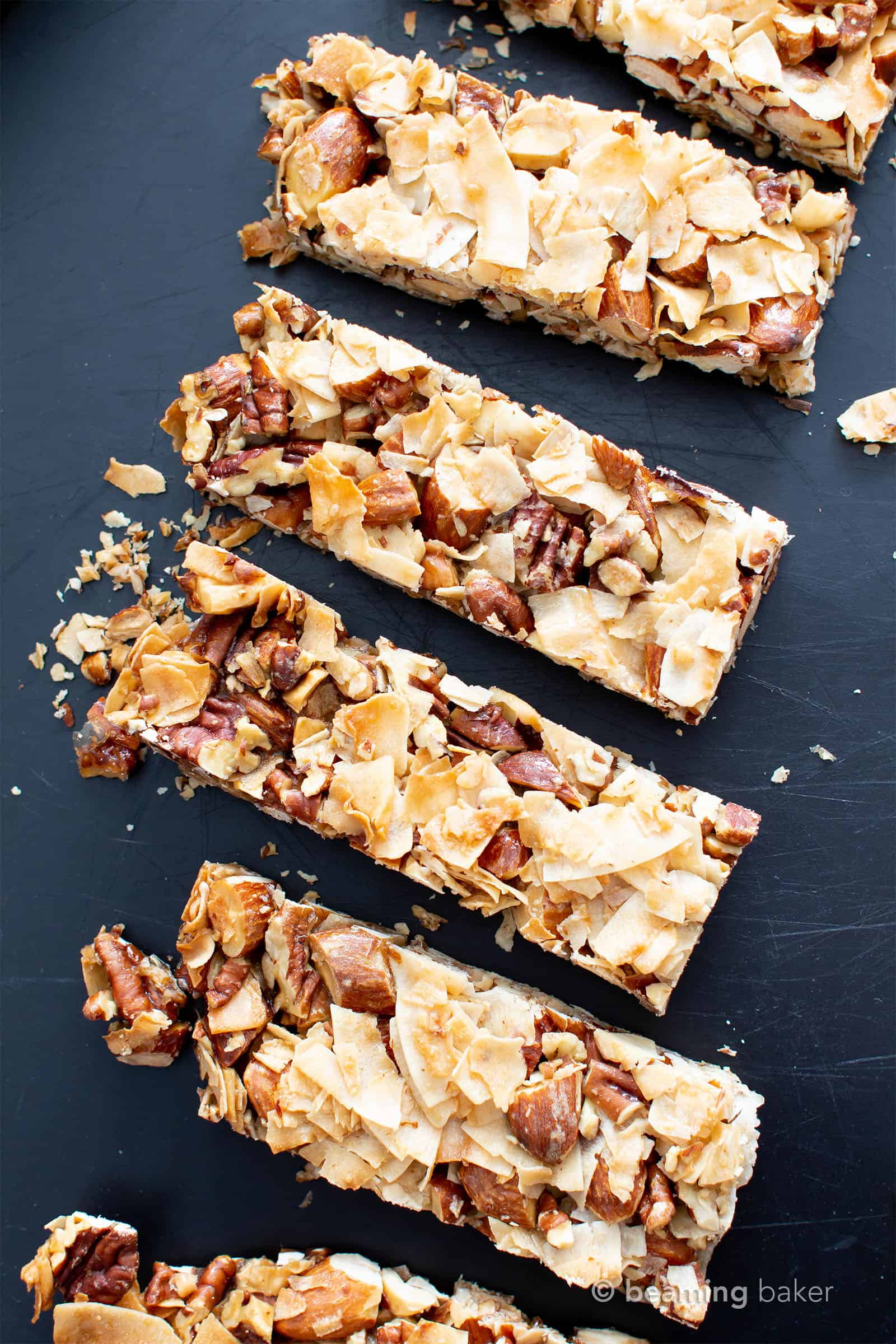 Tools to Make the Best Vegan Paleo KIND Bars at Home
Click the links below to check out my favorite tools & ingredients used to make this recipe.
Wait, what time is it? Yep, it's Homemade KIND Bar O'Clock!!! Okay, but if I wasn't here to embarrass myself, who else would do it?? Hehe! You grab the 8-inch baking pan, and I'll grab my favorite paleo ingredients! It's such a true joy sharing in these homemade baking adventures with you. I can't wait to hear what you think. In the meantime…
Sending you all my love and maybe even a dove, xo Demeter ❤️
.︎ Click below to Pin .︎

. Did you make this recipe? Take a pic and share it on Instagram with the hashtag #beamingbaker and tag @beamingbaker. I would love to see it! .︎
More DIY KIND Bar Copycat Recipes
Print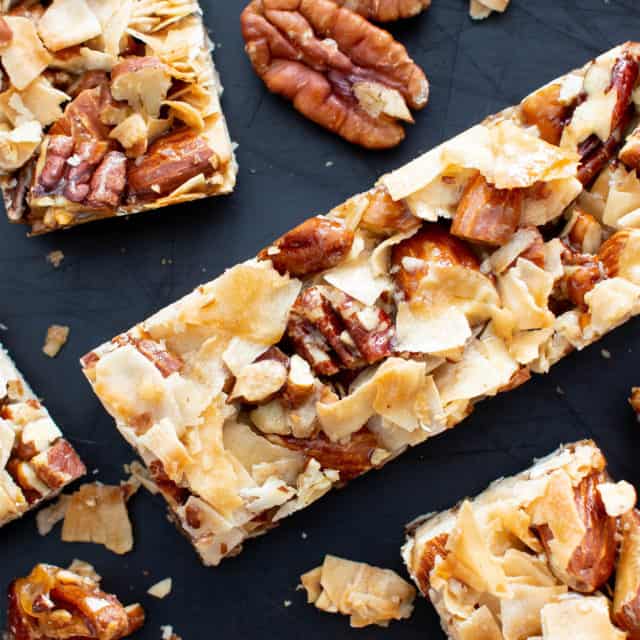 3 Ingredient Paleo KIND Bar Recipe (Vegan, GF) – Easy DIY Homemade KIND Bars!
---
Description
3 Ingredient Paleo KIND Bar Recipe (V, GF): this vegan paleo homemade kind bar recipe is so easy with 3 ingredients! It's the best way to learn how to make diy copycat kind bars – easy, healthy, and prep'd in 5 minutes! Refined Sugar-Free, Paleo, Vegan, Gluten-Free, Dairy-Free, Plant-Based.
---
1 cup

nuts (use paleo-friendly nuts only, if paleo)

1 cup

unsweetened coconut flakes

¼ teaspoon

salt (optional)

¼ cup

pure maple syrup
---
Instructions
Preheat oven to 325°F. Line an 8-inch square baking pan with parchment paper. Set aside.
Add nuts, coconut and salt (if using) to a large bowl. Stir until well mixed. Pour maple syrup over this mixture. Fold until well incorporated.
Pour this mixture into the prepared baking pan. Using a rubber spatula, press down on mixture and smooth into a very tightly-packed, even layer with as few gaps as possible. Bake for 28-38 minutes (mine took 33 mins). Bars must bake thoroughly, or they won't hold together when cooled.
Allow to cool for 1 hour (or until completely cooled), in the pan on a cooling rack. Pinching opposite ends of the parchment paper lining, lift bars out of pan. Gently peel parchment paper off the bottom of the bars. Slice into 12 bars (6 rows by 2 columns). Enjoy! Storing instructions below.

Adapted from my 5 Ingredient KIND Bars.

Also try my 3 Ingredient No Bake Paleo Energy Balls and my Paleo Cookie Dough Bites.
Notes
– Store in an airtight container at room temperature for up to 1 month.
– Nutrition Information: is an estimate based on the best-selling, most common brands per ingredient. Also, it's estimated based on 12 servings per recipe and made without salt. .
Category:

Energy Bars, Healthy Snacks, Paleo, Vegan, Gluten-Free, Refined Sugar-Free, Plant-Based, Dairy-Free
Nutrition
Serving Size:

1 bar

Calories:

103

Sugar:

5g

Sodium:

0mg

Fat:

7g

Carbohydrates:

8g

Fiber:

2g

Protein:

2g
© beamingbaker.com. All content and images are protected by copyright. Please do not use my images or recipe without my permission. Please do not republish this recipe, instead, include a link to this post for the recipe.
This post may contain affiliate links, which allow me to make a small commission for my referral, at no additional cost to you.
Facebook ☀︎ Pinterest  ☀︎ Twitter ☀︎ Instagram