Dark Chocolate Almond Mint Homemade KIND Bar Recipe (V, GF): an easy recipe for festive homemade KIND bars, bursting with refreshing peppermint and coated in velvety rich dark chocolate. Made with healthy ingredients. Paleo, Vegan, Gluten-Free, Dairy-Free, Protein-Rich, Healthy.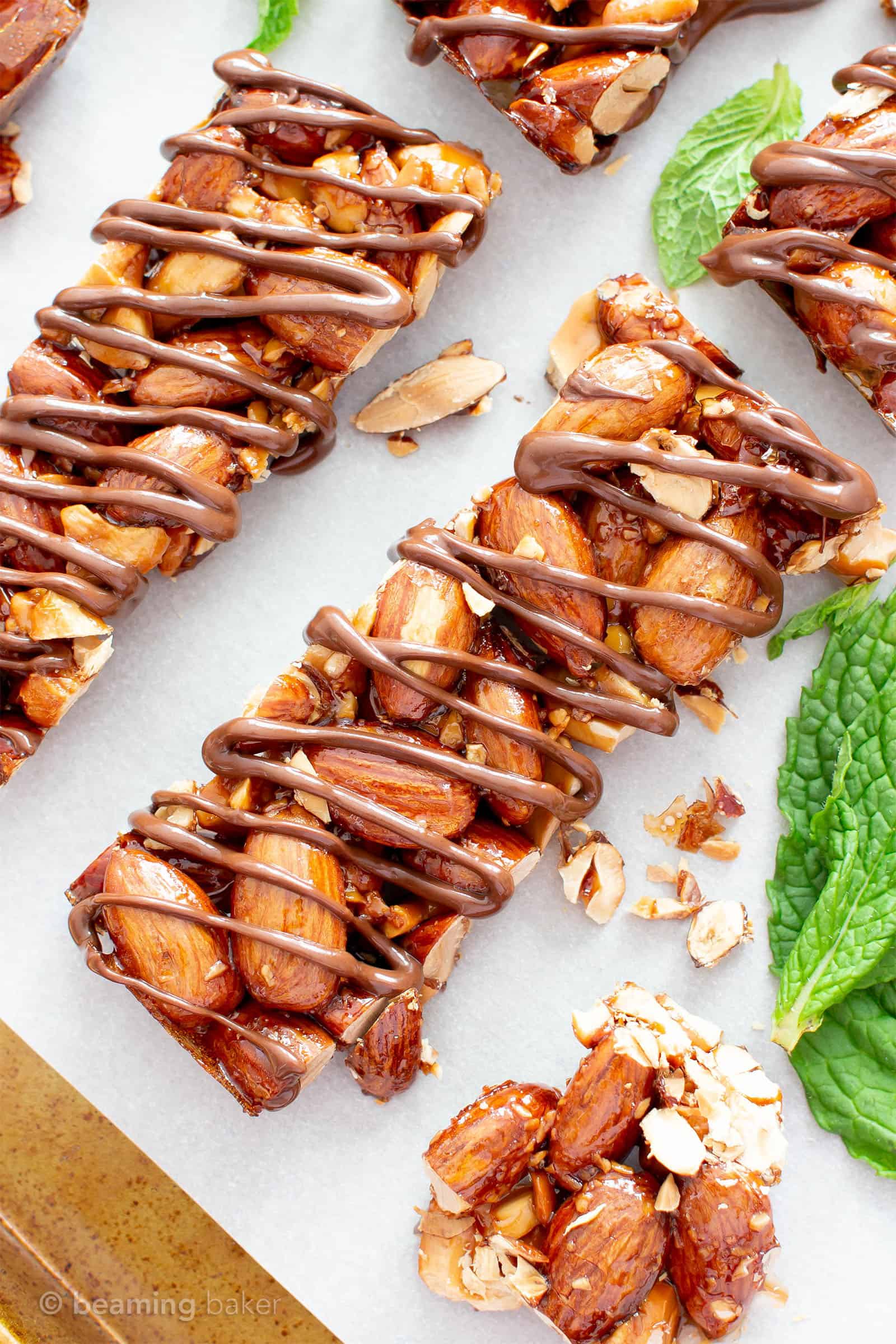 How was your Thanksgiving? Or are you up in Canada, and Thanksgiving was ages ago…? Or elsewhere in the world? What did you do this weekend? 🙂
Over here in the States, many of us were celebrating Thanksgiving, going on pre-and post-Thanksgiving dinner runs (for food and to burn off extra calories lol), and getting ready to bid farewell to Fall and welcome the winter with open/fully-covered and insulated arms. 😉 Or… with hands full of pumpkin bread. Hehe. 😉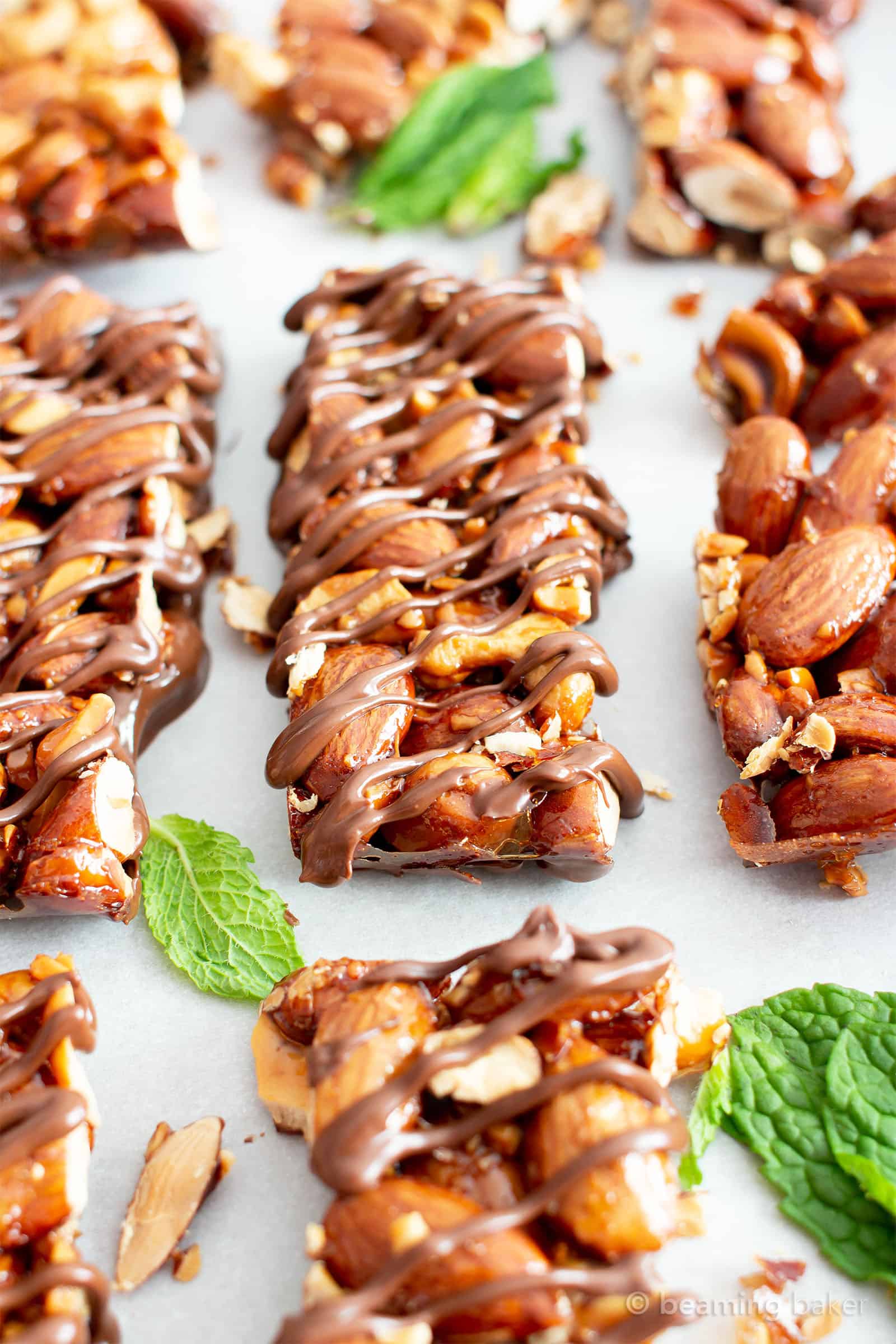 Erik and I just got back from visiting my sister, Monica, in the Midwest! Yep, the ENTIRE MIDWEST. J/k. There's no room for sarcasm in this cold weather! Okay, I'm feeling a bit goofy today, obviously. Anywho, we had the best time! We got to see Monica and her husband Kevin, my eldest sister, Penny and her hubs Andrew, and we got to bond 24/7 with my mom—who drove me and my sisters crazy in the most loving way possible. Lol.
Is the emphasis on crazy or loving? You decide. .
We got to bake and share our favorites: fudgy paleo brownies, paleo coconut macaroons, and oatmeal chocolate chip cookies. More deets in the next Coffee Talk.
We got back right on time for a little 1:1 romantic Thanksgiving for Erik and I, replete with all the Thanksgiving traditions and yummies I mentioned in my Gluten Free Chai Spice Granola recipe post. We even got a chance to brave the crowds and go shopping on Black Friday!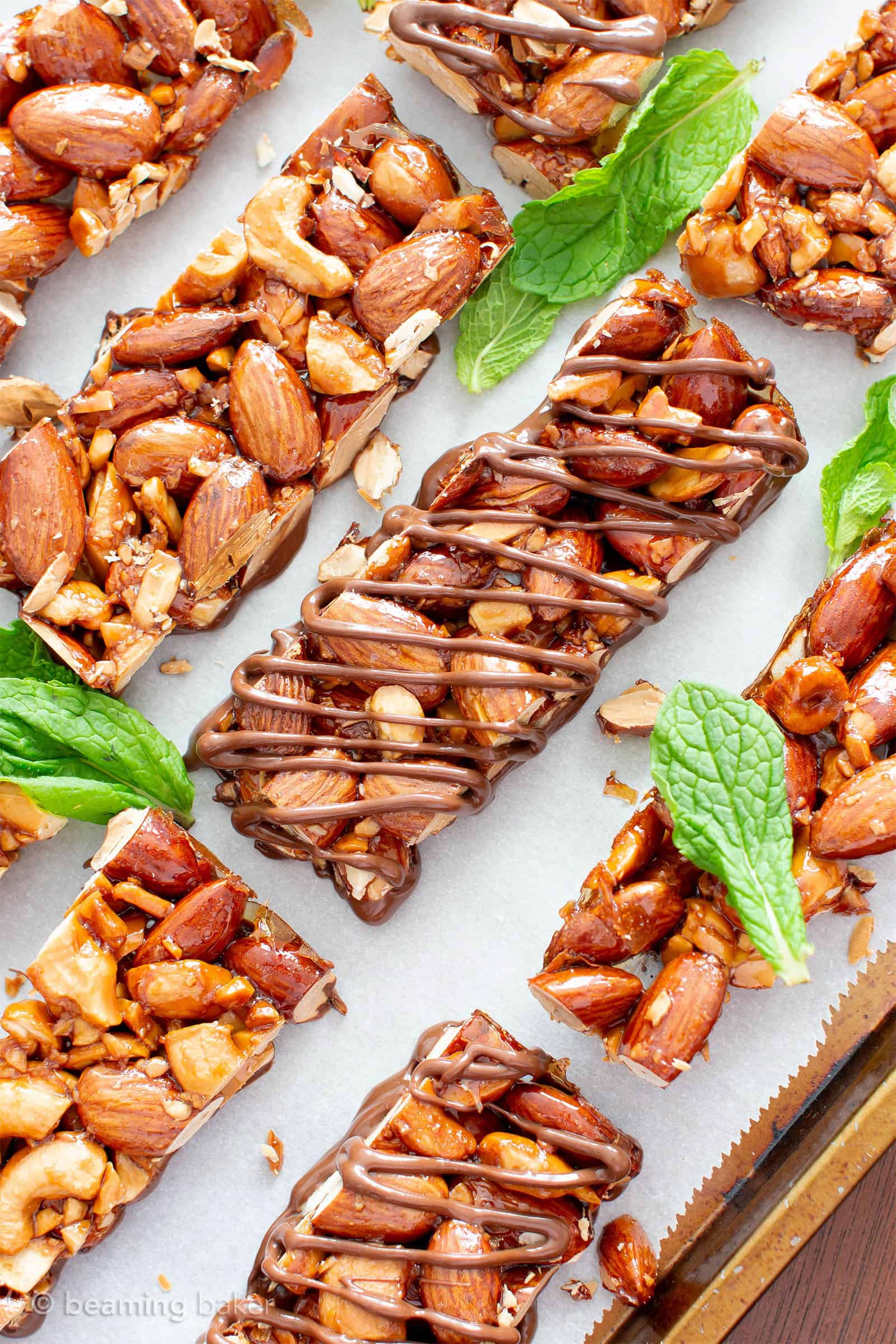 How about you? Did you find any good deals? Are you spending the day shopping online today, via Cyber Monday? I never know what to get, and, I also get waaaay too into checking on time-sensitive lightning deals and such.
In any case, Erik and I are in the process of getting healthier and trimming off a few stray pounds (if only they'd wander away on their own sigh… ) ;), so I thought it'd be high time to share an in-between Holiday Indulgence and Keeping it Healthy + On Track type of recipe.
So I present to you: my Dark Chocolate Almond Mint Homemade KIND Bar Recipe. It tastes all kinds of decadent, festive, and oh-so-Christmas… yummy! Whatever that means. 😉 Okay, lemme have a shot at it: minty, chocolatey, and almost like a homemade holiday gift. To yourself. 🙂 As always, it's made with all of the ingredients you love, and it's super simple to whip up!
If you're not convinced yet, allow me to tell you all about them. This Dark Chocolate Almond Mint Homemade KIND Bar recipe is:
made with just 6 ingredients
just the perfect, satisfying nut bar wrapped in a velvety layer of dark chocolate
bursting with festive mint flavors!
so easy to make—the bars are prepped and ready to bake in minutes
vegan, gluten-free, dairy-free, refined sugar-free
the best paleo kind bars, like ever 😉
one of my favorite healthy twists on a yummy chocolate treat, along with these: 4 Ingredient Peppermint Chocolate Crunch Bars and this Dark Chocolate Nice Cream
made with the simple, whole and healthy ingredients you know and love
perfect for your next homemade gym snack, or for holiday gift-giving
simply delish paired with Moist & Fudgy Ganache Peppermint Brownies and/or this amazing Paleo Mocha Frappe
your soon-to-be favorite dark chocolate kind bar
Are you ready for your new favorite festive snack? Yeah!!! I'll bring the nuts, you bring the vegan chocolate! Let's do this! It's so much fun making and baking these sweet moments with you. I can't wait to hear what you think. If you'd like to chat, find me on Instagram! Looking forward to celebrating the holidays with you! 'Til next time…
Sending you all my love and maybe even a dove, xo Demeter ❤️
.︎ Click below to Pin .︎

. Did you make this recipe? Take a pic and share it on Instagram with the hashtag #beamingbaker and tag @beamingbaker. I would love to see it! .︎
Healthy Vegan Gluten Free Holiday Recipes
If you enjoyed this Dark Chocolate Almond Mint Homemade KIND Bar Recipe, then you'll just love these festive Vegan Gluten Free Holiday recipes:
Print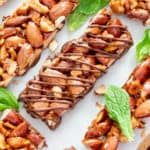 Dark Chocolate Almond Mint Homemade KIND Bar Recipe (Paleo, Vegan, Gluten Free, Dairy-Free)
---
Description
Dark Chocolate Almond Mint Homemade KIND Bar Recipe (V, GF): an easy recipe for festive homemade KIND bars, bursting with refreshing peppermint and coated in velvety rich dark chocolate. Made with healthy ingredients. Paleo, Vegan, Gluten-Free, Dairy-Free, Healthy.
---
Almond KIND Bars
1 ¼ cups

roasted, unsalted almonds

½ cup

roasted, unsalted cashews, roughly chopped (or more almonds, if you prefer)

¼ teaspoon

salt (optional)

¼ cup

pure maple syrup

½ teaspoon

pure peppermint extract
Mint Chocolate Coating
 Chocolate Drizzle
---
Instructions
Preheat oven to 325°F. Line an 8-inch square baking pan with parchment paper. Set aside.
Make the bars: Add all Almond KIND Bars ingredients to a medium bowl. Fold until well incorporated and fully coated.
Pour this mixture into the prepared baking pan. Using a rubber spatula, smooth into an even, very tightly-packed layer—the smoother the layer, the less likely the bars will crumble. Bake for 25-35 minutes. Mine took 30 mins. Bars must bake thoroughly, or they won't hold together when cooled.
Allow to cool in the baking pan for 1 hour, or until completely cooled. Pinching opposite ends of the parchment paper lining, lift bars out of pan. Gently peel paper off the bottom of the bars. Slice into 12 bars (6 rows by 2 columns).
Line a large baking sheet with parchment paper or wax paper. Clear some room in the freezer for this sheet–you will need it later. Set the sheet on a clear work area.
Dip the bars: Melt the chocolate using the double boiler method, or doing the following. Add all Mint Chocolate Coating ingredients except peppermint extract to a medium, microwave-safe bowl (large enough to dip bars in). Heat in the microwave in 15-second increments until softened and melted. Stir in between heating, until smooth. Stir in peppermint extract.
Dip the bottom of one bar into the melted chocolate, scraping off excess on the side of the bowl. There should be enough chocolate for a thin layer on each bar. Place on the prepared baking sheet. Repeat, spacing each bar evenly apart, until all bars are dipped.
Drizzle the bars: Add Chocolate Drizzle ingredients to a clean, small microwave-safe bowl. Repeat heating instructions, until chocolate is smooth. Stir in peppermint extract. Spoon melted chocolate into a zip bag with a tiny corner snipped off. Drizzle each bar in a zigzag pattern.
Place bars carefully into the freezer. Freeze for 10-20 minutes, or until chocolate is completely hardened. Enjoy! Storing instructions below.
Adapted from my 5 Ingredient Homemade KIND Nut Bars.
Also try my Almond & Coconut KIND Bars and my 3 Ingredient Chocolate Peppermint Fudge.
Equipment
Notes
Store in an airtight container at room temperature for 1-2 months.
Category:

Healthy Snacks, Breakfast

Method:

Bake

Cuisine:

American
© beamingbaker.com. All content and images are protected by copyright. Please do not use my images or recipe without my permission. Please do not republish this recipe, instead, include a link to this post for the recipe.
Facebook ☀︎ Pinterest ☀︎ Twitter ☀︎ Instagram