5 Ingredient Homemade KIND Nut Bars (V, GF, DF): an easy, one bowl recipe for irresistibly salty and sweet homemade KIND bars. Protein-Packed, Low Carb, Vegan, Gluten-Free, Dairy-Free, Refined Sugar-Free. Recipe video included! Just 106 calories per bar, with only 5 grams of sugar, 8 grams of carbs and 4 grams of protein each!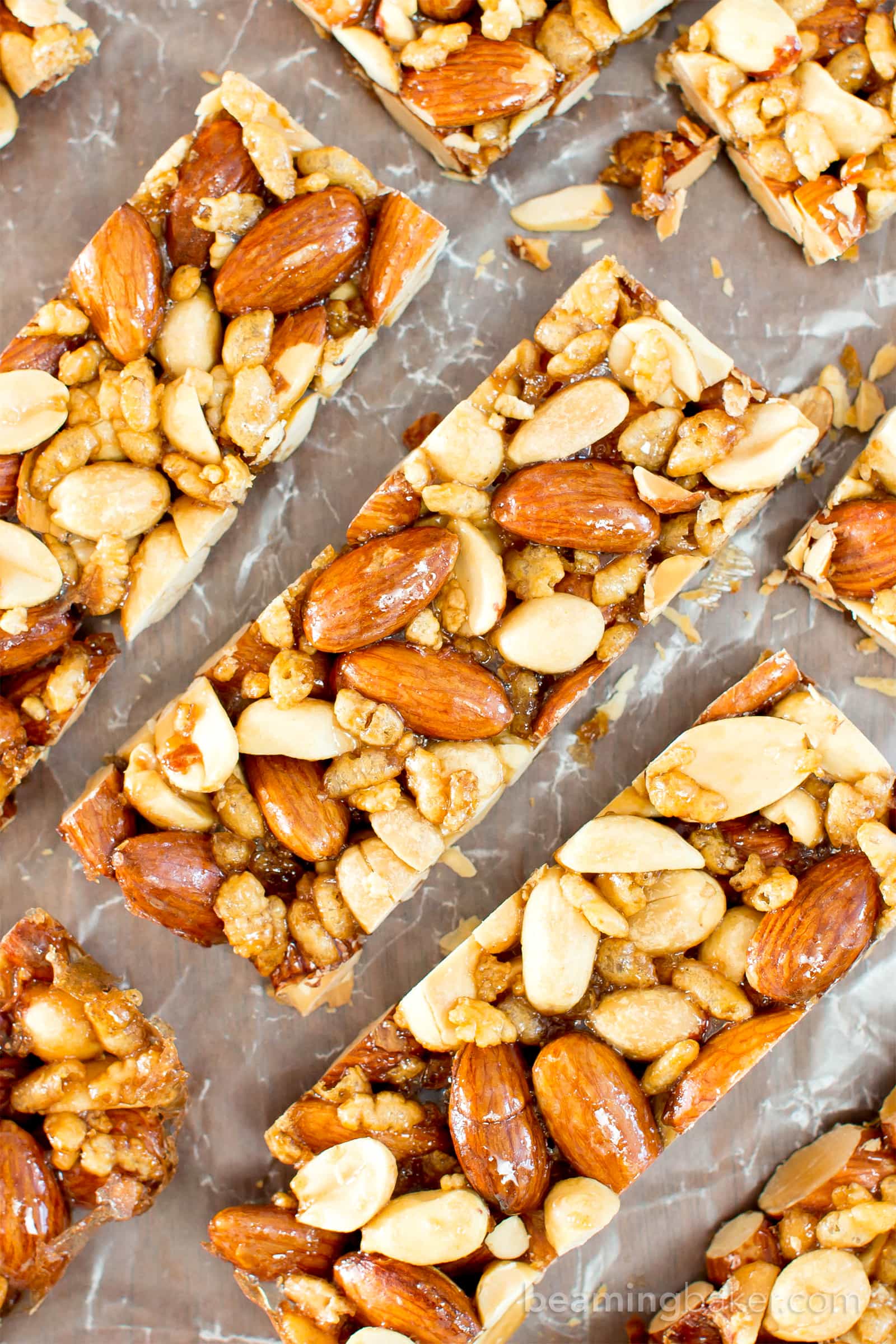 Happy almost Back to School season!! That's totally a thing, don't you think? Like, an entire season devoted to back to school? It's probably pretty obvious that I'm a bit too excited about all the snack-making this means. As evidenced by the following: 4 ingredient no bake peanut butter coconut bites, cranberry almond breakfast bars, cherry chocolate chip chia bites (I know), and one of my all-time faves, oatmeal raisin cookies!
There's just so much going on during these months. And we've got to stay fueled throughout it all. It's kind of like the storm before the calm before the storm. The second storm being THE HOLIDAYS, of course.
But we definitely do not need to talk about the holidays until they arrive. Except we probably will because… who else loves the holidays? 🙂 Alright, I promise to slow things down a bit. Anyway, so back to back to school. This time of year, it seems like everyone's moving, packing, unpacking, making snacks, picking classes, going for one last vacation, and otherwise engaging in all the activities.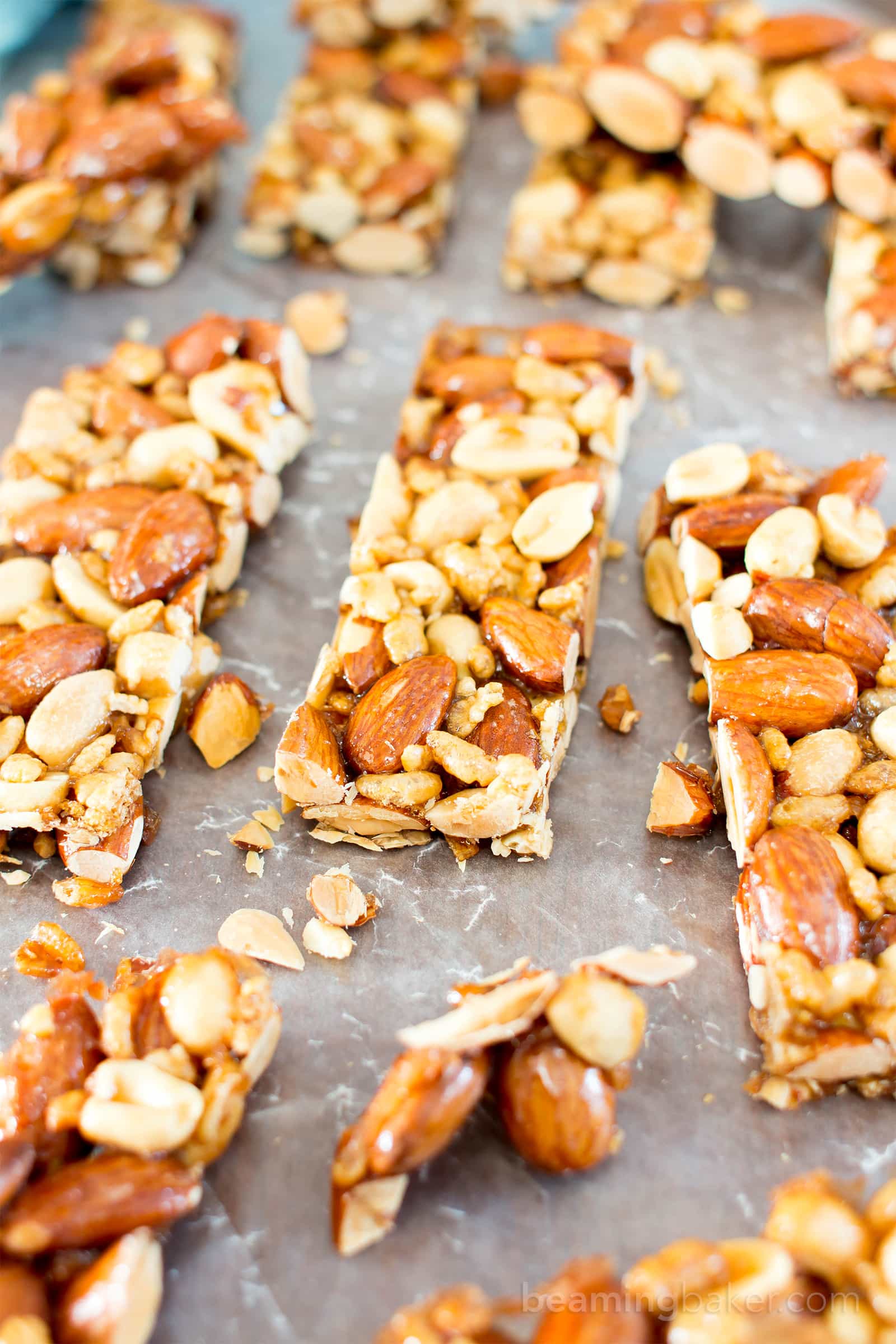 Even though it's been ages since I've been "back to school," I still think of August/September as the back to school season. And I'm like, let's do this!
I even go to Target and search for a new pencil case (then realize I don't use pencils anymore, because: INTERNET.) But they have sparkly pink, purple and aqua pencil cases!! Who even needs to put pencils in them anyway? New makeup case, anyone?
I even go to the mall to shop for new dorm-ready comforter sets. Then realize I don't need them because: ADULTING. But then I think my mom would be so charmed by this 7-piece comforter set that comes with not one, but two fuzzy pillows, and a pillow sham, and a backup pillow sham in case the first one gets eaten by the aformentioned fuzzy pillow cases. Or something.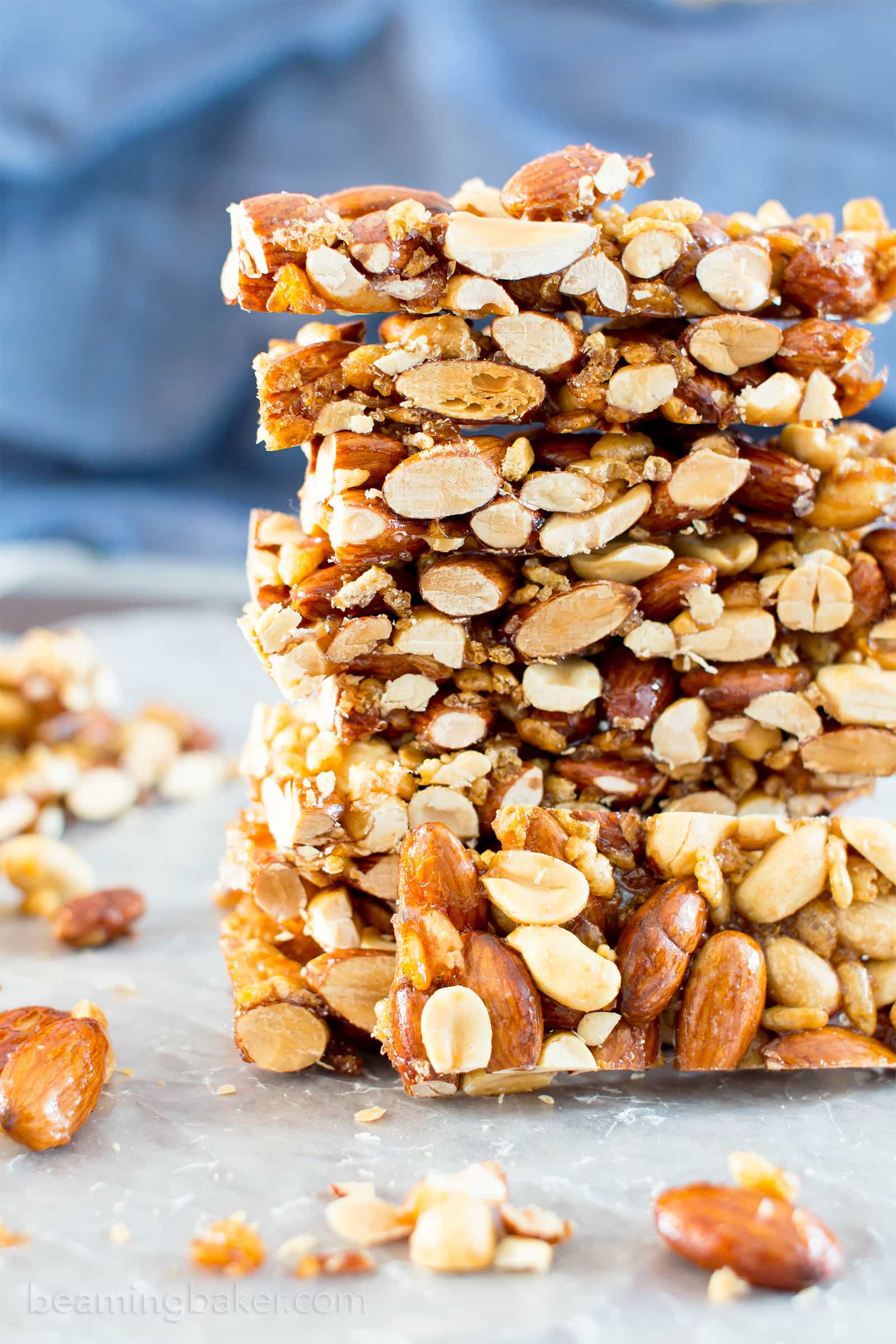 I might even stroll to the unconventional/stylish/industrial-but-modern-and-somehow-charmingly-beachhouse-inspired seating they've got at the furniture store. Then I realize that we sooo don't have the space in our being-a-for-realsies-adult-ridiculous-rent-in-a-big-city-apartment. And we so can't pull of shabby-industrial-modern-beachhouse-chic if someone paid us to. But then I'm like, maybe we could… Erik, don't fail me now!
I might even consider a gadget or 300 from the electronic cool kids store. I mean, I can obviously pull off those chunky earphones that match with none of my wardrobe because I'm not cool. At all. But maybe those chunky earphones will make me cool.
Ah… back-to-school. So many dreams. So many hopes, all in one shopping cart. Obviously achievable, right? Right?!?
But then I'm like, A-HA!!! You know what I've got in the bag? Erm, not my shopping bag, but My Bag of Life Tricks?
SNACKS!
Take that, back-to-school too cool for school (but not really because, uh, back-to-SCHOOL)!!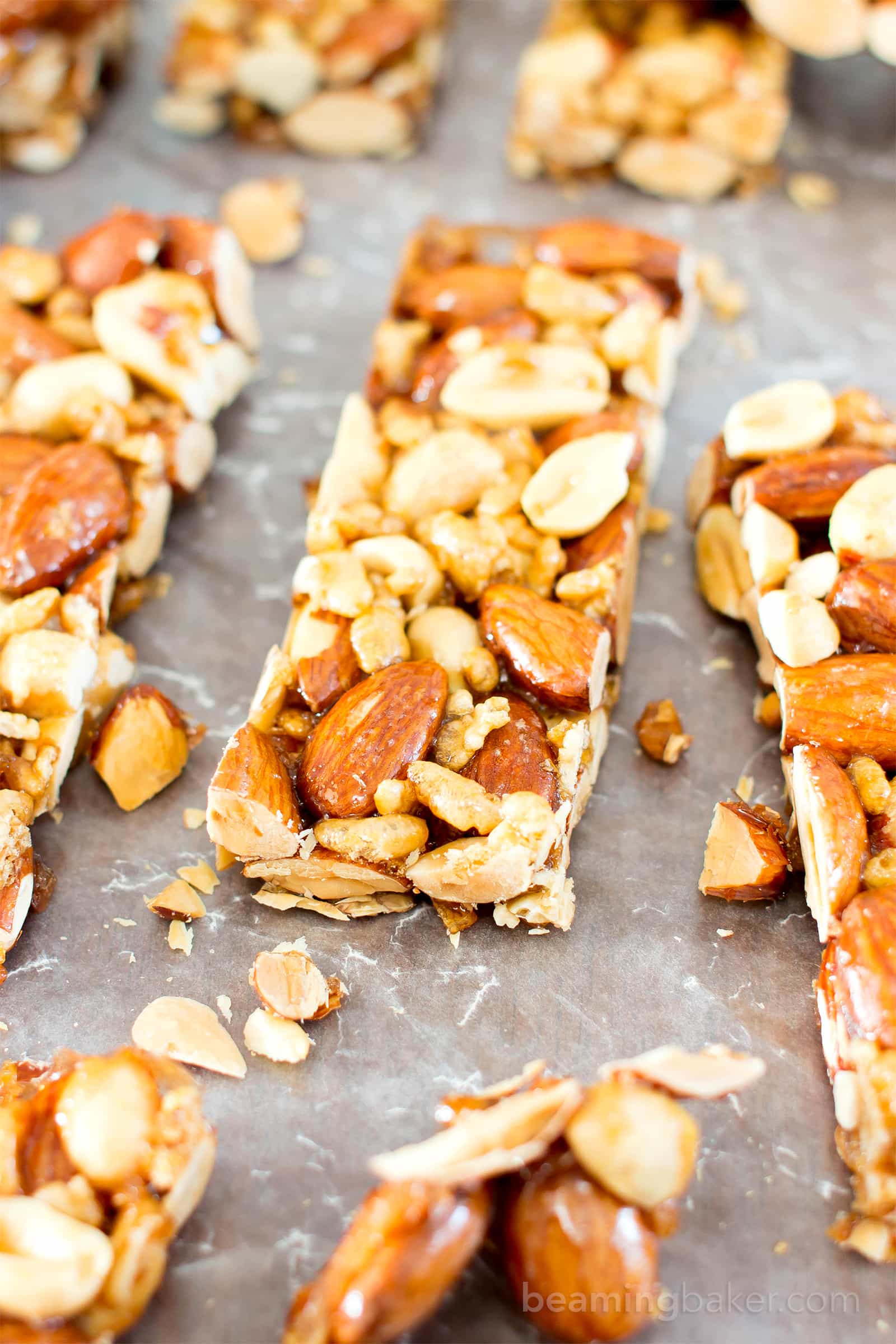 The one thing being past the age/era/no inclination to go back-to-school BTS fervor that can't be taken away from me! And I shall purchase all the sparkly rainbow-colored pencil cases I please! Hmph!
Ahem… anyway, one of my fave snacks from back in the day were KIND bars. Does anyone know whether or not I'm supposed to be screaming KIND like that? Let's just say I've been screaming INTERNET, ADULTING and those other words in an ode to KIND bars.
And now that I think about it, screaming the words INTERNET and ADULTING right next to each other totally was not a good idea. Moving on!
One thing I miss the MOST (there I go again) with store-bought snacks are KIND bars. Weren't they the best? All the nuts and the good stuff (i.e. add-ins), without any of the filler. Btw, if you're in the mood for no-filler, guilt-free snacks, you've got to make my Oil-Free Paleo Cinnamon Nut Granola!! It's refined-sugar free, super easy to make, and soon-to-be your favorite healthy snack.
Besides these low carb homemade KIND bars, of course. 😉
So it's been my plot, my plan, my machination (back to school makes me scheme for no good reason) to create homemade KIND bars like it was nobody's business! Allow me to present to you my 5 Ingredient Homemade KIND Nut Bars.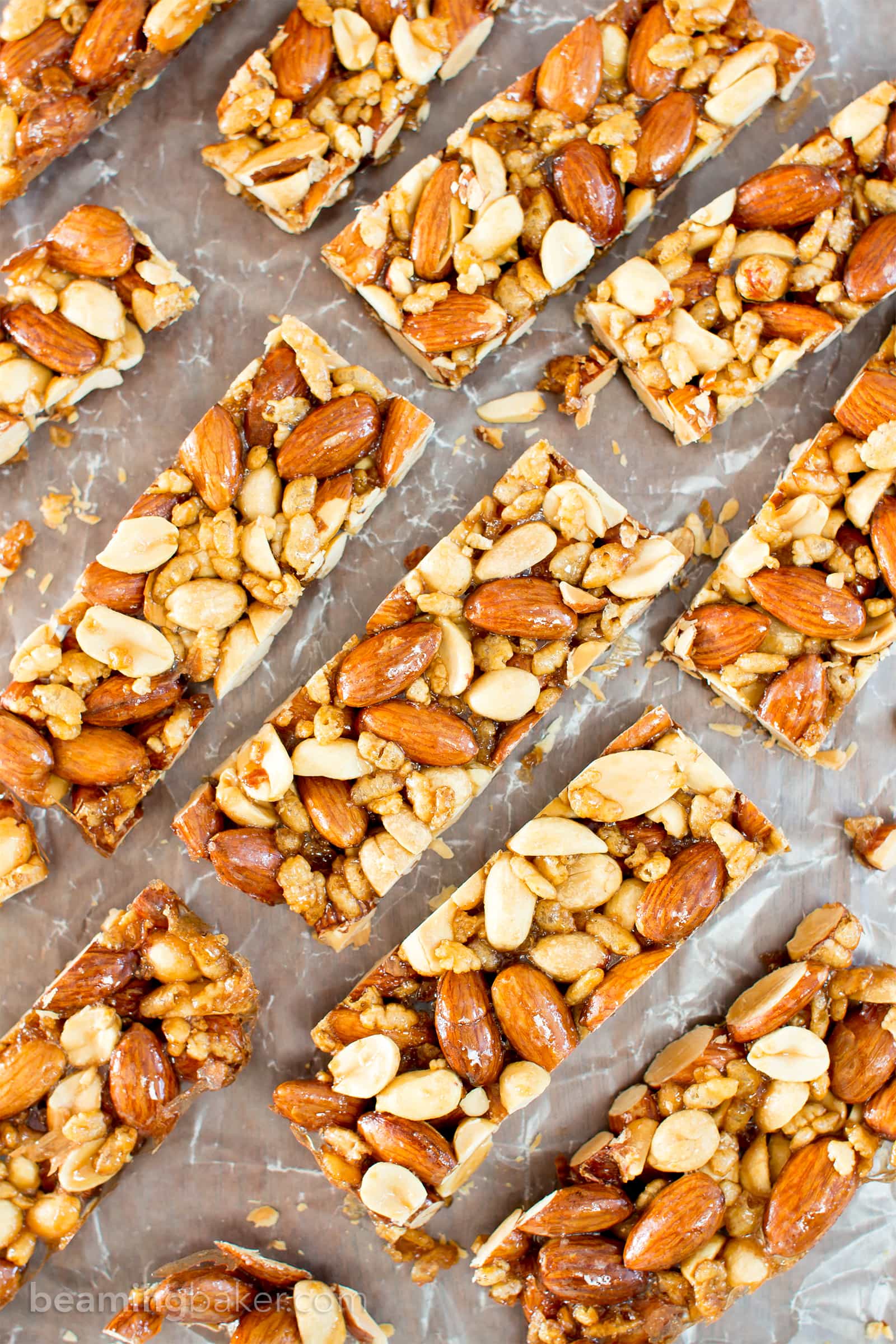 I wanted to start with a really basic recipe, something super simple and made with the fewest ingredients possible. Then, upgrade at a later date (spoiler alert!!). I may or may not have a few saucy things planned for future homemade KIND bar recipes (second spoiler alert!!! But not really bc it's the same one as before!!). 😉 UPDATE: the sauciness has arrived, in the form of homemade dark chocolate sea salt KIND nut bars!
These 5 Ingredient Homemade KIND Nut Bars are:
made with just 5 ingredients (in case you weren't listening)
just 106 calories per bar
… with only 5 grams of sugar, 8 grams of carbs
4 grams of protein each!
… and yes, could be made with just 3 ingredients if you use just 1 nut and skip the salt
made in just one bowl
prepared in less than 5 minutes
vegan, gluten-free, dairy-free, refined sugar free
crunchy, crispy, TASTY
the perfect combo of salty and sweet
plant-based and allergy-friendly
the perfect on-the-go-snack that's low carb!
or a delicious dessert
cool enough to get ya back in the back-to-school game!
Grab just 5 ingredients and just one bowl. These 5 Ingredient Homemade KIND Nut Bars will be ready before you know it! I was literally shocked by how quickly I could prep them. 🙂 Gold star!! Okay, I've got to tone down my back-to-school obsession! I'm just so excited to be in the kitchen with you, making tasty and healthy homemade treats. I can't wait to hear what you think. In the meantime, tell me:
What are you most excited about for the back-to-school season?
Sending you all my love and maybe even a dove, xo Demeter ❤
☀︎Click below to Pin ☀︎

☀︎ Did you make this recipe? Take a pic and share it on Instagram with the hashtag #beamingbaker and tag @beamingbaker. I would love to see it! ☀
Healthy Snack Recipes We Love
Print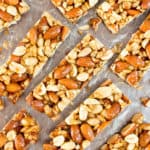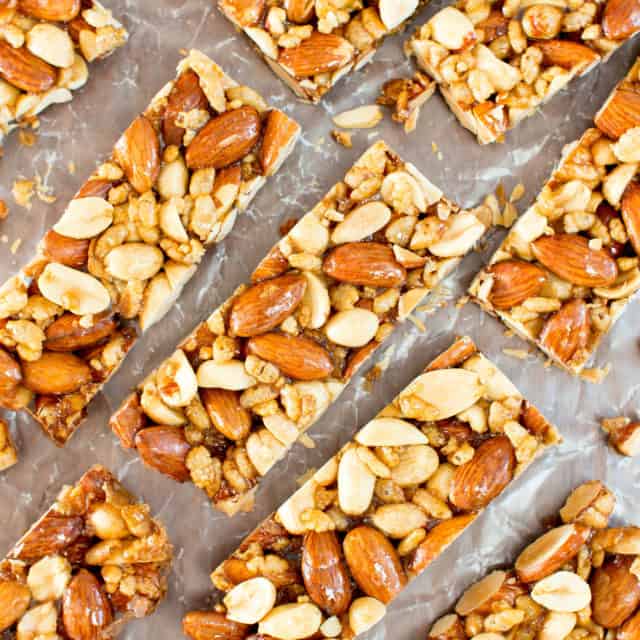 5 Ingredient Nut Bars Recipe – Homemade KIND Bars!
---
Description
Homemade KIND Bars: an easy, 5 ingredient nut bars recipe for homemade kind bars! Salty 'n sweet healthy nut bar delight!
---
---
Instructions
Preheat oven to 325°F. Line an 8-inch square baking pan with parchment paper. Set aside.
Add almonds, peanuts, cereal and salt to a large bowl. Stir until well mixed. Pour maple syrup over this mixture. Fold until well incorporated.
Pour this mixture into the prepared baking pan. Using a rubber spatula, smooth into a tightly packed, even layer. Bake for 30-40 minutes (mine took 35 mins). Bars must bake thoroughly, or they won't hold together when cooled.
Allow to cool for 1 hour, or until completely cooled. Use a heatproof spatula to gently lift and loosen bars from parchment. Slice into 12 bars (6 rows by 2 columns). Enjoy! Storing instructions below.
Delicious Homemade Bars
Equipment
Notes
Storing Instructions: Store in an airtight container at room temperature for up 1-3 weeks. Store in the refrigerator for up to 1 month.
Nutrition Info is an estimate based on 12 total bars.
Category:

Snacks

Method:

Bake

Cuisine:

American
Nutrition
Serving Size:

1 bar

Calories:

106

Sugar:

5g

Sodium:

51mg

Fat:

7g

Carbohydrates:

8g

Protein:

4g
Keywords: nut bar recipe, homemade nut bars, homemade kind bars recipe
© beamingbaker.com. All content and images are protected by copyright. Please do not use my images or recipe without my permission. If you wish to republish this recipe, please re-write the entire recipe using your own words and include a link to this post for the recipe.
Facebook ☀︎ Pinterest ☀︎ Twitter ☀︎ Instagram