Paleo Vegan Almond Joy Ice Cream (V, GF): a 7 ingredient recipe for deliciously creamy, no churn ice cream bursting with coconut, chocolate and almonds. Vegan, Paleo, Dairy-Free, Gluten-Free.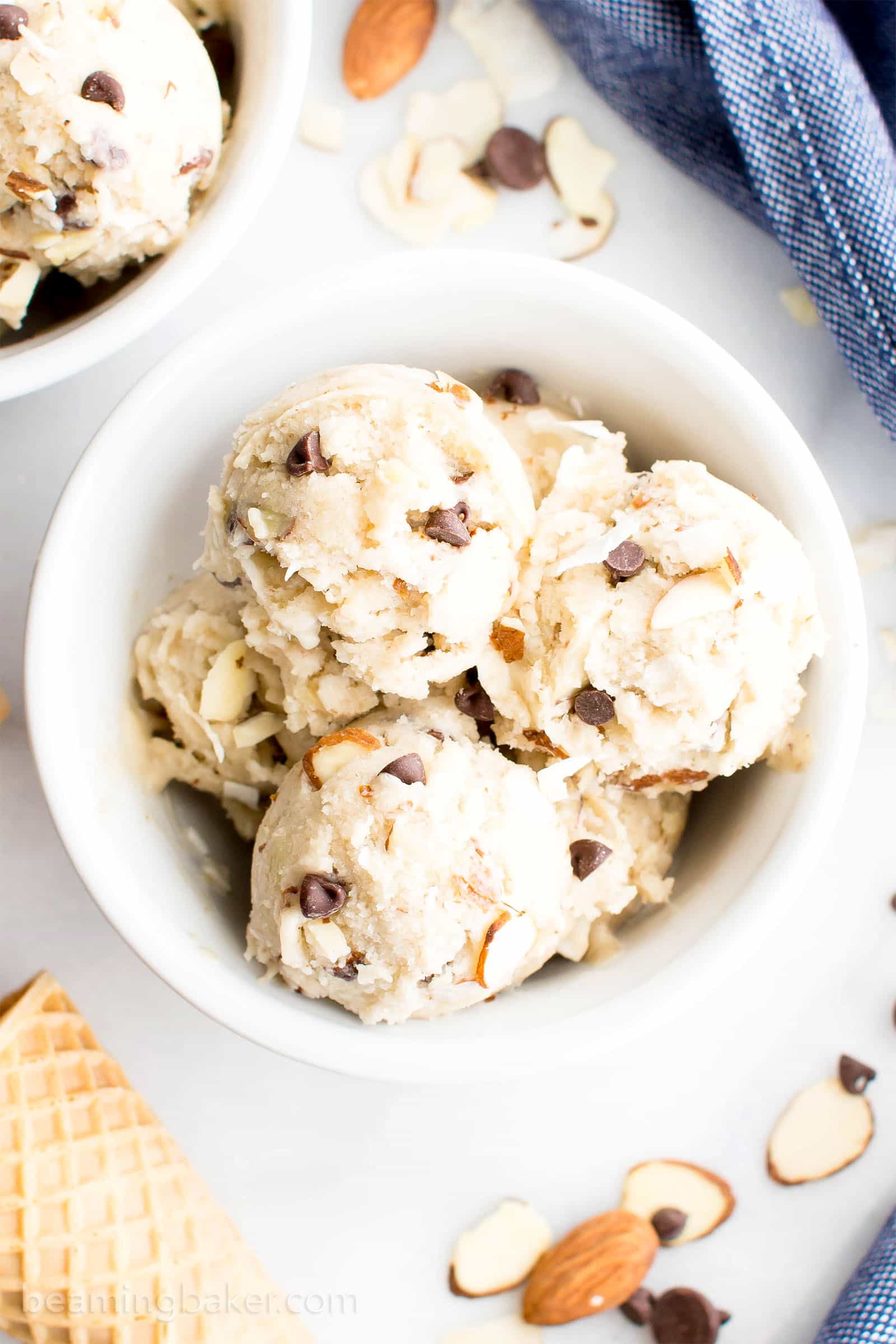 Happy Monday!! Oh come on, in the summer, at least, Mondays can be pretty happy. I mean, you can actually take off a Monday or two (at least I hope you do…). You can even whip yourself up a fresh batch of Ultimate Chewy Paleo Coconut Cookies, just 'cuz.
And, just in case you still have a case of the Mondays anyway, I thought I'd try to brighten it up a bit with… drumroll please…
Paleo Vegan Almond Joy Ice Cream!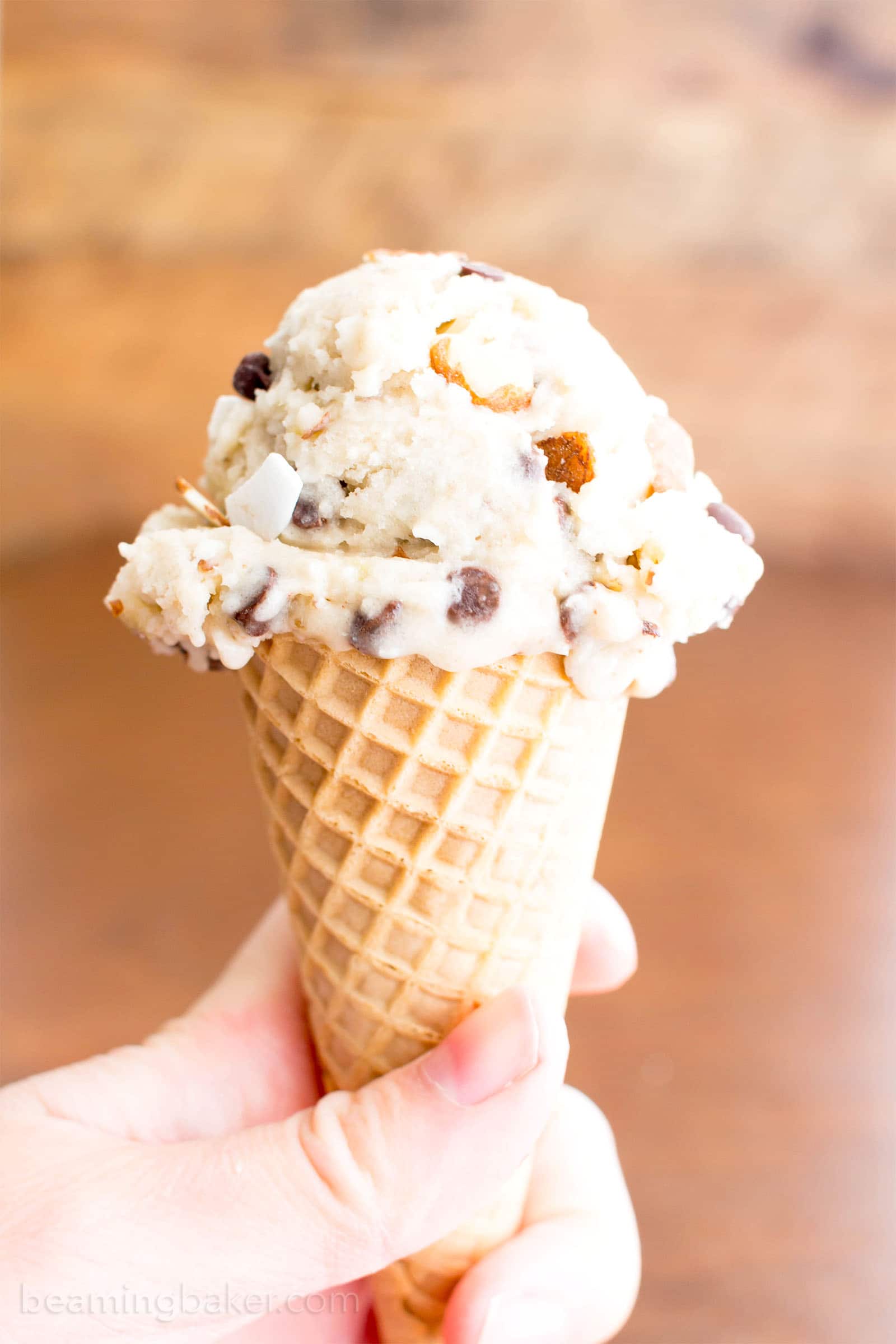 Didn't reading the recipe title just make you feel better? 🙂 And you know if I could, I would definitely whip up a HUGE batch of this ice cream and host an ice cream social. Just for you. And then you'd absolutely have a legit reason to call off of work. (Ice Cream Socials totally count as a "Must Miss Work" day).
Anywho, my first official Summer Recipe kickoff, um recipe, was this Coconut Chocolate Chip Vegan Ice Cream. It's awesomely paleo, vegan, gluten-free, dairy-free, and I'm sure other frees that I can't think of right now (it's Monday, what can I say?). Well that little guy was such a big hit, especially on Facebook, that I thought it was high time to concoct an Almond Joy-upgraded version for you.
What do you think? Are you more than a little excited?
While I await your answers, I can tell you that my mom, aka Grams, is over the moon about this one. Actually, she's the one who brainwashed convinced me that all things Almond Joy-flavored are amazing. You might already know this, but my family is kinda crazy obsessed with all things coconut chocolate. But, of course, my mom needs to add nuts to just about everything.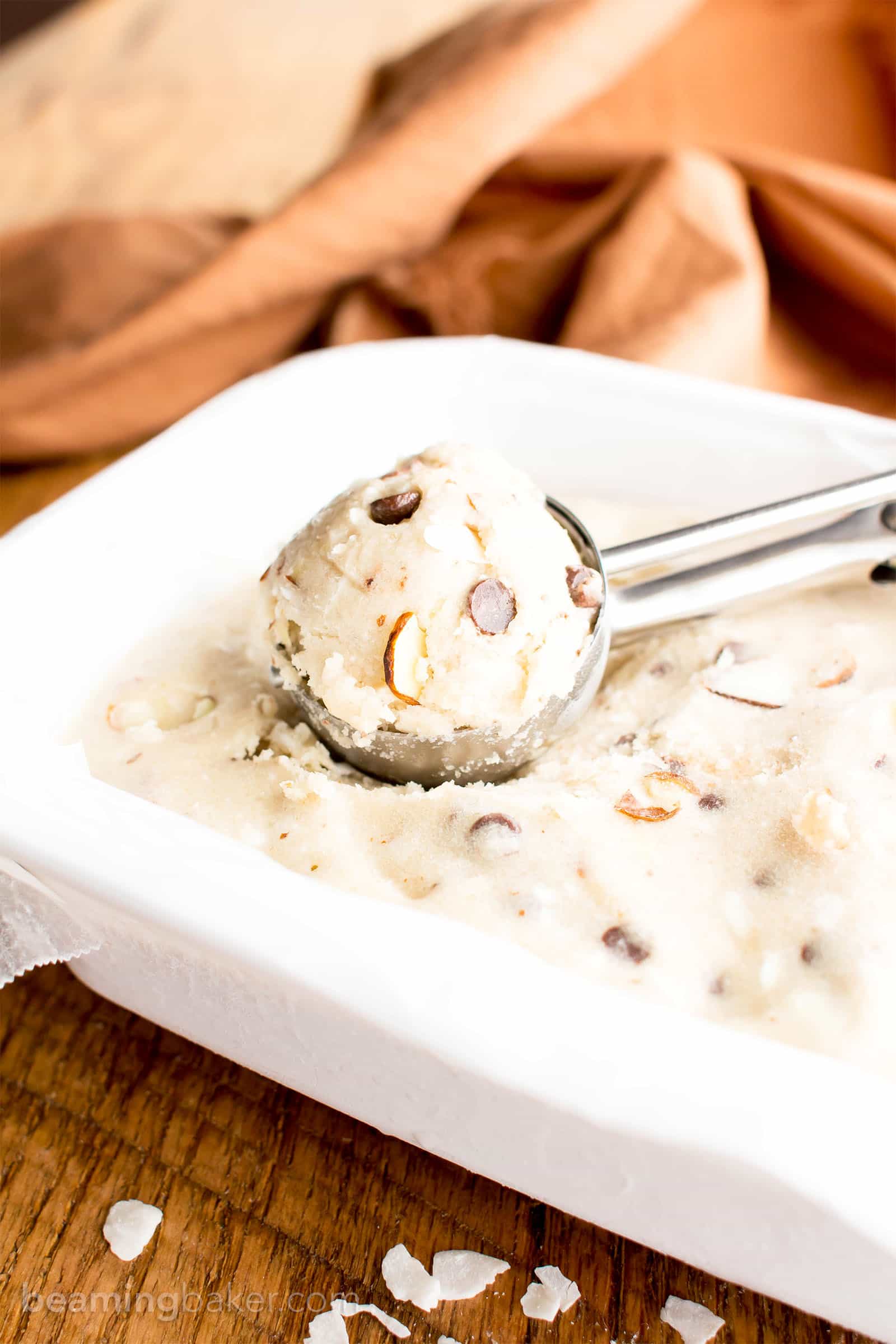 It's been years since she's enjoyed an Almond Joy (boy does that sentence have a ring to it). Happily though, she's very satisfied/always asking me to make her my Paleo Almond Joy. In fact, she's constantly asking me to turn everything and anything I can into an Almond Joy treat.
As such, you can thank her for all of these:
You know what, I'd been anticipating a much longer list of AJ treats. Gosh, don't tell my mom I shared this very stubby list with you… or else you know what she's gonna be requesting. Wait, did she just hear us??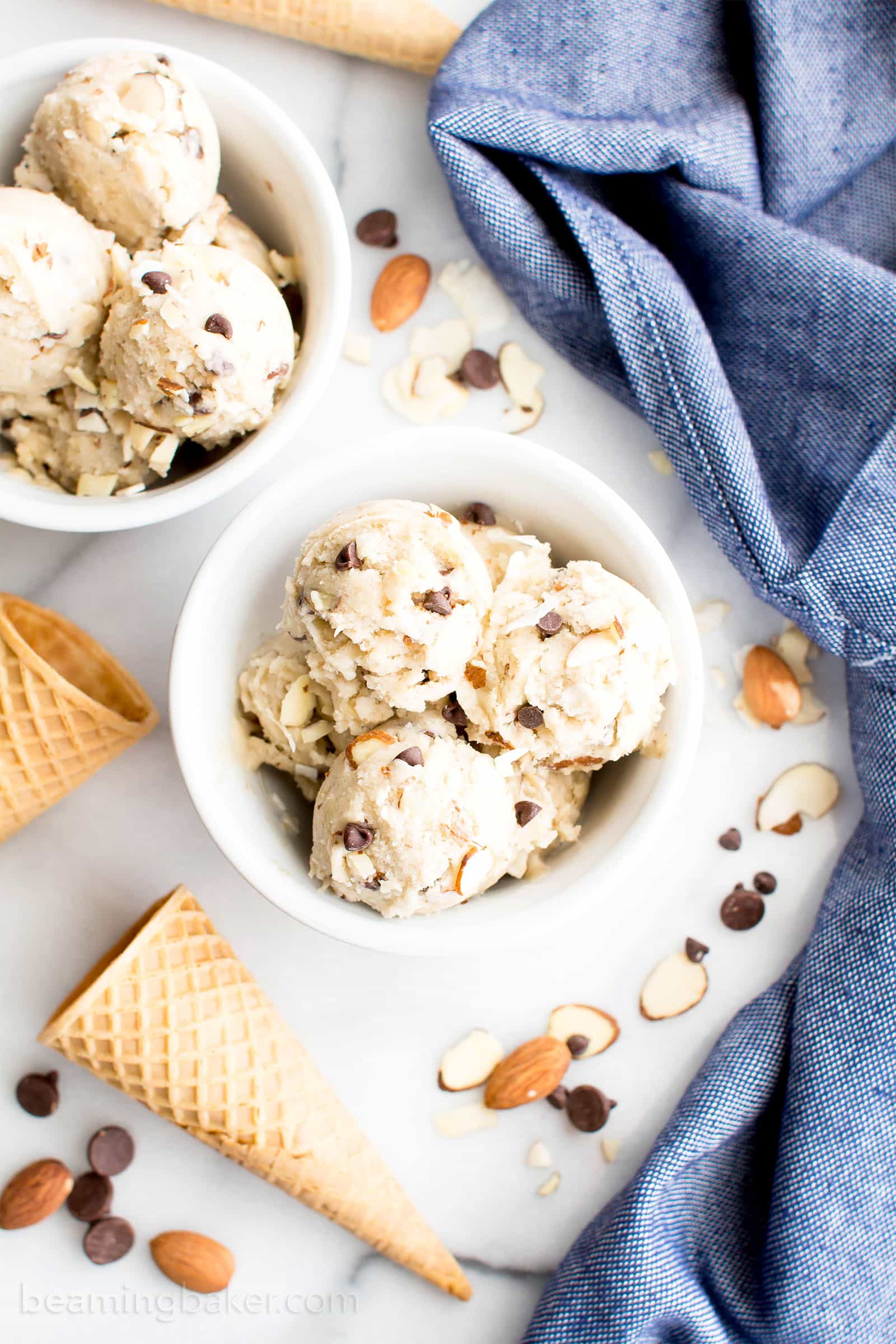 Allow me to ever so quietly tell you all about the tastiest reasons why you should make this Paleo Vegan Almond Joy Ice Cream. It's:
deliciously creamy
super easy to make…
with just 7 ingredients
awesomely no-churn
paleo, vegan, gluten-free, dairy-free
bursting with Almond Joy flavors
especially tasty when using this paleo vegan dark chocolate
packed with chocolate, almonds and coconut
plant-based and allergy-friendly
made with the simple, whole, healthy ingredients you love
perfect for dessert, or even breakfast (reason: SUMMER!!)
Are you ready to make some homemade ice cream YUM? I'll grab the blender, you grab the almonds, coconut and chocolate. Okay, fine, I'll bring the coconut cream too! 😉 I'm looking forward to spending a long, lazy, warm and relaxing summer making all the frozen, no bake and alright, a few baked, goodies with you. Thank you for spending it with me. <3 I can't wait to hear what you think of this recipe, in the meantime, tell me:
What's your favorite summer activity?
Sending you all my love and maybe even a dove, xo Demeter ❤
☀︎ Click below to Pin ☀︎

☀︎ Did you make this recipe? Take a pic and share it on Instagram with the hashtag #beamingbaker and tag @beamingbaker. I would love to see it! ☀︎
SHOP THIS RECIPE
Here are a few items I used in today's recipe. 🙂
Food Processor (which I LOVE) | Coconut Cream | Coconut Flakes | Maple Syrup | Stainless Steel Measuring Cups | Paleo Vegan Chocolate Chips | Paleo Vegan Dark Chocolate Bars

Paleo Vegan Almond Joy Ice Cream (Vegan, Gluten Free, Dairy Free, Paleo)
Paleo Vegan Almond Joy Ice Cream (V, GF): a 7 ingredient recipe for deliciously creamy, no churn ice cream bursting with coconut, chocolate and almonds. Vegan, Paleo, Dairy-Free, Gluten-Free.
Author:
Demeter | Beaming Baker
Recipe type:
Frozen Dessert, Ice Cream, Vegan, Paleo, Dairy-Free, Gluten-Free
Serves:
7-12 servings (about 3-4 cups)
Ingredients
3 medium bananas, sliced and frozen
½ cup coconut cream*
1-2 tablespoons pure maple syrup
½ teaspoon pure vanilla or almond extract
⅓ cup unsweetened coconut, shreds or flakes
⅓ cup unsalted almonds, chopped or sliced
Instructions
Add bananas to a food processor. Blend until crumbly. Add coconut cream, maple syrup and extract, blending until smooth. Scrape down the sides of the blender as needed.
Add coconut, almonds and chocolate chips or chopped paleo chocolate**, blending until just incorporated (2-4 pulses).
If you like super soft, melty ice cream, enjoy immediately. If you want your ice cream firm and scoopable: pour into a freezer-friendly, airtight container. Freeze for 3-6 hours, or until completely frozen. Allow to thaw for 5-15 minutes before scooping. Enjoy!

Also try my Ultimate Fudgy Paleo Vegan Brownies and these amazing Vegan Paleo Coconut Macaroons!
Notes
- Here's
the food processor I use and love
, since so many of you have been asking. 🙂
- Adapted from my
Coconut Chocolate Chip Vegan Ice Cream (Paleo, V, GF)
.
- *You can use canned
coconut cream
, or you do the following: Allow a can of full-fat coconut milk to settle for 1-3 days—set it in a stable, cool environment. Open the can and scoop the firm, creamy white part off the top—this is the coconut cream.
- **Alternatively, you can melt the chocolate to achieve delicate chocolate flakes in your ice cream. Here's how: add chocolate chips to a small, microwave-safe bowl. Heat in the microwave in 15-second increments until melted. Stir in between increments, until smooth. Scrape melted chocolate into the blender. Pulse a few times to combine. Scrape down the sides of the blender as needed.
- More Frozen Desserts:
Chocolate Chip Ice Cream Sandwiches
,
Paleo Ice Cream Bars
,
Mango Coconut Milkshake
.
- Nutritional Info (see below): an estimate, calculated based on 3½ cups of ice cream, equaling 10 servings (also using 1 tablespoon of maple syrup).
Nutrition Information
Serving size:
⅓ cup
Calories:
129
Fat:
8g
Carbohydrates:
15g
Sugar:
9g
Sodium:
4mg
Protein:
2g
© beamingbaker.com. All content and images are protected by copyright. Please do not use my images or recipe without my permission. If you wish to republish this recipe, please re-write the entire recipe using your own words and include a link to this post for the recipe.
If you enjoyed this Paleo Vegan Almond Joy Ice Cream recipe, then you'll love these plant-based, allergy-friendly recipes:
☀︎ Paleo Vegan Frozen Dessert Recipes
My favorite coconut macaroons of all time: Paleo Chocolate Coconut Macaroons Recipe (Paleo, Vegan, Refined Sugar-Free)
Who needs a coffee shop when you can make this Paleo Mocha Frappe right at home!
Coconut lovers, this ice cream's for you: Toasted Coconut Chocolate Chip Nice Cream (Vegan, Dairy-Free, Paleo, GF)
Okay, fine… here's a baked goodie, just for you: Ultimate Fudgy Paleo Vegan Brownies. 😉
This post may contain affiliate links, which allow me to make a small commission for my referral, at no additional cost to you. Thank you for supporting Beaming Baker.
Facebook ☀︎ Pinterest  ☀︎ Twitter ☀︎ Instagram