vegan vanilla ice cream recipe: this homemade vegan ice cream recipe is easy, rich 'n creamy. the best vegan vanilla ice cream made with simple ingredients & an ice cream maker! dairy-free.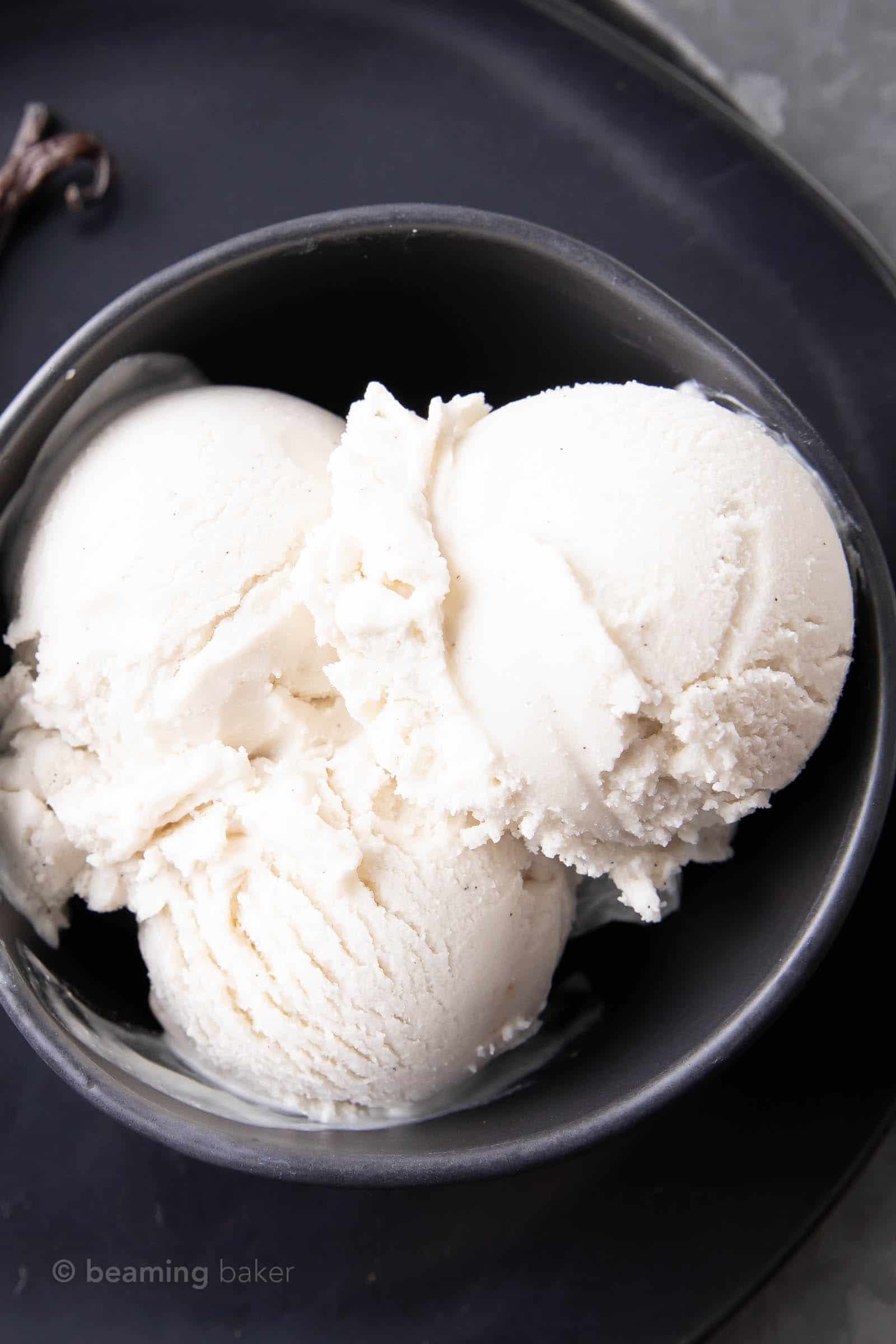 This post was written before the heartbreaking events of recent days. Please visit here to read my thoughts on this. To donate, visit here. ❤️
Happy 1st day of June!! Oh my goodness gracious, did that come fast or did that come fast?
Now that the official first day of summer is fast approaching, we've got to start getting serious about getting in shape for bikini season making the best friggin' vegan vanilla ice cream recipe ever! Because ice cream is soooo much better than bikinis. And way less judgmental, ya know? 😉
Okay, so far I've shared with you the best vegan chocolate ice cream recipe, keto coconut ice cream, and strawberry keto ice cream, this year alone. So which vegan ice cream recipe do you think is up next? You have two weeks to figure that out! (Spoiler alert.)
Until then… let's make your soon-to-be-favorite homemade vegan ice cream, vanilla-style.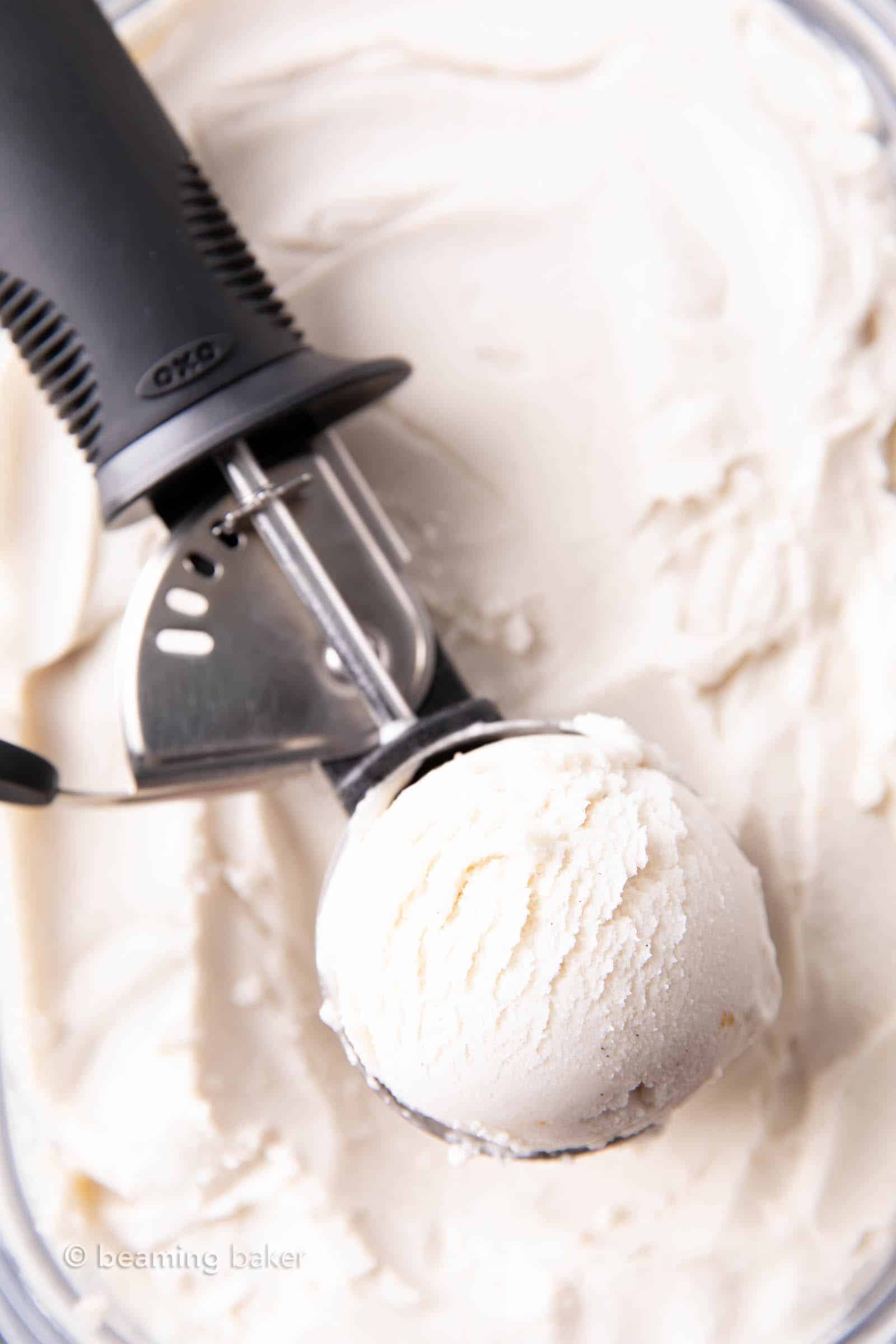 Homemade Vegan Vanilla Ice Cream Recipe
This vegan vanilla ice cream is everything you'd hope for: rich and creamy, bursting with vanilla flavor, and sweet enough to satisfy that sweet tooth, but not too sweet that you can't enjoy more than one scoop. Try your hand at making this homemade vegan vanilla ice cream and enjoy. Bonus: this vegan ice cream is dairy-free, healthy and refined sugar-free.
What is Vegan Vanilla Ice Cream?
What a mysterious and intriguing question! In general, vegan vanilla ice cream is vanilla ice cream that's made without animal products. That means: none of the usual ice cream ingredients, such as: eggs, heavy cream, etc. For this particular vegan vanilla ice cream, we're gonna rely on coconut milk and coconut cream to replace the heavy cream, and a few other vegan ingredients to create non-dairy, plant-based vegan vanilla ice cream. And if you were actually more in the mood for chocolate vegan ice cream, try this dark chocolate nice cream (vegan, paleo).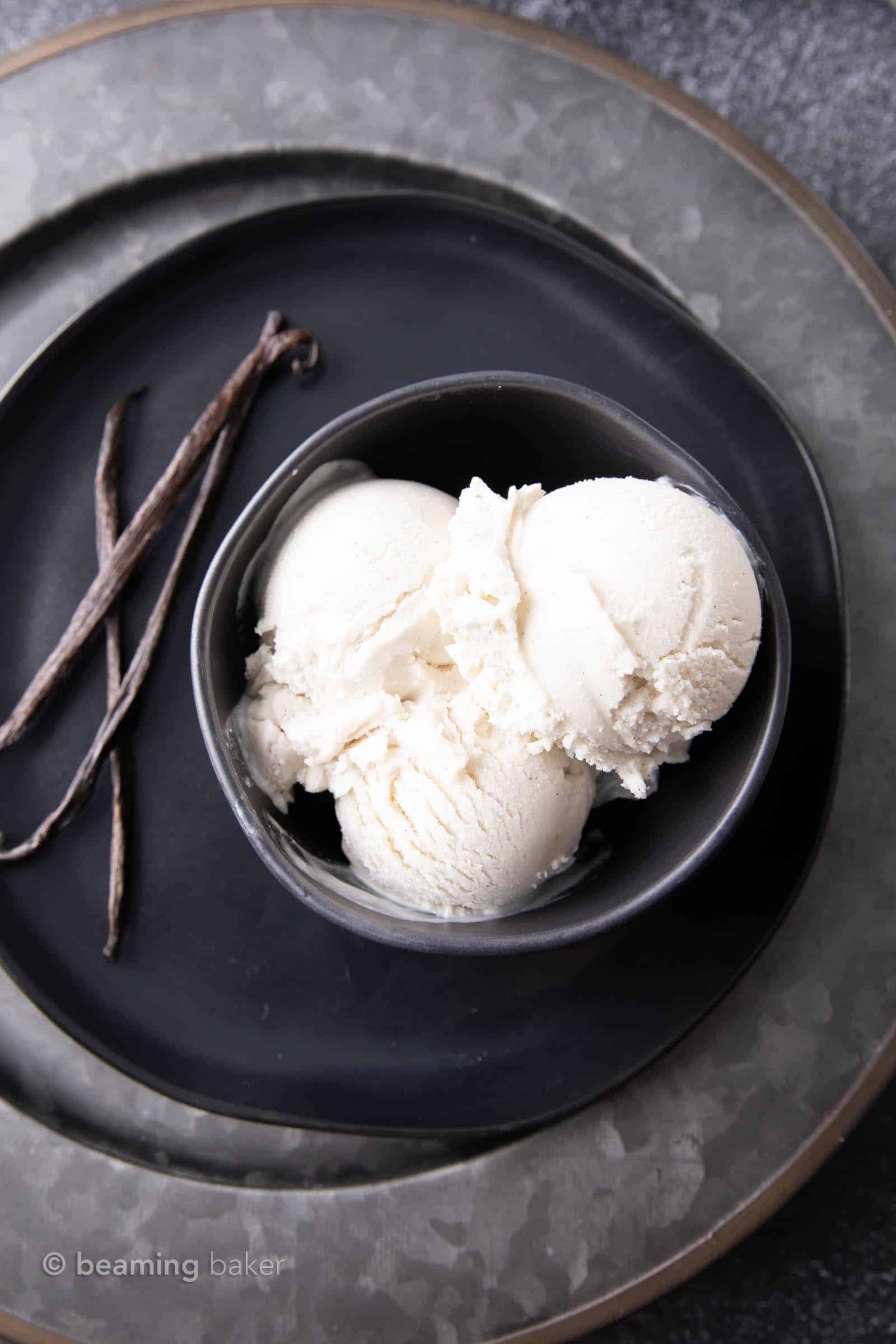 3 Secret Ingredients for Rich Vanilla Flavor
What makes this vegan vanilla ice cream the best vegan vanilla ice cream? In my opinion, three secret ingredients. You see, I spent oodles of time testing different amounts of vanilla, sweetener and coconut milk vs. coconut cream, guar gum vs. no guar gum and more. But something was always missing: an element of creaminess, lack of iciness and a flavor complexity.
These three ingredients solved it all: raw cashew butter, pure almond extract and real vanilla bean. Raw cashew butter added a boost of creaminess to the texture of this vegan ice cream, and it helped to cut down on the iciness that's par for the course in homemade vegan ice cream recipes. Lastly, it added a nutty, cookie-like flavor that helped to balance out the coconut flavors present in the coconut milk and coconut cream. For a cashew butter treat, try my Homemade Cashew Coconut Milk Vegan Ice Cream.
Then, I started playing around with different amounts of vanilla extract and found that none quite worked. So I threw in some almond extract, just to see what happened. Guess what? It brought out a special level of sweetness and flavor complexity that really drew out the vanilla in this vegan vanilla ice cream. Lastly, I used moist, freshly-sealed real vanilla bean pods to kick up the real vanilla flavor for the best vegan vanilla ice cream ever!
How to Make Vegan Vanilla Ice Cream
Learn how to make vegan vanilla ice cream in just a few super simple steps. Add all vegan vanilla ice cream ingredients except the vanilla bean pod into a good food processor. Blend until well incorporated. Scrape the vanilla bean pod and add contents into the processor. Blend again. Pour this vegan ice cream mixture into your favorite ice cream maker and churn until firm. Enjoy immediately or chill until as firm as desired. That's it!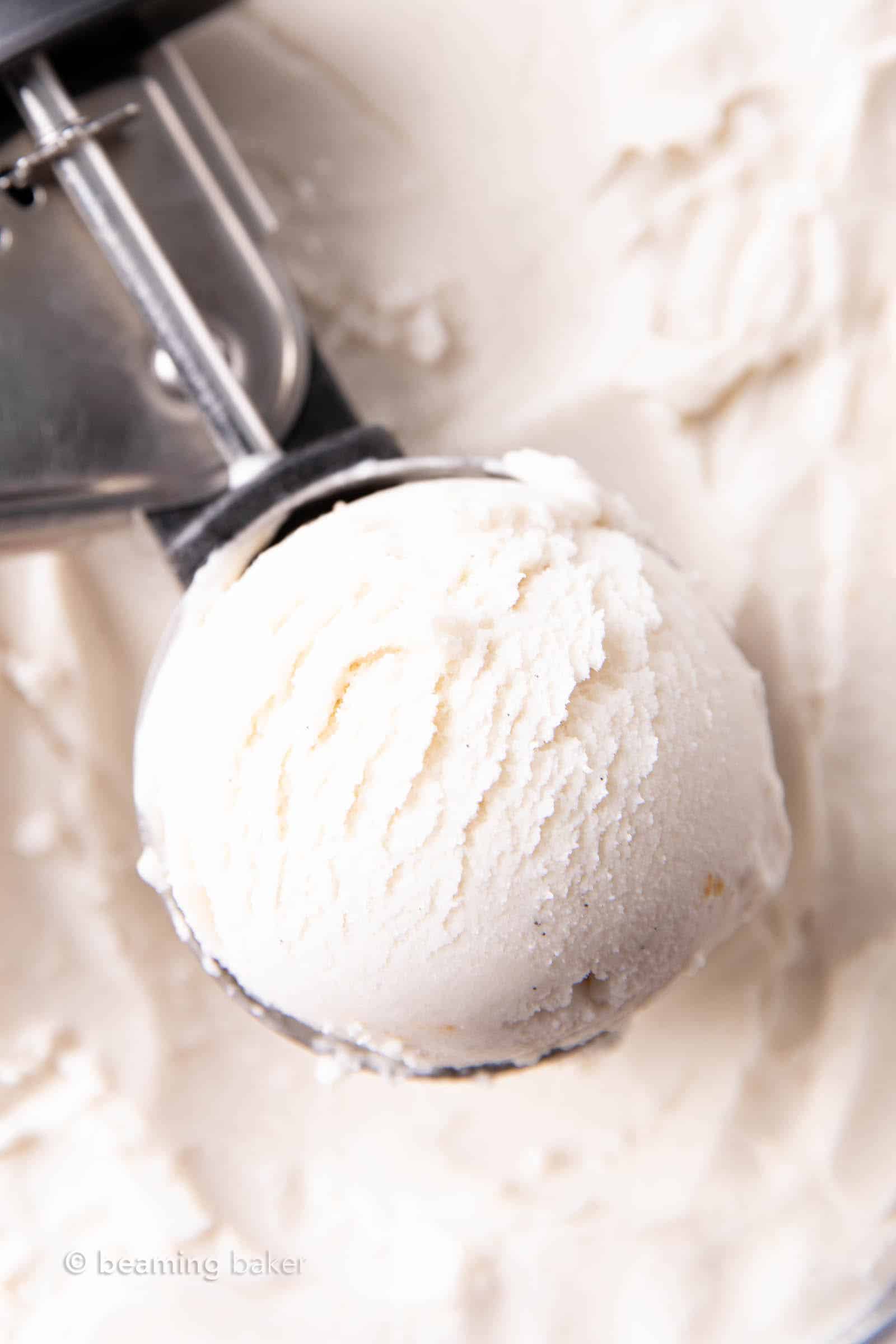 Recommended Tools for the Best Vegan Vanilla Ice Cream
Raw Cashew Butter + Vanilla Bean Pods + Pure Almond Extract: my 3 secret ingredients to creating the tastiest, best vegan vanilla ice cream. These 3 ingredients create creaminess, richer vanilla flavor and add a little sumthin' sumthin' to your new favorite vegan vanilla ice cream recipe.
Ice Cream Maker + Extra Freezer Bowls: I've been using the heck out of my ice cream maker! And tbh, I have several of them… 😉 The extra freezer bowls come in so handy–I can freeze multiples in advance and make several batches of vegan ice cream in a row without having to wait 24 hours for the first one to freeze.
Last chance for guesses on the next vegan ice cream recipe!! J/K. You still have two weeks to guess. 😉 In case I don't say it enough, just know that I truly appreciate you. It's the best part of my day to spend this time with you, creating the delicious moments we all deserve. 'Til the next kitchen adventure…
Sending you all my love and maybe even a dove, xo Demeter ❤️
☀ Click below to Pin ☀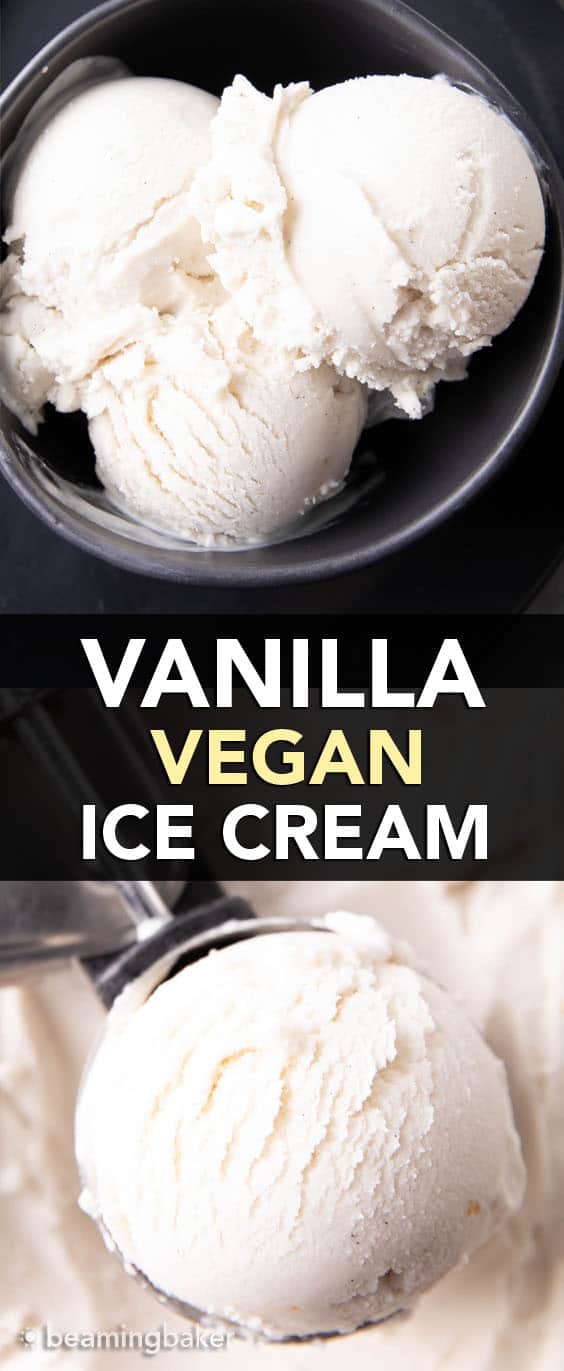 📸 Did you make this vegan vanilla ice cream recipe? Take a pic and share it on Instagram with the hashtag #beamingbaker & tag @beamingbaker. I'd love to see it! 📸
Homemade Vegan Ice Cream Recipes
Print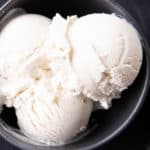 Vegan Vanilla Ice Cream Recipe
---
Author:

Demeter | Beaming Baker

Prep Time:

10 mins

Cook Time:

0 mins

Total Time:

10 minutes

Yield:

about

15 1/3

-cup servings

1

x

Diet:

Vegan
Description
Vegan Vanilla Ice Cream Recipe: this homemade vegan ice cream recipe is easy, rich 'n creamy. The best vegan vanilla ice cream—incredible vanilla flavor, made with simple ingredients. Dairy-Free.
---
---
Instructions
The day before, freeze your freezer bowl according to your ice cream maker's instructions. This is the ice cream maker I use.
Add all ingredients except the vanilla bean pod into a food processor.
Slice the vanilla bean pod down the center, lengthwise. Using a spoon, scrape the beans cleanly out of the pod and add to the food processor. Save the pod for another recipe.
Cover the food processor and blend until smooth and well mixed. Scrape down the sides of the processor as needed.
Pour mixture into ice cream maker. Follow directions for making ice cream according to ice cream maker's directions.
Enjoy immediately if you like super soft ice cream. If you like firmer ice cream, pour into an ice cream container and freeze for 2-4 hours, until firm.
Vanilla vegan ice cream is best the first day. On Day 2 and forward, set ice cream out at room temperature to thaw for 20-90 minutes, until creamy and scoopable. Enjoy! Storing instructions below.
Vegan Ice Cream Recipes You'll ❤️
Equipment
Category:

Dessert

Method:

Chill

Cuisine:

American
Keywords: vegan vanilla ice cream, dairy free vanilla ice cream
© beamingbaker.com. All content and images are protected by copyright. Please do not use my images or recipe without my permission. Please do not republish this recipe, instead, include a link to this post for the recipe.
This post may contain affiliate links, which allow me to make a small commission for my referral, at no additional cost to you. Thank you for supporting Beaming Baker.