Vegan Ice Cream Sandwiches (GF): soft-baked gluten free chocolate chip cookies sandwich a thick layer of delicious creamy vegan ice cream. The best gluten free ice cream sandwiches!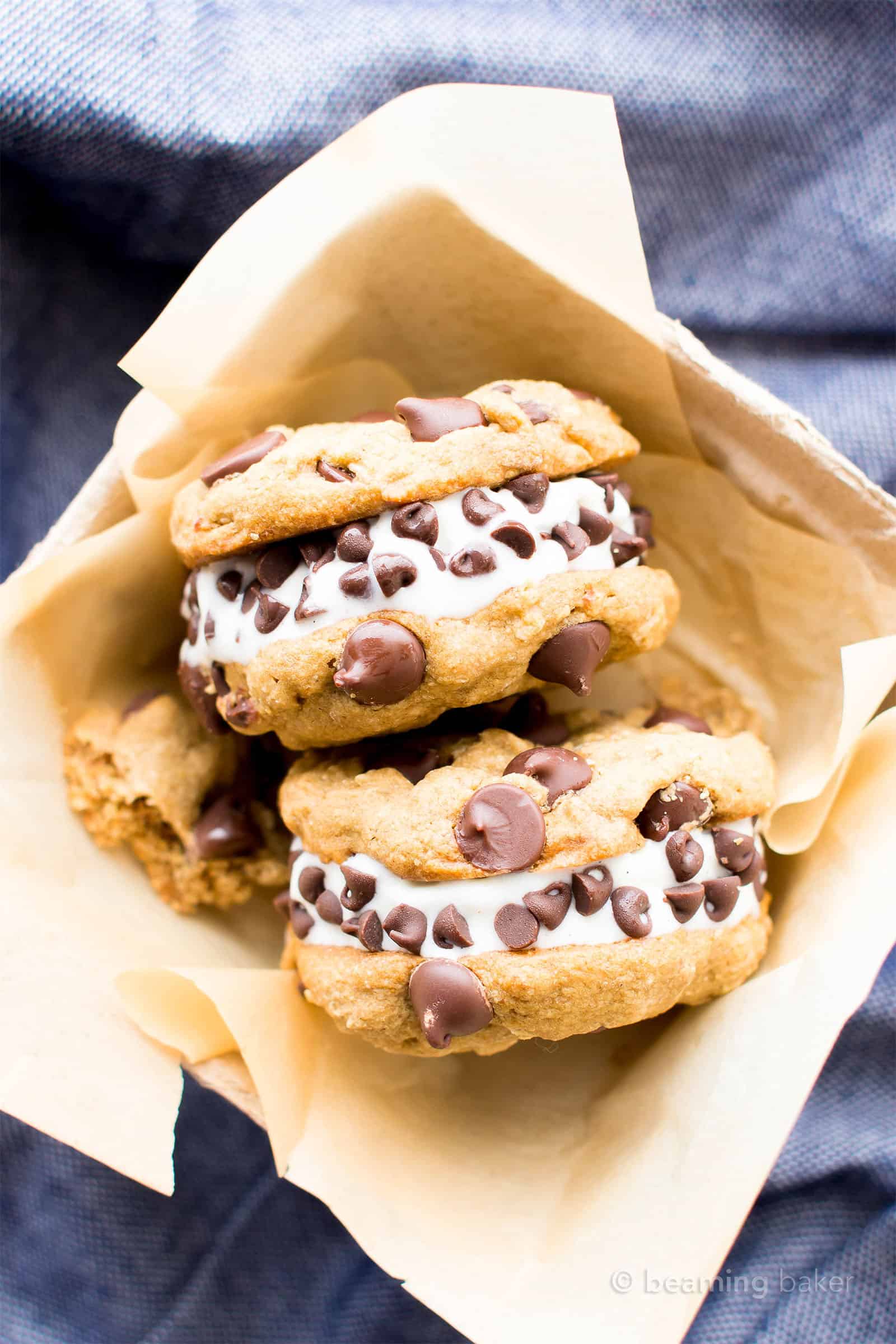 Happy July!! Now that we're safely nestled into July (obviously the least sassy of sassy months), the weather is going to be awesome!! And even if it isn't, we might just be making a batch of vegan ice cream sandwiches to make everything all better. 🙂
May I present to you my favorite Vegan Chocolate Chip Ice Cream Sandwiches? Consider them my ode, my kickoff, my fireworks-level woooohoooo to celebrate summer's arrival! Quick, no one check the official seasons calendar or whatever it's called to verify that today is the actual day when summer starts. *narrowed eyes*
Okay, fine, summer started ages ago… but it didn't really start until we got to make our very own homemade gluten free ice cream sandwiches, amiright? 😉
Let's make this!
How to Make Vegan Ice Cream Sandwiches with Chocolate Chip Cookies!
Bake
First things first, bake a batch of these oat flour chocolate chip cookies (gf+v). If you're looking for other varieties of GFV cookies to make, read on below. 🙂 Cool cookies completely.
Line & Lay
Grab your favorite large baking sheet and line it with parchment paper. Lay your completely cooled cookies face-down on the cookies sheet, with the flat side up.
Scoop
Grab your favorite vegan ice cream—whether it be store-bought or homemade, like my favorite Vegan Vanilla Ice Cream—and scoop & drop a ball of ice cream down onto a flat cookie. Smooth the ice cream into a flat layer and place another cookie onto it, face up. Smoosh it together to make your very own vegan ice cream sandwiches! Then, repeat for all sandos.
Freeze & Enjoy
Freeze until firm, then enjoy the best vegan ice cream sandwiches ever!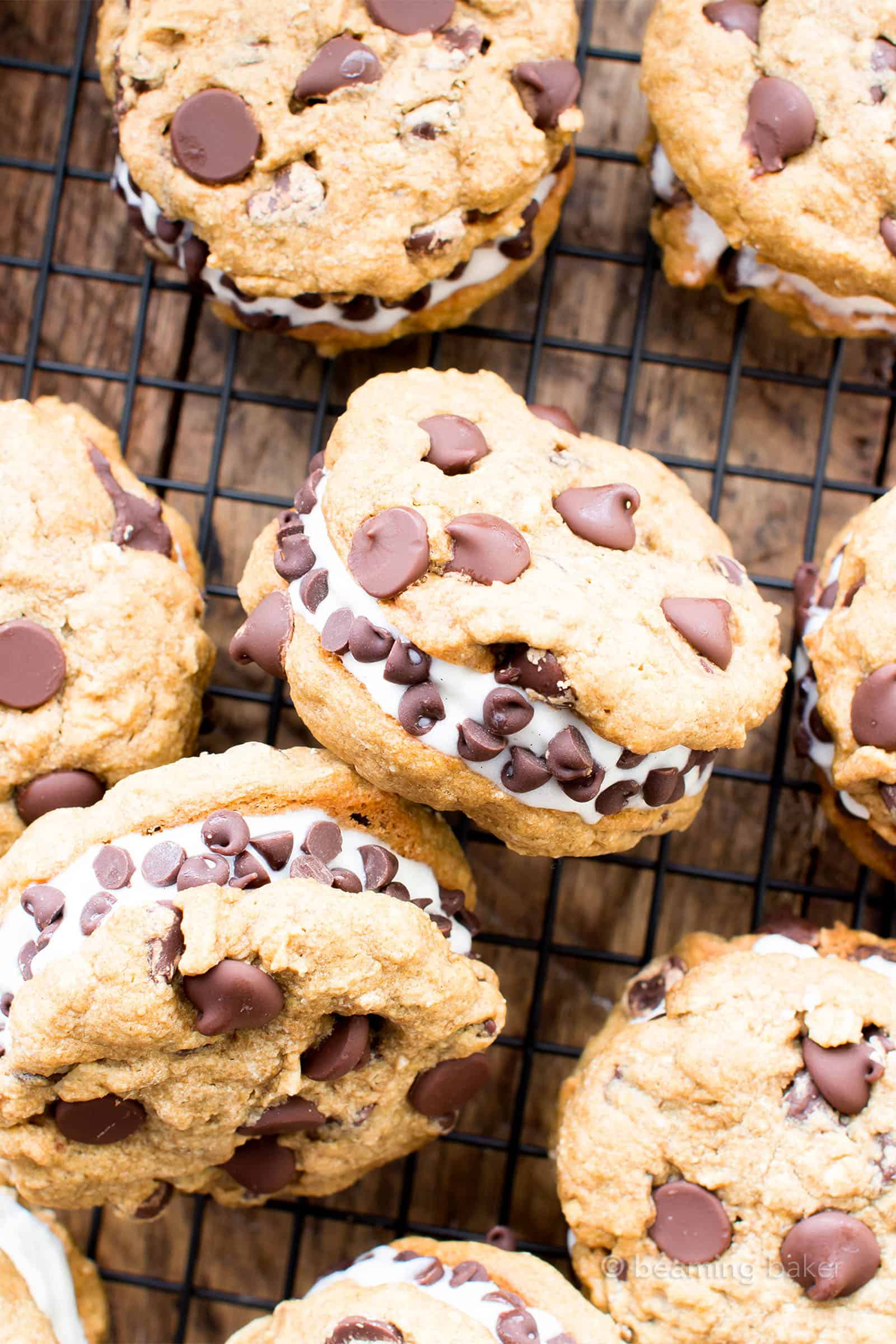 2 Delicious Components to Perfect Gluten Free Vegan Ice Cream Sandwiches
Part 1: Gluten Free Vegan Chocolate Chip Cookies
You can completely customize your homemade vegan ice cream sandwiches by switching up the kind of gluten free cookie that you use (and with the vegan ice cream options below). Here are my faves:
Part 2: Rich 'n Creamy Vegan Ice Cream
For the vegan ice cream filling, you can use one of two ingredients:
1. Store-bought Vegan Vanilla Ice Cream
Try your favorite store-bought dairy-free vegan vanilla ice cream, or…
2. Homemade Vegan Ice Cream
You can make one of the following homemade vegan ice cream recipes:
Storing Your Gluten Free Ice Cream Sandwiches
Store your gluten free ice cream sandwiches in a freezer-friendly container for up to 2 weeks. I love eating these ice cream sandwiches the first 2 days. 😉
Rich 'n creamy vegan ice cream sandwiched between two soft-baked gluten free chocolate chip cookies. Mouthwateringly delicious!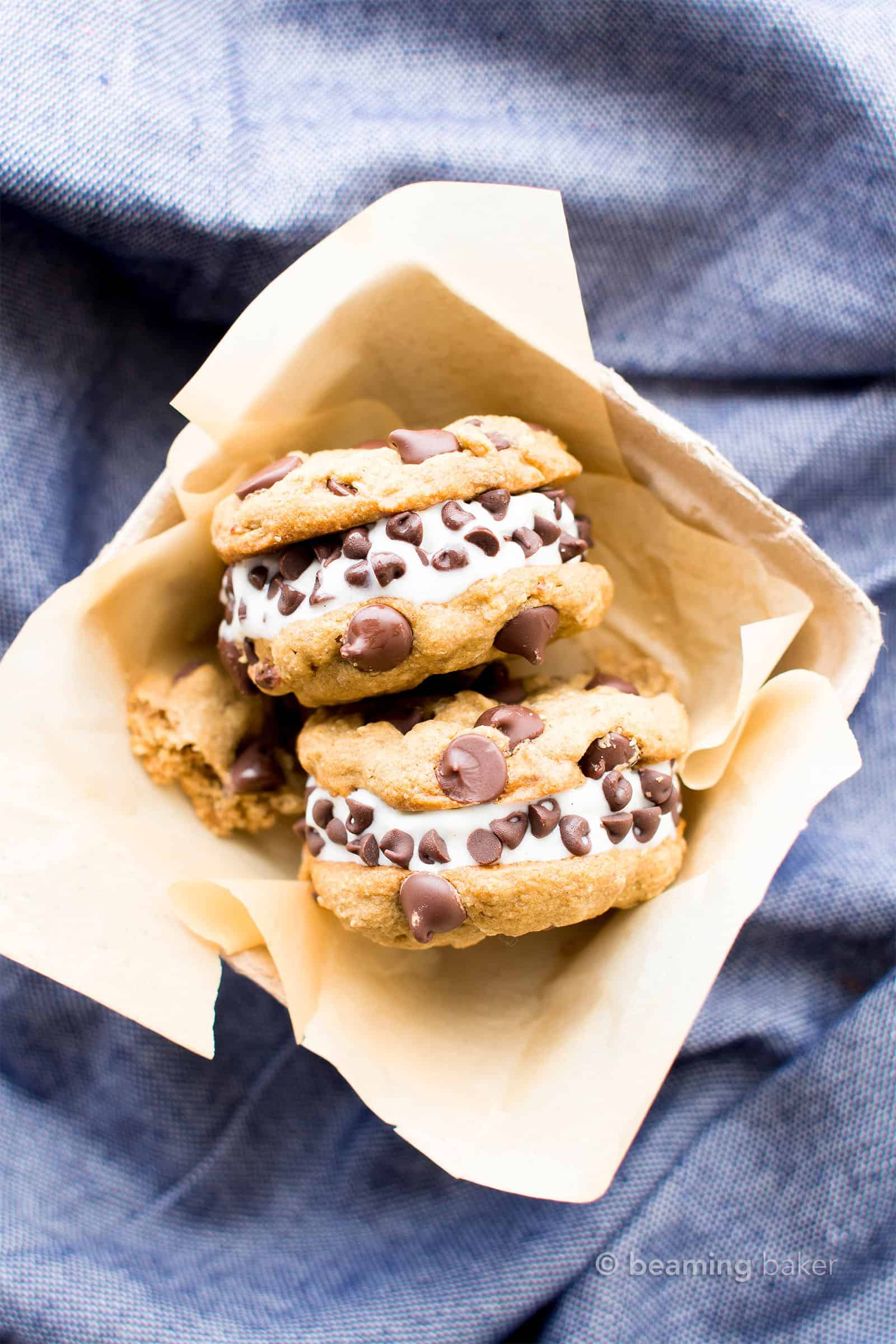 So whatcha waiting for? The summer to run away? Quickly, catch it!! Convince it to stay with promises of BIG, frosty platters of gluten free ice cream sandwiches!!! I'm so excited to share and create all the wonderful summertime treats with you this season! Don't you think you deserve a few homemade goodies, right by the pool… with your favorite book in hand? I do. 'Til our next homemade adventure…
Sending you all my love and maybe even a dove, xo Demeter ❤️
☀ Click below to Pin ☀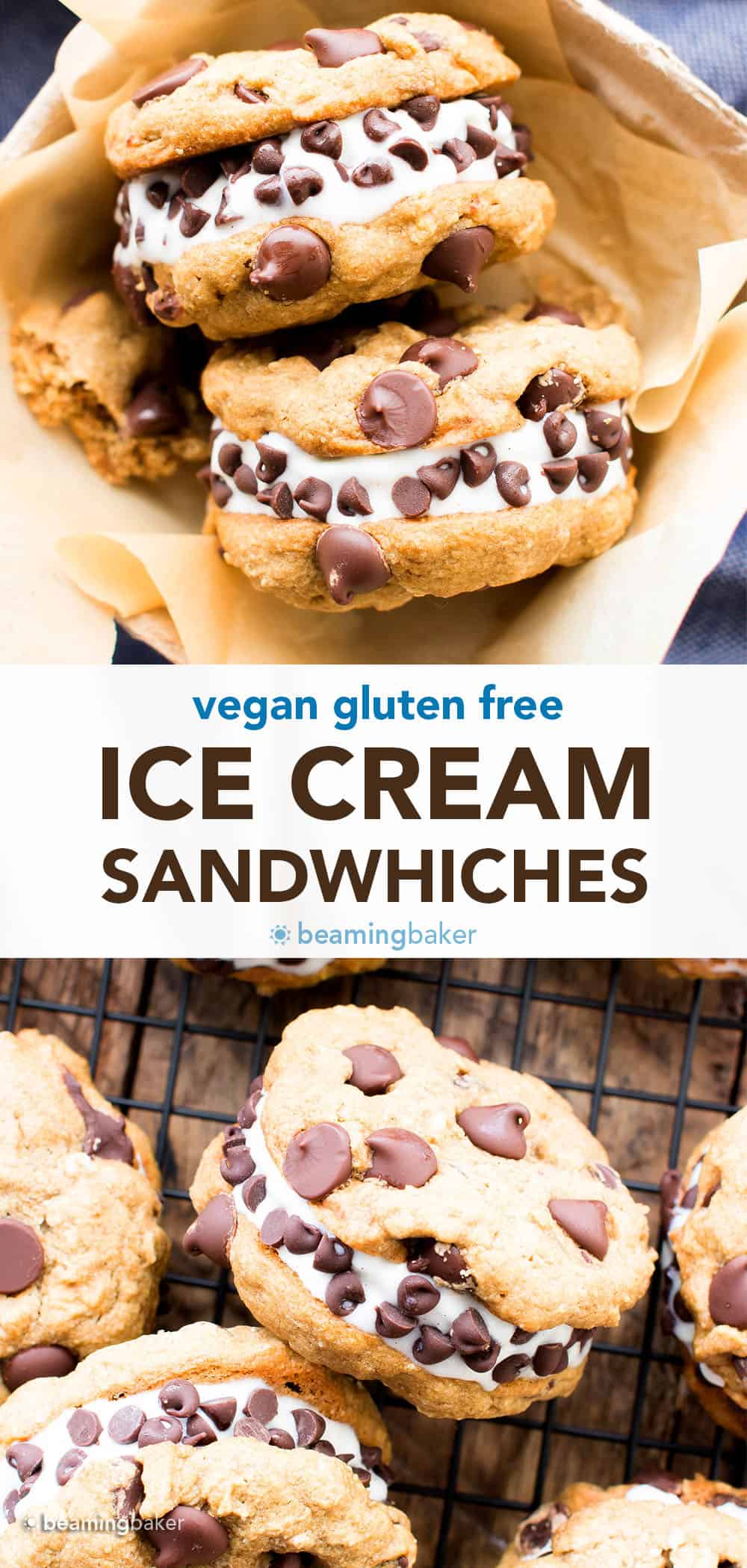 📸 Did you make this vegan ice cream sandwiches recipe? Take a pic and share it on Instagram with the hashtag #beamingbaker & tag @beamingbaker. I'd love to see it! 📸
More Delicious Vegan Ice Cream Recipes
Print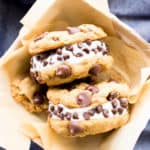 Gluten Free Vegan Chocolate Chip Ice Cream Sandwiches
---
Description
Vegan Ice Cream Sandwiches (GF): soft-baked gluten free chocolate chip cookies sandwich a thick layer of delicious creamy vegan ice cream.
---
Ice Cream Sandwiches
Optional Topping
See more homemade ice cream + gluten free vegan cookie option in the post + in Notes.
---
Instructions
The night before, prepare homemade vegan vanilla ice cream or otherwise have vegan ice cream on hand. More homemade ice cream options in post + Notes.
Make a batch of Gluten Free Vegan Oat Flour Chocolate Chip Cookies. More gluten free vegan cookie options listed in the post + Notes. Cool completely.
Line a large baking sheet with parchment paper or wax paper. Place this sheet, lying flat, in the freezer. You will need it later.
Lay a sheet of parchment or wax paper on a clean, flat surface. Lay half of the batch of cookies (10-12, depending on how many you made) facedown (flat side up) on the prepared surface, evenly spaced apart.
In the next step, you'll have to work quickly in a cool environment to prevent the ice cream centers from melting all over the place. 😉
Using a medium cookie scoop, scoop about 2 tablespoons ice cream and drop onto 1 cookie. Using a rubber spatula, smooth and flatten ice cream into a flat, even layer. Place a cookie face-up on top of the ice cream layer. Press down to create an ice cream sandwich. Optionally, sprinkle and press 1 teaspoon of mini chocolate chips onto the sides of the sandwich, where the ice cream peeks out.
Immediately place ice cream sandwich into the freezer, onto the prepared baking sheet. Repeat for all ice cream sandwiches.
Chill until ice cream is firm or enjoy immediately if sandwiches aren't too melty. Storing instructions below.
Equipment
Prep Time:

25 mins

Cook Time:

0 mins

Category:

Dessert

Method:

Bake

Cuisine:

American
Keywords: vegan ice cream sandwiches, gluten free ice cream sandwiches
© beamingbaker.com. All content and images are protected by copyright. Please do not use my images or recipe without my permission. Please do not republish this recipe, instead, include a link to this post for the recipe.
This post may contain affiliate links, which allow me to make a small commission for my referral, at no additional cost to you.