Homemade Chunky Paleo Granola with Clusters (V, GF): a warm, cozy 5 min-prep recipe for grain-free homemade granola packed with crunchy nuts and satisfyingly sweet clusters. Paleo, Vegan, Gluten-Free, Dairy-Free, Refined Sugar-Free, Grain-Free, Oil-Free.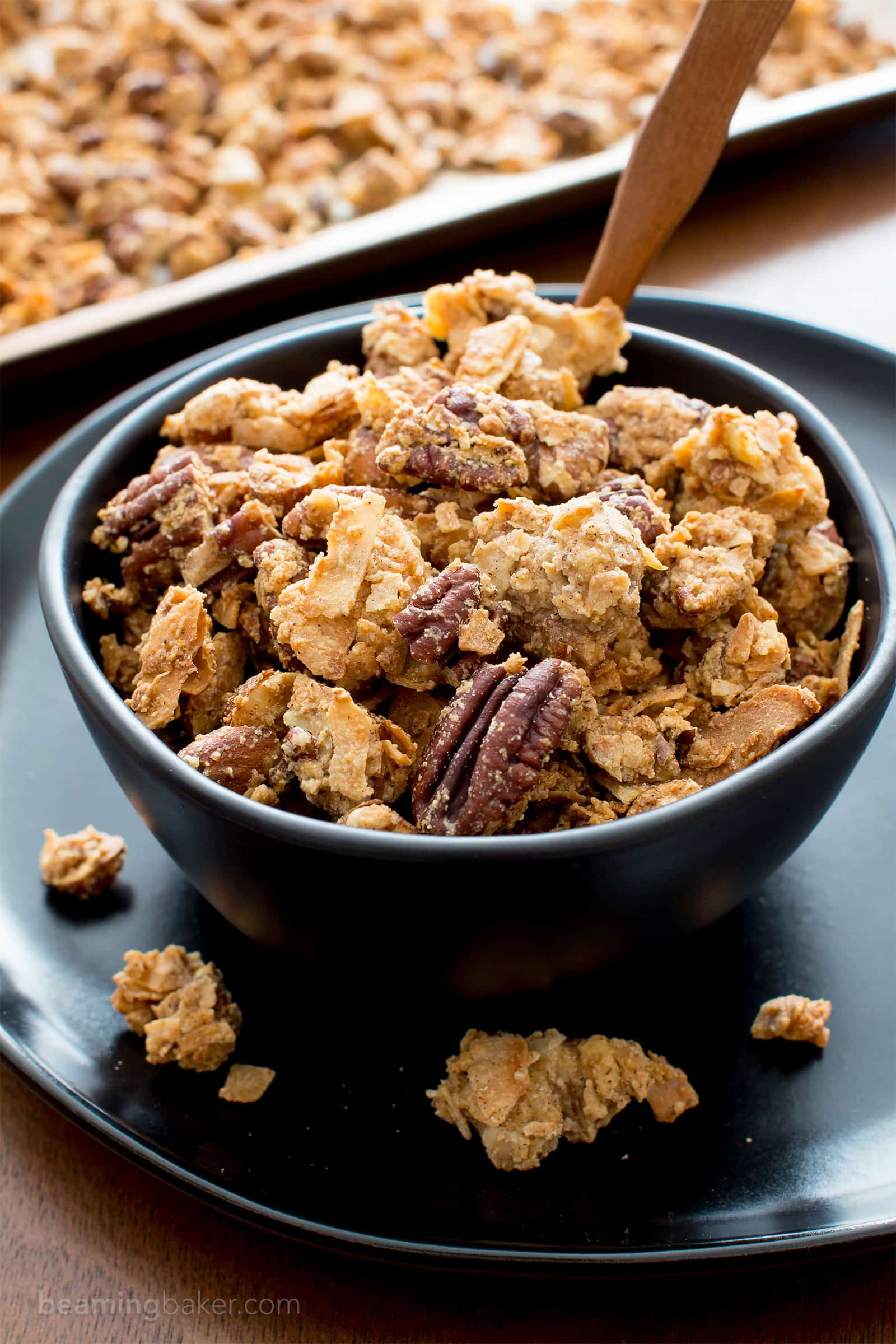 "The only thing I'd suggest is making this with bigger clusters." My sister Penny, giving me the crushing blow to my fragile bakers' ego/the MOST valuable granola advice I've ever received. Meanwhile, she absolutely loved these no bake paleo chocolate almond butter bars. So at least those were safe!
Anywho, granola advice should totally be a thing. But then again, cookie advice might be better received. And eaten. Wait a minute, we're supposed to be talking about this Homemade Chunky Paleo Granola with Clusters recipe!
Back on point, ages and ages ago, like three years ago—which is a lot in baker years because only 1,000 batches of everything have been made since then (precise measurement, of course)—my sis gave me this advice. This was before the blog existed, before I finally wrote my How to Start a Food Blog post (have you seen it? It was a special Saturday post!!), before I knew how to no bake like a boss and before I even knew what my favorite cookie scoop of all time was.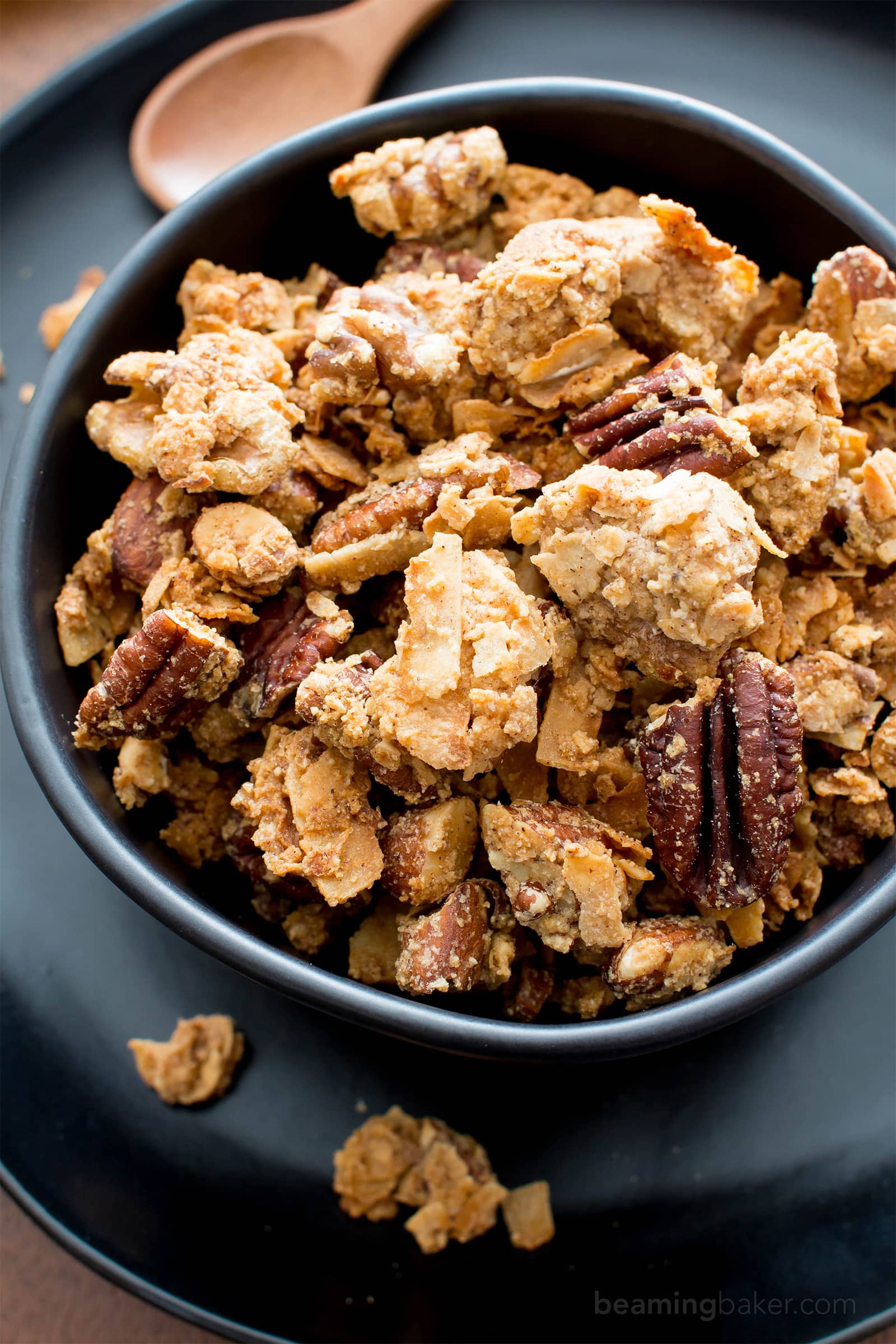 And Penny was so friggin' right. Dang it! But don't tell her I said that. She's my big sis, so she doesn't need more reasons to be right, as she's seen me do the most foolish things on earth.
By the way, have you noticed how much Penny's been popping up all over the blog? She specially requested this Homemade KIND Coconut Almond Bar recipe. So you can thank her for those!
She's calls herself the #1 Fan of the Beaming Baker Fan Club (and she stays on top of my Instagram better than I do!). Of which there might be like 3 members: Erik, my mom, and her. My sisters Monica and Jenny are still on the fence about BB.
J/k!!
Anyway, as the self-proclaimed #1, she's got to have the rights to influence, request and totally be showered with limitless shoutouts. Ah, family. 🙂 We follow weird rules, but as long as we get each other, that's all that matters.
Side note, do you see how cluster-riffic the chunks are in the below photo?!?!? What's up, now, sis?? 😉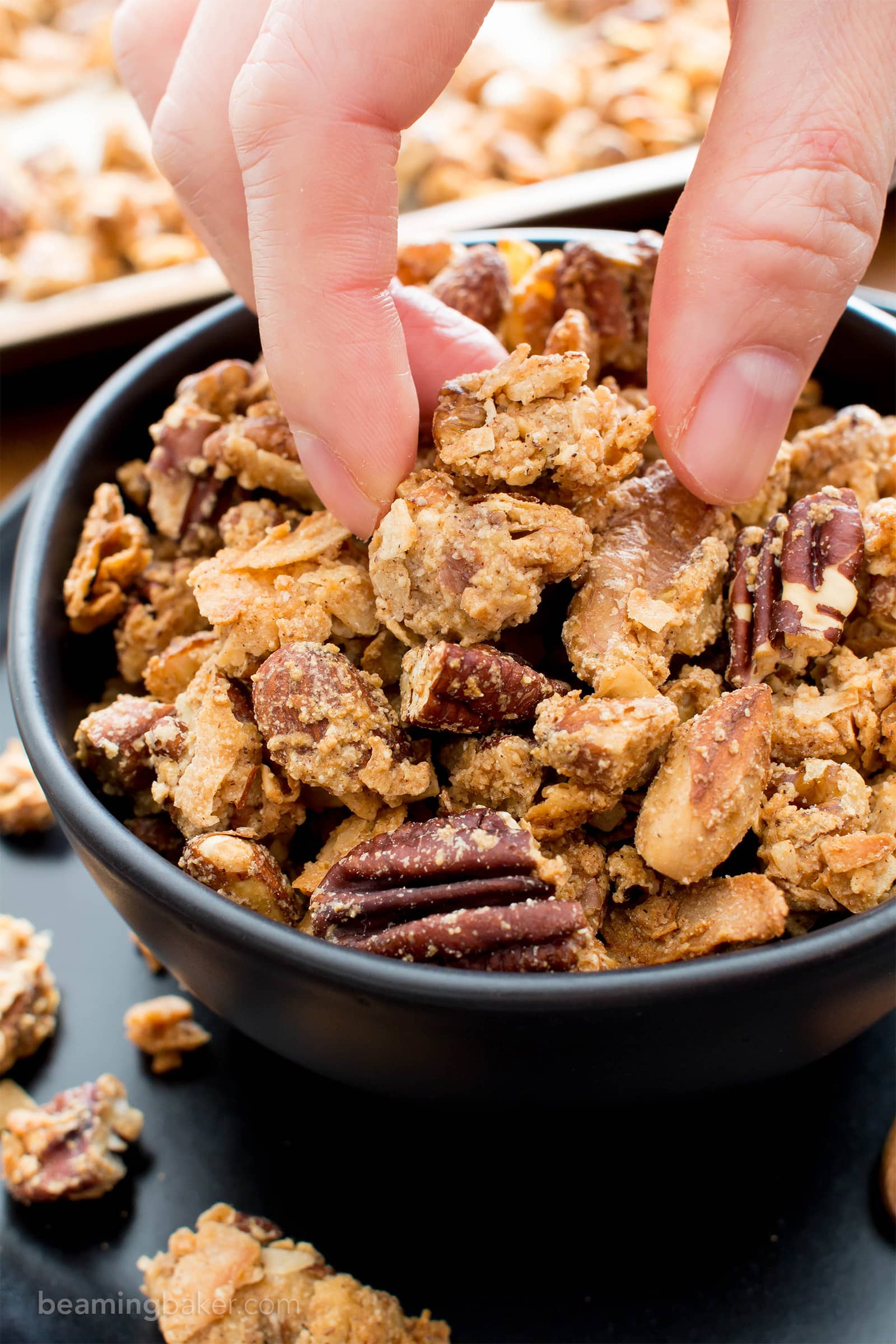 Well, that bit of granola advice stayed in my head for years and years to come. I tried my hand at homemade granola recipes, with some tasty results. But never with THE Penny-worthy clusters involved. Yep, never. I'm woman enough to admit when I'm not right.
Bugger!
Then, last year, I set my sorry, worn-out granola thinking cap aside and started working on my paleo apple crisp recipe. Erik and I chopped, peeled and sugared all the apples in all the land. And once the filling was ready, there was the topping to worry about.
Ah… the topping. What a treat, what a nightmare! To test, that is. 😉 At first glance, the topping should've been easy peasy (yes, I do hear this in Sean Astin's in Stranger Things voice… sans followup nightmarish incident). All I had to do was slap some oat-y granola on top. But alas, that was not the case.
It was not easy peasy. Harummph! (How the heck do you spell 'harrumph'?!?)
No matter what I did, the topping just wasn't right: it wasn't crispy, cluster-filled, or even that tasty. Me, coconut oil, oat flour, cinnamon and oats just could not get our stuffing together that day.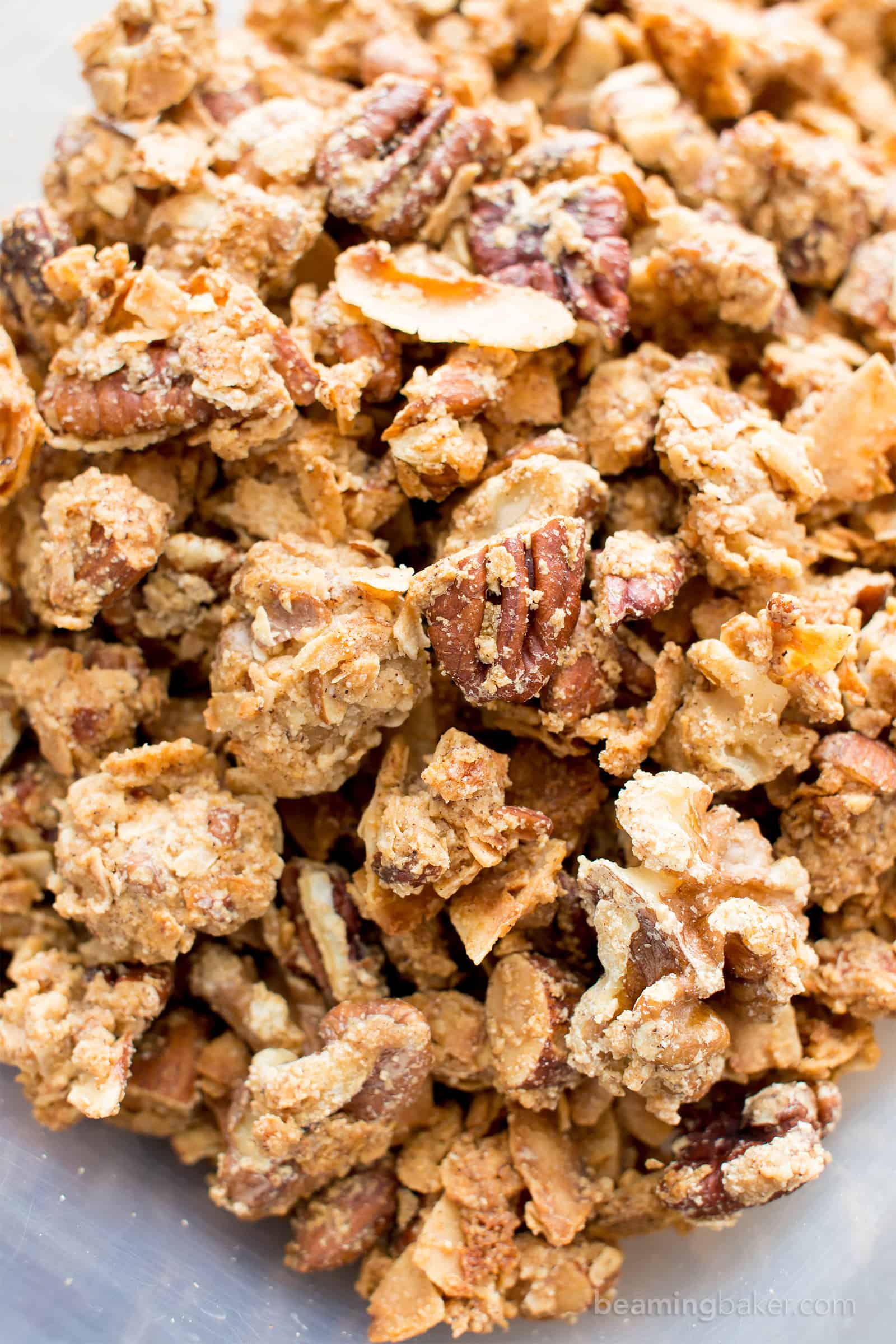 So I went ahead and scrapped the ENTIRE topping recipe—everything I knew, everything I expected. And started with how I'd do it if I knew nothing about how it was traditionally made. The result: crispy, crunchy, no, really–crunchy as heck, sweet and just… PERFECT topping.
And as I tossed that topping in the bowl, then baked the crisp, I realized: this could be the elusive cluster-rific granola, nay PALEO granola we've all been waiting for. So guess what? I created this Homemade Chunky Paleo Granola with Clusters recipe! 🙂
You proud, sis? As proud as you were when I created these paleo chocolate almond butter fudge cups, these paleo cookie dough bites, or this maple pecan paleo granola? 🙂
I promise you, this is the most delicious, crunchy, clusters-like-you've-never-seen-before-in-a: vegan granola recipe, gluten free granola recipe, nay a paleo granola recipe you've-ever-had.
The crunch of the clusters, the satisfying visual of your baking sheet FILLED with yummy, chunky pieces, the requisite mouth-drool that begins when you're hit with the scent of this homemade granola… happy sigh. That's all I can say.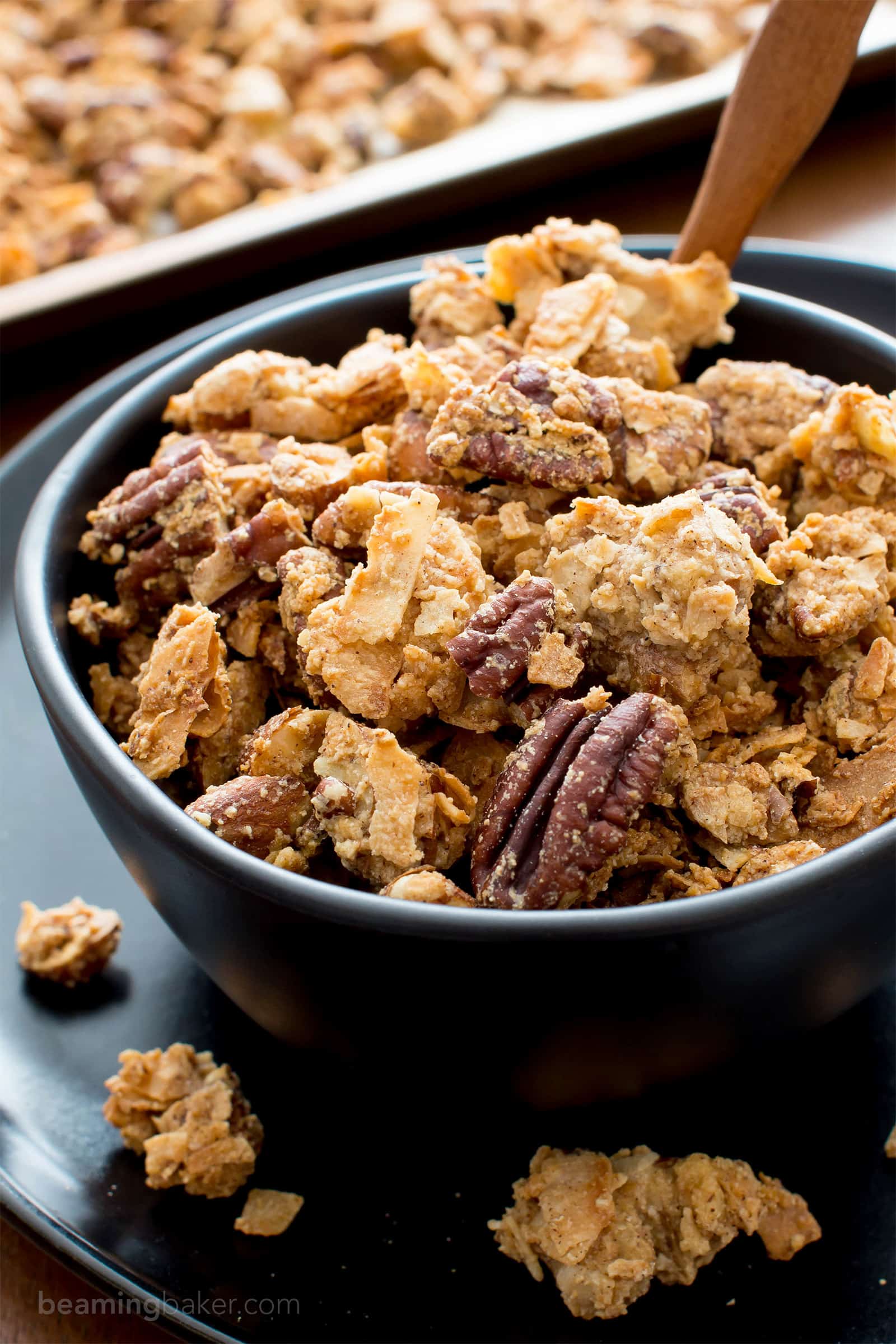 Oh, all right. That's not all I can say. If you're still not convinced about this Homemade Chunky Paleo Granola with Clusters recipe, allow me to tell you all about it. This homemade paleo granola recipe is:
so easy to make, in fact, it might be described as easy peasy
prepared in just 5 minutes
wonderfully paleo
bursting with big, crunchy clusters
vegan, gluten-free, dairy-free
jam-packed with seriously satisfying homemade granola clusters
deliciously refined sugar-free
just the healthy vegan granola recipe you've been looking for
the perfect chunky granola recipe to add to your homemade snacks repertoire
Penny-approved: which totally means all the things!
Are you ready to make the most fabulous homemade granola ever? And you know I never call anything fabulous—why, I can't really say. To each her own! In case I don't say it enough, I just want you to know that I'm very grateful that you're here, baking and creating with me. It's a true pleasure to experience these kitchen adventures with you. I simply can't wait to hear what you think of this recipe! In the meantime, tell me:
What's your favorite flavor of granola?
Sending you all my love and maybe even a dove, xo Demeter ❤️
☀︎ Click below to Pin ☀︎

☀︎ Did you make this recipe? Take a pic and share it on Instagram with the hashtag #beamingbaker and tag @beamingbaker. I would love to see it! ☀︎
If you enjoyed this sweet and crunchy Homemade Chunky Paleo Granola with Clusters, then you'll just love these delicious healthy recipes (as well as this 4 ingredient Healthy Homemade Gluten Free Vegan Granola Recipe:
☀︎ More Healthy Snack Recipes & Paleo Treats ☀︎
Print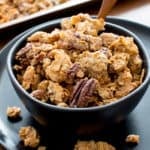 Homemade Chunky Paleo Granola with Clusters (Grain-Free, Vegan, Gluten Free)
---
Author:

Demeter | Beaming Baker

Prep Time:

10 min

Cook Time:

20 min

Total Time:

30 minutes

Yield:

about

16 ¼ cup

-servings (approx.

4 cups

)

1

x
Description
Homemade Chunky Paleo Granola with Clusters (V, GF): a warm, cozy recipe for grain-free homemade granola packed with crunchy nuts and satisfyingly sweet clusters. Paleo, Vegan, Gluten-Free, Dairy-Free.
---
---
Instructions
Preheat the oven to 325°F. Line a large baking sheet with parchment paper or greased foil. Set aside for later.
Add all ingredients to a large bowl. Using a rubber spatula, fold until clusters form and mixture is well mixed.
Pour onto the prepared baking sheet. Using the rubber spatula, gently nudge granola into an even layer, making sure to keep clusters intact. Create empty pockets at regular intervals to let air through to crisp up the granola.
Bake for 15 minutes. Using a heatproof spatula, gently flip granola, making sure to keep clusters intact. Bake for an additional 5-10 minutes, until edges are a deep golden brown and granola is just slightly soft. Mine took a total of 20 minutes. Granola will crisp up while cooling.
Place baking sheet on a cooling rack. Allow to cool for about 30 minutes, or until completely cooled. Enjoy! Storing instructions below.
Adapted from my Oil-Free Paleo Cinnamon Nut Granola and my Paleo Apple Pecan Coconut Crisp.
More Easy Paleo Snack recipes:
---
Equipment
Category:

Breakfast, Snacks, Dessert

Method:

Bake

Cuisine:

American
Keywords: paleo granola, vegan granola, chunky granola
© beamingbaker.com. All content and images are protected by copyright. Please do not use my images or recipe without my permission. Please do not republish this recipe, instead, include a link to this post for the recipe.
SHOP THE RECIPE
Here are a few items I used in today's recipe.
Cookie Sheet | Maple Syrup | Coconut Flakes | Glass Mixing Bowls | Silicone Spatulas | Blanched Almond Flour
This post may contain affiliate links, which allow me to make a small commission for my referral, at no additional cost to you. Thank you for supporting Beaming Baker.
Facebook ☀︎ Pinterest ☀︎ Twitter ☀︎ Instagram