No Bake Chocolate Chip Trail Mix Energy Bites (Vegan, Gluten Free, Dairy-Free, One Bowl)
No Bake Chocolate Chip Trail Mix Energy Bites (V, GF, DF): a one bowl recipe for protein-packed energy bites bursting with whole ingredients. Vegan, Gluten Free, Dairy-Free, Whole Grain.
Hiya! How are you today? Energetic? Sleepy? Maybe just somewhere in the middle? Either way, I hope you're having an amazing start to the day because… we could all use that, don't you think?
Last week, I shared my dark chocolate coconut almond trail mix cookies with you. I've already received awesome feedback and readers telling me they'd make just one change to the recipe: DOUBLE it next time. 😉 Yeah!
So this week, I thought we'd kick off with something super fun with similar trail mix vibes: No Bake Chocolate Chip Trail Mix Energy Bites! Why yes, I did have to put an exclamation mark after that. Are you a fan of no bake treats? If so, do you associate no bake with desserts or energy-packed snacks?
Oh, I kind of like the sound of that… energy-packed snacks. Maybe we should write a song for it. It might go something along the lines of: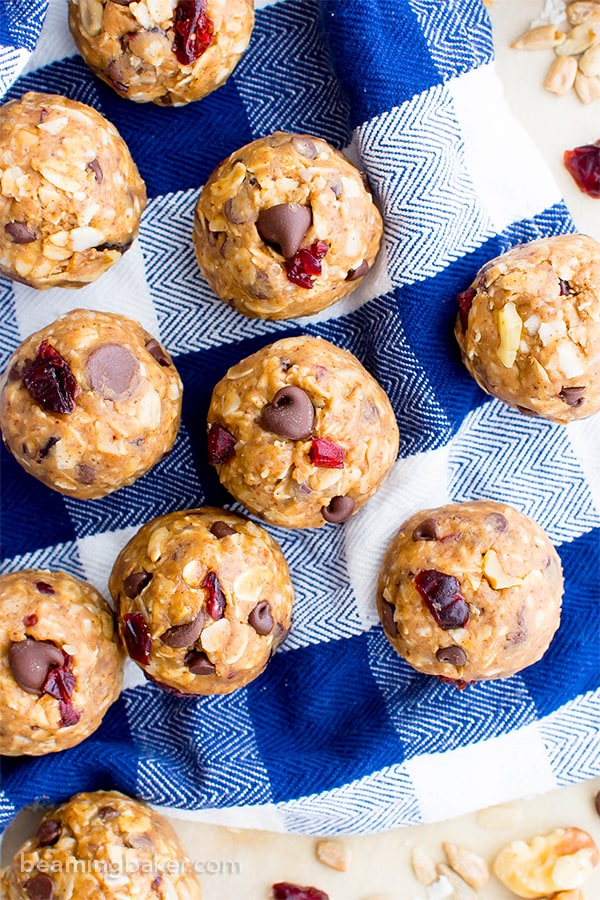 Hiking up the hill with my energy-packed snacks,
Looking for some rocks to carry in my backpack.
Sounds like something crazy, but it's called ruck…ing
Feeling so energetic, no longer simply nap-ping.
Why yes, you're very welcome for that lovely tune. See, who said I couldn't provide you with an ego boost?? I'm here to simply embarrass myself with these lyrical "stylings" and make you feel waaaay better about yourself. 😉 Friends do this for friends, amiright? .
Anywho, I've clearly had my fair share of these no bake bites and I'm ready to conquer that ridiculously hilly snow-topped hill near my house (yes, it is a hilly hill… if you can imagine). All I need are some of those tennis-racket snow shoe thingies, a little packet of these bites, and Erik for company, of course. Who wants to join us? .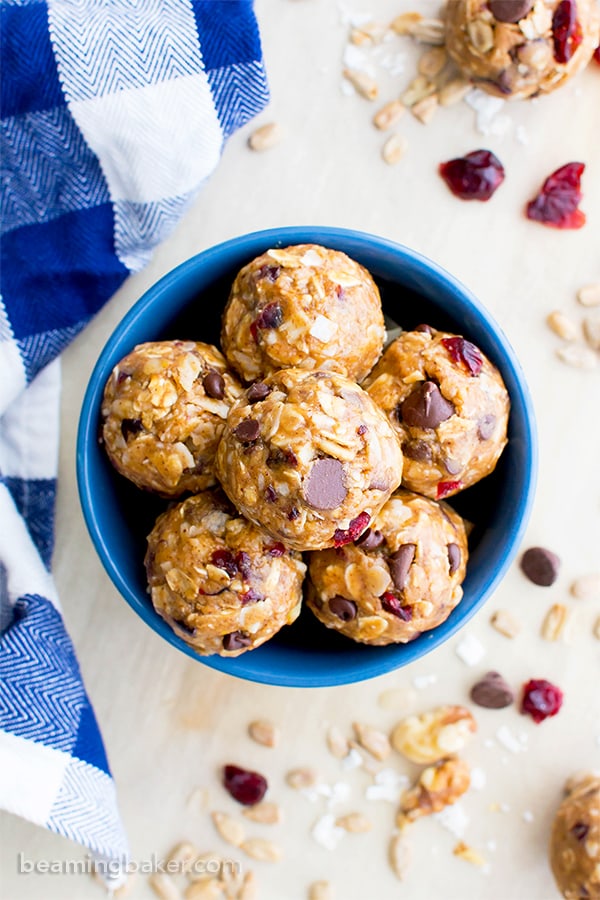 The thing is, I get super, super crazy excited about no bake treats because they've totally changed our lives. A year ago, I thought they were kind of weird. I mean, no baking, no cooking of the oats, no boiling, nothing at all? And you get these little balls of food. It was odd. But very intriguing.
I kept my distance until this blog led me to a deep-sea exploration of the wonderful world of bites. Okay, there was no sea, but there was plenty of biting. Of food. Not Erik. I tried a couple recipes, but really wanted to make something that had as little sugar as possible, without it, ya know, tasting like it had as little sugar as possible.
And that's when I created my no bake peanut butter coconut bites. Folks, that recipe is the most popular recipe on my blog. How did the humble little bowl of bites climb and conquer it's way through all the bites on the net… we'll never know. How did something no bake become so popular on a baking site? .
But let's work with what we do know: bites are easy. They're so easy to make, even easier to eat, and filled with the tastiest, simplest ingredients. In fact, you can customize any and all of the no bake recipes I've shared with ya. Cool deal, right?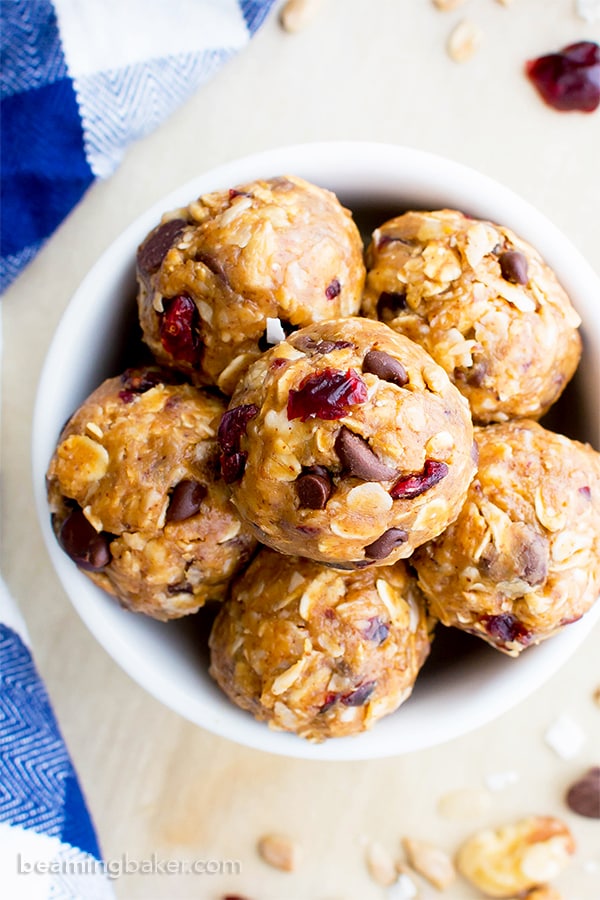 Just two weeks ago, I shared the chocolate chip version of those popular bites, and now I'm here to bring you a trail mix remix (couldn't help myself) of those bites. It's been trail mix fever around here ever since the month of January kicked off. Et voilà, I'm proud to introduce my No Bake Chocolate Chip Trail Mix Energy Bites.
This month is all about us getting more active, eating better, healthier, cleanier and more er's I can't think of right now. Feel free to add more er's in the comments below. 🙂
Anyway, ever since I started whipping up no bake bites, Erik and I have completely changed the way we look at snacking. Before, we'd just about purchase all of our snacks. We'd make plenty of snacks at home for my mom, but totally fail to whip up something stress-free, filling and healthy for ourselves.
While there are lots of amazing pre-packaged snacks out there, I have to admit, we tried and ate so many that we just needed a switch-up to our routine. There's only so many times you can hear that crinkling wrapper before you start twitching need a change.
Once we got the flow of no bake going, there was no stopping us! The cool part for Erik is that he feels really good about making them himself. He's still a bit nervous with baking and some aspects of cooking, but he's become a total boss when it comes to no bake bite making. Seriously, the perfect spheres he makes put me to shame. And I'm okay with that! .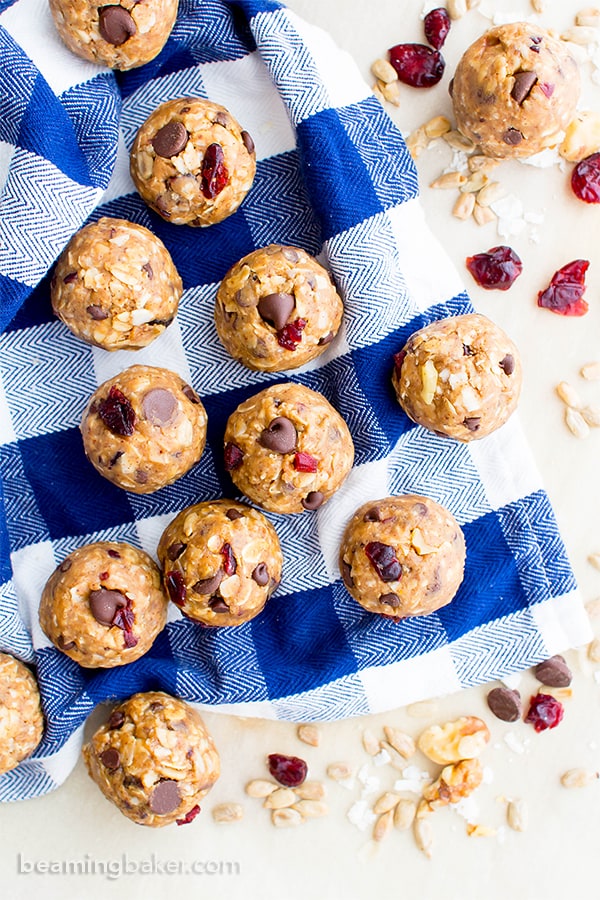 That's the beauty of no bake—anyone can do it. No offense, Erik! . It's easy, quick and so satisfying. I could go on about this all day long, but I know you've got a busy day ahead of you. So, allow me to shower you with all of these No Bake Chocolate Chip Trail Mix Energy Bites best, most edible, bulletpoints (doesn't that sound safe?). These no bake bites are:
easy to make, and ready in minutes
chewy and texture-packed
made with simple, feel-good ingredients
vegan, gluten free, dairy-free, whole grain
a one bowl recipe, oh yes
bursting with seeds, nuts and fruit
lightly sweet and deliciously nutty
plant-based and allergy-friendly
protein-packed
perfect for all your adventures
great for snacking
so cool, because they have their own song (in case you forgot)
So what do you think? Will you join me in whipping up all manner of no bake delights? I'm so happy to get fit, get fueled and get going with you. Here's to an amazing new year packed with new adventures!
Tell me, what's your favorite way to get active?
Sending you all my love and maybe even a dove, xo Demeter ❤️
☀︎ Click below to Pin ☀︎

☀︎ Did you make this recipe? Take a pic and share it on Instagram with the hashtag #beamingbaker and tag @beamingbaker. I would love to see it! ☀︎
Print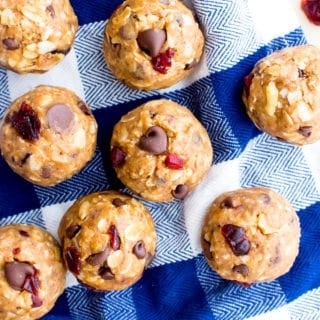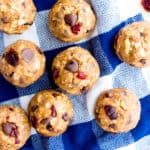 No Bake Chocolate Chip Trail Mix Energy Bites (Vegan, Gluten Free, Dairy-Free, One Bowl)
---
Description
No Bake Chocolate Chip Trail Mix Energy Bites (V, GF, DF): a one bowl recipe for protein-packed energy bites bursting with whole ingredients. Vegan, Gluten Free, Dairy-Free, Whole Grain.
---
Dry Ingredients
¼ cup

vegan chocolate chips (mini and regular)

¼ cup

dried cranberries, chopped

¼ cup

walnuts, finely chopped

¼ cup

sunflower seeds

½ cup

gluten-free rolled oats

¾ cup

unsweetened coconut shreds or flakes

¼ cup

ground flaxseed
Wet Ingredients
¾ cup

natural, unsalted creamy almond butter

¼ cup

pure maple syrup
---
Instructions
In a large bowl, mix together all of the dry ingredients: chocolate chips, cranberries, walnuts, sunflower seeds, oats, coconut and flaxseed.
Add almond butter and maple syrup. Using a sturdy spatula, stir and fold together until well incorporated.
Scoop mixture into your hands (mine are 2 tablespoons each). Roll and press into bites. If the mixture is a little dry, add in a little more almond butter or maple syrup. Enjoy!
Category:

No Bake, Healthy Snacks, Vegan, Gluten Free, Dairy-Free, Whole Grain
© beamingbaker.com. All content and images are protected by copyright. Please do not use my images or recipe without my permission. If you wish to republish this recipe, please re-write the entire recipe using your own words and include a link to this post for the recipe.


☀︎More Healthy Snacks + No Bake Treats ☀︎
If you enjoy these No Bake Chocolate Chip Trail Mix Energy Bites, you'll just love these…
Dark Chocolate Almond Coconut Trail Mix Cookies (Vegan, Gluten Free, Dairy Free, Whole Grain, Oat Flour)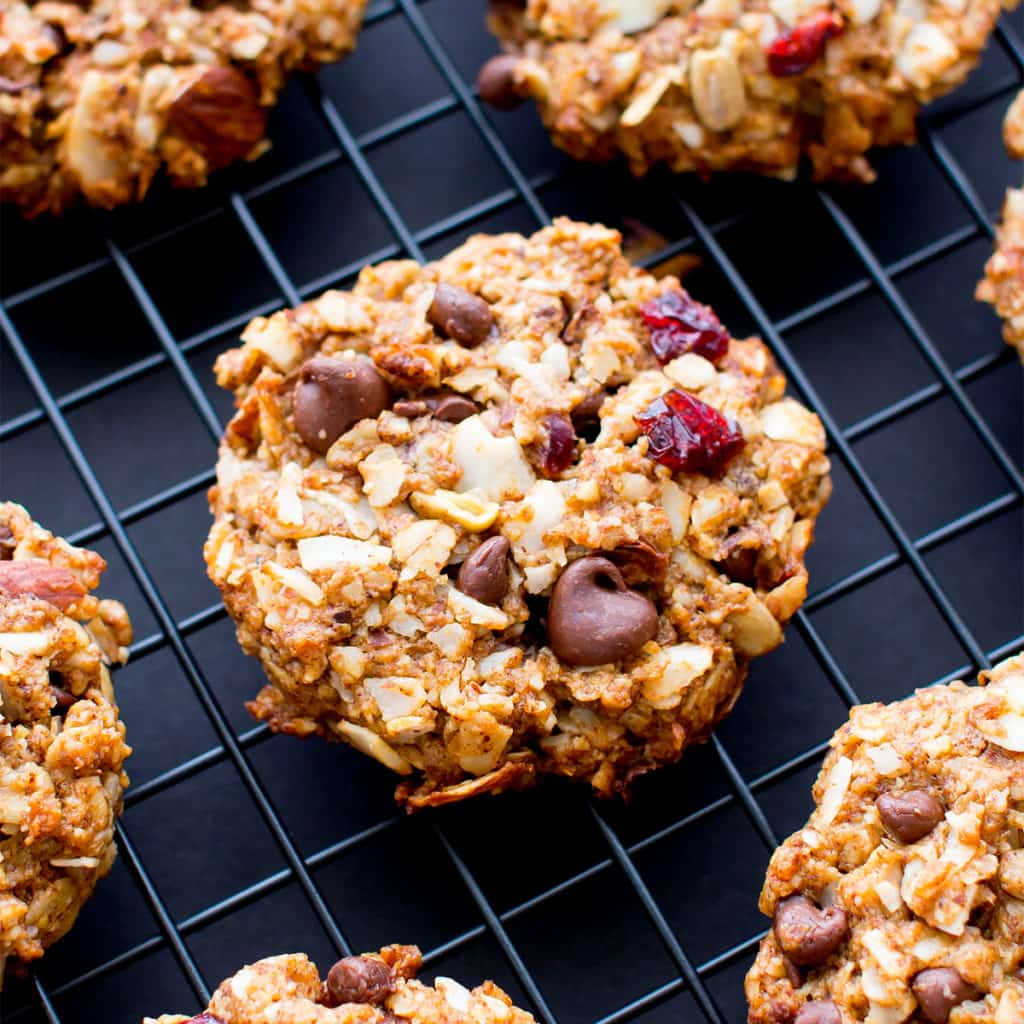 No Bake Cranberry Coconut Energy Bites (Vegan, Gluten Free, Dairy Free, Whole Grain)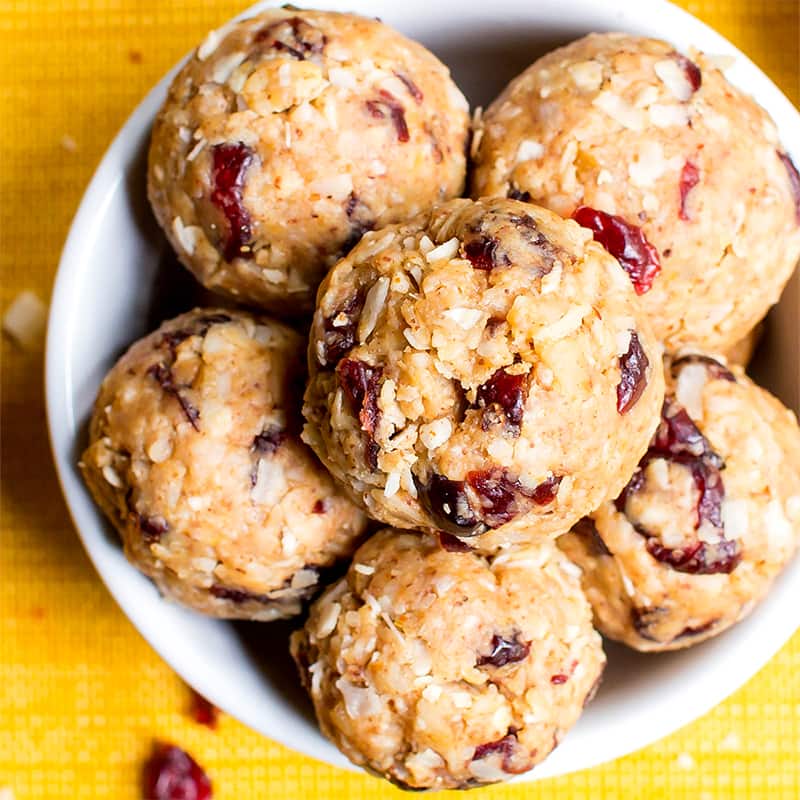 No Bake Almond Butter Coconut Bites (Vegan, Gluten Free, Dairy Free, Whole Grain)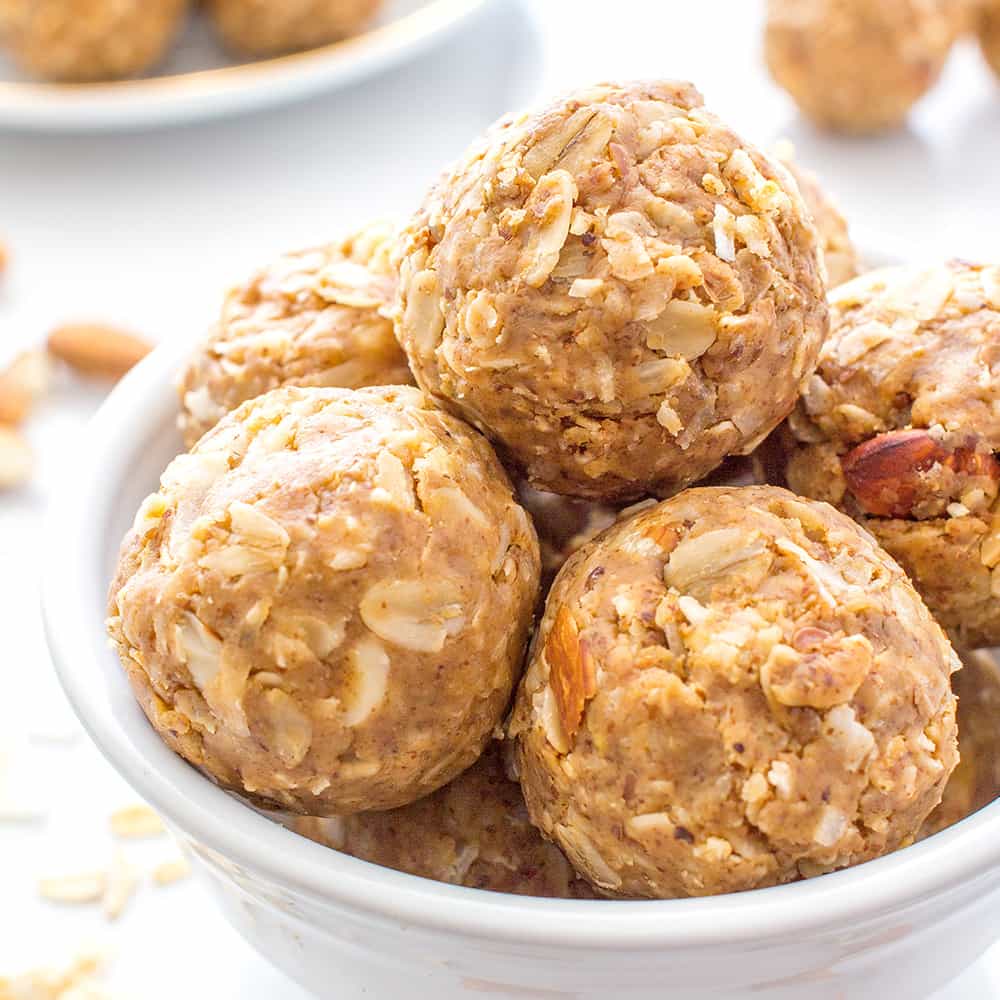 No Bake Peanut Butter Coconut Chocolate Chip Bites (Vegan, Gluten Free, Dairy Free, Whole Grain)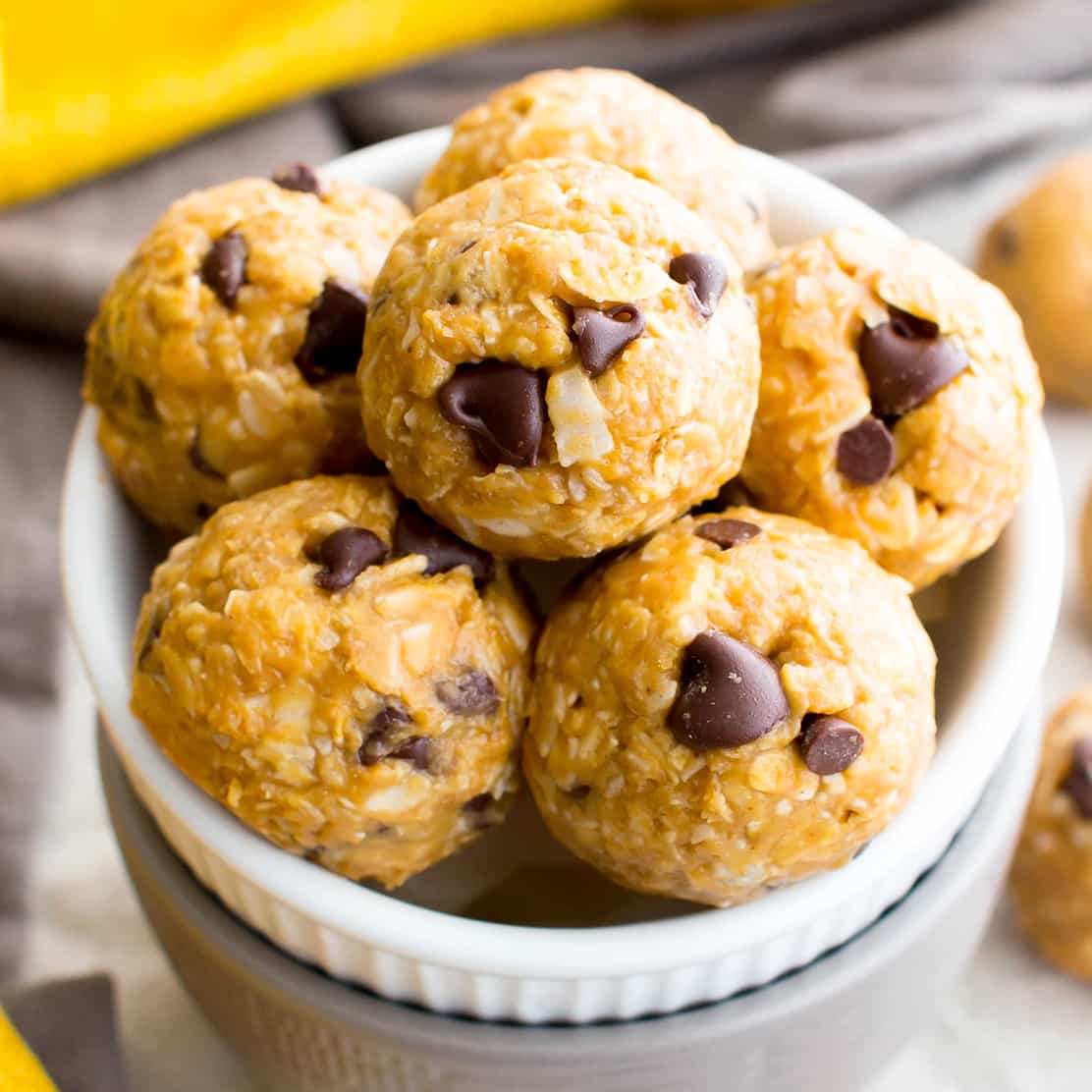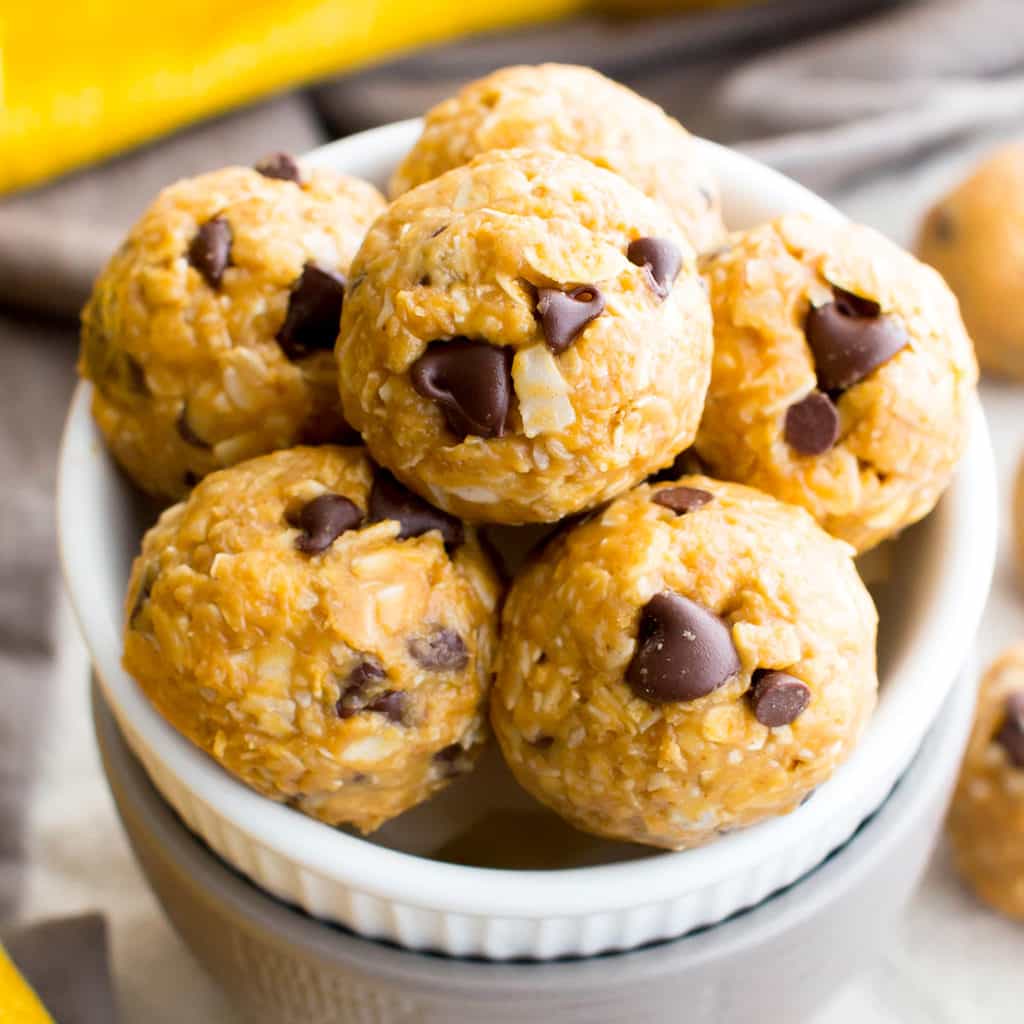 More in No Bake Recipes, just in case you were hankerin' for it… 😉
No Bake Oatmeal Raisin Bites (Vegan, Gluten Free, Dairy Free, Whole Grain)
No Bake Almond Butter Oatmeal Bites (V, GF) by Love and Lemons
No Bake Peanut Butter Cookie Dough Bites (Vegan, Gluten Free, Dairy Free, Whole Grain)
No Bake Toffee Energy Bites by Love to Be in the Kitchen
No Bake Loaded Oatmeal Cookies Energy Bites (GF) by Cotter Crunch
No Bake Pecan Pie Bites (Vegan, Gluten Free, Dairy Free, Whole Grain)
Facebook ☀︎ Pinterest  ☀︎ Twitter ☀︎ Instagram