Peanut Butter Chocolate Chip Oatmeal Breakfast Bars (V+GF): a simple recipe for deliciously textured oatmeal breakfast bars bursting with peanut butter and chocolate flavor. Vegan, Gluten Free, Dairy Free.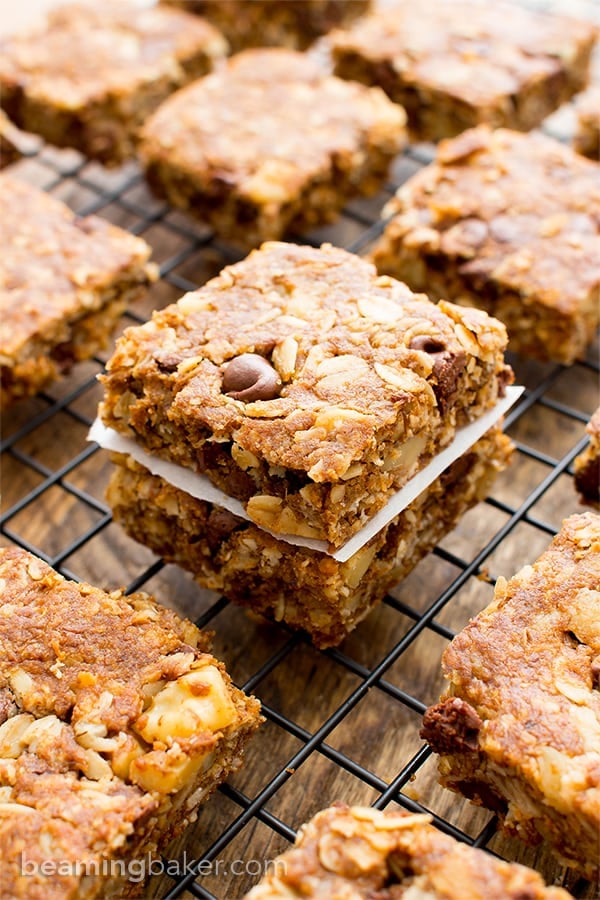 Yep, we've been on a bit of a peanut butter craze 'round these parts. There were these gluten free vegan peanut butter cups. Then these easy vegan chocolate peanut butter bars. And let's not forget these gluten free soft peanut butter cookies… There's just something about back to school and the approaching autumn season that calls for like, a max-pack of peanut butter. And then some. Like, send me the entire shipping crate of PB, then reorder another batch.
For the homemade PB cups, of course. 😉 Uh… and, let's be honest, for eating PB outta the jar when no one's looking. #FriendsTellEachOtherTheTruth #AndAlsoShareReallyLongSentenceHashtagsWithEachOther #WowThatWasLong #TrueStory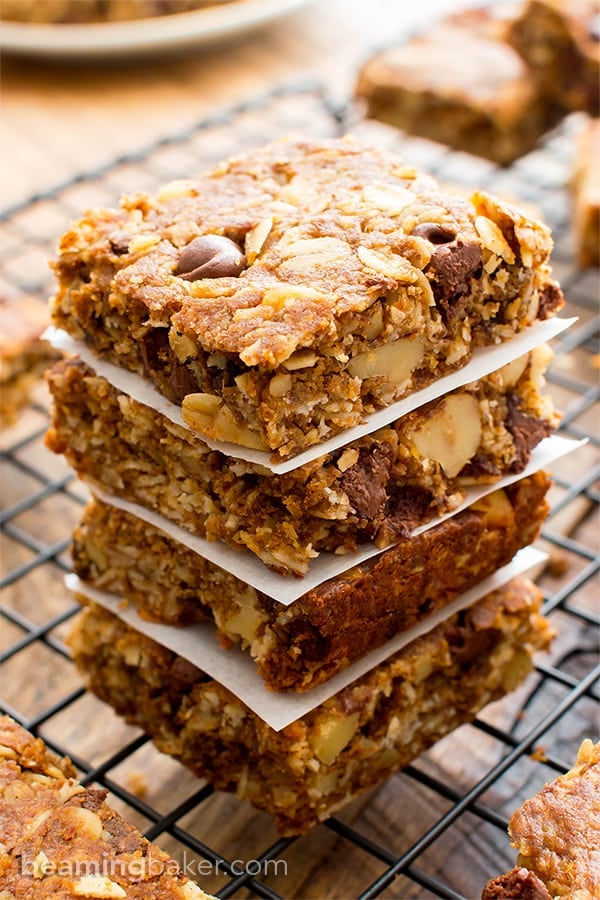 But ever since Erik decided he likes PB again, I just can't help but bring it back, in a BIG way. I mean, who knows if he's gonna change his mind again? Not to worry, I've got stores of almond butter just in case/when that day inevitably comes.
In the meantime, we're gonna have cookies for breakfast. I mean, um… breakfast bars for breakfast. Yeah, that sounds way more adult and reasonable. These breakfast "bars" are packed full of peanut butter, oatmeal and chocolate chips because…
A day that begins with cookies peanut butter breakfast bars is a day that is going to ROCK.
Anyway, as some of you might remember, in an older post, I told you about how Erik used to just LOVE peanut butter. I got to picking up/making all kinds of peanut butter treats for him (such as these Fudgy Vegan Peanut Butter Swirl Brownies). Then… come to find, he couldn't care less for it. And then then, he decides he likes it again. What the???
Now that he's back on the peanut butter train, we've got to make it count! Are there any other would-be riders out there? Anyone else interested in a PB ticket? Gosh, that would be a messy ticket.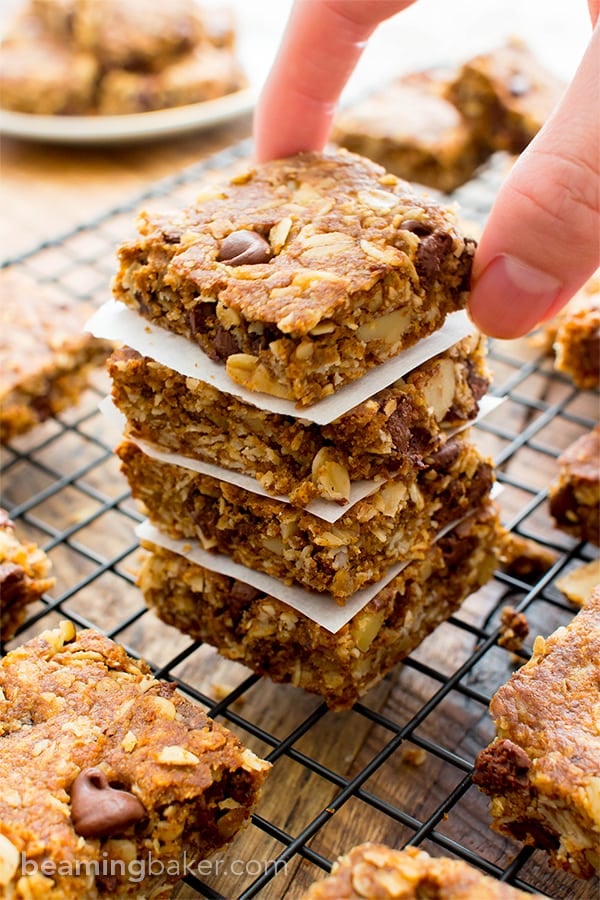 And now that I've shown you what an impeccable sense of focus and single-mindedness I have (not), allow me to redirect your attention from peanut butter to oats. Oatmeal. Rolled oats. Or… all of the above.
Did I ever tell you that Erik and I have been on a very long and very "colorful" journey with oatmeal? Goodness gracious. And by colorful, I do mean… downright unseemly. So for ages now, we've all heard about the benefits of oatmeal. It's good for your heart, helps with things I'm not gonna mention because we're here to stimulate your appetite, not reduce it… and so forth.
But how does one eat oatmeal in a way that's tasty? (Obviously, this was before my healthy peanut butter overnight oats recipe and before we learned how to make homemade oat flour and started baking it into everything… including this best gluten free oatmeal chocolate chip cookies recipe!)
And way back when, we were sooo not good at preparing food or cooking (yes, making oatmeal counts as cooking). We were fresh out of college, so clearly we were no geniuses in the kitchen. Read: completely clueless.
Anywho, we went through an entire evolution with oatmeal. We started by eating it with… dare I even say it out loud? Water. No fruit. No milk. No add-ins. Just water. And… dare I say this out loud? It was quick oats. Sigh.
Does anyone else feel slightly afraid/uncertain around quick oats?? I know that it all comes down to my lack of know-how on handling them, but… I'm completely flabbergasted as to their texture, their exuberant willingness to quickly soak up water milk, and the way they always turn mushy on me.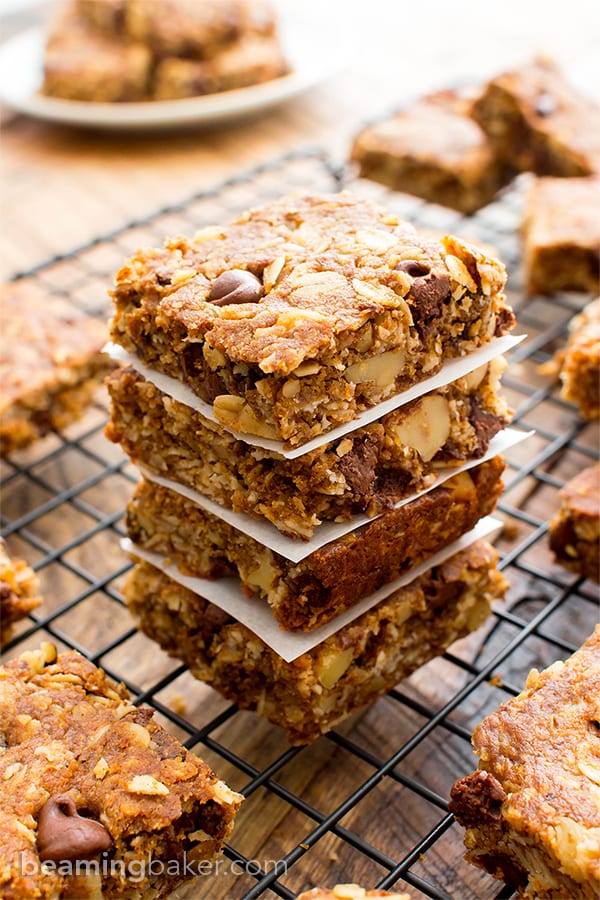 Almost a decade later, we finally learned how to sass up our oatmeal with fruits, dried coconut, even a dash of almond extract for fun, and…. wait for it… almond MILK. See ya, Water!!! High-five for me and the milk, right? Riiiiight? No? Moving on…
Both of us are still wary around quick oats. And obviously, we need to find at least one clue to get ourselves to friendly ground with those absorbent buggers. But in the meantime, Rolled Oats in the House!!! 🙂
Rolled oats and I are on friendly terms. Can I get a high-five, now??? 😉 Anyway, I figured that everyone has their own breakfast/oatmeal intake struggle like we do (okay, maybe not to such an embarrassing, high pitch), so may I present to you: Peanut Butter Chocolate Chip Oatmeal Breakfast Bars.
I will take my high-five now. 😉
I've experimented and kitchen-failed and etc. my way through oatmeal recipes so that I could convince others and myself that there was a much yummier way to eat these super grains. Should we hug now?
Best of all, they're so easy to make, even easier to eat and… FREE from water. 😉 I packed in as much protein and nutritious awesomeness to keep you going throughout the entire day. Plus, get your energy levels up before all the holiday fun and socializing happens. But for real though, how exhausting is it to socialize for like 1, maybe 2 hours? (This must be why I started a food blog… ahem. And if you sometimes feel the same way, you've got to check out how to start a food blog, too!)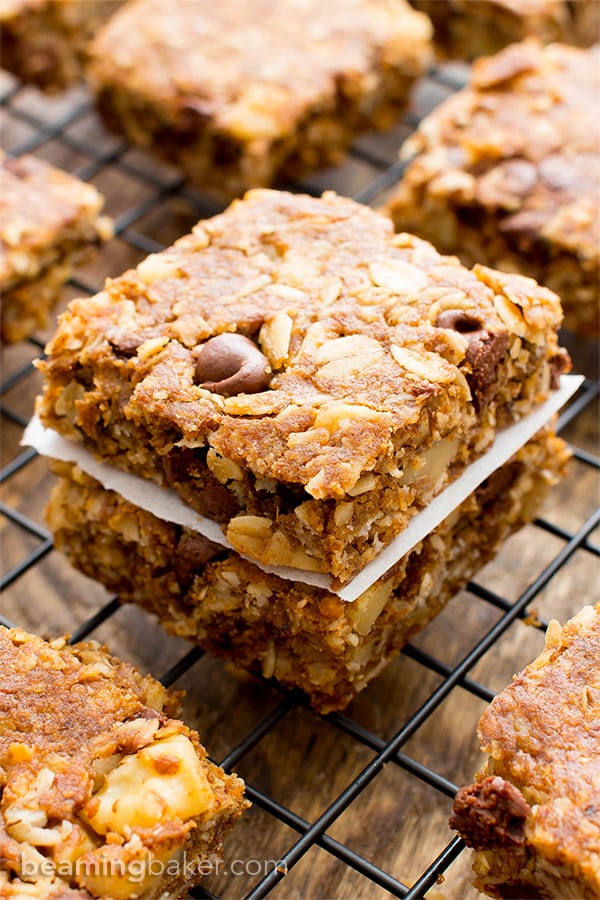 Uh, back to the point: let me tell you all about these Peanut Butter Chocolate Chip Oatmeal Breakfast Bars. They're:
super easy to make, in just two bowls
full of simple, delicious ingredients
vegan, gluten free, dairy free
incredibly textured
bursting with peanut butter YUM
packed full of coconut, oats and chocolate chips
refined sugar-free and allergy-friendly
basically cookies you can eat for breakfast
lightly crispy at the edges and super soft in the center
a guilt-free excuse to have chocolate first thing in the AM
So maybe you always knew you loved peanut butter. Or, you're a bit tentative about it. Maybe you've always been awesome at breakfast, but are looking for something new to try. Either way, you and I both know there's nothing better than something you made, all by yourself (or with your loved ones). Try your hand at these breakfast bars and see how amazing you can be in the kitchen. And out.
Tell me, what's your favorite breakfast food?
Sending you all my love and maybe even a dove, xo Demeter ❤
☀︎ Click below to Pin ☀︎

☀︎ Did you make this recipe? Take a pic and share it on Instagram with the hashtag #beamingbaker and tag @beamingbaker. I would love to see it! ☀︎
If you enjoyed these Peanut Butter Chocolate Chip Oatmeal Breakfast Bars, then you'll love these healthy breakfast treats!
☀︎ More Vegan Gluten-Free Breakfast Recipes ☀︎
Print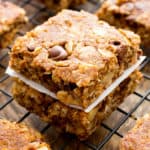 Peanut Butter Chocolate Chip Oatmeal Breakfast Bars (Vegan, Gluten Free, Dairy Free)
---
Description
Peanut Butter Chocolate Chip Oatmeal Breakfast Bars (V+GF): a simple recipe for deliciously textured oatmeal breakfast bars bursting with peanut butter and chocolate flavor. Vegan, Gluten Free, Dairy Free.
---
Dry Ingredients
Wet Ingredients
Add-in Ingredients
---
Instructions
Preheat oven to 350°F. Line an 8-inch square baking pan with parchment paper or greased foil. Set aside.
In a large bowl, whisk together all of the dry ingredients: oats, flour, coconut, cinnamon, baking powder, baking soda and salt.
In a medium bowl, whisk together all of the wet ingredients: flax eggs, coconut oil, peanut butter, coconut sugar and vanilla. Whisk until smooth.
Pour the wet mixture over the dry mixture. Use a rubber spatula or wooden spoon to fold the ingredients together until well combined. Fold in chocolate chips and walnuts.
Pour dough into the prepared baking pan. Using a rubber spatula, spread into an even and tightly packed layer.
Bake for 20-30 minutes. Mine took 25 minutes. You'll know it's done when the top is a rich golden brown.
Place on a cooling rack for 1 hour, or until completely cool. Lift breakfast bars out of the baking pan. Slice into 16 bars. Enjoy! Storing notes below.
Adapted from my Gluten Free Trail Mix Cookies and my Peanut Butter Chocolate Chip Oatmeal Cookies.
More Healthy Vegan Breakfast Recipes
Equipment
Notes
*Make sure you use peanut butter that only has one ingredient: peanuts. Your PB should be naturally drippy and liquidy to work in this recipe.
Store in an airtight container for 1 week.
Prep Time:

15 mins

Cook Time:

20 mins

Category:

Breakfast, Snacks, Dessert

Method:

Baking

Cuisine:

American
Keywords: breakfast bars, vegan breakfast, healthy breakfast, peanut butter breakfast bars
© beamingbaker.com. All content and images are protected by copyright. Please do not use my images without my permission. If you wish to republish this recipe, please re-write the entire recipe using your own words and include a link to this post for the recipe.
Shop the Recipe
Here are a few items I used in today's recipe. 🙂
Cooling Rack | Coconut Oil | GF Rolled Oats (Bulk) | My Favorite Knife | Baking Pan (8-inch) | Ground Flaxseed | Glass Mixing Bowls
This post may contain affiliate links, which allow me to make a small commission for my referral, at no additional cost to you. Thank you for supporting Beaming Baker.