Vegan Cranberry Chocolate Chip Cookies (V, Gluten Free, Oat Flour)
Vegan Cranberry Chocolate Chip Cookies (V, GF, DF): an easy recipe for oat flour cranberry chocolate chip cookies made with whole ingredients. Vegan, Gluten Free, Dairy-Free.
Serious question time: do you consider cranberries more Christmas-y or more Thanksgiving-y? And if you don't celebrate either of those holidays, what do you associate cranberries with?
Yep, that's a tough one! It's like the time I pondered the question: is The Nightmare Before Christmas movie about Christmas or Halloween? Like, woah. Brain teaser, right? 😉 But before we get into a raging debate about that one, let's bring it back to cranberries.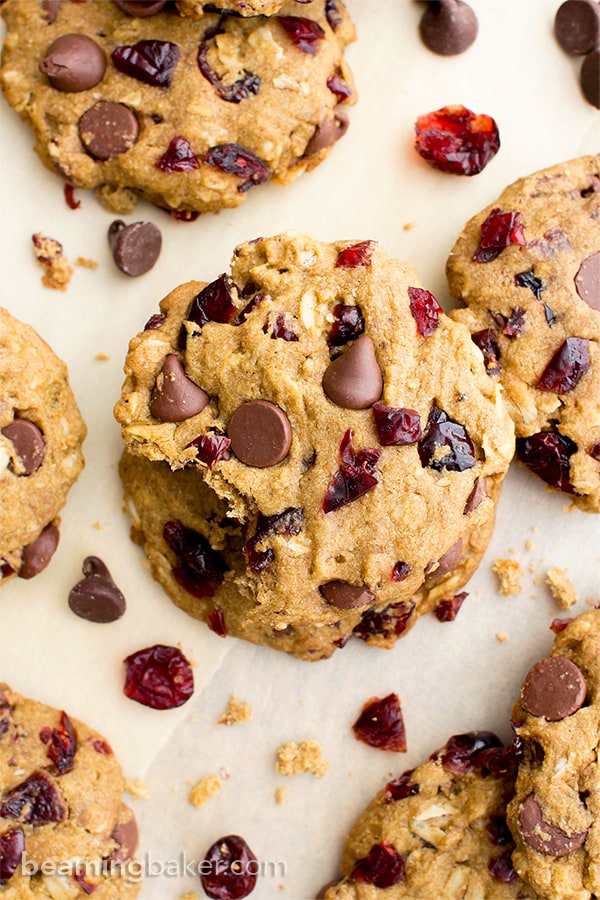 I wasn't too sure of the answer myself. Especially since I kinda/sorta have been sharing cranberry recipes here on the blog since September. Ooops. So now might (or might not, depending on how faulty my info is) be the perfect time to present my vegan cranberry chocolate chip cookies.
The thing is, I totally made cranberry bites and trail mix cookies, and then sorta lost track of these beloved ruby red beauties due to all the pumpkin and candy fervor. Cranberries, my love, will you forgive me?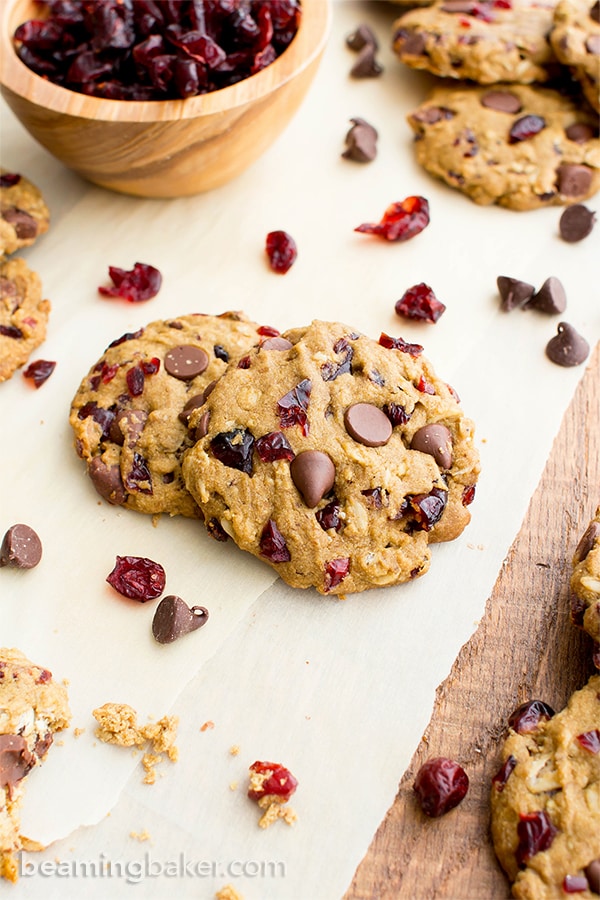 Ahem. Growing up, I actually didn't eat too many cranberries. We had some occasional cranberry sauce with Thanksgiving meals, and maybe some chocolate cranberry bark here and there (btw, anyone interested in seeing a chocolate cranberry bark 'round these parts?), but no major appearances of cranberries.
Did you eat a ton of cranberries growing up?
We were more of a raisin and dates kind of family. And by family I mean that raisins and dates happened, but were not welcomed by lil me. I didn't like either of those guys, or even realize that raisins were actually just dried grapes (still a shocker, to this day), but I eventually came to my senses on both. Just like I did on combo desserts being even better than non-combo desserts… I mean, check out this amazing gluten free cookie cake from A "Mind" Full Mom! Cookie in cake form? Oh. YES. And did I mention the perfect winter libation to accompany that cookie cake? I mean, look at this Winter Sangria!
But wait, what was I saying?
Oh yeah! So now I have no real concept or clue of when people eat these things. Even more confusing, there's also a crazy surge of cranberry-flavored madness during the summer. Color me cranberry-confused. I imagine it's a bright red color of confusion. Quite startling, really. And embarrassing. (Who likes to be beet-red ruby red in the face, anyway??)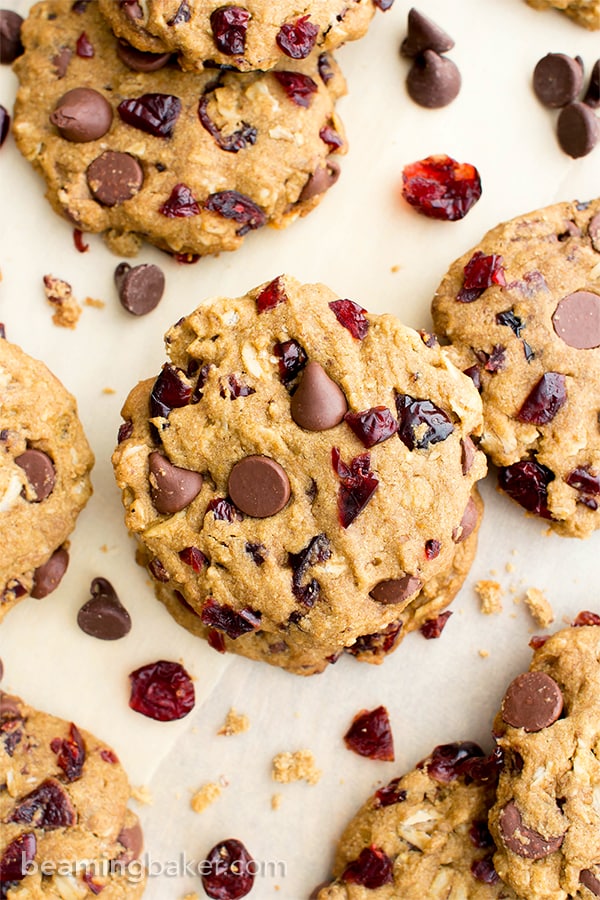 To add another layer to the confusion, there seems to be a total ranking/favoritism system going on with dried fruits. I could go on about this all day, so I'll just discuss the three big ones: cranberries, raisins and dates. It's like dates are at the top of the ladder, cranberries are next, then, far, faaaar down, like probably not even ranked, is raisins.
Poor, wrinkly guy. They're so yummy, too! But I'm telling you guys, if I shared two recipes that were exactly the same, but one had raisins in it, and the other had cranberries—the clear winner would be cranberries.
So in an effort to play favorites (j/k), allow me to present to you my oat flour vegan cranberry chocolate chip cookies. So full of chocolate, so full of cranberries and so not full of low-ranking raisins. They're incredible. Once I saw how much everyone enjoyed my cranberry-packed trail mix cookies and no bake bites, I knew I had to whip up another recipe with these ruby gems as the star.
Plus, once and for all, declare cranberries as an official crossover holiday ingredient. You with me? 🙂 Heck, we can even be rebels together and make these vegan cranberry chocolate chip cookies in the summer. Or the spring (don't hold back now!). And if you're actually feeling more blue(berry) than cran-ruby red right now, try these amazing blueberry cookies from my talented friend Erin at Texanerin. And while I'm at it, here's a fantastic allergy-friendly Thanksgiving round-up from Allergylicious to help you get through the holidays. 🙂 Okay, one last one! Check out these gluten free cut out sugar cookies! .Make sure to veganize it if you're looking for vegan sugar cookies! 😉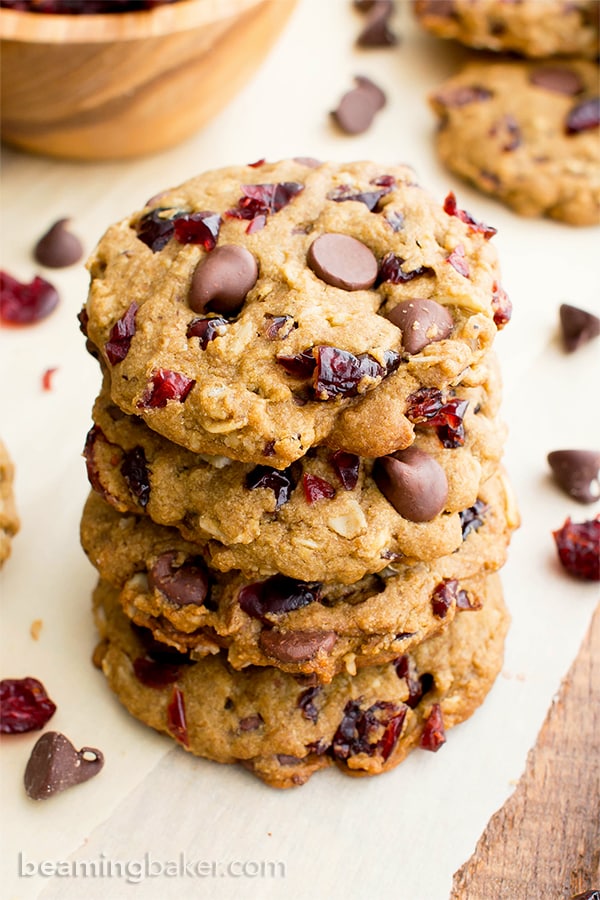 Now, let me tell you all about these official crossover holiday/all-seasons-ready-I'm-sure treats. My gluten free vegan cranberry chocolate chip cookies are:
wonderfully soft on the inside, lightly chewy on the outside
vegan, gluten free, dairy-free
made in just two bowls
packed full of sweet, tart cranberries
perfectly balanced with chocolate chips
made with feel-good ingredients
plant-based and allergy-friendly
perfect for the holidays and all the other days
Try your hand at creating homemade cookies that will impress your family, your tastebuds, and even your kids (yeah, I said it). I'm so happy to spend the holidays getting ready with you. I can't wait to hear what you think of this recipe. In the mean time, tell me:
What season do you associate cranberries with? What's your favorite way to eat cranberries?
I can't wait to hear what you think. Sending you all my love and maybe even a dove, xo Demeter. ❤️
☀︎ Click below to Pin ☀︎

☀︎ Did you make this recipe? Take a pic and share it on Instagram with the hashtag #beamingbaker and tag @beamingbaker. I would love to see it! ☀︎
Print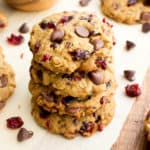 Vegan Cranberry Chocolate Chip Cookies (V, Gluten Free, Oat Flour)
---
Description
Vegan Cranberry Chocolate Chip Cookies (V, GF, DF): an easy recipe for oat flour cranberry chocolate chip cookies made with whole ingredients. Vegan, Gluten Free, Dairy-Free.
---
Dry Ingredients
1 ½ cups

gluten free oat flour

½ cup

gluten free rolled oats

½ teaspoon

baking soda

½ teaspoon

baking powder

¼ teaspoon

salt
Wet Ingredients
¼ cup

+

2 tablespoons

melted coconut oil

¼ cup

coconut sugar

¼ cup

pure maple syrup

2

flax eggs (

2 tablespoons

ground flax +

6 tablespoons

water, whisked together, set for 10 minutes)

1 teaspoon

pure vanilla extract
Add-in Ingredients
¾ cup

dried cranberries, chopped

¾ cup

vegan chocolate chips
For topping: 2 tablespoons each of chopped cranberries and vegan chocolate chips
---
Instructions
Preheat oven to 350°F. Line a baking sheet with parchment paper or greased foil. Set aside for later.
In a medium bowl, whisk together all the dry ingredients: oat flour, oats, baking soda, baking powder and salt.
In a large bowl, whisk together all the wet ingredients: coconut oil, coconut sugar, maple syrup, flax eggs and vanilla. Whisk until thoroughly combined and resembles caramel.
Add the dry ingredients to the wet ingredients. Whisk until you get a sticky and thoroughly combined ball of soft dough. Fold in cranberries and chocolate chips.
Cover the bowl of cookie dough. Let sit for 10-15 minutes at room temperature—this allows the dry mixture to absorb the wet mixture and become more cohesive.*
Scoop 2 tablespoons of cookie dough onto the prepared baking sheet. Using a fork, flatten cookies into a round disc—they will not spread during baking. Press cranberries and chocolate chips into the tops of the cookies.
Bake for 8-12 minutes. Using a flat, heatproof spatula, lift cookies off the baking sheet and transfer to a cooling rack. Allow to cool completely. Enjoy! Storing instructions below.
Notes
– *You can skip this step, but the dough is more likely to be too sticky to flatten with a fork. Also, the cookies are less likely to have a beautiful texture.
– Store in an airtight container at room temperature for 1-2 weeks.
– These cookies freeze well. Store in an airtight, freezer-friendly container for 1 month.
– More cookie recipes (all V, GF, DF): almond butter chocolate chip oatmeal cookies, double chocolate chip cookies, pumpkin chocolate chip cookies (paleo), peanut butter oatmeal chocolate chip cookies.
– More dried fruit recipes: no bake cranberry coconut bites, no bake oatmeal raisin bars, oatmeal raisin cookie bars.
Category:

Cookies, Dessert, Vegan, Gluten Free, Dairy-Free
© beamingbaker.com. All content and images are protected by copyright. Please do not use my images or recipe without my permission. If you wish to republish this recipe, please re-write the entire recipe using your own words and include a link to this post for the recipe.


Vegan Double Chocolate Chip Cookies (Vegan, Gluten Free, Dairy-Free)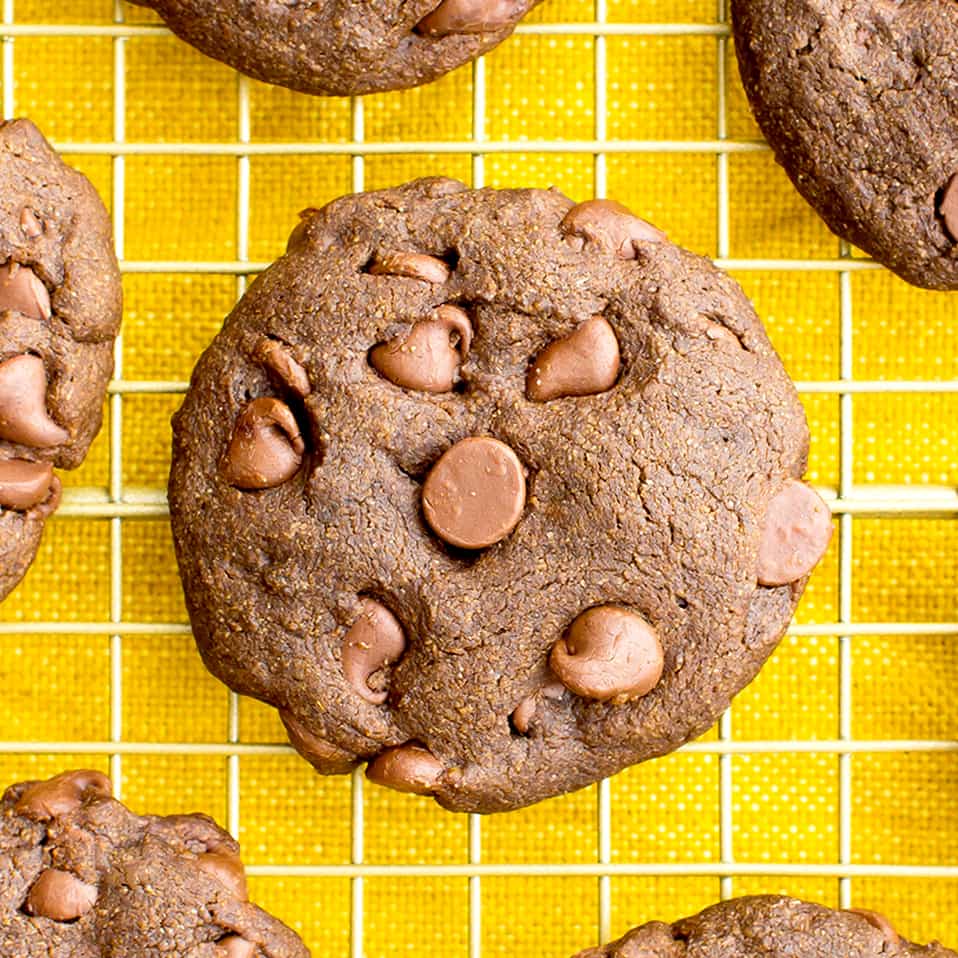 Gluten Free Vegan Trail Mix Cookies (Vegan, Gluten Free, Dairy-Free, Oat Flour)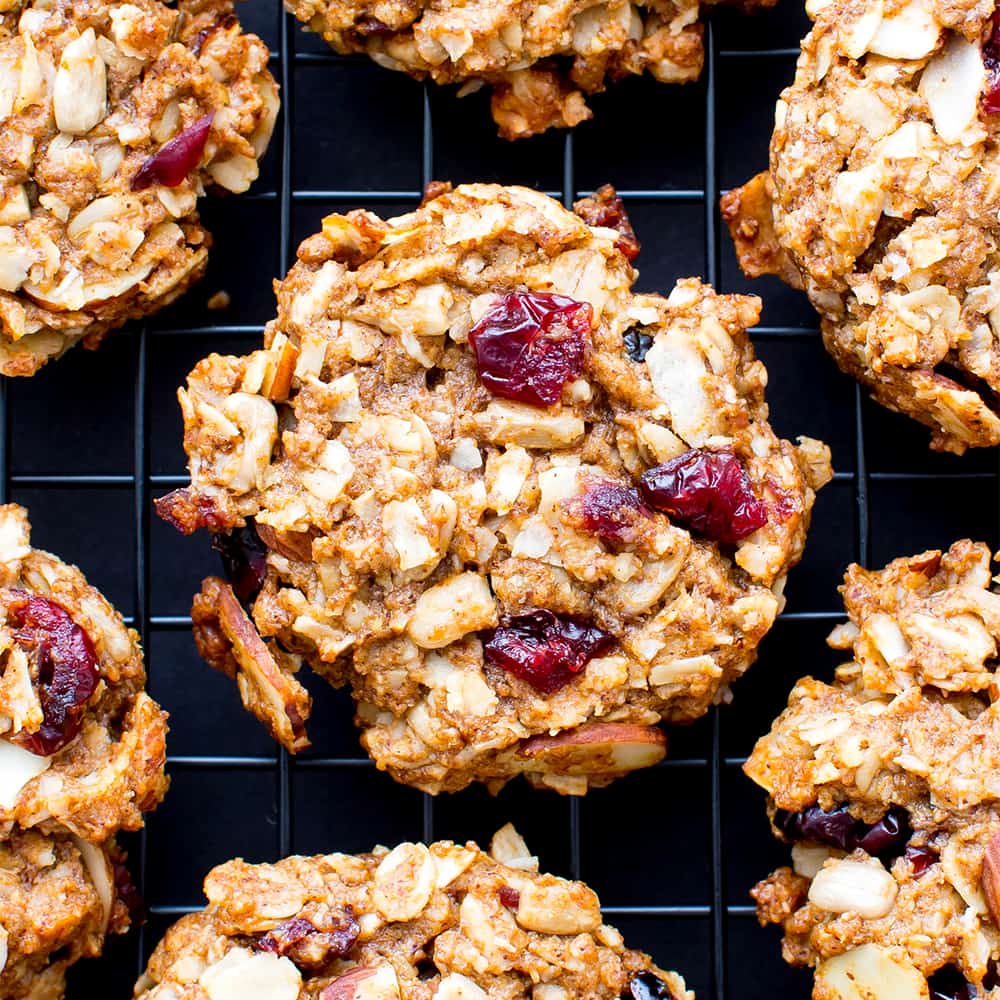 No Bake Cranberry Coconut Bites (Vegan, Gluten Free, Dairy-Free)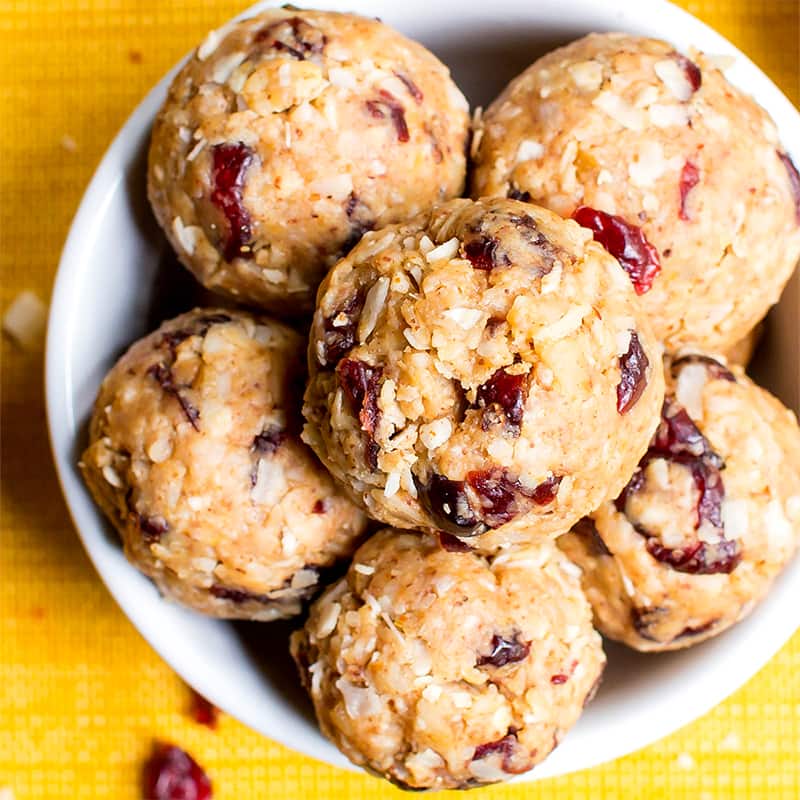 Some lovely cranberry recipes from my friends around the 'web:
Chocolate Banana Cranberry Bread (Paleo, Nut-Free) by Paleo Running Momma
Cranberry Almond Bars (Gluten-Free) by Texanerin
Soft-Baked White Chocolate Chip Cranberry Cookies by Sally's Baking Addiction