gluten free coconut macaroons recipe: this 4 ingredient EASY gluten free macaroons recipe yields soft & chewy coconut cookies with a crispy exterior! vegan, paleo, dairy-free, egg-free.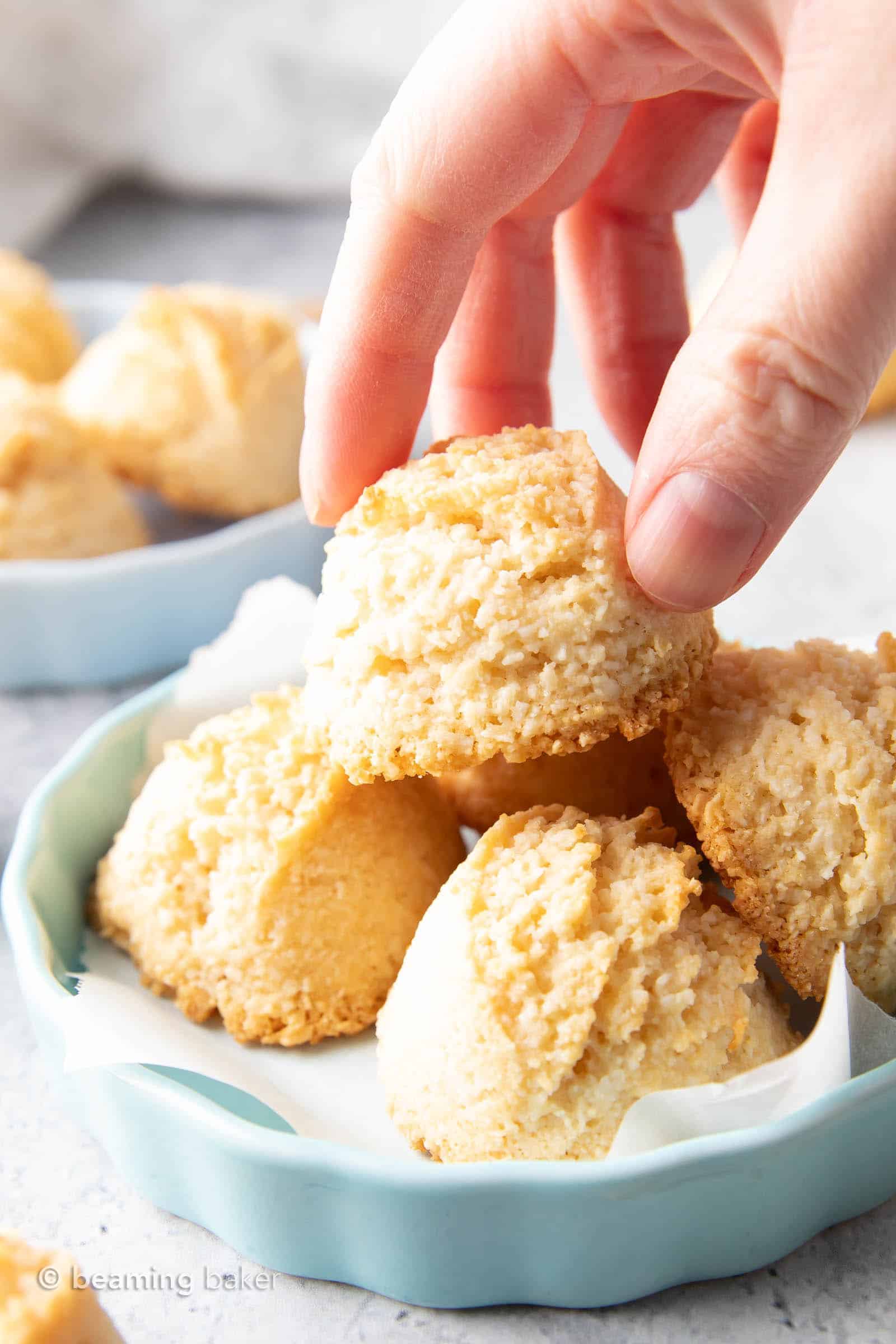 Two recipes in a ROW? What is this, mah birthday?! Your birthday? Perhaps… all of our birthdays? 😉
Nope! (okay, maybe that's true for some of you. It's bound to be someone's birthday today). Anyway, I'm all excited and sssshh because just yesterday, I shared my favorite gluten free brownies from scratch with you. But I didn't stop there. Because: EASTER, folks. Easter.
This time of year, so many of you are preparing all the yummy desserts in time for Easter—even with so many of us stuck at home! But what better time to bake, amiright? 😉
This time of year… some of you are craving all the homemade coconut granola bars and Almond Joys, and some of you are straight up craving coconut macaroons.
But. Isn't there always a but?
You're gluten free. You're vegan. You're gluten free and vegan and dairy free. And you can't have any coconut macaroons. Or can you?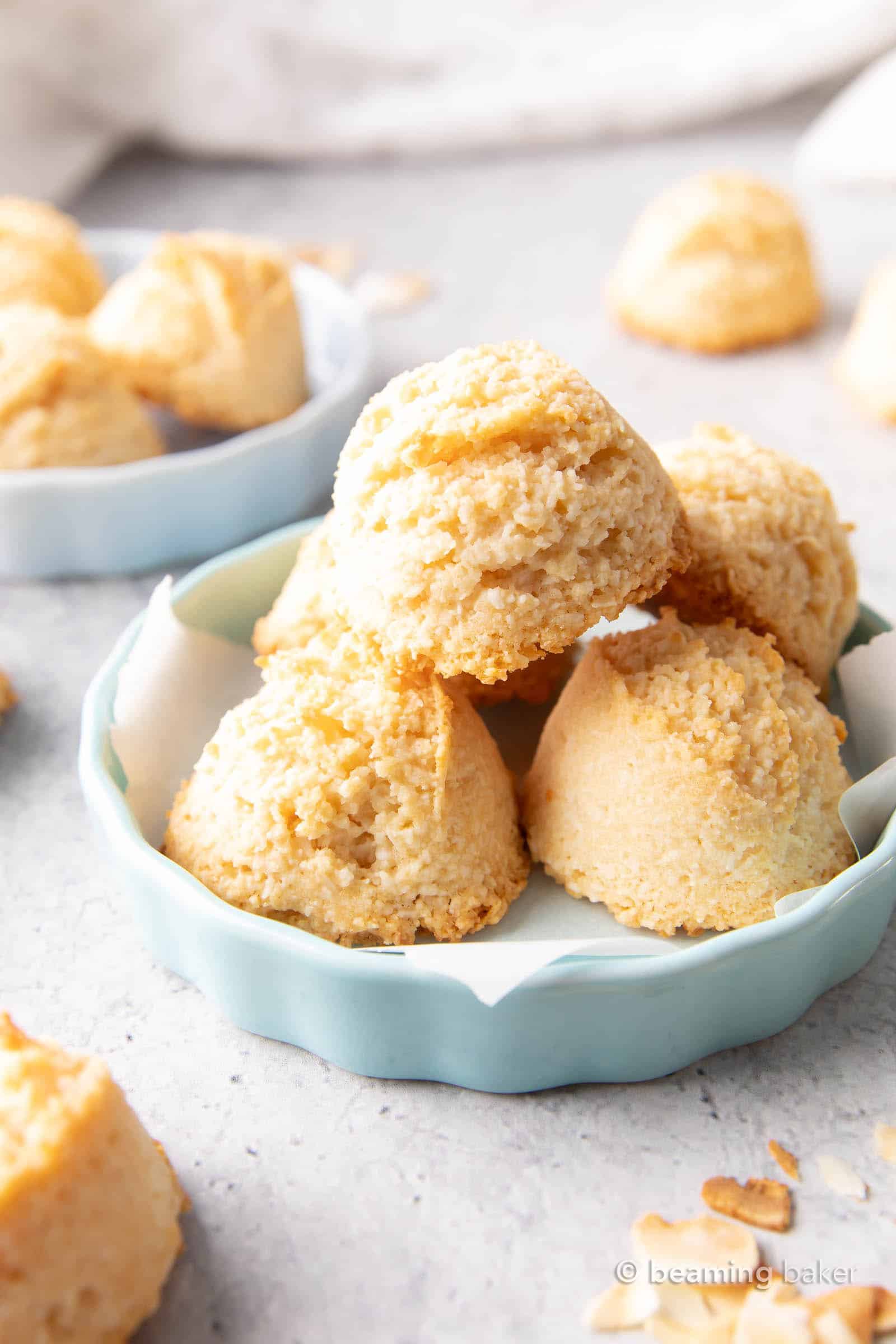 Today, we're gonna prove that vegan + gluten free coconut macaroons DO exist. And they DO taste good! Whoop whoop! But… what do these gluten free macaroons taste like? Glad you asked.
The Taste & Texture of Easy Gluten Free Macaroons
The Taste: this gluten free macaroons recipe yields soft and chewy coconut macaroons bursting with coconut flavor. The Texture: delightfully moist + perfectly sweet on the inside, chewy with just a bit of crisp, toasted coconut flavor on the outside, all equaling your soon-to-be favorite gluten free cookie with BIG coconut flavor.
Only 4 Ingredients for Easy Gluten Free Macaroons
This dairy free + gluten free macaroons recipe calls for just 4 ingredients: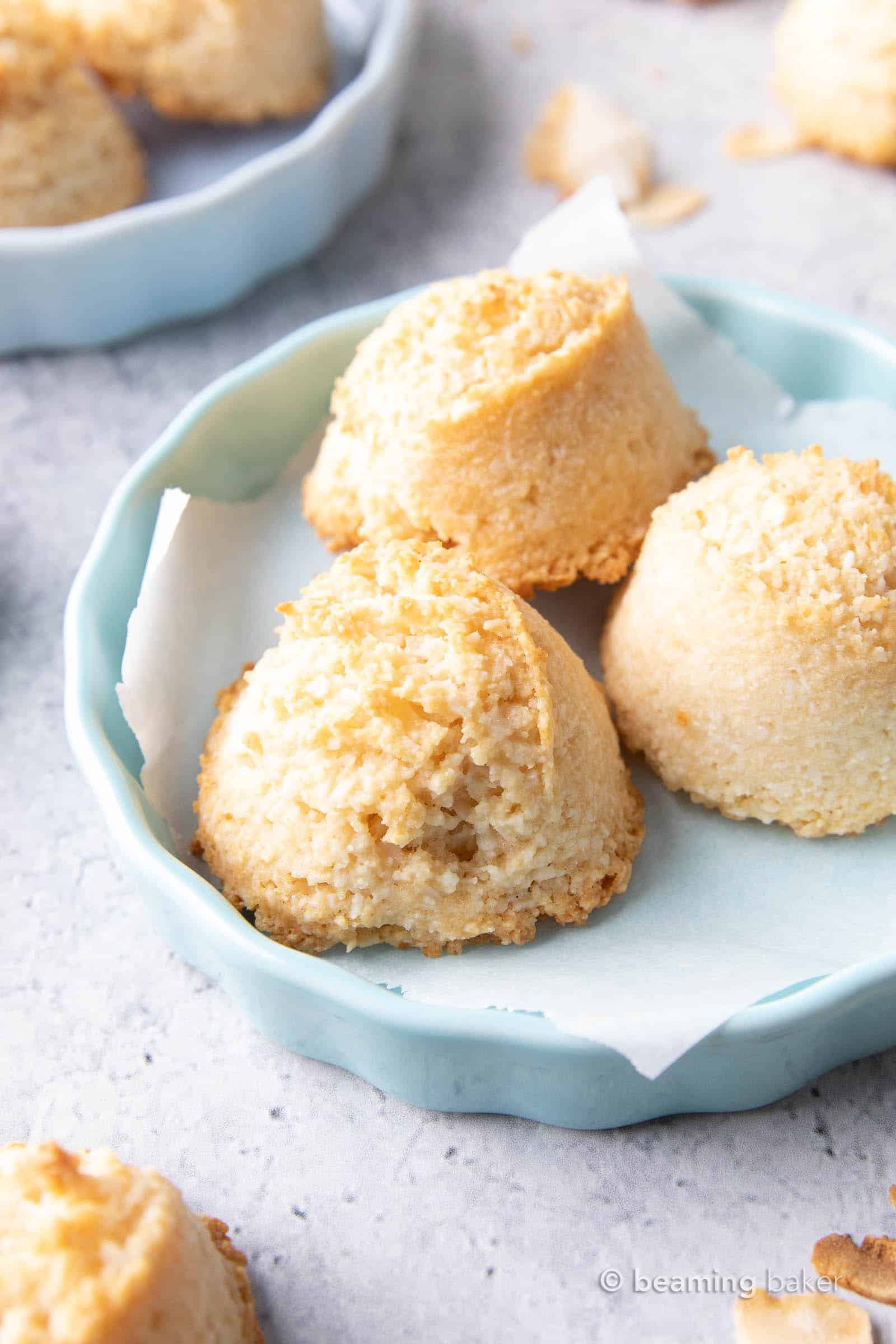 How to Make Super Easy Gluten Free Macaroons
Learn how to make gluten free coconut macaroons the easy way. All you have to do is add coconut, coconut flour, coconut oil, and maple syrup to a food processor, then blend until well incorporated. Then scoop & drop the macaroon dough onto a cookie sheet and bake. Cool and enjoy! That's really, truly it.
Can I Make this Gluten Free Coconut Macaroons Recipe with Almond Flour?
Instead of going into my usual spiel about how you should not make any substitutes, let me make this short and quick and free from "no's"! 😉 Use this 4 Ingredient Paleo Coconut Macaroons Recipe instead. I created this recipe specifically around almond flour, so you'll know exactly what amount to use. 😉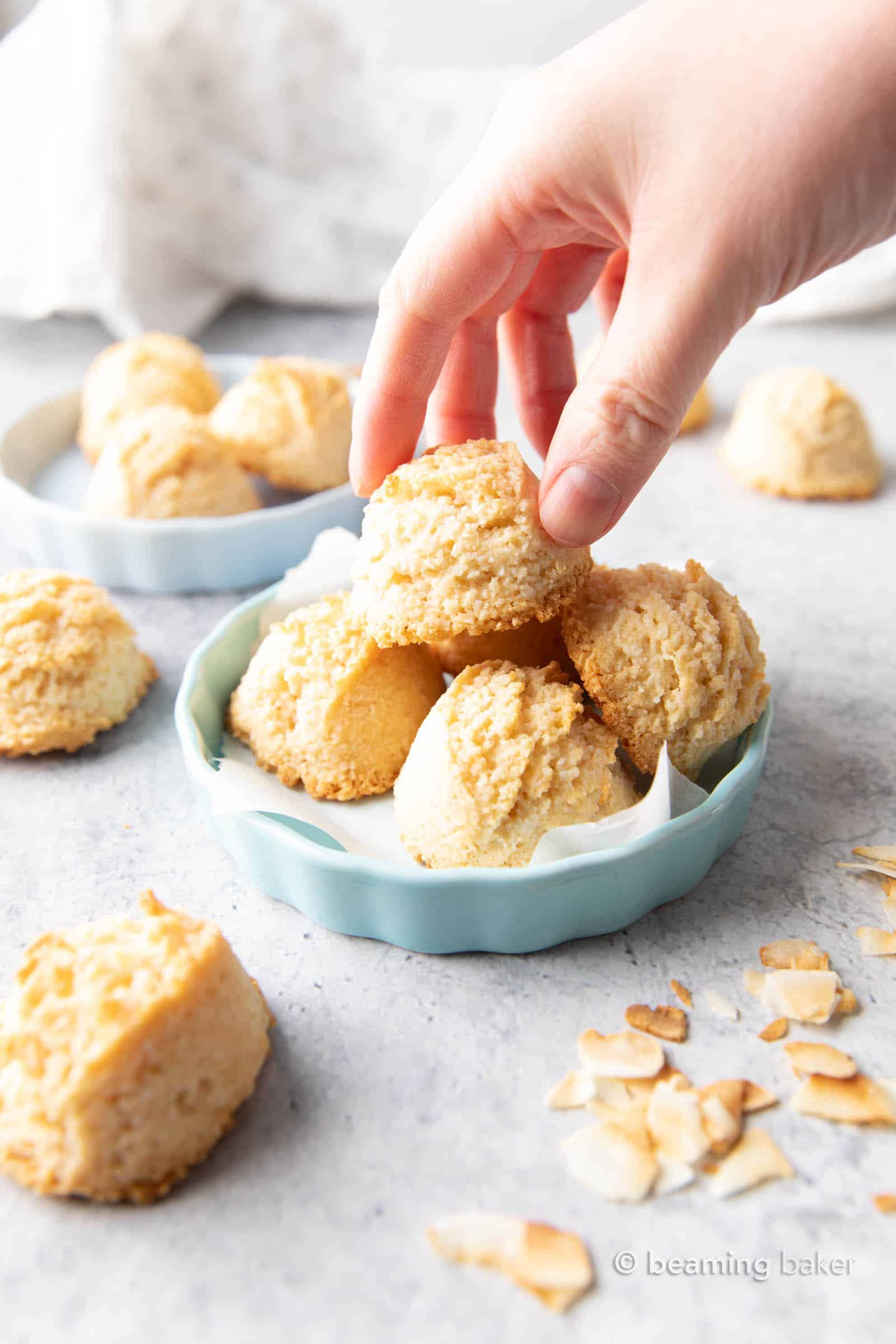 Tools for the Best Gluten Free Macaroons!
Who's ready to make all of the gluten free coconut macaroons with me?! 😉 I can't wait to hear what you and your loved ones think of my recipe. Just so you know, I truly, truly appreciate you stopping by and sharing in these joy-filled baking adventures with me. 'Til the next one…
Sending you all my love and maybe even a dove, xo Demeter ❤️
Click below to Pin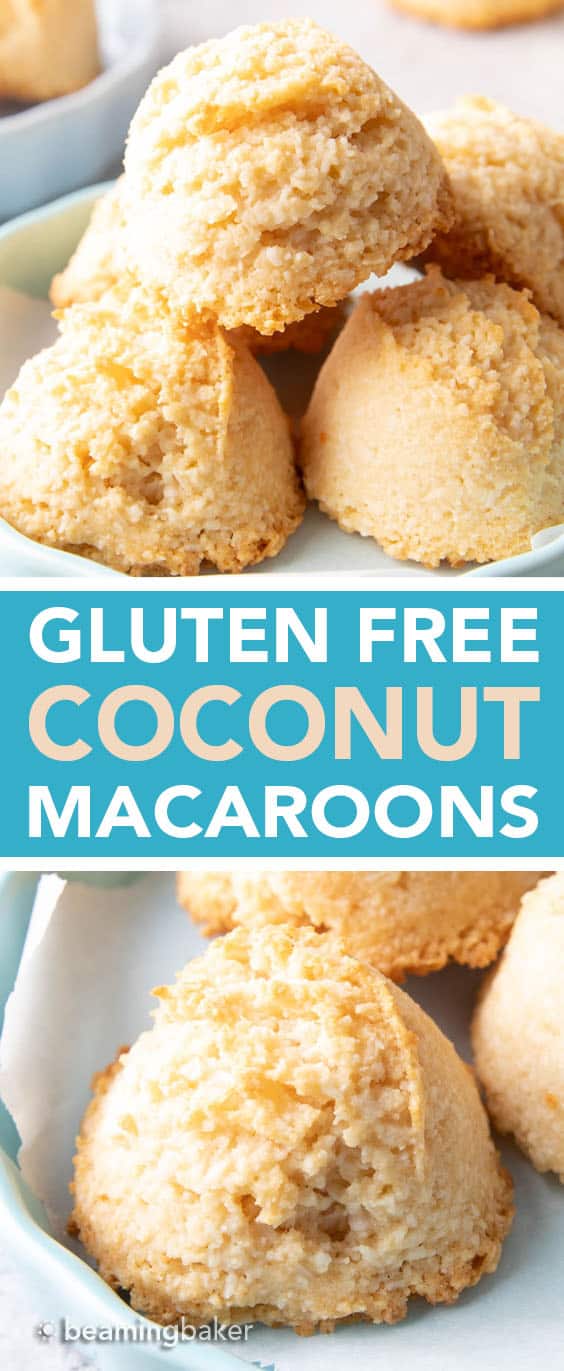 📷 Did you make this gluten free coconut macaroons recipe? Take a pic and share it on Instagram with the hashtag #beamingbaker & tag @beamingbaker. I'd love to see it! 📸
More Gluten Free Coconut Recipes & Macaroons
Print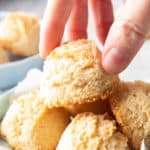 Gluten Free Coconut Macaroons Recipe (Dairy-Free, Egg-Free)
---
Description
Gluten Free Coconut Macaroons Recipe: this easy gluten free macaroons recipe yields soft & chewy coconut cookies with a crispy exterior! Vegan, Paleo, Dairy-Free, Egg-Free.
---
---
Instructions
Preheat the oven to 350°F. Line a baking sheet with parchment paper or greased foil. Set aside.
Add all ingredients to the food processor, making sure to spread flakes and flour evenly through the bin of the processor. Make sure to use small coconut flakes, as large ones will result in flat, spread out cookies. Here are the small coconut flakes that I use.
Blend until you get a thick and sticky mixture that holds together, with smaller, but still noticeable coconut pieces. Scrape down the sides of the food processor as needed. If any maple syrup remains at the bottom of the processor, fold into dough until well mixed.
Using a small or medium cookie scoop, scoop firmly packed balls of coconut mixture onto the prepared baking sheet, making sure to space balls evenly apart. Cookies will inflate and enlarge just a bit as they bake.
Bake for 12-16 mins, until golden around the edges and slightly golden on top. Mine took 14 mins for large ones; medium ones will take about 11-13 minutes. Place baking sheet onto a cooling rack and allow cookies to cool for 5-10 minutes, until firm. Using a heatproof spatula, transfer cookies directly onto the cooling rack to cool completely, about 30 mins-1 hour. Enjoy! Storing instructions below.
Looking for Coconut Macaroons made with almond flour? Make these 4 Ingredient Paleo Coconut Macaroons Recipe (Vegan, Paleo, GF).
Gluten Free Coconut Recipes You'd Like:
Equipment
Notes
Where to Buy Ingredients: Small Coconut Flakes (do

not

use large flakes or chips) | Coconut Flour | Coconut Oil | Pure Maple Syrup
*You must use small coconut flakes in this recipe. The coconut flakes should be the size of sprinkles, or about half a grain of rice. Using large coconut flakes will result in flat, spread out cookies (not like the round macaroons you see in the pictures). Here are the small coconut flakes that I use (detailed pictures in link).
**Solid coconut oil is best for this recipe. Using melted coconut oil will result in smaller macaroons.
Storing Instructions: Store in an airtight container for up to 1 month at room temperature. If freezing, store in an airtight, freezer-friendly container for up to 2 months. Allow to thaw for 15 minutes before enjoying.
Nutrition Info: is an estimate based on 18 total macaroons.
Recommended Tools: my favorite affordable Food Processor | Small or Medium Cookie Scoop | Champagne Gold Chef Cookie Sheet
Prep Time:

5 minutes

Cook Time:

14 minutes

Category:

Dessert, Easter

Method:

Bake

Cuisine:

American
Nutrition
Serving Size:

1 medium macaroon

Calories:

71

Sugar:

3g

Sodium:

1mg

Fat:

6g

Saturated Fat:

5g

Carbohydrates:

5g

Fiber:

1g

Cholesterol:

0mg
© beamingbaker.com. All content and images are protected by copyright. Please do not use my images or recipe without my permission. Please do not republish this recipe, instead, include a link to this post for the recipe.
This post may contain affiliate links, which allow me to make a small commission for my referral, at no additional cost to you.