Lemon Coconut Macaroons Recipe (Vegan, Paleo, Gluten Free, Dairy-Free, Refined Sugar-Free)
Lemon Coconut Macaroons Recipe (V, GF): an easy vegan recipe for sweetly tart lemon macaroons made from healthy ingredients to brighten your day! Vegan, Paleo, Gluten-Free, Dairy-Free.
So I had no idea whatsoever that my sister Jenny LOVES coconut macaroons. Like… I've only known her for 32 years of my life. No big deal, right?
Wait a minute, I'm 32, right? Someone call Erik and check my age for me!!
The older I get, the less I actually remember what age I am, when my birthday is (or even what month it's in), and apparently what my family member's current likes and dislikes are.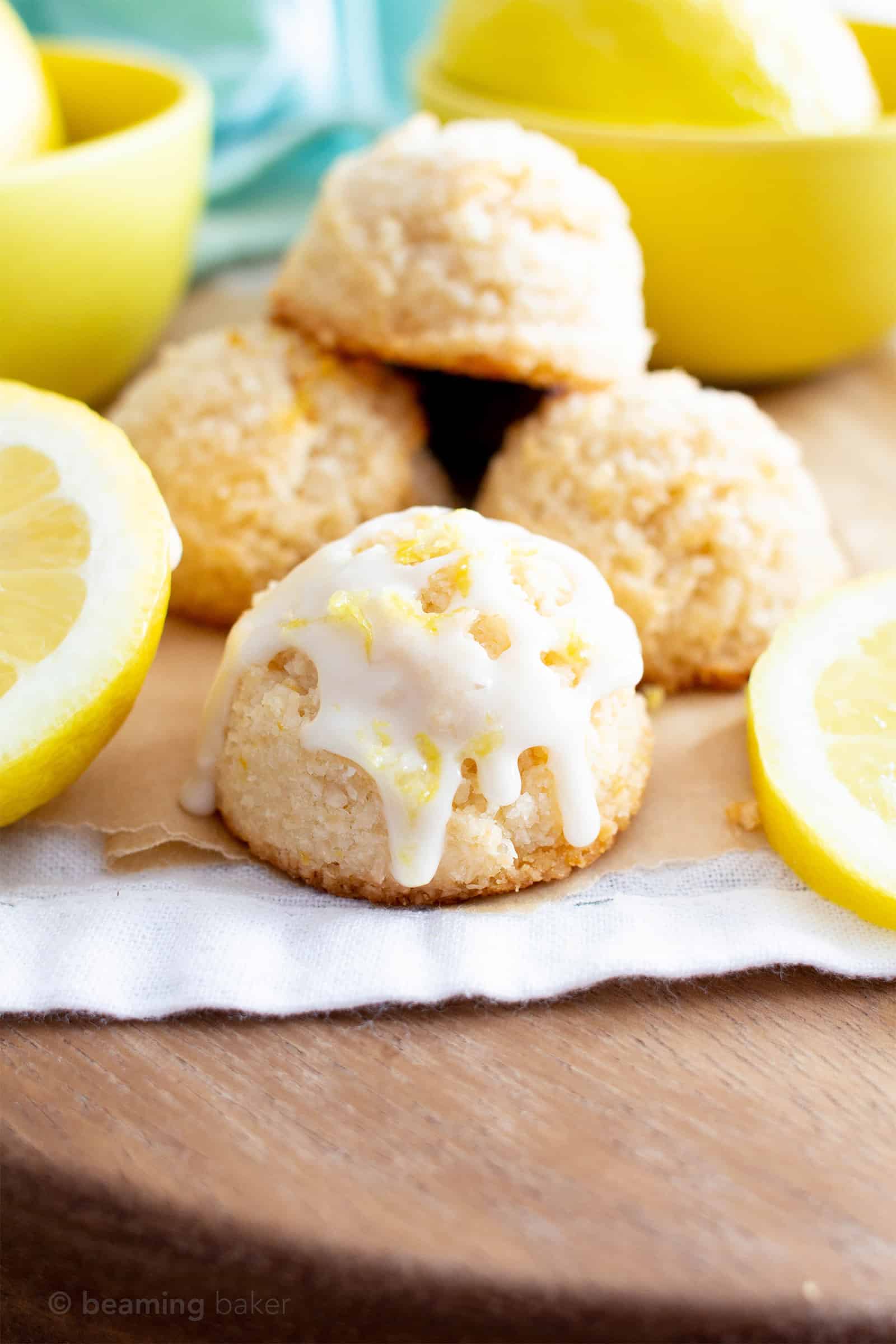 Meanwhile, when I started this coconut macaroon expedition a few months back (in March, and yes, I totally had to check), I did my usual thing: tested, re-tested, then tested again to make sure the recipe for my 4 ingredient vegan coconut macaroons (the base recipe for all of my coconut macaroons) was on point.
After those rounds of testing, I did my other usual thing, which was to bring those batches over to my mom and my sister Jenny's house.
Never expecting for a moment the reaction I'd get.
Jenny said, "WOW. These taste like…
…the REAL THING."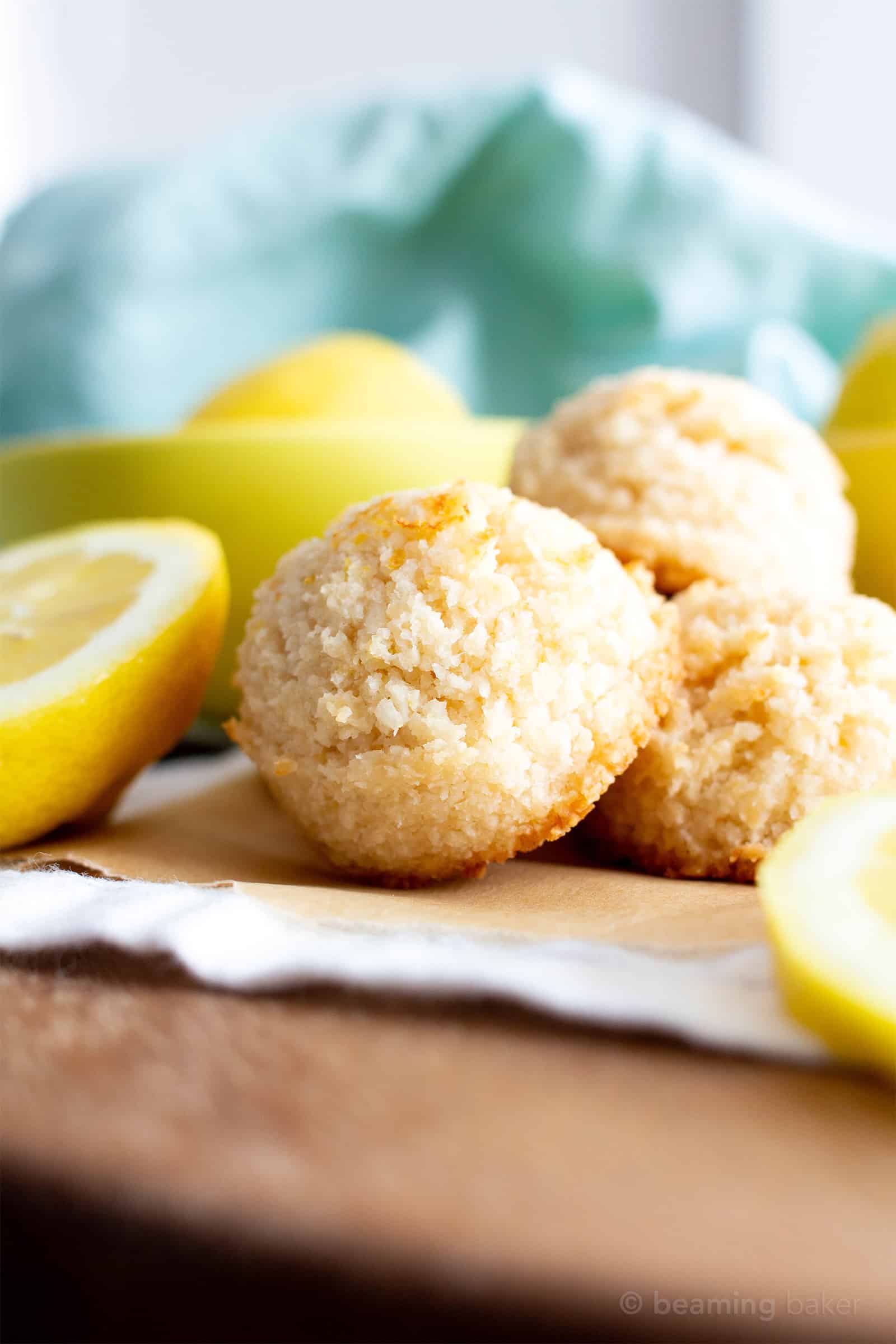 And coming from Jenny, who loves all manner of junk food and is a connoisseur of desserts, I was blown away. And pleased with myself, of course. 😉
In the months that followed, I made and shared more vegan coconut macaroon recipes with you (and Jenny), and yet, still, she would ask for more. See: my Chocolate Dipped Vegan Coconut Macaroons Recipe and my 4 Ingredient No Bake Coconut Macaroons. The thing is, sometimes when I'm recipe testing, I unfortunately have loads and loads, make that batches and batches, of the exact same thing to share.
When I was testing this Lemon Coconut Macaroons Recipe, there were like 1,000 cookies (OR 1,000 lemon coconut macaroons, I should say) that I had to unload. And there's only so much the freezer will take. So the burden falls to loved ones/casual acquaintances/people on the street to take these goodies.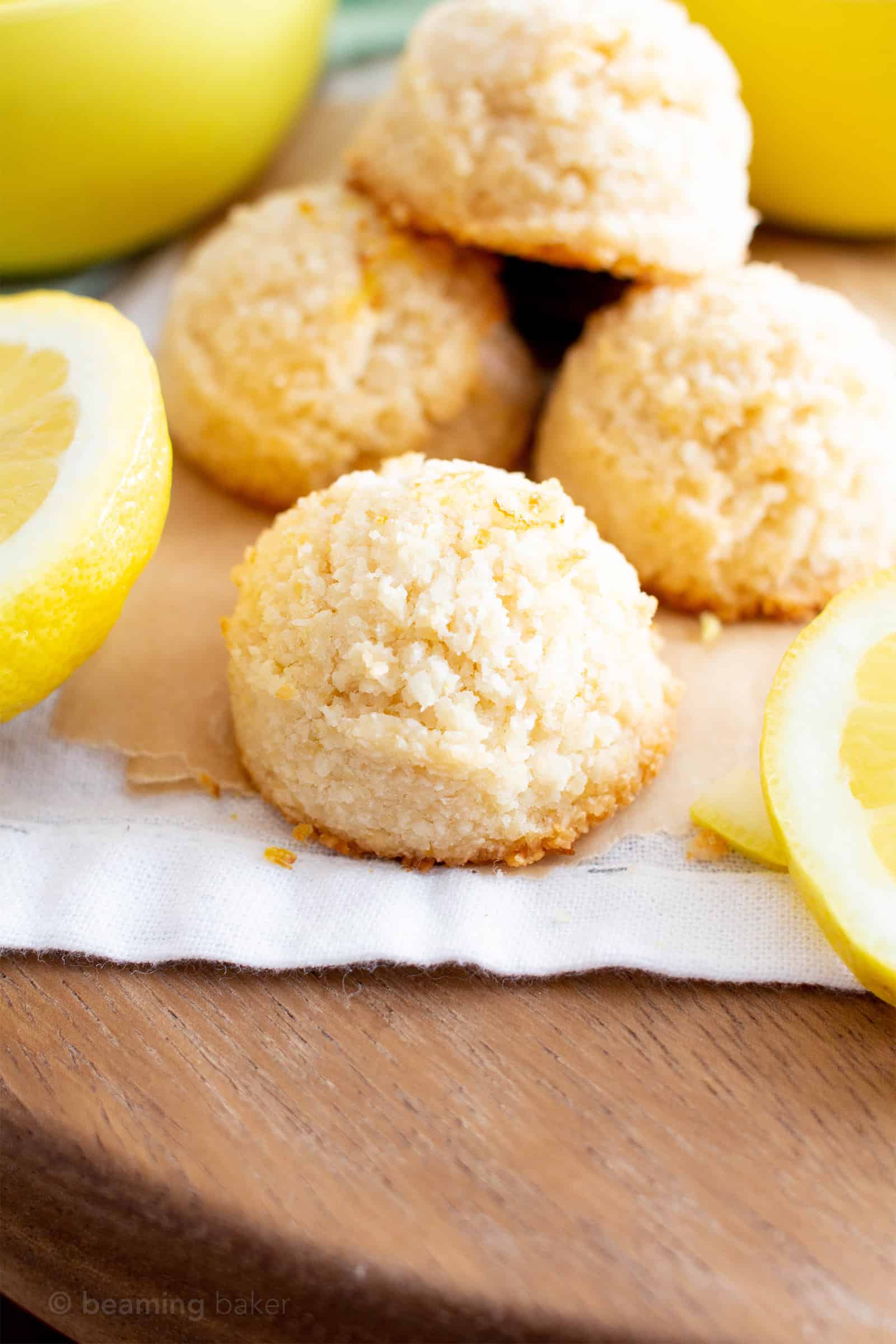 But after you bring these folks the 5th batch of the same thing, ya kinda feel bad, ya know? Like, they must be sick of this by now.
Surely!!
Well, guess what? Jenny never got sick of my coconut macaroons. And she sure as heck never got sick of these Lemon Coconut Macaroons. OH YEAH!! Even after the possibly-100s of paleo coconut macaroons I've brought her, she's still asking me to make a bigger, wink wink, batch of these lemon coconut macaroons to bring over. And, in typical Jenny fashion, she also asked me to bring over some vegan lemon poppy seed muffins and a few slices of my easy vegan lemon loaf along with all the macaroons.
And that, folks, is how you KNOW they're good.
Lastly, special shoutout to my reader, J, for requesting these lemon coconut macaroons. And a super special shoutout to my J for requesting that they be made with lemon icing. (Um, YUM!!) I went ahead and included that optional lemon glaze just in case you wanted your socks blown off in the most delicious way possible.
Yep, even I don't really know what that means… Heh heh.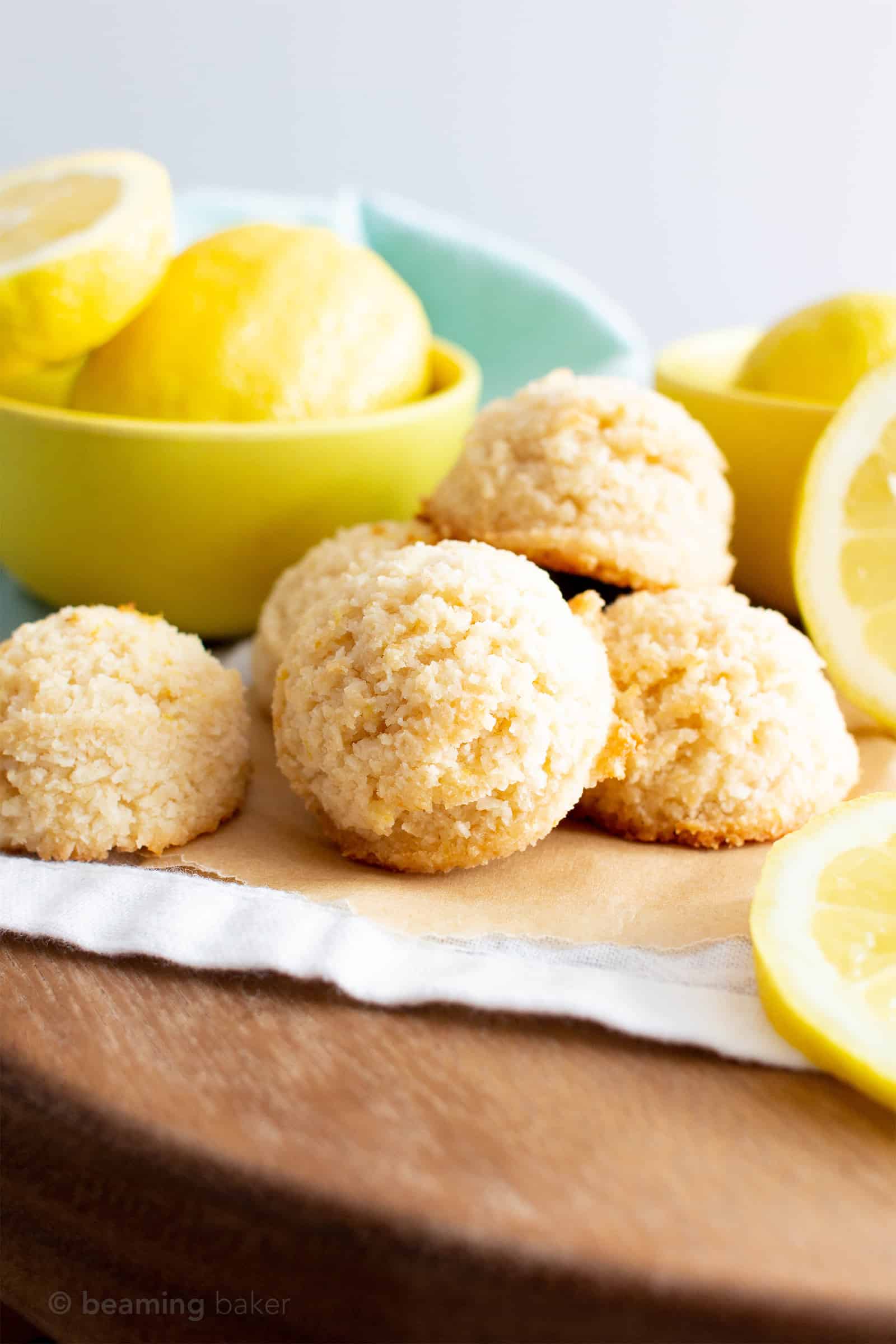 In case you're still on the fence, check out this Lemon Coconut Macaroons Recipe's finest points! They're…
super easy to make
vegan, paleo, gluten-free, dairy-free and refined sugar-free
made with just 6 simple ingredients
the perfect excuse to bust out your citrus zester and your citrus squeezer
just the vegan macaroons recipe you've been searching for
made with the healthy & allergy-friendly, whole ingredients that you know and love
perfectly tart and delightfully sweet
basically everything you could ever want out of healthy paleo macaroons
Are you ready to bake this? You grab the coconut, I'll grab the lemons! Let's do it. 🙂 It's truly such a joy to share these recipes with you. I can't wait to hear what you and your loved ones think (hopefully they're as pleased as Jenny!!).
Sending you all my love and maybe even a dove, xo Demeter ❤️
Click below to Pin

📸 Did you make this paleo lemon coconut macaroons recipe? Take a pic & share it on Instagram with the hashtag #beamingbaker and tag @beamingbaker. I'd love to see it! 📸
If you enjoyed this Lemon Coconut Macaroons Recipe, then you'll just love these healthy paleo dessert recipes:
Gluten Free Vegan Coconut Recipes and More
Print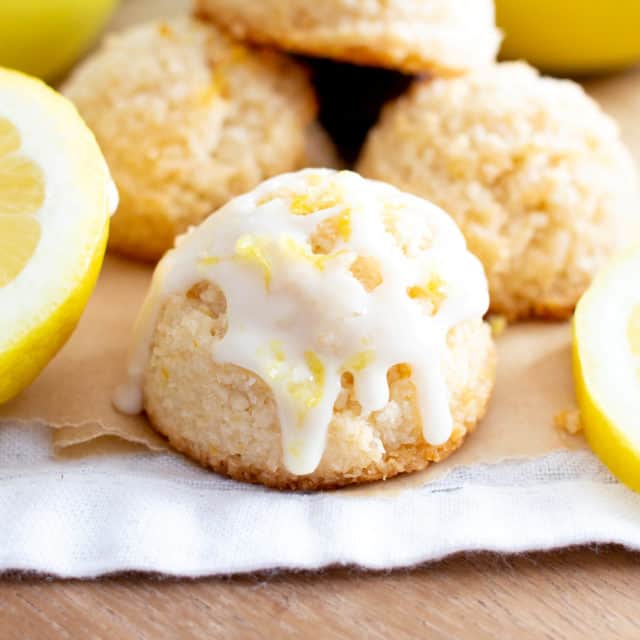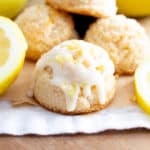 Lemon Coconut Macaroons Recipe (Vegan, Paleo, Gluten Free, Dairy-Free, Refined Sugar-Free)
---
Description
Lemon Coconut Macaroons Recipe (V, GF): an easy vegan recipe for sweetly tart lemon macaroons made from healthy ingredients to brighten your day! Vegan, Paleo, Gluten Free, Dairy-Free.
---
Lemon Coconut Macaroons
1 ¼ cups

unsweetened small coconut shreds* (I use these gluten-free small coconut flakes)

¼ cup

finely ground, blanched almond flour

3 tablespoons

coconut oil, solid**

¼ cup

pure maple syrup

1 tablespoon

fresh lemon juice

1 ½ tablespoons

lemon zest, more for topping (about

1 teaspoon

)
Optional Lemon Glaze (leave out glaze for paleo)
---
Instructions
Preheat the oven to 350°F. Line a baking sheet with parchment paper or greased foil. Set aside.
Add all Lemon Coconut Macaroon ingredients (coconut, almond flour, oil, maple syrup, lemon juice and lemon zest) to a food processor (preferred) or blender. Here are the gluten-free small coconut flakes that I use–you must use small coconut flakes in this recipe, about the size of sprinkles. Using large coconut flakes will result in flat, spread-out cookies.
Blend just until you get a wet and sticky mixture, with smaller, but still noticeable coconut pieces. If any maple syrup remains at the bottom of the processor, fold into dough until well mixed.
Using a cookie scoop, scoop firmly packed balls of coconut mixture. Drop onto the prepared baking sheet, making sure to space balls evenly apart.
Bake for 14-18 mins, until golden around the edges and slightly golden on top. Mine took 16 mins for large ones. Place baking sheet onto a cooling rack. Allow to cool on baking sheet for 30 mins-1 hour.
Optionally, make glaze (skip for paleo). In a small bowl, whisk together Lemon Glaze ingredients: organic, unrefined confectioners' sugar and lemon juice. Whisk until thickened. Drizzle macaroons with glaze. Optionally, top with lemon zest. Enjoy! Storing instructions below.
Adapted from my 4 Ingredient Paleo Coconut Macaroons.

Equipment
Notes
*You must use small coconut flakes for this recipe. The coconut flakes should be the size of sprinkles, or about half a grain of rice. Large coconut flakes will result in flat, spread out cookies (unlike the round macaroons you see in the pictures). Here are the gluten-free small coconut flakes that I use (pictures included in link).
**Solid coconut oil is best for this recipe. Using melted coconut oil will result in smaller macaroons.
***Powdered sugar substitutes: Swerve powdered sugar is a good sugar-free, low carb substitute. You can also grind the sweetener of your choice, such as Xylitol, in a coffee grinder or small blender until you get a powder. Since Swerve is a bit drier, use about 2 ½ teaspoons lemon juice to make the glaze. You can also add more powdered sugar if you'd like a thicker glaze.
Store in an airtight container for 1 week at room temperature or in the refrigerator.
If freezing, store in an airtight, freezer-friendly container for up to 1 month. Allow to thaw for 15 minutes before enjoying.
Prep Time:

12 minutes

Cook Time:

16 mins

Category:

Cookies, Dessert

Method:

Bake

Cuisine:

American
© beamingbaker.com. All content and images are protected by copyright. Please do not use my images or recipe without my permission. Please do not republish this recipe, instead, include a link to this post for the recipe.
SHOP THE RECIPE
Here are a few items I used in today's recipe. 🙂
Food Processor | Citrus Zester | Citrus Squeezer | Gluten Free Unsweetened Coconut | Maple Syrup | Organic Unrefined Confectioners' Sugar | Unbleached Parchment Paper | Cookie Sheet | 2-Tablespoon Cookie Scoop
This post may contain affiliate links, which allow me to make a small commission for my referral, at no additional cost to you.
Facebook ☀︎ Pinterest ☀︎ Twitter ☀︎ Instagram