Vegan Sesame Tahini Cookies (Gluten Free)
Just 7 ingredients for the best vegan tahini cookies—buttery-rich, crisp sesame coating, tender crumb. Delicious sesame tahini cookies that are gluten free!
Buttery-rich. Nutty. Crispy on the outside. Soft on the inside. And bitter. Yep, bitter. That one word pretty much sums up the first and longest-lasting impression of nearly any recipe testing trial I've ever had. Lol. And you can thank these vegan tahini cookies trials for that.
But not to worry, I wasn't gonna let the best sesame tahini cookies recipe EVER go anywhere near that word. Especially not when Erik kept giving me that scrunched-up, why-is-this-so-bitter face when taste-testing them…
I especially especially wasn't gonna go anywhere near that word when these vegan tahini cookies were a super special request from my sister Penny's beloved (and amazing) friend, Emily. I mean, a girl's gotta not endanger her sister's great friendship with highly questionable recipes make sure to rightfully honor the specialness that is her wonderful sister's sweet, kind and happens-to-be-gluten free (yeah!!) friend.
So are you ready to see how I turned a bitter frown upside down into the most delicious vegan tahini cookies smile ever? Let's bake this!
How to Make Vegan Tahini Cookies
Learn how to make vegan tahini cookies the easy way, with just a few simple steps:
Preheat
Before you even grab the sesame tahini cookie ingredients, be sure to preheat the oven. Then, line a baking sheet with parchment paper.
Fold
Fold all tahini cookie ingredients together (except sesame seeds) in a bowl, making sure everything is well mixed. You've just made your sesame tahini cookie dough!
Scoop & Roll
Scoop and drop balls of tahini cookie dough into a small bowl filled with the sesame seeds. Roll each ball around until fully coated with sesame seeds.
Flatten
Place each sesame-coated tahini cookie dough ball onto the baking sheet you prepared earlier. Flatten each cookie.
Bake, Cool and Enjoy
Bake, cool and enjoy the best vegan tahini cookies! How easy was that? 😉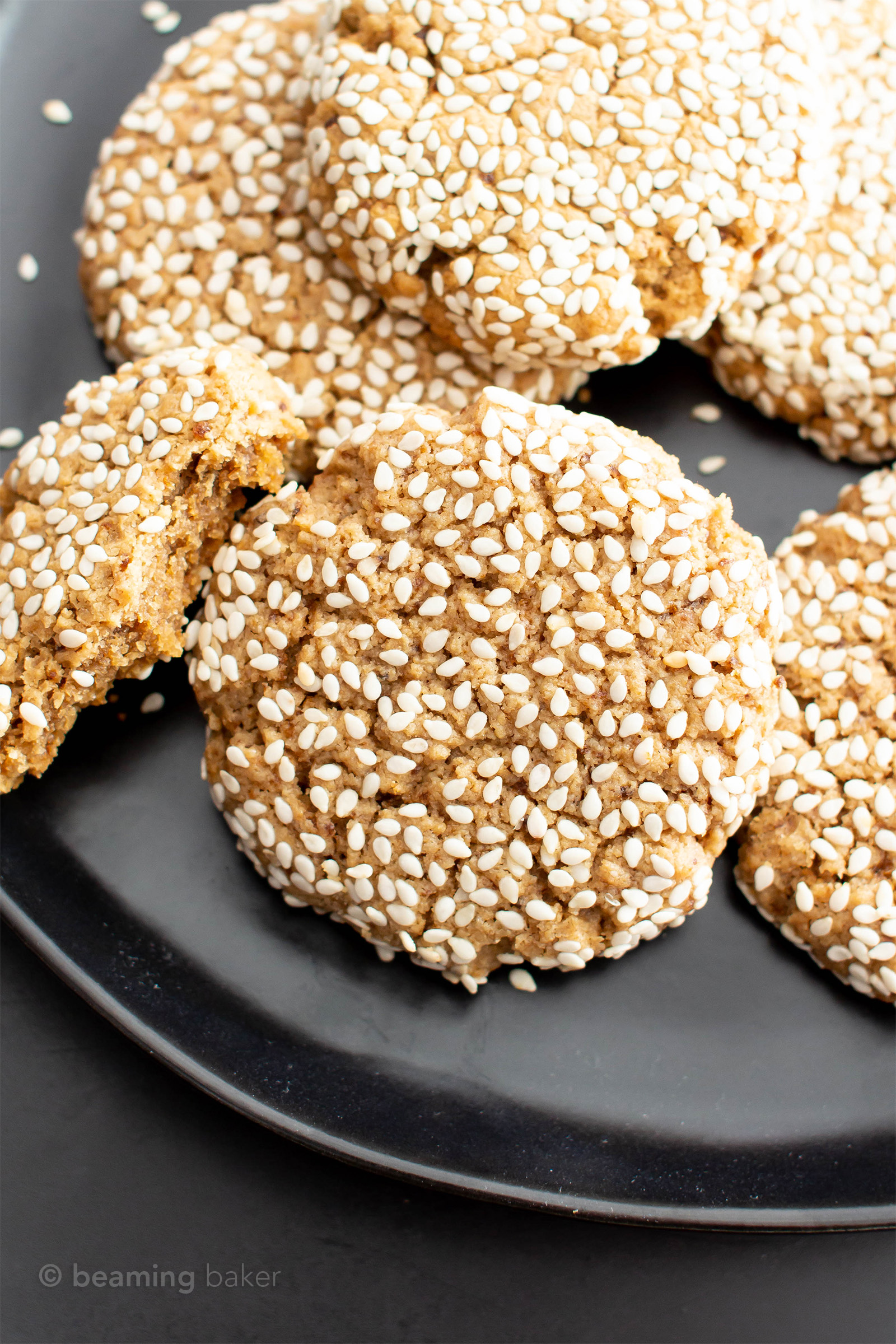 Perfect Sesame Tahini Cookies: the Taste & Texture
These sesame tahini cookies are bursting with just the perfect amount of nutty tahini flavor and buttery-rich notes. The natural bitterness of tahini has been soothed and balanced out with the creaminess of almond butter.
Imagine sesame tahini cookies that are crispy on the outside, soft and tender on the inside, with a crisp sesame coating for a flair of crunch. These vegan tahini cookies bake up nice and big—just the perfect portion size!
Vegan Cookies You'll Love: Easy Gluten Free Vegan Oatmeal Raisin Cookies // Gluten Free Vegan Oat Flour Chocolate Chip Cookies // 4 Ingredient Ultimate Chewy Vegan Coconut Cookies
Testimonials
Laureen says, "Wow! I just made these, and my house smells amazing. They look beautiful, even though I wasn't quite able to make them all the same exact size, but I admit I tasted one while it was still warm – and it was heaven!"
Krissy says, "These are great. I didn't get any of the bitterness that I expected from the tahini. I am new to your blog and I love it. Thank you for the delicious recipes!"
Cindy says, "Just made these! They are wonderful…Thank-you for yummy recipes I can make for diabetic hubs, and are healthier for me… Meant to say the cookies held together well, I had stirred my tahini very well. And they were the consistency of a pecan sandie – LOVED them!
How to Make These Sesame Tahini Cookies Gluten Free
You might be wondering how to make these sesame tahini cookies gluten free. Guess what? All you have to do is follow the recipe! All of the ingredients I used are gluten free, so you'll be able to enjoy the best gluten free tahini cookies without changing the recipe one bit. 😉
Storing Instructions For Sesame Tahini Butter Cookies
Store your sesame tahini cookies in an airtight container at room temperature. Make sure to keep them away from direct sunlight or heat sources, to avoid spoiling. You can keep these vegan tahini butter cookies for up to 2 weeks!
Nutty tahini flavor and buttery-rich notes, crispy on the outside, soft and tender on the inside, with a crisp sesame coating—the BEST vegan sesame tahini cookies.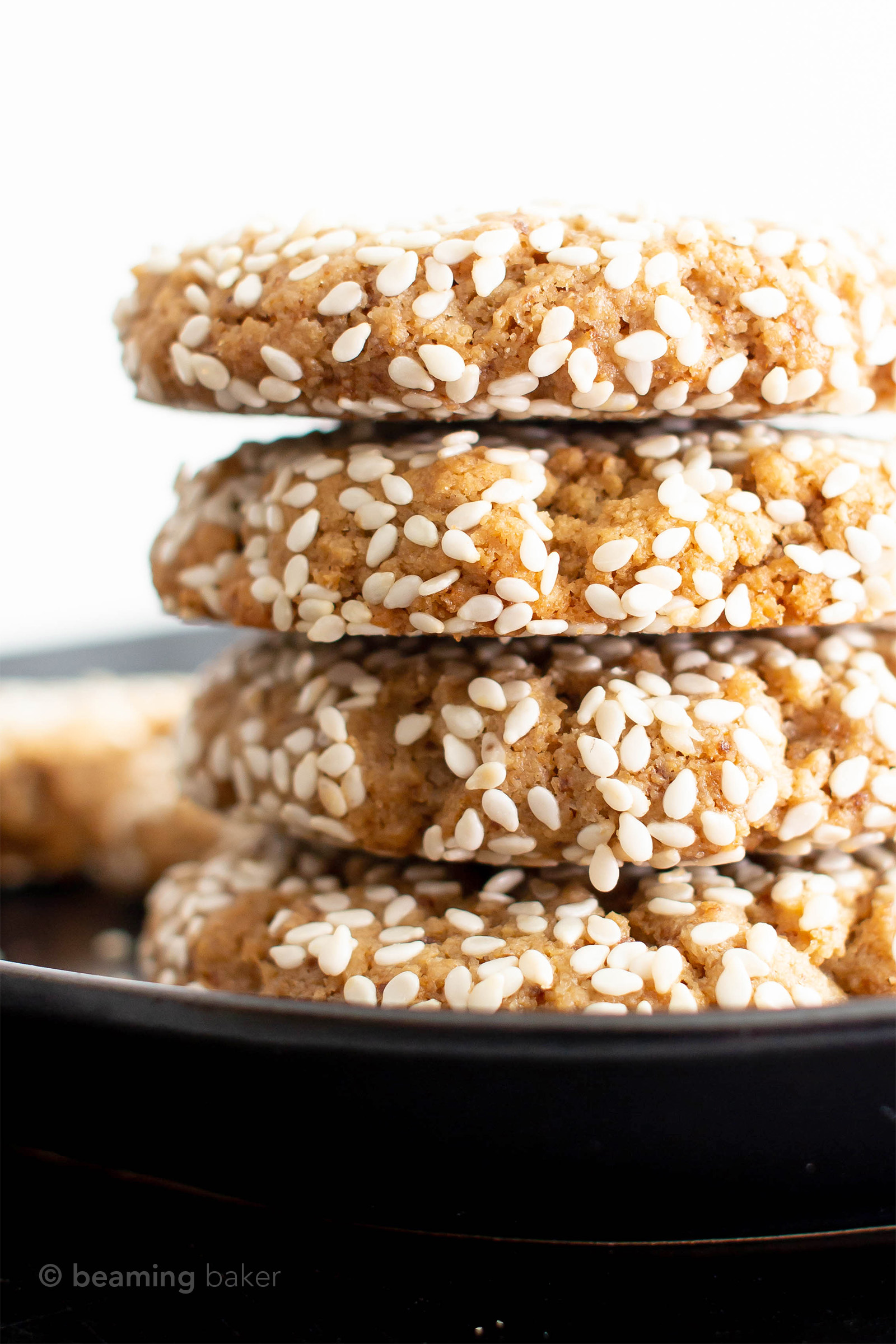 You're drooling already, aren't you? There's no shame in it. Here, have my napkin. 😉 Just know that I'm grateful and joyful that you're here, sharing in these baking adventures with me and your loved ones. 'Til the next tasty one…
Sending you all my love and maybe even a dove, xo Demeter ❤️
☀ Click below to Pin ☀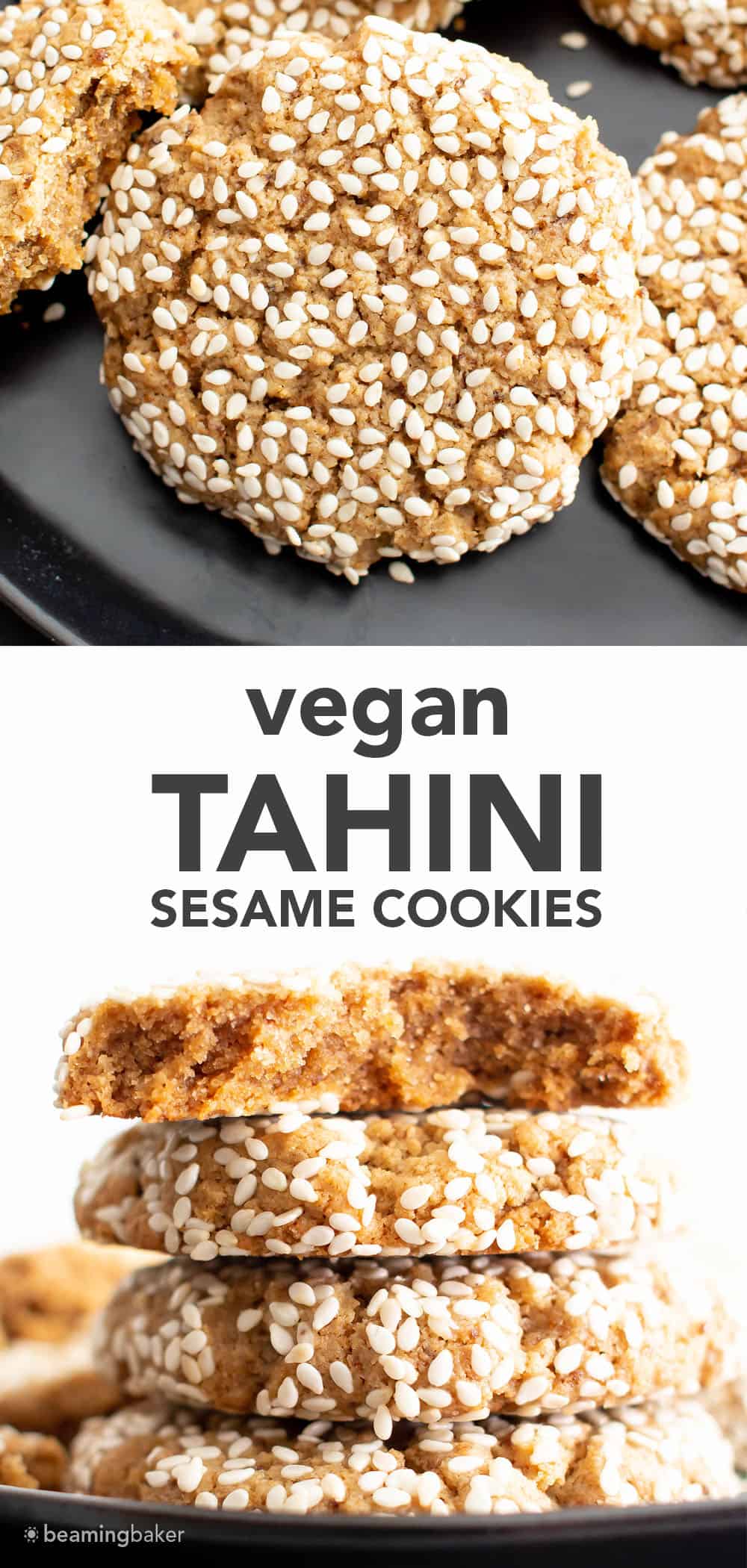 📸 Did you make this vegan tahini cookies recipe? Take a pic and share it on Instagram with the hashtag #beamingbaker & tag @beamingbaker. I'd love to see it! 📸
Delicious Vegan Cookies Recipes
Print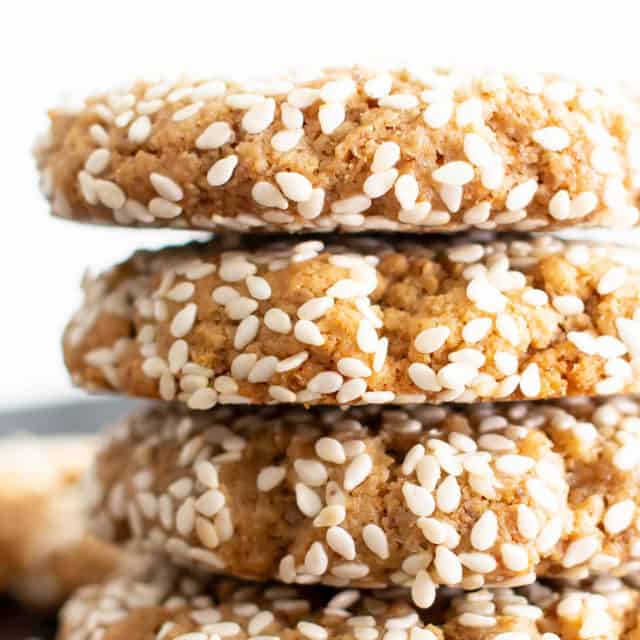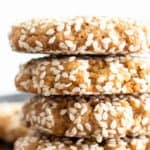 Vegan Sesame Tahini Cookies (Gluten Free)
---
Description
---
Sesame Tahini Cookies
½ cup

unsalted tahini

½ cup

natural, unsalted creamy almond butter

1

flax egg (

1 tablespoon

ground flaxseed +

3 tablespoons

warm water, whisked together, set for 15 minutes)

¼ cup

+

3 tablespoons

coconut sugar

2 tablespoons

coconut flour

¾ teaspoon

baking soda

½ teaspoon

pure vanilla extract (optional)

¼ teaspoon

salt (optional)
Sesame Seed Coating
---
Instructions
Preheat oven to 350°F. Line a baking sheet with parchment paper or greased foil. Set aside.
In a medium bowl, add all ingredients except sesame seeds. Using a rubber spatula, stir and fold until thoroughly mixed.
Pour sesame seeds into a shallow bowl. Using a medium cookie scoop, scoop and roll cookie dough into balls. Drop each ball into the bowl of sesame seeds. Roll and press until all dough balls are fully coated in seeds.
Place cookie dough balls onto the baking sheet, spaced evenly apart, with enough room to spread quite a bit—these cookies will bake up big. Using the palm of your hand or a spoon, gently flatten cookies to desired thickness. If desired, press together any large cracks that form around the edges of cookies—some cracks are natural & pretty!
Bake for 10-14 minutes. Mine took 12 minutes. Place cookie sheet on a cooling rack, and allow cookies to cool directly on the sheet for 15-20 minutes—do not remove from sheet for at least 15 minutes, as cookies are fragile. Then, using a spatula, gently transfer cookies directly onto the cooling rack to cool for about 30 minutes, or until completely cooled. Enjoy! Storing notes below.
Delicious Vegan Cookies Recipes
Notes
Storing Instructions: Store in an airtight container for up to 2 weeks.
Nutrition Information is an estimate based on the best-selling, most common brands per ingredient. Also, it's estimated based on 14 servings per recipe. 🙂
Prep Time:

25 mins

Cook Time:

12 mins

Category:

Desserts, Snacks

Method:

Bake

Cuisine:

American
Nutrition
Serving Size:

1 big cookie

Calories:

153

Sugar:

5g

Sodium:

23mg

Fat:

11g

Carbohydrates:

10g

Fiber:

2g

Protein:

4g

Cholesterol:

0mg
Keywords: vegan tahini cookies, tahini cookies
© beamingbaker.com. All content and images are protected by copyright. Please do not use my images or recipe without my permission. Please do not republish this recipe, instead, include a link to this post for the recipe.
This post may contain affiliate links, which allow me to make a small commission for my referral, at no additional cost to you.