Gluten Free Chai Spice Granola Recipe (V, GF): a super easy, 1-bowl recipe for crunchy granola bursting with your favorite fall spices and nuts! Made with healthy ingredients. Vegan, Gluten-Free, Dairy-Free, Whole Grain.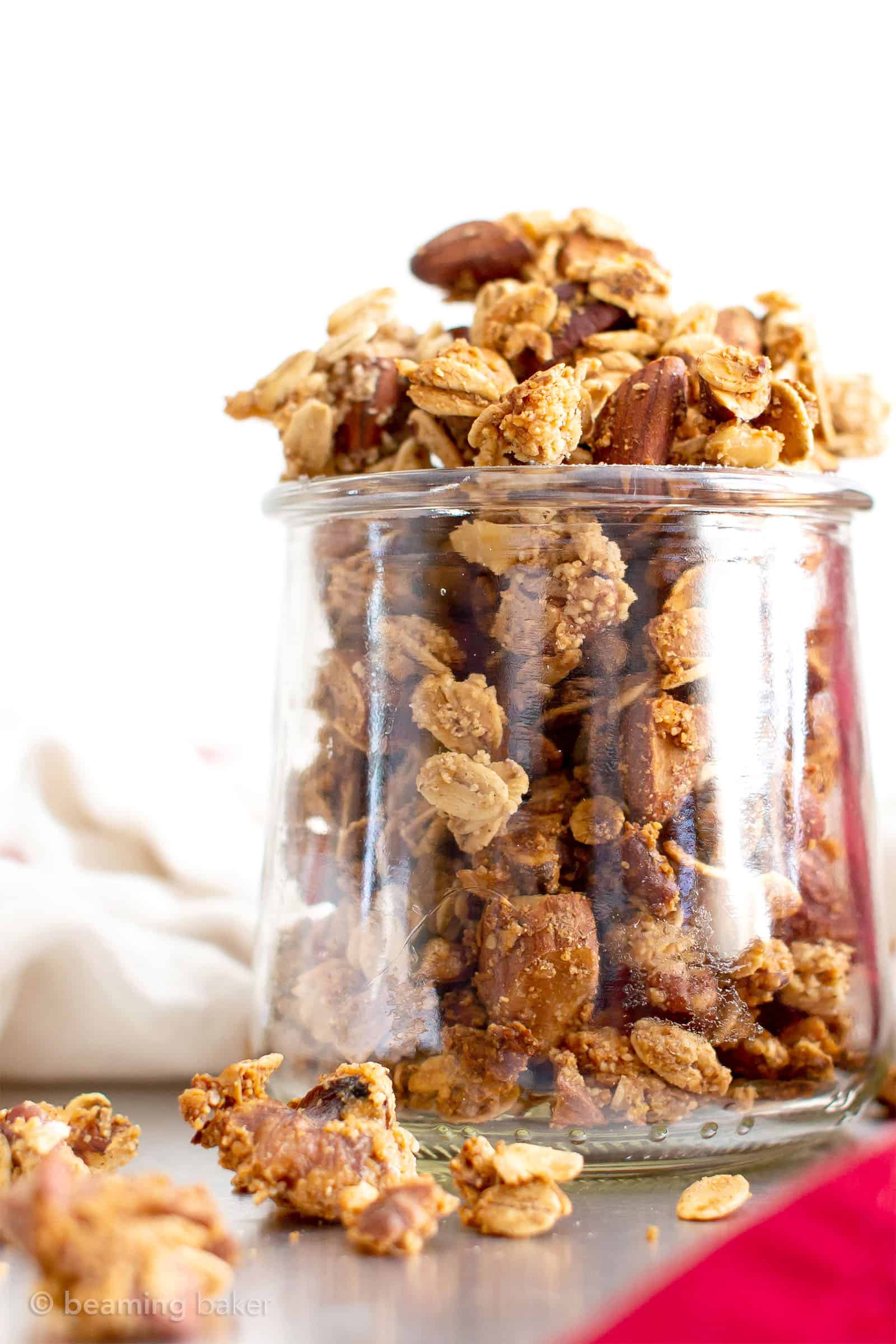 Okay, one last super fall-ish post before all the Thanksgiving madness begins! I've been getting so many requests for a chai spice treat this year… and one recipe came to mind as just the perfect thing:
CHAI SPICE GRANOLA!!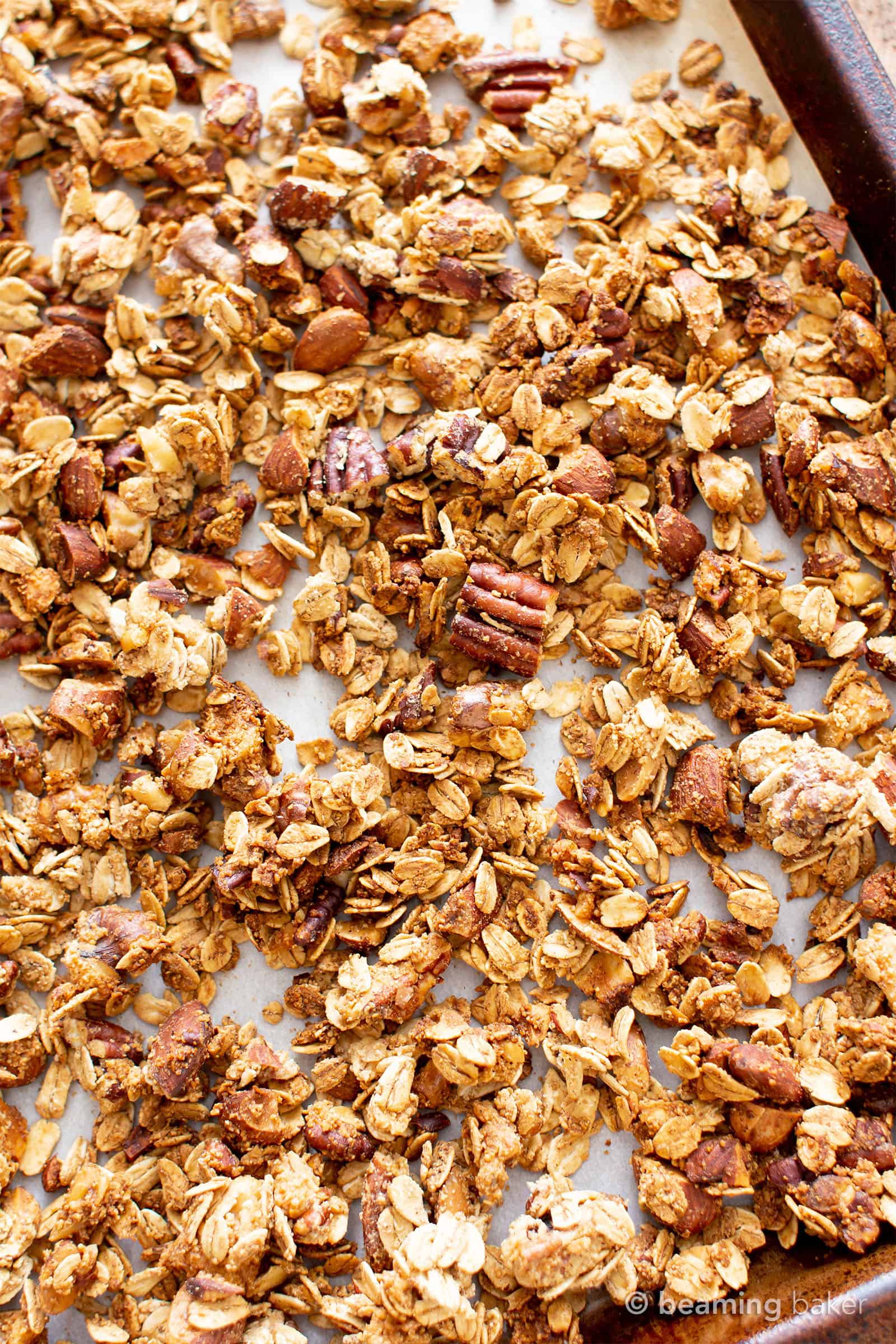 For some reason that needed to be in caps. 😉 Perhaps as an ode to the delightfully present spices in this recipe? Anyway, I don't know if you've noticed, but I have kind of a thing for homemade granola. See the following vegan gluten free healthy homemade granola & granola bar recipes: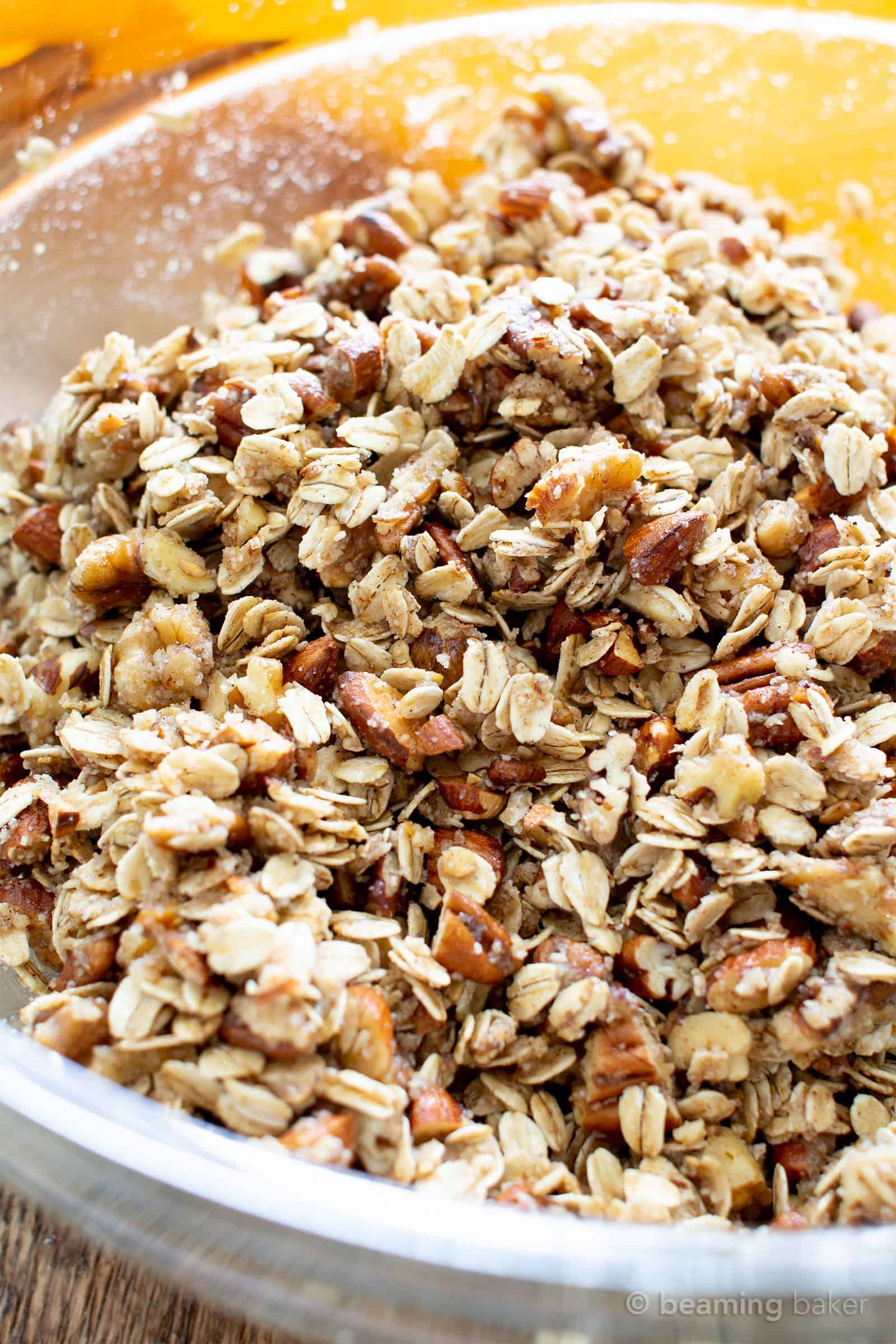 Quite honestly, there would be even more on the blog, if not for the fact that my first couple of forays into homemade granola weren't so… lackluster. Yep, we're calling ourselves out today, folks!
In past granola posts, I've mentioned one big influencer of all my granola recipes: my sister, Penny. Thing is, she's a bit of a granola connoisseur. Haha. That is SO totally a thing. She loves her granola, will have it in any number of flavors, and is absolutely the best judge of things like: crunch factor, chunkiness, assortment of add-ins, and more.
She's the inspiration behind all of my granola recipes, and most definitely one of BB's biggest supporters (just thought I'd throw that in there lol). So here's a seasonally festive, crunchy, and chunky ???? tribute to my sis: my Gluten Free Chai Spice Granola Recipe.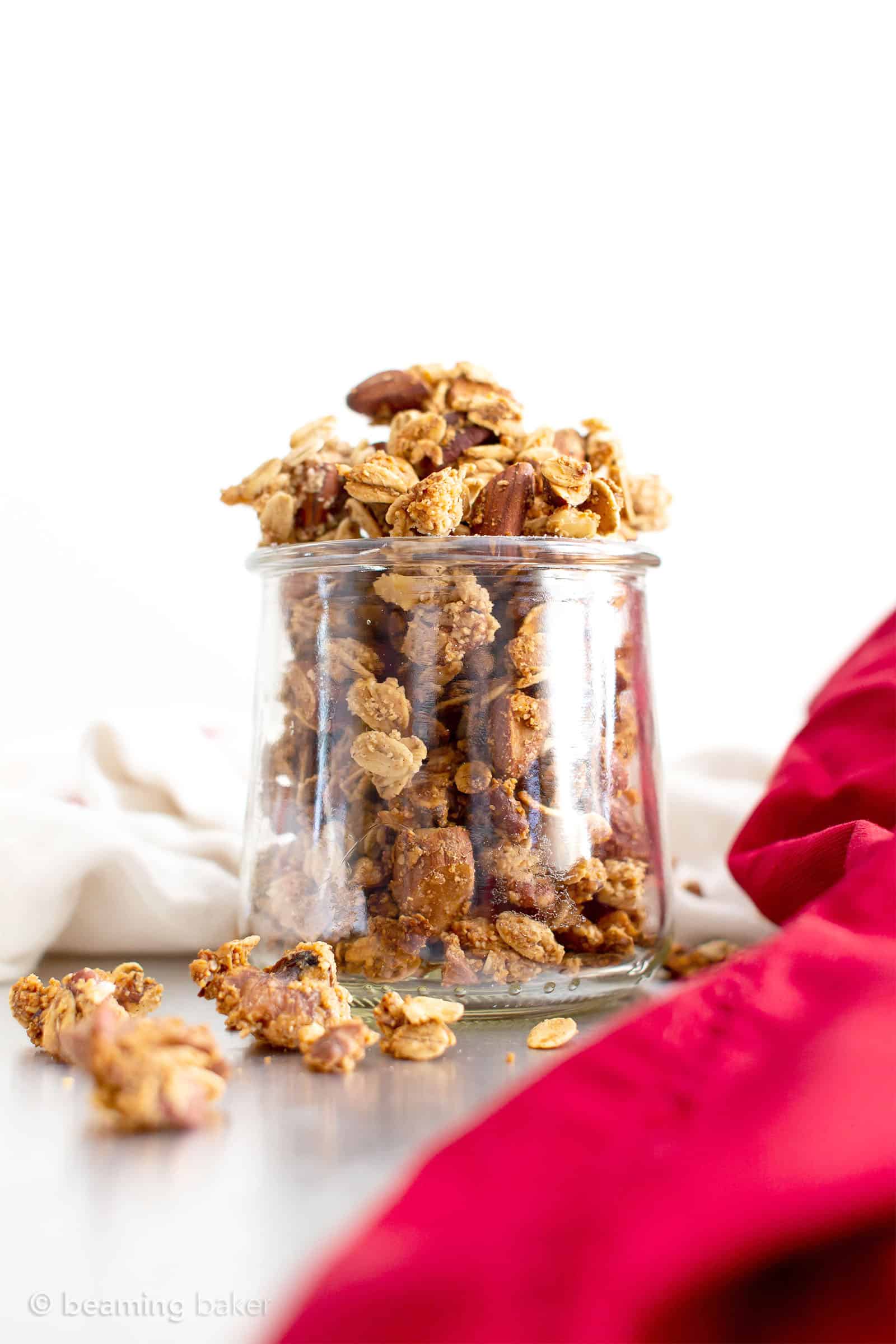 I hope you love the level of spice and crunch in this vegan granola. 😉 Here are all the reasons you should try it! This Gluten Free Chai Spice Granola Recipe is:
so, soooo easy to make
comes together and is ready to bake in just minutes
deliciously crunchy
packed with your favorite healthy ingredients
vegan, gluten-free, dairy-free and refined sugar-free
wonderfully protein-rich and allergy-friendly
your soon-to-be favorite gluten free granola recipe, with all of your favorite chai spices!
amazing paired with no bake oatmeal raisin granola bars and a vegan pumpkin pie smoothie
just the healthy vegan granola recipe you've been looking for
Whaddya say? You ready to get your bake on? Let's do this! I'll grab the nuts, you grab the almond flour. 😉 I'm so grateful that you're here, sharing in these sweet moments with me. I can't wait to hear what you and your loved ones think of this recipe! 'Til next time…
Sending you all my love and maybe even a dove, xo Demeter ❤️
????︎ Click below to Pin ????︎

???? Did you make this recipe? Take a pic and share it on Instagram with the hashtag #beamingbaker and tag @beamingbaker. I would love to see it! ????︎
If you enjoyed this Gluten Free Chai Spice Granola Recipe, then you'll just love these Healthy Vegan Gluten Free Fall recipes:
Gluten Free Chai Spice Granola Recipe (Vegan, Healthy, Dairy-Free, Refined Sugar-Free)
Gluten Free Chai Spice Granola Recipe (V, GF): a super easy, 1-bowl recipe for crunchy granola bursting with your favorite fall spices and nuts! Made with healthy ingredients. Vegan, Gluten-Free, Dairy-Free, Refined Sugar-Free, Healthy.
Author:
Demeter | Beaming Baker
Recipe type:
Granola, Snacks, Vegan, Gluten-Free, Dairy-Free, Refined Sugar-Free, Healthy
Serves:
32 ¼-cup servings (approx. 8 cups)
Ingredients
3 cups nuts, roughly chopped (almonds, pecans, walnuts, etc.)
2 cups gluten free rolled oats
1 teaspoon ground cinnamon
½ teaspoon ground cardamom
½ teaspoon ground ginger
¼ teaspoon ground allspice
⅛ teaspoon finely ground black pepper
⅛ teaspoon ground cloves
½ teaspoon salt (optional)
½ cup pure maple syrup
Instructions
Preheat the oven to 325°F. Line a large baking sheet with parchment paper or greased foil. Set aside for later.
Add all ingredients to a large bowl. Using a rubber spatula, fold until clusters form and mixture is well mixed.
Pour onto the prepared baking sheet. Using the spatula, gently nudge granola into an even layer. Separate granola into small piles to create clusters. Make space between clusters to allow for air to flow through and crisp up the granola.
Bake for 15 minutes. Using a heatproof spatula, gently flip granola, making sure to keep clusters intact. Bake for an additional 5-15 minutes, until edges are a deep golden brown and granola is just slightly soft. Be careful not to burn the granola. Mine took a total of 22 minutes. Granola will crisp up while cooling.
Place baking sheet on a cooling rack. Allow to cool for about 30 minutes, or until completely cooled. Enjoy! Storing instructions below.

Adapted from my 4 Ingredient Healthy Homemade Granola (V + GF).

Also try my favorite Homemade Chunky Paleo Granola (so good) and my 5 Ingredient Homemade KIND Nut Bars.
Notes
- *You may substitute this with unblanched almond meal.
- Storage notes: Store in an airtight container for 1-2 months at room temperature.
© beamingbaker.com. All content and images are protected by copyright. Please do not use my images or recipe without my permission. Please do not republish this recipe, instead, include a link to this post for the recipe.
Facebook ☀︎ Pinterest  ☀︎ Twitter ☀︎ Instagram