One Bowl Vegan Gluten Free Banana Nut Bread (V, GF, DF): an easy recipe for perfectly moist banana bread packed with walnuts and bursting with banana flavor! Vegan, Gluten-Free, Refined Sugar-Free, Oat Flour.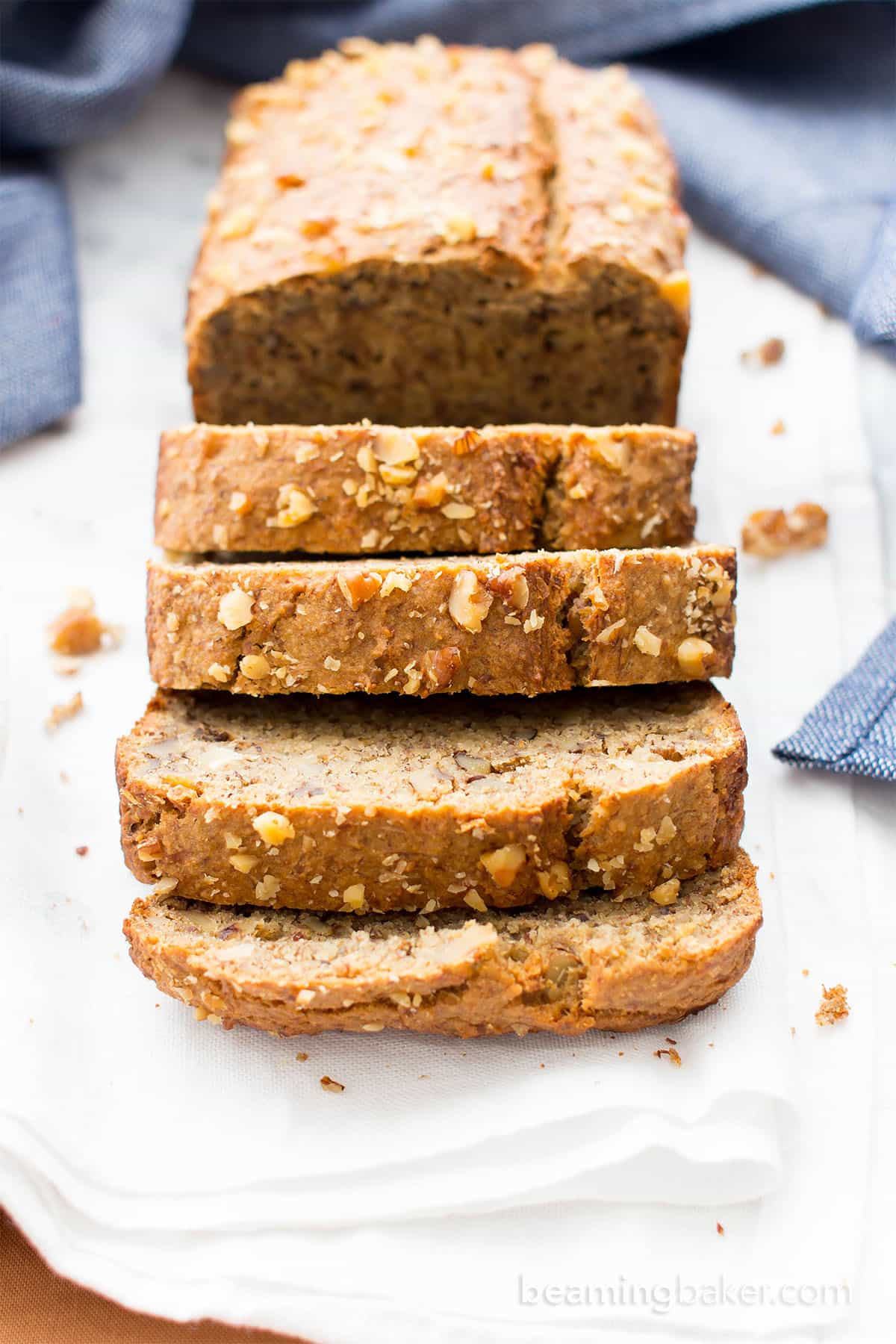 Hi, there! You wouldn't believe this, but I just spent a good 2 minutes writing, then deleting, then re-writing a sufficient greeting. I know. I started with "ladies and gents…" but didn't feel that was inclusive enough. Then I switched to "good morning!!" and thought about tacking on good afternoon and good night for folks in different timezones. Then, I realized that saying good night made it seem like I was farewell-ing you… which was totally the opposite of what I wanted to do.
Oy vey! Sometimes I feel like that dog in Up, one of my favorite movies. EVER! In that movie, there's this dog named Dug. He gets easily distracted by… just about everything. But his heart's in the right place. So… basically I'm that *ahem* "lovable" type of gal. Not dog, because that's just kind of unflattering, ya know?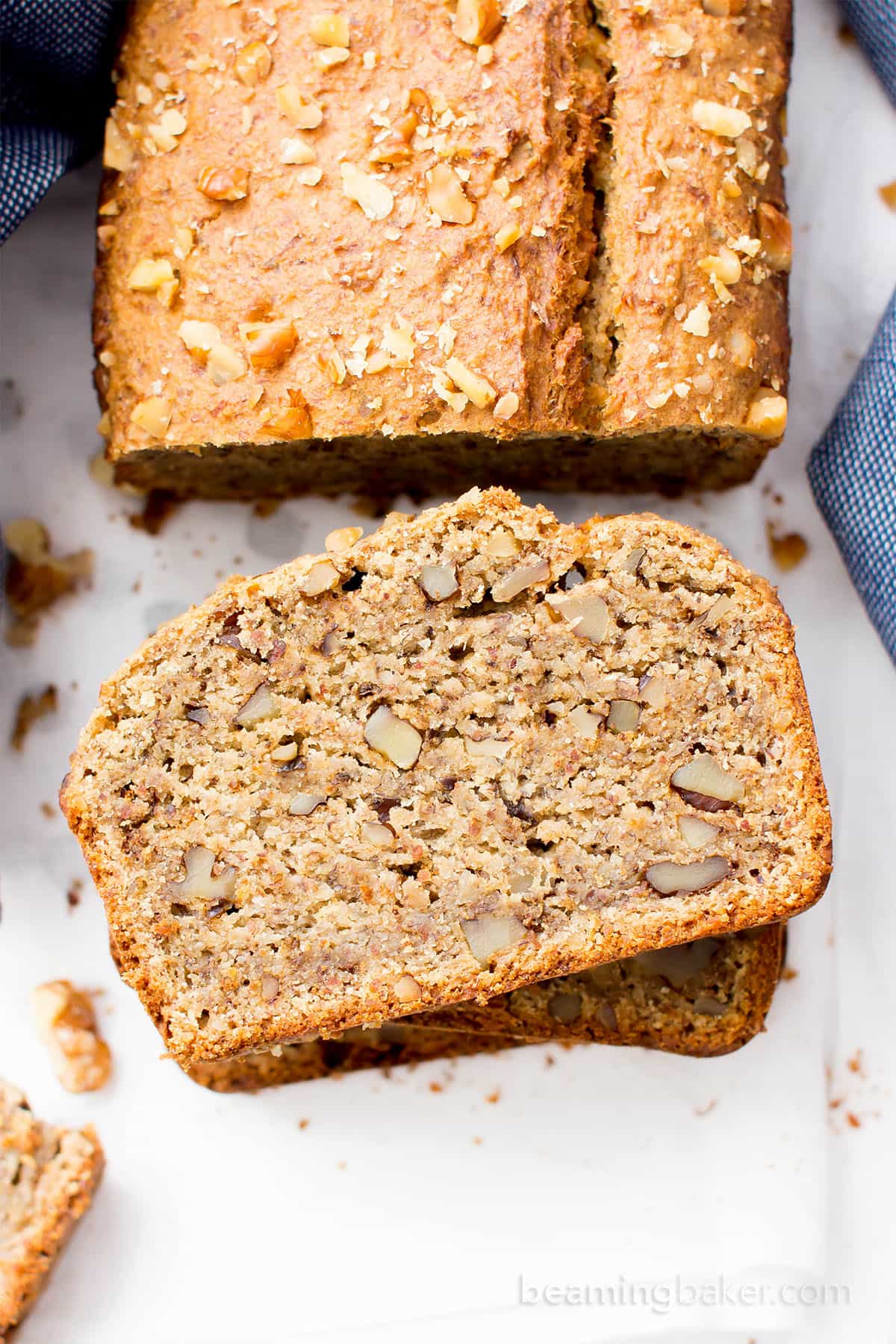 Now back to what I was saying… hi, there! Welcome to the finally-how-did-it-take-this-long-to-get here recipe post for—drumroll please—
One Bowl Vegan Gluten Free Banana Nut Bread!
Do you love it? Okay, you probably haven't tried it yet, but I'm sure that you will! This recipe has been ages in the making. It all started out with this recipe, which started with a disaster in the kitchen, of course, and delightfully turned into something truly wonderful: a delicious chocolate quick bread with a most glorious, beautiful rise.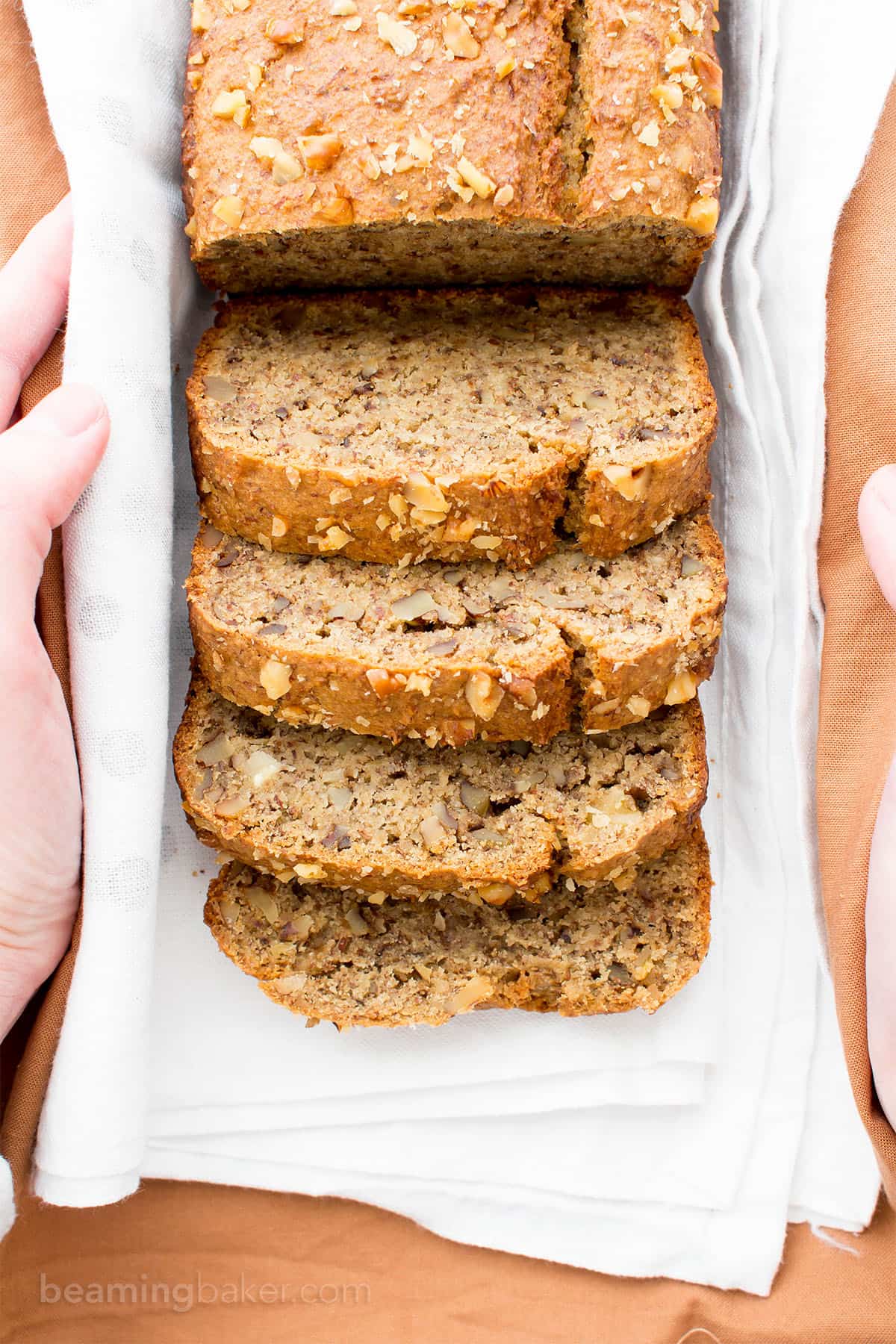 That amazing loaf led to these happily domed-top chocolate banana muffins. And then these miniatures. All was well until I realized that I'd been putting off a non-chocolate banana bread recipe. The thing is, I put all of this pressure on myself to create THE perfect banana bread. I wouldn't share the recipe with you until it was ready.
Translation:
decrease the amount of added sugar
increase the delicious flavor of bananas
create a perfectly moist, but also thoroughly baked, center
adjust the recipe for a beautiful lift/rise in the loaf
create just the right texture
keep it super simple, super easy to make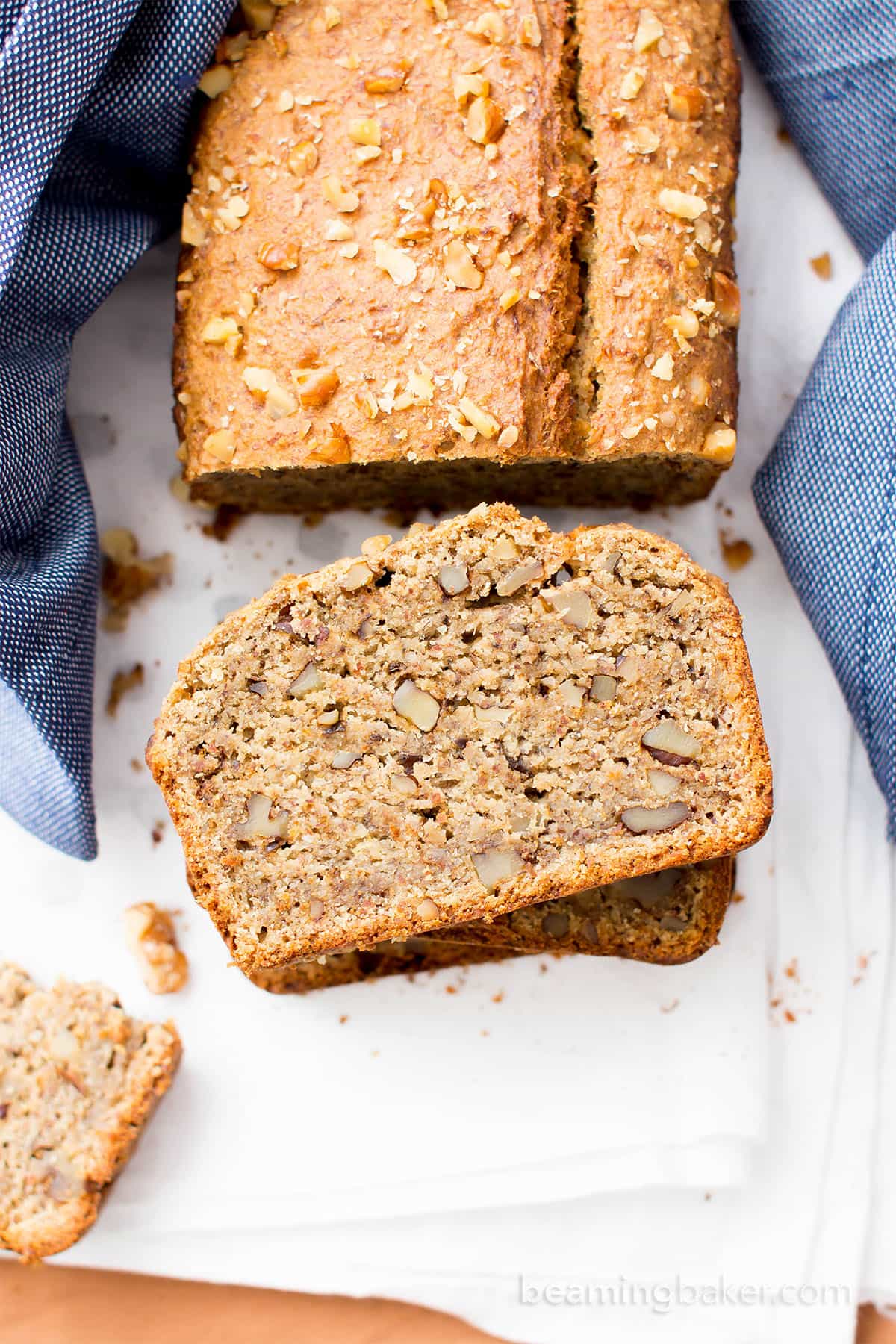 Guess what? It's READY.
Well, at least the One Bowl Vegan Gluten Free Banana Nut Bread is ready. 😉 I shall be working on a non-nut-upgraded version in the next few months. Since that recipe won't have a full cup of walnuts in it, I'd like to spend a bit of extra time delicately increasing the amount of banana and flour without increasing the added sugar too much. I'll keep ya posted!
In the meantime, I hope you LOVE this delicious, Banana Bread Lover's dream—and that it's one you keep on hand as the ULTIMATE, go-to banana nut bread recipe! In the space of two weeks, I made 3 batches, Erik made one batch, and we ate ALL of it. WOAH. And Erik didn't even like banana bread! Until now. 😉 If you're still not convinced, let me tell you all about it.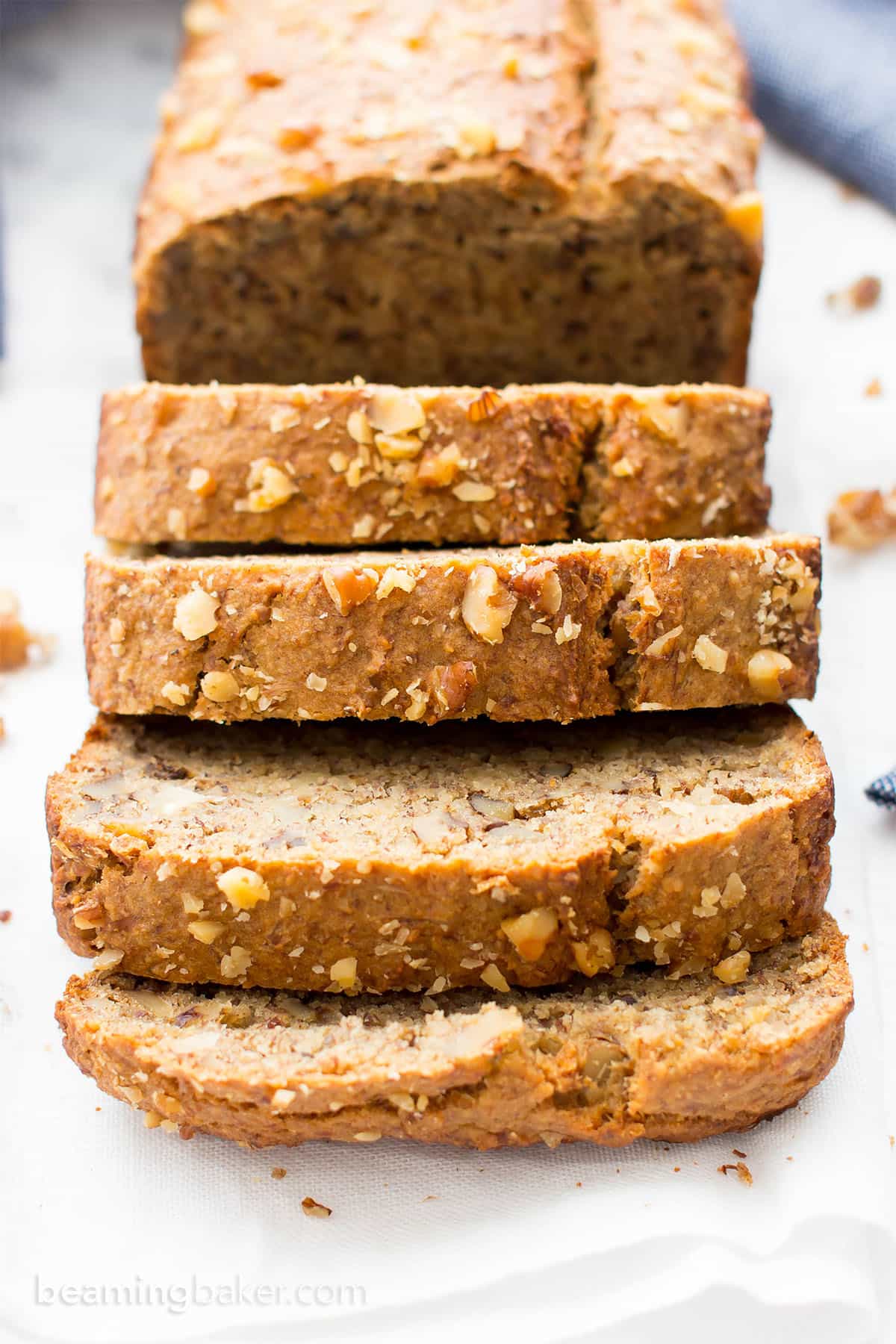 My One Bowl Vegan Gluten Free Banana Nut Bread is:
made in just one bowl (in case you weren't listening)
so delicious to bite into…
bursting with rich banana nut flavor and texture
vegan, gluten free, dairy-free, whole grain
packed with 1 cup of walnuts
the perfect excuse to use up your homemade oat flour (just make sure it's ground to a fine flour)
made especially for banana lovers
allergy-friendly, plant-based
refined sugar-free
sweetened with just ¼ cup of maple syrup
soon-to-be one of your favorite quick bread recipes of all time
deliciously moist, perfectly baked throughout
Grab just one bowl, a huge appetite, and get ready to bake it like it's hot. Which it totally will be. Once the oven gets warm. It's truly a pleasure to create all the delicious treats with you. And joke around, because life's too short not to have a bunch of good laughs. I can't wait to hear what you think of this recipe. 🙂 In the meantime, tell me…
What's your favorite banana bread topping?
Almond butter
Nothing, I like it plain
Something else…?
Sending you all my love and maybe even a dove, xo Demeter ❤️
☀︎ Click below to Pin ☀︎

☀︎ Did you make this recipe? Take a pic and share it on Instagram with the hashtag #beamingbaker and tag @beamingbaker. I would love to see it! ☀︎
More Gluten Free Vegan Bread + Muffin Recipes
Print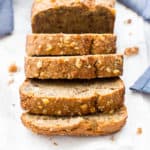 One Bowl Vegan Gluten Free Banana Nut Bread (V, GF, Oat Flour, Dairy-Free)
---
Description
One Bowl Vegan Gluten Free Banana Nut Bread (V, GF, DF): an easy recipe for perfectly moist banana bread packed with walnuts and bursting with banana flavor! Vegan, Gluten Free, Dairy-Free, Whole Grain.
---
Scale
Ingredients
Wet Ingredients
3

medium, ripe bananas (

1 cup

+

2 tablespoons

, mashed)

¼ cup

melted coconut oil

¼ cup

pure maple syrup

1

flax egg (

1 tablespoons

ground flax +

3 tablespoons

water, whisk together, set for 15 mins at room temperature)

1 teaspoon

pure vanilla extract
Dry Ingredients
1 ½ cups

gluten free oat flour

¾ cup

almond meal

1 teaspoon

baking powder

½ teaspoon

baking soda

¼ teaspoon

salt
Add-ins
Optional Topping
1 tablespoon

walnuts, chopped
---
Instructions
Preheat the oven to 350°F. Line an 8-inch loaf pan with parchment paper or greased foil. Set aside.
Peel bananas and add to a large mixing bowl. Using a sturdy whisk or fork, mash bananas until smooth. Add coconut oil, maple syrup, flax egg and vanilla. Whisk until well incorporated.
Add oat flour, almond meal, baking powder, baking soda and salt. Whisk together until just incorporated, making sure no flour patches remain. Fold in chopped walnuts.
Pour batter evenly into prepared pan. Using a rubber spatula, smooth batter into an even layer, with the shape of a rise down the center—just like a loaf. Using a butter knife, cut a slit slightly off center down the loaf. Optionally, sprinkle with chopped walnuts. Lightly press walnuts into the top.
Bake for 60-70 minutes. Mine took 65 minutes. Test for doneness by sticking a toothpick into the center of the loaf. The toothpick will come out clean when the loaf is done.
Allow to cool on a cooling rack for 2 hours. Lift out, slice and enjoy!
---
Equipment
Category:

Quick Breads, Breakfast, Vegan, Gluten-Free, Dairy-Free, Whole Grain
© beamingbaker.com. All content and images are protected by copyright. Please do not use my images or recipe without my permission. If you wish to republish this recipe, please re-write the entire recipe using your own words and include a link to this post for the recipe.
☀︎ Delicious Banana recipes
If you enjoyed this One Bowl Vegan Gluten Free Banana Nut Bread, then you'll just love these banana recipes…
Vegan Chocolate Banana Nut Bread (V, GF, DF, Whole Grain)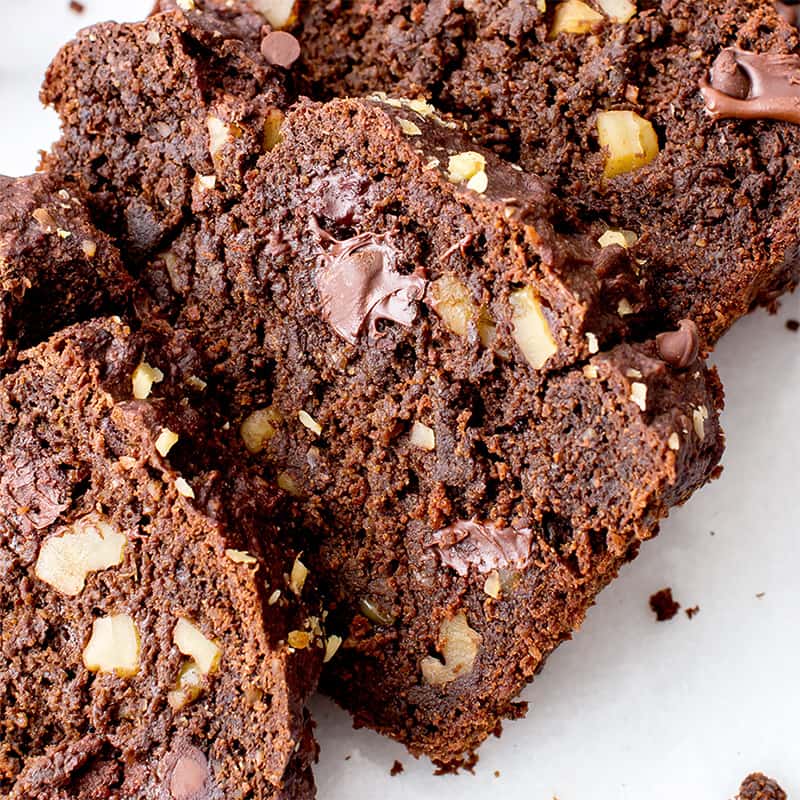 Gluten Free Banana Oat Muffins (V, GF, DF, Refined Sugar Free)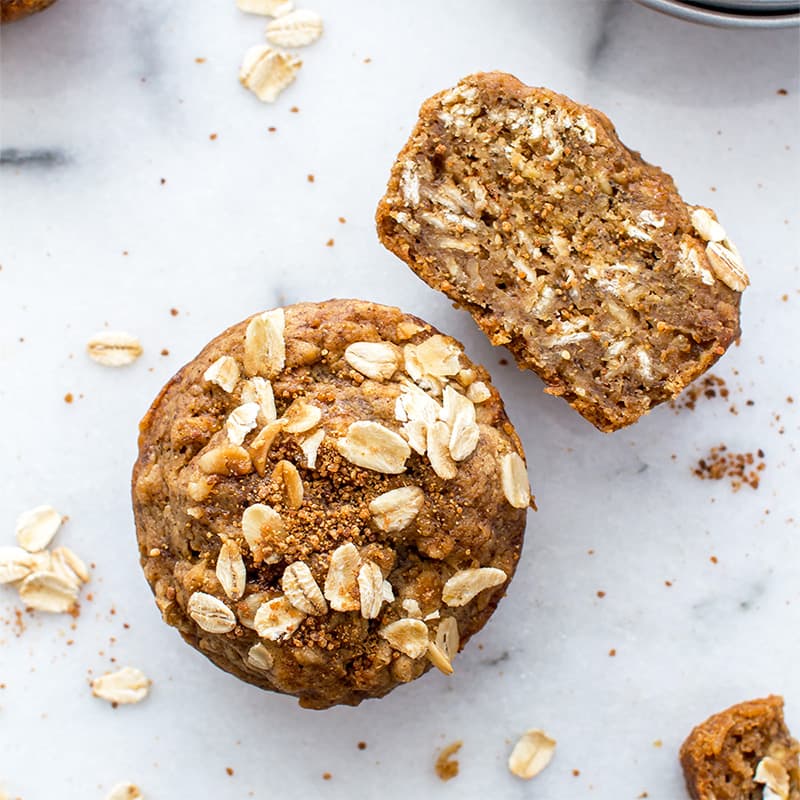 One Bowl Double Chocolate Banana Muffins (V, GF, DF, Whole Grain)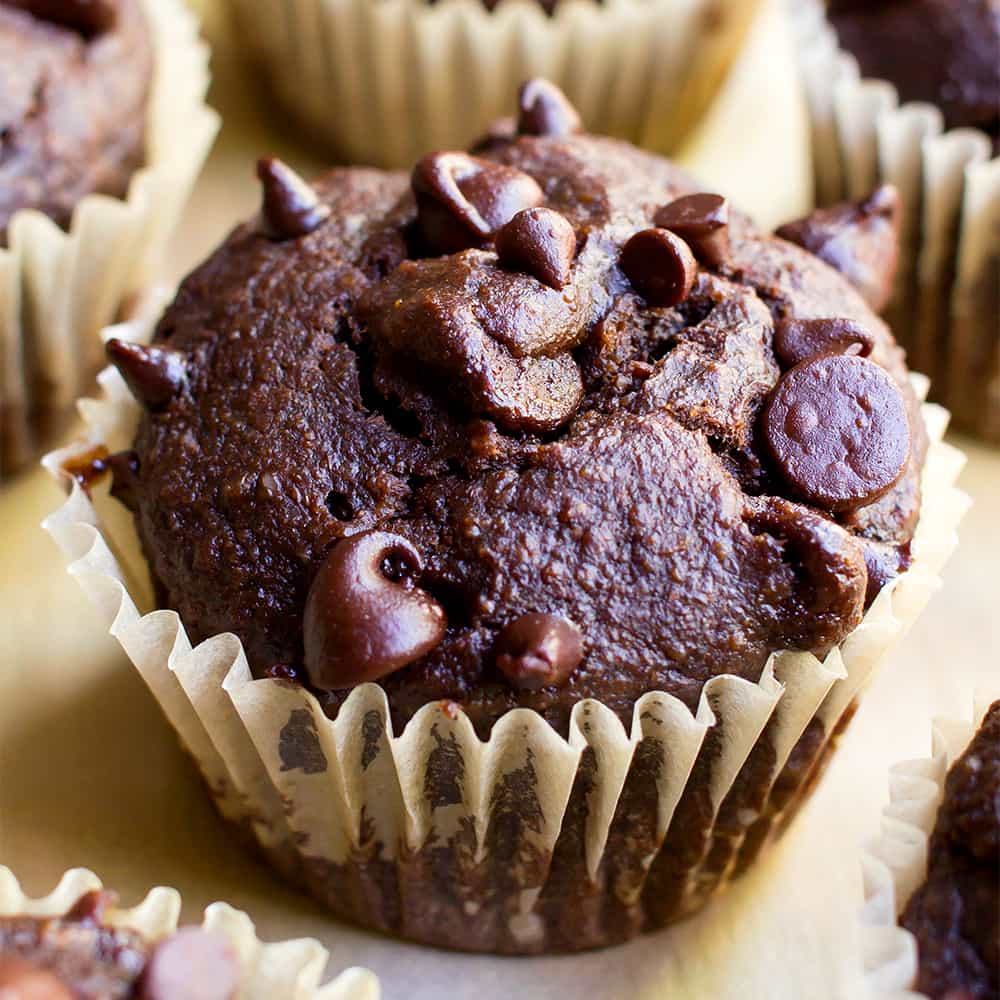 Double Chocolate Almond Banana Mini Muffins (V, GF, DF)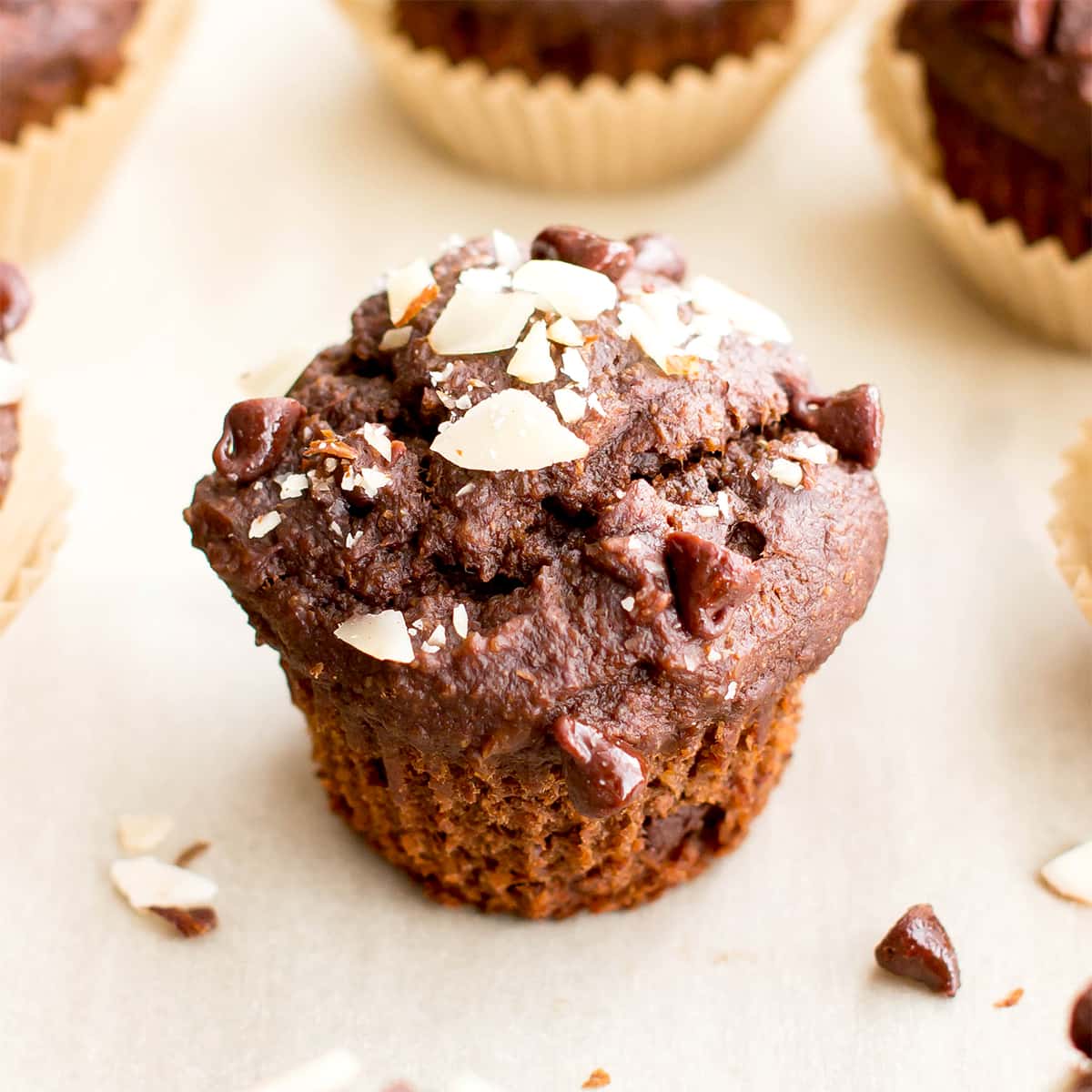 More Gluten Free Vegan Baking recipes…
One Bowl Gluten Free Vegan Pumpkin Bread
Gluten Free Vegan Trail Mix Cookies
One Bowl Gluten Free Chocolate Chip Pumpkin Muffins
Peanut Butter Chocolate Chip Oatmeal Breakfast Bars
Facebook ☀︎ Pinterest ☀︎ Twitter ☀︎ Instagram