7 easy & delicious ways to enjoy your overnight oats, vegan-style!
Make deliciously creamy & satisfying overnight oats in minutes for a quick & easy breakfast! The best vegan overnight oats recipes!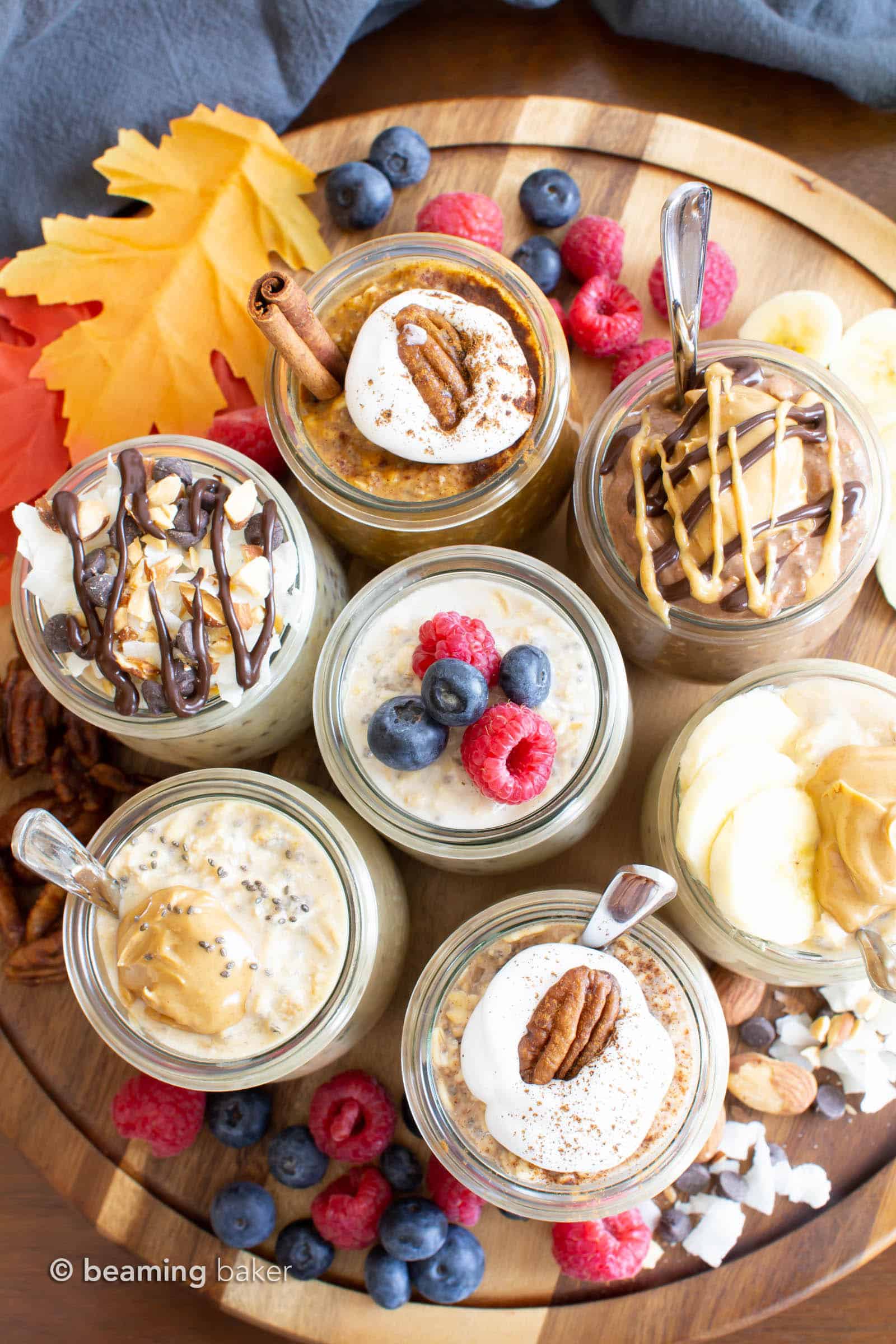 How many ways can you enjoy vegan overnight oats? Is it 3 ways? Or could it be 5? Heck no! Today, we're enjoying 7 delicious overnight oats, all vegan. How tasty is that?
I'm sharing the best vegan overnight oat recipes–from peanut butter overnight oats to chocolate overnight oats and more! If you have any requests for vegan overnight oats, let me know in the comments below!
Easy Overnight Oats – Vegan Recipes!
Allow me to introduce you to my recipe roundup of 7 delicious ways to enjoy easy vegan overnight oats. This time of year, folks are running around, cleaning up their diets, going vegan, going healthy, going dairy-free, and perhaps figuring out how to meal prep.
I thought it'd be the perfect time to share one of my favorite easy & healthy recipes—vegan overnight oats. They're so easy to make, make mornings a breeze, and are packed with healthy ingredients that keep you full & satisfied throughout the day. Ready, let's do it!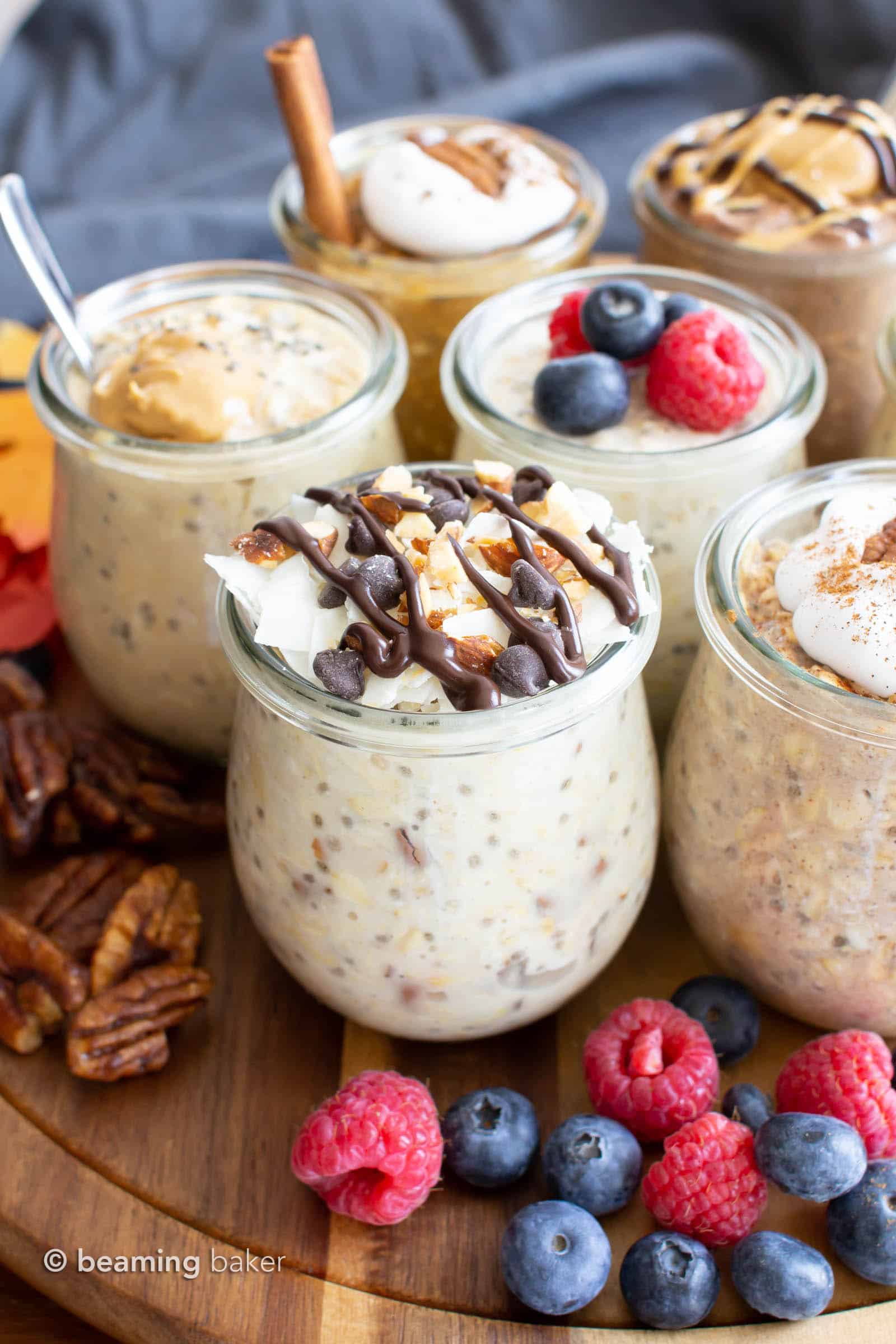 7 Ways: Healthy Overnight Oats Recipe (Vegan)
Throughout all my years of healthy, and let's face it, unhealthy eating, I've learned one big rule in sticking to a healthier, cleaner diet—variety is king (or queen!). My mom gets sick of eating the same foods over and over again, and literally gets to the point where she can't see a food without grimacing. I keep telling her, "Mommy, you gotta try different flavors!! Keep changing it all the time." To which she replies, "No way!! It's EASY if I just eat the same thing every day." Then… two days later, she says, "I'm so sick of eating the same thing every day!!" Ahh… my mom! Lol.
We're going to avoid getting sick of breakfast or vegan overnight oats by trying them all the ways. Check out the 7 different ways that you can easily prepare overnight oats that are vegan and healthy. Psst…there's chocolate, peanut butter and maybe even some almond joy thrown in. 😉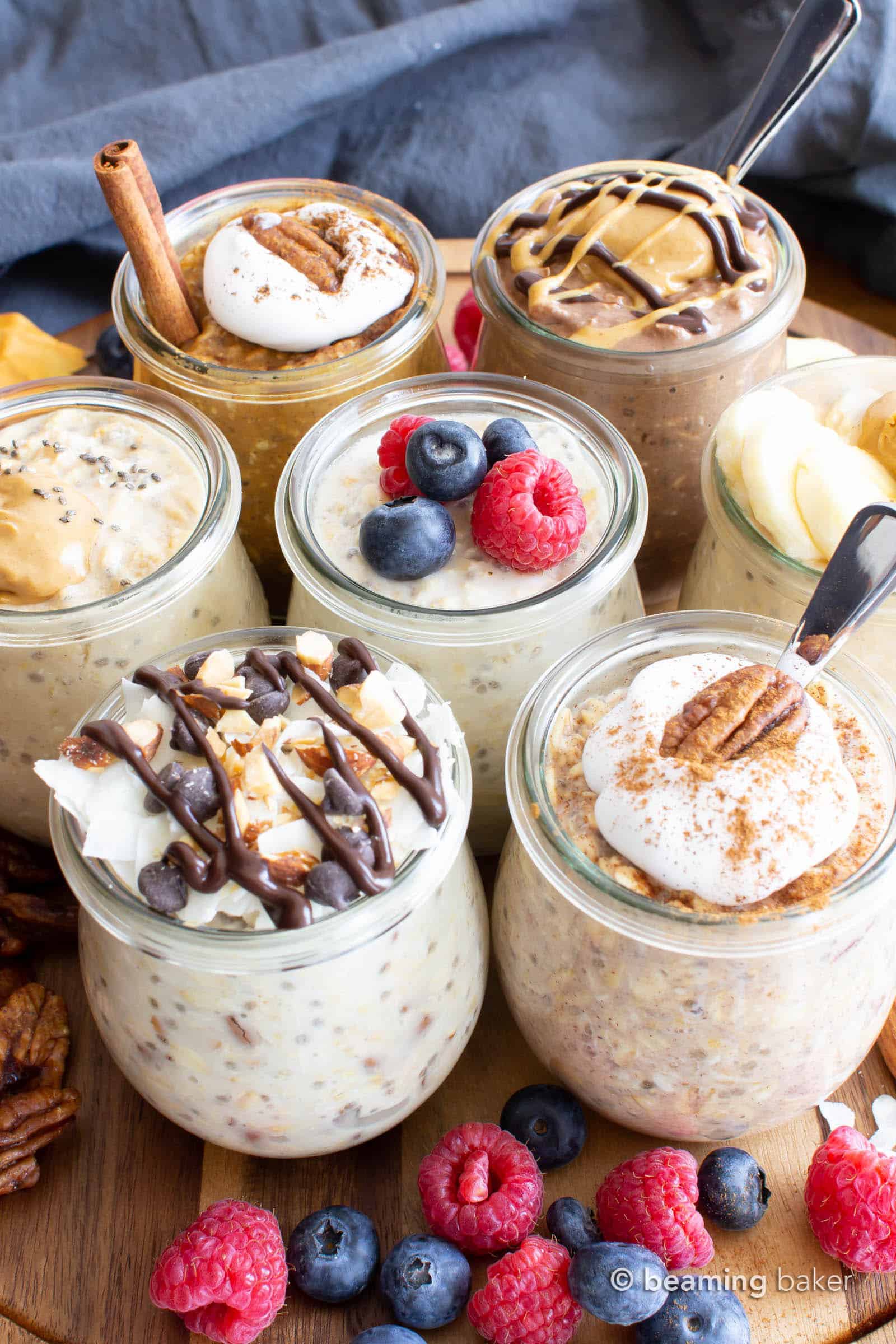 7 Delicious Ways to Make Overnight Oats Vegan
The first way to make overnight oats vegan is one of my favorite ways. I mean, there's chocolate! (Not to worry, I've got more recipes for those of you who aren't fans.) This rich and creamy overnight oats recipe is vegan, dairy free and oh-so-delicious. It's packed with indulgent chocolate flavor, creamy overnight oats and your favorite toppings (two guesses as to mine!!) Here's the recipe –> Chocolate Overnight Oats (Vegan). 🍫

As you might be able to tell, I've tried all the ways to make my overnight oats vegan, with pumpkin, chocolate, and so much more. This overnight oats recipe is especially fun come fall, when pumpkins, spice and everything nice are in season. Think: luscious pumpkin pie and vegan overnight oats in one tasty treat. Get the delicious overnight oats recipe here –> Vegan Pumpkin Overnight Oats 🎃

Alright, you might just be sensing a theme here… is it dessert, is it candy, is it everything in between? 🙂 My third way to make an overnight oats recipe vegan is inspired by Almond Joy! This vegan breakfast oats recipe is packed with almonds, chocolate and coconut. Bonus: you get the flavors of a treat but with the excuse of breakfast! Find the vegan overnight oats recipe here: The Best Almond Joy Overnight Oats! 🥥 🌴

Finally, for when you're not in the mood for fuss, muss, or quick–think of something else that ends in -uss! Um… truss?! Oh, never mind! The fourth way to make overnight oats vegan features a gluten free, dairy free and no milk recipe. It's a vanilla-flavored oatmeal base that's perfect for piling on your favorite toppings, such as fresh-cut fruit, seeds, nut butter, or just as-is, for a smooth and soothing vegan breakfast oats meal! Get the recipe here –> Gluten Free Overnight Oats (Dairy Free, No Milk) 🌄

One of my most popular overnight oats recipes that's vegan! Think vanilla cookies + vegan chocolate chips in a comforting and easy overnight oats jar. This is one of the best vegan overnight oats recipes, with a simple and easy overnight oatmeal base, wonderfully satisfying and heartwarming fill-power. Find your vegan chocolate chip breakfast bliss here: Chocolate Chip Overnight Oats. 🍫 🥰

Peanut Butter Lovers, gather 'round. Peanut Butter Banana Lovers, start writing love letters, because this is the overnight oats, vegan, recipe you've been waiting for! The lovely combination of bananas and peanut butter combine kismet-ically in one perfect vegan overnight oats recipe. Sweet bananas, creamy peanut butter and soothing vanilla oatmeal come together for one perfect vegan breakfast. Get it here: Vegan Peanut Butter Banana Overnight Oats. 🍌🥜

THE classic base that every single overnight oats recipe is based on. Once you've got this one nailed, the world is your oyster! Sometimes I'll just make a huge batch of these classic vegan overnight oats and top each jar with different toppings for a wonderful week of the best vegan overnight oats tour! You can see the in-depth post with questions, tips and answers here: Classic Overnight Oats Recipe (Vegan). 🍒 You'll also find this base below. 🙂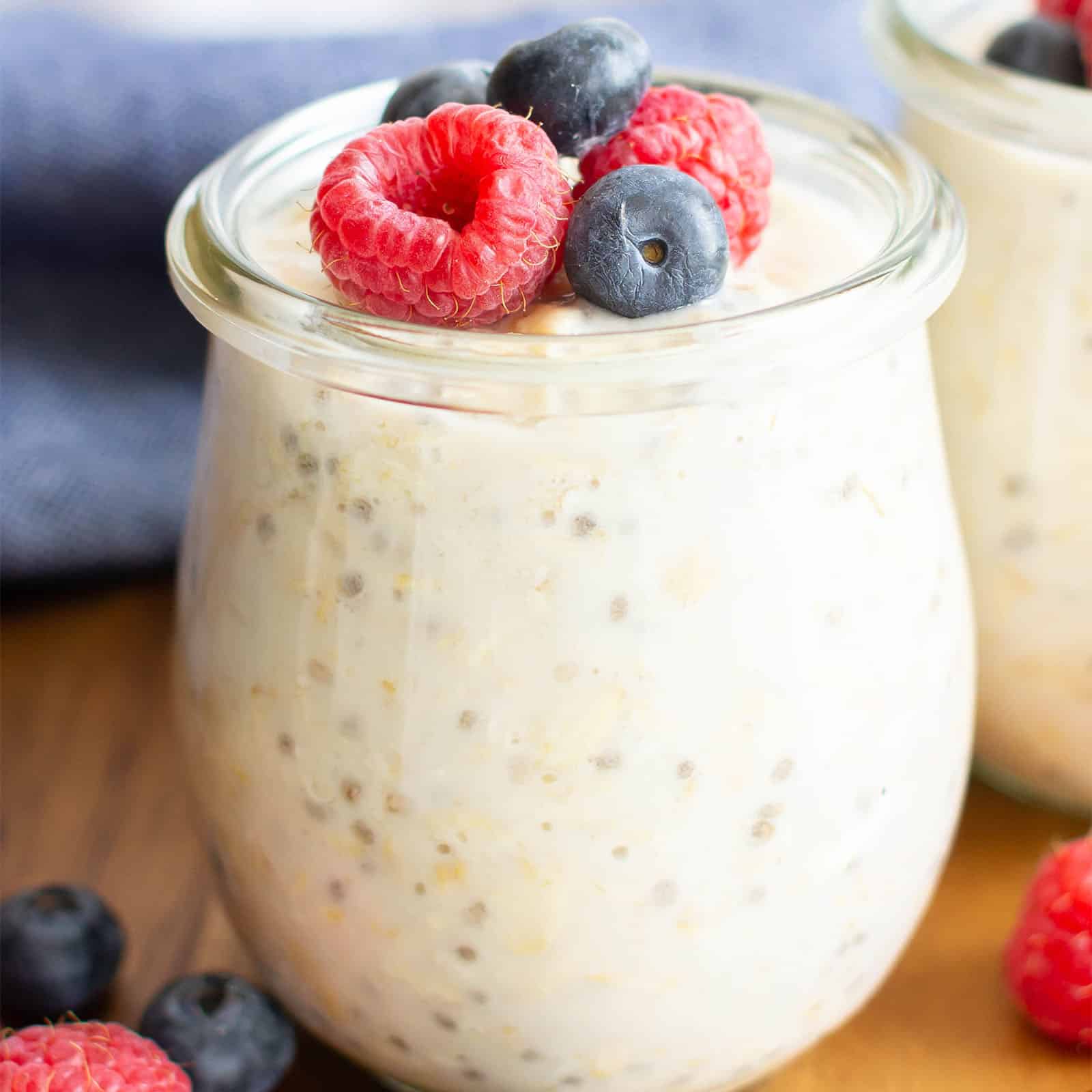 How Do You Make Overnight Oats Vegan?
Most overnight oat are made with a number of dairy products: cow's milk, cream from the same source and non-vegan sweeteners. Today, we're swapping all of that out with vegan ingredients!
Milk: instead of cow's milk, we're using our favorite vegan milk! I love using unsweetened almond milk. But, for creamier texture, I prefer…
Coconut Cream: instead of dairy-rich yogurt, we're gonna use coconut cream! It's thick, rich and vegan-friendly. You can also use your favorite brand of vegan yogurt for another vegan option.
Sweetener: some overnight oats recipes call for honey or cane sugar. In today's vegan overnight oats recipes, we're gonna be using coconut sugar and pure maple syrup. If you prefer cane sugar, just make sure to use organic cane sugar, as it's not processed with bone char.
How Long Can I Keep My Vegan Overnight Oats?
You can keep your overnight oats for up to 5 days in the refrigerator. However, if you'd like to use homemade almondmilk, the freshness of your overnight oats will only keep for a maximum of 3 days.
How Do I Serve My Overnight Oats (Vegan)?
Feel free to have so much fun serving up your overnight oats–just the way you like 'em! Here are a few suggestions for what to top your overnight oats (vegan) with:
Fruit: slice up fresh fruit such as strawberries, pineapple and more. Or, use whole blueberries, raspberries or blackberries. Just make sure to add your fruit right before serving. Fresh fruit tends not to keep, even if store atop your overnight oats in an airtight jar.
Whip: have you tried coconut whip on top of your overnight oats? Heavenly! There are also a few other vegan whipped topping options, but that's up to you!
Drizzle: drizzle me, baby! I absolutely love using chocolate, peanut butter, almond butter, and even fudge atop my overnight oats. Hey, they say if you eat dessert for breakfast, you'll eat less dessert later. 😉
More: get creative! You can top your vegan overnight oats with seeds, rice crisp cereal, coconut shreds and more. Decorate and top to your heart's desire.
7 Ways: Overnight Oats Recipe (Vegan)
So what did you think of my 7 ways to make the best overnight oats recipe vegan? 🙂 I'm kinda way too excited about all of these overnight oats recipes! I mean, a year ago I was like, "overnight oats? Who dis??" And now I'm like, "overnight oats can have my heart!!" I know… you can thank keeping an open mind and all of these deliciously varied vegan overnight oats recipes for the change of heart. Let me know if you make any of these recipes! You know that I truly love hearing from you. ❤️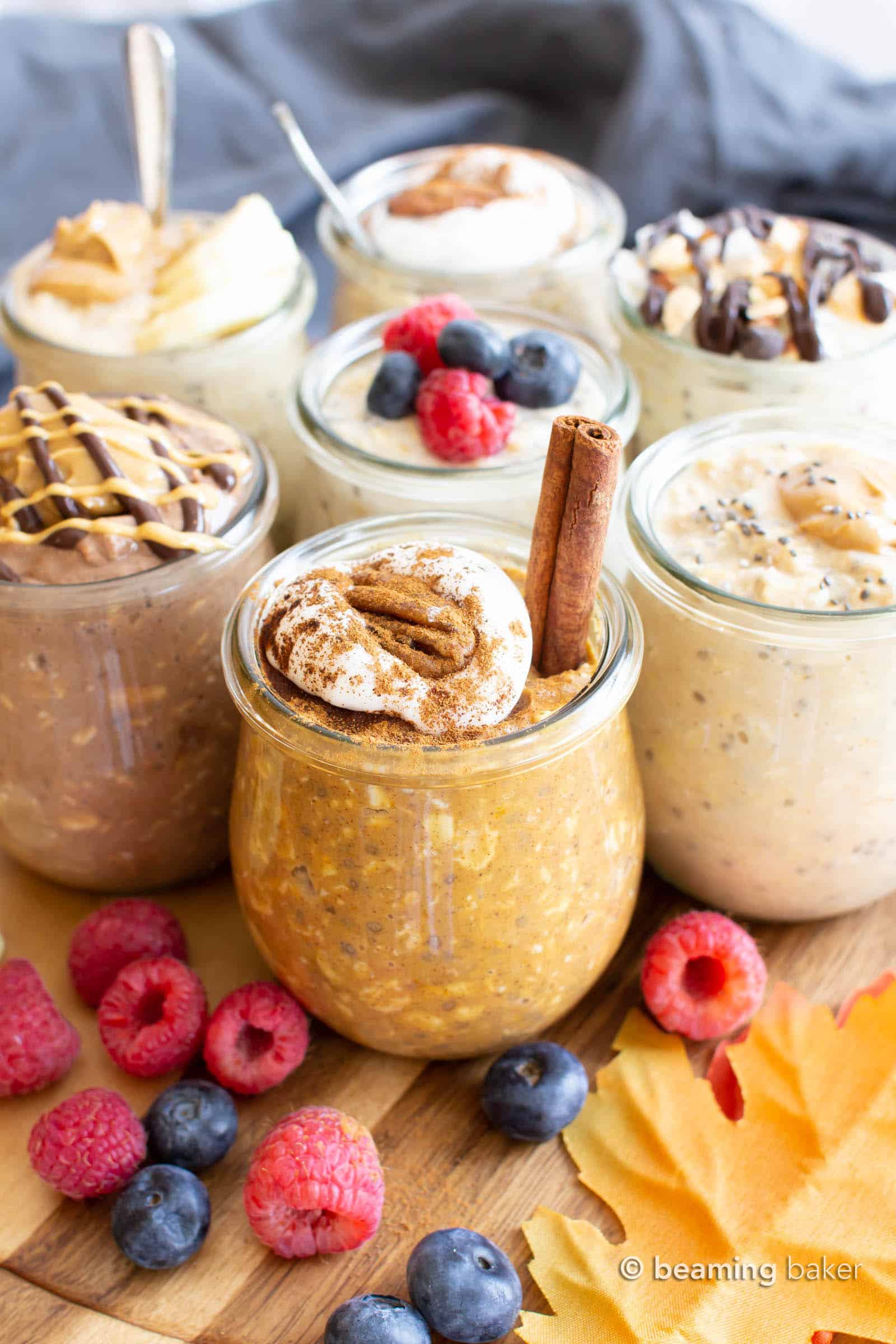 Tools for the Best Vegan Overnight Oats Recipes
Which way are you gonna try first? Don't tell me, it involves bananas… or maybe coconut? 😉 Remember to leave a comment below to let me know how you like it! Here's to kicking healthy food boredom in the face, and sticking to our clean eating plans! I'm grateful that you're here, sharing in these silly & wonderful kitchen adventures with me. 'Til the next one…
Sending you all my love and maybe even a dove, xo Demeter ❤️
Click below to Pin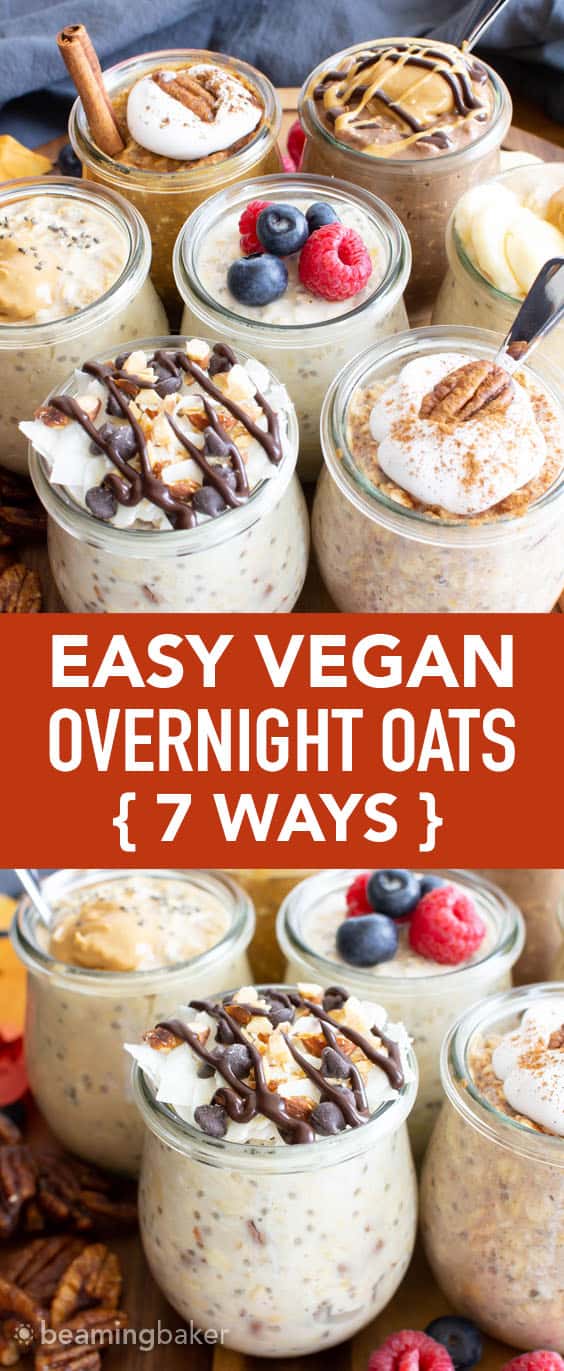 📸 Did you make these vegan overnight oats recipes? Take a pic and share it on Instagram with the hashtag #beamingbaker & tag @beamingbaker. I'd love to see it! 📸
More Overnight Oats Recipes (Vegan)
Print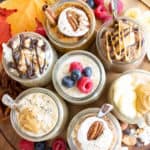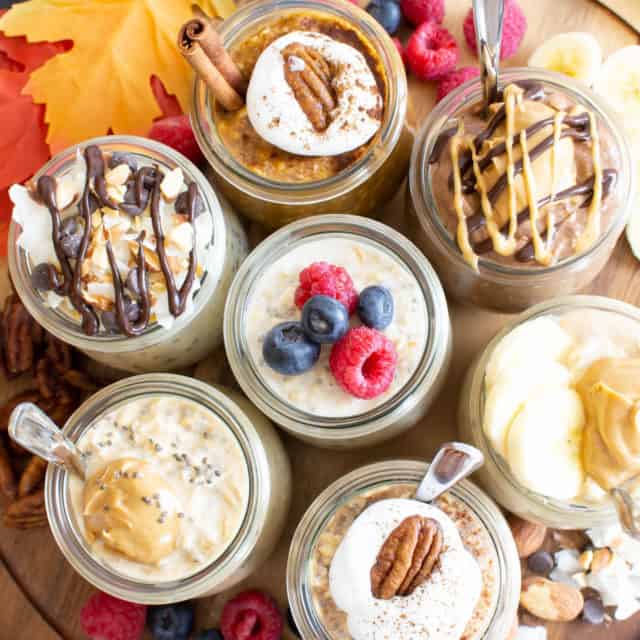 Vegan Overnight Oats: 7 Recipes!
---
Description
Learn how to make overnight oats vegan with 7 of the best vegan overnight oats recipes!
---
The BASE for Overnight Oats
Classic Overnight Oats
Optional Toppings
½

–

1

cup fruit

1

–

2

tablespoons chopped nuts or seeds
MORE FLAVORS
---
Instructions
Set aside 2-3 resealable jars. Here are the small resealable glass jars that I use. If making one large serving, set aside one large jar.
Add all ingredients to the jar(s) of your choice, leaving enough room to stir. Or, add all ingredients to a mixing bowl for easier stirring, then pour into jars when done.
Stir until well mixed. Add any optional toppings except fruit. Seal jars.
Store overnight in the refrigerator for up to 5 days. Overnight oats will become thicker as each day passes. If desired, add non-dairy milk to thin it out. Enjoy cold, or heat in the microwave in 20-second increments until warm. Top with fruit before serving.
Prep Time:

10 mins

Cook Time:

0 mins

Category:

Breakfast, Snacks

Method:

Chill

Cuisine:

American
Keywords: overnight oats vegan, overnight oats recipe vegan
© beamingbaker.com. All content and images are protected by copyright. Please do not use my images or recipe without my permission. Please do not republish this recipe, instead, include a link to this post for the recipe.
This post may contain affiliate links, which allow me to make a small commission for my referral, at no additional cost to you. Thank you for supporting Beaming Baker.