Vegan Overnight Oats: 7 Recipes!
Learn how to make overnight oats vegan with 7 of the best vegan overnight oats recipes!
Making Overnight Oats Vegan and Delicious for Breakfast!
This time of year, folks are running around, cleaning up their diets, going vegan, going healthy, going dairy-free, and perhaps figuring out how to meal prep. One of the easiest vegan recipes that I've found helps out a tonne is vegan overnight oats. It's so easy to make a double or even triple batch and have a tasty breakfast ready for the next few days. Allow me to introduce you to my recipe corral of 7 incredible recipes for overnight oats that are vegan! From peanut butter to fruit-topped, coconut, chocolate and more, I've got all of your flavor needs for veggie overnight oats covered!
Deliciously Vegan Ingredients for Deliciously Vegan Overnight Oats
Rolled Oats
Coconut Cream or Vegan Yogurt: take your pick! Coconut cream lends a dessert-worthy creaminess, vegan yogurt is much easier to scoop. 😉 I do highly recommend using a vanilla yogurt—I find that unflavored yogurt is a bit too tart—but you might be into that. Go for it if that's the case!
Non-Dairy Milk
Vegan Sweetener: whether you're a fan of pure maple syrup or tend to like coconut sugar better, I've got you covered. Wait a minute, you're keeping your vegan diet low sugar, but need something natural? Try stevia drops!
The Flavor Troupe: pure vanilla extract, ground cinnamon, raw cacao powder and so much more! You'll find a wealth of vegan ingredients to keep your flavor palate so friggin' happy.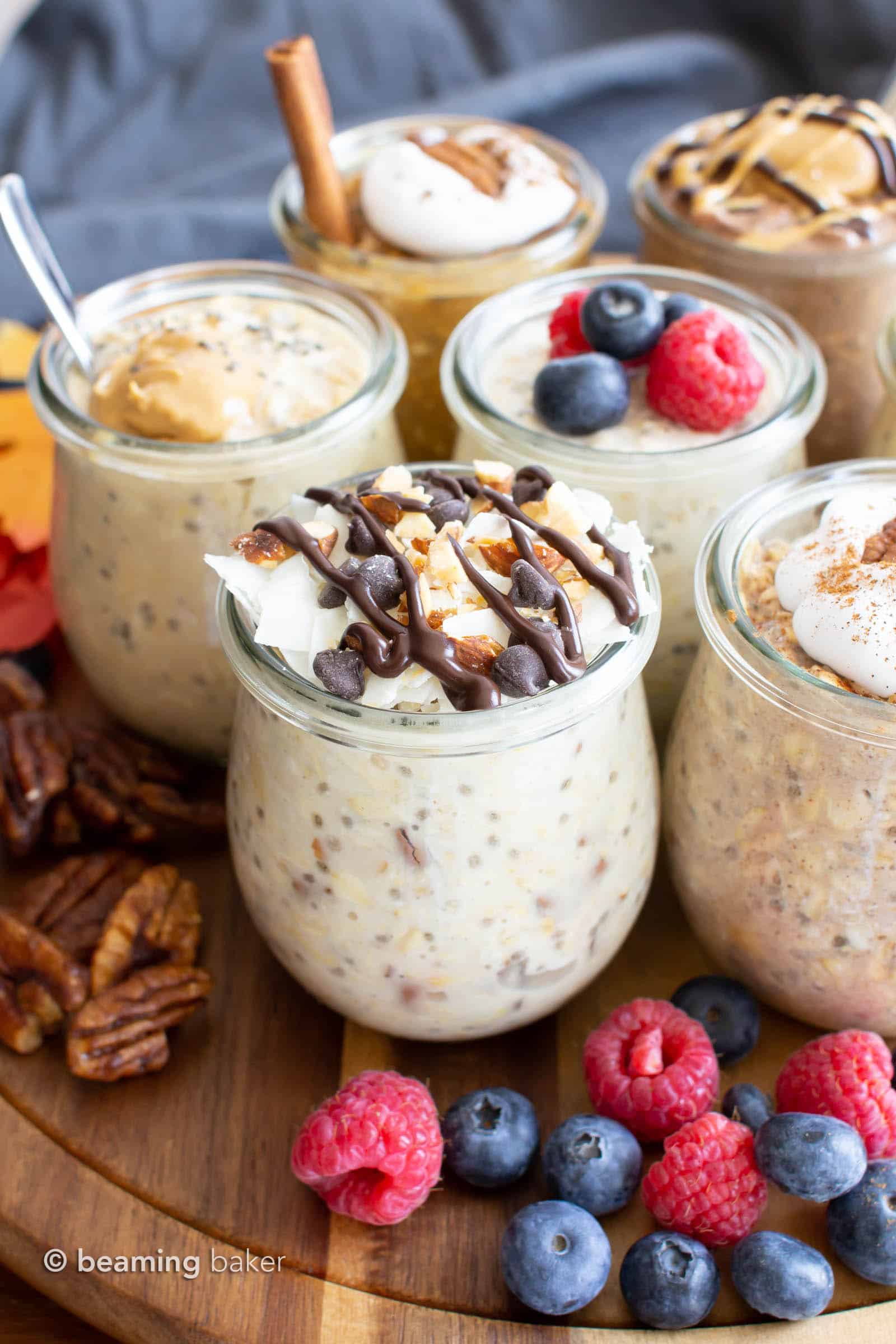 Why You Need to 7 Different Ways to Make Overnight Oats Vegan
Throughout all my years of healthy, and let's face it, unhealthy eating, I've learned one big rule in sticking to a healthier, cleaner diet—variety is king (or queen!). My mom gets sick of eating the same foods over and over again, and literally gets to the point where she can't see a food without grimacing. I keep telling her, "Mommy, you gotta try different flavors!! Keep changing it all the time." To which she replies, "No way!! It's EASY if I just eat the same thing every day." Then… two days later, she says, "I'm so sick of eating the same thing every day!!" Ahh… my mom! Lol. This one's for you, Mommy! Today, we'll be enjoying a tasty variety of ways to enjoy overnight oats, vegan-style, so we don't get sick of it. 😉
How to Make Overnight Oats Vegan
While every vegan overnight oats recipe below is different, there is a base recipe for all of them. Once you try one or three or even all seven of these recipes, you can start getting creative with your own personal twists!
The first step in making overnight oats vegan is to get out your favorite clean, resealable jars. [Here are mine.] Remove the lids and set them aside, but at easy access for filling later.
Grab your favorite mixing bowl and add in all of the overnight oatmeal ingredients. Generally, these ingredients include, but can change based on the flavor: rolled oats, chia seeds, coconut cream or vegan yogurt, non-dairy milk, and a vegan-friendly sweetener like coconut sugar or maple syrup.
Whisk all the ingredients together until very well mixed. You've just made your overnight oats mixture! Go ahead and pour your liquidy (but soon to be thick) overnight oats into your resealable jars.
Seal jars!
Chill overnight, or at least a few hours, until thickened. I've definitely cheated and made my overnight oats earlier in the day and enjoyed them for an afternoon treat.
Top with your favorite toppings like fruit and peanut butter drizzle and enjoy!
7 Delicious Ways to Make Overnight Oats Vegan
Looking for some new ways to spice up your morning breakfast routine? I've created 7 scrumptious ways to enjoy vegan overnight oats!
Questions & Tips for the Best Overnight Oats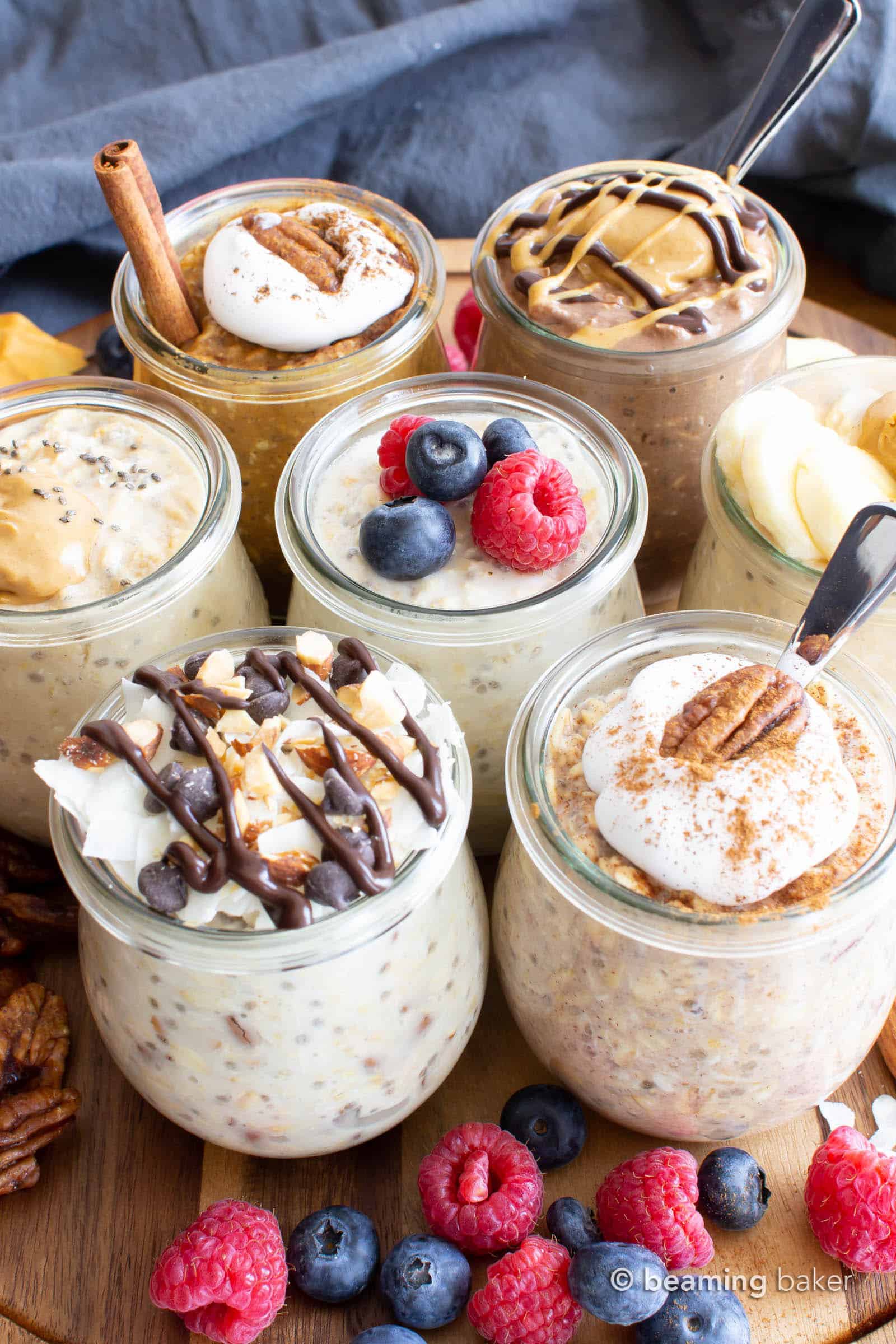 How Do You Make Overnight Oats Vegan?
Most overnight oats are made with a number of dairy products: cow's milk, cream from the same source and non-vegan sweeteners. Today, we're swapping all of that out with vegan ingredients!
Milk: instead of cow's milk, we're using our favorite vegan milk! I love using unsweetened almond milk. You can use another vegan milk like cashew milk or oat milk.
Coconut Cream: instead of dairy-rich yogurt, we're gonna use coconut cream! It's thick, rich and vegan-friendly. You can also use your favorite brand of vegan yogurt for another vegan option. I've tried So Delicious, Forager, Kite Hill, Silk, Silk Oat Yeah and Non-Dairy Chobani with various amounts of success. It really depends on which one you're used to and love.
Sweetener: some overnight oats recipes call for honey or cane sugar. In today's vegan overnight oats recipes, we're gonna be using coconut sugar and pure maple syrup. If you prefer cane sugar, just make sure to use organic cane sugar, as it's not processed with bone char, so you can keep it vegan.
How Long Can I Keep My Vegan Overnight Oats?
You can keep your overnight oats for up to 5 days in the refrigerator if you use the freshest possible ingredients. However, if you'd like to use homemade almondmilk, the freshness of your overnight oats will only keep for a maximum of 3 days.
What Kind of Toppings Can I Use to Keep My Overnight Oats Vegan?
Feel free to have so much fun serving up your overnight oats–just the way you like 'em! Here are a few vegan-friendly suggestions for topping your overnight oats:
Fruit: slice up fresh fruit such as strawberries, pineapple and more. Or, use whole blueberries, raspberries or blackberries. Just make sure to add your fruit right before serving. Fresh fruit tends not to keep, even if stored atop your overnight oats in an airtight jar.
Whip: have you tried coconut whip on top of your overnight oats? Heavenly! There are also a few other vegan whipped topping options, but that's up to you! I literally found coconut whipped topping in a can at the grocery store! Say what?
Drizzle: drizzle me, baby! I absolutely love using melted vegan chocolate, peanut butter, almond butter, and even fudge atop my overnight oats. Hey, they say if you eat dessert for breakfast, you'll eat less dessert later. Or just eat more later like me. 😉
More: get creative! You can top your vegan overnight oats with sunflower seeds/chia seeds/any seeds (!), rice crisp cereal, coconut shreds and more. Decorate and top to your heart's desire.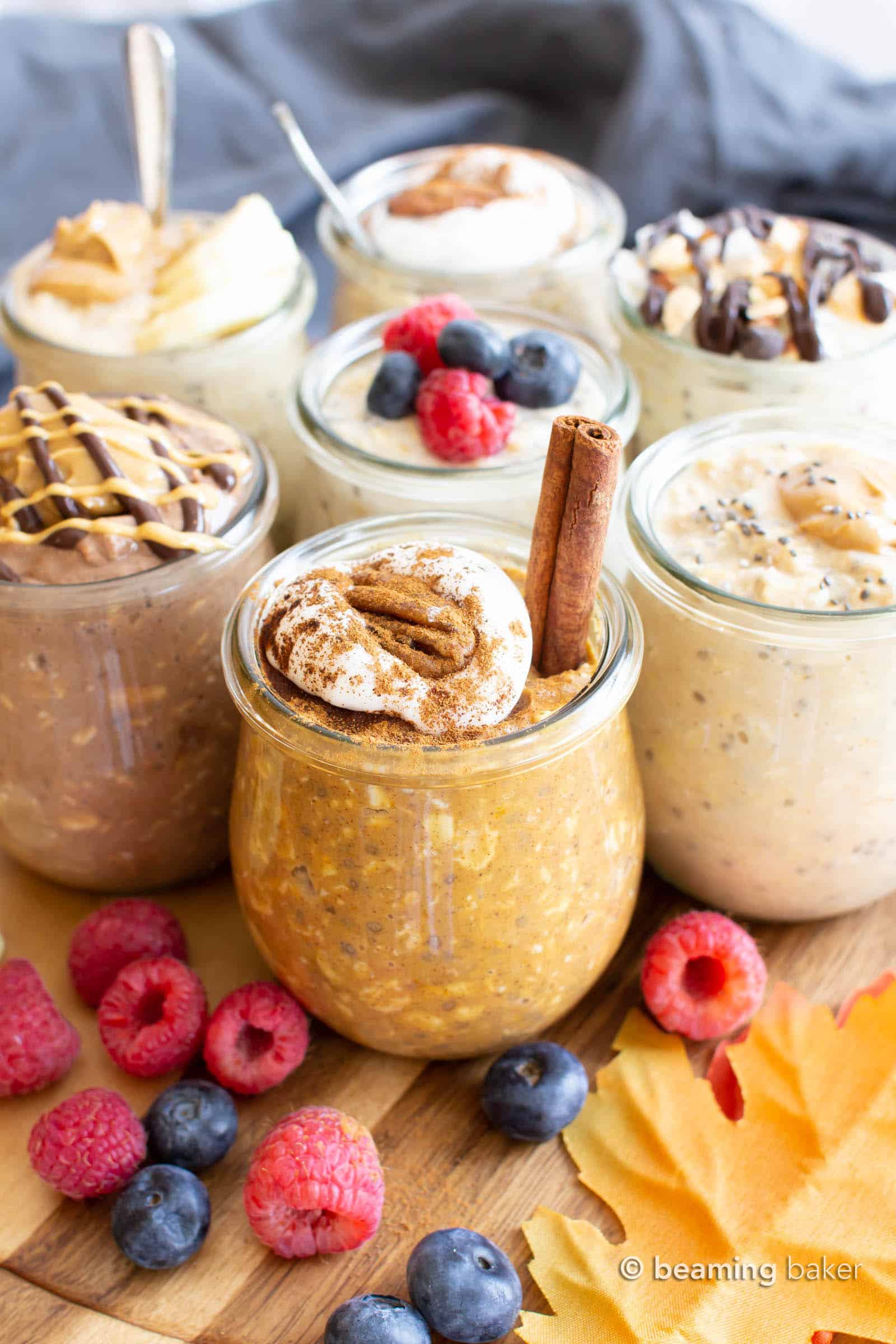 More Overnight Oats Recipes That Are Vegan!
Tools You Need
Vegan Overnight Oats Never Tasted So Good
Can you believe overnight oats can be made vegan in so many ways? With just a few simple ingredients, you're in business with a delicious vegan breakfast. NICE! I can't wait to hear what you think—be sure to leave a comment below to let me know! I truly love it when I hear from you. 'Til our next sweet adventure together…
Sending you all my love and even a dove, xo Demeter ❤️
🌅 📸 🌅
📸 Did you make any (or all!!) of these vegan overnight oats recipes? Take a pic and share it on Instagram with the hashtag #beamingbaker & tag @beamingbaker. I'd love to see it! 📸
Print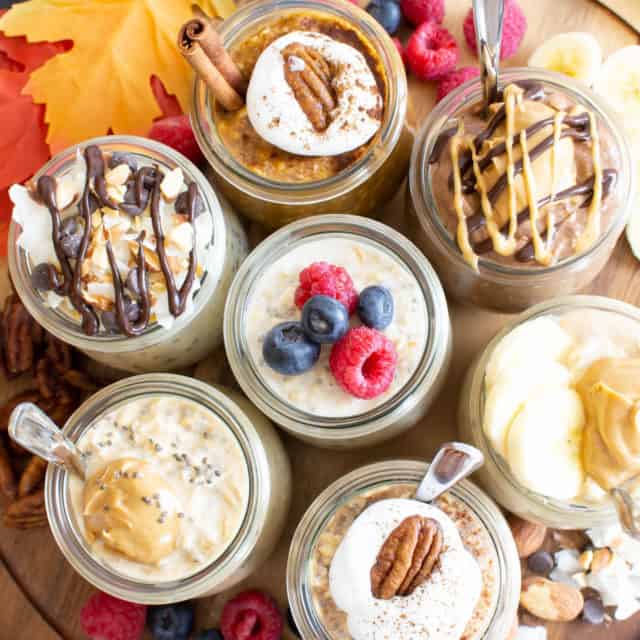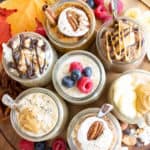 Vegan Overnight Oats: 7 Recipes!
---
Description
Learn how to make overnight oats vegan with 7 of the best vegan overnight oats recipes!
---
The BASE for Overnight Oats
Classic Overnight Oats
Optional Toppings
½

–

1

cup fruit

1

–

2

tablespoons chopped nuts or seeds
MORE FLAVORS
---
Instructions
Set aside 2-3 resealable jars. Here are the small resealable glass jars that I use. If making one large serving, set aside one large jar.
Add all ingredients to the jar(s) of your choice, leaving enough room to stir. Or, add all ingredients to a mixing bowl for easier stirring, then pour into jars when done.
Stir until well mixed. Add any optional toppings except fruit. Seal jars.
Store overnight in the refrigerator for up to 5 days. Overnight oats will become thicker as each day passes. If desired, add non-dairy milk to thin it out. Enjoy cold, or heat in the microwave in 20-second increments until warm. Top with fruit before serving.
Prep Time:

10 mins

Cook Time:

0 mins

Category:

Breakfast, Snacks

Method:

Chill

Cuisine:

American
Keywords: overnight oats vegan, overnight oats recipe vegan
© beamingbaker.com. All content and images are protected by copyright. Please do not use my images or recipe without my permission. Please do not republish this recipe, instead, include a link to this post for the recipe.
This post may contain affiliate links, which allow me to make a small commission for my referral, at no additional cost to you.