Gluten Free No Bake Brownie Energy Bites (Vegan, GF, Dairy-Free, One Bowl)
Gluten Free No Bake Brownie Energy Bites (V, GF): a one bowl recipe for fudgy, rich, 7-ingredient no bake bites that taste just like decadent brownies. Vegan, Protein-Packed, Gluten Free, Dairy-Free.
You HAVE to try these warmed up! Okay, before I said anything else, I HAD to get that out of the way. (Sorry for shouting this early in the day—but it HAD to be done… again.)
Q: So why warm them up? A: fudgy, melty—make that chocolate melty, warm, just… everything your chocolate-loving heart could want or need.
Think: fresh-baked brownies, y'all.
But without the work.
And you just have to try them in general–warmed or not. These brownie energy bites are so easy to make, delicious as all get out, and just… all the things. Make that all the CHOCOLATE things. 😉
Update: there's a paleo version, just like folks have been asking for! 🙂 Check it out here: no bake paleo brownie bites. Enjoy!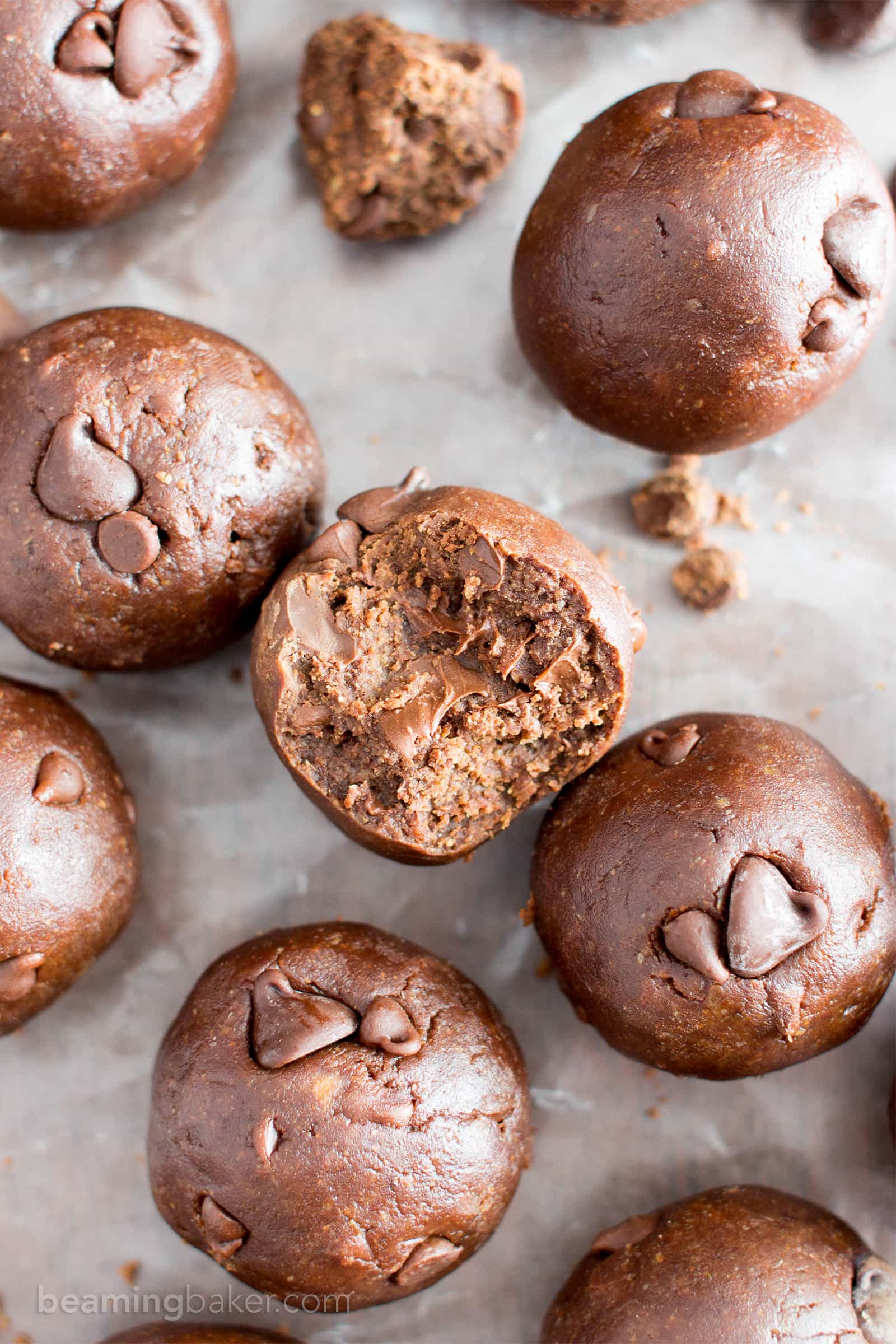 You guys, I have been obsessed with these gluten free no bake brownie energy bites since I first made them. And when I made them again. Then when Erik made them. And then again when I made them. Alright, that's way too many times in such a short period. But you'll know exactly what I mean once you give these bites a go.
First of all, I've been meaning to make brownie bites to share with you for ages! <– Why yes, I did need to exercise a Herculean amount of self-restraint to not scream that. Hehe. Okay, so I love, love, love brownies. Have you tried my Best Vegan Brownies? How about my Gluten Free Vegan Brownies? Or… my Ultimate Fudgy Paleo Vegan Brownies?
If you answered no to at least one of those, I insist you try them all! Okay, fine… they all have about the same texture, but are adjusted just right for specific dietary needs. But you know what I'm talking about: fudgy, rich, insanely indulgent, soul-satisfying chocolate YUM.
I could make, talk about, dream over, draw paintings for, and build statues for brownies til the end of time.
How about you?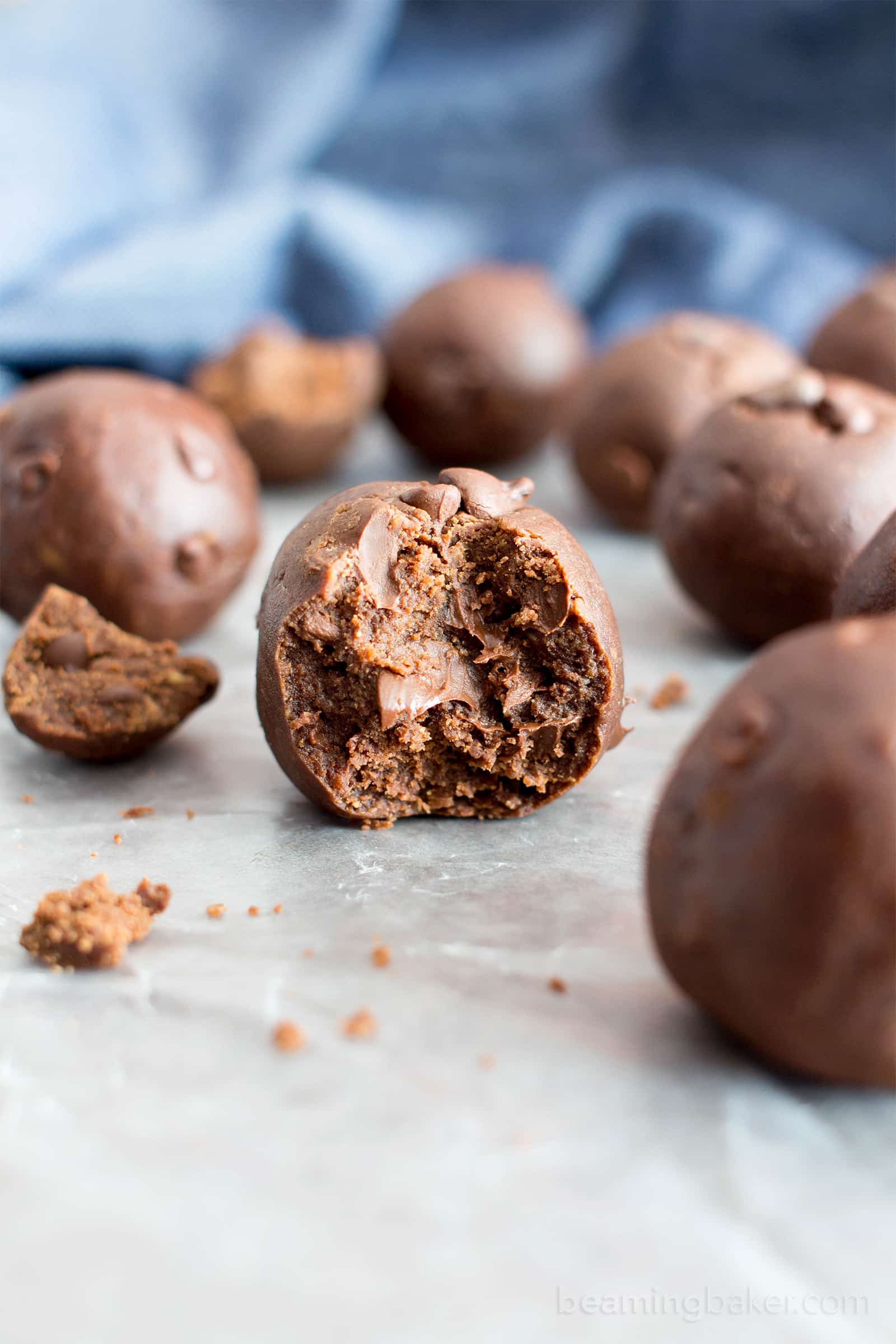 But my one pet peeve when it comes to brownies?
THE WAIT!
Like, sometimes you just have to have a brownie in the next 10 minutes, or you'll faint. Right?? High-five if you totally agree with this.
…
Don't keep me hanging! 😉
So the solution to this? Gluten Free No Bake Brownie Energy Bites . Yep, NO BAKE! If you've been around BB for awhile, you know that no bake is one of my fortes, my loves, one of my numerous food-related middle names, and so on and so forth. If you love no bake, you'll have to try this chocolate cherry bite, this pecan pie bite, these chocolate chip cookie dough bites, and these oatmeal raisin bites.
But I digress. I know, what's new, right?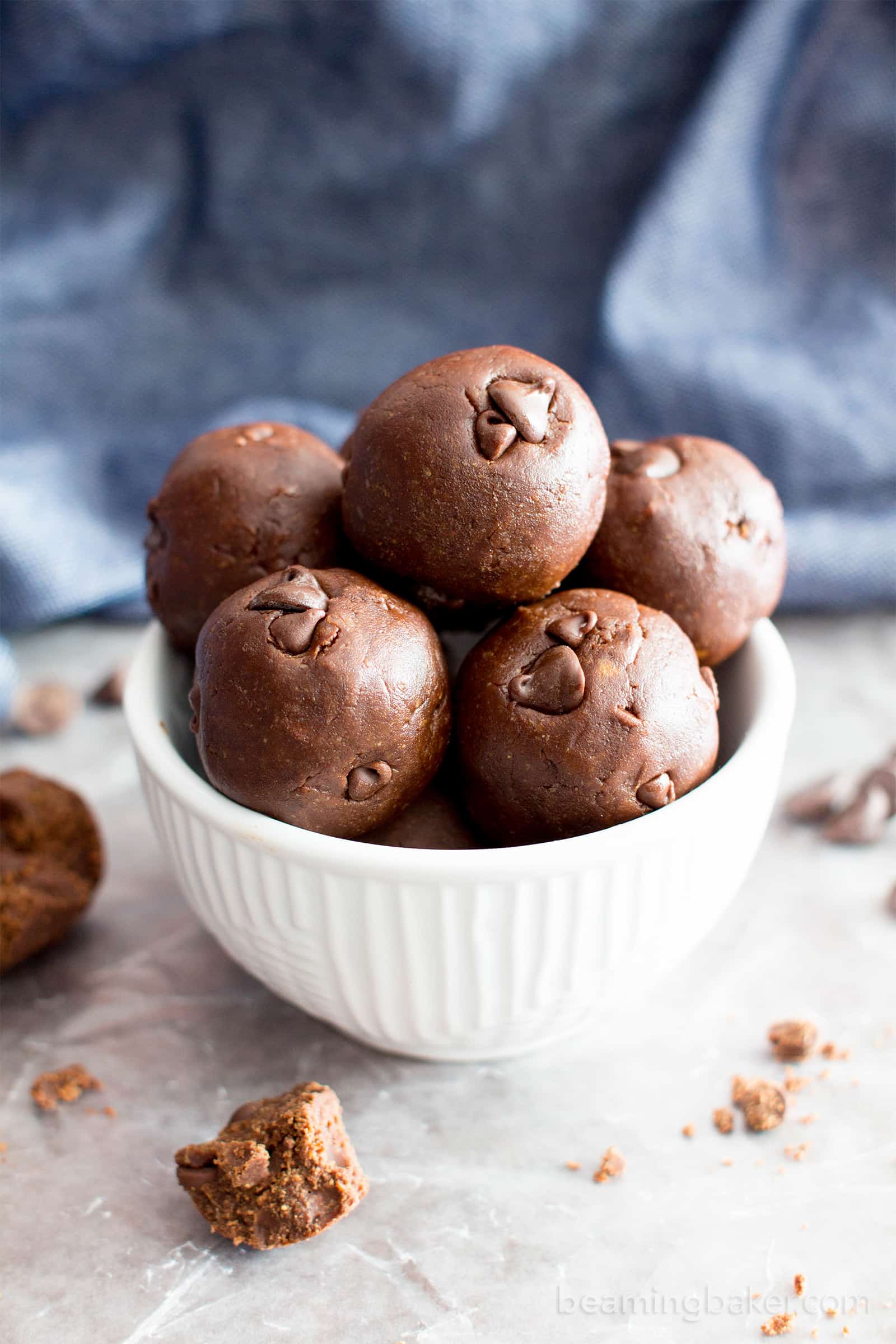 These bites come together in less than 5 minutes, minus roll-time, of course. But you can obviously eat a bite or even just take a taste of dough before all the bites are done. They're so rich, deliciously dense—just like a brownie should be, bursting with all the chocolate, and incredibly GOOD (and they actually count at energy bites!!).
And that's before you heat these brownie bites up.
Once you warm them up, let's just say I cannot be held responsible for portion control. Just… enjoy. 🙂
Meanwhile, you know I'm working on a paleo version to share with you guys. If you had a choice, tell me: would they be made with or without added sugar? And would you want them to be made with almond meal or coconut flour? I'd love to hear your thoughts on this!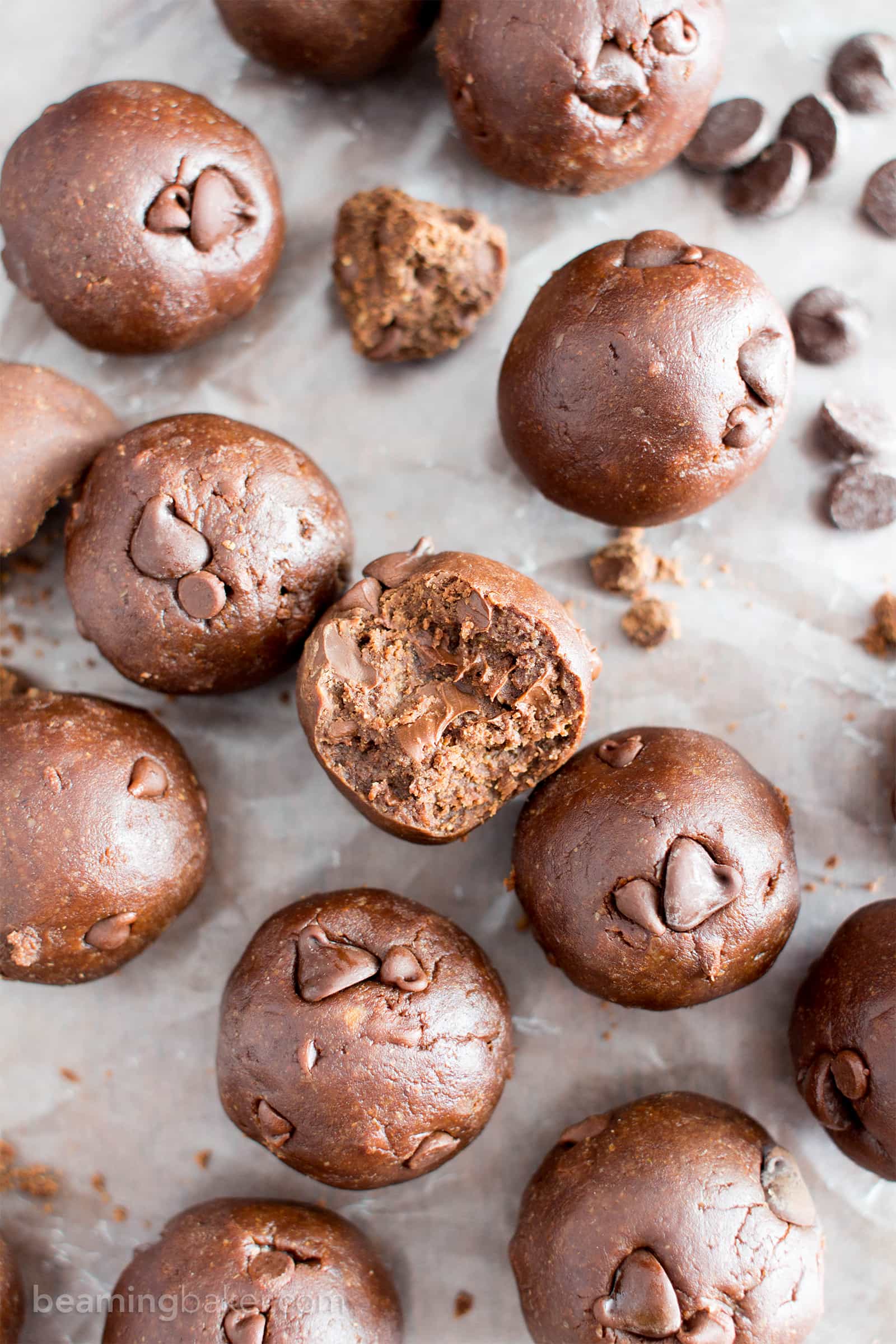 In the meantime, let me regale you with why these Gluten Free No Bake Brownie Energy Bites will rock all of your dessert socks off! Wait, is that a thing? Because I totally need them like. Right. Now. They'd definitely have dancing cupcakes, swirly ice cream cones and of course, brownies on them. Right? 😉
Oh gosh, I've gotten off track again. Let's credit these happy-inducing brownie bites for putting me in this flight-of-fancies kind of mood. So as I was saying…
These Gluten Free No Bake Brownie Energy Bites are:
made in just 1 bowl
incredibly rich & chocolatey
soft, dense and satisfying
bursting with brownie goodness
vegan, gluten-free, dairy-free
SO good when warmed up! Just like a fresh-baked brownie
refined sugar-free
protein-packed or protein-rich, however you like to say it 😉
plant-based and allergy-friendly
made with the healthy, whole ingredients you love
legit energy bites, that just don't taste like it!
perfect for a quick 'n easy snack
or… the sweet tooth satisfying dessert you've been waiting for
Oh, and Peanut Butter Cup Brownies.
Just thought I'd throw that out there… Are you ready to make all of your brownie dreams come true? Okay fine, this isn't that 7-layer brownie cake with fudge frosting and dancing unicorns on it. But still! It's such a pleasure to be here with you, whipping up all the yummy treats, made with whole ingredients of course! I can't wait to hear what you think of these. In the meantime, tell me:
What no bake bite flavor would you like to see next?
Sending you all my love and maybe even a dove, xo Demeter ❤
☀︎ Click below to Pin ☀︎

☀︎ Did you make this recipe? Take a pic and share it on Instagram with the hashtag #beamingbaker and tag @beamingbaker. I would love to see it! ☀︎
Sign up for the email list to receive easy & delicious gluten free vegan recipes!

Print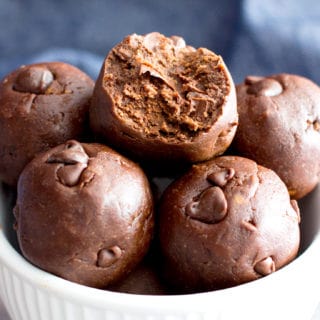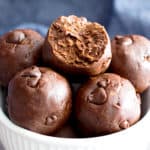 Gluten Free No Bake Brownie Energy Bites (Vegan, GF, Dairy-Free, One Bowl)
---
Description
Gluten Free No Bake Brownie Energy Bites (V, GF): a one bowl recipe for fudgy, rich, 7-ingredient no bake bites that taste just like decadent brownies. Vegan, Protein-Packed, Gluten Free, Dairy-Free.
---
Dry Ingredients
½ cup

gluten free oat flour

½ cup

unsweetened cocoa powder

¼ cup

ground flaxseed

½ cup

vegan chocolate chips (mini and regular)
Wet Ingredients
¾ cup

natural, unsalted creamy almond butter (mine is very liquidy)

¼ cup

pure maple syrup

1 teaspoon

pure vanilla extract
Optional
2 tablespoons

vegan chocolate chips (mini and regular)
---
Instructions
In a large bowl, mix together all of the dry ingredients: oat flour, cocoa powder, flaxseed and chocolate chips.
Add almond butter, maple syrup and vanilla. Using a sturdy spatula, stir and fold together until well incorporated.
Using a cookie scoop, scoop and drop a ball into your hands. Here are the 2-tablespoon cookie scoop and 1-tablespoon cookie scoop I use. Roll and press into bites. Optionally, press chocolate chips into bites. Enjoy!

Here's the paleo version of this recipe. 🙂
Notes
– Adapted from my No Bake Peanut Butter Coconut Bites (Vegan, Gluten Free) and my No Bake Cherry Chocolate Chip Chia Energy Bites (V, GF, DF).
– Store in an airtight container at room temperature for up to 2 weeks.
– Freezing instructions: Store in the freezer in an airtight, freezer-friendly container for up to 1-2 months. Before enjoying, thaw at room temperature for 10-15 minutes, or heat in the microwave in 10-second increments until warm.
– For melty, warm brownie bites: heat room temperature bites in the microwave in 10-second increments until warm. So delicious—like fresh brownies!
– Nutrition Info: is an estimate based on 27 total bites.
– More no bake dessert bites: cookie dough, double chocolate cherry, almond joy, pecan pie (paleo).
Category:

Brownies, Vegan, Gluten-Free, Dairy-Free, Protein-Packed
Nutrition
Serving Size:

1 bite

Calories:

88

Sugar:

4g

Sodium:

1mg

Fat:

6g

Carbohydrates:

9g

Protein:

3g
© beamingbaker.com. All content and images are protected by copyright. Please do not use my images or recipe without my permission. If you wish to republish this recipe, please re-write the entire recipe using your own words and include a link to this post for the recipe.
If you enjoyed this Gluten Free No Bake Brownie Energy Bites recipe, then you'll just love these plant-based, allergy-friendly recipes:
Gluten Free Brownies + No Bake Bites
Gluten Free Vegan Brownies (Dairy-Free, GF, V) | Peanut Butter Chocolate Chip Cookie Dough Energy Bites (Vegan, Gluten-Free, DF) | Double Chocolate Pecan Brownies (GF, Dairy-Free, Vegan) | Chocolate Chip Cookie Dough Truffles (Vegan, DF, GF) | Ultimate Fudgy Paleo Brownies (Paleo, Vegan, Gluten-Free)
This post may contain affiliate links, which allow me to make a small commission for my referral, at no additional cost to you. Thank you for supporting Beaming Baker.
Facebook ☀︎ Pinterest  ☀︎ Twitter ☀︎ Instagram