Paleo Almond Butter Cups (V, GF, DF): a 5 ingredient recipe for rich chocolate cups stuffed with smooth almond butter. Paleo, Vegan, Gluten Free, Dairy Free.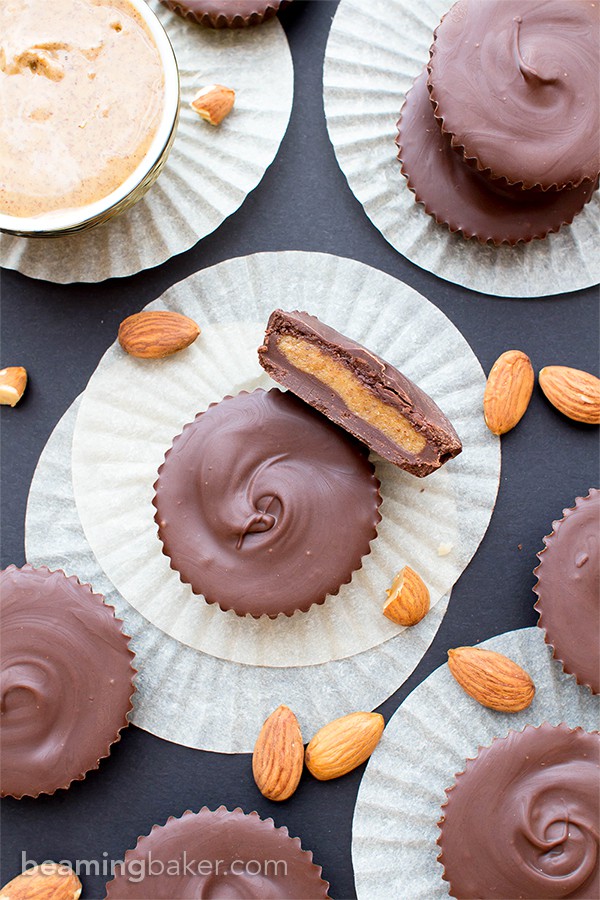 So apparently I have a thing for cups. But like, chocolate cups. Not just regular cups… I mean, I do have a soft spot in my heart for the soft blue North Carolina coffee cup I use every morning. And I do give a respectful nod to the sparkly tumblers that hold my kitchen tools when I'm baking (but I suspect they already know how awesome they are).
Then there's that extra sturdy cup that holds my cookie scoops and reminds me of my mom when she's away. That cup is tastefully adorned in moose (mooses??) and shiny as fudge on the inside. She loves this cup because she can drink all the tea she wants and it never stains.
But, what was I saying? Oh yeah–I'm talking about chocolate cups here, folks. I just realized that there are already two other kinds of cups on the blog: peanut butter (of course) and cookie dough (I know). But it occurred to me that there weren't any almond butter cups on this here blog. What a travesty, right?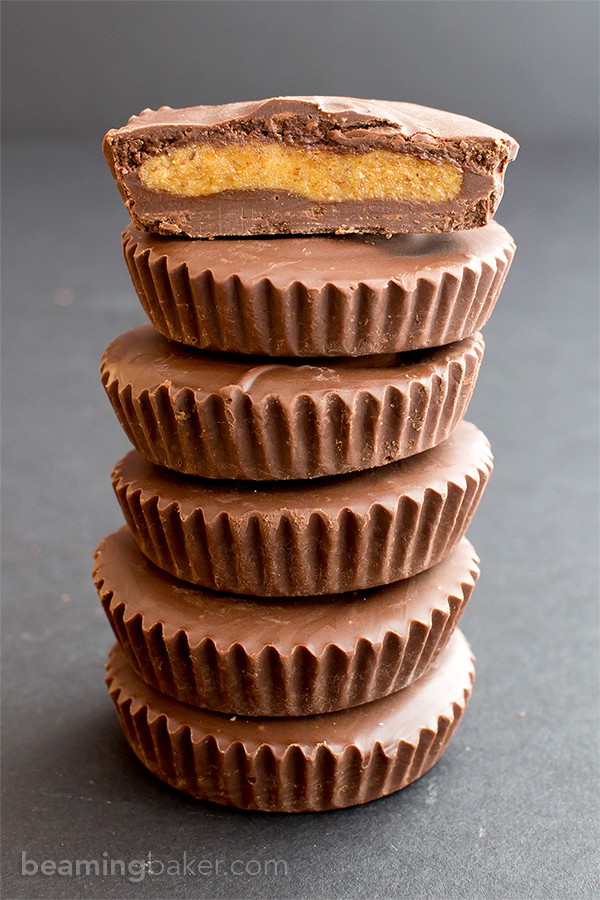 Totally a travesty when you consider the fact that I've gotten a good number of wonderfully heartwarming emails from my readers who strictly follow paleo diets. They're so thankful and supportive of the paleo treats on the blog. ❤
But I felt that there weren't as many paleo treats as there should be 'round these parts. Probably, but by probably I mean absolutely, why I created paleo Almond Joy and paleo chocolate almond butter fudge cups. So it was high time to bring my cup game to the paleo treats party. And by party, I obviously mean PAR-tay!! BYOT, ya know? Hopefully that only means bring your own treats… and not something profane my internet-naïve mind is unawares of. If it does, simply comment below and I shall immediately change this!
Or not… because honestly all the acronyms mean something, uh… colorful as dictated by the interwebs.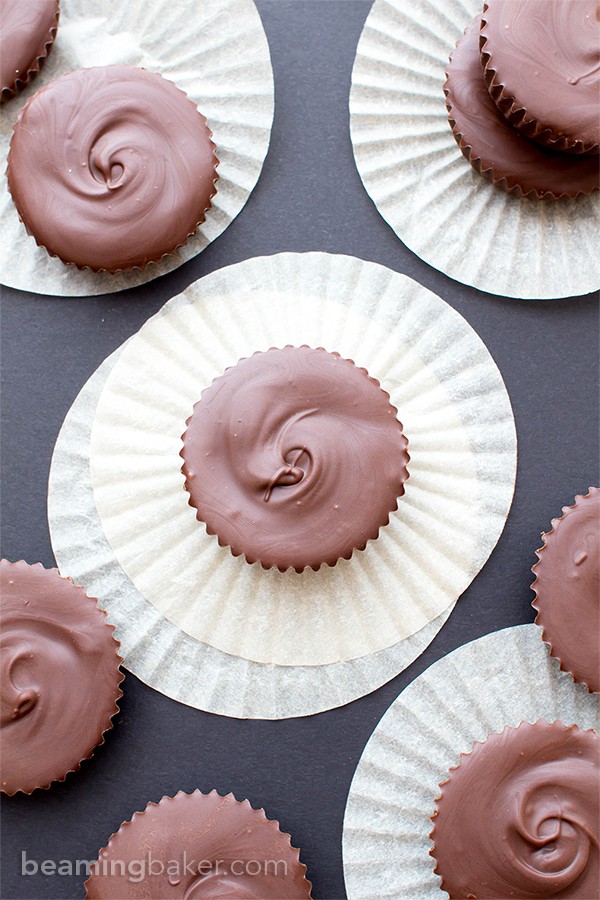 Anywho, I wanted to post these almond butter cups before Halloween hit, so everyone would have the chance to indulge in the treats they so enjoy and totally deserve. These paleo almond butter cups are based off of my peanut butter cups, but with slightly less chocolate to keep the AB/chocolate ratio more delicately balanced. Yes, I am a chocolate cup connoisseur.
Please, also do not tell me chocolate cup connoisseur means some weird internet thing.
*Clears throat*
Peanut butter has such a strong taste that it can hold its own with chocolate. But almond butter has a lighter, more laidback flavor. And thus, my totally legit reasoning for reducing chocolate—see!! There's actually a legit reason for reducing chocolate! 😉
Give them a taste and you'll see what I mean. Heck, for those of you who can, make some of these almond butter cups and make some peanut butter cups, too! Taste test and let me know which you prefer. After all, you know chocolate cup connoisseurs like myself really like to "study" our art. Ahem. Plus, you'll seriously be ready for Halloween, like, woah. You might also want to bake up a delicious batch of these paleo cupcakes by Texanerin. Because: cupcakes + candy = Halloween PERFECTION!
Speaking of Halloween, have you purchased/designed/shipped in from France (if you're cool like that) your costume yet? Some people get so into it, makes me wish I lived near them so I could check out their elaborate outfits!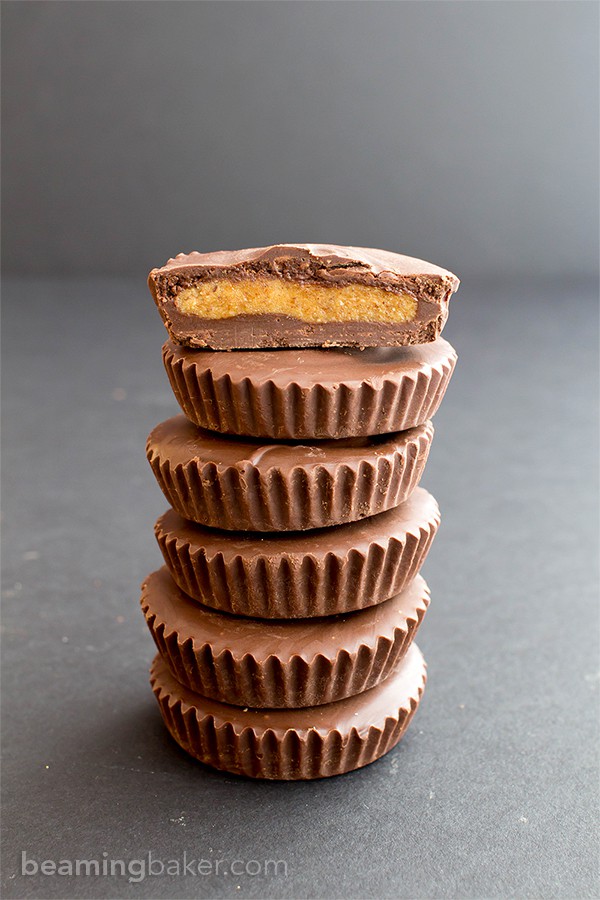 This year, and seriously every year, my family tries to plan a theme that we can all participate in. Things sometimes go awry and we don't get all decked out like we want to. But this year, THIS YEAR, it's gonna happen. I can feel it! The other day, Erik and I were chatting with my sister Jenny about our Halloween plans. Of course, PB (the nickname for my three-year old nephew) comes over and starts telling us about how he's already picked out all of our costumes for this year.
First off, he's going to be Batman, for the second year in a row. Three-year-olds, they're so predictable. What can I say? Last year, Erik and I got him this pretty nifty costume with a cape, boot-like shoe covers and even this mask/hat thing that he actually wore even though he totally hated hats at the time. #SuperheroSacrifices, ya know? 😉
So he wants to be Bruce Wayne again. As for the rest of us, he's picked the following: Jenny (his mom) as Wonder Woman (obvious reasons—Best Mom in the world!), Erik as Superman (he seriously is such a goody two shoes–Clark Kent, not Erik ahem), me as The Hulk (don't read into it—okaaaaaaay, I blame it all on that one recipe testing disaster), and Grams as—drumroll please: HAWKEYE.
Yep, Hawkeye.
When he got to choosing Grams' (my mom's) costume, he stopped for a good, long minute and actually put his super tiny, crazy adorable thinking palm on his chin like it was a decision not to be made lightly. In case you don't know who Hawkeye is, a quick rundown, for humor purposes only: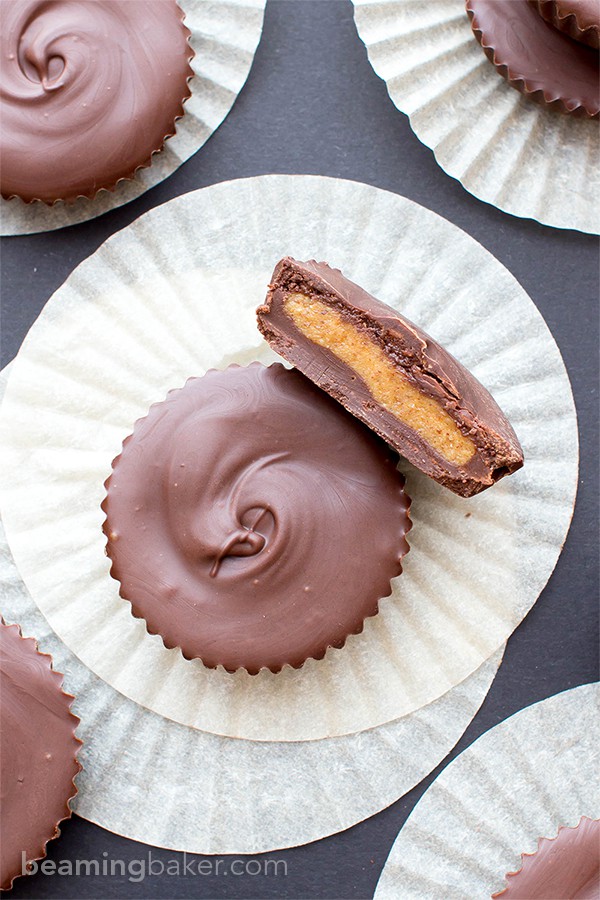 Hawkeye is a Marvel superhero who is extremely proficient in archery, etc. and has really great vision. As Erik points out, this is pretty ironic since Grams always sees one thing when there's quite another. She doesn't like her glasses, totally refuses to wear them, and at times charmingly calls all of us kids "four eyes" in Vietnamese.
Plus, she only sees what she wants to see. One time, Erik and I were sitting down to dinner and were just getting ready to eat when Grams strolls by and says, "Oooooooooooh, what is that?? Chocolate??? Is that chocolate??" She starts smacking her lips while the two of us are looking around the table, searching for signs of chocolate.
Erik says, "Um, Grams, are you talking about these bowls of black beans??"
Grams: "Hehehehe. Oh, I thought that was chocolate!! Is there any chocolate?? Wait, is there chocolate and almond butter??? Or chocolate and almond butter and coconut?"
So Grams, with these paleo almond butter cups I can now say, "YES, these DO have chocolate and almond butter in them!!" And I will keep all bowls of black beans safely far away, where they will not yet again be misunderstood.
Meanwhile, I'm contemplating making these paleo almond butter cups with homemade almond butter! I'm going to be using my friend Erin from Texanerin's Almond Butter recipe. Everything (and I mean everything) she makes is magic. You've got to try it! After that, I'm gonna be all fired up about almond butter and make these almond butter oatmeal chocolate chip cookies and these almond butter paleo brownie bites. 🙂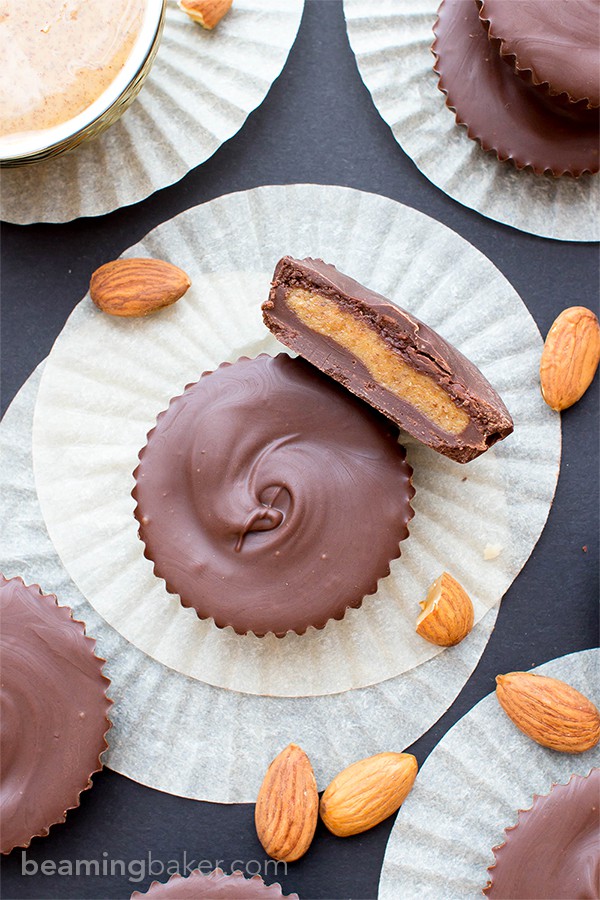 I'm most definitely whipping up a batch of these for her and the rest of our hopefully elaborately-clad Marvel/DC mashup family this Halloween. In the mean time, let me tell you all about these super tasty goodies. My Paleo Almond Butter Cups are:
made with just 5 ingredients
paleo, vegan, gluten free, dairy free
made with just the right ratio of chocolate + almond butter
your chocolate dreams, come true
perfectly sweet and lightly nutty
so tasty when made with this paleo chocolate bar
plant-based and allergy-friendly
made with feel-good ingredients
perfect for Halloween, and all the holiday parties
so good after a nice filling dinner (perhaps with black beans)
(but still) SO not a bowl of black beans
Make a batch and feel the special pride that comes only from opening your own candy shop—okaaaay—the special pride that comes from making your own candy. It's AWESOME. What are your plans for Halloween? If you don't celebrate, what holiday are you looking forward to most? If you do, are you going to do a family-themed costume? Tell me all about it and send over some suggestions, I'd love to hear 'em!
Sending you all my love and maybe even a dove, xo Demeter ❤
☀︎ Click below to Pin ☀︎

☀︎ Did you make this recipe? Take a pic and share it on Instagram with the hashtag #beamingbaker and tag @beamingbaker. I would love to see it! ☀︎
If you enjoyed these easy paleo vegan almond butter cups, you might enjoy these healthy homemade candy recipes:
Tools to make Paleo Almond Butter Cups
Print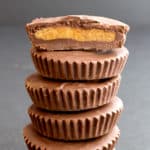 Paleo Almond Butter Cups (Vegan, Gluten Free, Dairy Free)
---
Description
Paleo Almond Butter Cups (V, GF, DF): a 5 ingredient recipe for rich chocolate cups stuffed with smooth almond butter. Paleo, Vegan, Gluten Free, Dairy Free.
---
Filling
½ cup

unsalted, natural almond butter*

1 tablespoon

pure maple syrup

1 tablespoon

coconut flour
Chocolate Coating
1 tablespoon

+

2 teaspoons

coconut oil
---
Instructions
Line a standard 12-cup muffin pan with cupcake liners. Set aside. Clear some space in the freezer for this pan.
Make the filling: In a small bowl, whisk together almond butter, maple syrup and coconut flour . Whisk until well incorporated. When the filling gets harder to stir, switch to folding with a rubber spatula. Cover the bowl and place in the freezer for 15-20 minutes, allowing the filling to chill and harden for easier molding. Clear a small workspace for assembling the filling later—a plate or a cutting board is fine.
Remove bowl from freezer. Scoop 2 teaspoons of filling into your hands and mold into a flat disc. Set onto the workspace, making sure to space discs apart so they don't touch. Repeat until you've made 12 discs. Set aside.
Melt the chocolate: Use the double boiler method or the following: in a medium, microwave-safe bowl, add chocolate and coconut oil. Place in the microwave and heat for 30 seconds. Stir. Heat again in 20-second increments until the chocolate chips are just softened and melty. Stir until smooth.
Make the cups: Drop 2 teaspoons of melted chocolate into each muffin cup. Tap the pan to smooth chocolate into an even layer, filling the bottom of the cup. Gently lay an almond butter disc flat on top of the melted chocolate layer. Repeat for all cups. Spoon 2 teaspoons of melted chocolate over an almond butter disc. Gently spread until you get an even top. Repeat for all cups. Tap the pan a few times to even out the chocolate.
Place muffin pan into freezer. Freeze for 15-20 minutes. Remove from freezer. Allow to thaw for 10-20 minutes. Peel off cupcake liners. Enjoy! Storing instructions below.

Adapted from my homemade Peanut Butter Cups.

Also try my Paleo Vegan Brownies and my Vegan Coconut Truffles.
Notes
– *Make sure you use almond butter that only has one ingredient: almonds. Your almond butter should be naturally drippy and liquidy to work in this recipe.
– Store in an airtight container at room temperature for 1-2 weeks.
– Freezing instructions: store in an airtight container in the freezer for 1-2 months. Allow to thaw for 10-20 minutes before enjoying.
Category:

Candy, Paleo, Vegan, Gluten Free, Dairy Free
© beamingbaker.com. All content and images are protected by copyright. Please do not use my images or recipe without my permission. If you wish to republish this recipe, please re-write the entire recipe using your own words and include a link to this post for the recipe.
☀︎ More healthy paleo dessert recipes ☀︎
No Bake Paleo Chocolate Almond Butter Bars | Paleo Almond Joy (Vegan, Paleo, Gluten Free, Dairy Free) | Homemade Almond Joy Cups | Ultimate Fudgy Paleo Vegan Brownies | Paleo Mocha Frappe | No Bake Almond Butter Paleo Brownie Bites | Paleo Apple Pecan Coconut Crisp | Almond Joy Ice Cream | Vegan Ice Cream Bars | Chocolate Coconut Cups | No Bake Chocolate Coconut Bars
Facebook ☀︎ Pinterest ☀︎ Twitter ☀︎ Instagram