Paleo Vegan Almond Joy Truffles (Gluten Free, Vegan, Paleo, Dairy-Free)
Paleo Vegan Almond Joy Truffles (V, GF): a fun recipe for homemade candy truffles that taste just like Almond Joy! Made refined-sugar free. Vegan, Gluten-Free, Paleo.
First there were candy bars and now there are… TRUFFLES!! Who's excited?!?
SO many of you can't get enough of my Paleo Almond Joy, my Homemade Almond Joy Cups… my Paleo Vegan Almond Joy Ice Cream… so I thought it'd be high time to share some Almond Joy truffles.
Can there truly be enough Almond Joy treats?
If you said "yes," I will see you next Monday! For everyone else, let's gather 'round the Almond Joy fire! Alright, that sounds a tad dangerous… and yummy!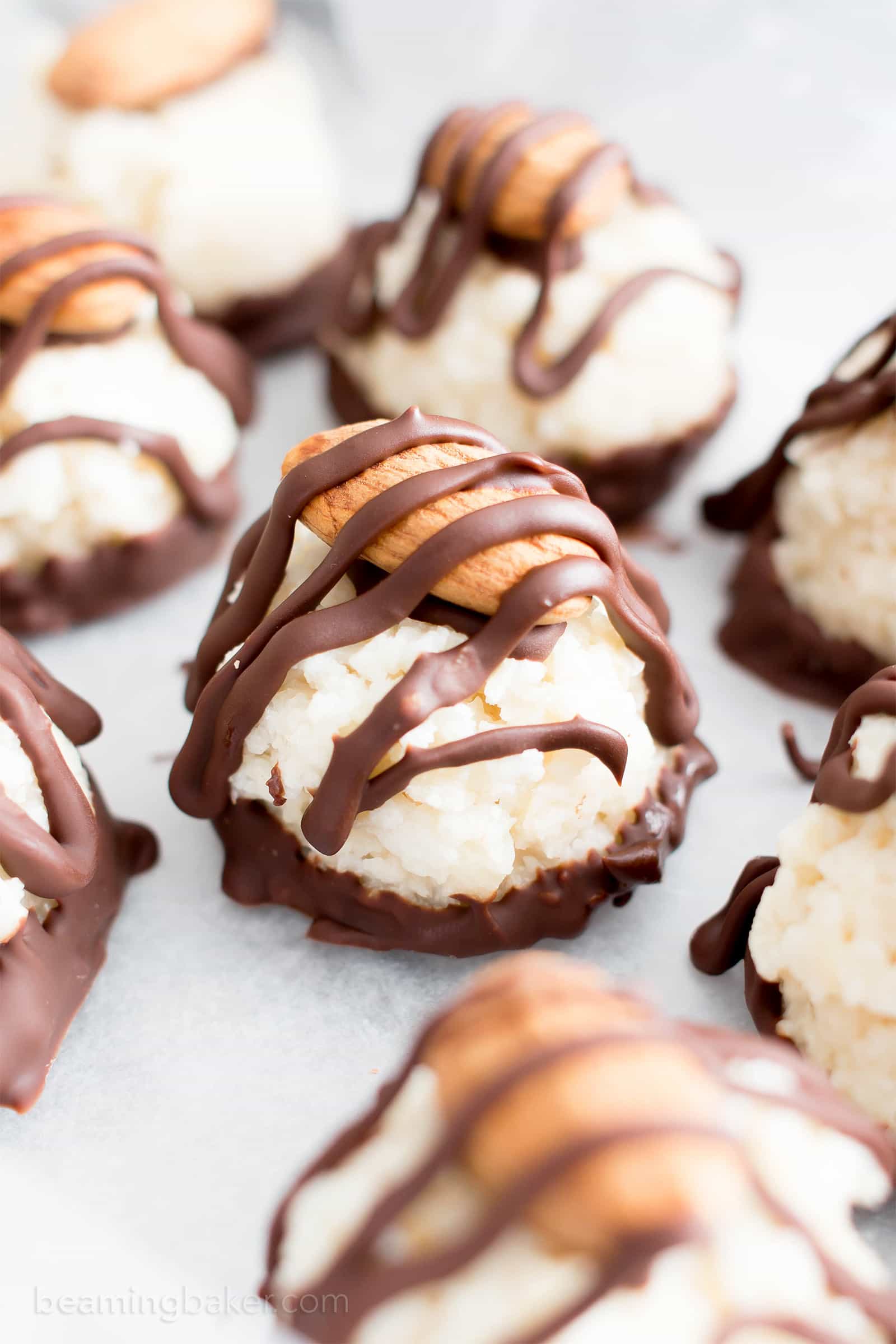 Meanwhile, I think there is no such thing as too many homemade Almond Joy treats! And neither does my mom! Especially since she continues to ask for the next Almond Joy creation every time I see her. 😉
Something about the holidays just begs for truffles, candy, fudge, cookies, brownies, and all the tasty things. Alright, I'm gonna go ahead and shout out my newly minted (but no mint-included, to avoid any confusion) Vegan Gluten Free Chocolate Cupcakes. They're SO good. And honestly, cupcakes need some holiday love too!
Wait, what was I saying?
Right! Holiday, candy, my mom… Well, since Thanksgiving is safely tucked behind us, and we have all the super fun gift-giving extravaganzas ahead of us, let's get started!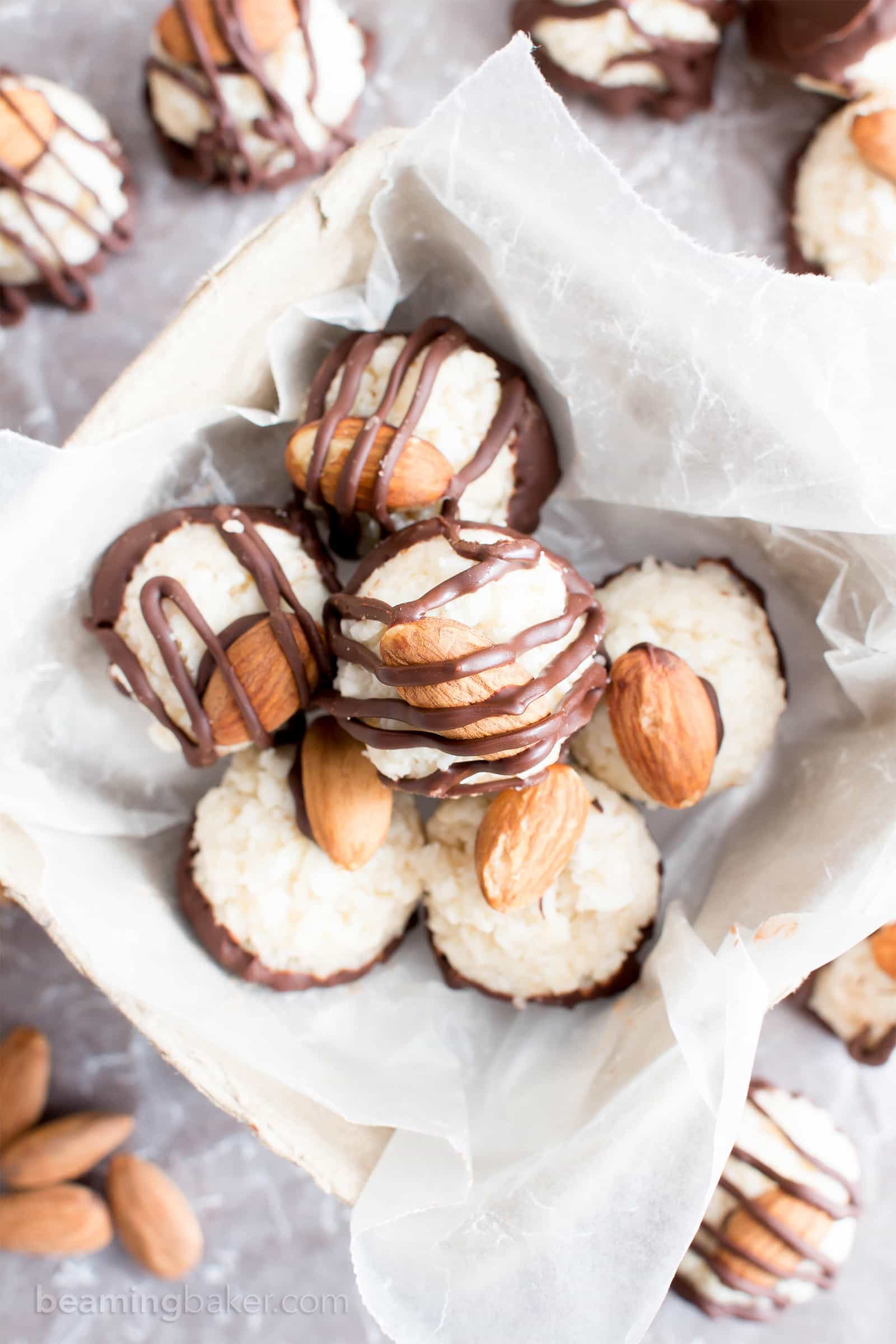 Also, by the by, how was your Thanksgiving? Also, if you were in Canada, allow me to super belatedly ask you how your Thanksgiving was? And if you didn't celebrate Thanksgiving, what fun adventures did you get into? 🙂
I can and I must live vicariously through you!
As for Erik and I, we spent some super quality time with my mom, my sisters Penny, Monica, Jenny and their husbands, plus Jenny's two little ones: Dylan and Kai.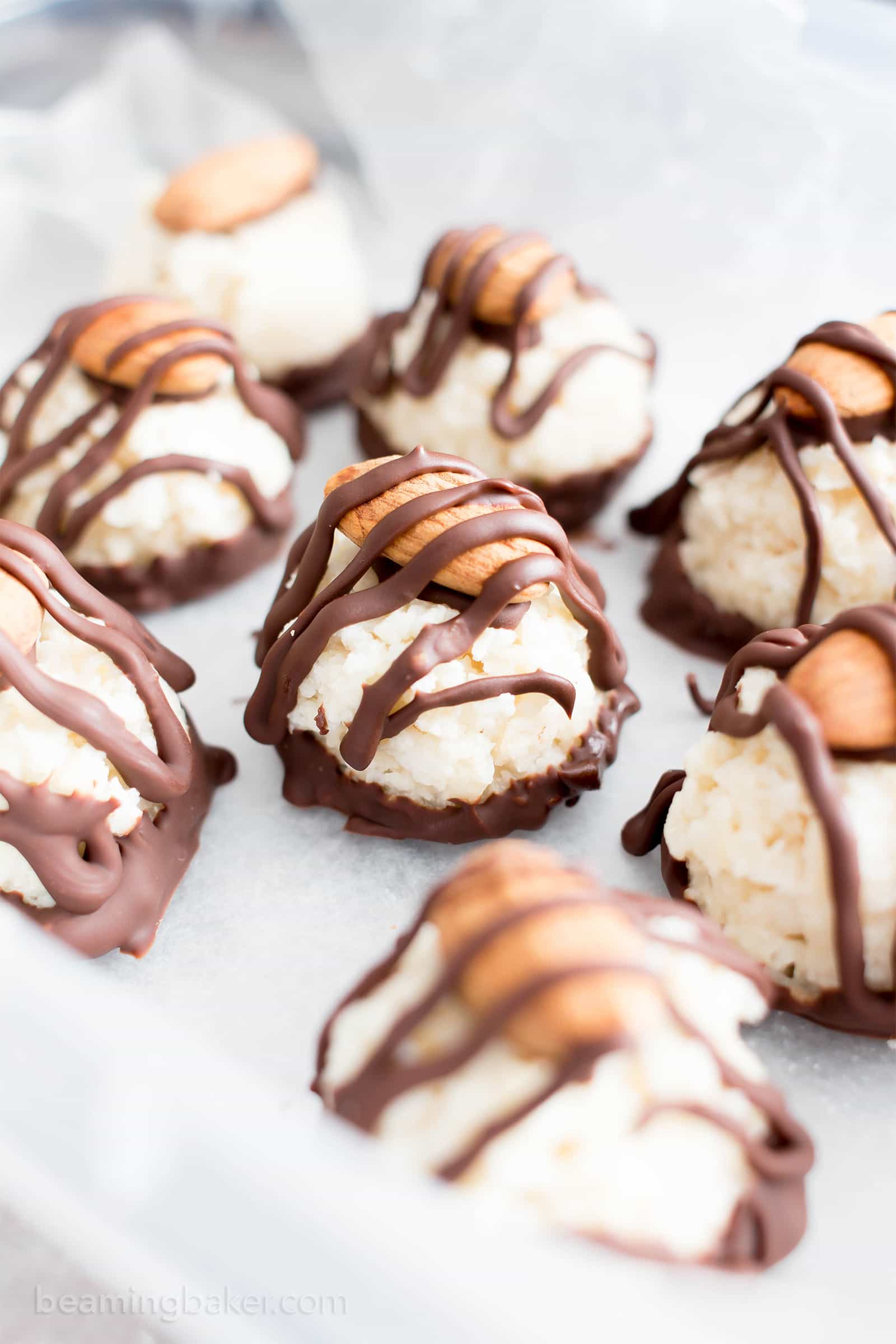 But can you believe that Kai is about to turn four-months-old already? One second, he weighed almost nothing and had the tiniest little fingers I'd ever seen (even on a Barbie!! Okay, I exaggerate). And now he's in that super adorable chubby phase, where he's always smiling and looking around the room. He's even trying to communicate with us now! I mean, grunting is totally communication right?
Anyway, it's times like these that I feel so grateful to be with family. Yes, they totally drive me crazy, but they're just… wonderful. 🙂
This year, we won't be seeing two of my sisters for Christmas, so it was just so important to me that we soak in all the time we could over Thanksgiving.
Anyway, enough of this wistfulness! And onto these Paleo Vegan Almond Joy Truffles. I made an advanced batch for my mom and sister for Halloween and they just LOVED it. They're lots of fun to make, and maybe even qualify as a tad bit crafts-y. The best part: DRIZZLE.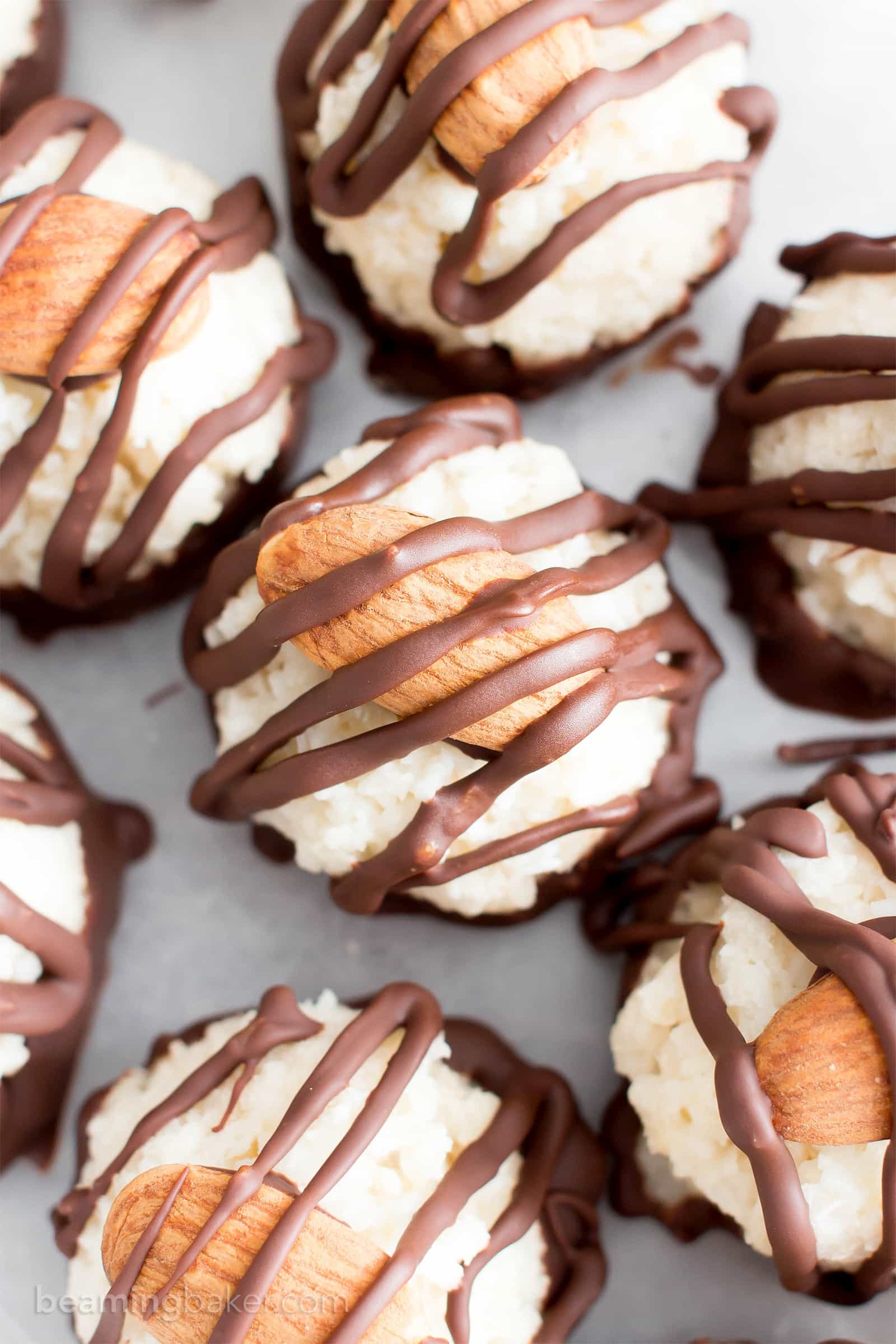 Always the drizzle.
I also whipped up a few extra healthy holiday dessert recipes for everyone to share: no bake chocolate coconut bars, chocolate coconut cups, gingerbread homemade breakfast bars and ultimate peanut butter chocolate bars (yes, they are as good as they sound). But I'm totally kicking myself for not making my pecan fudge, pumpkin chocolate chip oatmeal breakfast cookies and maple pecan brownies. Maybe for Christmas?
Meanwhile, I'm already thinking of all the ways to give these almond joy truffles for the holidays! They're perfect for gift-giving, or if you're so inclined, gift-receiving as you should totally make a batch for yourself. They're awesomely shelf/room temperature stable, and also delicious straight out of the fridge or freezer (if chilled desserts float your boat).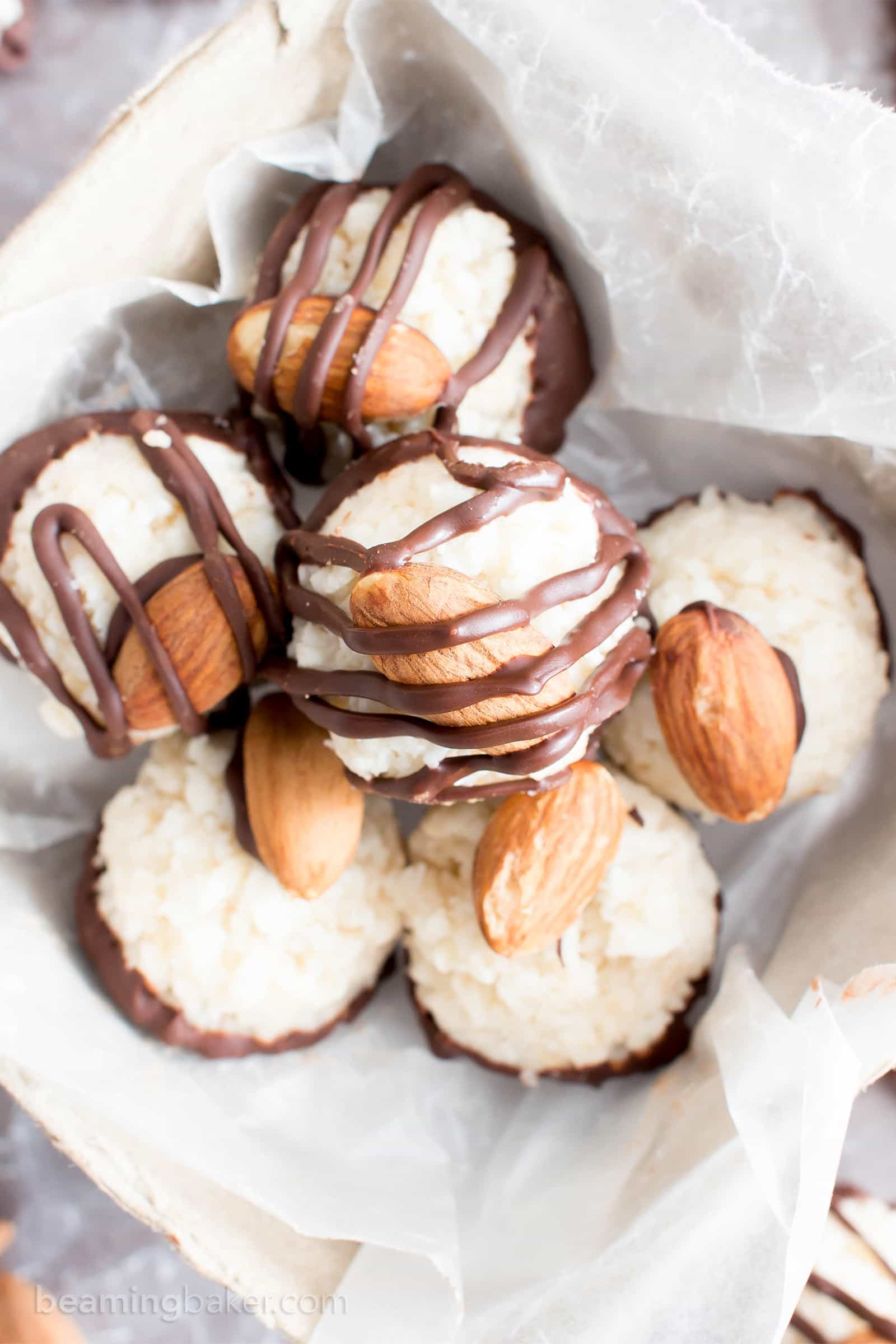 As always, if you got too sleepy to read the post and just need the basic deets/finer points of these Paleo Vegan Almond Joy Truffles, here they are! These dessert truffles are:
soon-to-be your favorite new homemade almond joy recipe
made with just 5 ingredients
bursting with delicious coconut flavor
dipped and drizzled in just the right amount of chocolate
the perfect healthy holiday dessert recipe to satisfy your sweet tooth cravings
vegan, paleo, gluten-free, dairy-free
one of the tastiest ways to enjoy a vegan almond joy
…and really a paleo almond joy! 😉
wonderfully refined sugar-free
a great low-sugar candy recipe (feel free to swap the chocolate chips for sugar-free chocolate chips)
made with the simple, whole, healthy ingredients you love
just the healthy candy recipe you've been looking for
I'm serious as Christmas Day gift unwrapping, these are SO fun to make! There's just something about making your own candy that's goshdarn satisfying. So if you'll grab the coconut, I'll grab the chocolate and extra almonds for munching (need to keep the energy up during candymaking, of course). It's such a wonderful treat to make and bake all the healthy homemade desserts with you. I can't wait to hear what you think of this recipe. In the meantime, tell me:
What's your favorite truffle flavor?
Sending you all my love and maybe even a dove, xo Demeter ❤️
☀︎ Click below to Pin ☀︎

☀︎ Did you make this recipe? Take a pic and share it on Instagram with the hashtag #beamingbaker and tag @beamingbaker. I would love to see it! ☀︎
If you enjoyed these decadently drizzled Paleo Vegan Almond Joy Truffles, then you'll just love these chocolate paleo dessert recipes:
☀︎ More Paleo Vegan Dessert Recipes ☀︎
Print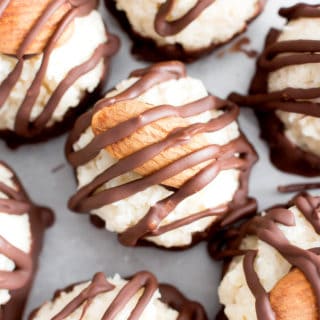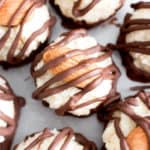 Paleo Vegan Almond Joy Truffles (Gluten Free, Vegan, Paleo, Dairy-Free)
---
Description
Paleo Vegan Almond Joy Truffles (V, GF): a fun recipe for homemade candy truffles that taste just like Almond Joy! Vegan, Gluten-Free, Paleo.
---
Coconut Balls
1 ½ cups

unsweetened coconut, shreds or flakes

¼ cup

coconut oil, solid or melted

2 tablespoons

pure maple syrup
Chocolate Dip Layer + Drizzle
¼ cup

+

2 tablespoons

paleo vegan chocolate chips

¼ teaspoon

coconut oil
Almond Decoration
12

–

18

unsalted, roasted almonds
---
Instructions
Line a baking sheet with parchment paper or wax paper. Set aside for later.
Make the Coconut Balls: Add coconut, oil and maple syrup to a blender or food processor. Blend until you get a wet and sticky mixture, with smaller, but still noticeable, coconut pieces.
Using a 1-tablespoon cookie scoop, scoop firmly packed balls of coconut mixture. Drop onto the prepared baking sheet, making sure to space balls evenly apart. If needed, gently press and shape loose bits of mixture into a firm ball. Using a finger, gently flatten the top of a ball—this is where the almond will sit later. Repeat until no mixture remains.
Freeze for 15-20 minutes. About 5 minutes before the balls are done freezing, it's time to prepare the chocolate dip layer.
Prepare the Chocolate Dip: Use the double boiler method, or the following. In a medium, microwave-safe bowl, add the Chocolate Dip Layer + Drizzle ingredients: chocolate chips and coconut oil. Heat in 20-30 second increments until just slightly softened and melted. Stir in between heating, until smooth.
Remove coconut balls from the freezer. Dip the bottom of a coconut ball into the bowl of melted chocolate. Use the side of the bowl to scrape off excess chocolate—there should be enough leftover to dip almonds and drizzle truffles later. Lay back onto the baking sheet. Repeat until all coconut balls have been coated.
Add the Almond Decoration: Dip one side of an almond into the remaining melted chocolate and press into the indentation on the top of a truffle. Repeat for all truffles.
Using a rubber spatula, scrape remaining melted chocolate into a zip bag with a very small tip cut off, or a small drizzling bottle. If not enough chocolate remains, mix in and melt together 1 tablespoon chocolate chips. Stir until smooth. Holding the bag over a coconut truffle, pipe the chocolate in a zigzag pattern. Repeat for all truffles.
Place baking sheet into the freezer for 10-15 minutes. Thaw for 10-15 minutes before serving. Enjoy! Storing instructions below.
Category:

Candy, Dessert, Chocolate, Paleo, Vegan, Gluten Free, Dairy-Free
© beamingbaker.com. All content and images are protected by copyright. Please do not use my images or recipe without my permission. If you wish to republish this recipe, please re-write the entire recipe using your own words and include a link to this post for the recipe.
SHOP THE RECIPE
[amazon_link asins='B000Q3D95Y,B0083QJU72,B00BNQFZCI,B0019GZ84C,B005EEYGCA,B00H6YILW2′ template='BB-ProductCarousel' store='beamingbake0c-20′ marketplace='US' link_id='2a0ba41d-ae97-11e7-89c9-63bf7a141743′]
Here are a few items I used in today's recipe. .
Coconut Flakes | Cookie Sheet | Coconut Flakes | Glass Mixing Bowls | Silicone Spatulas | Coconut Oil | 1-Tablespoon Cookie Scoop
This post may contain affiliate links, which allow me to make a small commission for my referral, at no additional cost to you. Thank you for supporting Beaming Baker.
Facebook ☀︎ Pinterest  ☀︎ Twitter ☀︎ Instagram