No Bake Dark Chocolate Almond Butter Paleo Brownies (Vegan, Gluten-Free, Dairy-Free, Oil-Free, Refined Sugar-Free)
No Bake Dark Chocolate Almond Butter Paleo Brownies (V, GF): a 6-ingredient recipe for luxuriously rich no bake brownies packed with chocolate chips and ready in minutes! Vegan, Gluten-Free, Dairy-Free, Paleo.
Happy Halloween!!! (Or the day before. Whatever!) How was your weekend? Did you go to countless spooktacular, spine-chilling, blood-curdling parties??? Do you have parties that you plan to go to tonight or even, gasp!! Tomorrow? You party animal, you!!
Come on, admit it, there's something kinda fun and kinda play-hooky-esque about going to a party on a Monday or Tuesday. Okay, is that just me? I've apparently becoming too boring in my 30s.
Either way, I hope you had/will have the most hair-raising, brilliant and eerie time! Okay, I may or may not have just looked up all the Halloween adjectives I could find. And there's more where that came from. Hint hint.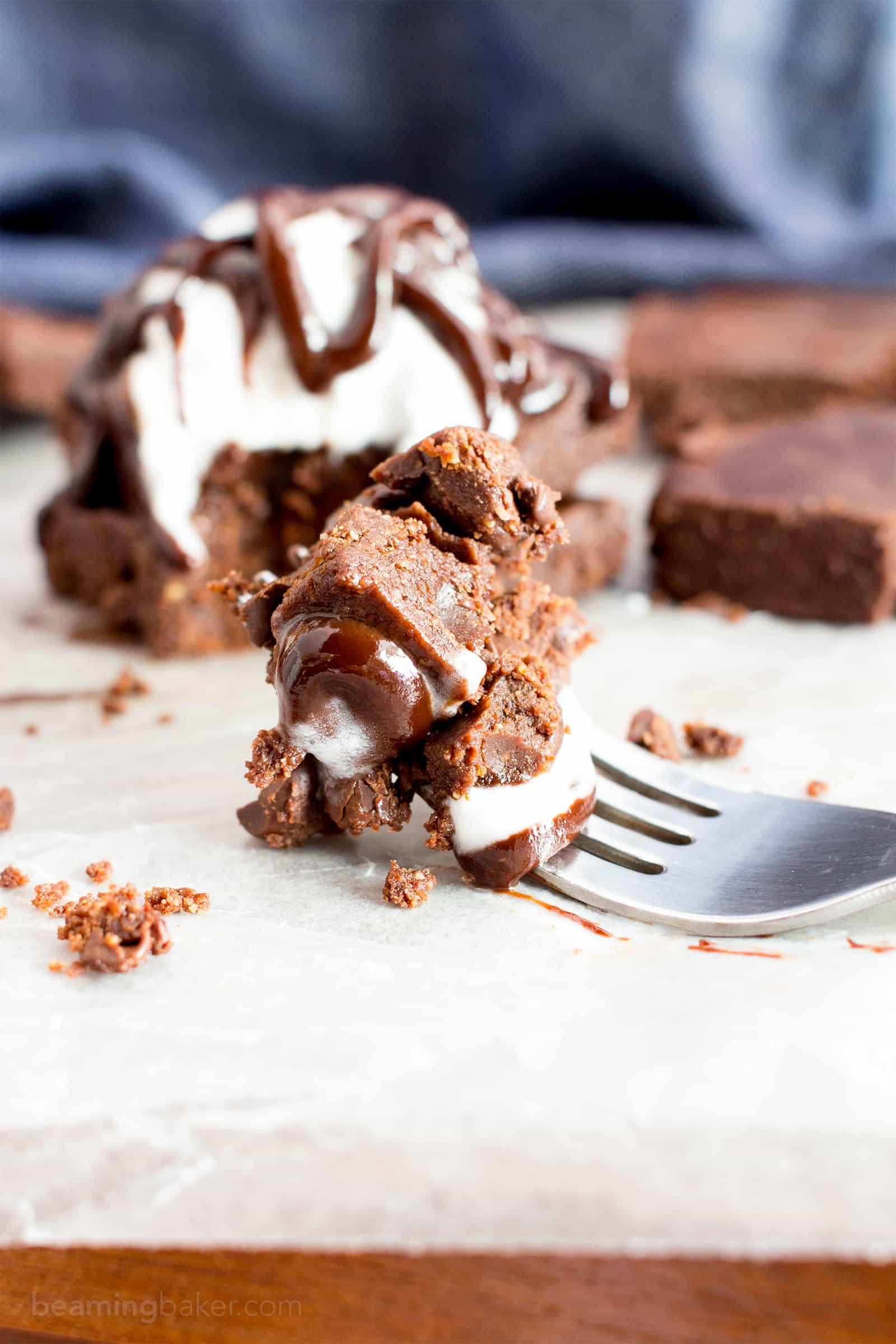 What costumes did you see and wear? You have to tell me if you for-realsies wore more than one costume. That's like my DREAM. I told you this last year, but Erik and I always have these grandiose notions of what our costumes will be like every gosh darn year. No really, every. Gosh. Darn. Year.
We're always like, we're gonna have the coolest costumes ever!! They'll be custom-made, with real, handmade touches in them, an LCD screen, lasers and, like, working wings on them. Ya know, for flying. What costume this is, with lasers, wings and an LCD screen, you ask? Who knows! All I know is that it needs to be EPIC. Like, a Transformers movie costume wardrobe person would be like, "I NEED that costume!!" EPIC!
But then, reality hits. We are so kinda lazy (okay, just lazy) when it comes to costume shopping/making/custom-ordering from France. I mean, that's a lot of effort! Plus, as you know from past year's posts, our home turns into a real-live candy shop every year, in preparation for Halloween, Christmas and everything in between. Believe me, we're up to our eyeballs in crunch bars, homemade Almond Joy, and fudge this time of year!
And you know we can't be gettin' melted chocolate all over those would-be lasers.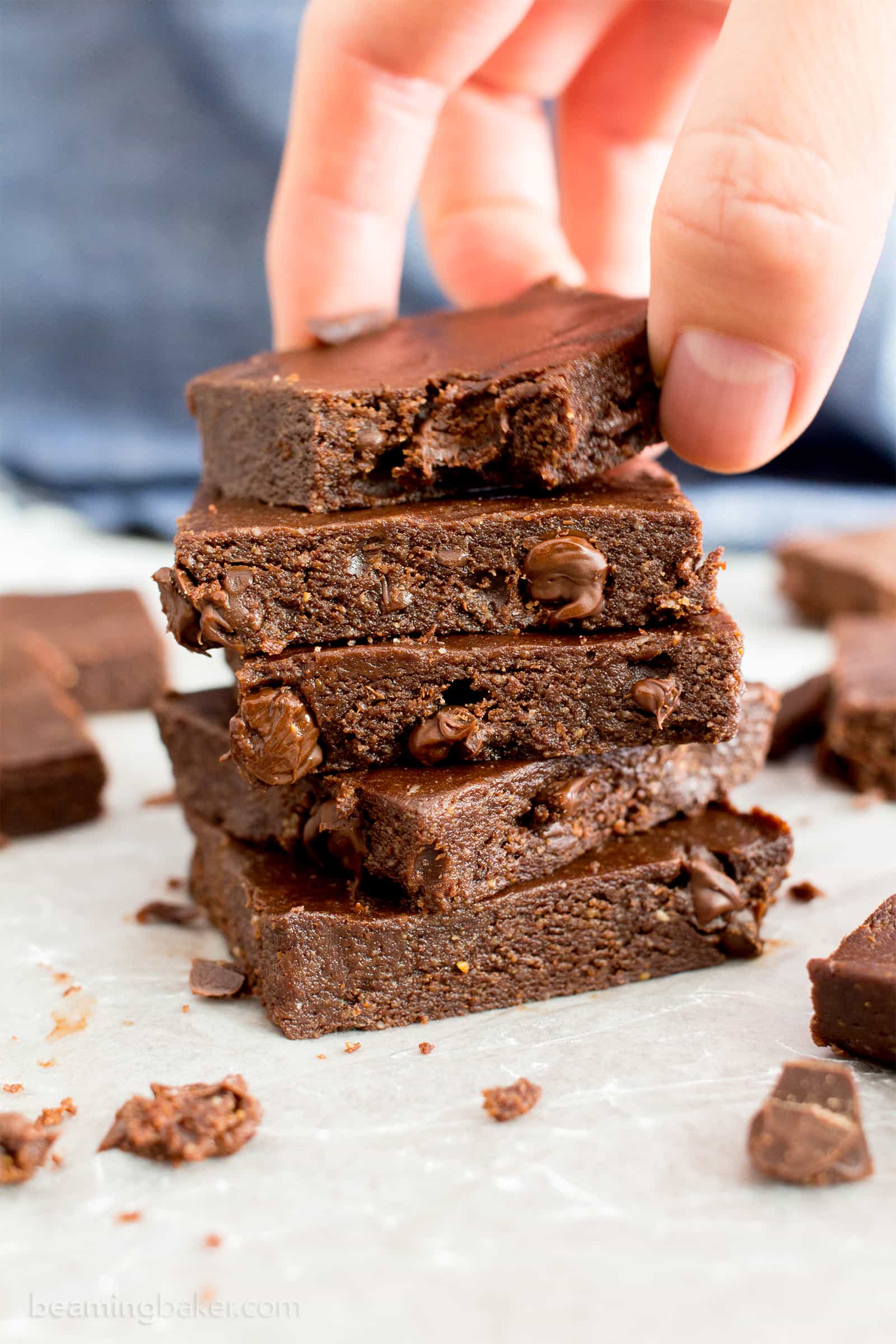 Plus, plus, we usually spend Halloween doing various family activities with my mom, my sister Jenny and her kid (this year: kids!!!) in Boston. And if you know anything about the weather this time of year… it's very unpredictable and so not costume-appropriate. It's basically going to be frigid (outside in the blistering wind, going from door to door, trick-or-treating), then super hot (in the mall, going from store door to door, trick-or-treating), then frigid again, rinse and repeat.
Tell me, what kind of costume would you wear in these zany temperature cray conditions?
I've talked the logistics out with Erik and decided that we probably would need some kind of combo winter snowsuit that has a custom skin with the design printed on the outside, and a thin, equally impressive, but cool and well-ventilated costume under. Also, the snowsuit would need to be able to collapse into a small package that's easy to carry for hours (see: door to door, house to mall trick-or-treating).
That's no biggie, right? 😉
So you can totally see the costume puzzle we're stuck in, year to year. We usually just end up going with hoodies and comfortable shoes. Plus pants, of course. We don't go all out during Halloween.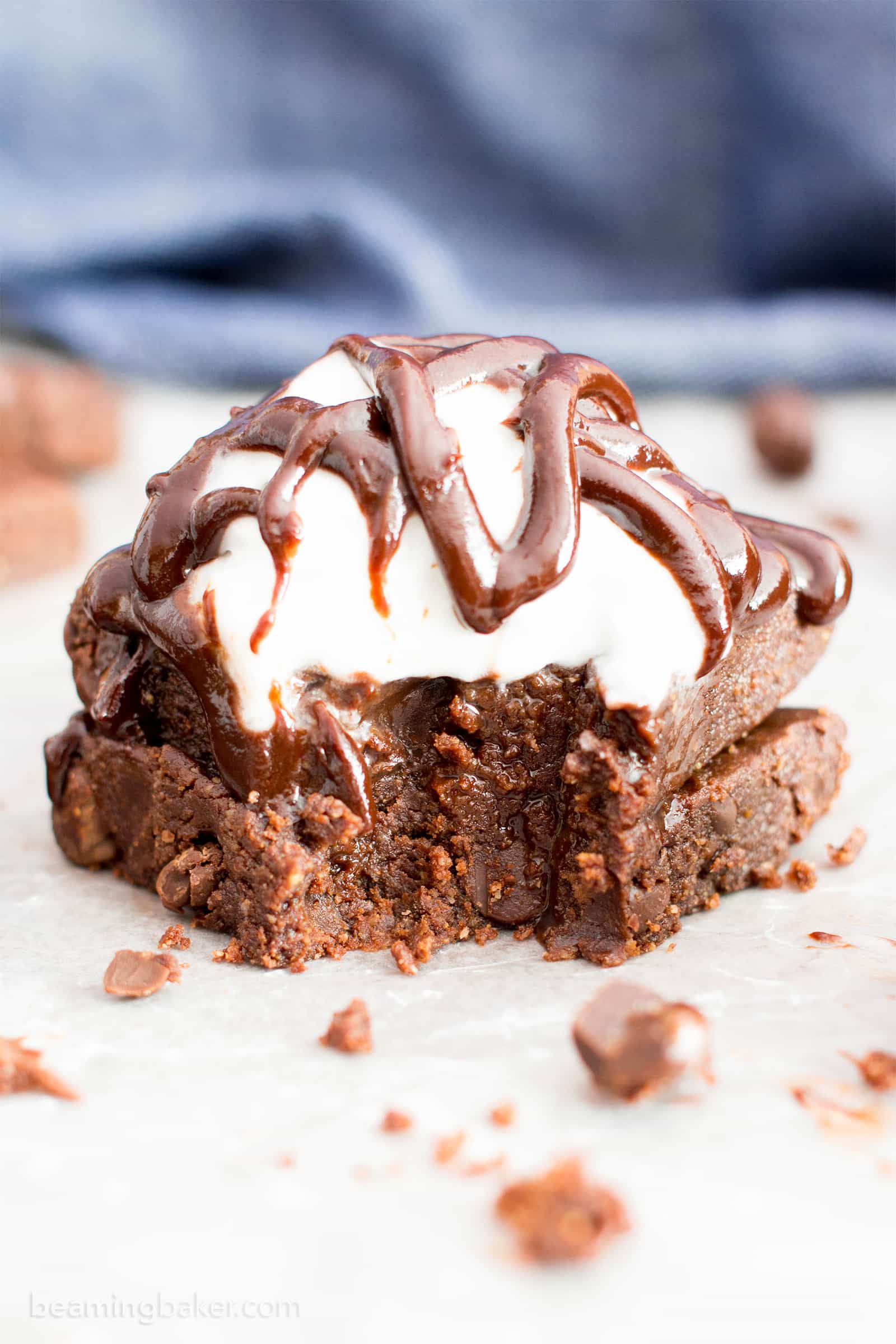 This year, I'm making a declaration: no more even half-hearted attempts/discussions at an elaborate costume! None at all! Okay, that totally just made me sad. So let's just say discussions are okay. I probably won't give this up until Halloween either ends or Heidi Klum's people can make us costumes every year. DUDE.
Anyway, while we don't have any kind of handle on a Halloween costume, we do have these ­­No Bake Dark Chocolate Almond Butter Paleo Brownies. Consider these brownies the perfect treat to help you transition from Halloween to the rest of the holidays!
If you were busy like me, fretting and overthinking and drawing blueprints for your costume this year, or totally doing something legitimately time-consuming, you'll be looking for super easy treats to satisfy that sweet tooth! Also, you're probably looking for something packed with protein for an extra boost while you run around this totally hectic time of year.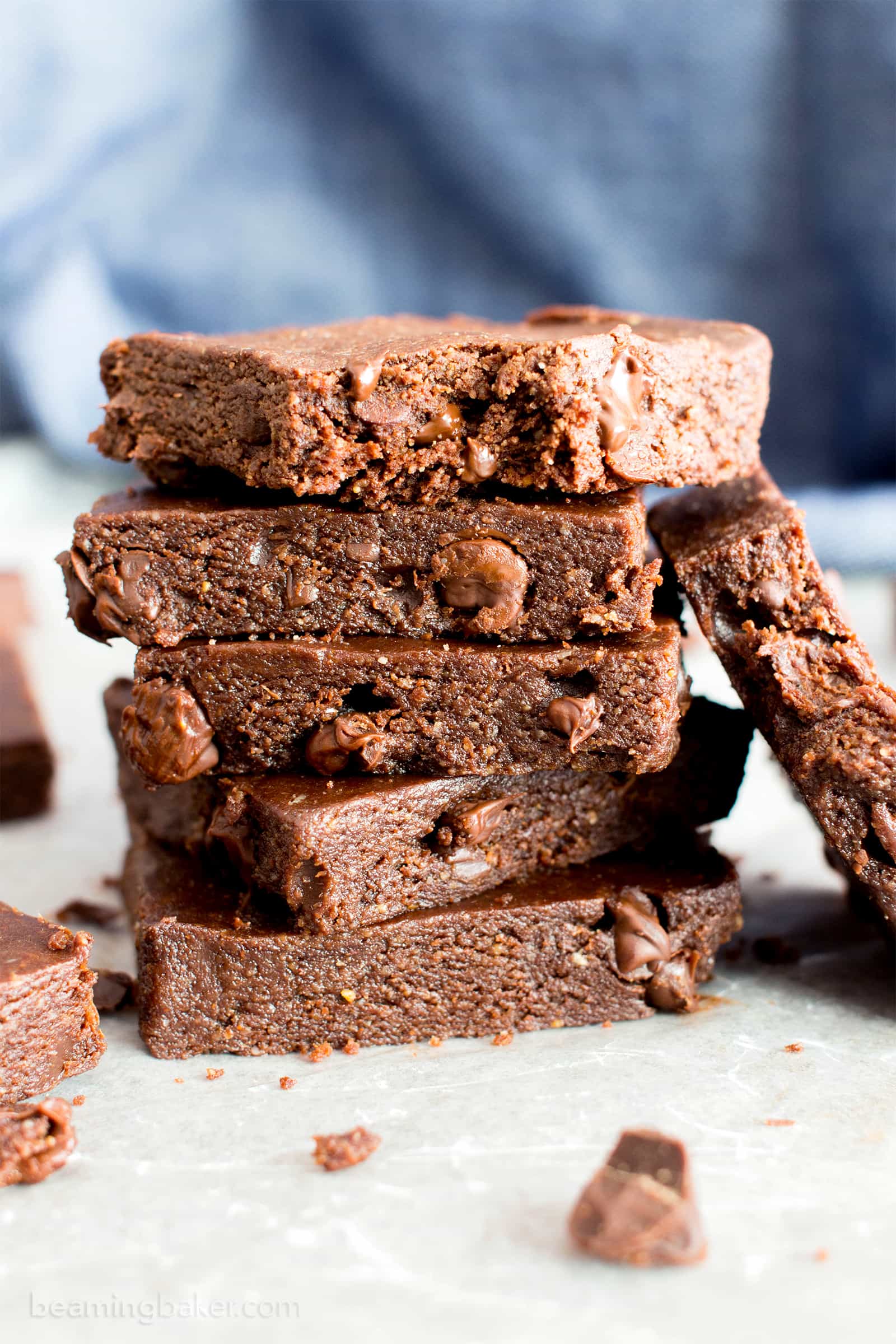 May I present to you the answer to all of our energy-requiring/costume blueprinting-necessitating snack needs? Voila: No Bake Dark Chocolate Almond Butter Paleo Brownies. They're SO freaking delicious! Let me tell you all about them. They're:
made with just 6 ingredients
super easy to make, in just minutes
deliciously protein-rich
vegan, paleo, gluten-free, dairy-free
decadent, rich, indulgent
whipped up in just one bowl
SUPER good when warmed up
…just like a fresh brownie
wait a minute, THE no bake oil-free brownie you've been looking for, refined sugar-free
plant-based and allergy-friendly
made with the simple, whole healthy ingredients you love
just perfect for dessert, a holiday party or an afternoon sweet tooth satisfying snack
waaaaay easier than making an elaborate costume
Wishing you a safe, happy and super fun Halloween this year! It's simply wonderful to make/bake/no-bake all the delicious treats with you. I'm very grateful that you're here. I can't wait to hear what you think of this recipe. In the meantime, tell me:
What did you do/are you going to do for Halloween?
Sending you all my love and maybe even a raven/dove, xo Demeter, the Screaming Baker! ❤️ Happy Halloween!
☀︎ Click below to Pin ☀︎

☀︎ Did you make this recipe? Take a pic and share it on Instagram with the hashtag #beamingbaker and tag @beamingbaker. I would love to see it! ☀︎
SHOP THIS RECIPE
[amazon_link asins='B000FCGRAK,B0055IRNAC,B001CCZL7W,B00091PNTI,B0051T96QE,B0083QJU72′ template='BB-ProductCarousel' store='beamingbake0c-20′ marketplace='US' link_id='f50724ea-4aed-11e7-ad1e-3fd15d6f4101′]
Here are a few items I used in today's recipe. 🙂
OXO Mixing Bowls | Silicone Spatulas | Maple Syrup | Baking Pan (8-inch) | Cooling Rack | Blanched Almond Flour | My Favorite Knife
Print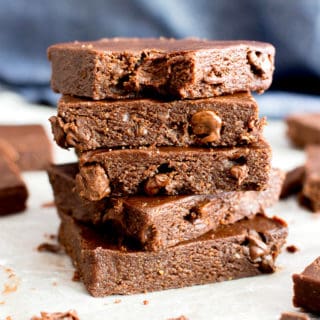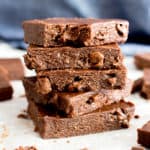 No Bake Dark Chocolate Almond Butter Paleo Brownies (Vegan, Gluten-Free, Dairy-Free, Oil-Free, Refined Sugar-Free)
---
Description
No Bake Dark Chocolate Almond Butter Paleo Brownies (V, GF): a 6-ingredient recipe for luxuriously rich no bake brownies packed with chocolate chips and ready in minutes! Vegan, Gluten Free, Paleo, Dairy-Free.
---
Dry Ingredients
2/3 cup

finely ground, blanched almond flour

½ cup

unsweetened cocoa powder

1/3 cup

paleo-friendly vegan chocolate chips (mini and regular)
Wet Ingredients
2/3 cup

natural, unsalted creamy almond butter

¼ cup

pure maple syrup

2/3 teaspoon

pure vanilla extract
---
Instructions
Line an 8-inch square baking pan with parchment paper, wax paper, or foil. Set aside.
In a large bowl, mix together all of the dry ingredients: almond flour, cocoa powder and chocolate chips.
Add almond butter, maple syrup and vanilla. Using a sturdy spatula, stir and fold together until well mixed, and no almond butter or flour patches remain.
Pour batter into prepared baking pan. Using the spatula, smooth into an even, tightly-packed layer. Slice into 16 bars—bars will be soft, but firm enough to slice. For a special treat, warm in the microwave for 10-15 seconds; the brownies might be too soft to pick up, but can be eaten with a fork.
Enjoy! Storing instructions below.
Notes
– Adapted from my No Bake Almond Butter Paleo Brownie Bites.
– Store in an airtight container at room temperature or in the refrigerator for up to 2 weeks. In the refrigerator, the brownies will become very firm. Follow heating instructions below to soften.
– Freezing instructions: store in an airtight, freezer-friendly container for up to 1 month. Allow to thaw at room temperature for 10-20 mins before enjoying. Or, follow heating instructions below.
– For melty, warm brownies: heat in the microwave in 10-second increments until warm. So delicious—like fresh brownies! Be careful, as they're very soft after warming.
– More no bake paleo desserts: chocolate pecan fudge, no bake chocolate pecan bars, no bake chocolate coconut bars.
Category:

Brownies, No Bake, Dessert, Chocolate, Vegan, Gluten-Free, Paleo, Dairy-Free
© beamingbaker.com. All content and images are protected by copyright. Please do not use my images or recipe without my permission. If you wish to republish this recipe, please re-write the entire recipe using your own words and include a link to this post for the recipe.
If you enjoyed these No Bake Dark Chocolate Almond Butter Paleo Brownies, then you'll just love these delicious paleo dessert recipes:
☀︎ More Paleo Vegan Dessert Recipes ☀︎
Paleo Apple Pecan Coconut Crisp | No Bake Almond Butter Paleo Brownie Bites | No Bake Paleo Chocolate Almond Butter Bars | No Bake Paleo Chocolate Pecan Bars | Ultimate Fudgy Paleo Vegan Brownies | No Bake Chocolate Coconut Bars | Homemade Almond Joy | Super Fudgy Paleo Maple Pecan Brownies | Chocolate Coconut Cups | and… Oil-Free Cinnamon Nut Granola just for fun. .
This post may contain affiliate links, which allow me to make a small commission for my referral, at no additional cost to you. Thank you for supporting Beaming Baker.
Facebook ☀︎ Pinterest  ☀︎ Twitter ☀︎ Instagram