Oil-Free Paleo Cinnamon Nut Granola (V, GF): an easy recipe for crispy, crunchy homemade paleo granola perfectly spiced with warm, cozy cinnamon. Vegan, Gluten Free, Dairy-Free, Paleo.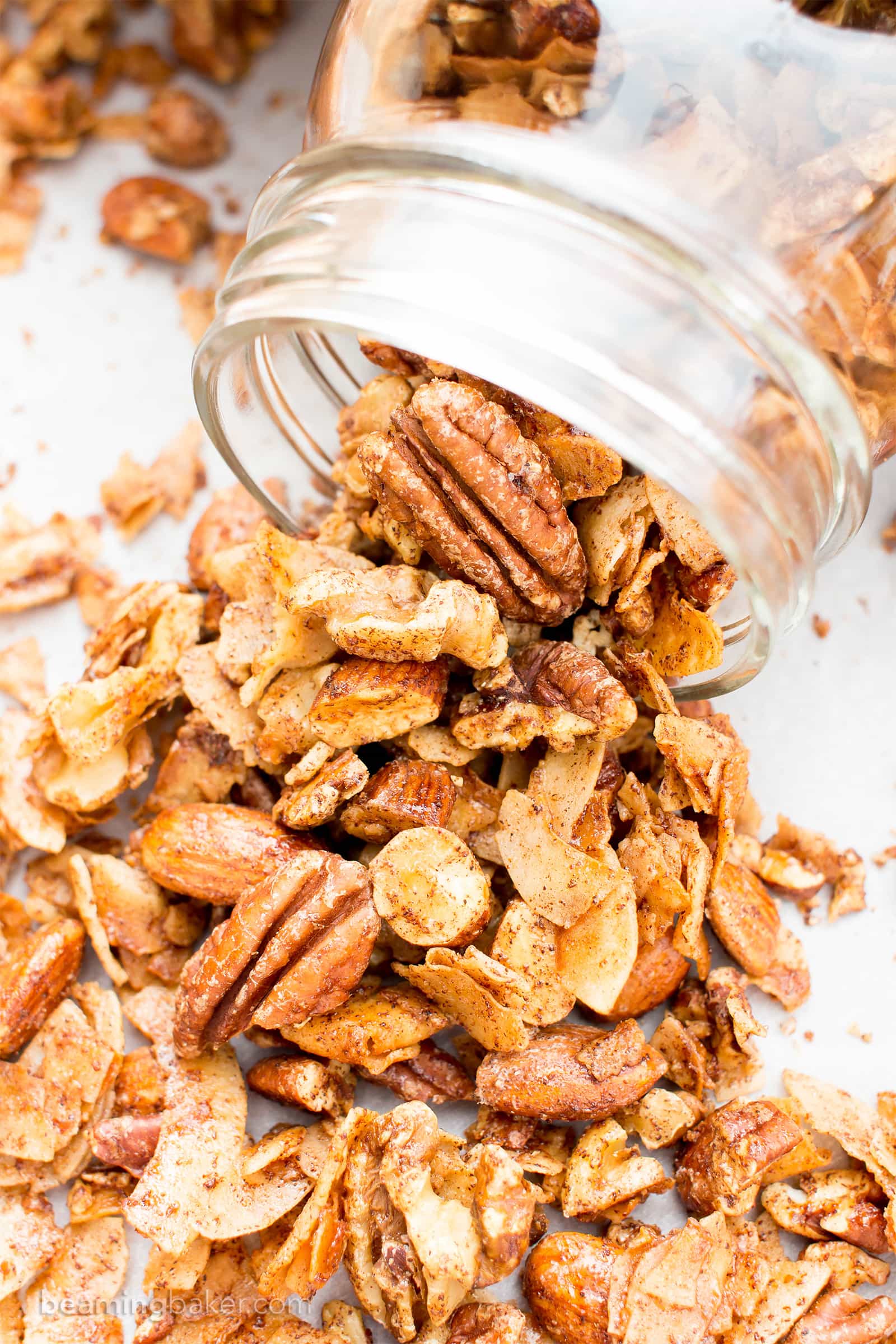 When I first started getting into baking, like obsession-level baking, I put cinnamon in everything. No seriously, EVERYTHING. I would (and still do) buy the gigantor bottles of ground cinnamon. I mean, who needs those teeny-tiny, itsy bitsy bottles anyway? It's just gonna be used in a week. Riiiiight?
Alright, most normal folk don't use that much cinnamon. But believe me, friends, I put cinnamon in EVERYTHING! Here's how my typical recipe writing thought process would go (if this were an-in-my-dreams-cinnamon-blog)…
Cookies: add cinnamon
No Bake Bites: add cinnamon
Granola Bars: add extra cinnamon
Muffins: add the maximum amount of cinnamon possible
Apple Crisp: uh, duh—cinnamon is going in the topping and the filling
Smoothies: uh YEAH, cinnamon's going in there, like it's nobody's business
Cinnamon: add extra cinnamon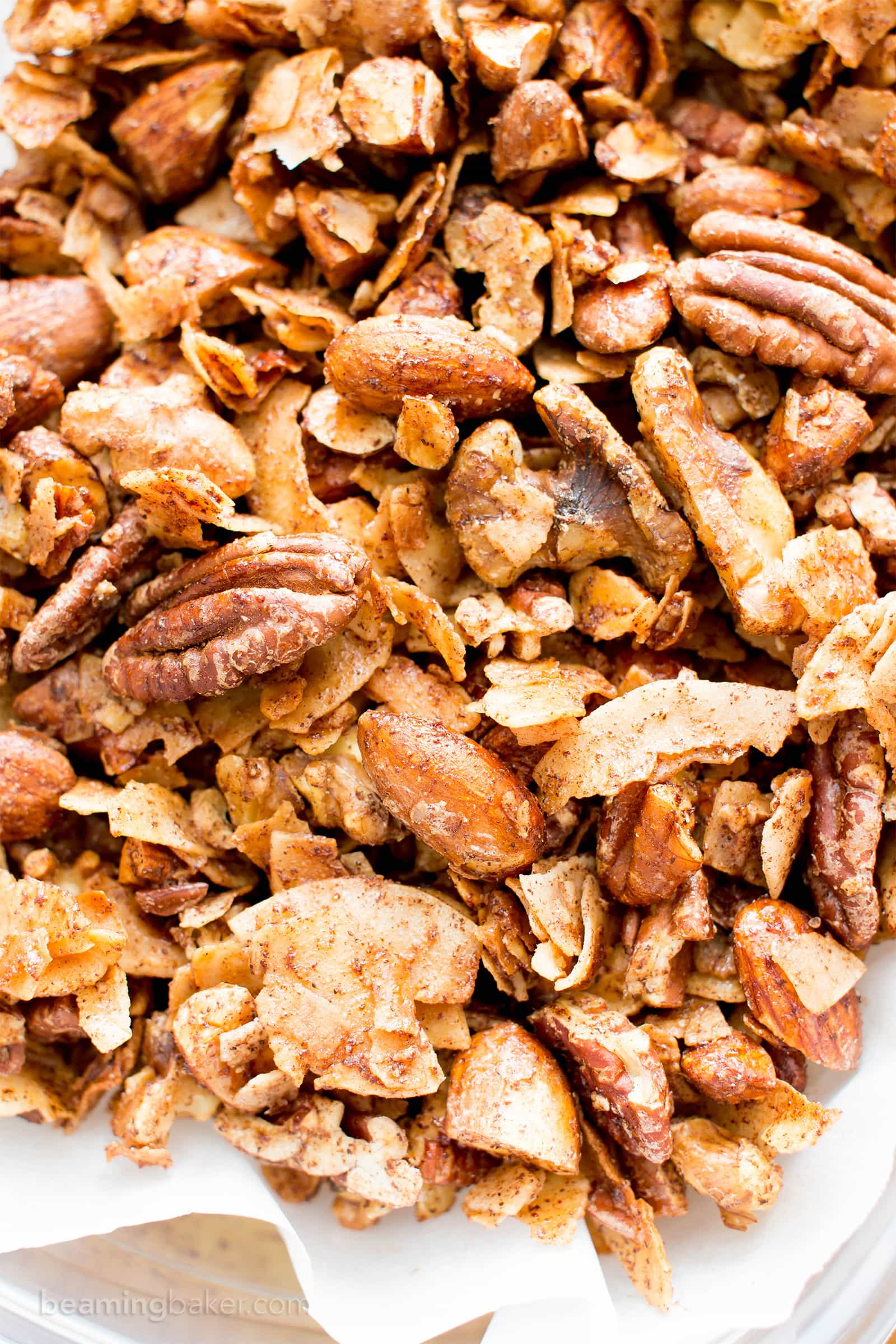 But as it turns out… not everyone loves cinnamon in everything. Dang it! I've since had to dial down my cinnamon fandom, or at least appear as neutral and "cool" about cinnamon as possible. You know me, cool as can be.
I'll just go ahead and put my gallon of cinnamon far behind my 2-gallon bucket of coconut oil… which is behind my 10-lb bag of almonds.
Um…
Erik just said, "ahhh… that's funny because it's true."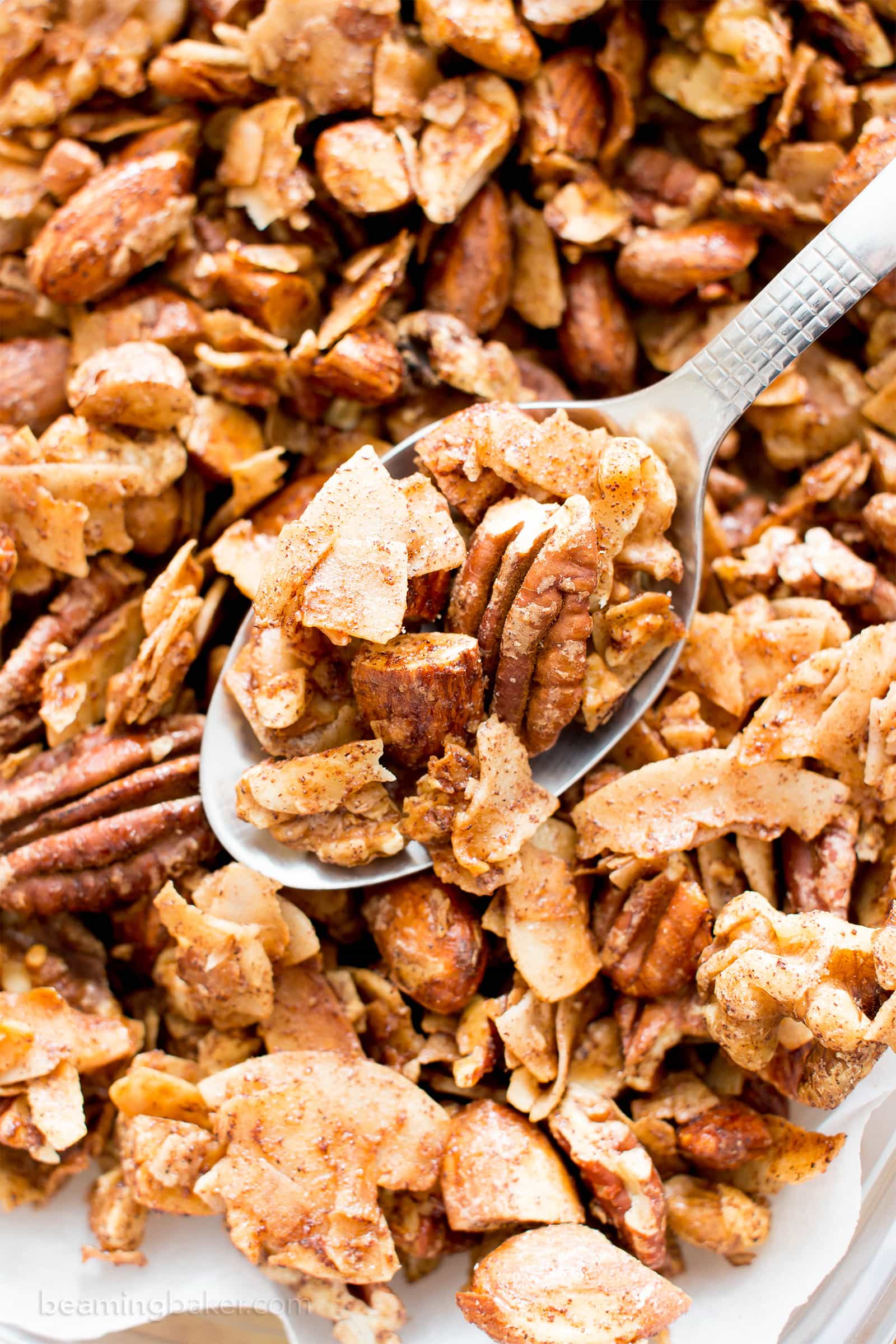 But no matter, I dried up my red hot cinnamon tears by waiting till the time was right. And guess what? It IS!
Why, you ask? FALL, baby! (Did anyone else feel uncomfortable when I said, "baby!" I seriously can't pull it off the way Cake Boss does. Boo.) But Fall, good ol' Fall, or Autumn or whatever you choose to call it, is the perfect time for my cinnamon tendencies to run wild and free!
So guess what I have for you today? ­­­­­
Oil-Free Paleo Cinnamon Nut Granola! Yes, that totally felt good to say. In all honesty, I totally wanted to put even more cinnamon in this recipe, but I've got to stay cool and all that. However, if ya did want to put in a dash or two more of cinnamon, just know that I'm enthusiastically nodding my head over here.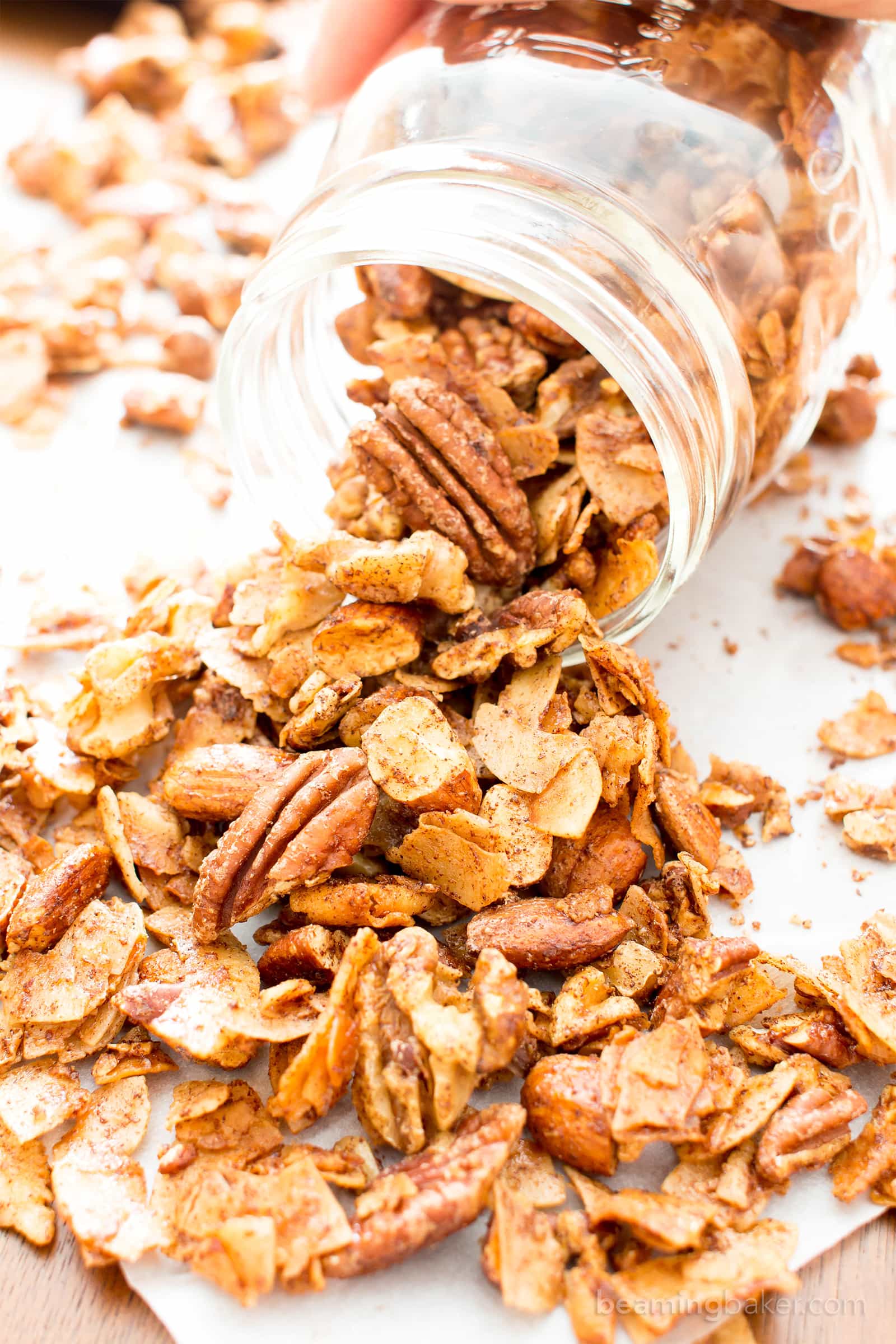 This Oil-Free Paleo Cinnamon Nut Granola is just the epitome of fall. It's warm, super cozy (like, make 50 batches and weave it into an actual blanket cozy), and full of my favorite your favorite fall spice: cinnamon. Since it's based off of my paleo granola, it's just as easy to make, and comes together, ready to bake, in minutes.
I recommend chopping those nuts as lightly as possible. The less you chop, the bigger the chunks you'll get. Unless, of course, you love your granola in small pieces. 😉 I, myself, love those nuts nice and chunky, plus—big plus here folks—you won't have to spend too much extra time chopping. And who doesn't love less work? Side note: have you tried these Cinnamon Sugar Pumpkin Seeds? Just in case you're craving more cinnamon goodies. 😉
Now, where was I? Oh yes! One of the best things about this Oil-Free Paleo Cinnamon Nut Granola is that it stays crispy for over a month. Yep, over a month. Take that, storebought granola! Who says ya need all of those preservatives and gosh knows what to have fancy schmancy monthlong-crispy-awesome granola anyway?
Lastly, this granola is oil-free. Yep, oil-free. Cool, right? <– Obviously the theme of today.
Btw, if you really manage to weave this granola into a blanket, I have to see that. Heh heh.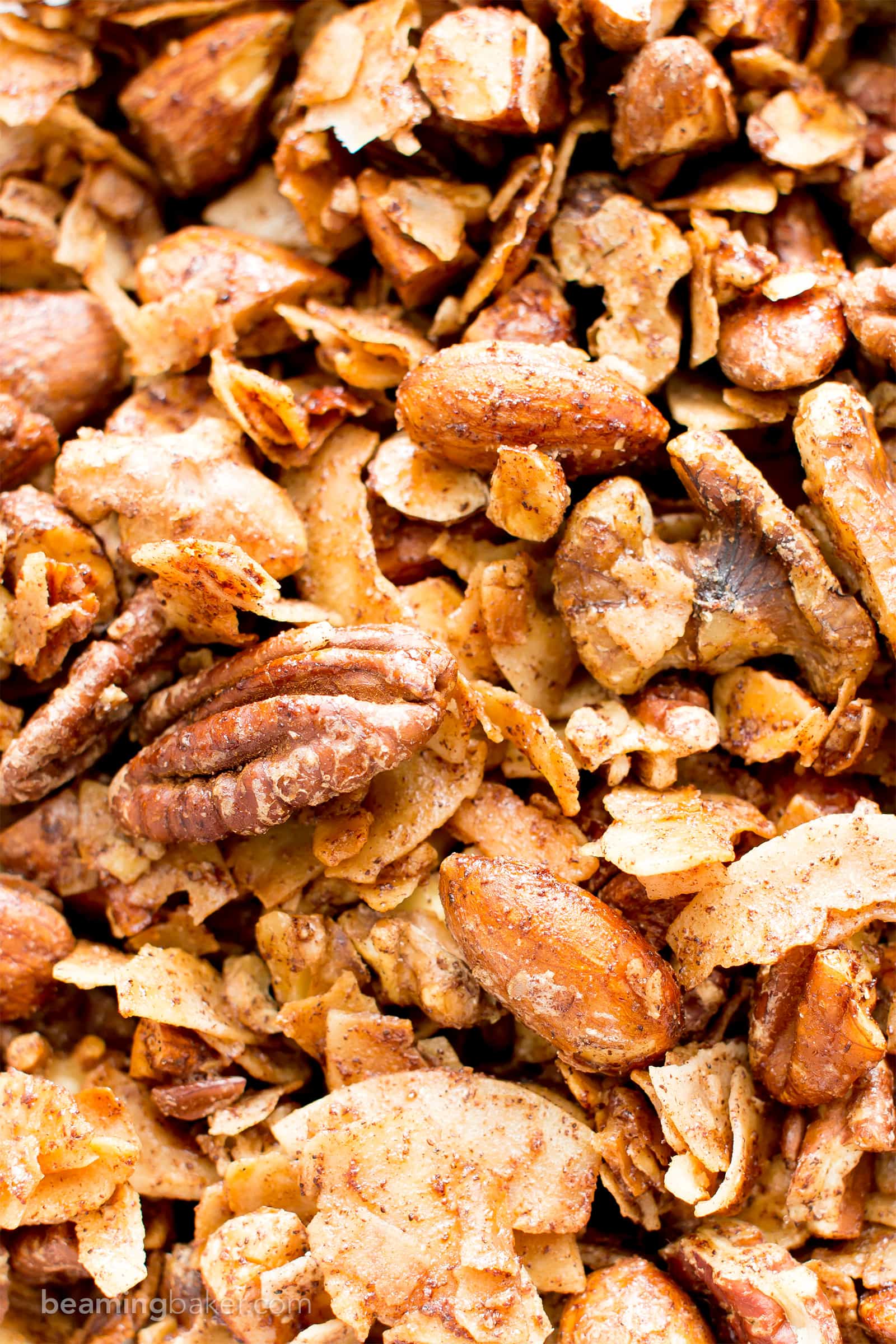 Lately, I've been turning to this granola for all of my snack needs (along with these sweet 'n salty nut clusters). I love packing up ¼ cup-servings of this wonderful granola to bring with me to family get-togethers, like going to the mall or an afternoon at the park. The second anyone gets hungry, be it Grams, Erik, my 4-year-old nephew or his momma, I've got everyone covered.
And I got to work cinnamon into the day. Score!!
Come night time, I'll sprinkle a handful over my yogurt, or over dark chocolate nice cream. It's INCREDIBLE. How do you like to enjoy your granola?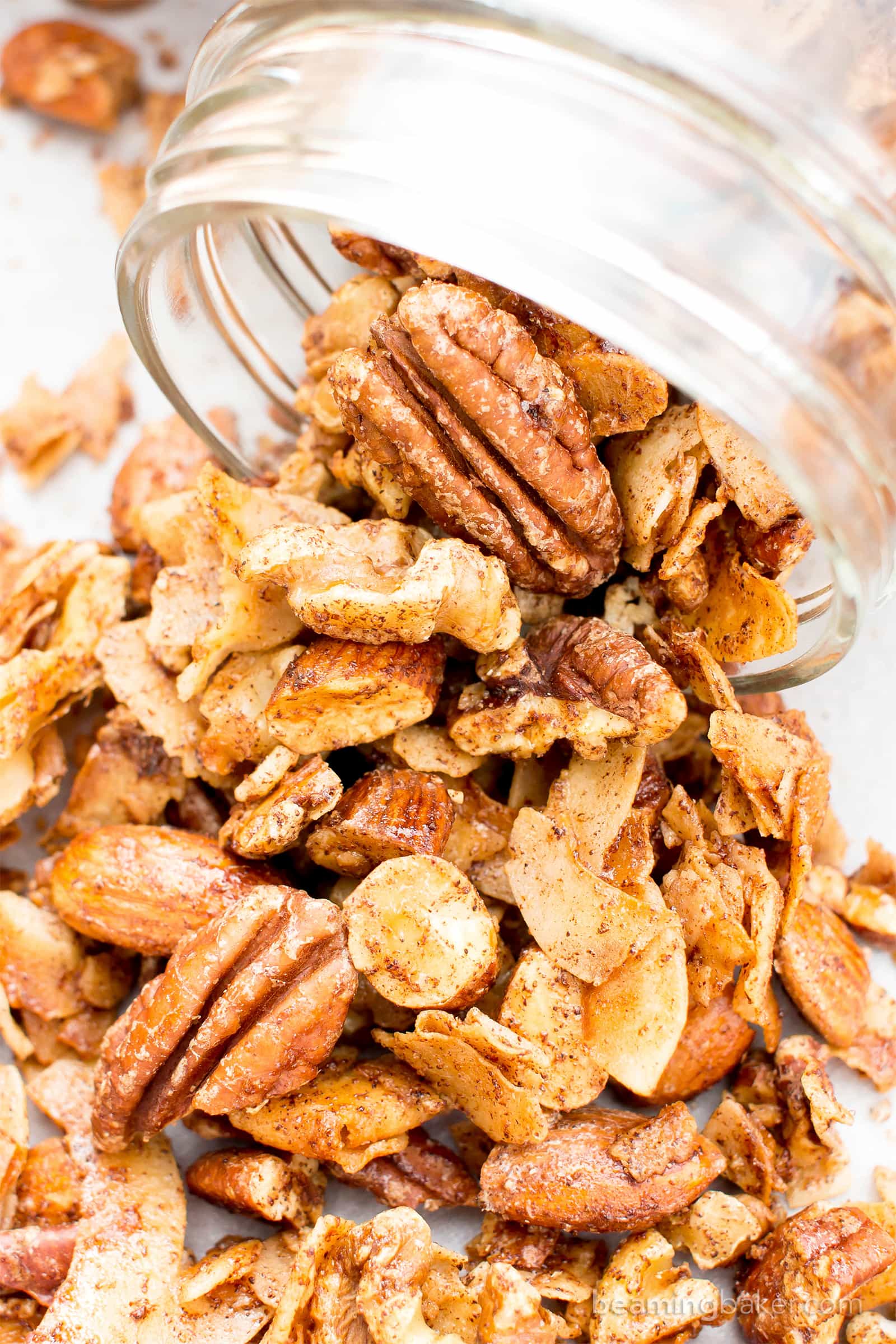 If I still haven't got you convinced, allow me to tell you all about this Oil-Free Paleo Cinnamon Nut Granola. It's:
made with just 6 ingredients
…and even fewer if you use the same nut
super crunchy, crispy and full of big chunks
bursting with warm, cinnamon spice
vegan, gluten-free, dairy-free, paleo
super easy to make and ready to bake in minutes
delightfully refined sugar-free
good for 1-2 months—and seriously stays crispy that long
plant-based and allergy-friendly
made with the simple, whole, healthy ingredients you love
perfect for an afternoon snack, pre-workout boost…
or sprinkled atop nice cream for an awesome dessert
So whaddya say? Are you ready to cinnamon-ify your life? Try saying that five times fast! Anywho, are you ready to bake up a batch of deliciously sweet and crunchy homemade Oil-Free Paleo Cinnamon Nut Granola? You grab the nuts, I'll grab my gallon of cinnamon! Let's bake this. It's wonderful to create these recipes and experiences with you. I can't wait to hear what you think. In the meantime, tell me:
What's your favorite flavor of granola?
Sending you all my love and maybe even a dove, xo Demeter ❤️
☀︎ Click below to Pin ☀︎

☀︎ Did you make this recipe? Take a pic and share it on Instagram with the hashtag #beamingbaker and tag @beamingbaker. I would love to see it! ☀︎
SHOP THE RECIPE
[amazon_link asins='B00CNHCDR6,B000Q3D95Y,B0083QJU72,B0019GZ84C,B005EEYGCA,B001CCZL7W' template='BB-ProductCarousel' store='beamingbake0c-20′ marketplace='US' link_id='5ad26294-a477-11e7-91fa-0bccacfb11c2′]
Here are a few items I used in today's recipe. 🙂
Mason Jars | Cookie Sheet | Maple Syrup | Coconut Flakes | Glass Mixing Bowls | Silicone Spatulas
Print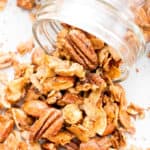 Oil-Free Paleo Cinnamon Nut Granola (Vegan, Gluten-Free, Dairy-Free, Refined Sugar-Free, Grain-Free)
---
Description
Oil-Free Paleo Cinnamon Nut Granola (V, GF): Crispy, crunchy homemade paleo granola perfectly spiced with warm, cozy cinnamon. Vegan, Gluten Free, Dairy-Free, Paleo, Healthy, Snacks.
---
1 cup

unsweetened coconut flakes

½ cup

almonds, roughly chopped*

½ cup

walnuts, roughly chopped*

½ cup

pecans, roughly chopped*

1 ½ teaspoons

ground cinnamon

1/8 teaspoon

salt (optional)

3 tablespoons

pure maple syrup
---
Instructions
Preheat the oven to 325°F. Line a large baking sheet with parchment paper or greased foil. Set aside.
Add coconut, almonds, walnuts, pecans, cinnamon and salt (if using) to a large bowl. Stir until well mixed.
Add maple syrup. Stir and fold until coconut and nuts are fully coated.
Pour granola onto the prepared baking sheet. Spread into an even layer, with empty pockets at regular intervals to let air through. Using a spoon, create small piles of granola—these will become clusters after baking.
Bake for 10 minutes. Using a heatproof spatula, flip granola to evenly crisp the other side. Bake for an additional 5-12 minutes. Mine took a total of 20 minutes.
Place baking sheet on a cooling rack. Allow to cool for about 30 minutes. Storing instructions below. Enjoy!
Category:

Granola, Snacks, Vegan, Paleo, Gluten-Free, Dairy-Free, Oil-Free, Healthy
Nutrition
Serving Size:

1/4 cup

Calories:

129

Sugar:

3g

Fat:

11g

Carbohydrates:

6g

Protein:

3g
© beamingbaker.com. All content and images are protected by copyright. Please do not use my images or recipe without my permission. If you wish to republish this recipe, please re-write the entire recipe using your own words and include a link to this post for the recipe.
If you enjoyed this seriously irresistible Oil-Free Paleo Cinnamon Nut Granola, then you'll just love these delicious healthy snack recipes:
☀︎ More Gluten Free Vegan Snacks ☀︎
Gluten Free No Bake Brownie Energy Bites | Maple Pecan Pumpkin Muffins |Skillet-Roasted Maple Cinnamon Pecans | No Bake Peanut Butter Oatmeal Cookies | No Bake Paleo Chocolate Pecan Bars | Chocolate Pumpkin Bread | Coconut Almond Pecan Paleo Nut Granola | and… Pumpkin Chocolate Chip Breakfast Bars, just for fun. 😉
This post may contain affiliate links, which allow me to make a small commission for my referral, at no additional cost to you. Thank you for supporting Beaming Baker.
Facebook ☀︎ Pinterest  ☀︎ Twitter ☀︎ Instagram