3 Ingredient Chocolate Pecan Fudge (Easy, Paleo, Vegan, Gluten Free, Dairy-Free)
3 Ingredient Chocolate Pecan Fudge (V, GF) a 5-minute recipe for thick, luxurious fudge generously packed with pecans. Paleo, Vegan, Gluten Free, Dairy-Free.
Welcome to my ultimate fudgy recipe. Like, for REAL. Alright, fine, why is this not called Ultimate Fudge Bawesome Recipe? Eh, who knows. I don't make the rules around here. Okay, I kind of do. How cool is that?
So is it Bossome? B'awesome? Or Bawesome? Who really knows… so bawesome it is!
Anyway, I wasn't planning on this recipe being my ultimate, ultimate fudge recipe, but it kind of worked out that way. It all started because I wanted to whip up something super special to share for Halloween. My favorite holiday, EVER. Btw, what's yours?
Halloween is not only the best because you get to dress up like however (whomever??) you goshdarn well please, but because: CHOCOLATE. And, did I mention? CANDY!!! The kid in me just refuses to grow up.
What can I say, besides: 3 Ingredient Chocolate Pecan Fudge.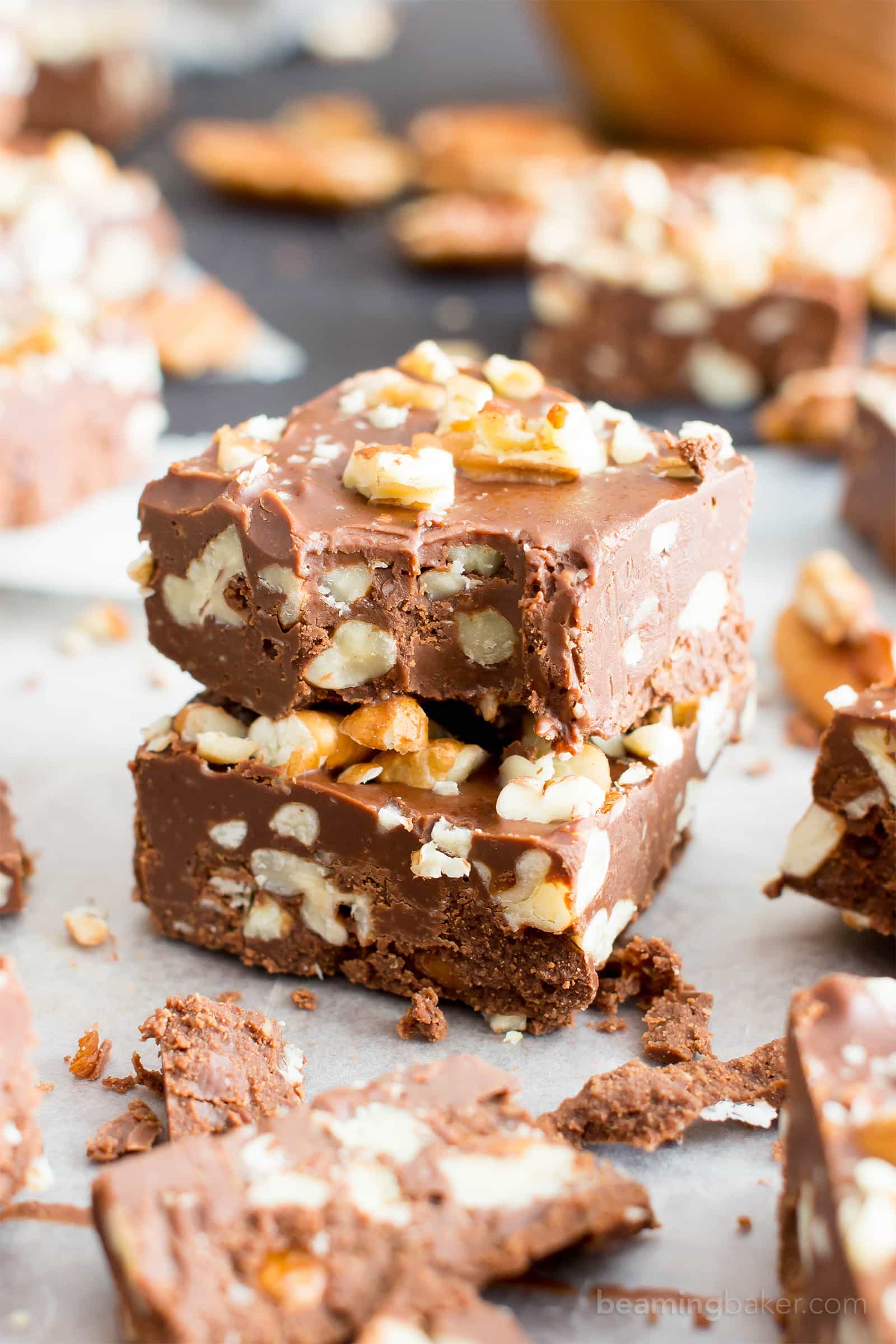 Last year, I shared a number of homemade versions of your favorite candies, and well, it was super fun! Here are a few of them:
I even considered opening a candy shop. Okay, fine, I didn't really, because making a few batches of candy a day (spread out over the course of months) sounds a lot more fun than making like 500 batches of candy a day, every day 'til the end of time.
Plus, you know me, I would eat half of the candy before it was even sold.
Not a great business plan, I must admit.
Anywho, how did my foiled candy shop business plans lead to this fudge? Well, last year, I spent a whole bunch of time making all manner of candy: peppermint crunch bars, almond butter cups, peanut butter eggs, and all the other stuff you read about earlier. All of that was in preparation for last Halloween. And, let's be honest here, the time after that was just preparation for this Halloween.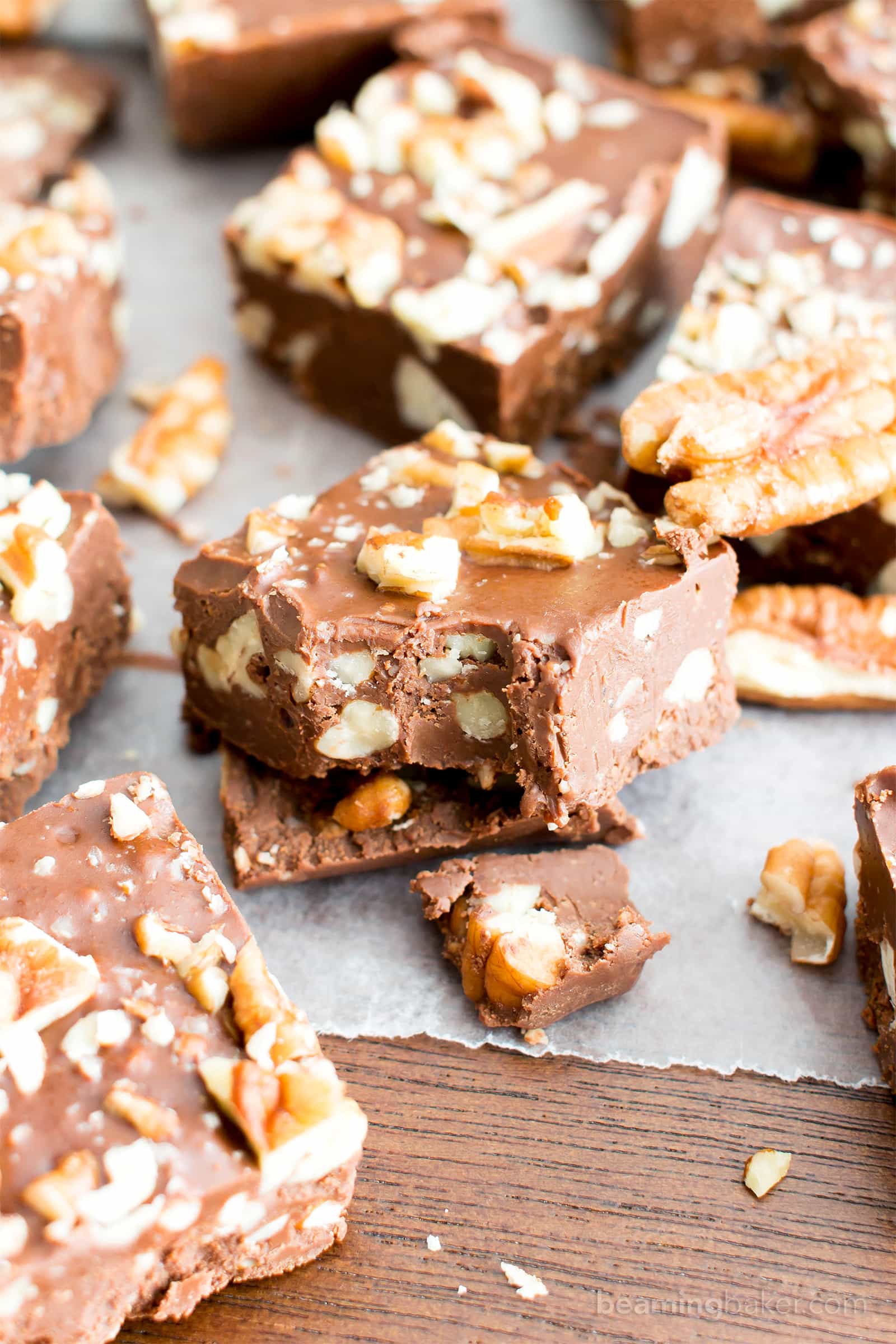 I learned a lot about fudge. And not just what you'd expect: that it's GOOD. I learned that it's a tad tricky to make shelf-stable (room temperature ready) without the help of a few ingredients we just don't like to use on this wholesome-ish blog. As such, I just didn't even go there. Why bother, if we can't all feel good as heck eating it?
So I shared a few fudge recipes that y'all have truly enjoyed (much to my surprise and delight): peanut butter freezer fudge, almond butter fudge cups, to name a few. But they had to stay in the freezer or fridge.
That point just always, always bothered me.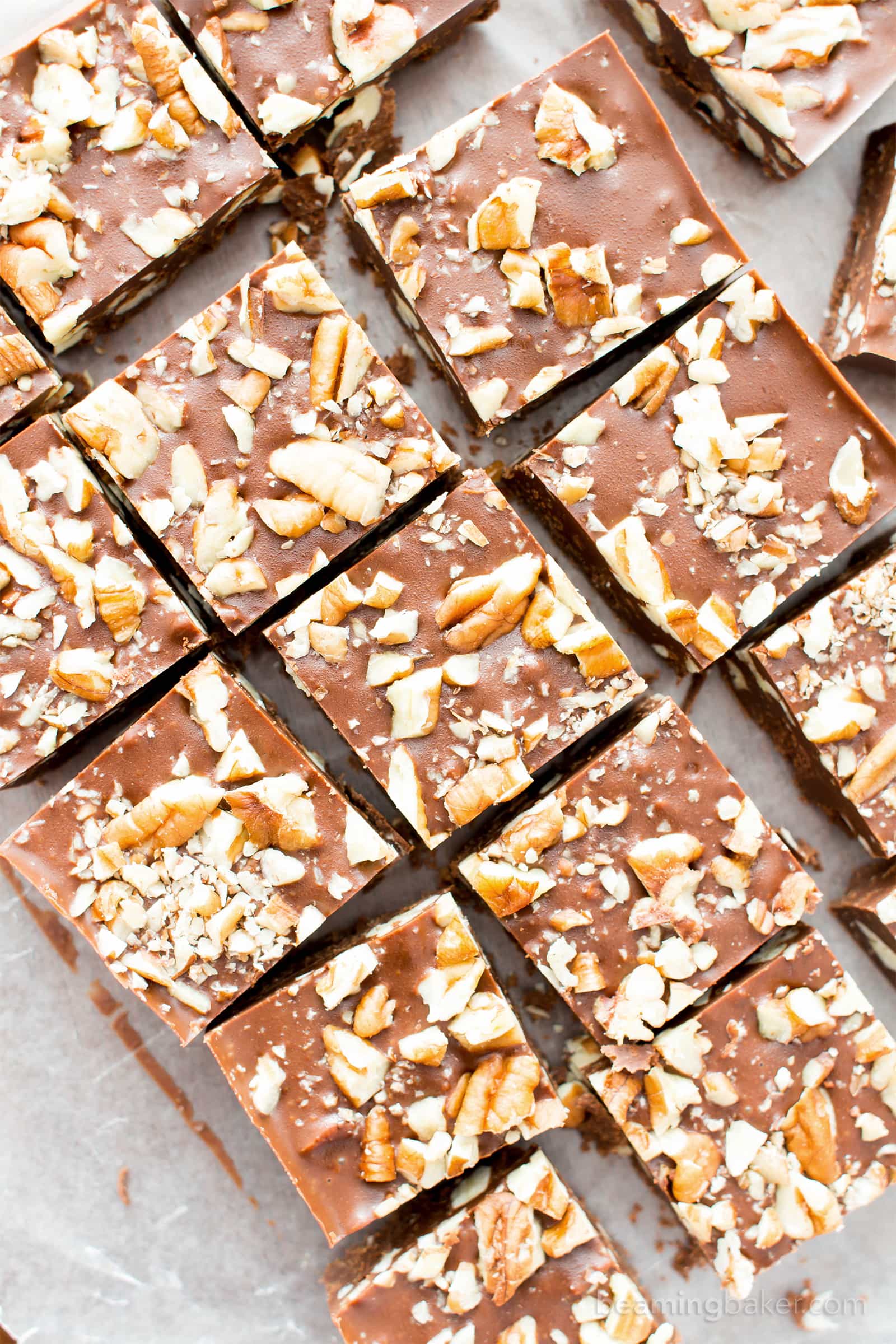 I seriously get stressed thinking about transportation issues and whatnot. Like, what if you want to bring them over to a friend's, but there's no freezer/fridge in sight? (I don't know why your friend wouldn't have a fridge…) What if you get stuck on the train on the way over? All the possibilities boggled my mind. Yep, this is totally the zany stuff that keeps me up at night. Call it a career quirk.
Most importantly, how do you gift it? Do you bring it over to someone's house and ask them to quickly clear out some space in their freezer? Okay, you could totally do that, but still.
And what do you do if you want to place it under their Christmas tree? Politely email them in advance and ask them to place a mini fridge under the tree for a super special gift?
And lastly, what if you wanted fudge-fudge, like without the nut butter taste?
I had all of these questions and concerns floating around my would-be candy shop amateur mind for the last year. And guess what? I SOLVED IT. Yeah!!!! Can I get a high-five?!? Better yet, can I get a non-refrigerated, non-frozen surface on your counter to place this 3 Ingredient Chocolate Pecan Fudge?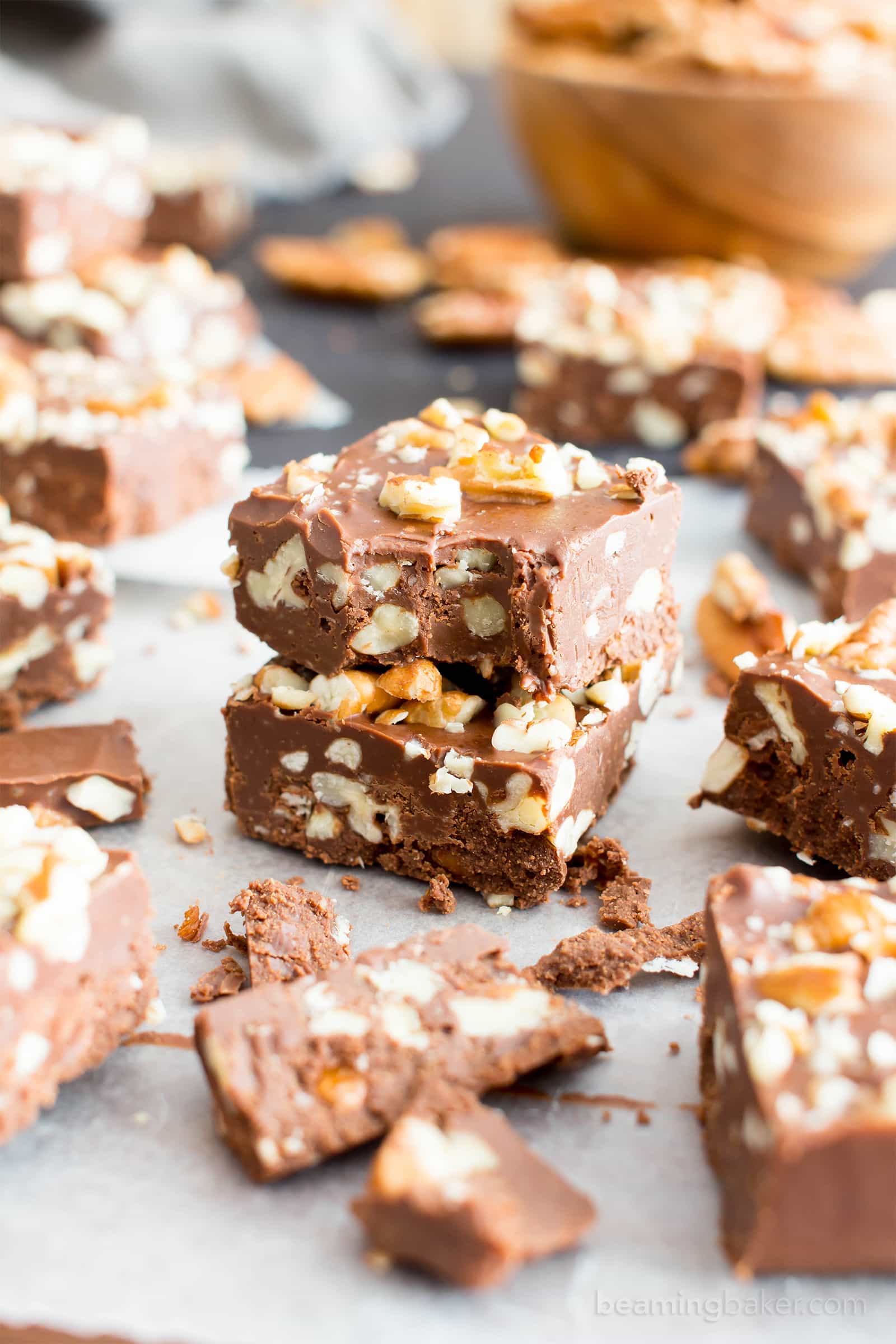 It can keep at room temperature. Just sayin'. Like, embarrassingly proudly.
This fudge is so freaking amazing at any temperature (okay, don't put it in the sun or anything, I'm not a wizard). At room temp, it's the perfect fudge texture. Think, for-realsies 200-hundred-year-old candy shop with bright red stripes and slabs upon slabs of fudge… GOOD. It's just the right balance between soft and dense. Rich, sink your teeth into it thick. Melt in your mouth decadent.
And yeah, there are generous amounts of pecans to keep that nutty crunch factor on point.
Like, the tip of a newly sharpened pencil on POINT.
And in the fridge? It's just as delicious. The texture is just a tad firmer, but still sink your teeth in it satisfying. More into the freezer, anyway? Still awesome. It's even firmer, and might need a few seconds in your mouth to melt to just the right texture. Or, maybe you're one of those peeps that loves it extra firm. Go on with your bad self!
And nope, it doesn't taste like nut butter! Yeah!!!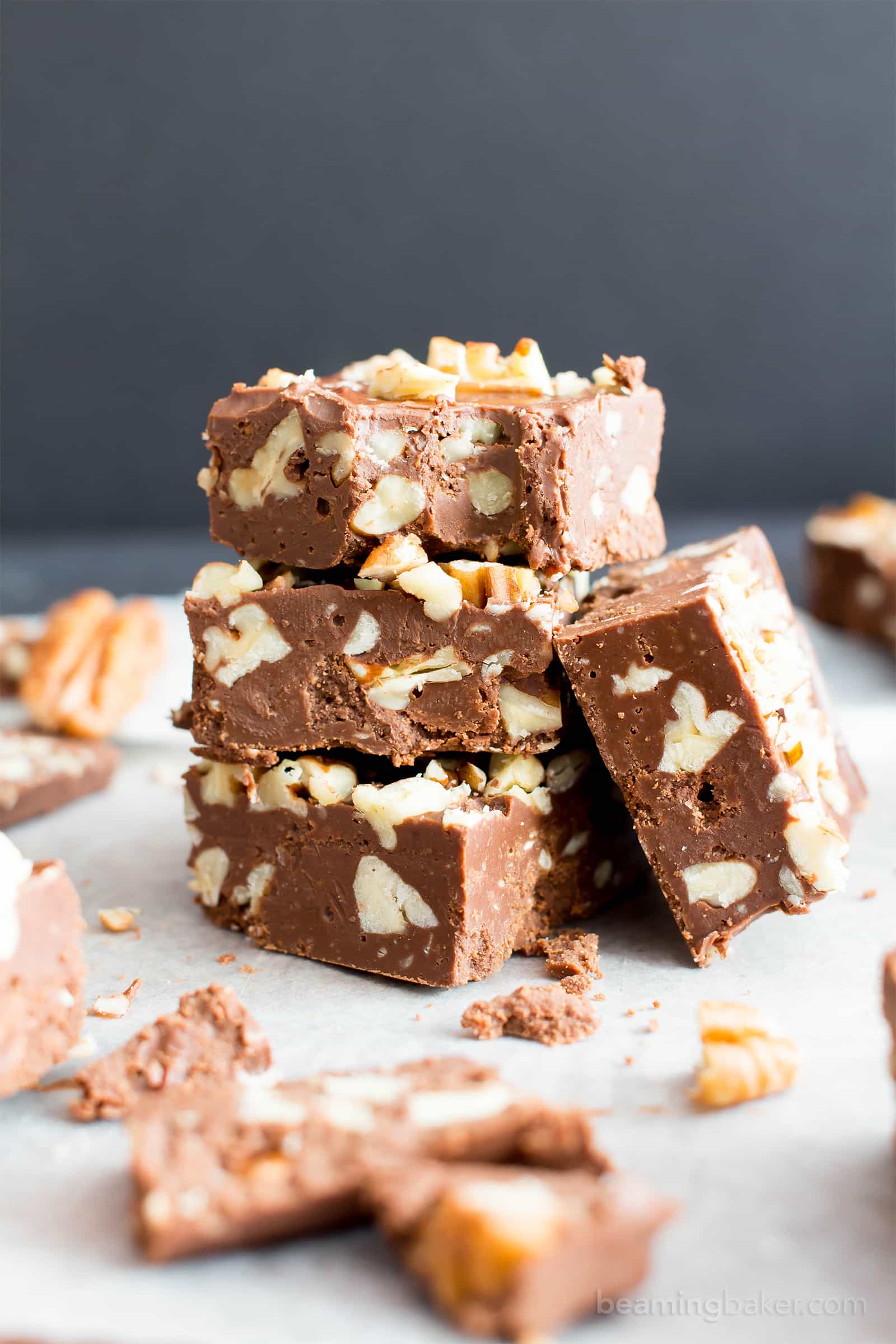 Can you tell how proud I am of this recipe? How amazing it's gonna be? Try it and you'll see. In the meantime, I'll share my usual finest selling points with you about this chocolate treat (aka: TL;DR). My 3 Ingredient Chocolate Pecan Fudge is:
made with just 3 ingredients
thick, fudgy, rich
so easy to make, ready to freeze in just 5 minutes
vegan, paleo, gluten-free, dairy-free
awesome at any temperature: room temp, straight from the fridge or freezer
wonderfully refined sugar-free
packed with generous amounts of pecans
perfectly balanced between sweetness and nuttiness
plant-based and allergy-friendly
made with the simple, whole and healthy ingredients you love
perfect for dessert, gift giving for Halloween, Christmas and throughout the holiday season
a great start to your in-home candy counter 😉
Are you a big fan of homemade candy? Is this your first homemade candy recipe? Either way, I can't wait to hear what you think of this one! It's wonderful being here with you, creating tasty treats to share with the ones we love (including ourselves, m'kay!). I'm always grateful to have you here. While I wait to hear what you think of this recipe, tell me:
What's your favorite Halloween candy?
Sending you all my love and maybe even a dove, xo Demeter ❤️
☀︎ Click below to Pin ☀︎

☀︎ Did you make this recipe? Take a pic and share it on Instagram with the hashtag #beamingbaker and tag @beamingbaker. I would love to see it! ☀︎
Recommended Tools for 3 Ingredient Chocolate Pecan Fudge
Here are a few items I used to create today's much beloved chocolate pecan fudge recipe.
Just in time for the holidays: 5 minute easy peppermint fudge and 3 Ingredient Low Carb Peppermint Chocolate Fudge (Keto, Vegan)! Super easy to prep, delightfully fudgy (shocker!!) 😉 and deliciously minty.
Print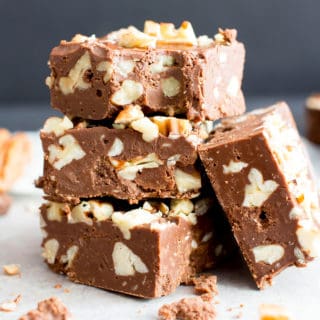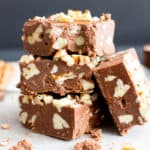 3 Ingredient Chocolate Pecan Fudge (Paleo, Vegan, Gluten Free, Dairy-Free)
---
Description
3 Ingredient Chocolate Pecan Fudge (V, GF): a 5-minute recipe for thick, luxurious fudge bursting with pecans. Paleo, Vegan, Gluten Free, Dairy-Free.
---
---
Instructions
Line a 9-inch loaf pan with parchment paper or wax paper. Set aside. Clear some space in the freezer for this pan—you will need it later.
Use the double boiler method or the following: Add almond butter and chocolate to a medium, microwave-safe bowl. Heat in 20-second increments until chocolate is softened and melty. Stir in between heating increments, until smooth. Fold in 1/2 cup pecans.
Pour this mixture into the prepared loaf pan. Tap the pan to create an even layer. Sprinkle with Topping pecans.
Transfer pan to freezer. Freeze for 40-60 minutes or until completely firm. Remove from freezer and slice into 18 squares. Enjoy! Storing instructions below.
Adapted from my 2 Ingredient Vegan Chocolate Peanut Butter Freezer Fudge and my Paleo Chocolate Almond Butter Fudge Cups.
Equipment
Prep Time:

5 min

Cook Time:

0 min

Category:

Dessert, Snacks

Method:

Chill

Cuisine:

American
© beamingbaker.com. All content and images are protected by copyright. Please do not use my images or recipe without my permission. If you wish to republish this recipe, please re-write the entire recipe using your own words and include a link to this post for the recipe.
If you enjoyed this sweetly satisfying Easy 3 Ingredient Chocolate Pecan Fudge, then you'll just love these delicious chocolate dessert recipes:
☀︎ More Paleo Vegan Chocolate Dessert Recipes ☀︎
No Bake Paleo Chocolate Almond Butter Bars | Paleo Maple Pecan Brownies | No Bake Paleo Chocolate Pecan Bars | Ultimate Fudgy Paleo Vegan Brownies | Paleo Chocolate Coconut Cups | Coconut Chocolate Chip Ice Cream | Paleo Almond Joy Milkshake | and… Oil-Free Paleo Cinnamon Nut Granola, just for fun. 😉
This post may contain affiliate links, which allow me to make a small commission for my referral, at no additional cost to you. Thank you for supporting Beaming Baker.
Facebook ☀︎ Pinterest ☀︎ Twitter ☀︎ Instagram