Vegan Gluten Free Blueberry Crisp (V+GF): an easy recipe for delightfully sweet 'n crisp topping & warm, gooey blueberry filling to make for the perfect healthy summer dessert! Vegan, Gluten-Free, Paleo option, Dairy-Free, Refined Sugar-Free.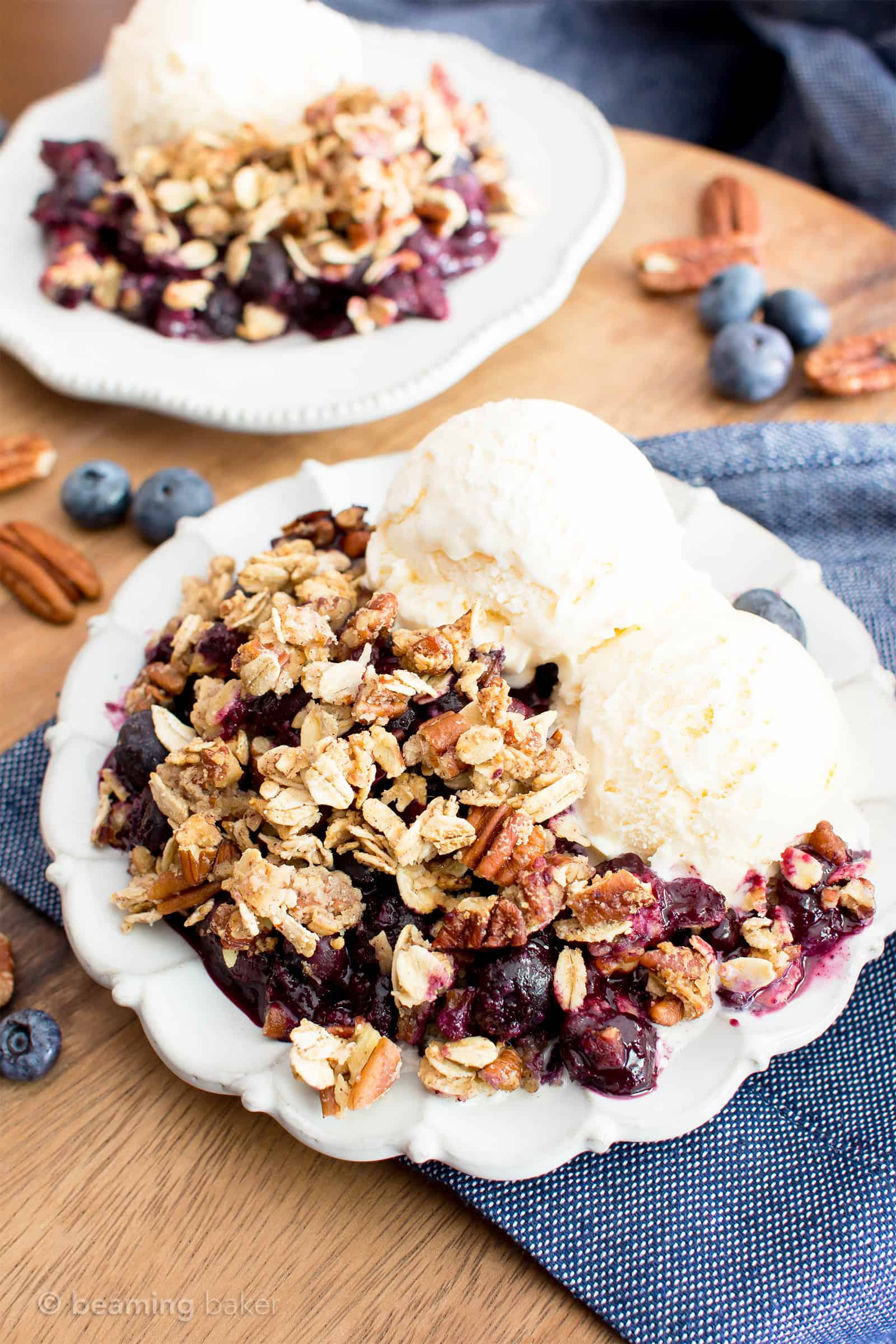 When I think of summer, I usually think of lazy days, laying in a hammock, melting scoops of ice cream on a waffle cone, picnics, barbecues, and sleeping in late.
But mostly I think about the vegan ice cream.
When I was a little kid, that was the whole point of summer—the heat, the long days, the dryness of it all—it was all worth it because of the ice cream. As you can probably tell, I haven't changed too much in my summer perspective… but a few of you have convinced me there is more to summer than just frozen desserts…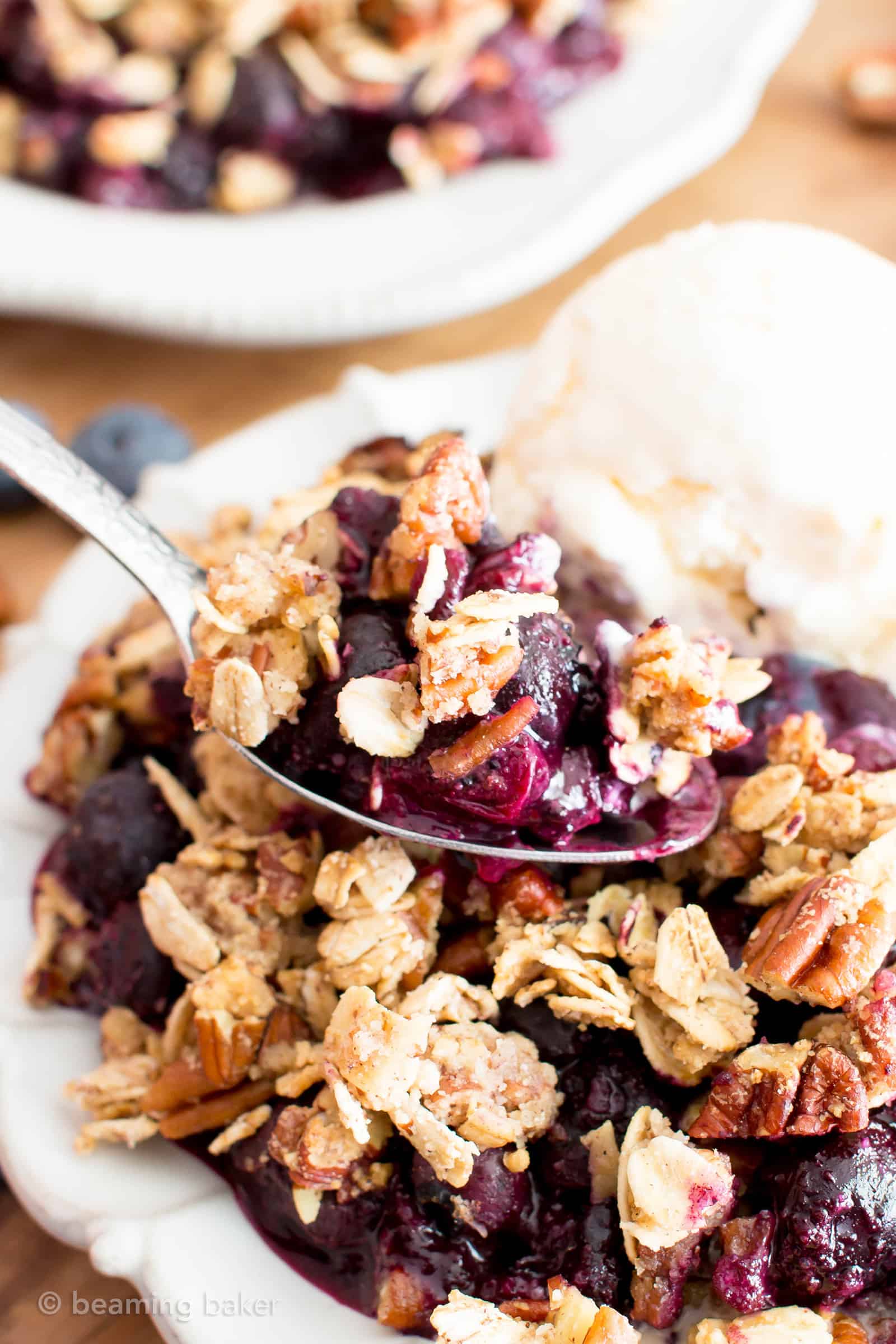 Because there are easy and refreshingly fruity summer baked desserts! This summer, I'm making a little bit more of an effort to share these baked delights. Let me know what you think. Of course, of course, I'm gonna be sharing ALL the ice cream and then some (I'm still the same person!!), but we'll dabble, together, in these oven-baked treats.
Psst… if you've been waiting all year for ice cream, have you tried these BB newbies and old faves yet? –>
Back to what I was saying… let's start with Vegan Gluten Free Blueberry Crisp! Are you pleased and surprised? I wanted to share something super simple, super easy, and something super summery. And what could be better or more super than a gluten free blueberry crisp?
Topped with all the scoops of vanilla ice cream?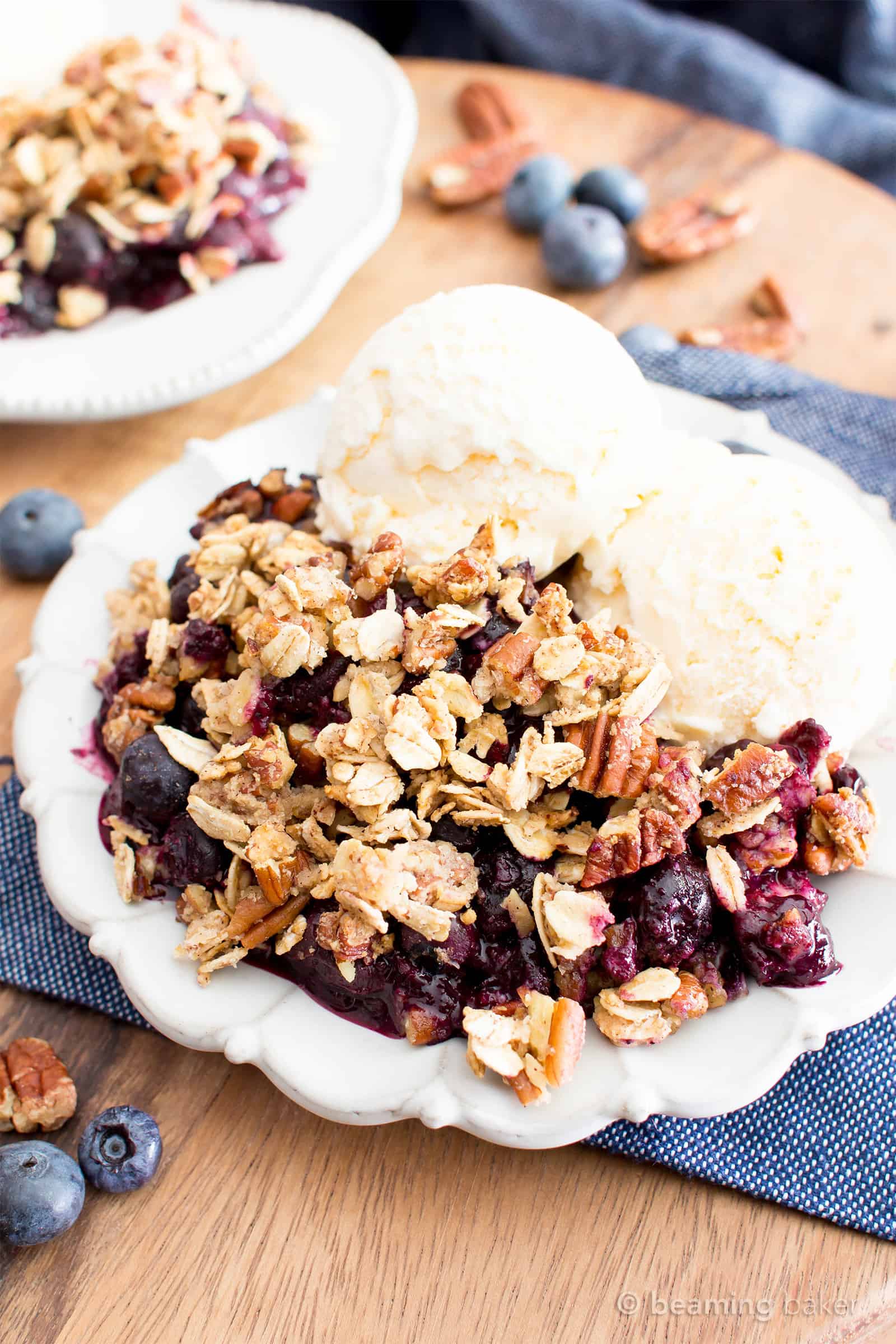 A girl really can't change her ways!! Hehehehe!
I know you'll just love how simple this easy blueberry crisp is to throw together. Just wash and pat dry your blueberries and toss into a bowl. Add the coconut sugar, maple syrup, almond flour and a few spices to, ya know, spice it up. 😉 Toss until combined and pour into your baking pan.
Next, grab a small bowl and using a fork, simply fold all of the topping deliciousness together. Spoon that topping over the blueberries and bake!
That literally all took about 5-7 minutes to prep. Easy, simple and absolutely delicious, just like I promised you. Girl's got ya back! 😉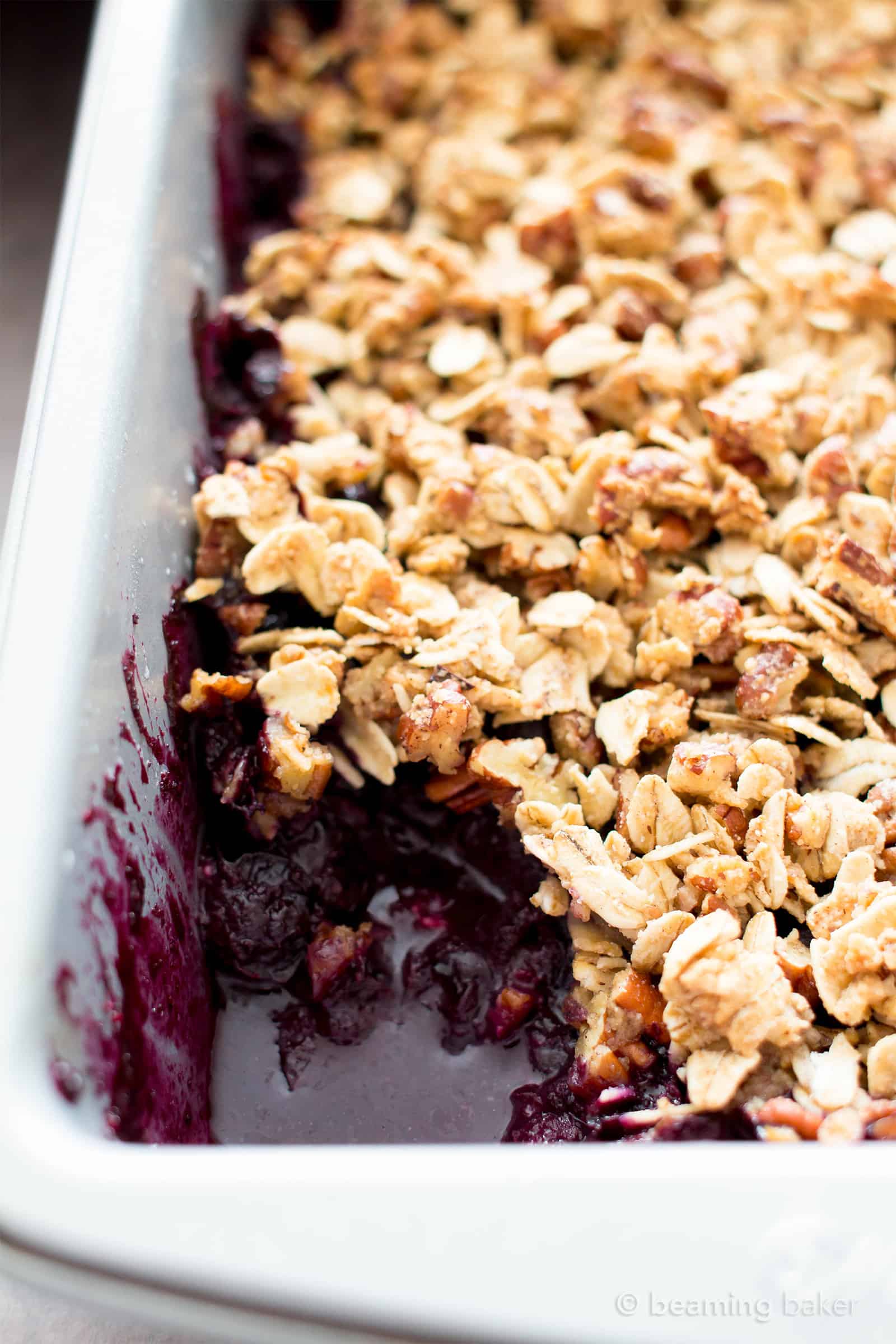 You'll be tasting all the mouthwatering and enjoyable summer vibes from this Vegan Gluten Free Blueberry Crisp in no time.
And if you're searching for a lil' TL;DR, here ya go! This Vegan Gluten Free Blueberry Crisp is:
super easy to make, trust me!
just a few minutes to toss the blueberries in the good stuff
and, like, 3 minutes tops to gather the topping ingredients and toss them in a bowl to make that yummy crisp topping!
vegan, gluten-free, and dairy-free
healthy enough to count as breakfast! With a side of Good Morning Breakfast Cookies, of course!
wonderfully refined-sugar free
just the gluten free blueberry crisp recipe you've been searching for… all your life! 😉
fresh, fruit-filled and totally the perfect vegan summer dessert!
deliciously plant-based and allergy-friendly
made with the healthy, whole ingredients that you know and love
the perfect healthy vegan blueberry crisp to add to your summer dessert repertoire
another tasty excuse to bust out the paleo ice cream 😉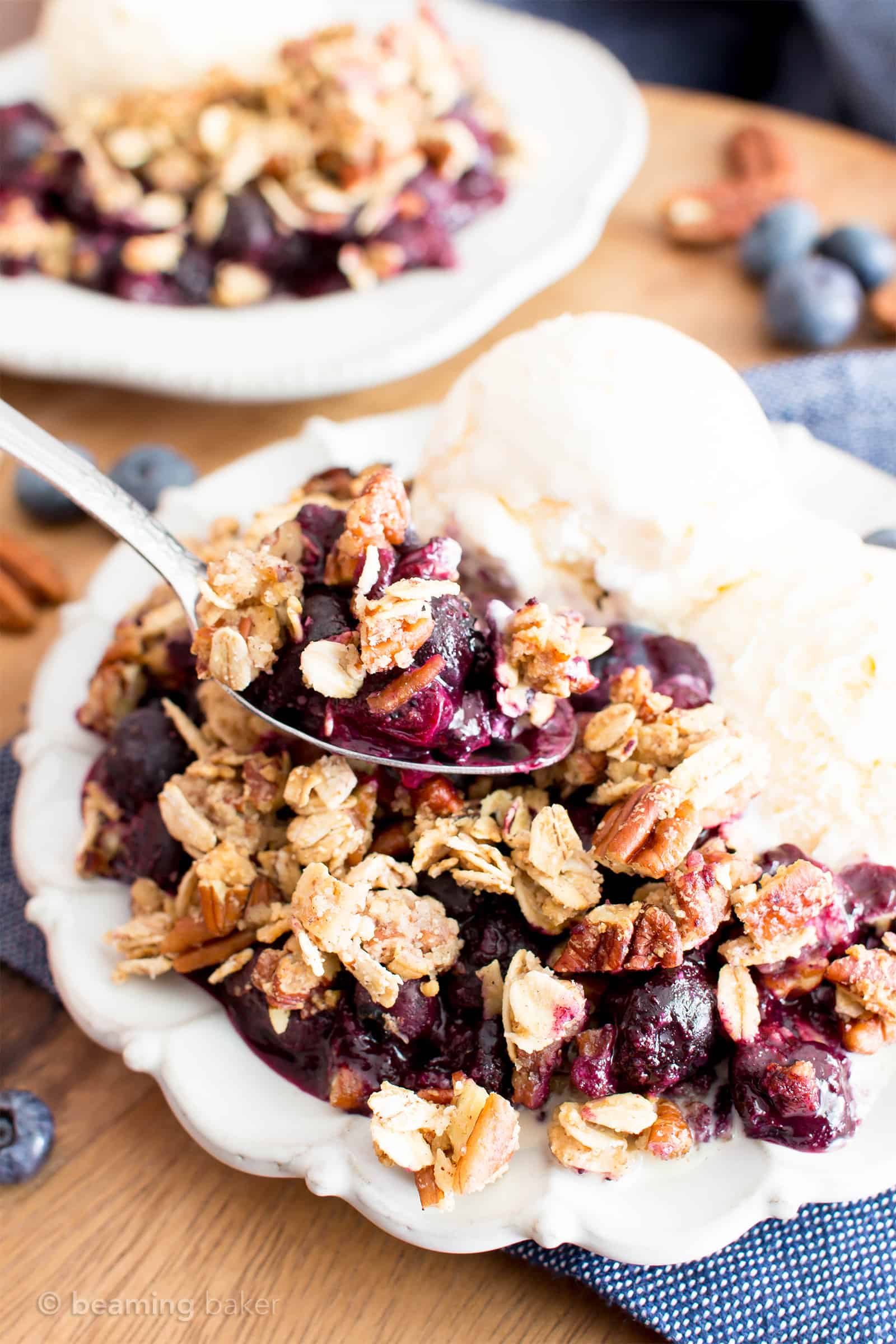 I hope you just love this summer berry crisp!  It's a nice way to work in those fruits and a wonderful vegan treat to bring to summer picnics. Before I go, I'd like to thank you for being here with me, trying my recipes and sharing in these amazing kitchen adventures. I love seeing photos of your BB creations on Instagram, receiving emails and comments, and just hearing that you had a good time creating. 🙂
Sending you all my love and maybe even a dove, xo Demeter ❤
????︎ Click below to Pin ????︎

???? Did you make this recipe? Take a pic and share it on Instagram with the hashtag #beamingbaker and tag @beamingbaker. I would love to see it! ????︎
If you enjoyed this Easy Vegan Gluten Free Blueberry Crisp Recipe, then you'll just love these delicious vegan frozen dessert recipes:
More Delicious & Healthy Gluten Free Vegan Sweet Recipes
Vegan Gluten Free Blueberry Crisp (Paleo option, GF, V, Dairy-Free, Refined Sugar-Free)
Vegan Gluten Free Blueberry Crisp (V+GF): an easy recipe for sweet 'n crisp topping and warm, gooey blueberry filling to make for the perfect healthy summer dessert! Vegan, Gluten-Free, Paleo option, Dairy-Free, Refined Sugar-Free.
Author:
Demeter | Beaming Baker
Recipe type:
Summer Dessert, Vegan, Gluten-Free, Paleo option, Dairy-Free, Refined Sugar-Free.
Ingredients
Filling
4 cups fresh blueberries
2 tablespoons coconut sugar
1 tablespoon pure maple syrup
1 tablespoon blanched almond flour
½ teaspoon ground cinnamon
¼ teaspoon ground nutmeg
½ teaspoon pure vanilla extract
1-2 tablespoons water (optional)
Topping
¾ cup pecans, chopped
½ cup gluten free rolled oats
¼ cup blanched almond flour
¼ teaspoon ground cinnamon
2 tablespoons pure maple syrup
For a PALEO topping, make the topping in this recipe.
Instructions
Preheat oven to 350°F. Grease an 8-inch square baking pan with coconut oil. Set aside.
In a large bowl, add all Filling ingredients except water: blueberries, coconut sugar, maple syrup, almond flour, cinnamon, nutmeg and vanilla. Using a rubber spatula, stir and fold until blueberries are fully coated and sugar has dissolved. If your mixture isn't very wet, add in water—you'll want to see 1-2 tablespoons liquid at the bottom of your mixing bowl. I used 1 ½ tablespoons water in mine.
Pour this mixture into the prepared baking pan. Use the spatula to smooth blueberries into an even layer. Set aside.
Add all Topping ingredients to a medium bowl. Using a fork, stir and fold until crumbles form. Gently spoon evenly over blueberries, making sure to keep crumbles intact.
Bake for 40-60 minutes. Mine took 45 minutes. It's done when the top is a golden brown and the juice around the filling starts bubbling up over the sides.
Allow to cool for 10-15 mins. Serve warm with a scoop of dairy-free ice cream on top. Enjoy! Storing instructions below.

Adapted from my Paleo Apple Pecan Coconut Crisp

Try these mouthwatering Paleo Desserts: Chocolate Chocolate Chip Coconut Vegan Ice Cream, Ultimate Fudgy Paleo Vegan Brownies.
© beamingbaker.com. All content and images are protected by copyright. Please do not use my images or recipe without my permission. Please do not republish this recipe, instead, include a link to this post for the recipe.
SHOP THE RECIPE
Here are a few items I used in today's recipe. 🙂
Baking Pan (8-inch) | Blanched Almond Flour | Maple Syrup | Coconut Sugar | Stainless Steel Measuring Cups | Glass Mixing Bowls | Gluten Free Rolled Oats
This post may contain affiliate links, which allow me to make a small commission for my referral, at no additional cost to you. Thank you for supporting Beaming Baker.
Facebook ☀︎ Pinterest  ☀︎ Twitter ☀︎ Instagram