Healthy Pumpkin Oatmeal Muffins (Vegan, Gluten Free)
the best Healthy Pumpkin Oatmeal Muffins–lightly sweet & moist, bursting with pumpkin oat goodness!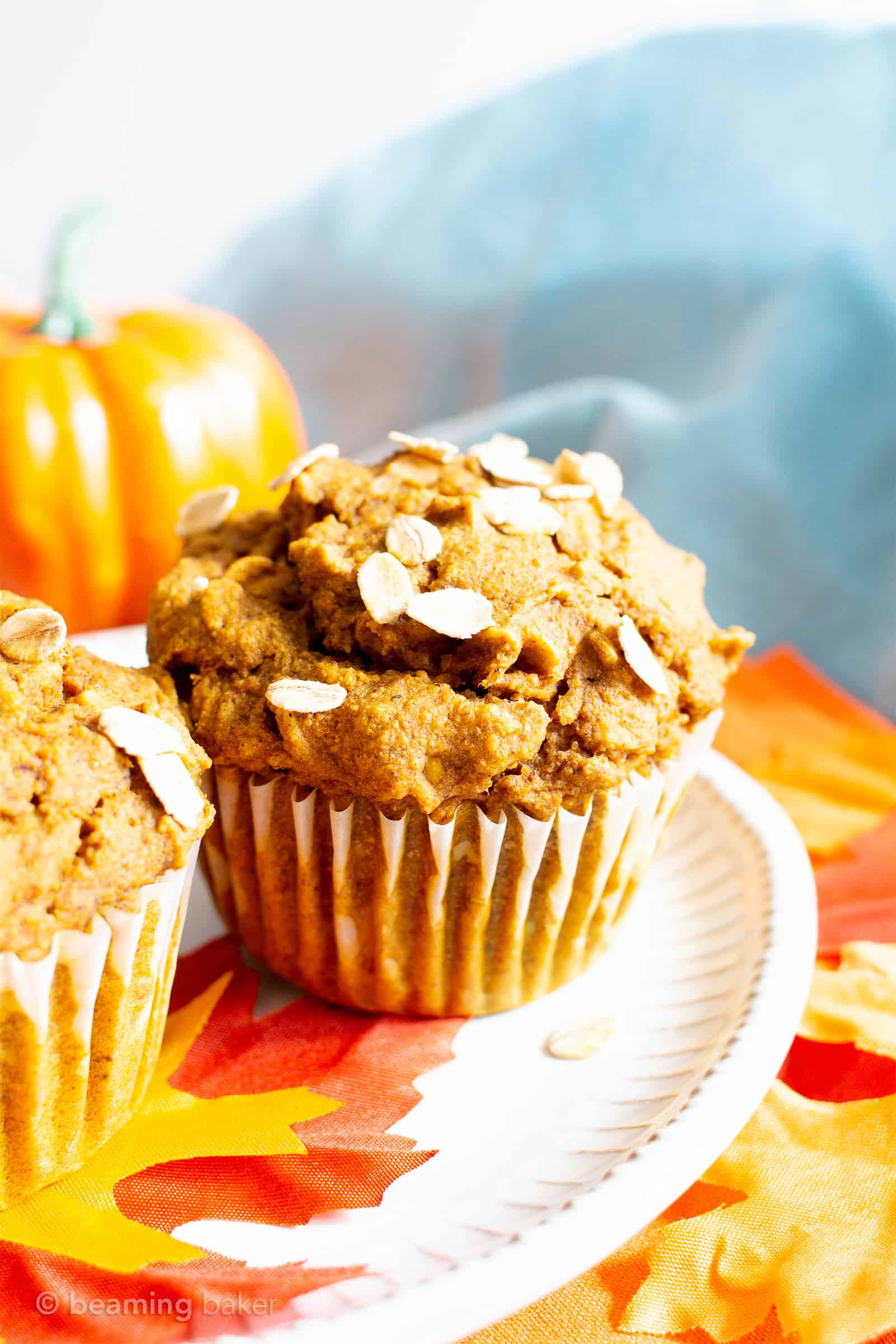 Happy Saturday! What are your plans today? Perhaps you'll be skydiving, parasailing or…baking?
Same things, obviously. 😉
Apparently, I've got fun and adventure on the mind and nothing, including fear of skydiving, will stop me! M'kay?
Perhaps these healthy pumpkin oatmeal muffins can keep all crazy high adventure ideas at bay. At least for now… So whaddya say we dive right into today's fall-inspired recipe for pumpkin oatmeal muffin awesomeness? Let's bake it!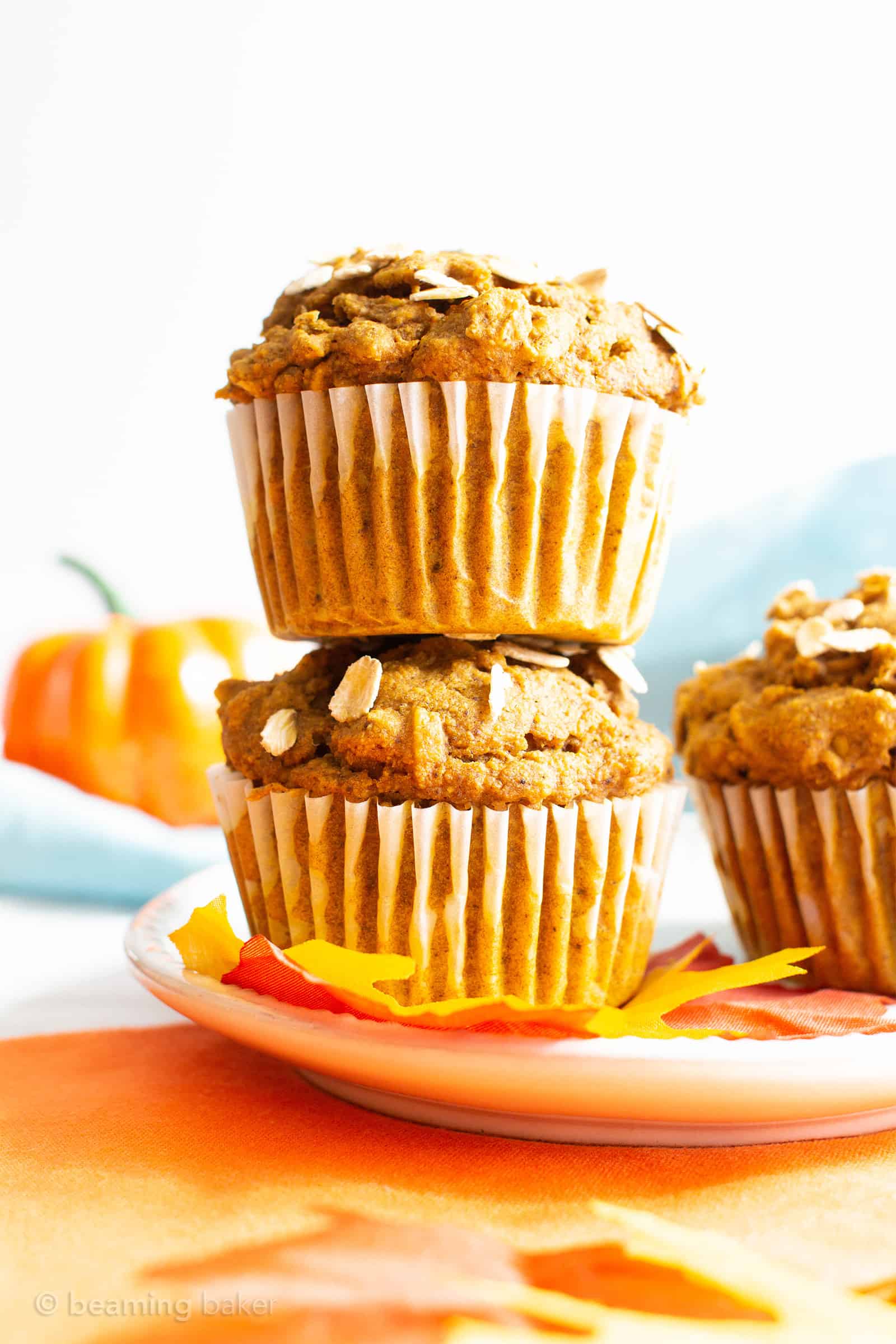 How to Make Pumpkin Oatmeal Muffins
Learn how to make pumpkin oatmeal muffins with healthy vegan and gluten free ingredients in just a few steps.
Preheat
Start by preheating your oven to 325°F. Line an 12-cup muffin pan with muffin liners.
Whisk the Wet Ingredients
Add all wet ingredients into a large bowl and whisk until well mixed: pumpkin puree, coconut oil, coconut sugar, maple syrup, flax eggs, non-dairy milk and vanilla.
Add the Dry Ingredients
Add oat flour, oats, baking powder, baking soda, ground cinnamon, ground cloves, ground nutmeg and salt to the same bowl and whisk until no flour patches remain.
Scoop the Batter
Using this large scoop, scoop and drop muffin batter into the prepared baking pan. Sprinkle oats on top of each muffin.
Bake
Bake for around 29 minutes.
Cool and Eat!
Cool and enjoy the best pumpkin oatmeal muffins ever!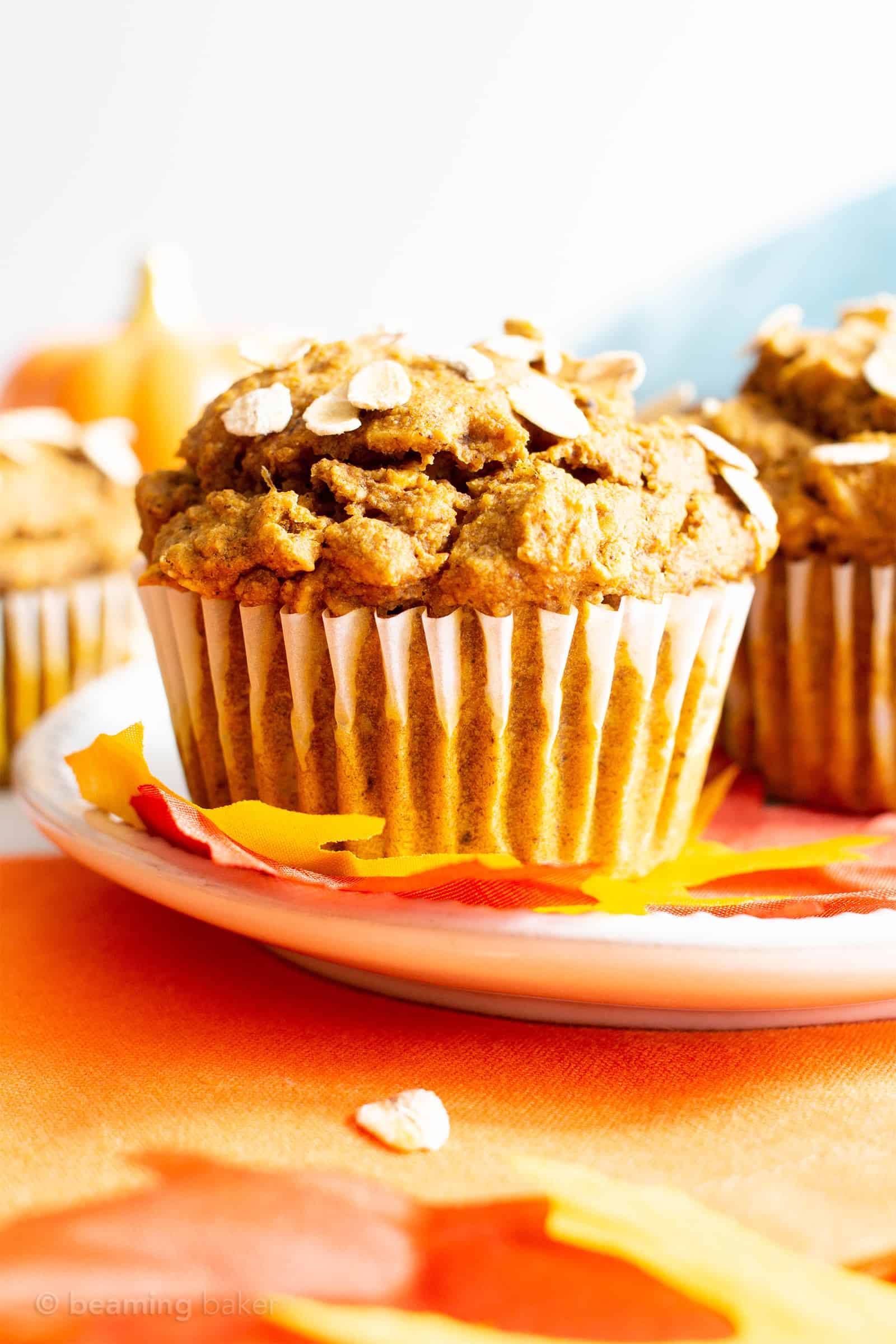 Testimonials about Healthy Pumpkin Oatmeal Muffins
Bree says, "I eat GF and vegan for food sensitivities and I tried these last night. I subbed GF flour (I didn't have any oat flour) and monk fruit for the coconut sugar. They turned out great! My whole family ate them for breakfast and the kids loved them (with butter of course). Thank you!"
Elizabeth says, "Made these tonight and they are a perfect morning treat! I only use your recipes for baking so thank you."
Kathy says, "These muffins turned out wonderfully. The spices and level of sweetness are perfect; they are moist, tender, and flavorful. Being top 8 allergy-free, I am on the lookout for nutritious, yummy, safe recipes, and this one fits the bill… Thank you for this delicious recipe that will now be a go-to for me!"
Jackie says, "Once again, another delicious reliable recipe from Demeter. Ingredients I have on hand–nice to have a pumpkin muffin for fall. Thank you!"
Storing and Freezing Your Pumpkin Oatmeal Muffins
Room Temp: store your pumpkin oatmeal muffins in an airtight container out of direct sunlight and away from heat sources for up to 1 week.
Freezing: place pumpkin oatmeal muffins in a freezer-friendly container in the freezer for up to 1-2 months. Allow muffins to thaw for about 30 minutes before enjoying, or pop muffins into the microwave in 10-second increments until just warm.
Related Recipes: Best Ever Healthy Chocolate Chip Muffins | Gluten Free Pumpkin Chocolate Chip Cookies (Vegan) | Vegan Pumpkin Pie Smoothie | Pumpkin Chocolate Chip Muffins | Healthy Lemon Blueberry Muffins | Healthy Vegan Gluten Free Blueberry Muffins | Healthy Banana Chocolate Chocolate Chip Muffins
Perfectly moist Pumpkin Oatmeal Muffins that are lightly sweet and so easy to make! Wonderfully healthy, vegan and gluten free.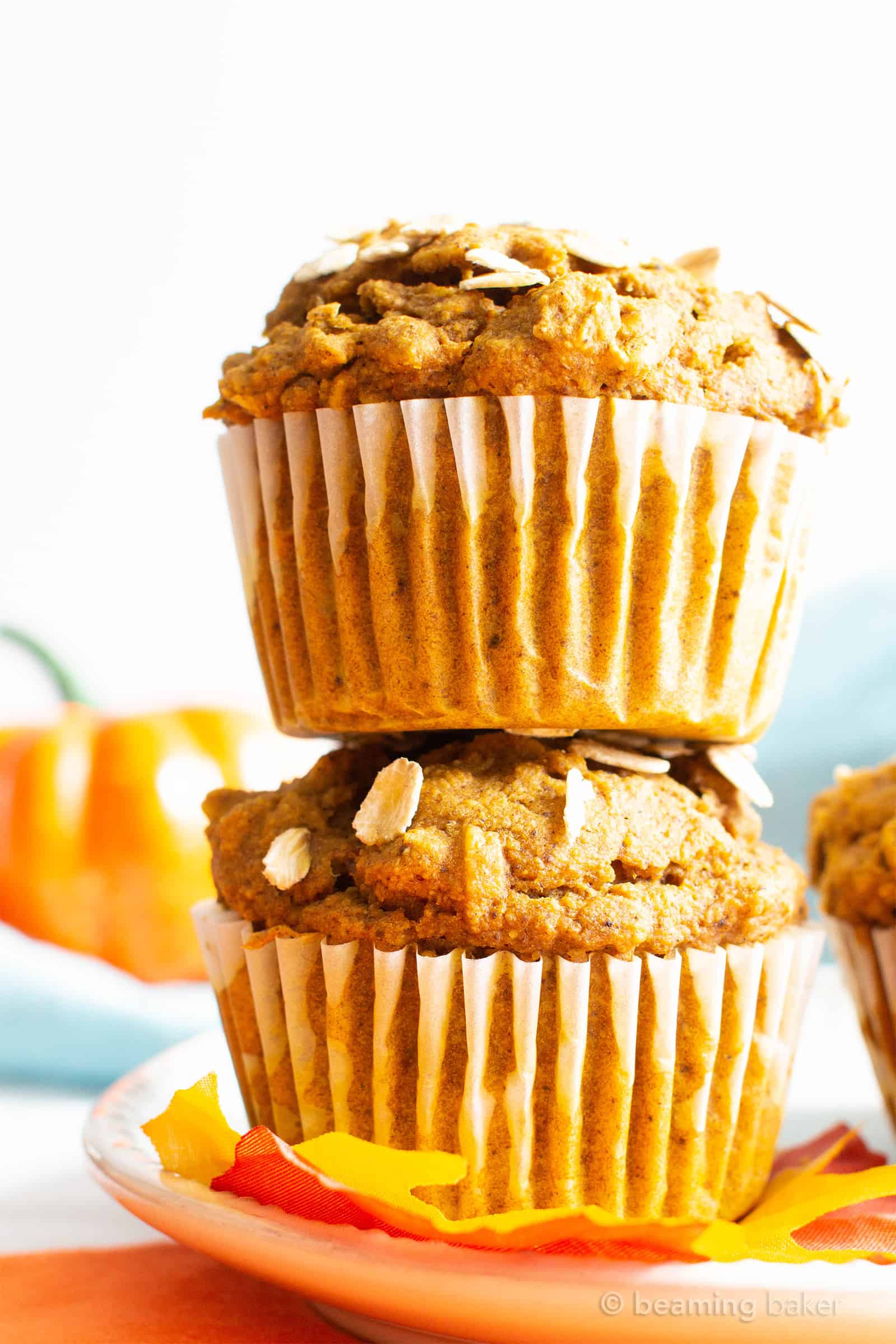 Great Tools for the Best Pumpkin Oatmeal Muffins
Muffin batter scoop – 1 of my top baking tools. I highly recommend using this muffin batter scoop (shhh… it's secretly an ice cream scoop!) to scoop muffin batter for easier & more even batter distribution.
Non-stick Parchment Muffin Liners – half the time, I use these nonstick parchment muffin liners. These babies are the gold standard in muffin liners. They are so nonstick that they naturally peel off on their own while your muffins are cooling! Perfect for folks who hate any kind of liners sticking to their muffins!
Unbleached Muffin Liners – the other half of the time, I love using these unbleached muffin liners! They're compostable, stick *just the right amount* to your muffins (so the liners don't fall off mid-cooling) and are so easy to use. Bonus: you get to feel good about them not being bleached!
So should we all go parasailing together? I wish!! For now, let's settle/totally do something better and bake these healthy pumpkin oatmeal muffins together! Thank you so much for stopping by and sharing in these baking adventures with me and your loved ones. 'Til the next one…
Sending you all my love and maybe even a dove, xo Demeter ❤️
☀ Click below to Pin ☀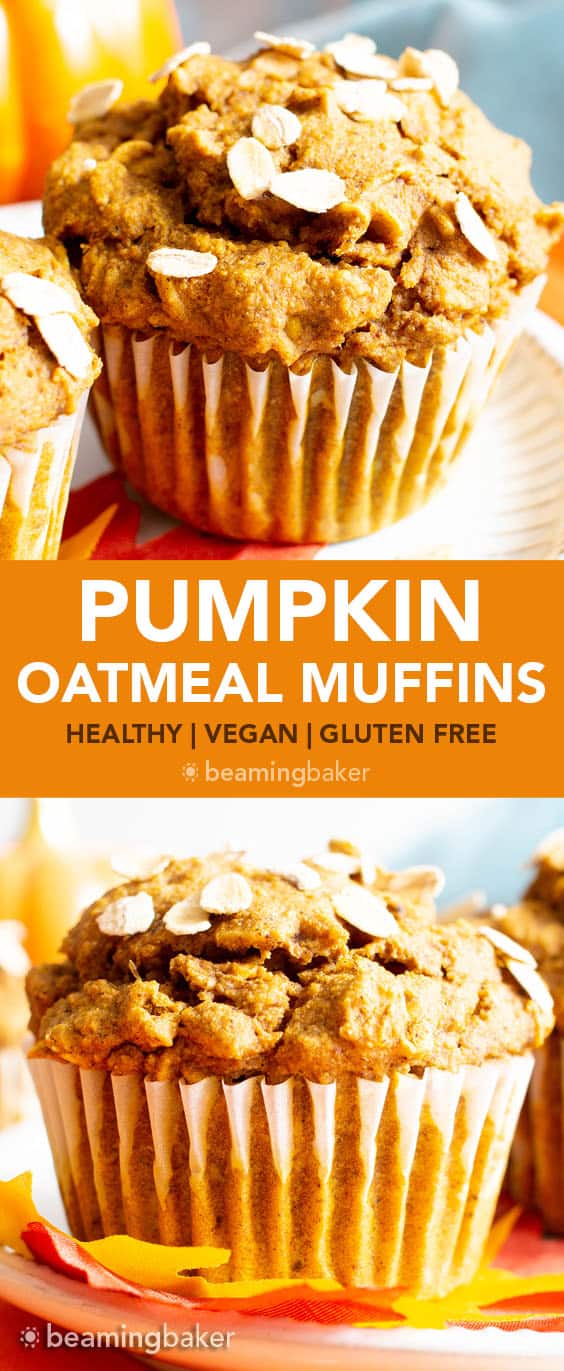 📸 Did you make this healthy pumpkin oatmeal muffins recipe? Take a pic and share it on Instagram with the hashtag #beamingbaker & tag @beamingbaker. I'd love to see it! 📸
More Healthy Pumpkin Recipes
Print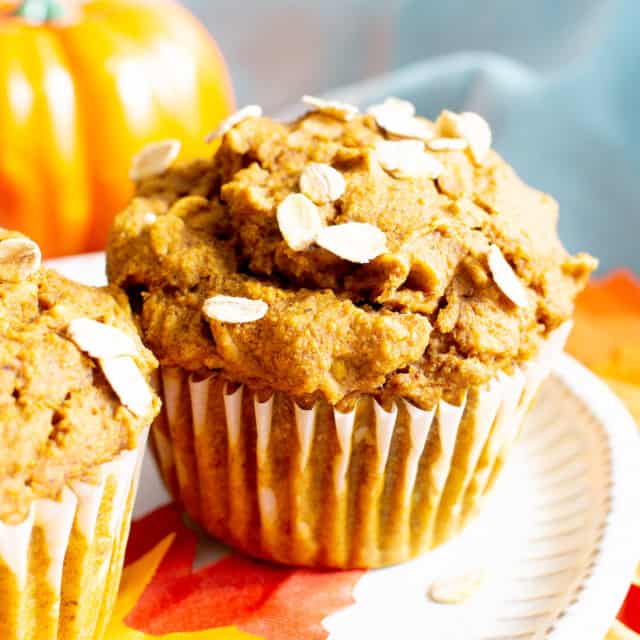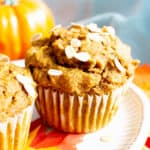 Healthy Pumpkin Oatmeal Muffins (Vegan, Gluten Free, Dairy-Free)
---
Description
Healthy Pumpkin Oatmeal Muffins (V, GF): a one bowl recipe for lightly sweet and perfectly moist pumpkin muffins packed with healthy, whole ingredients. Vegan, Gluten-Free, Dairy-Free, One Bowl.
---
Wet Ingredients
Dry Ingredients
Optional Topping
---
Instructions
Preheat the oven to 325°F. Place cupcake liners in a standard 12-cup muffin pan.
In a large bowl, add all the wet ingredients: pumpkin, coconut oil, coconut sugar, maple syrup, flax eggs, milk and vanilla. Whisk until well incorporated.
Add all dry ingredients: oat flour, oats, baking powder, baking soda, spices and salt. Whisk together until just incorporated, making sure no flour patches remain.
Pour batter evenly into muffin pan. Fill all the way to the top of each liner for a slight domed top, or fill to the top, with about a tablespoon extra for large domed tops. The batter is thick and won't spill over while baking. Optional: sprinkle oats onto muffin tops.
Bake for 24-30 minutes. Mine took 29 minutes, for large domed topped muffins.
Allow to cool in muffin pan for about 20 minutes. Remove from pan and transfer onto a cooling rack to finish cooling for another 40 minutes or until completely cool before storing. Enjoy! Storing instructions below.
Adapted from my Easy Vegan Gluten Free Pumpkin Muffins.
Gluten Free Vegan Pumpkin Recipes For You
Equipment
Notes
Where to Buy Ingredients: Gluten Free Rolled Oats | Coconut Sugar | Organic Extra Virgin Coconut Oil | Golden Ground Flaxseed
A Note on Homemade Oat Flour: *If using homemade oat flour, make sure to blend the flour until very fine and sift the flour to remove coarse bits of oats that could create less than ideal results. Store until needed, then measure the amount required for the recipe.
**You may substitute all of these spices with 2 teaspoons pumpkin pie spice.
Storing Instructions: Store in an airtight container for up to 1 week at room temperature. Best the first 3 days. Keep out of direct sunlight and away from heat sources.
Freezing Instructions: Cool completely, then store in an airtight, freezer-friendly container or bag. Keep for 1-2 months. Allow to thaw for 20-40 mins before enjoying. Or, heat in the microwave in 10-second increments until just warm.
Prep Time:

25 mins

Cook Time:

29 mins

Category:

Breakfast, Dessert, Snack

Method:

Bake

Cuisine:

American
Keywords: healthy pumpkin oatmeal muffins, vegan pumpkin oatmeal muffins, gluten free
© beamingbaker.com. All content and images are protected by copyright. Please do not use my images or recipe without my permission. Please do not republish this recipe, instead, include a link to this post for the recipe.
This post may contain affiliate links, which allow me to make a small commission for my referral, at no additional cost to you.