Vegan Pumpkin Pie Smoothie (V, GF, DF): a 6 ingredient recipe for creamy, thick pumpkin pie smoothies bursting with fall flavor. Vegan, Paleo, Gluten Free, Dairy Free.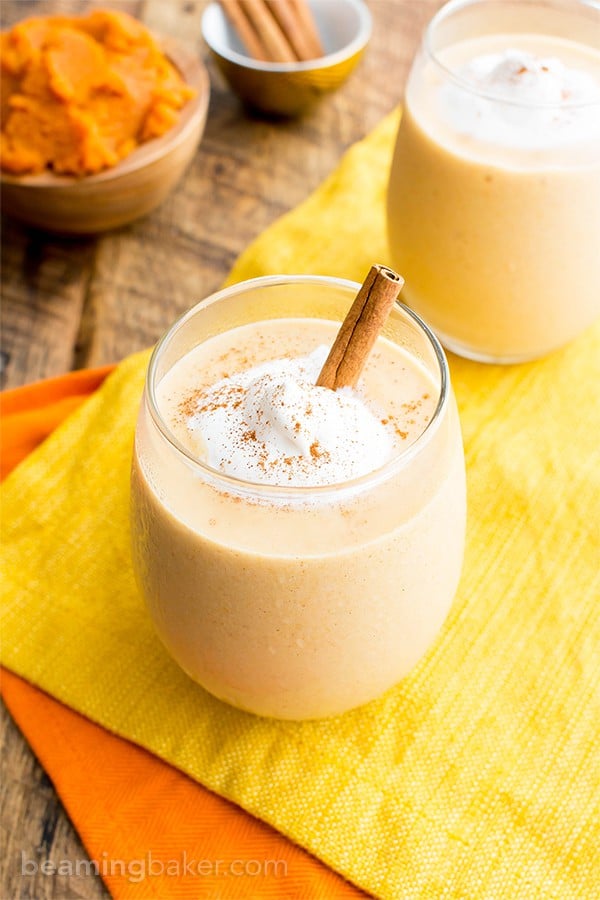 Smoothies. Doesn't seeing that word just make you happy? Like, if you had a bad day, found yourself walking home from work, and saw a hot pink, neon-lit sign that said, "Welcome the fall with our new Pumpkin Pie Smoothies!" Wouldn't that make you feel better?
Never mind that the sign should actually be orange or brown because: Fall. But let's just say that sign was neon pink because that color is an instant mood-lifter. And anyway, you saw that sign. You would instantly perk up. Why? Well, smoothies are kind of like an adult-way of enjoying a milkshake, but without the guilt and with plenty of feel-good vibes.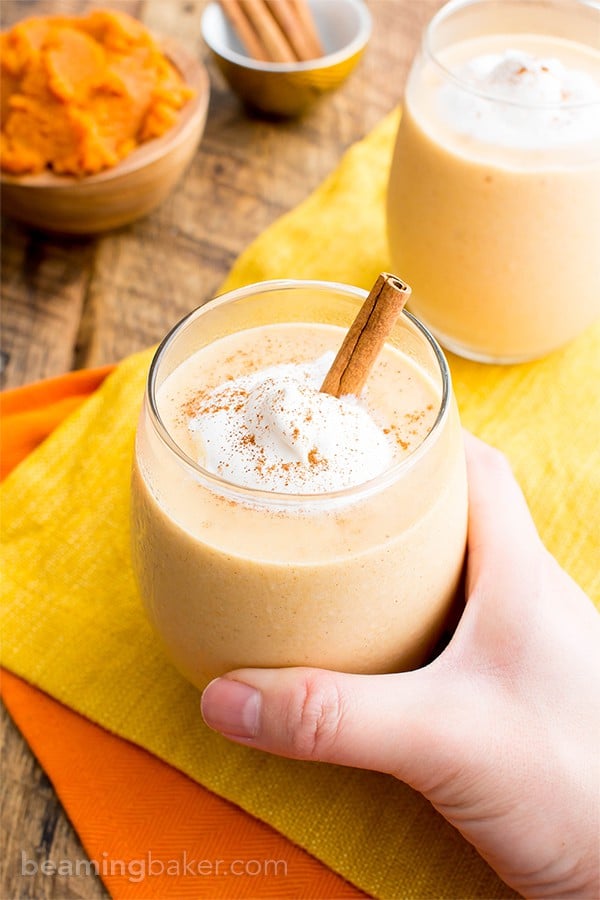 True, not all smoothies are actually good for ya. But around these parts, they ARE. And bonus: they're crazy delicious. So you might already know that I have a thing for smoothies. And… I might just have a smoothie for every occasion. Most notably, a strawberry smoothie (okaaaaaaay, milkshake) for my sister Jenny's birthday, a smoothie (bowl) for my mom's epic mango tale in Hawaii, a smoothie for childhood reminiscent good times, and more!
As such, it would be an unforgivable atrocity to not have a smoothie for—wait for it—PUMPKIN PIE. Currently, I'm in the throes (yep, throes) of testing a pumpkin pie worthy of your Thanksgiving table. It's got to be all the things and more, because: Thanksgiving. I don't want you glaring at my pumpkin pie recipe as you've already maxed out your glares on that super dry tofurkey and your Uncle Lester's interesting comments about your "career."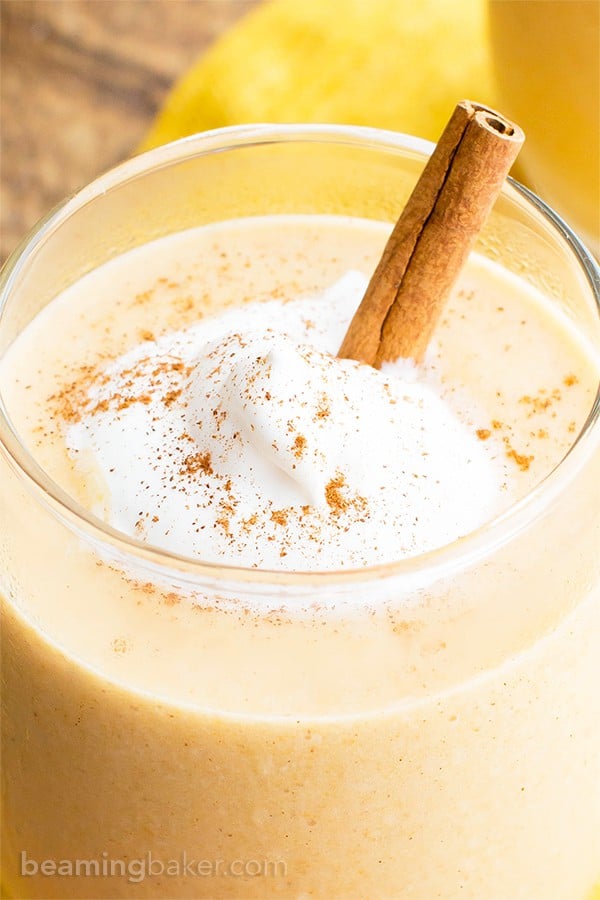 In the meantime, I'm gonna tide you over with a super-duper easy to make vegan pumpkin pie smoothie. It's so perfectly creamy, thick and refreshing that it will simultaneously:
1) keep you motivated at the gym (yep, I'm trying to kick butt at this exercise business before all of that social gatherings business rears its lovely head)
2) satisfy your deep-seated craving for all things fall, AND…
3) get you excited about the season!
Yay!! Have you ever seen one—just ONE—smoothie do all of these things and more? –> Child of infomercials here. Please forgive me. And if you make this now, you won't get one, but TWO smoothies!! Plus a fanny pack full of pumpkin-shaped treats!!! I kid. I kid. But you could probably make these smoothies, and be so energized/jazzed about fall that you MUST run out and get that fanny pack, then proceed to stuff it with pumpkin-shaped treats.
If you do, you totally have to take a pic and share it with me. #JustSayin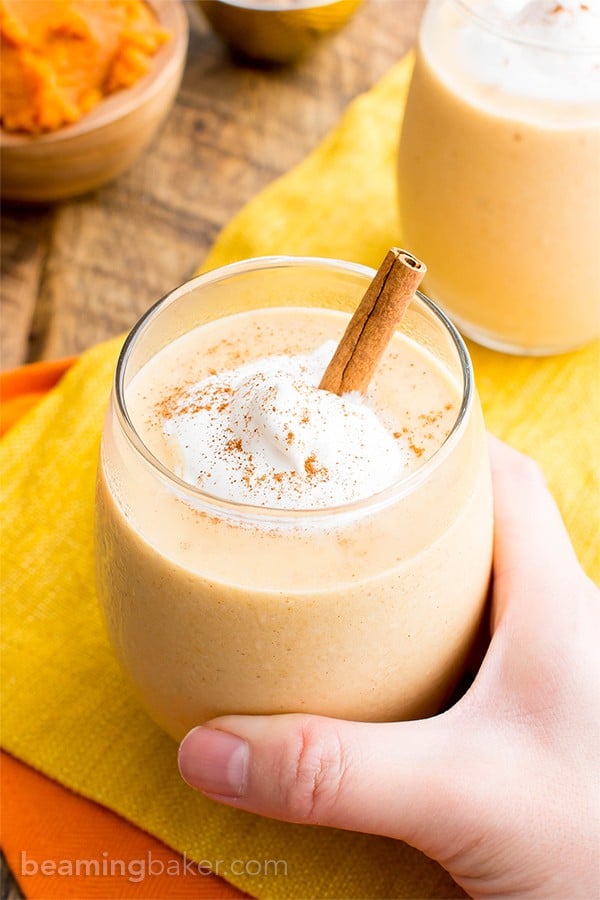 Also of super important note… Happy Birthday, Jeanie!! Jeanie's one of my sweetest readers and since she totally loves all things no-bake, I thought… what better way to celebrate than with a bake-free pumpkin pie treat? Have a fantastic week, nay, a most fantastic birthday month, Jeanie!
In other news, have you guys noticed the dramatic change at the grocery store? Literally, the second I walk in, the entire place smells like Fall heaven. Think: warm cinnamon, pumpkin spice, a dash of cloves, melty caramel and… Fall Bake Love. The second I smell all of those smells, I have to whip my head around like an excited puppy, I can barely stand it. Everywhere, there are stacks of mini pumpkins, cinnamon-scented cones (so that's where that smell was coming from), pumpkin cookies the size of my face (that's HUGE, guys), and like… All the Fall Things.
And lately, 50% of the time that I go, canned pumpkin is SOLD OUT. Seriously, there's like a huge, gaping hole in the shelf where canned pumpkin used to live. People are running through the store with arms full of pecans, pumpkin pie halves and baking frenzy in their eyes. <–And you know I know exactly what this looks like.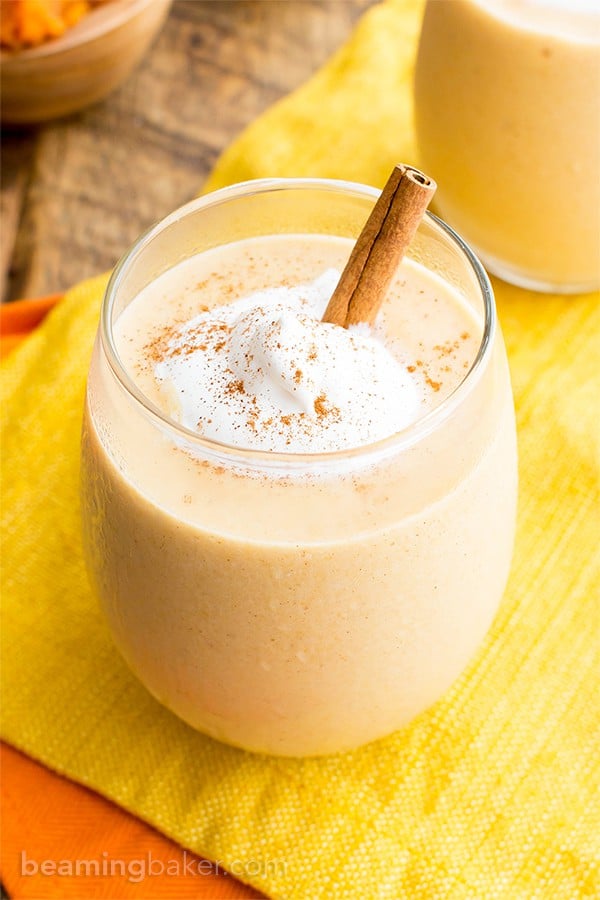 Did fall start way earlier this year, or what? Anyway, let's all hop on the fall bandwagon together and make this vegan pumpkin pie smoothie. Because… we don't want to get left behind! J/k. Let me shower you with bullet points (a most terrifying visual, I'm sure) about why you would love this!
My Vegan Pumpkin Pie Smoothie is:
made with just 6 ingredients. Yep, counting the spice and vanilla. Which kinda doesn't even count, riiiiight?
vegan, paleo, gluten free, dairy free
creamy and perfectly thick
chockfull of your favorite feel-good ingredients
spiced to perfection
plant-based and allergy-friendly
just like drinking pumpkin pie… but smoother, yay!!
Blend up a batch and start putting together that fanny pack! Okay, that's optional. But not. But is. Excuse my over-exuberance about fall. I can't wait to hear what you think of this recipe. While I wait, tell me all about the seasonal changes around your town. Anyone seeing banners advertising a Fall Fair? Or perhaps huge tables of caramel apples at the grocery store? How about some vegan pumpkin pie?? Alright, that's sooo hard to find! Alas, you'll just have to try this amazing Vegan Pumpkin Pie from my talented friend Erin at Texanerin Baking! So much better than storebought!
Sending you all my love and maybe even a dove, xo Demeter. ❤️
☀︎ Click below to Pin ☀︎

☀︎ Did you make this recipe? Take a pic and share it on Instagram with the hashtag #beamingbaker and tag @beamingbaker. I would love to see it! ☀︎
SHOP THE RECIPE
Here are a few items I used in today's recipe.
Organic Pumpkin Puree | Silicone Spatulas | Maple Syrup | Food Processor | Classic Milkshake Glasses | Coconut Milk
Print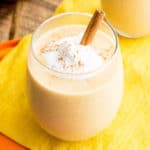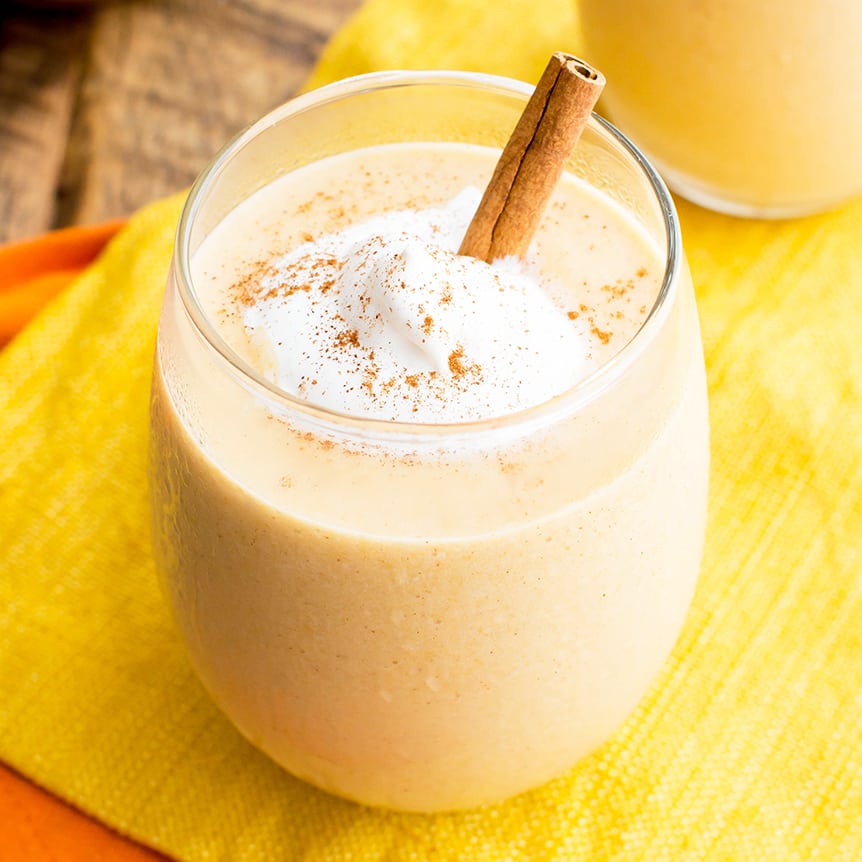 Vegan Pumpkin Pie Smoothie (Paleo, Vegan, Gluten Free, Dairy Free)
---
Description
Vegan Pumpkin Pie Smoothie (V, GF, DF): a 6 ingredient recipe for creamy, thick pumpkin pie smoothies bursting with fall flavor. Vegan, Paleo, Gluten Free, Dairy Free.
---
Scale
Ingredients
1

can light coconut milk, chilled (13-1

4oz

.)

3

medium bananas, sliced and frozen

¾ cup

100% pure pumpkin puree (not pumpkin pie mix)

1 tablespoon

pure maple syrup

1 teaspoon

pumpkin pie spice

¼ teaspoon

pure vanilla extract
---
Instructions
Place the can of light coconut milk in the refrigerator for 1-2 hours, or until completely chilled.
Add bananas into the blender. Blend until bananas become crumbly. Add coconut milk. Blend until smooth and creamy, scraping down the sides of the blender as needed.
Add the rest of the ingredients: pumpkin, maple syrup, pumpkin pie spice and vanilla. Blend until smooth.
Pour into two cups and enjoy! Optionally, top with coconut whip and ground cinnamon.
---
Recipe Card powered by
© beamingbaker.com. All content and images are protected by copyright. Please do not use my images without my permission. If you wish to republish this recipe, please re-write the entire recipe using your own words and include a link to this post for the recipe.
☀︎ More Gluten Free Vegan Pumpkin & Fall Recipes ☀︎
Gluten Free Vegan Chocolate Pumpkin Bread (Whole Grain, V, GF, DF) | One Bowl Gluten Free Pumpkin Chocolate Chip Muffins (Vegan, Dairy-Free, GF) | Skillet-Roasted Maple Cinnamon Pecans (Paleo, Gluten-Free, V) | One Bowl Gluten Free Vegan Pumpkin Bread (V, GF, Dairy-Free) | No Bake Paleo Chocolate Pecan Bars (V, GF, Refined Sugar-Free) | Maple Pecan Chocolate Chip Cookies (Gluten-Free, Vegan) | and… No Bake Brownie Energy Bites, just for fun. 😉
This post may contain affiliate links, which allow me to make a small commission for my referral, at no additional cost to you. Thank you for supporting Beaming Baker.
Facebook ☀︎ Pinterest ☀︎ Twitter ☀︎ Instagram