Gluten Free Vegan Pumpkin Bread (GF): this moist, classic gluten free pumpkin bread recipe is flourless, healthy! The best dairy free pumpkin bread—made with oat flour! Refined Sugar-Free.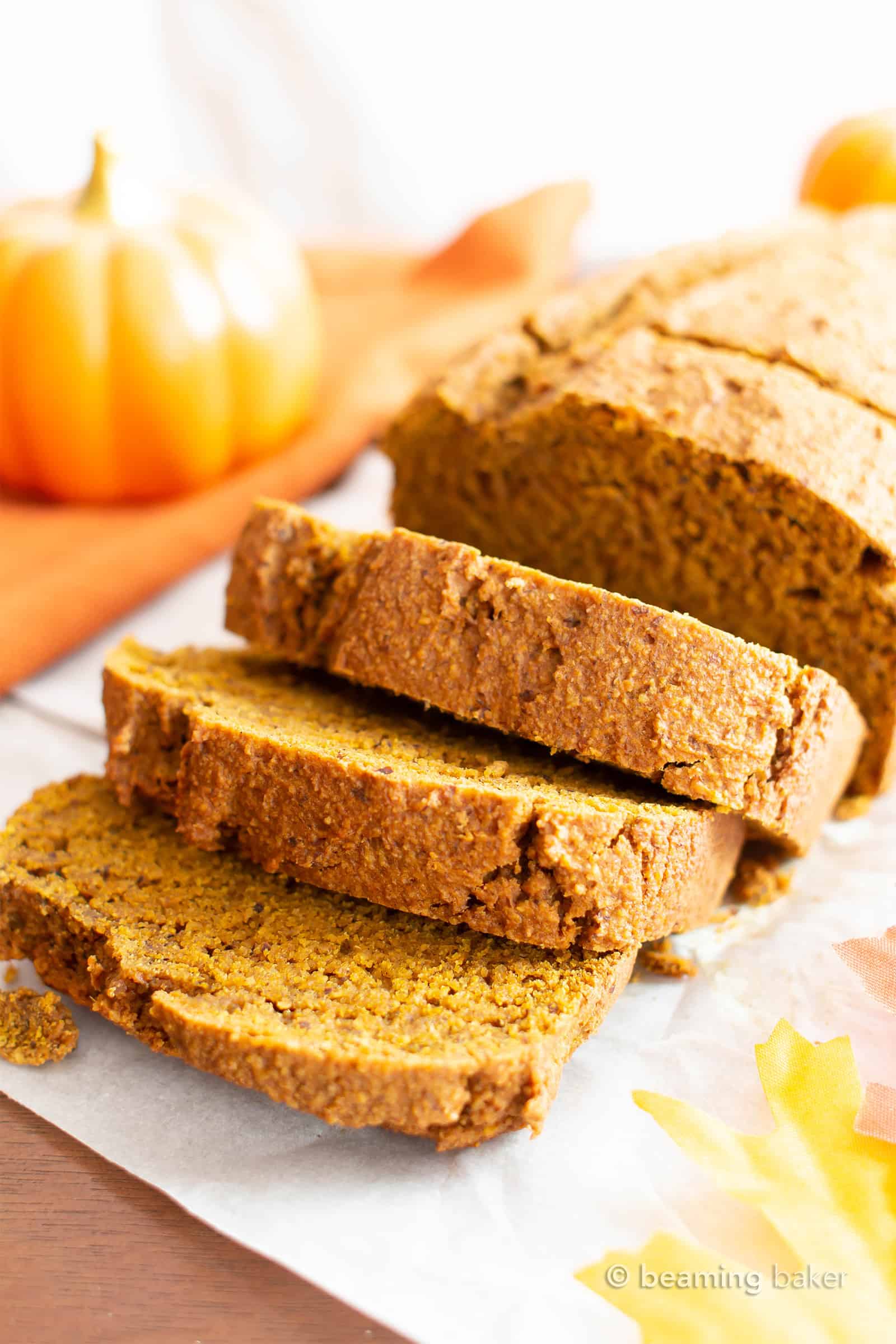 Happy Thursday! Or, should I say, Happy One Month 'Til the 1st Day of Fall? Your pick! 😉 To celebrate this obviously momentous occasion, I thought it would be a fine time to share one of my most popular recipes on Beaming Baker…
This incredible one bowl, totally dairy free & totally yummy Gluten Free Vegan Pumpkin Bread. (That is, unless you're more interested in pumpkin cookies… If so, check out my Gluten Free Pumpkin Cookies!)
I shared this vegan pumpkin bread with you a few years back, and since then, it's stood the test of time. However, things weren't always coming up roses.
The recipe testing for this now-beloved, but not-so-much-before recipe was… embarrassing. Like, cringeworthy, hide your face and change your name because you don't need that ruined name anymore EMBARRASSING.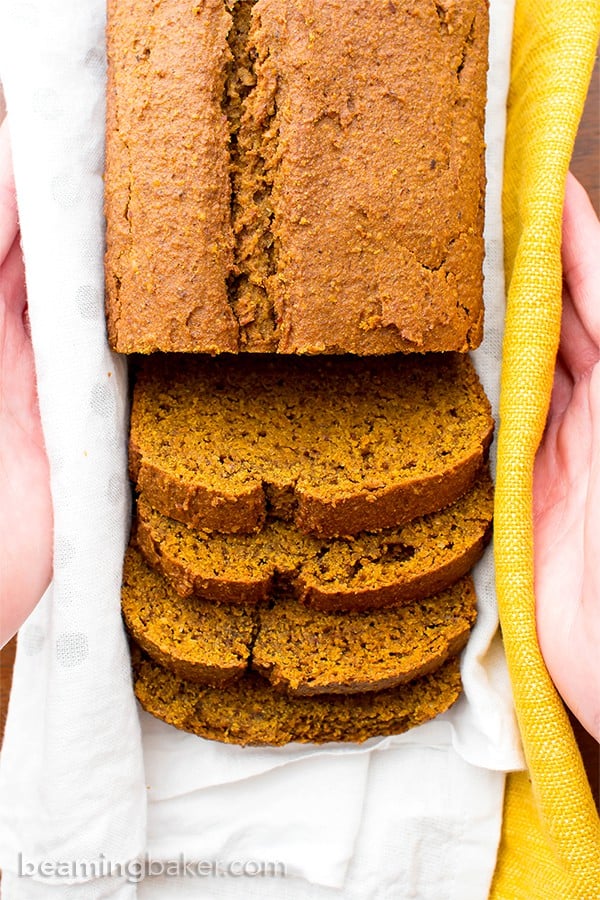 Vegan Pumpkin Bread: The Best Gluten Free Pumpkin Bread Recipe!
Before I got to the glory that is this one bowl gluten free vegan pumpkin bread marvel, or it's irresistible cousin Easy Gluten Free Vegan Pumpkin Coffee Cake Recipe (Dairy-Free), there were trials. Let's just say "trials" is the nicest word for what occurred, and I mean that word in every sense.
For fun, and as a lovely confidence booster for you (you = waaaay cooler than me), let's go over these baking torture pumpkin bread trials. Grab a cup of coffee and a few of these Gluten Free Pumpkin Chocolate Chip Oatmeal Breakfast Bars. Let's dive in!
Trial & Error: Developing Vegan Pumpkin Bread
Trial #1: Extremely dry vegan pumpkin bread. Like, drier than any desert known to man. Drier than a piece of toast that's been put into a dehydrator and soaked in salt or whatever they call it during the Wild West times. In fact, this gluten free pumpkin bread might've been a great contender for throwing in the ol' saddlebag for a good, three-month journey to avenge so-and-so's brother over The Saloon Incident. Or something. Plus, it totally would have made for an amazing weapon.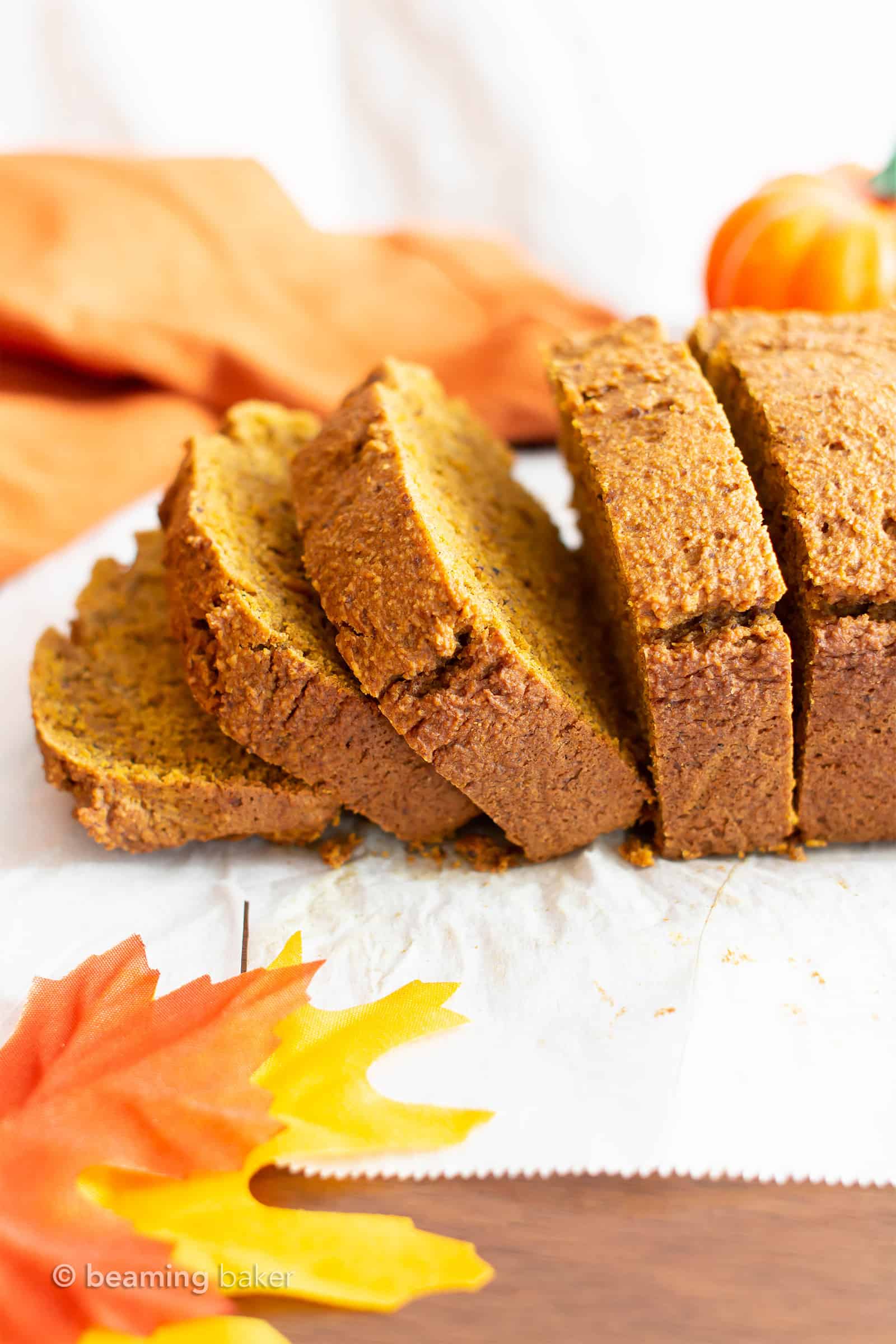 Things Get Spicy: Gluten Free Pumpkin Bread
Trial #2: Less dry, too spicy. Yes, I said it. TOO SPICY gluten free pumpkin bread. As if people aren't normally scared of gluten free bread enough. And hilarity of all hilarity, note that I did nothing to the spice ratio… sometimes a good bit of ironic kitchen uncool magic happens and you get super spicy, in a weird savory way, pumpkin bread. My friend, I truly, madly, deeply (oh haaaay, Savage Garden!!) love spicy foods, but this one was too unfortunate and oddly… "unique" to bear.
Trial #3: Straight-up savory. And while some folks might argue that savory vegan gluten free pumpkin bread can be quite the treat… allow me to convince you that this particular loaf was quite the trick. See what I did there??? Aw… come on, give me something for these foolhardy kitchen shenanigans!
I actually thought about saving this trial to turn into some kind of gluten free vegan pumpkin sandwich bread. I think it would've been really good with spicy hummus (inspired by Trial #2, of course), a healthy dosing of jalapeños and olives, and a Paleo Vegan Pumpkin Pie Smoothie to cool things down. Yummmy!!!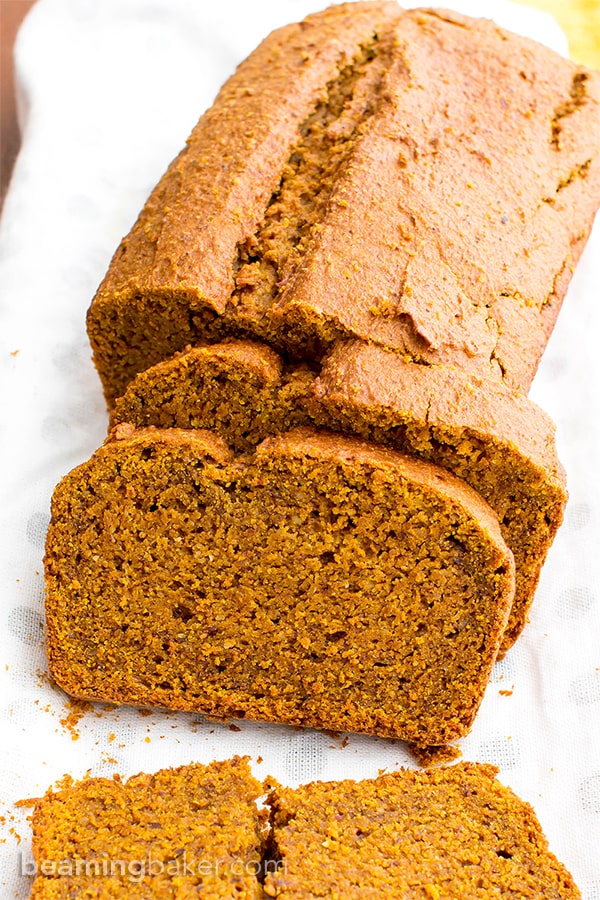 The Vegan Pumpkin Bread Recipe Trials Continue…
Trial #4 (aka the "How do I even have the stones to call myself a 'baker'" trial): Moist AF. Hide the kiddies and covers their gentle ears. AF. Yep, I said it!! There comes a time when all you can do is scream into a stack of oven mitts and throw a stare cruelly at your mixing bowl and in-cahoots whisk. This loaf actually looked pretty good on the outside. Good crust, strong structure. A promising vegan pumpkin bread recipe overall. Right?
Wrong. Oh so wrong… Alas, a mere two hours of waiting for it to cool later… a hearty slice of a center piece revealed… like, an ENTIRE can of pumpkin. It's almost like it re-found itself inside the loaf. Like, it knew that it never wanted to meld with other ingredients ever again. It would just stay as one. 100% pumpkin puree. Forever and ever.
Trial #5 (aka the "Congratulations for being the BEST reader ever, you!! Can't believe you're still here, my favorite reader" trial): Meh. Yep, the Meh pumpkin loaf. The… if I brought this gluten free pumpkin bread to a bakesale, no one would say a thing about it because… MEH. Vegan gluten free pumpkin bread eaten and promptly forgotten. The "Beaming Baker can DO better than this, come on, girlfriend!!" pumpkin loaf.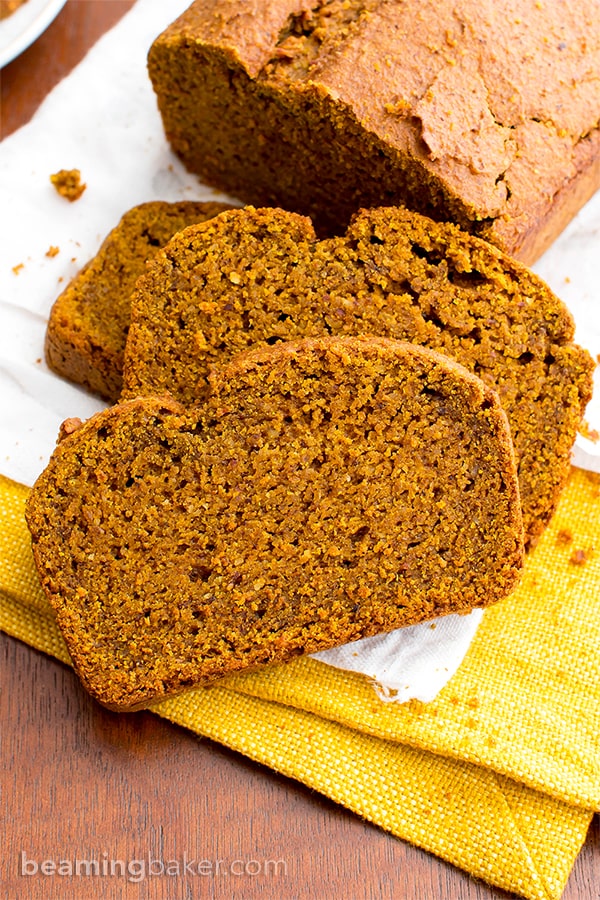 The Best Vegan Gluten Free Pumpkin Bread: FINALLY!!!
Trial #6 (aka There is Meaning in the World, Never Give Up on Your Dreams, Statues Will Be Named After Us Pumpkin Bread): From -1 million to so ridiculously positive, Rocky Balboa would be proud, 100 One Bowl Gluten Free Vegan Pumpkin Bread. But not with 100 bowls. Like… it would be rated 100 out of 100. Oh, you know what I mean!
Dear reader, dear friend, dear best person ever for making it THIS far down this testing post, I'm here to tell you: IT. WAS. ALL. WORTH. IT. This oat flour pumpkin bread, this technically flourless pumpkin bread coz you can grind oats for the "flour", this gluten free dairy free pumpkin bread, this gf pumpkin bread… whatever you want to call it… is WORTH IT.
You will make this vegan gluten free pumpkin bread like the bosslady or bossgentleperson-folk-being that you are. You will hold that whisk firmly and proudly in your ONE bowl. You will bake it like it's hot. Because, well, it will be due to high oven temps… and then, you will wait 2-3 hours, most patiently for a thorough cooling. And then, you will slice this vegan pumpkin bread like you're carrying the shiniest baton past the most reputable strip thingy at the end of marathons.
Then, you will bring this gorgeous loaf of vegan pumpkin bread to your mother-in-law, or IRL boss (even tho we know who's really the boss), or most important bakesale of the century, and present this loaf with a smirk. Because, it's AWESOME.
So don't fret about the holidays, I've got you covered. Especially since we're getting the ball rolling nice and early! Pumpkin = friend, not foe. YAAASSS!! Holiday, let's do this! Also, if you're looking for another amazing GF bread recipe, try my friend Sharon's gluten free cornbread. I'm probably going to make a batch of this One Bowl Gluten Free Vegan Pumpkin Chocolate Chip Bread and Vegan Gluten Free Pumpkin Chocolate Chip Oatmeal Breakfast Cookies to keep this bread company. Are you excited about the holidays? What flavor of quick bread do you like the best?
Sending you all my love and maybe even a dove, xo Demeter ❤️
.Click below to Pin .

Gluten Free Pumpkin Bread & Muffin Recipes!
Print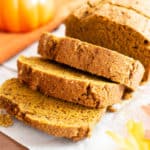 One Bowl Gluten Free Vegan Pumpkin Bread Recipe (GF, Dairy-Free)
---
Author:

Demeter | Beaming Baker

Prep Time:

25 mins

Cook Time:

60 mins

Total Time:

1 hour 25 minutes

Yield:

10

-

14

slices (

1

loaf)

1

x
Description
Gluten Free Vegan Pumpkin Bread (GF): this moist, classic gluten free pumpkin bread recipe is flourless, healthy! The best dairy free pumpkin bread—made with oat flour. Non-Dairy, Refined Sugar-Free.
---
Wet Ingredients
Dry Ingredients
2 cups

gluten free oat flour – if using homemade oat flour, make sure it's very finely ground (not coarse)*

½ cup

almond meal

1 teaspoon

baking soda

½ teaspoon

baking powder

1 teaspoon

ground cinnamon

½ teaspoon

ground cloves

½ teaspoon

ground nutmeg

¼ teaspoon

salt
---
Instructions
Preheat the oven to 350°F. Line an 8-inch loaf pan with parchment paper or greased foil.  Set aside.
Add the wet ingredients to a large bowl: pumpkin, coconut oil, maple syrup, sugar, flax egg, and vanilla. Whisk until well incorporated.
Add the dry ingredients: oat flour, almond meal, baking soda, baking powder, cinnamon, cloves, nutmeg and salt.
Whisk as long as you can—the batter will be thick. Switch to folding with a rubber spatula until no flour patches remain. Do not add additional liquids—the batter is meant to be very thick.
Transfer batter into the prepared loaf pan. Using a clean rubber spatula, smooth batter into an even layer, with a gentle rise down the center—mimicking the shape of a perfect loaf. It is important to follow this step for the perfect loaf shape, as the batter will bake up very close to how it looks raw.
Using a butter knife, cut a slit down the center (or off center, based on your preference). Bake for 55-65 minutes. Mine took 60 minutes. Test for doneness by sticking a toothpick into the center of the loaf. The toothpick will come out clean when the loaf is done.
Allow to cool on a cooling rack for 2-3 hours, or until completely cool. Lift out, slice and enjoy!
Looking for a nut-free version? Try my Gluten Free Pumpkin Bread Recipe! 🎃
More Delicious Gluten Free Vegan Pumpkin Recipes
Equipment
Notes
*If using homemade oat flour, make sure to sift the flour to remove coarse bits of oats that could create grainy/crumbly pumpkin bread.
Storage Notes: Cool completely, then store in an airtight container for up to 1 week.
Freezing Instructions; This loaf freezes well. Wrap in parchment paper and store in an airtight container in the freezer for up to 1 month. Allow to thaw at room temperature for 30 minutes, or heat in the microwave in 10-second increments until just warm.
Special Tools: 8-inch Loaf Pan | 4 Event Timer | 4oz Prep Bowls | Loaf Container
Where to Buy Ingredients: Coconut Sugar | Ground Flaxseed | Gluten Free Oat Flour | Almond Meal | Coconut Oil
Nutrition Information: is an estimate based on the best-selling, most common brands per ingredient. Also, it's estimated based on 14 servings per recipe.
Category:

Quick Breads, Breakfast, Dessert, Snacks

Method:

Bake

Cuisine:

American
Nutrition
Serving Size:

1 slice

Calories:

161

Sugar:

10g

Sodium:

49mg

Fat:

8g

Saturated Fat:

4g

Carbohydrates:

23g

Fiber:

2g

Protein:

3g

Cholesterol:

0mg
Keywords: vegan pumpkin bread, gluten free pumpkin bread, vegan gluten free pumpkin bread, oat flour pumpkin bread, dairy free recipe
Best Tools for Gluten Free Vegan Pumpkin Bread
Below are a few of my favorite tools to use when making this gluten free vegan pumpkin bread.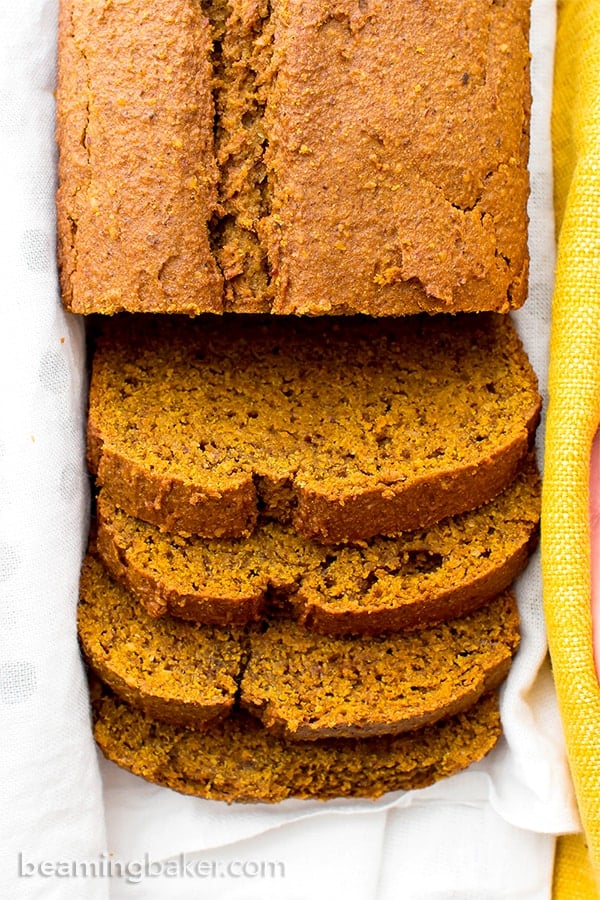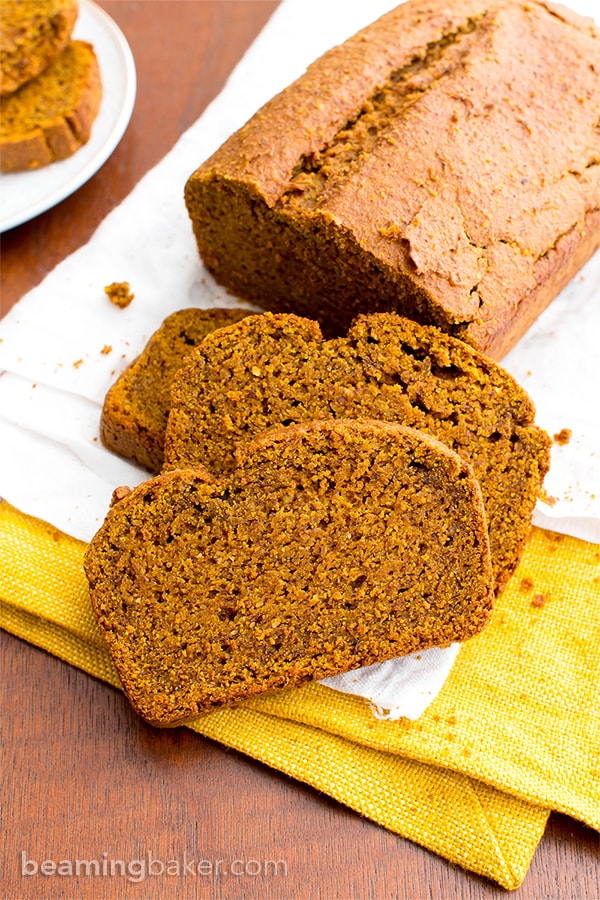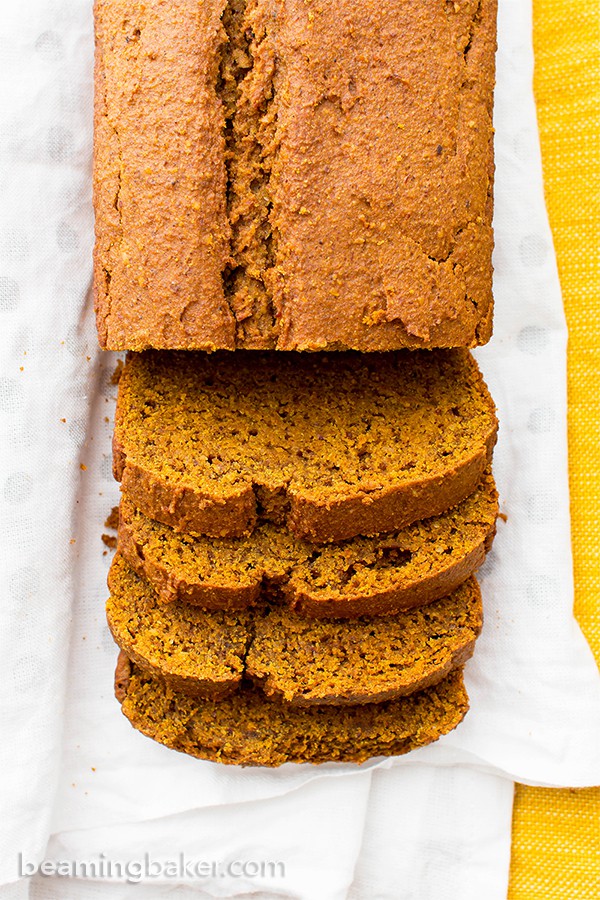 This post may contain affiliate links, which allow me to make a small commission for my referral, at no additional cost to you. Thank you for supporting Beaming Baker.
Facebook ☀︎ Pinterest ☀︎ Twitter ☀︎ Instagram