Skillet-Roasted Maple Cinnamon Pecans (V, GF, Paleo): a 6-ingredient recipe for warm, cozy skillet-roasted pecans glazed with coconut sugar and cinnamon. Paleo, Vegan, Gluten Free, Dairy-Free.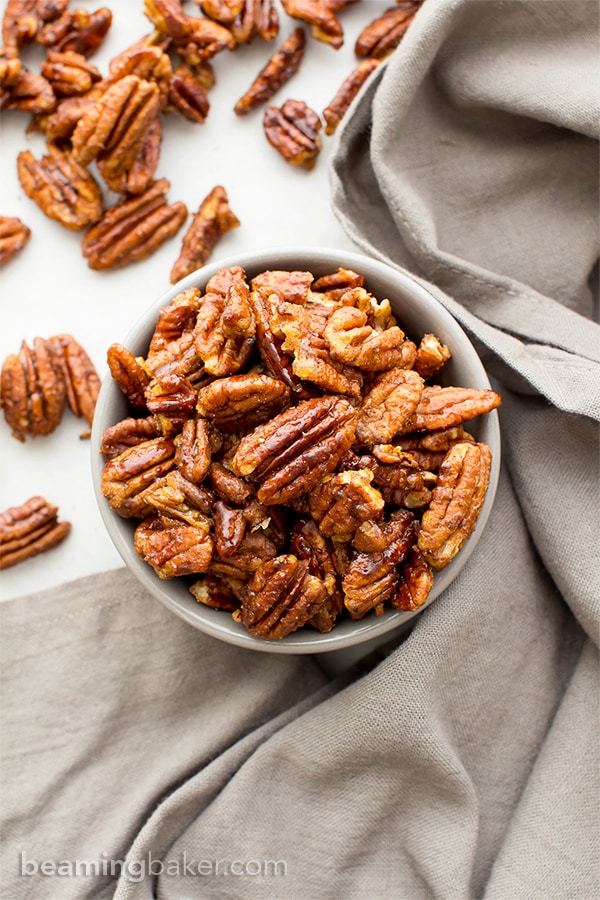 I promised pecans and here they are! 🙂 Not to worry, non-pecan lovers, there is a pecan-less recipe coming up. Hmm, pecan-less. Doesn't that sound interesting? Could this be a thing, like no bake? Or, uh… chocolate-less?
Nah, chocolate-less could not/should not ever be a thing. Right?? Tell me it's not gonna be a thing!!!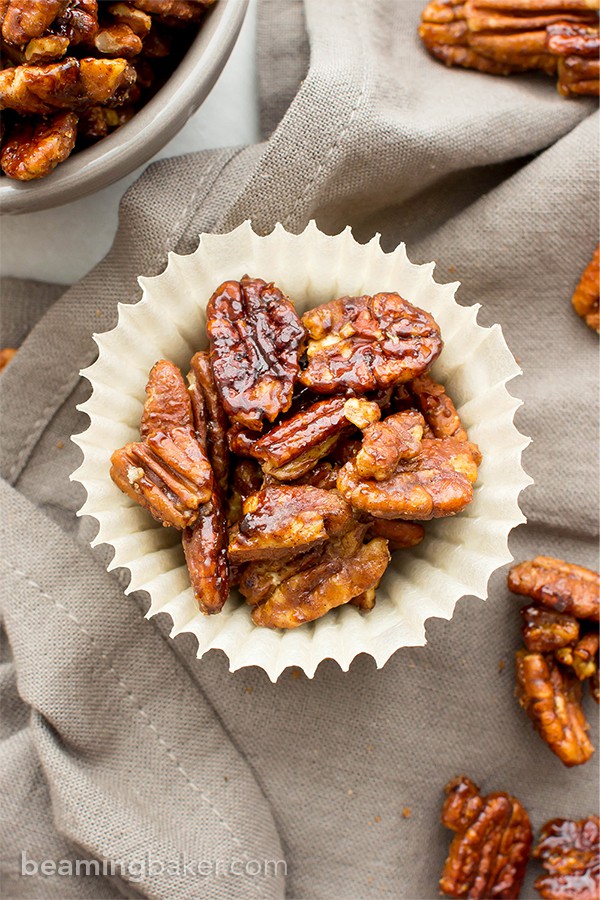 As you can see, I'm quite energized by all of the skillet-roasted maple cinnamon pecans I ate earlier this morning, yesterday, and in fact… as we speak. Well, it's a good thing we're not really speaking in person, because I'd so be unattractively talking and shooting pecan bits at you.
But then I'd offer you some of my pecans and then we'd both be talking and shooting pecan bits at each other.
So, actually, we'd totally be okay. Plus, we would have bonded through the obvious fact that we were very comfortable with each other. And then we'd go on to be lifelong friends who'd obviously know that we could let it all hang loose with each other. Or something. Erm, moving on…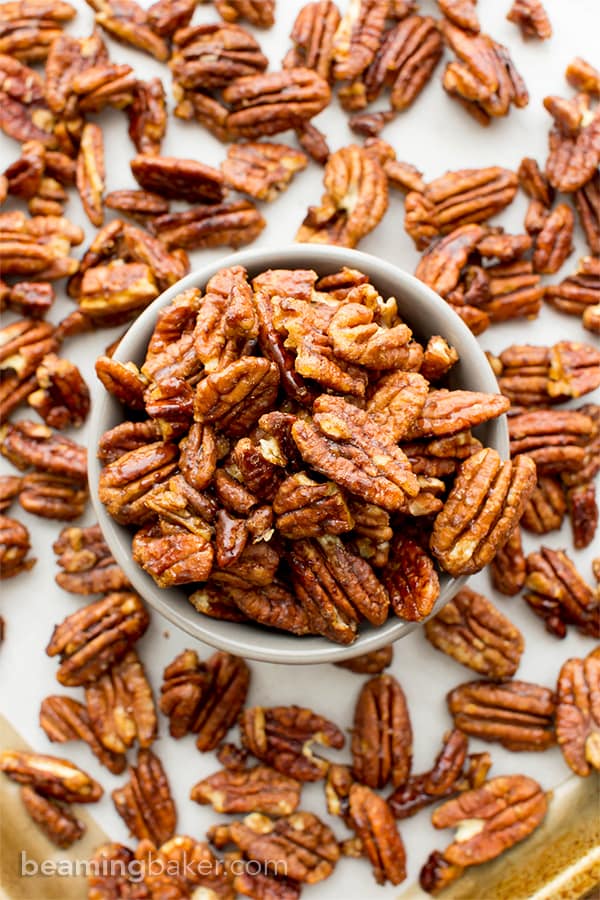 Now that I've generously bestowed that fast-forwarded friendship bonding moment with you, it might be time to actually talk pecans. Or maple. Or cinnamon. Or all of the above? How about a skillet or two?
There's just something about the scents of fall and the beckoning winter that gets me reaching for All Things Cozy. You walk outside and the air is so crisp you can almost reach out and hear it crinkle in your fingertips. You go the mall and all of those food-scented candles are floating the most delicious aromas in the air.
As you walk by lovely bakeries in the morning, you can smell it: fresh-baked pumpkin pie, warm cinnamon rolls, freshly-dipped caramel apples and so much perfectly moist, perfectly delicious pumpkin bread.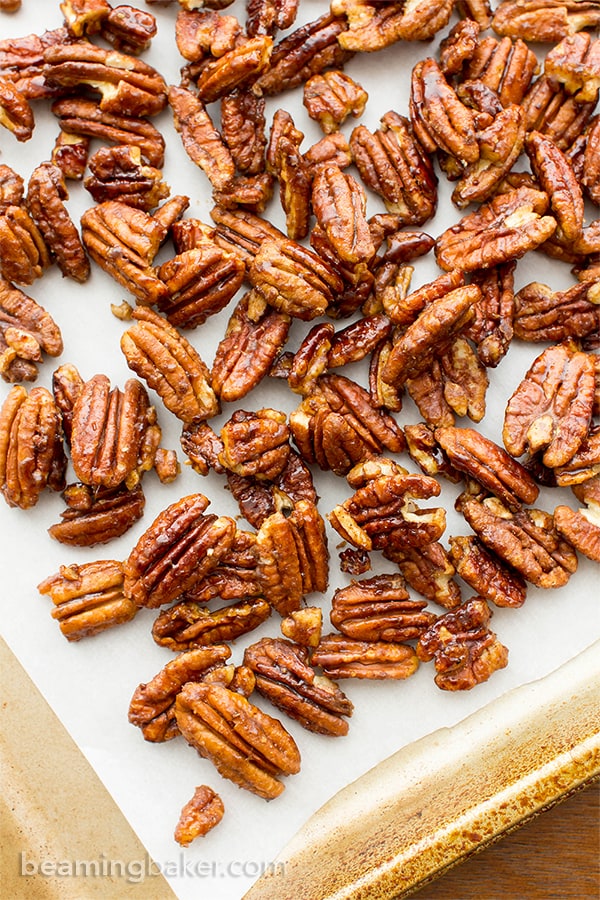 One of my favorite fall scent combos is maple and cinnamon. There's just something about that combo that sets my senses into high bliss mode. It's just so divinely warm, sweet, spicy and cozy. When I smell maple and cinnamon together, all I want to do is cuddle up in a huge, thick sweater blanket (yep, sweater blanket), place myself right in front of a crackling fire and endlessly snack on these skillet-roasted maple cinnamon pecans. With a steaming cup of cinnamon tea, too. Of course.
When I started thinking up this recipe, I really wanted to capture that cozy, peaceful feeling. So I started with my maple sesame almonds—one of the most popular recipes on the blog—and switched it up, fall-style.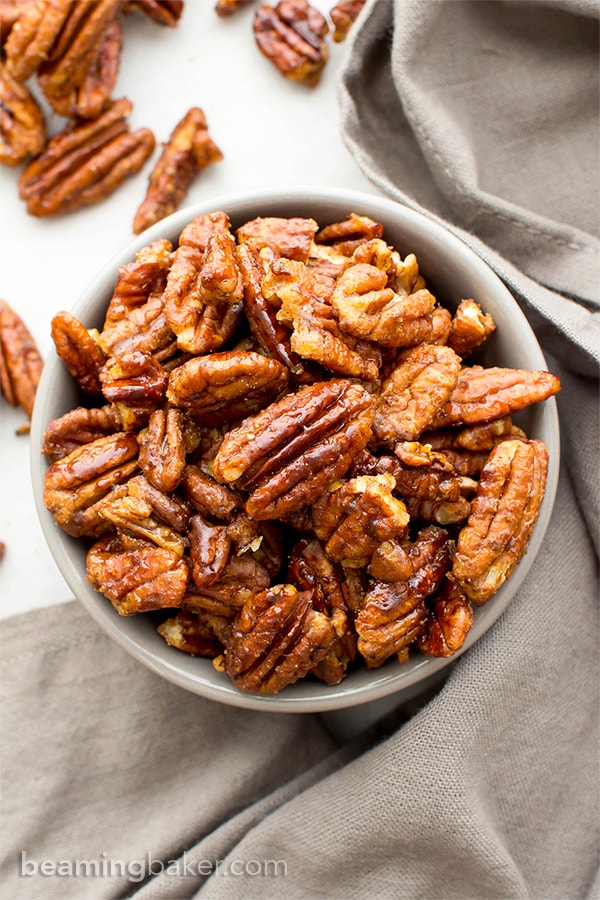 I had a few thoughts/edits that I wanted to improve upon from that recipe. With these pecans, I really wanted the coating to stretch and blanket every little nook. So, I dialed the coconut oil down a bit. I dropped the sesame seeds because they honestly can't be the star of every show. Ego-checks are always healthy, right? 😉 Then, I made a few adjustments to the technique to achieve a better roast on the stove-top.
The final product is what you see here, my friend. When you whip up a batch, I truly hope that taking a bite makes you feel all kinds of loved. What could be better than that? Perhaps gift-giving, so someone you care about also feels loved? <3 And, in case you're in the mood for some more roasting and fall coziness, check out this roasted acorn squash with pomegranate and pistachios. 🙂
I'm planning on making a double or a triple batch of these skillet-roasted maple cinnamon pecans and handing them out for Christmas. Do you like giving candied nuts out as a gift during the holidays? Every holiday season, it seems like nut gifting containers get more and more elaborate. I'm gonna try finding/making something saucy and super fun to store these in this year.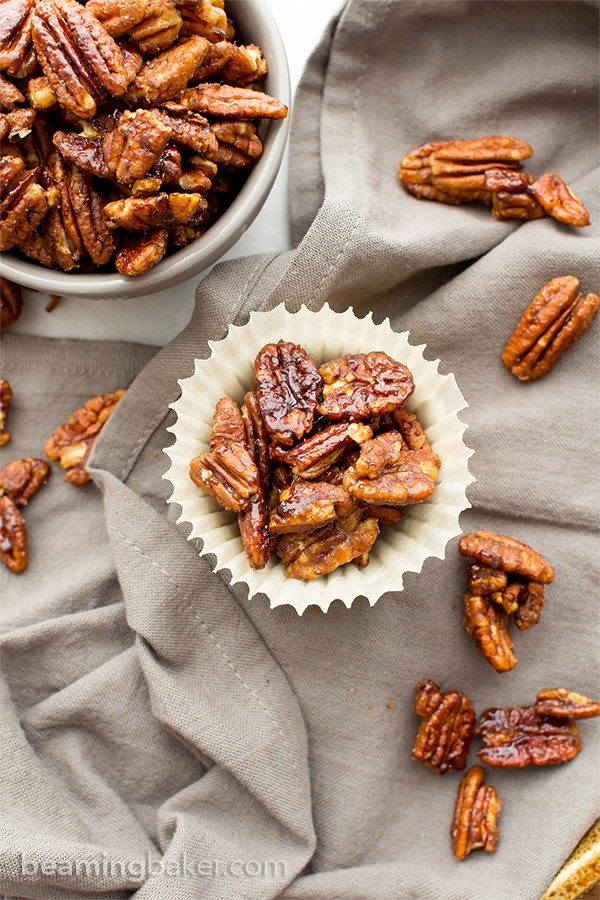 But before our minds really start wandering about all the gift-boxing possibilities, let me tell you about these truly incredible nutty treats. My skillet-roasted maple cinnamon pecans are:
made with just 6 ingredients
lightly sweet, perfectly crunchy
skillet-roasted to perfection
vegan, paleo
gently spiced with ground cinnamon
deliciously coated in coconut sugar and maple syrup
gluten free, dairy-free
warm, cozy and inviting
perfect for gift-giving
seriously satisfying snacks
Try your hand at creating homemade skillet-roasted maple cinnamon pecans. The simple and easy process is so satisfying and rewarding. Just in case you're looking for more delicious vegan gluten free holiday recipes, try these: oven-roasted paleo candied pecans (if you prefer using the oven rather than a skillet), two of my favorite breakfast treats: gluten free maple pecan pumpkin muffins & gingerbread oatmeal homemade breakfast bars, and the crispiest paleo apple pecan coconut crisp you've ever had! 🙂
I'm so happy to get ready for the holidays with you. Let me know what you think of this recipe, and if there's something special you'd like me to create this season. In the mean time, tell me:
What's your favorite food gift idea for the holidays?
I can't wait to hear what you think. Sending you all my love and maybe even a dove, xo Demeter ❤️
☀︎Click below to Pin ☀︎

☀︎ Did you make this recipe? Take a pic and share it on Instagram with the hashtag #beamingbaker and tag @beamingbaker. I would love to see it! ☀︎
Delicious Gluten Free Vegan Christmas Recipes, just for you (all V, GF, DF):
Print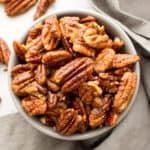 Skillet-Roasted Maple Cinnamon Pecans (Vegan, Paleo, Gluten Free, Dairy Free)
---
Description
Skillet-Roasted Maple Cinnamon Pecans (V, GF, Paleo): a 6-ingredient recipe for warm, cozy skillet-roasted pecans glazed with coconut sugar and cinnamon. Paleo, Vegan, Gluten Free, Dairy-Free.
---
Scale
Ingredients
2 tablespoon

s coconut sugar

2 tablespoon

s pure maple syrup

½ teaspoon

ground cinnamon

¼ teaspoon

salt

2 teaspoon

s coconut oil

2 cup

s unsalted pecan halves
---
Instructions
Line a cookie sheet with parchment paper or greased foil. Set aside.
In a small bowl, whisk together coconut sugar, maple syrup, cinnamon and salt.
In a large, nonstick skillet over medium-low heat, add coconut oil and sugar mixture. Stir until melted and smooth.
Add pecans and increase heat to medium, stirring until pecans are thoroughly coated. Switch to stirring occasionally, allowing pecans to soak in the sugar mixture. Watch the pecans closely, being careful not to burn them. Stir until the sugar mixture is almost completely soaked up and the pecans are sticky like taffy. This will take about 3-5 minutes.
Pour pecans onto the prepared baking sheet, creating an even layer. Set baking sheet on a cooling rack. Allow to cool for 1 hour, or until completely cool. Enjoy! Storing instructions below.
---
Category:

Snacks, Paleo, Vegan, Gluten Free, Dairy-Free
Recipe Card powered by
© beamingbaker.com. All content and images are protected by copyright. Please do not use my images or recipe without my permission. If you wish to republish this recipe, please re-write the entire recipe using your own words and include a link to this post for the recipe.
No Bake Paleo Chocolate Pecan Bars (Vegan, Paleo, Gluten Free, Dairy-Free)
Double Chocolate Pecan Brownies (Vegan, Gluten Free, Dairy-Free)
No Bake Pecan Pie Bites (Paleo, Vegan, Gluten Free, Dairy-Free)