Paleo Mocha Frappe (Vegan, Gluten Free, Paleo, Dairy-Free, 4 Ingredients)
Paleo Mocha Frappe (V, GF, DF): a 4 ingredient recipe for deliciously thick, frosty mocha frappes made with simple ingredients. Paleo, Vegan, Gluten Free, Dairy-Free.
Did I ever tell you about one of the first times I went with Erik on a coffee date? He was just a wee one, at 22 years of age. I was 23. Yes, yes, gasp and sigh at the fact that I'm, proudly, the "older woman." .
Seriously though, my sisters always exclaim when they learn that our birthdays are technically 2 years apart… so Erik seems even younger than me. Of course, no matter that we've been together for almost 8 years… they still gasp in shock at this fact at least 4 times a year. Ahem.
Not callin' folks out or anything… 😉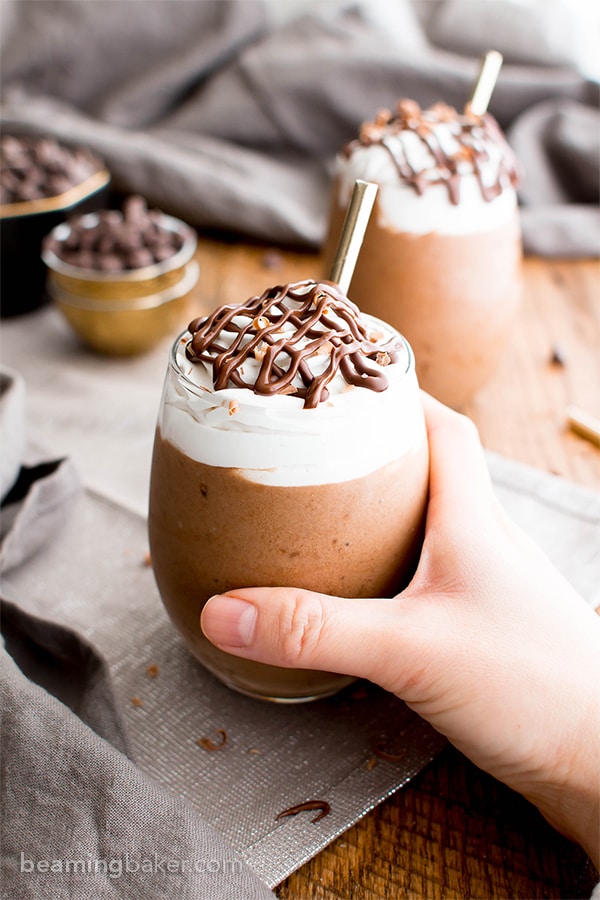 Anywho, almost 8 years ago, we were both living in San Francisco and enjoying the idealized cosmopolitan youngin' life. I had already graduated from UCSB and was attending FIDM at the time. Erik was attending SF State and working like 500 extra jobs. Well, when I put it that way, he seems more responsible and mature than I was at the time. Which he totally was.
Score for Erik! Anyway, one of the very few things we agreed upon was coffee. We loved getting iced coffee, frappes, hot coffee, bags of ground coffee, chocolate-covered espresso beans (oooh), and all the caffeinated things, several times a day. And before you ask, no, we surely didn't sleep much, at all.
One of the first times we headed to a coffee shop together, I ordered my usual and Erik ordered his usual. The sophisticated guitar strums were blaring over the loudspeakers, coffee beans were being crushed to a pulp (but not), and folks were loitering about, pretending to do work.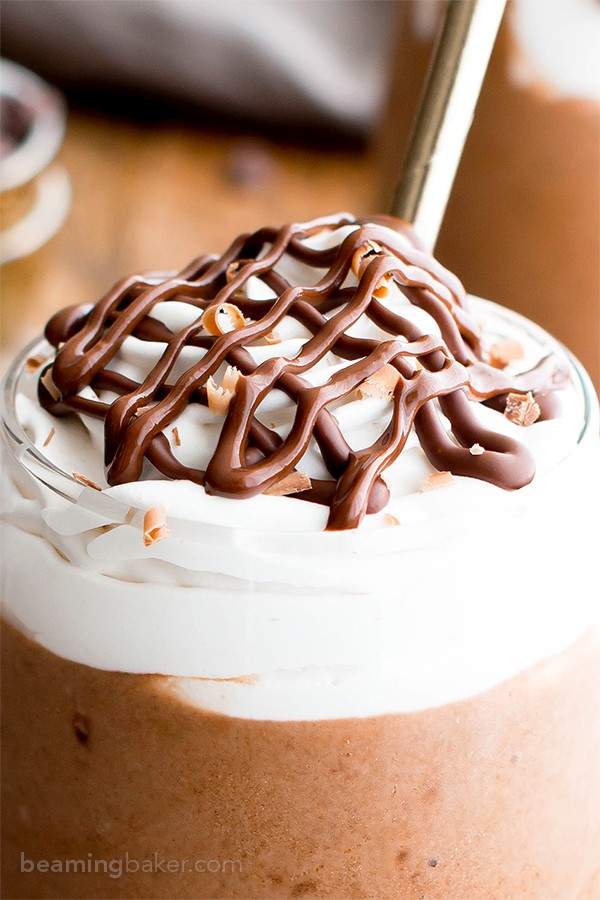 The barista calls my name, and then Erik's. I grab my drink and then his. We head over to grab our straws. As I'm unwrapping mine, I glance over at Erik and ask in an aloof and super cool (yeah, no) way, "do you want to try some of mine?"
Erik, sweating attractively and nervously says, "Sure!!! Um… mayhaps you'd like to try a sip of my beverage, milady?" Yes, he really used to talk like this. And did I mention, he also twirled his handlebar mustache after saying this. You heard me.
I flip my glossy-in-only-the-way-20-year-olds-can-get-it hair and quickly smother up the mumble-whisper I say to myself, "milady???" and say, "Cool."
He sips mine and immediately, his eyes bulge out of their sockets. He clears his throat to cover up a groan, and his eyes start watering, just the tiniest bit. I sip his and can hardly suppress the giggle that bubbles forth from my lips.
We swap drinks and politely go back to sipping our own. Immediately, Erik looks relieved. He's slurping up his frappe like it's the last thing he'll ever drink. I take a sip of mine and almost spit it out. And I have to say it…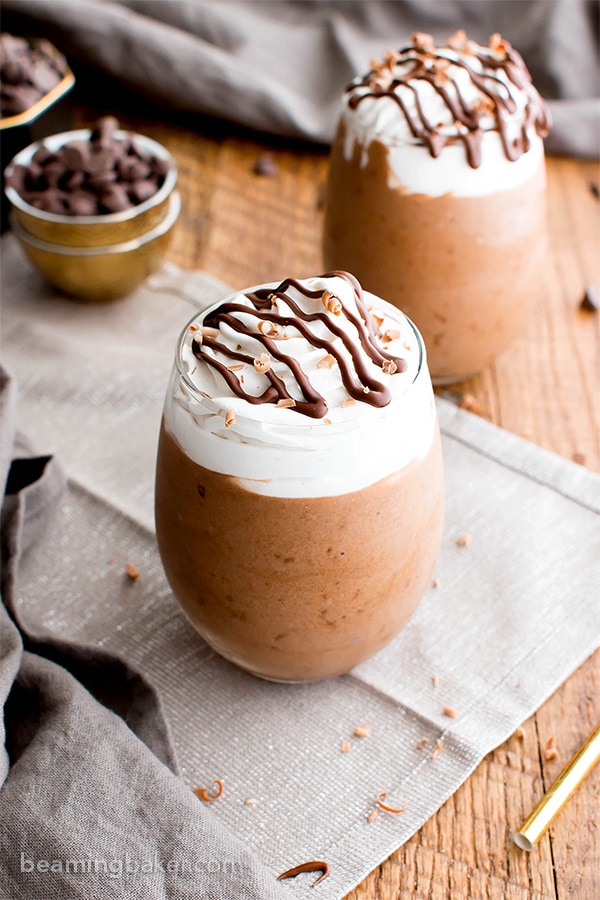 "What the frigerator did you order??? It makes mine taste like depression bread!!"
Erik: "Uh, nothin'. Just what I always get. A white mocha frappe. Stupendously, with extra white chocolate mocha sauce. And… preternaturally, aggrandized with extra whipped cream. Why, what did you have the otherworldy accomplishment of ordering?" I am not even joking, he for-realsies spoke like this.
Me, suppressing a preternaturally accomplished eyeroll: "An iced coffee. Unsweetened, no cream. And now it tastes like depression bread. Like, this is your last possible choice, no one would ever choose to order this, it's all you've got, Grapes of Wrath-style depression bread coffee."
E: "Oh."
We walked out, hand in hand, and shared both drinks. Taking shots of mine as we strolled happily through Golden Gate Park, and chasing it all down with long sips of his… until our next coffee run. And from then on out, I learned to finish my drink before even glancing at his.
You could say I made this paleo mocha frappe as a happy in-between for our 20-year-old selves. I think they would've really  like it. And hopefully you do, too.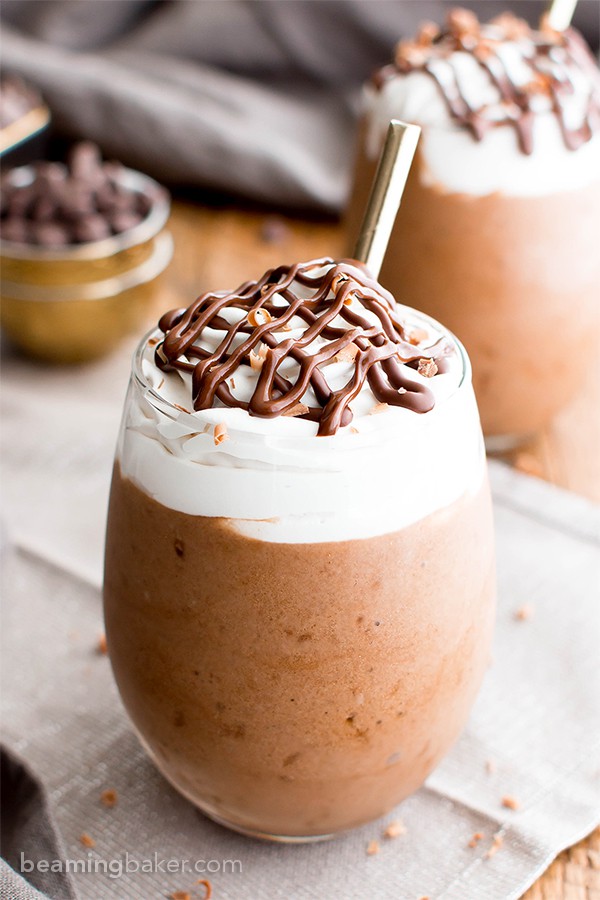 Allow me to tell you all about this Paleo Mocha Frappe. It's:
made with just 4 simple ingredients
thick, frosty and satisfying
vegan, paleo, gluten-free and dairy-free
easy to make
the perfect balance of sweet and strong
plant-based and allergy-friendly
great for sipping on a walk with your best friend .
I hope you enjoy this deliciously frozen drink as much as Erik and I do. Try your hand at making homemade frappes and tell me what you think. It's so much fun exploring all the kitchen adventures with you.
Tell me, what do your favorite coffee drinks remind you of?
Sending you all my love and maybe even a dove, xo Demeter ❤️
☀︎ Click below to Pin ☀︎

☀︎ Did you make this recipe? Take a pic and share it on Instagram with the hashtag #beamingbaker and tag @beamingbaker. I would love to see it! ☀︎
Print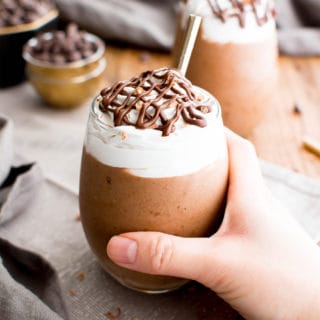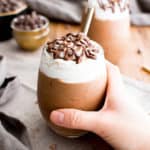 Paleo Mocha Frappe (Vegan, Gluten Free, Paleo, Dairy-Free)
---
Description
Paleo Mocha Frappe (V, GF, DF): a 4 ingredient recipe for deliciously thick, frosty mocha frappes made with simple ingredients. Paleo, Vegan, Gluten Free, Dairy-Free.
---
Mocha Frappe
½ cup

cold coffee

4

medium bananas, sliced and frozen

½ cup

unsweetened almond milk

1 tablespoon

unsweetened cocoa powder
Optional Toppings
Coconut whip, chocolate syrup and chocolate curls
---
Instructions
About 2-3 hours before, or the night before, pour coffee into an ice cube tray and place in the freezer.
Day of, add bananas into the blender. Blend until the bananas become crumbly. Add almond milk. Blend until smooth and creamy, scraping down the sides of the blender as needed.
Add coffee ice cubes. Blend until well incorporated and smooth, again scraping down the sides of the blender as needed. Add cocoa powder, blending until well incorporated.
Pour into two cups. Top with coconut whip or any of your favorite toppings. Enjoy!
Category:

Frozen Drinks, Paleo, Vegan, Gluten Free, Dairy-Free
© beamingbaker.com. All content and images are protected by copyright. Please do not use my images or recipe without my permission. If you wish to republish this recipe, please re-write the entire recipe using your own words and include a link to this post for the recipe.

☀︎ More Frozen Drink Recipes ☀︎
If you like this Paleo Mocha Frappe, you'll just love…
Chocolate Peanut Butter Banana Smoothie (Vegan, Dairy-Free, Gluten Free)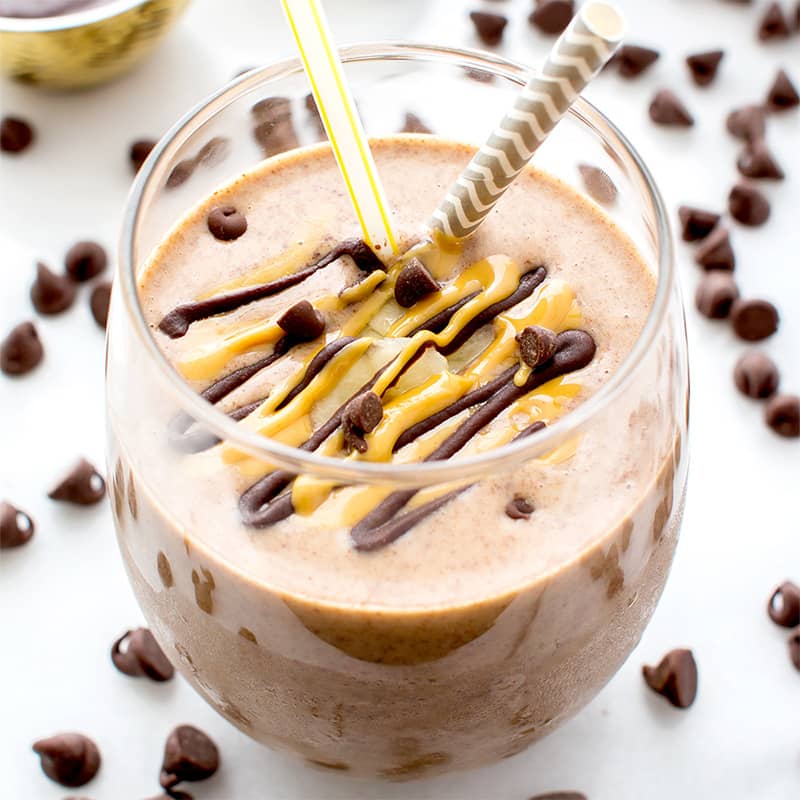 Coffee Coconut Frappuccino (Paleo, Vegan, Gluten Free, Dairy Free)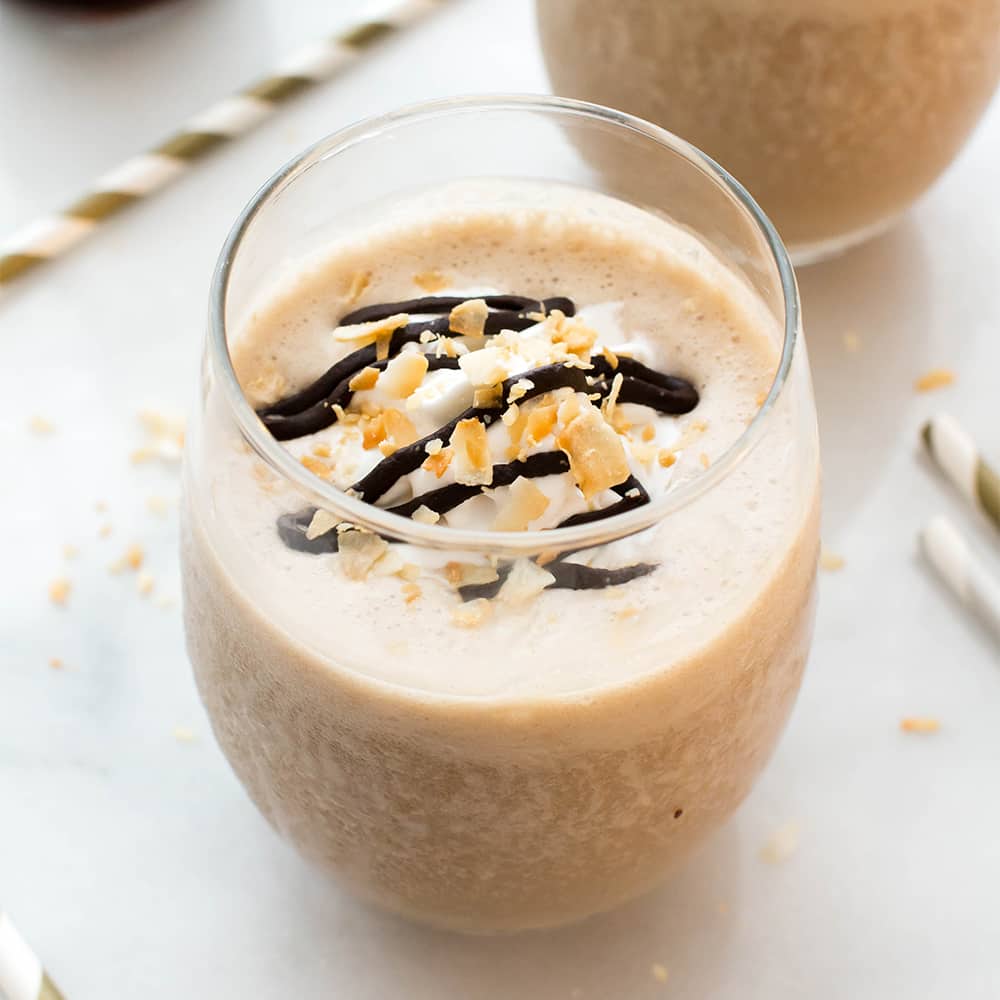 Peanut Butter Ice Cream Smoothie (Vegan, Dairy-Free, Gluten Free, Protein-Packed)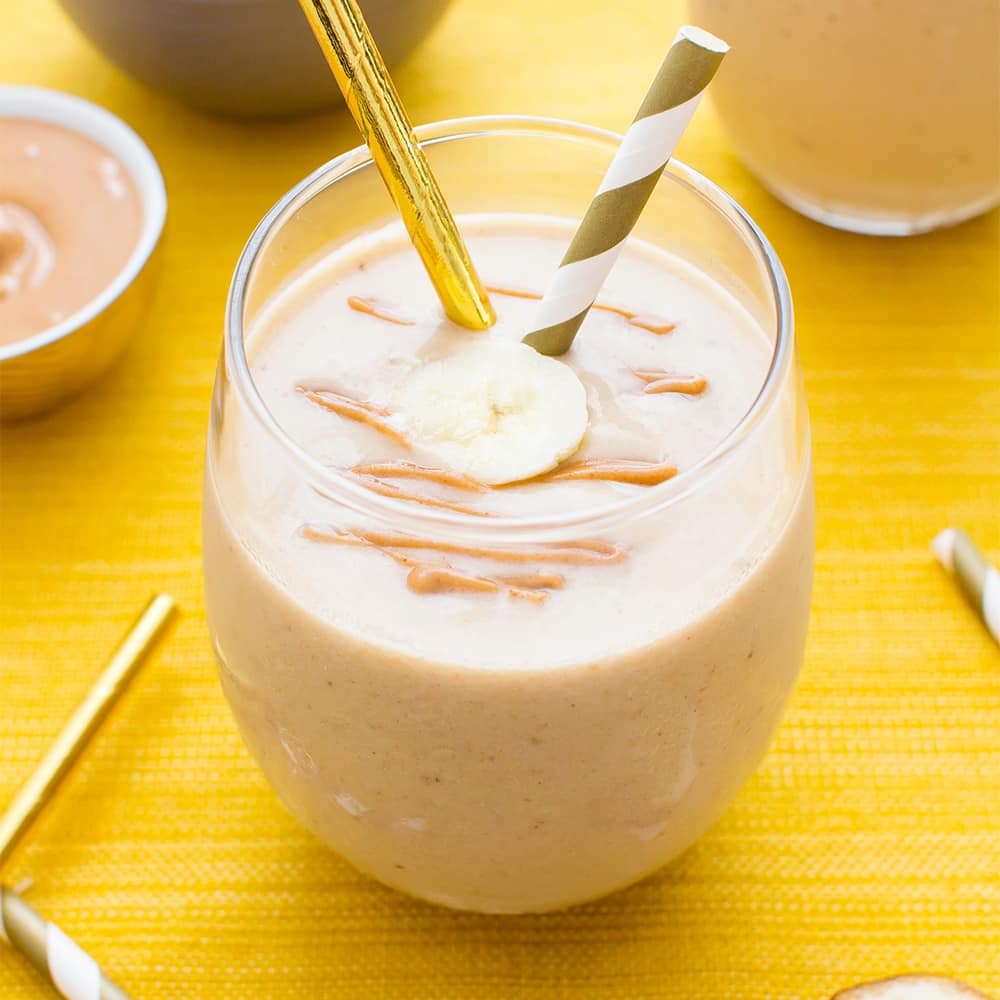 More Delicious Drink Recipes… just in case. 😉
Mango Chia Seed Smoothie (Paleo, Vegan, Gluten Free, Dairy-Free)
Vegan Salted Caramel Frappuccino (Paleo, Vegan, Gluten Free, Dairy-Free) by Allergy-Free Alaska
5 Ingredient Sparkling Frozen Fruit Smoothie (Paleo, V, GF, DF) by Cotter Crunch
Peppermint Mocha Frappe (Paleo, Vegan, Gluten Free, Dairy Free)
Vegan Chai Latte (Paleo, V, GF, DF) by Detoxinista
Vegan Strawberry Peanut Butter Smoothie (Protein-Packed, Vegan, Gluten Free, Dairy-Free)
Facebook ☀︎ Pinterest  ☀︎ Twitter ☀︎ Instagram