Perfectly moist pumpkin donuts with soft 'n tender crumb and fall spice flavors, finished with sweet cinnamon sugar.
Perfectly Moist Pumpkin Donuts
Welcome to my favorite pumpkin donuts recipe! These baked pumpkin donuts are not only bursting with pumpkin spice flavor and all the fall vibes, they're also easy to make.
Prepare yourself for moist, tender pumpkin donuts coating with sparkly cinnamon sugar coating. Let's go!
Even Better The Next Day…
Ever get tired of how you go to all the trouble of baking something incredible, only to have it be kinda gross the next day? Well, this pumpkin donut recipe is not that recipe. Hallelujah!
This pumpkin donuts recipe tastes even better the next day. The pumpkin spices are deeper, the pure pumpkin flavor richer. Just remember that if you're serving this recipe the next day, you're gonna want to wait to coat it with sugar until its ready to serve!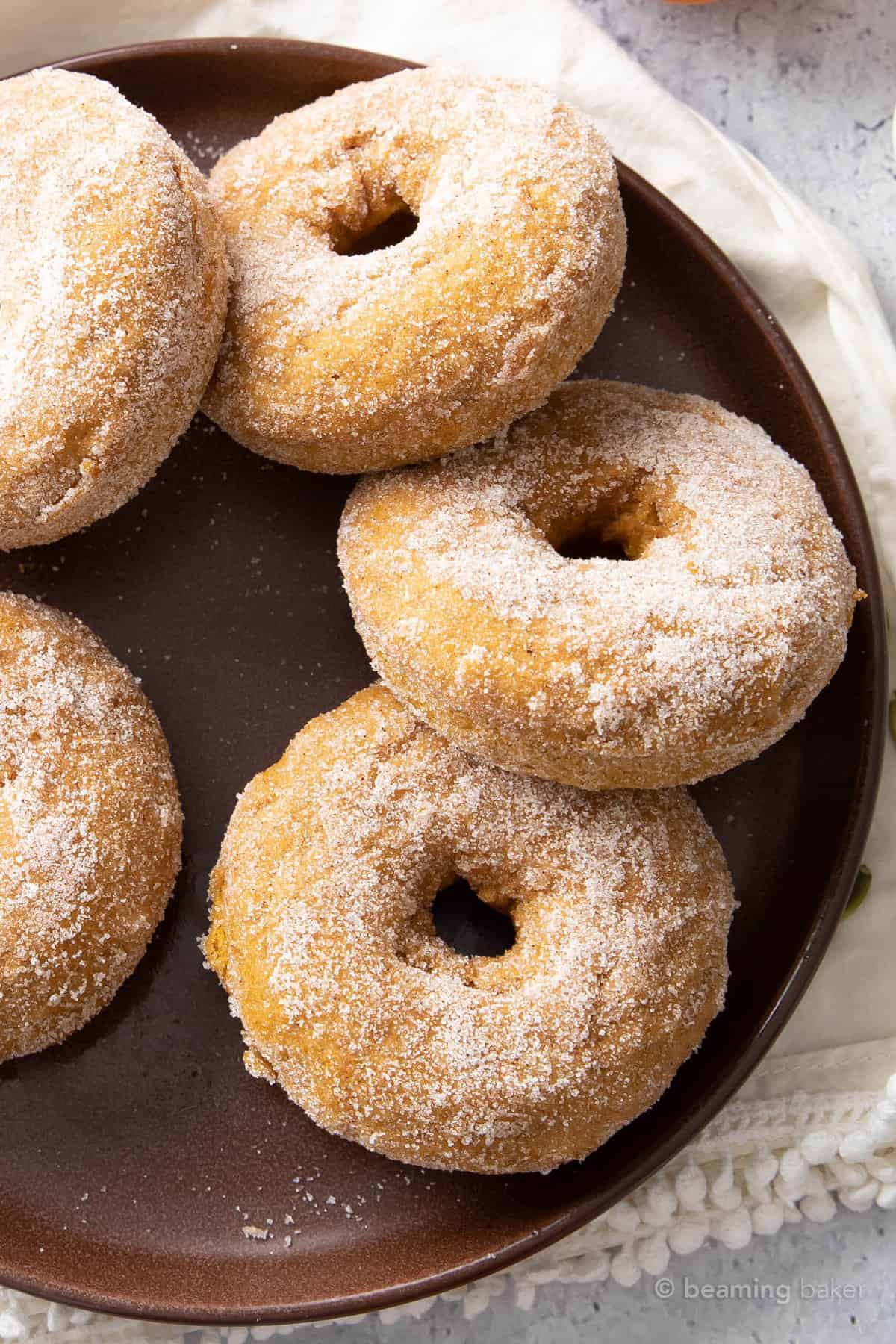 How to Make Pumpkin Donuts
For this pumpkin donuts recipe, be sure to make the flax eggs (if using), preheat the oven to 350°F, and place your nonstick donut pans on the counter.
Then, add all the dry ingredients to a medium bowl and whisk. This includes: flour, pumpkin pie spice, ground cinnamon, baking powder, and salt.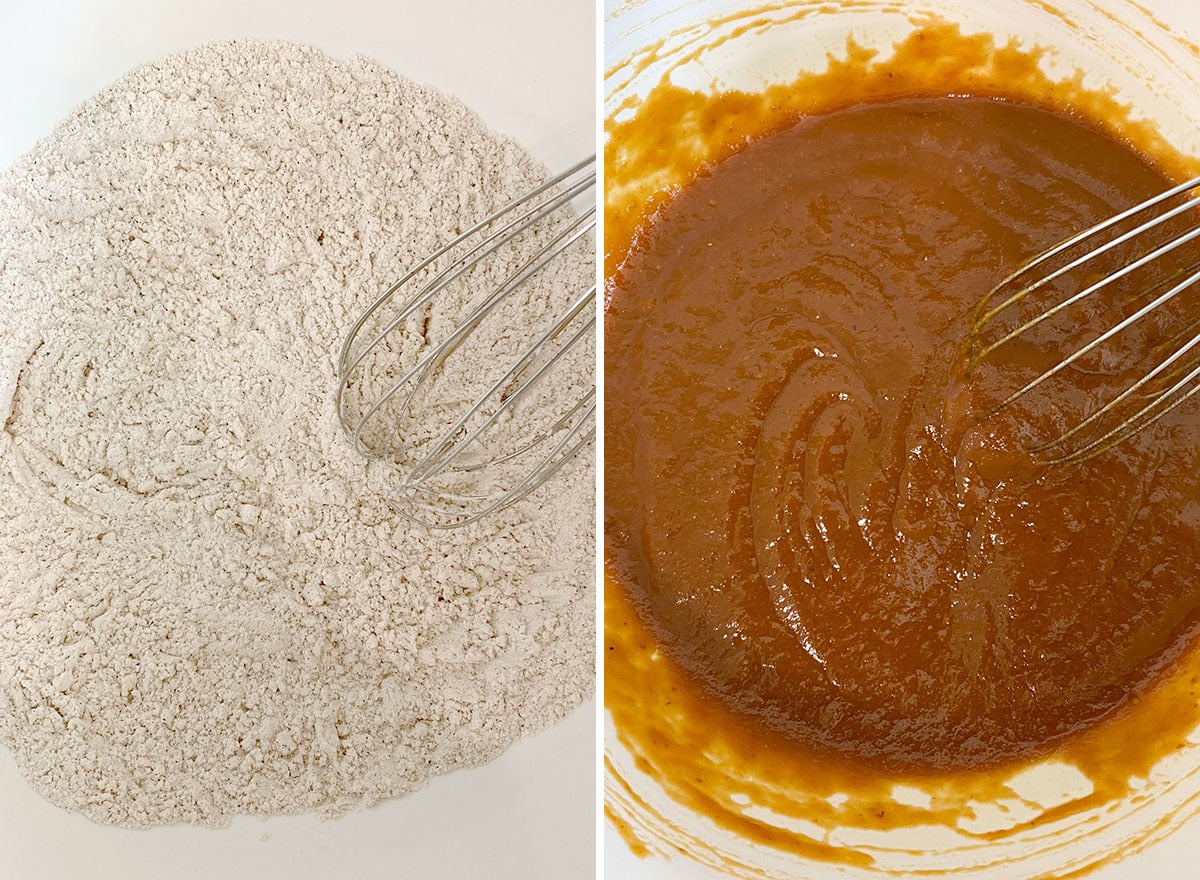 Next, take a large bowl out and add in all the wet ingredients: eggs, oil, butter, pumpkin puree, sugar, maple syrup, and vanilla. Whisk thoroughly.
Now, transfer all the dry ingredients into the wet ingredients bowl. Carefully whisk everything together until you get beautiful pumpkin donut batter.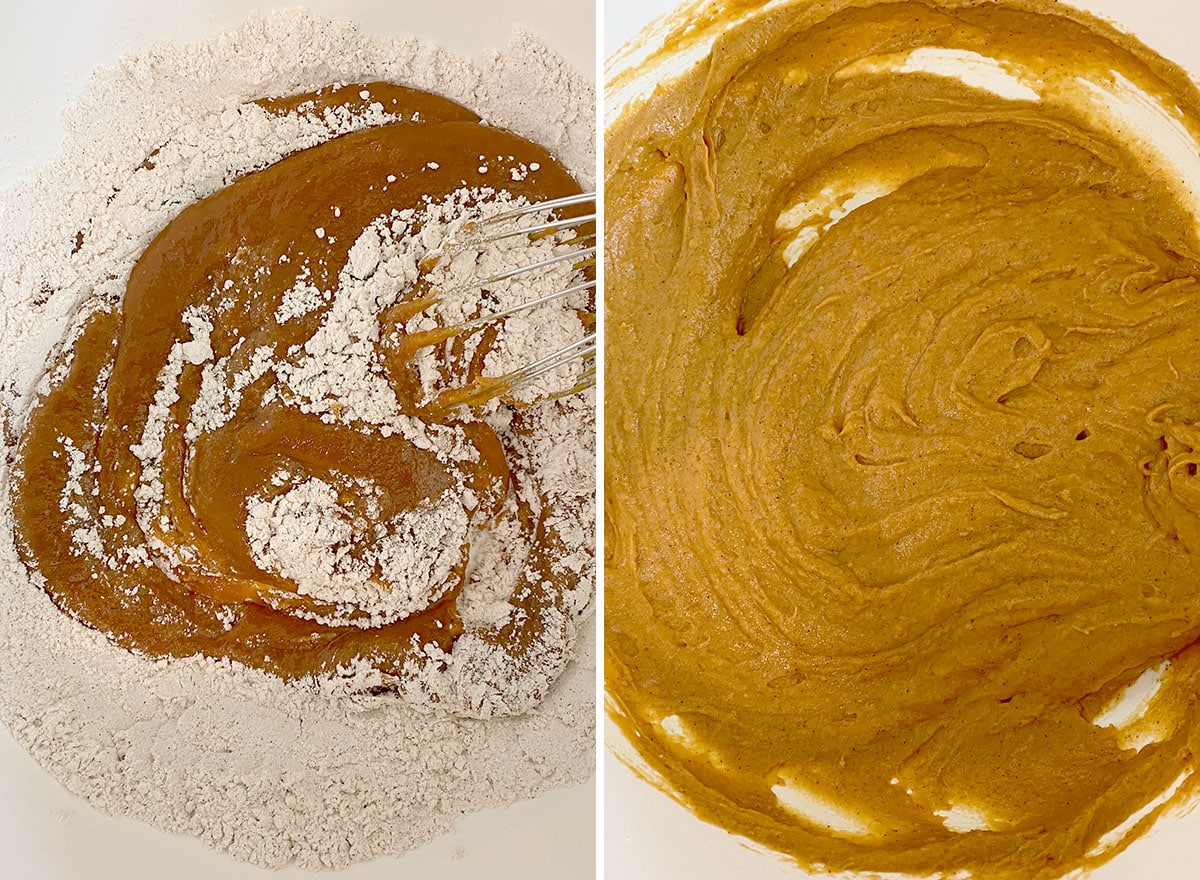 Pour your pumpkin spice donut batter into a pastry bag or zip bag (then trim off the tip once the batter is in). Then, pipe the donut batter into each crevice in the donut pan.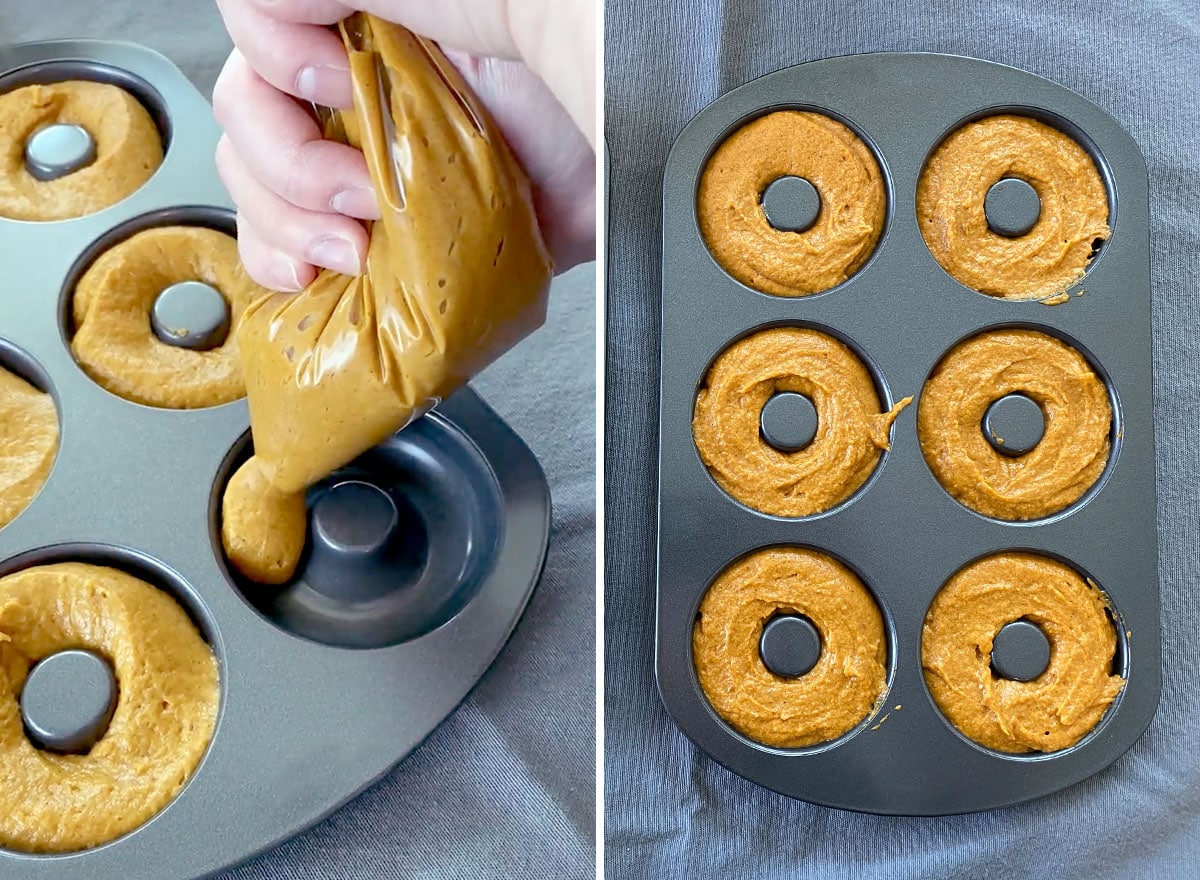 Bake for about 14 minutes, then pop the donuts out!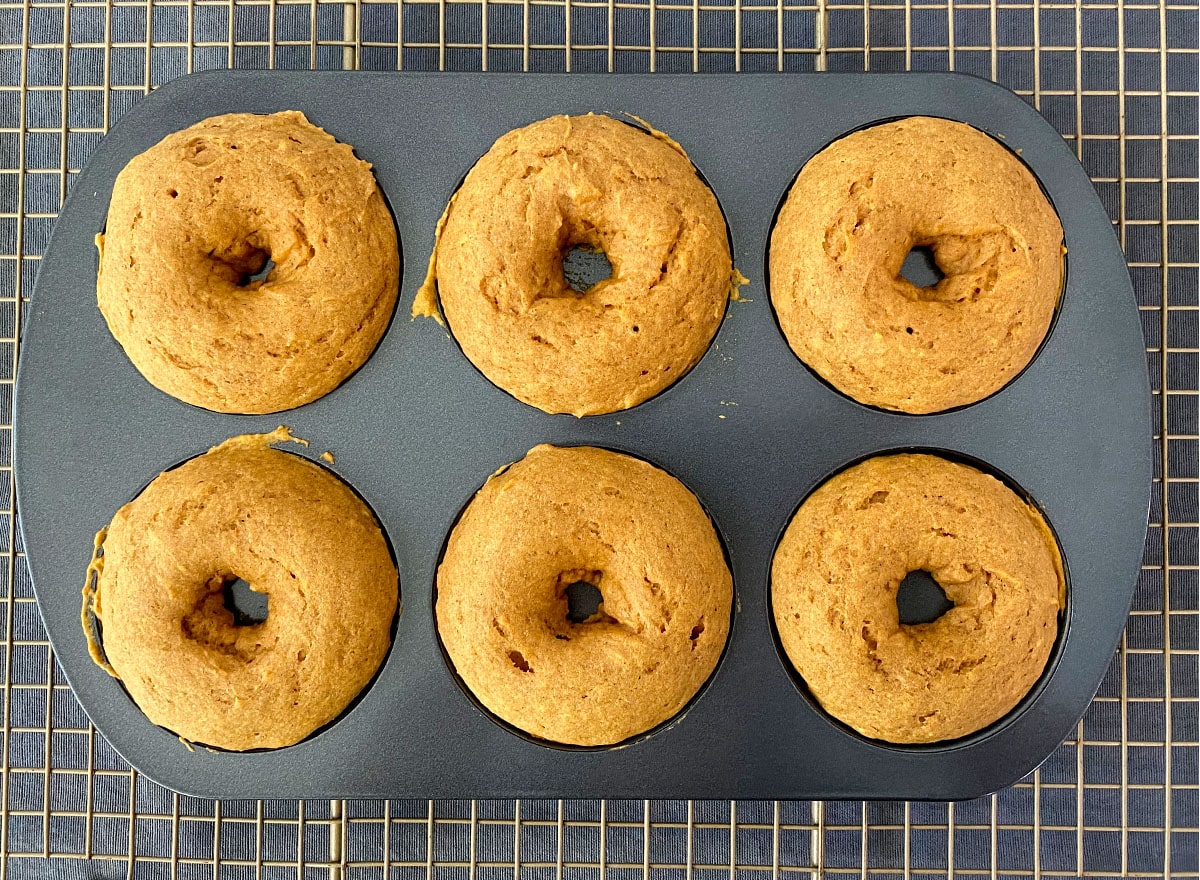 Cool the donuts. Dip each pumpkin donut in melted butter. Then, dip that wet donut into the cinnamon sugar coating.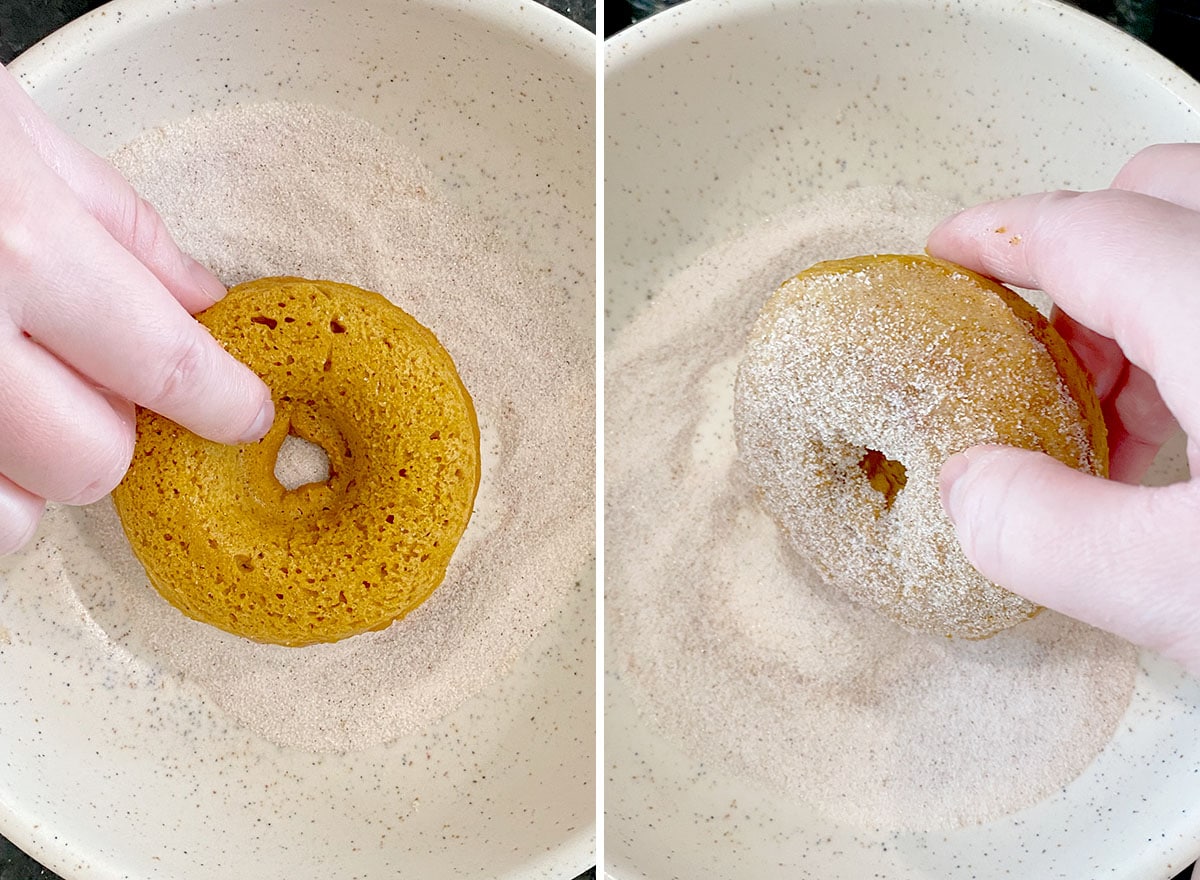 Serve and enjoy the best ever baked pumpkin donuts!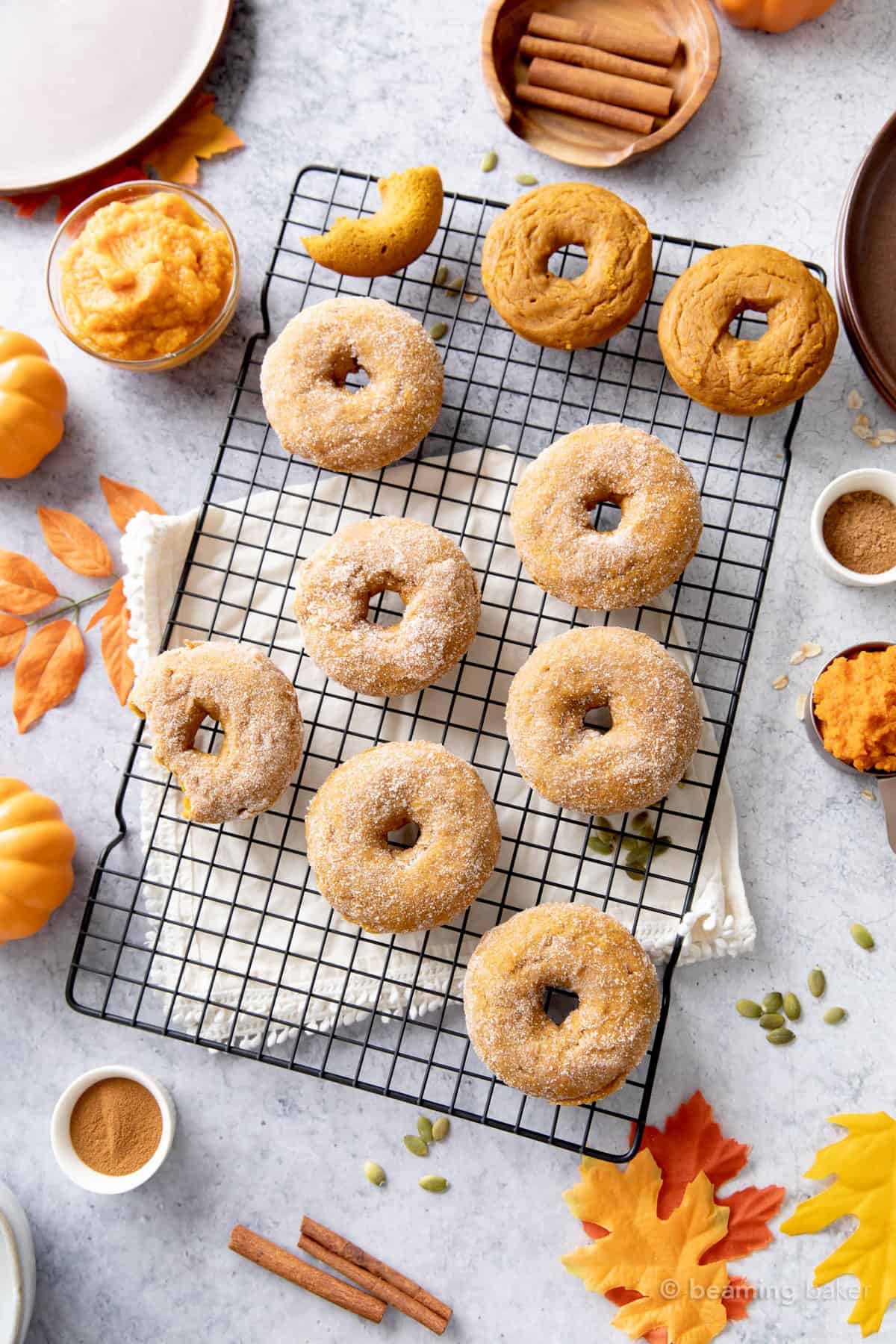 Pumpkin Donut Ingredient Notes
Flour: I used all purpose flour to make this pumpkin donut recipe the first time, then I successfully used oat flour to make this recipe the second time.
Pumpkin Pie Spice – if you don't have pumpkin pie spice on hand, substitute with the following: ½ teaspoon ground cinnamon (yep, on top of the ¼ teaspoon already in the recipe), ¼ teaspoon ground cloves, ¼ teaspoon nutmeg.
Eggs – I used flax eggs to make these donuts, but you can use any egg you prefer.
Coconut Oil – it's possible to use a flavorless oil here. Try it and let me know how it turns out!
Vegan Butter – you can use the butter you have on hand, just make sure its unsalted.
Pumpkin Puree – make sure to use 100% pumpkin puree and avoid using pumpkin pie filling.
Coconut Sugar – you can easily use brown sugar instead.
Demeter's Tips for the Best Pumpkin Donuts
Skip greasing the donut pan, as long as you're using a nonstick pan like this one:
This donut pan allows the pumpkin donuts to quick release and come out beautifully baked, without an overly moist exterior.
Check out the difference between greasing the nonstick pan (left) versus not greasing the nonstick donut pan (right).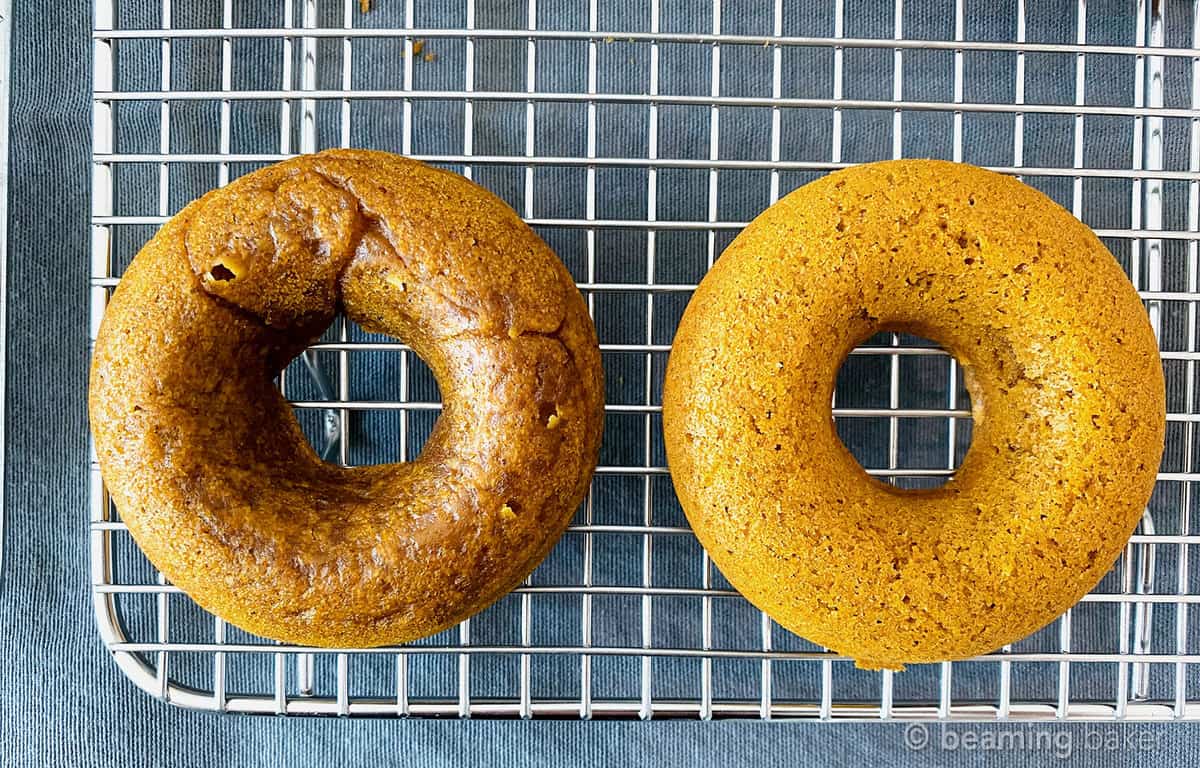 Make the cinnamon sugar coating the day of baking, not the day before. Yep, I mentioned that these pumpkin spice donuts taste better the next day—if you coat them right before enjoying. Otherwise, the cinnamon sugar will dissolve while storing.
Don't over mix the batter for these pumpkin donuts. Just like you need to avoid overmixing your batter when making cake, be sure to simply whisk the wet and dry ingredients together just until no flour patches remain.
Do use a piping bag or a gallon zip bag with a tip trimmed off to pipe the donut batter into the pan. This will make batter distribution into each donut cavity so much easier!
Don't worry if it's tricky to pipe the donut batter at first. With practice comes pleasure, not perfect. Forget about being perfect and just enjoy the baking experience!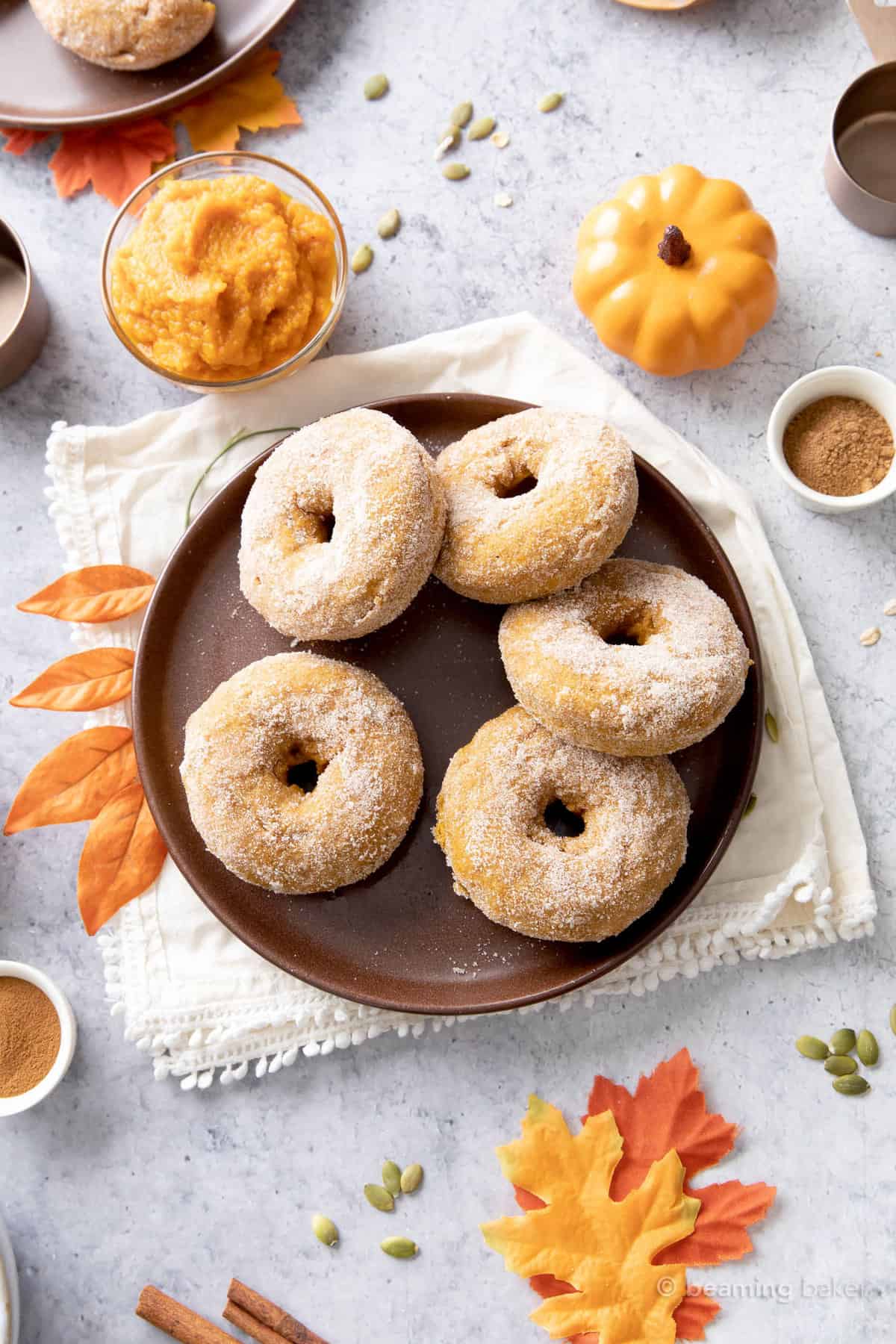 More Pumpkin Breakfast Recipes
Tools You Need
Go On and Bake My Day… 👩‍🍳
…by making these baked pumpkin donuts and taking a pic to post on Instagram! Make sure to tag me @beamingbaker and #beamingbaker. It will bake my day. 😉 'Til our next sweet adventure…
Sending you all my love and maybe even a dove, xo Demeter ❤️
Print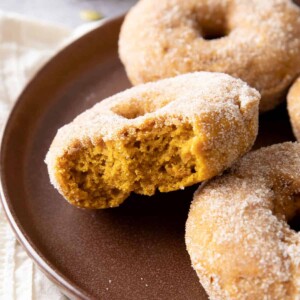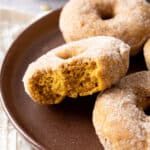 Pumpkin Donuts
---
Description
Soft and tender crumb, perfectly moist pumpkin donuts bursting with pumpkin spice goodness, coated with sweet cinnamon sugar.
---
Dry Ingredients
1 ½ cups

all purpose flour or oat flour (use glu

ten

free oat flour if needed)

1 teaspoon

pumpkin pie spice

¼ teaspoon

ground cinnamon

1 ½ teaspoons

baking powder

¼ teaspoon

salt
Wet Ingredients
2

eggs of choice

2 tablespoons

melted coconut oil or butter

2 tablespoons

melted butter, or more coconut oil

¾ cup

pumpkin puree

¼ cup

sugar or coconut sugar

¼ cup

pure maple syrup

1 teaspoon

vanilla extract
Cinnamon Sugar Coating – you'll only end up using about ½ or less of this, but we're making extra to make it easier to dip!
¼ cup

organic cane sugar

¼ teaspoon

ground cinnamon

¼ cup

butter
---
Instructions
Preheat oven to 350°F. Set aside two 6-cavity, nonstick donut pans.

Whisk together all Dry Ingredients in medium bowl: flour, pumpkin pie spice, ground cinnamon, baking powder, and salt.
Whisk together all Wet Ingredients in large bowl: eggs, oil and/or butter, pumpkin puree, sugar, maple syrup, and vanilla.
Scrape all dry into wet ingredients large bowl. Whisk together to combine, taking stops in between to carefully tap the whisk on the side of your bowl to get clumps of flour out. Be careful not to over mix, only going until no flour patches remain. The batter will be very thick.
There is no need to grease this nonstick pan—doing so will result in overly moist donuts. Pour batter into crevices of donut pan until they're almost full for larger donuts; for smaller ones, fill about half way and reduce baking time. Mine made 8 larger donuts. Tip: you can spoon the batter into a pastry bag or zip bag with the tip trimmed off—this will make it easier to pipe the donut batter into the donut pan. Using a spoon, smooth batter into an even layer.
Bake for 12-16 minutes. Mine took 14 minutes. Donuts are done when you can stick a toothpick into the thickest part of the donut, and it comes out clean. Tip: I always like to spot check several donuts to ensure all the donuts are baked (there are uneven heat spots in everyone's oven).
Overturn donut pan on a cooling rack. Shake the pan (upside down) until the donuts pop out. Cool directly onto rack for 30 minutes.
Make Cinnamon Sugar Coating: add sugar and cinnamon to a shallow bowl large enough to fit a donut. Whisk together until well mixed, being careful not to allow the cinnamon to drop to the bottom of the bowl.
Melt butter. Brush melted butter on the top half of each donut to coat.
Roll or dip donuts (one or both sides) in cinnamon sugar coating. Enjoy!
Equipment
Notes
Storing Instructions: Donuts are best on the first day. If serving later, keep donuts for up to 1 week in an airtight container, not rolling in butter and cinnamon sugar coating until right before serving (the sugar will dissolve after a few hours).
To Freeze: Store donuts in a freezer-friendly container in the freezer for 1-3 months. Best if rolled in sugar and butter right before serving, but can be coated and enjoyed after thawing for about 10 minutes at room temperature.
Note: I've tried dipping the donuts in coconut sugar and melted coconut oil—it's a bit on the drier side and tastes too much like coconut. I don't recommend unless you're looking for a dry coconut donut haha.
To make Vegan: Use 2 flax eggs, vegan butter, coconut oil, and organic cane sugar or coconut sugar.
To make Gluten Free: Use gluten free oat flour, keep everything else the same.
Prep Time:

25 minutes

Cook Time:

15 minutes

Category:

Dessert, Breakfast

Method:

Bake
🎃 📸 🍩
📸 Did you make this baked pumpkin donuts recipe? Take a pic and share it on Instagram with the hashtag #beamingbaker & tag @beamingbaker. I'd love to see it! 📸
More Pumpkin Treats! 🎃 🍁
This post may contain affiliate links, which allow me to make a small commission for my referral, at no additional cost to you.