Easy Gluten Free Vegan Pumpkin Coffee Cake Recipe (V, GF): a thick layer of moist pumpkin coffee cake with a cinnamon sweet, buttery-rich topping. Made with healthy, whole ingredients. Vegan, Gluten-Free, Dairy-Free.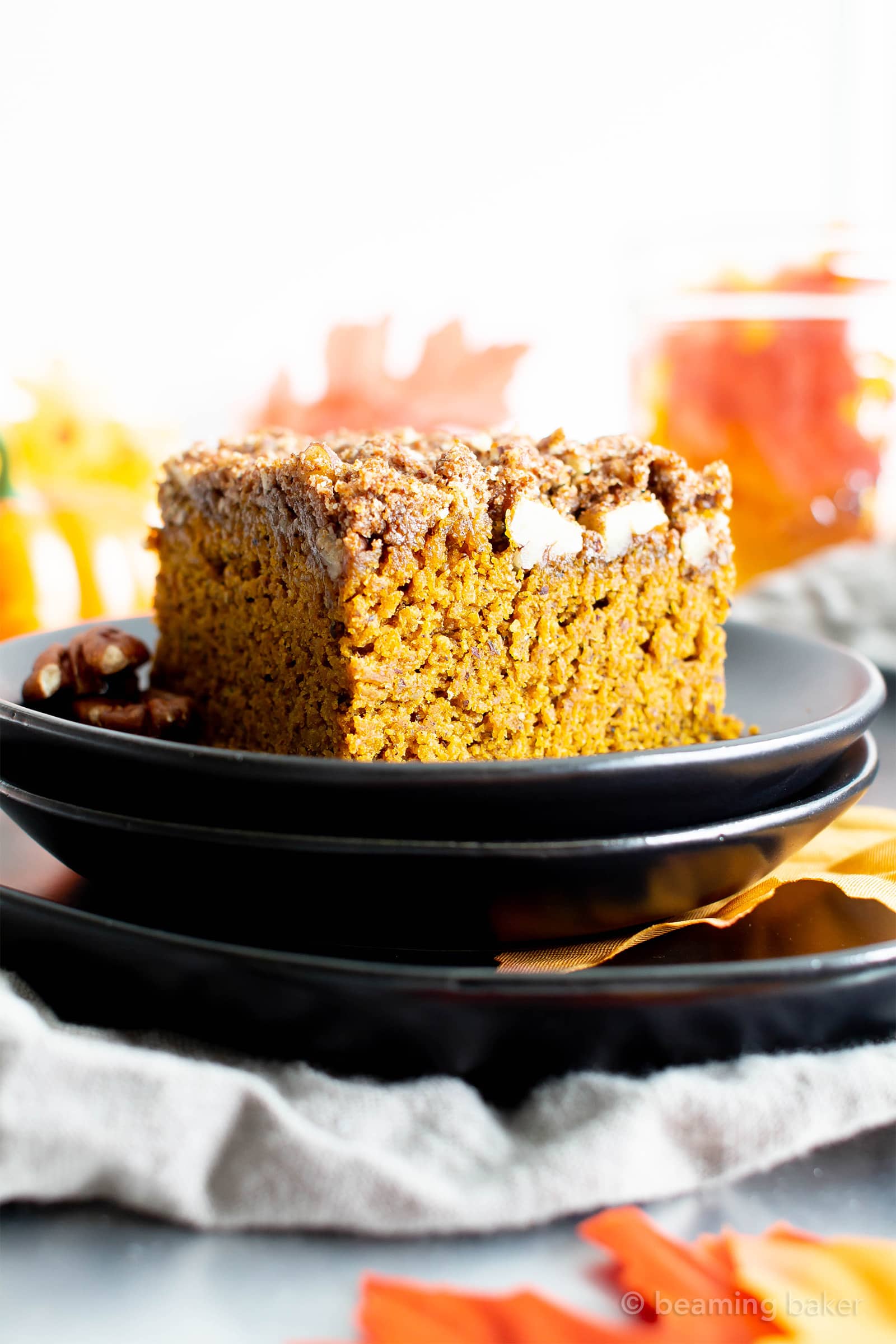 When I was a little kid, I loved sneaking into the kitchen and taking a peek at what was off limits. What fell beneath this tempting category? A special occasion chocolate cake my mom made for a big family event. The completely made-from-scratch eggrolls my mom made for a work thing. The highly-coveted coffee cake a family friend gifted us from some faraway location… lorded over by master pastry chefs.
Guess what I tried to sneak a bite of first?
ALL. I mean, if all of those heavenly treats were in the kitchen at the exact same time. I would've tried them all!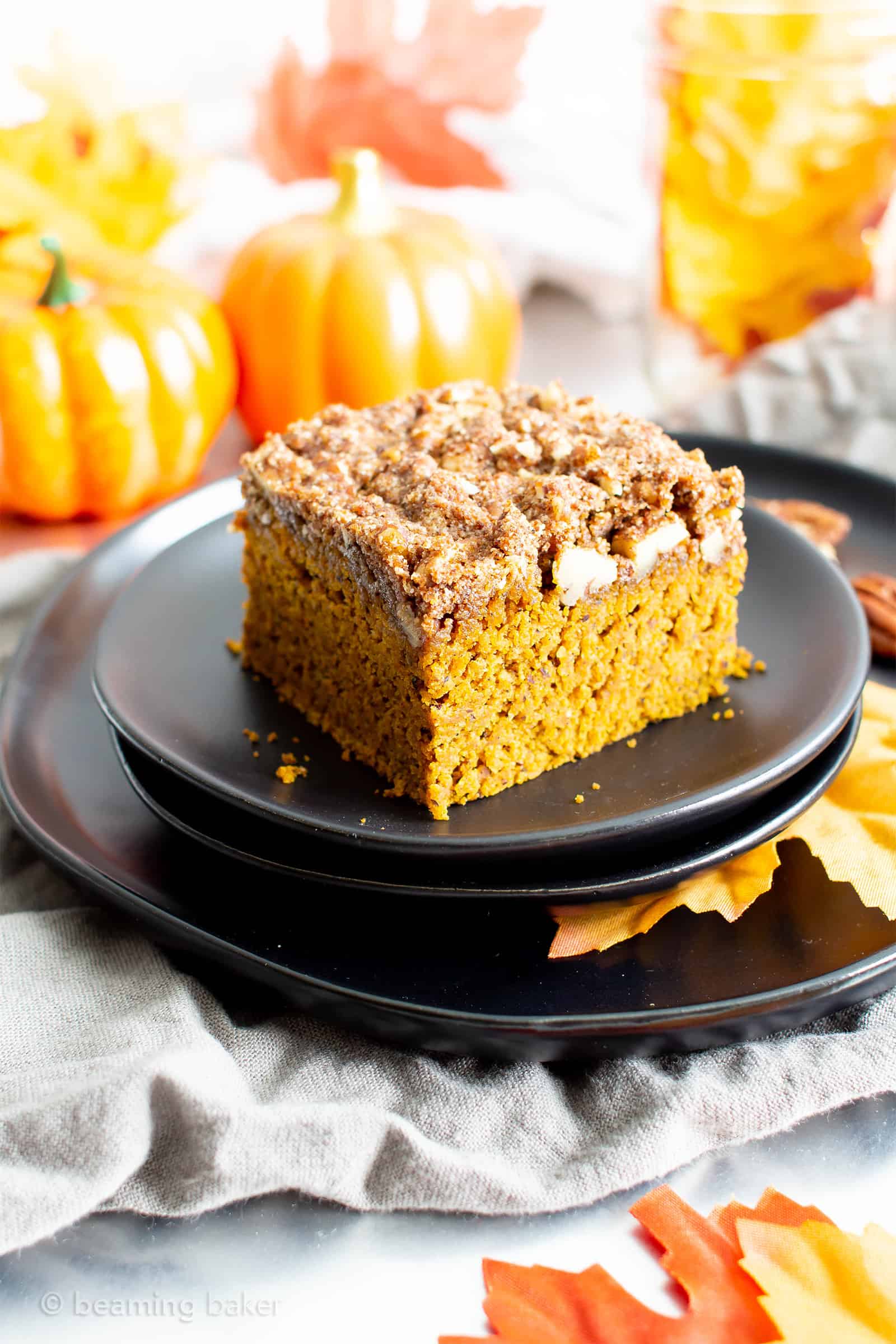 One thing I remember very clearly is that coffee cake. We'd get one—exactly one—coffee cake once a year. For a family of six, that's not much coffee cake to go around.
And for a family of six with four girls with very, very healthy appetites… well, that one coffee cake might as well have been a petit four. Yes, one petit four. <– Okay, now I can see how having a number in the food item I'm using as an example in a sentence with a number in it is confusing. Hey, I didn't make the rules!
Anywho… when we finally sat down as a family to get a slice of that coffee cake… man, you should've seen how well-behaved a group of kids could be. Hah.
We'd each get what I judged to be a paper thin slice of coffee cake (with enough saved for a second go-around at a later, even more special date). Of course, that slice was probably at least half of an inch thick, but my appetite definitely made me biased.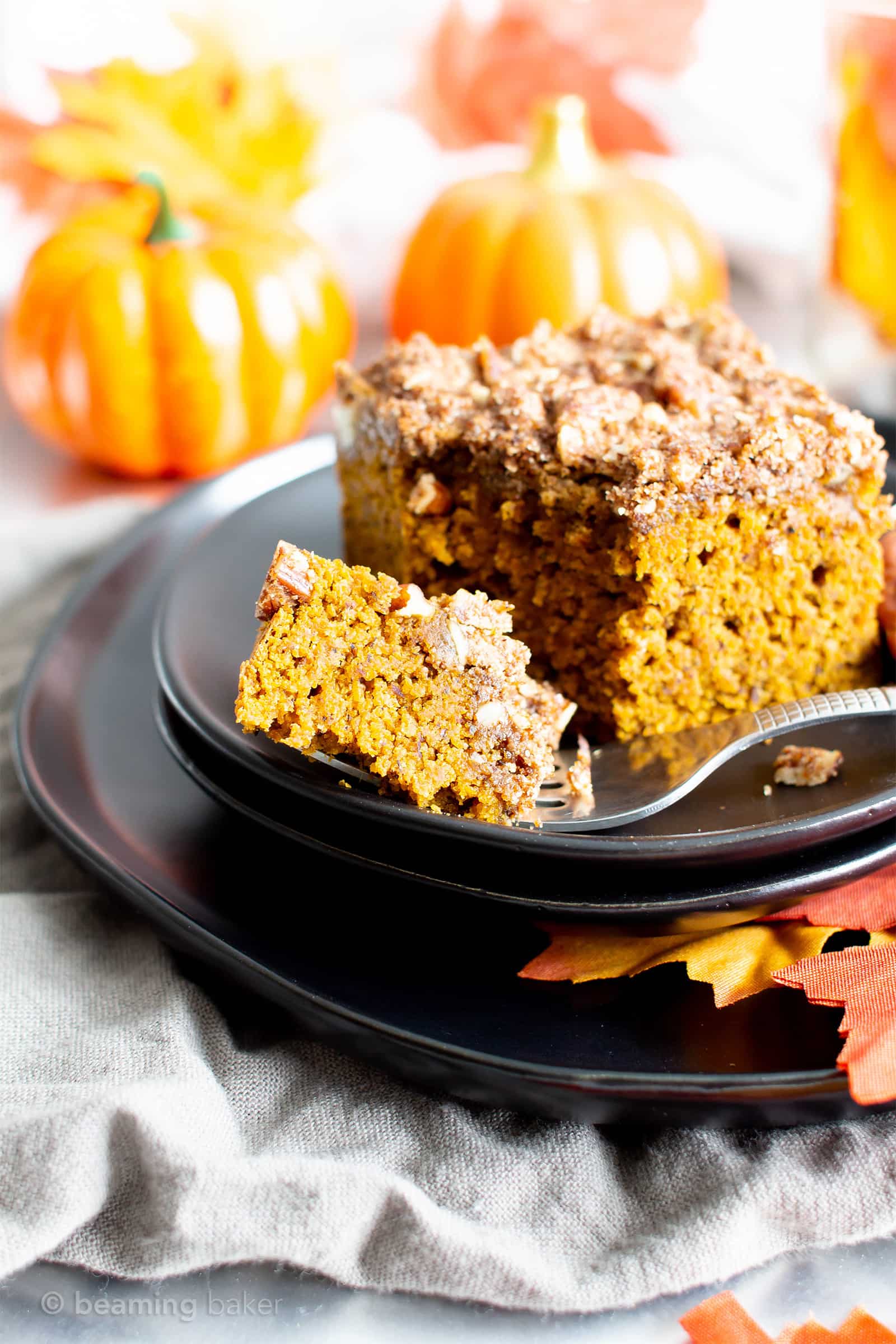 I'd reach for my fork, and delicately poke the tines into that perfectly dense, but still slightly fluffy and moist coffee cake. It was buttery, rich, and oh-so-good. I'd eat the cake part as slowly as I could, and stretch out each bite with a long gulp of milk in between. Then, I'd get to the best part, the last part: the topping.
Oh my goodness, that topping. It was so much sweeter, even more buttery, and just the BEST with that kick of cinnamon. There could not be a better taste in the world than that topping.
And I promised myself, when I grew up, I'd figure out a way to fly all the way to that faraway land to buy ALL the coffee cakes so I could eat as much as I pleased.
Or I'd figure out a way to make it.
In an ode to fall and all of the great things that come of it, I'm dedicating this Easy Gluten Free Vegan Pumpkin Coffee Cake Recipe to little me. And to little you.
For all the desserts we weren't allowed to touch, or had just a paper-thin slice of growing up. 😉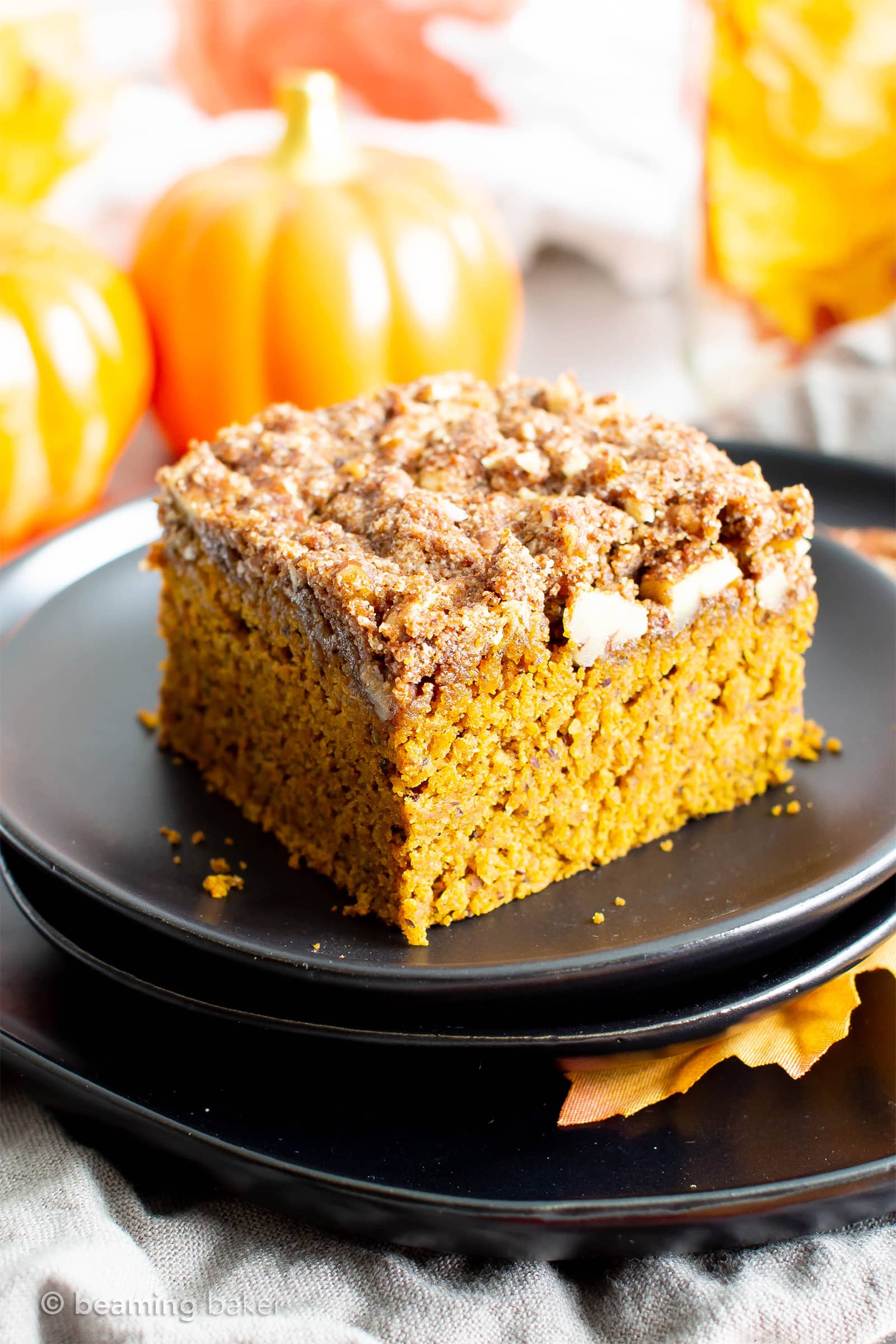 Here's my take on that delicious coffee cake from my childhood, with a fantastic fall twist: PUMPKIN!!! It's dense, rich, satisfying… with a medium-sweet "cake", and a sweeter nutty topping (for balance, of course).
I hope you enjoy! Allow me to shower you with all of this easy gluten free vegan pumpkin coffee cake recipe's finest aspects. It's:
the very epitome of fall! (okay, maybe that was too dramatic, oh well)
amazing, with a moist, rich and satisfying and thick cake
sweet, nutty and buttery in the delicious topping portion
soon-to-be your favorite vegan gluten free fall treat! Along with these: Gluten Free Maple Pecan Pumpkin Muffins, Skillet-Roasted Maple Cinnamon Pecans, Paleo Apple Pecan Coconut Crisp. 🙂
just the perfect easy pumpkin streusel coffee cake you've been looking for
amazing paired with my Pumpkin Chocolate Chip Oatmeal Breakfast Cookies (Vegan, Gluten Free)
made with the simple, healthy, whole ingredients you know and love
the perfect vegan gluten free coffee cake to enjoy for breakfast or dessert 😉
delightfully allergy-friendly
hopefully a cozy reminder and throwback to your favorite childhood fall treats
Best Tools for Easy Gluten Free Vegan Pumpkin Coffee Cake
Here are a few of my favorite pieces of kitchen equipment and ingredients to use when making this vegan pumpkin coffee cake.
Start warming up the oven, because you've got something super special to make! 🙂 I can't wait to hear what you think of my Easy Gluten Free Vegan Pumpkin Coffee Cake Recipe. It's truly an honor to share in these kitchen adventures with you and your loved ones. Thank you for taking the time to stop by and share in a sweet moment with me. 'Til next time…
Sending you all my love and maybe even a dove, xo Demeter ❤️
. Click below to Pin .

. Did you make this recipe? Take a pic and share it on Instagram with the hashtag #beamingbaker and tag @beamingbaker. I would love to see it! .
Easy Gluten Free Vegan Pumpkin Recipes .
If you enjoyed this Easy Gluten Free Vegan Pumpkin Coffee Cake Recipe, then you'll just love these autumn-inspired healthy gluten free, clean-eating recipes:
Print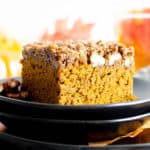 Easy Gluten Free Vegan Pumpkin Coffee Cake Recipe (Dairy-Free, V, GF, Refined Sugar-Free)
---
Description
Easy Gluten Free Vegan Pumpkin Coffee Cake Recipe (V, GF): a thick layer of moist pumpkin coffee cake with a cinnamon sweet, buttery-rich topping. Made with healthy, whole ingredients. Vegan, Gluten-Free, Dairy-Free, Refined Sugar-Free, Clean-Eating.
---
Scale
Ingredients
Streusel
Wet Ingredients
Dry Ingredients
2 cups

gluten free oat flour – if using homemade oat flour, make sure it's finely ground, not coarse* make sure it's very finely ground. 

½ cup

almond meal

1 teaspoon

baking soda

½ teaspoon

baking powder

1 teaspoon

ground cinnamon**

½ teaspoon

ground cloves**

½ teaspoon

ground nutmeg**

¼ teaspoon

salt
---
Instructions
Preheat oven to 350°F degrees. Line an 8-inch or 9-inch square baking pan with parchment paper or greased foil. Set aside.
Make the streusel: Add Streusel ingredients to a small bowl. Using a fork, stir and fold until well incorporated. Set aside.
Make the pumpkin cake: Add all the Wet Ingredients to a large bowl: pumpkin, coconut oil, coconut sugar, maple syrup, flax egg and vanilla. Whisk until well incorporated.
Add the dry ingredients: oat flour, almond meal, baking soda, baking powder, spices and salt. Whisk together until just incorporated, making sure no flour patches remain. Batter will be very thick—do not add additional water or liquids.
Pour batter evenly into prepared pan. Using a rubber spatula, spread into an even layer. Sprinkle streusel over pumpkin batter.
Bake for 30-40 minutes. Mine took 35 minutes. Test for doneness by sticking a toothpick into the center of the cake. The toothpick will come out clean when the cake is done.
Allow to cool in pan placed on a cooling rack for about 30 minutes. Lift out of pan and transfer directly to cooling rack to cool completely, about 1-3 hours. Slice and enjoy! Storing instructions below.Adapted from my Gluten Free Vegan Pumpkin Bread.Also try my Moist Chocolate Pumpkin Muffins and my Gluten Free Vegan Pumpkin Chocolate Chip Cookies.
---
Equipment
Category:

Breakfast, Dessert, Snacks

Method:

Bake

Cuisine:

American
Keywords: pumpkin coffee cake, gluten free coffee cake, vegan coffee cake
© beamingbaker.com. All content and images are protected by copyright. Please do not use my images or recipe without my permission. Please do not republish this recipe, instead, include a link to this post for the recipe.
This post may contain affiliate links, which allow me to make a small commission for my referral, at no additional cost to you. Thank you for supporting Beaming Baker.
Facebook ☀︎ Pinterest ☀︎ Twitter ☀︎ Instagram