Sea Salt Chia Chocolate Healthy Vegan Snack Bars (Gluten Free)
Salted Chia Chocolate Healthy Vegan Snack Bars: the best vegan snack bars recipe—chewy & delicious, packed with nutty crunch and EASY to make! Gluten Free, Dairy-Free.
Beaming Baker turns four years old today! Can you believe it? Okay, it's not quite today, today, but like a couple weeks ago… And, in keeping with BB tradition, I'm celebrating our blogiversary a few weeks late, and with something super easy to make!
Happy 4th Blog Anniversary, Beaming Baker readers!!
These blogiversary posts are always kind of hard for me to write because there's so much that I want to say. But one thought that never ceases to amaze me? I get to bake & write about baking all day. As my job.
Goodness knows it ain't all roses (as you may have gathered from my 6 Things They Don't Tell You When Starting a Food Blog). But just that idea, that overarching theme, is something truly amazing to me. I mean, who gets to bake & eat & talk about baking & eating all day? Who?!? Okay, by now, like a good chunk of the population (maybe)…but you know what I mean!
Growing up, I was pressured to become "all the right things" and get "all the right jobs." Become a doctor or lawyer, they said. Or at least do science, they said. Focus, never ask too many questions, and follow the path we need you to be on, they said.
But it never felt right. Following someone else, living someone else's dreams, living my life the way I was pressured to do so, jumping and asking how high until I couldn't find myself anymore. That never felt right.
And I'm proud to say that one day, I said "Forget it all. I'm doing me." And, after years of gentle encouragement from my sisters and Erik, after years of their faith in me, when I didn't have any in myself, I took the leap.
Of course, there are days that I think it can't be harder. Months that go on without any weekends filled with work. Or nights tossing in bed because I'm unsure of whether or not I'll "make it" or be able to pay the bills and secure the future and take care of my mom. But then, the clouds part. And I put my anxieties at bay and know that I'm doing a good job. A great job, in fact.
Those clouds part when you send me an email, leave a comment, post a picture with you and your kiddos and tell me/show me how much joy my recipe has brought to your family. Those clouds part when you say that your 72-year-old grandma can have chocolate cake again. Your 4-year-old can actually have chocolate chip cookies now, like all the other kids at school.
So thank you. Thank you for being a part of the Beaming Baker community, for giving me your feedback, your support, and just… being here with me, sharing in these kitchen moments that make life so sweet. You mean the world to me. ❤️
Now, without further ado, are ya ready for some classic BB healthy vegan snack attack?! Let's do it!
P.S. If you're curious about starting your own food blog, check out my How to Start a Food Blog (UPDATED).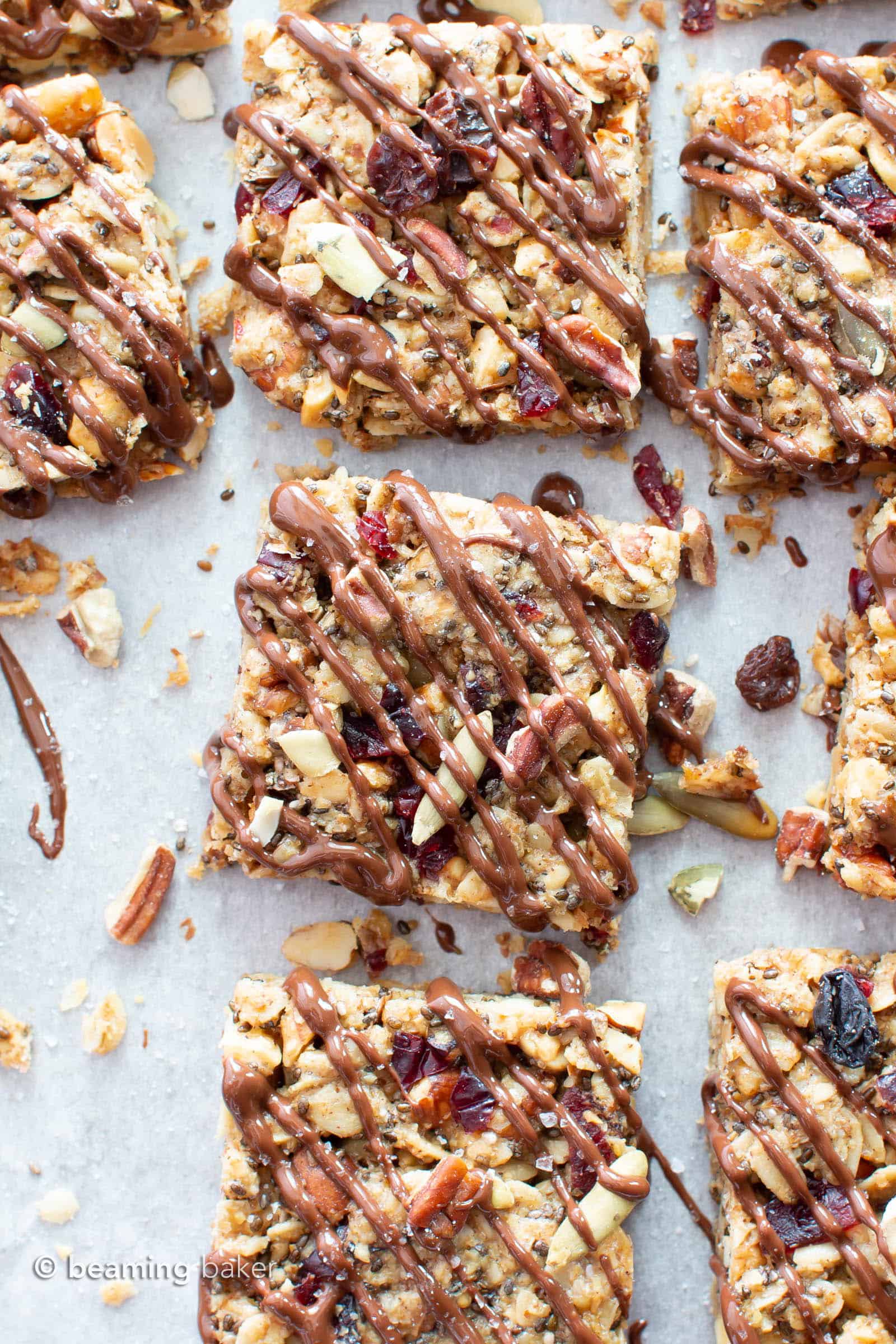 Sea Salt Chia Healthy Vegan Snack Bars (Gluten Free)
If you've tried my vegan snack bars, you know that they're something special. If I do say so myself. 😉 Since I started sharing these healthy vegan treats, you've been raving about their flavor, their texture, and most importantly, their ability to stick together!
These healthy vegan snack bars are the classic snack bars you've come to expect, with a twist! They're packed with chia seeds, drizzled in vegan chocolate and sprinkled with delicious sea salt.
The Taste of the Best Vegan Snack Bars
But how do these vegan snack bars taste? Allow me to show you (kinda). The best vegan snack bars are chewy and delicious, with a nutty crunch that's complemented by a warm, mouthwatering sweetness. It's all kept balanced with crunchy chia seeds and just a touch of almond butter for a bit of creaminess.
The pièce de résistance? These vegan snack bars are encased in ribbons of rich chocolate and sparkling atop all of that? Gems of coarse sea salt. These vegan snack bars are the perfect sweet 'n salty treat to keep you going!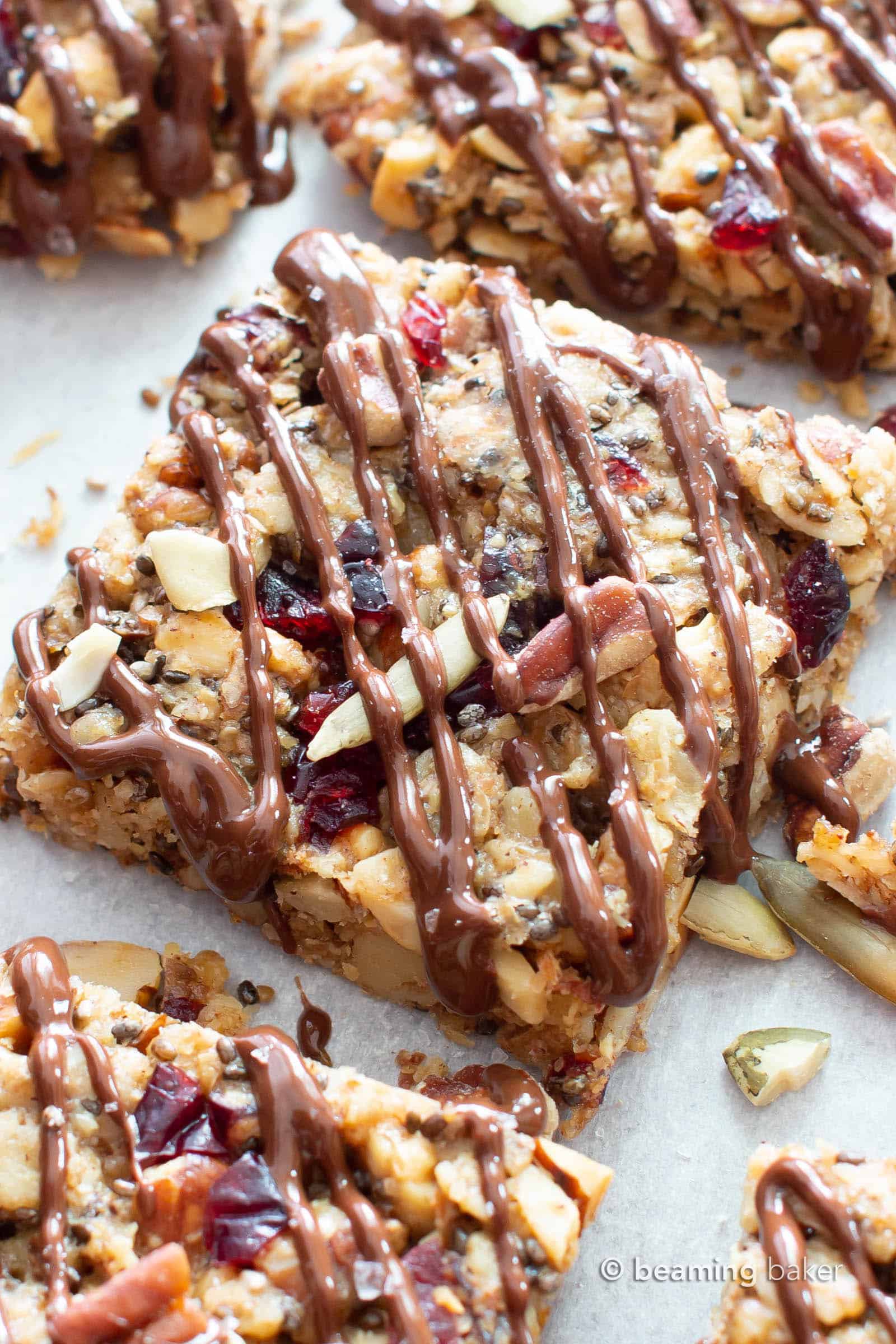 Can I Freeze these Gluten Free Vegan Snack Bars?
Yes! After cooling your gluten free vegan snack bars completely, store in an airtight container for 1-3 weeks at room temperature. To Freeze: store snack bars in a freezer-friendly container for 1-2 months. I like using these compostable freezer bags. Yes, they're compost-friendly! 🙂 Allow to thaw at room temp for 10-30 minutes before enjoying. Looking for a similar snack bar recipe? Try my Dark Chocolate Paleo Snack Bars Recipe (Gluten Free, Vegan, Healthy, Grain Free).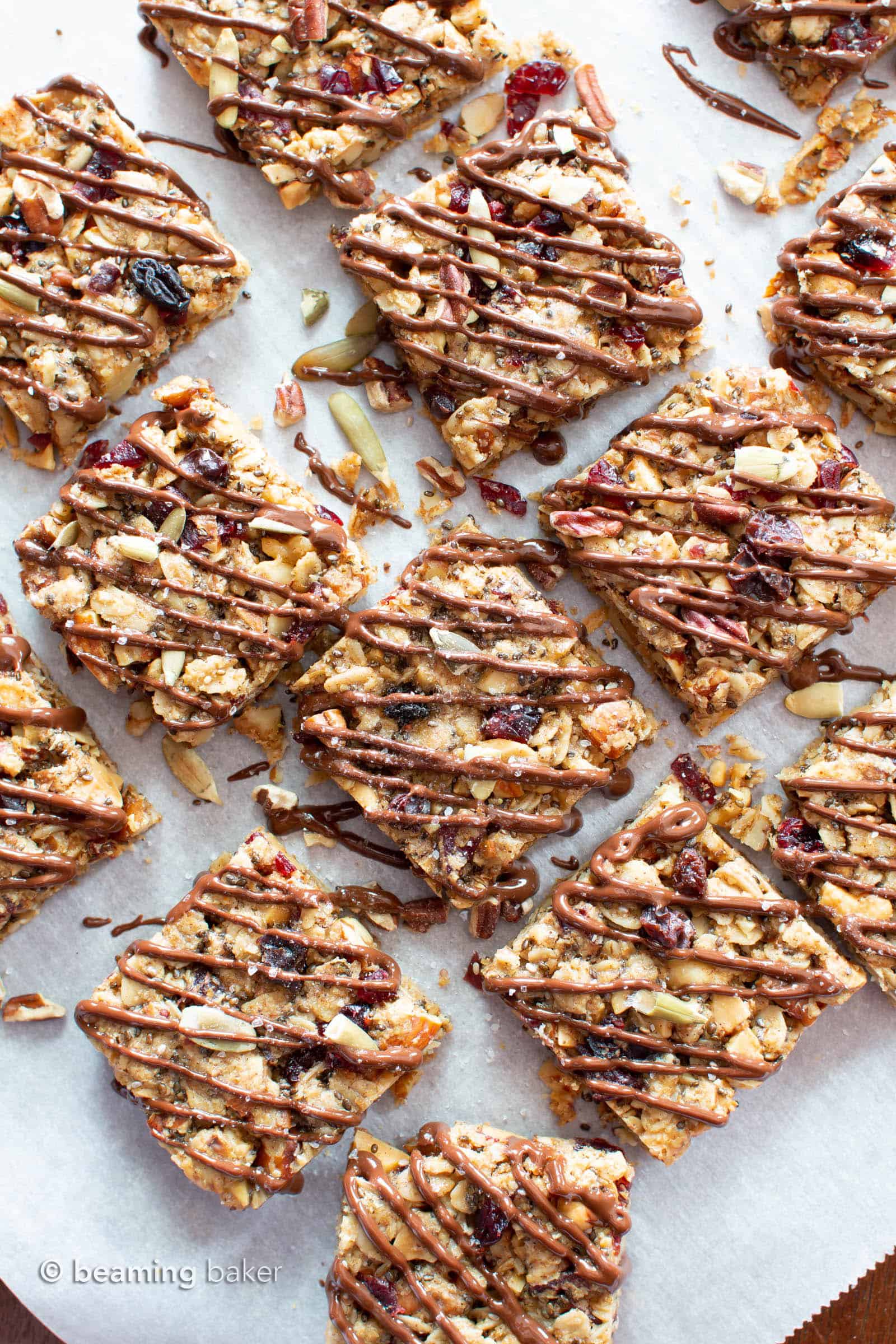 Tools for the Best Vegan Snack Bars
Will you celebrate our 4th Blogiversary together by making these vegan snack bars (or this vegan chocolate cake)? 🙂 Raise a snack bar to toast 4 years and many more together. Thank you so, so much for sharing in these sweet, joyful kitchen moments with me. I am truly so grateful. 'Til the next kitchen adventure…
Sending you all my love and even a dove, xo Demeter ❤️
. Click below to Pin .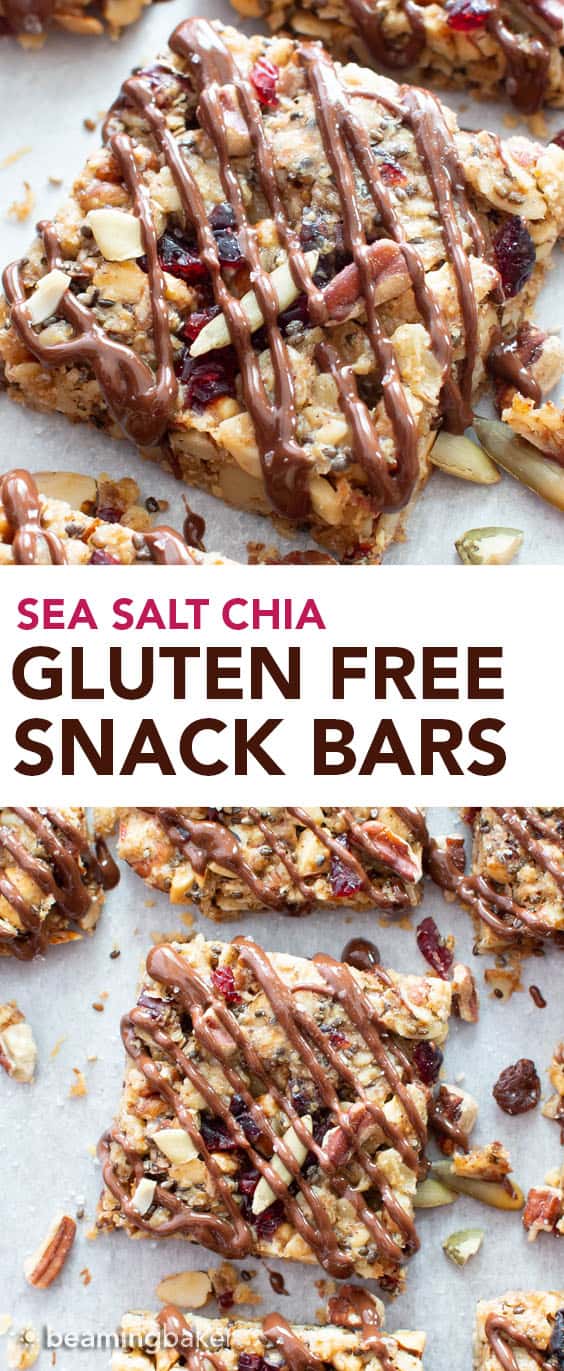 . Did you make this best vegan snack bars recipe? Take a pic and share it on Instagram with the hashtag #beamingbaker & tag @beamingbaker. I'd love to see it! .
More Gluten Free Vegan Snack Bars
Print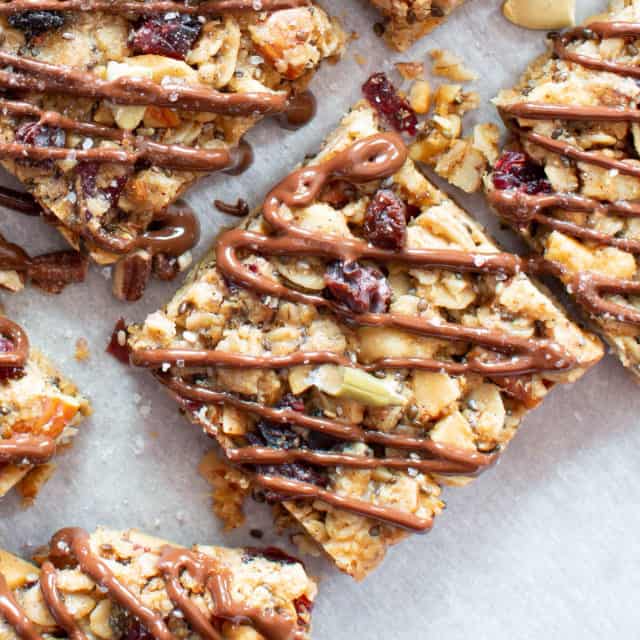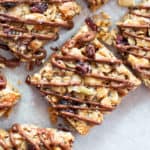 Sea Salt Chia Chocolate Healthy Vegan Snack Bars (Gluten Free)
---
Description
Salted Chia Chocolate Healthy Vegan Snack Bars: the best vegan snack bars recipe—chewy & delicious, packed with nutty crunch and EASY to make! Gluten Free, Dairy-Free.
---
Dry Ingredients
Wet Ingredients
Topping
---
Instructions
Preheat the oven to 325°F. Line an 8-inch square baking pan with parchment paper or greased foil. Set aside for later. You can also use this Energy Bar Pan to make rectangular granola-bar style bars.
Add all dry ingredients to a large bowl: nuts, seeds, oats, cranberries, raisins, chia seeds, flaxseed, and spices/salt if using. Stir until well mixed.
Add all wet ingredients to a medium bowl: coconut sugar, coconut oil, almond butter and maple syrup. Whisk until well incorporated.
Pour wet ingredients over dry ingredients. Using a rubber spatula, stir and fold until very well mixed.
Pour the mixture into the prepared baking pan. Using the spatula, nudge the mixture until loosely and evenly spread out. Then, use the spatula to press the mixture firmly down into an even, very tightly-packed layer.
Bake for 22-27 minutes. Mine took 25 minutes.
Place baking pan onto a cooling rack to cool for about 30 minutes, or until completely firm. After, lift bars and parchment paper onto the cooling rack to finish cooling for 1-2 hours. Slice. Drizzle with melted chocolate. Allow chocolate to harden, then sprinkle with sea salt. Storing instructions below.
More Healthy Bars:
Equipment
Prep Time:

15 mins

Cook Time:

25 mins

Category:

Healthy Snacks, Breakfast

Method:

Bake

Cuisine:

American
© beamingbaker.com. All content and images are protected by copyright. Please do not use my images or recipe without my permission. Please do not republish this recipe, instead, include a link to this post for the recipe.
This post may contain affiliate links, which allow me to make a small commission for my referral, at no additional cost to you.