4 Ingredient Oven-Roasted Paleo Candied Pecans (V, GF): learn how to make deliciously glazed candied pecans with this easy, lower sugar recipe. Paleo, Vegan, Christmas, Holiday Recipes, Gluten-Free, Dairy-Free.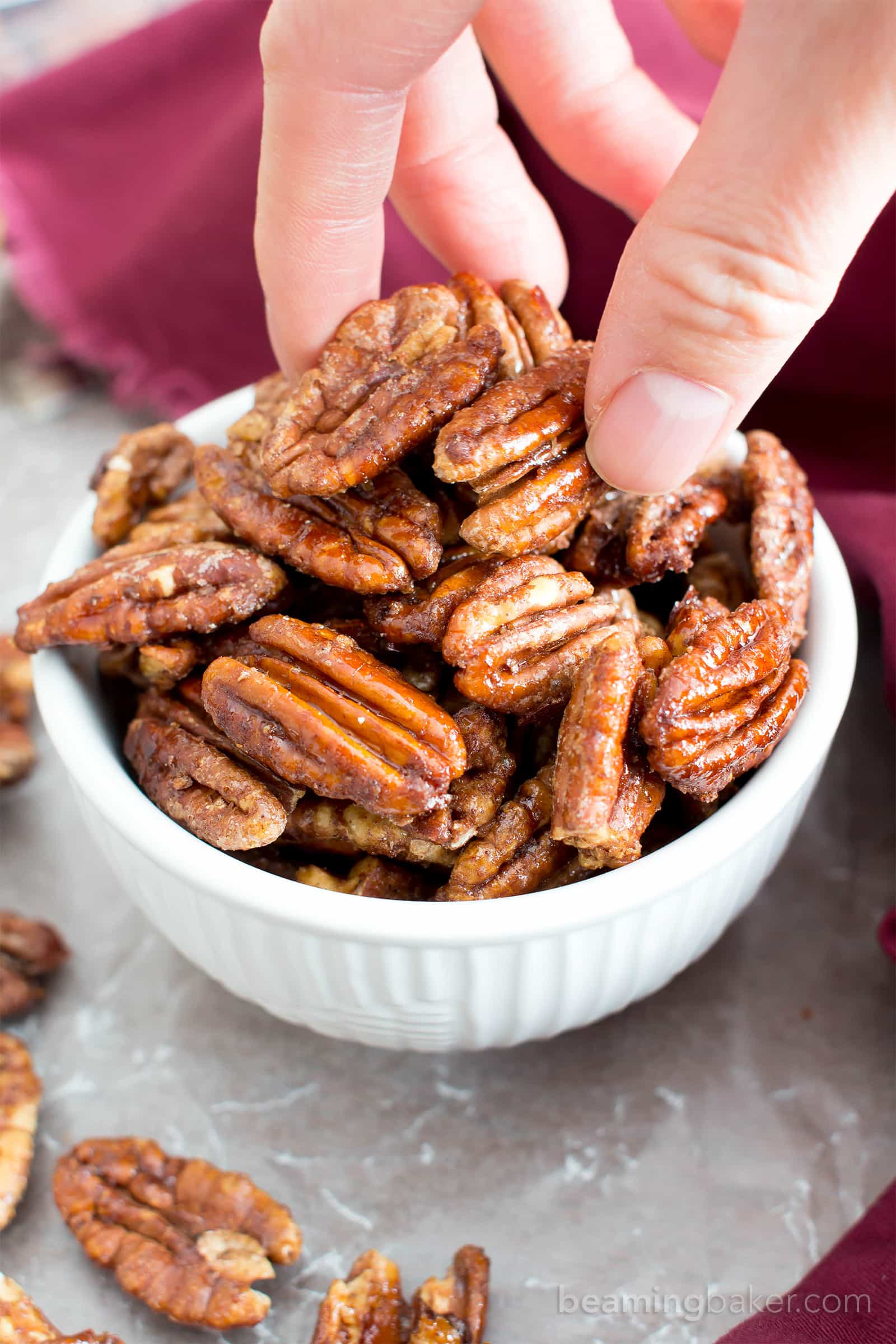 Happy November! Fall + Pecans = Tasty Awesomeness. Just thought I'd start out with a bit of yummy math this lovely morning. 😉
Let's face it, yummy math is the only math I like.
Remember how I told you that something about the fall makes me crave ALL the pecans? And then I proceeded to share ALL the recipes bursting full of pecans?
SEE: paleo apple crisp, maple pecan pumpkin muffins, chocolate pecan fudge (my fave, if I had to pick one), super fudgy paleo maple pecan brownies (and boy do I mean fudgy!!), oil-free cinnamon granola… and more. Yes, MORE!!
Well, it turns out y'all love the pecans as much as I do! High-five for shared likes! High-five for edible commonalities. Oooh… edible commonalities. Doesn't that totally sound like a fancy restaurant or something?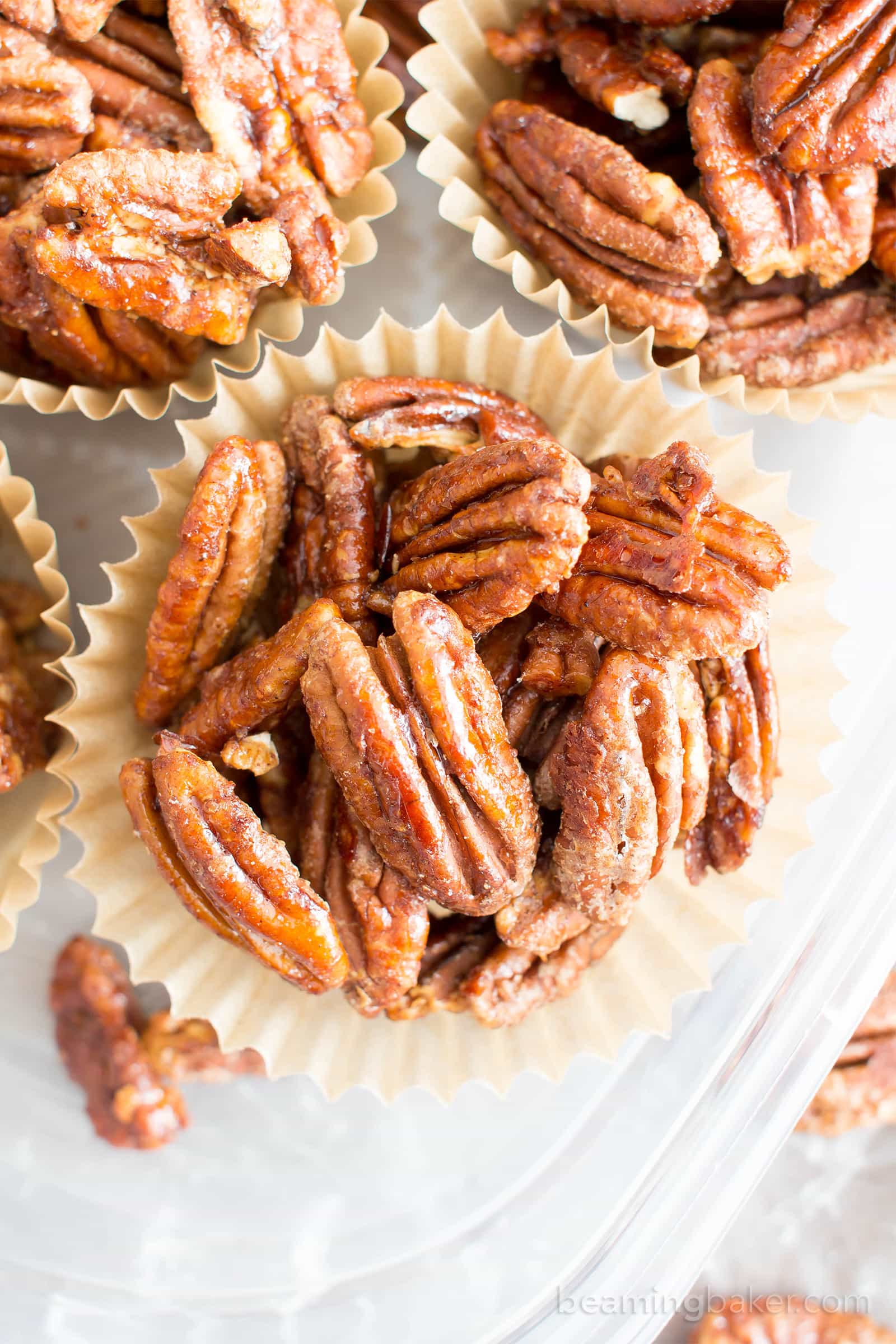 Anywho, last year, I shared my skillet-roasted cinnamon maple pecans and maple sesame almonds (oddly, in the summer). They were a big hit on Pinterest, Instagram and more, but kind of lacked one thing:
Baking!
Ah… baking on a baking blog. Who would even suspect/desire such a thing, right? 😉
All sarcasm aside (like anyone has time for sarcasm in the fall), some folks didn't always prefer the whole "watch very carefully while stirring frequently, and try not to burn" thing. Imagine that. Dang it, what did I say about sarcasm?
So here I present to you the easiest of the EASIEST, 4 Ingredient Oven-Roasted Paleo Candied Pecans recipe. Seriously.
I know, I know… it totally calls for preparing a baking sheet and using an oven and everything! Yes, we're big fans of no bake here, but sometimes, just sometimes, we are actually gonna bake on this here baking blog. 😉
But trust me, this recipe comes together so quick, you'll be mildly suspicious of how fast it came together. Dare I even say it, you'll be a touch doubtful that it'll work. Gasp!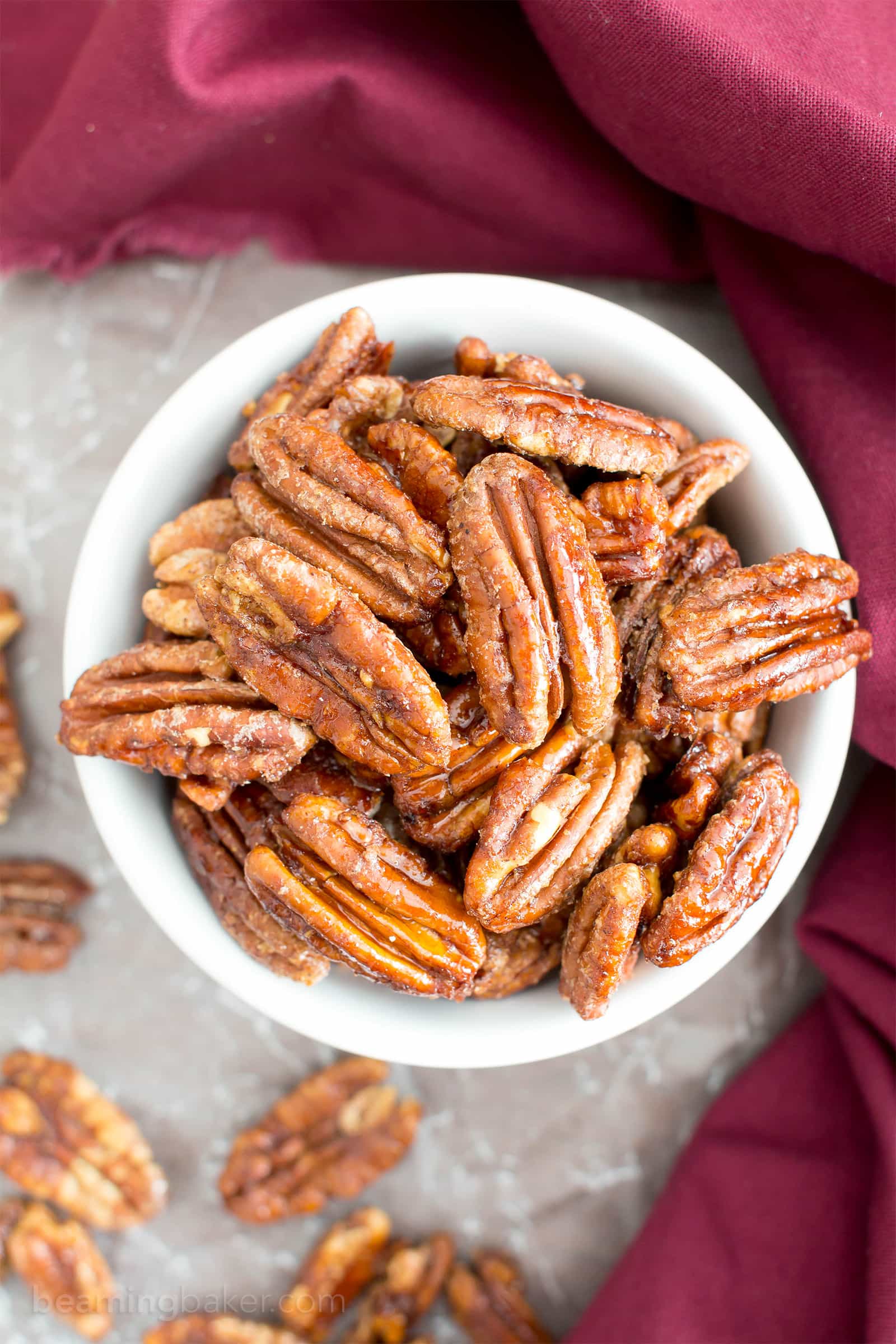 All you have to do is throw together pecans, cinnamon and salt in a bowl. Stir with vigor (if you're so inclined), as this is like the only "tough" thing you'll have to do. I kid. About it being tough! 😉 Then, pour that maple syrup over the pecans like it's your job and you love it. Yeah!!
Stir and fold until the pecans are well coated. Then, dump those pecans ever so gracefully on the prepared baking pan. Bake for 15 minutes, stir and flip, then bake for a few more minutes. Cool, then boom! All done!
And seriously, the whole stirring/prep time is so minimal even I get suspicious when I make these 4 Ingredient Oven-Roasted Paleo Candied Pecans. Like, how is that that easy?? Really??
And when these candied pecans start baking… oh boy. And you know I never say "oh, boy!" It's like the sweetest, warmest, coziest maple pecan candy delights factory in your house. You instantly feel all the good fall vibes and you instantly know that it's time to just chill. But in a warm, cozy way. That's not chill at all. Just relaxed.
Oh, you know what I mean!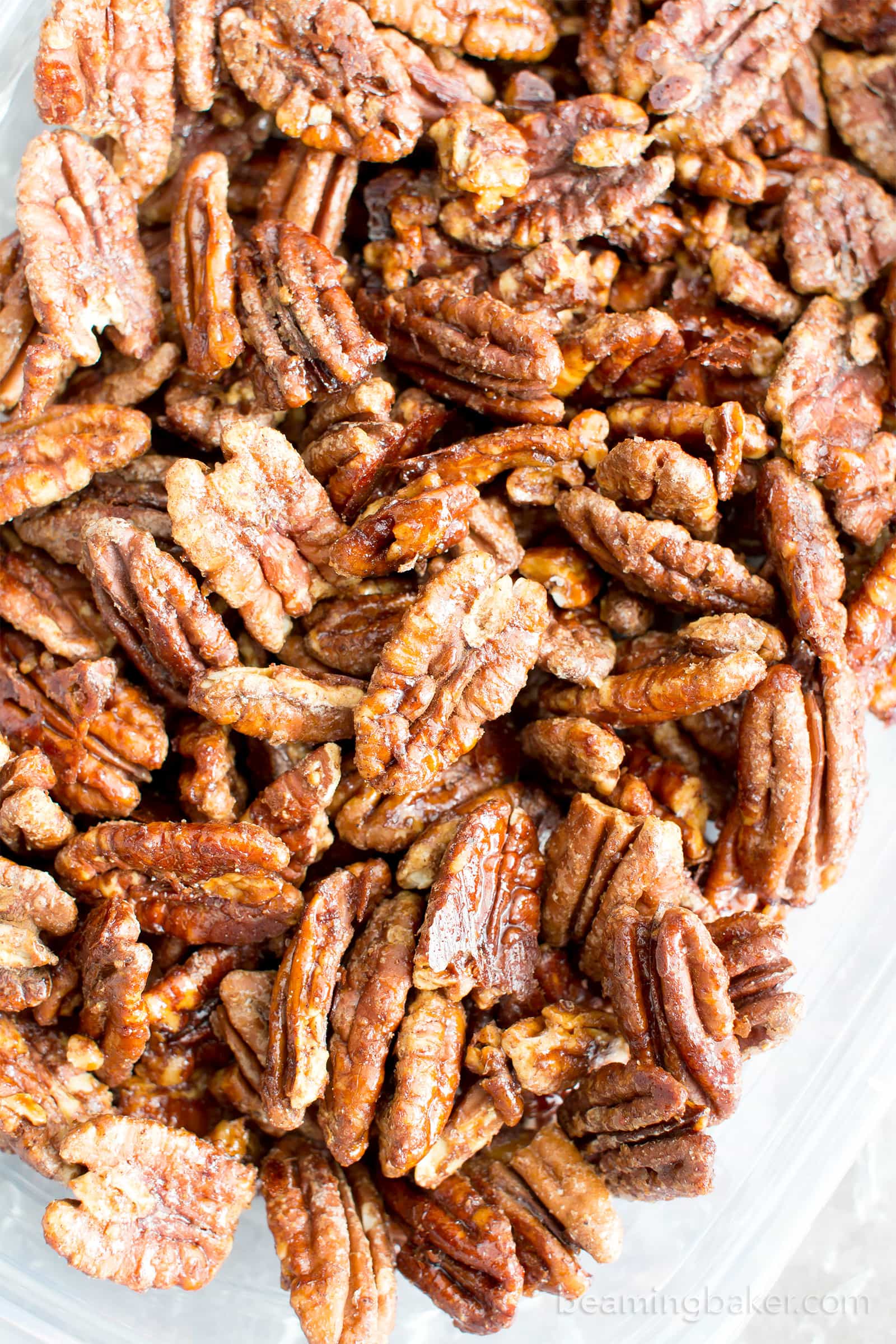 These candied pecans have even been tested on my very own family—who pride themselves on being the top, foremost experts in candied nut tasting in the world. Due solely on the amount they consume per year. And not any other form of professional accreditation.
Or anything.
My sister Jenny (an actual connoisseur of junk food/candy/usually begs me not to tell her about how healthy the treats I brought are because she won't like them anymore) said that these 4 Ingredient Oven-Roasted Paleo Candied Pecans taste perfectly sweet, just like candied pecans we'd buy from candy shops growing up.
WOOOHOOOOOOO!!!
She was super surprised to learn how little sugar I had included in this recipe. She even held one up to the light and remarked how shiny and glazed they are, like they do in the movies! (Okay, maybe I'm talking about a scene in Willy Wonka, maybe I'm talking about that scene in Jurassic Park when John Hammond holds his amber-topped walking stick and describes the magic of bringing back dinosaurs. Potato, Potah-toe).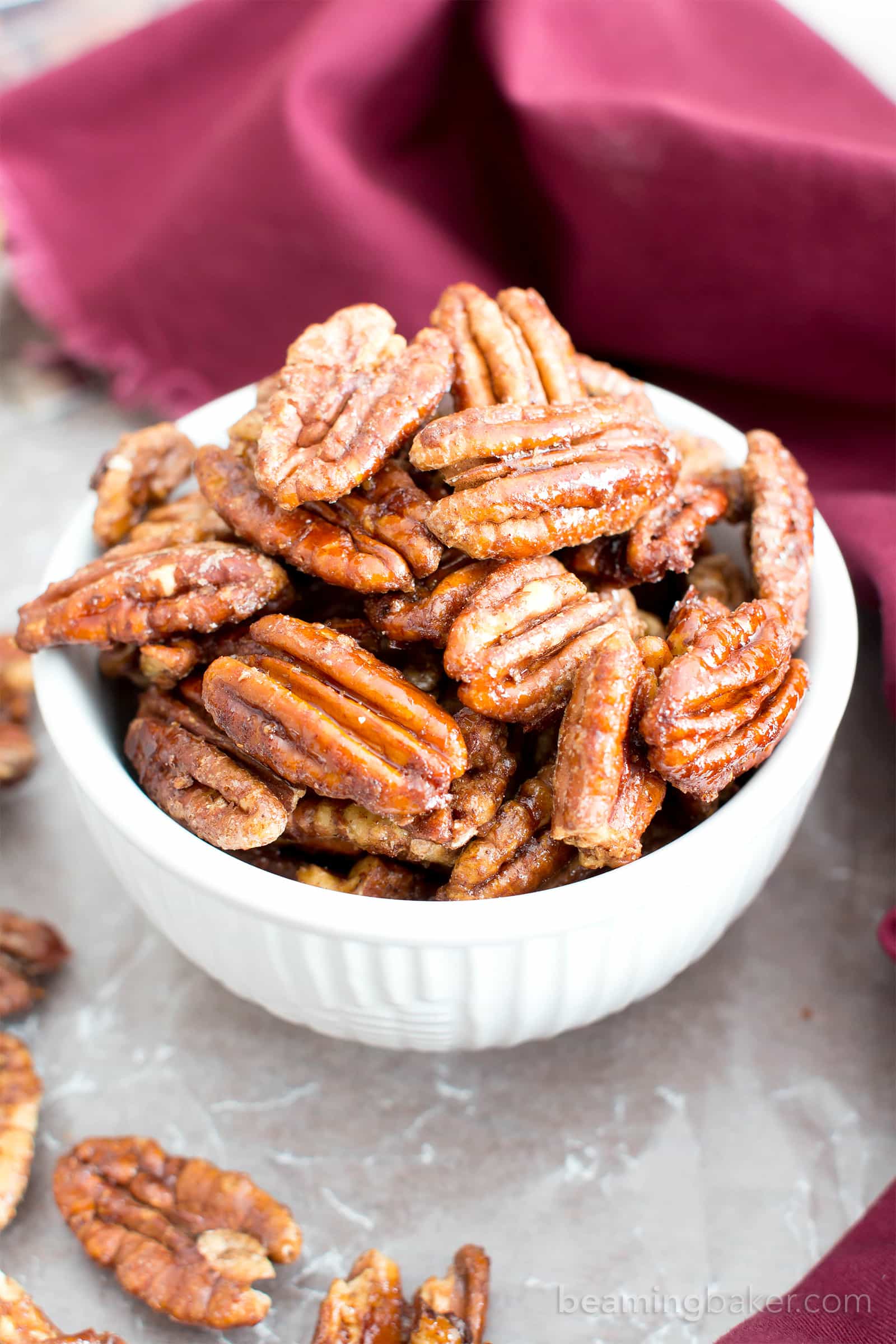 As for Erik and I, we love to just make up a batch and keep it on hand for when those sweet cravings hit and we simply cannot eat more maple pecan brownies. Okaaaaay, we finished them. And there were no more left.
Dang it!
But just in case you're not convinced, allow me to tell you all about these 4 Ingredient Oven-Roasted Paleo Candied Pecans. They're:
made with just 4 ingredients
prepared in less than 5 minutes
crunchy, glazed, candied nut perfection
paleo, vegan, gluten-free, dairy-free
just about the easiest way to learn how to make candied pecans
deliciously refined sugar-free
warm, cozy, and just the perfect fall treat
plant-based and allergy-friendly
made with the simple, whole healthy ingredients you love
the perfect healthy snack…
and the tastiest healthy holiday dessert recipe this side of the Missisippi! Or something… 😉
You ready to blow all the other candied pecans out of the water? Alright, those candied pecans probably aren't that great anyway… due to soaking in water… hmm… Either way, grab your maple syrup and I'll grab the pecans! It's time to get our healthy fall treat/snack on! I'm so grateful to have you here with me, making and baking all the fantastic whole treats for the ones we love. I can't wait to hear what you think of this recipe. In the meantime, tell me:
What's your favorite nut or seed to candy?
Sending you all my love and maybe even a dove, xo Demeter ❤️
☀︎ Click below to Pin ☀︎

☀︎ Did you make this recipe? Take a pic and share it on Instagram with the hashtag #beamingbaker and tag @beamingbaker. I would love to see it! ☀︎
If you enjoyed these warm and cozy 4 Ingredient Oven-Roasted Paleo Candied Pecans, then you'll just love these delicious fall snack recipes:
☀︎ More ­­­­­­Fall Snacks and Dessert Recipes ☀︎
Oil-Free Paleo Cinnamon Nut Granola | No Bake Almond Butter Paleo Brownie Bites | Maple Pecan Pumpkin Muffins | Skillet-Roasted Maple Cinnamon Pecans | No Bake Peanut Butter Oatmeal Cookies | No Bake Paleo Chocolate Pecan Bars | Chocolate Pumpkin Bread | Coconut Almond Pecan Paleo Nut Granola | and… Pumpkin Chocolate Chip Breakfast Bars, just for fun. 😉
Print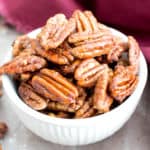 4 Ingredient Oven-Roasted Paleo Candied Pecans (Vegan, Gluten-Free, Dairy-Free, Refined Sugar-Free)
---
Description
4 Ingredient Oven-Roasted Paleo Candied Pecans (V, GF): learn how to make deliciously glazed candied pecans with this easy, lower sugar recipe. Paleo, Vegan, Gluten-Free, Dairy-Free.
---
Scale
Ingredients
2 ½ cups

pecans

½ teaspoon

ground cinnamon

¼ teaspoon

salt (optional)

3 tablespoons

pure maple syrup

1 tablespoon

coconut sugar
---
Instructions
Preheat the oven to 325°F. Line a large baking sheet with parchment paper or greased foil. Set aside.
Add pecans, cinnamon and salt (if using) to a large bowl. Stir until well mixed.
Add maple syrup and coconut sugar. Stir and fold until pecans are fully coated.
Pour pecans onto the prepared baking sheet. Spread into an even layer, with empty pockets at regular intervals to let air through.
Bake for 15 minutes. Using a heatproof spatula, flip pecans to evenly crisp the other side. Bake for an additional 6-12 minutes. Mine took a total of 24 minutes.
Place baking sheet on a cooling rack. Allow to cool for about 30 minutes. Storing instructions below. Enjoy!
---
Category:

Desserts, Snacks, Vegan, Gluten-Free, Paleo, Dairy-Free
© beamingbaker.com. All content and images are protected by copyright. Please do not use my images or recipe without my permission. If you wish to republish this recipe, please re-write the entire recipe using your own words and include a link to this post for the recipe.
SHOP THE RECIPE
[amazon_link asins='B00ID9VSQ0,B000Q3D95Y,B0083QJU72,B005EEYGCA,B001CCZL7W' template='BB-ProductCarousel' store='beamingbake0c-20′ marketplace='US' link_id='5ad26294-a477-11e7-91fa-0bccacfb11c2′]
Here are a few items I used in today's recipe. 🙂
Coconut Sugar | Cookie Sheet | Maple Syrup | Glass Mixing Bowls | Silicone Spatulas
This post may contain affiliate links, which allow me to make a small commission for my referral, at no additional cost to you. Thank you for supporting Beaming Baker.
Facebook ☀︎ Pinterest  ☀︎ Twitter ☀︎ Instagram