Maple Pecan Chocolate Chip Cookies (Oat Flour, Vegan, Gluten Free, Dairy Free)
Maple Pecan Chocolate Chip Cookies (V, GF, DF): an easy recipe for deliciously soft and chewy oat flour chocolate chip cookies bursting with maple and pecans. Vegan, Gluten Free, Dairy Free, Whole Grain.
So are you ready yet? Have you picked all of your gifts and wrapped every spare item in your house that you could find? Um, I mean, wrapped only the most thoughtful and meaningful gifts that you spent months searching for? 😉
If you're scrambling for a last minute gift, look no further than these seriously amazing Maple Pecan Chocolate Chip Cookies. Maple, pecans, chocolate chips, oat flour—where could you go wrong?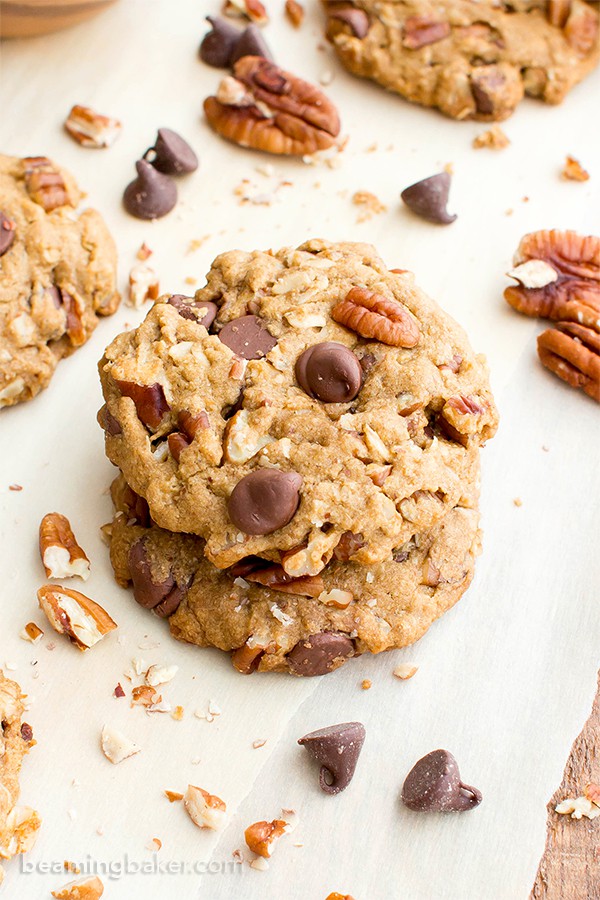 In fact, if you're looking for a double gift to give to someone special, you might take 15 extra minutes to make these skillet-roasted maple cinnamon pecans. Yeah, they totally belong together. Oh, and so do these. Or, you could make these incredible gluten-free oatmeal chocolate chip scones from my friend Chrystal at Gluten-Free Palate! Simply swap the egg for a flax or chia egg to make it vegan. 😉
Or or, you could just make these for yourself and go ahead and dust off that charming Christmas collectible your former boss gave to you two years back and gift it to your semi-acquaintance coworker who you somehow got roped into getting a gift for no good reason. Just sayin'.
It's called upcycling. Yes, that sounds much better than regifting. 😉 At my house, Erik and I are kinda scrambling around to find that perfect last gift for my mom and my sister Jenny. We've already sent out sweet treat packages to Monica and Penny, who are spending the holidays with their gentlemen. Doesn't that sound fancy? .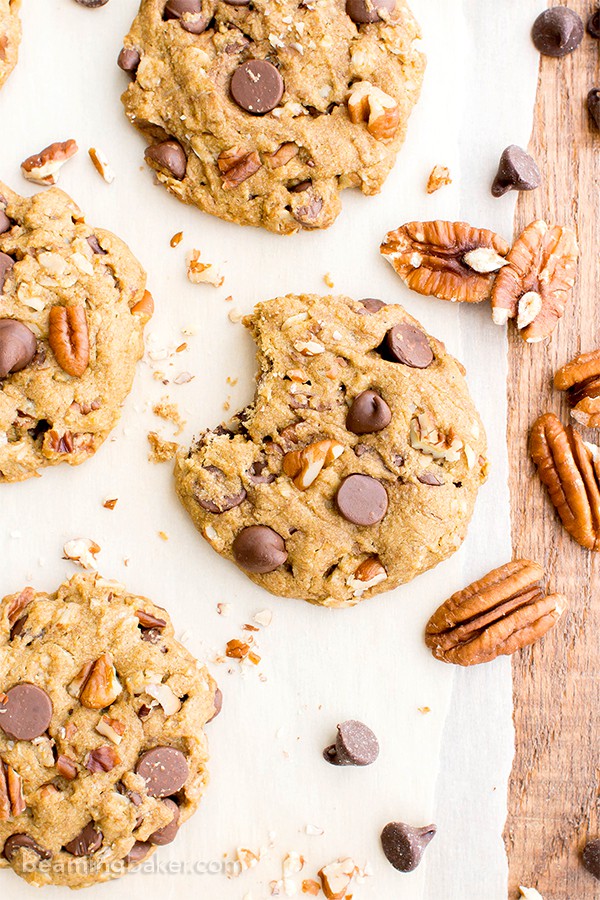 As is the case every year, Erik's gonna be my Chief Sous Chef or Head Candyman or something waaaay less creepy sounding. The two of us are gonna clear off every available space in the house, crack our knuckles (100% required for serious candy-making), slap on some festive hairnets (keepin' it clean, folks!), pop on our fave Christmas tunes (a mix of instrumentals, pop songs and some dramatic opera just cuz), then get down to business!
Currently, our treat-making plans are as follows (it changes every day!!):
For Jenny:
– vegan cranberry chocolate chip cookies
– no bake chocolate peanut butter bars
– these maple pecan chocolate chip cookies
For Grams (my coconut-lovin' mama):
– paleo vegan chocolate coconut truffles
– no bake chocolate pecan bars
– paleo almond butter fudge cups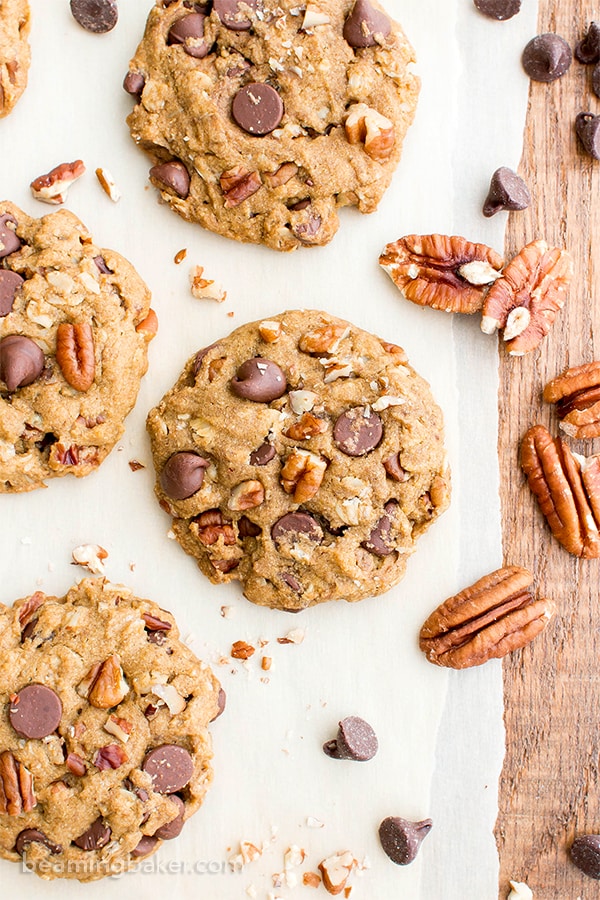 To split amongst the two, plus some friends:
– skillet-roasted maple cinnamon pecans
– triple peppermint chocolate chip cookies
– vegan peppermint crunch bars
– chocolate chip cookie dough truffles
Why, yes, we have purchased ALL the chocolate in all the land. Plus, all the pecans. And the maple. But let's not forget the almond butter, coconut flakes and oat flour. I mean, we might as well, right? 😉
Let's just say that the two of us have become true experts in buying everything in bulk. Plus, we have "cleverly" repurposed two bookshelves for, wouldn't ya know it, holding gigantor bags of pecans, almond meal and oat flour. I mean, it's not like they were holding books, or anything… Ahem.
We're also gonna be setting up our annual gift-wrapping station, with all the ribbons, multi-colored tissue paper, cookie tins and handwritten gift tags (which I especially fear because my handwriting is unbelievably wretched). One year, I just wrote initials and it saved me like 3 whole hours. Yes, 3 whole hours. I'm pretty sure kindergarteners write faster than me. And I only have a slight advantage on them from, ya know, like 3 decades of practice.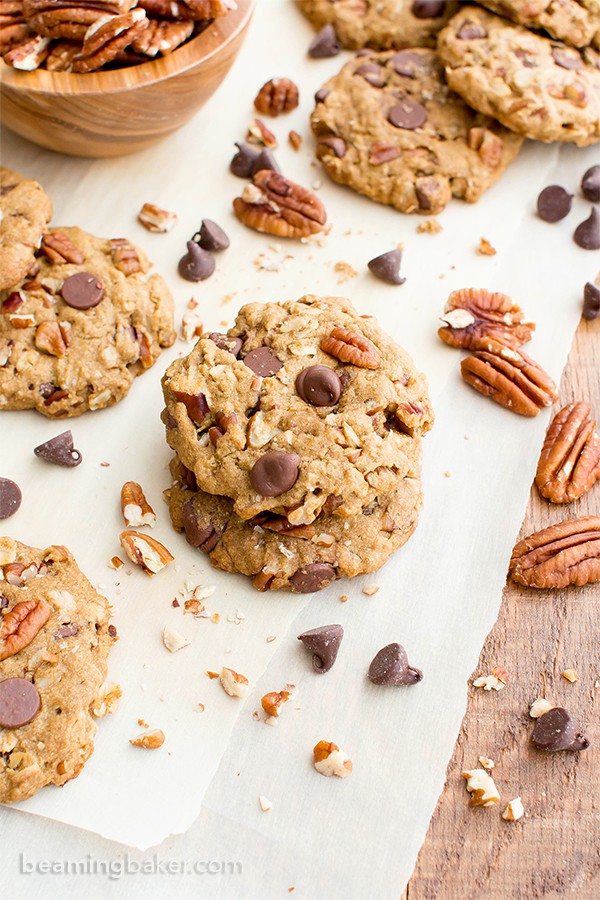 What about you? Are you making homemade gifts and treats this year? Or are you going on a shopping spree that would make that giant giraffe with all the toys blush? Erik, of course, is hovering over me and must notify me that the dude's name is Geoffrey. My man, that Erik…
Just tell me you're heading to one of those lovely (just lovely) gift-wrapping stations at the mall and handing the reins over to them. One year, I did the gift wrap station thing and it was amazing. What a load off! I haven't done it since because I have this weird thing about making everything myself. <— Explains a lot, doesn't it? 😉
Another year, I had Erik wrap the gifts. That was a… colorful experience. Everyone kept complimenting us on letting our kid do the wrapping (um, no kids here, folks). I'd simply nod and say… well, I'd say nothing at all, then pretend I heard my phone ringing in the distance and swiftly dart away.
So, between my below kindergarten-level handwriting and Erik's child-like gift-wrapping, the two of us are a real treat! Any takers on our holiday help this year?
…
Any at all?
Well then. I guess none of you will be receiving glowing compliments on allowing your "children" to wrap and scribble tags this year. Ahem. 😉 But we can offer our candy-making services! I promise they're at least preschool-level proficiency. Not impressed? Darn it! J/k!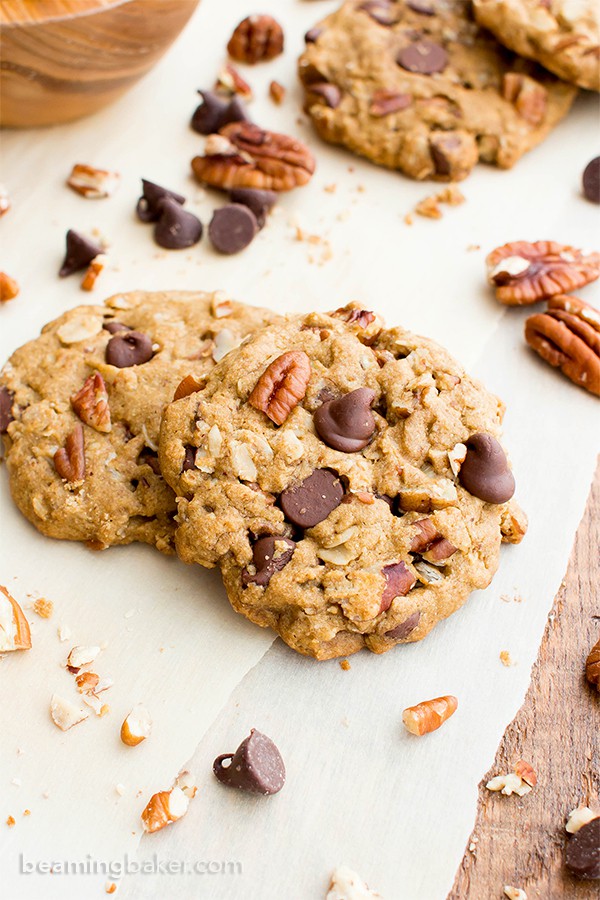 While I await to hear so many stories of your Martha-level gift-wrapping skills, allow me to tell you all about my Maple Pecan Chocolate Chip Cookies. They're:
made with simple, feel-good ingredients
vegan, gluten free, dairy-free and whole grain
easy to make, in just two bowls
soft, thick and delicious
packed with pecans and chocolate chips
wonderfully balanced with maple sweetness and pecan nuttiness (yep, pecan nuttiness)
plant-based and allergy-friendly
perfect for giving this holiday season, with the "kids" wrapping it, or not… 😉
I hope you love this recipe as much as my family does. 🙂 It's one of our favorite cookies to date! I'm so happy to spend the holidays with you. What could be better than some quality kitchen time, whipping up fantastic treats for the ones we love, together? Wishing you and your family a loving, laughter-filled season, just bursting with kindness and fun.
What's the most thoughtful gift you've ever given?
Sending you all my love and maybe even a dove, xo Demeter ❤️
☀︎ Click below to Pin ☀︎

☀︎ Did you make this recipe? Take a pic and share it on Instagram with the hashtag #beamingbaker and tag @beamingbaker. I would love to see it! ☀︎
Print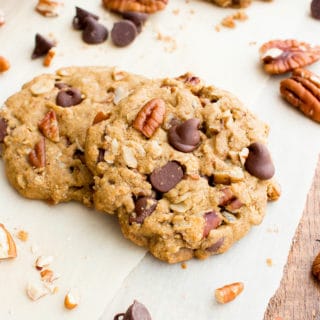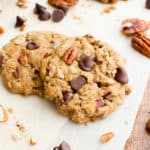 Maple Pecan Chocolate Chip Cookies (Oat Flour, Vegan, Gluten Free, Dairy Free)
---
Description
Maple Pecan Chocolate Chip Cookies (V, GF, DF): an easy recipe for deliciously soft and chewy oat flour chocolate chip cookies bursting with maple and pecans. Vegan, Gluten Free, Dairy-Free, Oat Flour.
---
Dry Ingredients
1 ½ cups

gluten free oat flour

½ cup

gluten free rolled oats

½ teaspoon

baking soda

½ teaspoon

baking powder

¼ teaspoon

salt
Wet Ingredients
¼ cup

+

2 tablespoons

melted coconut oil

¼ cup

coconut sugar

¼ cup

pure maple syrup

2

flax eggs (

2 tablespoons

ground flax +

6 tablespoons

water, whisked together, set for 10 minutes)

1 teaspoon

pure vanilla extract
Add-in Ingredients
¾ cup

unsalted pecans, chopped

¾ cup

vegan chocolate chips
For topping: 2 tablespoons each of chopped pecans and vegan chocolate chips
---
Instructions
Preheat oven to 350°F. Line a baking sheet with parchment paper or greased foil. Set aside.
In a medium bowl, whisk together all the dry ingredients: oat flour, oats, baking soda, baking powder and salt.
In a large bowl, whisk together all the wet ingredients: coconut oil, coconut sugar, maple syrup, flax eggs, and vanilla. Whisk until thoroughly combined.
Add the dry ingredients to the wet ingredients. Whisk until you get a sticky and thoroughly combined ball of soft dough. Fold in pecans and chocolate chips.
Cover the bowl of cookie dough. Let sit for 10-15 minutes at room temperature—this allows the dry mixture to absorb the wet mixture and become more cohesive.*
Scoop 2 tablespoons of cookie dough onto the prepared baking sheet. Using a fork, flatten cookies into a round disc—they will not spread during baking. Press pecans and chocolate chips into the tops of the cookies.
Bake for 8-12 minutes. Using a flat, heatproof spatula, lift cookies off the baking sheet and transfer to a cooling rack. Allow to cool completely. Enjoy! Storing instructions below.
Category:

Cookies, Vegan, Gluten Free, Whole Grain, Dairy-Free
© beamingbaker.com. All content and images are protected by copyright. Please do not use my images or recipe without my permission. If you wish to republish this recipe, please re-write the entire recipe using your own words and include a link to this post for the recipe.

☀︎ More Pecan & Cookie Recipes ☀︎
Skillet-Roasted Maple Cinnamon Pecans (Paleo, Vegan, Gluten Free, Dairy-Free)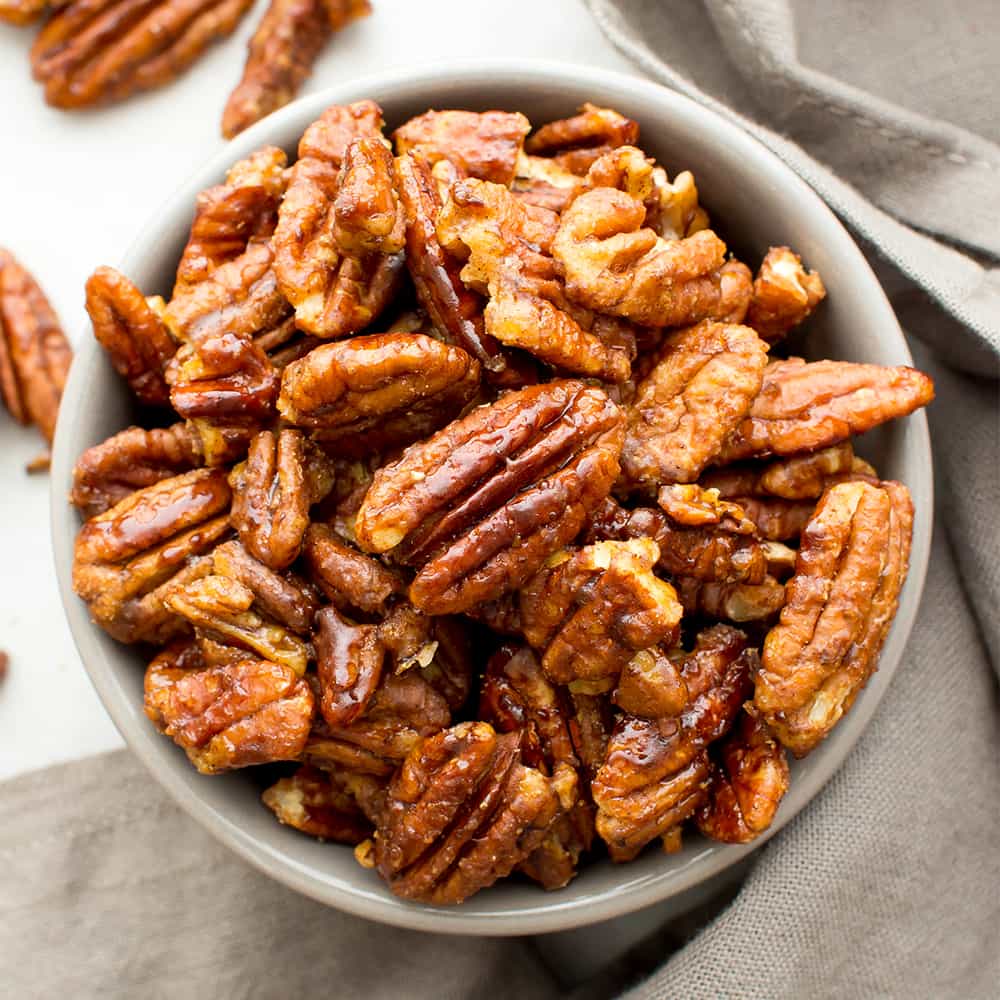 No Bake Chocolate Pecan Bars (Paleo, Vegan, Gluten Free, Dairy-Free)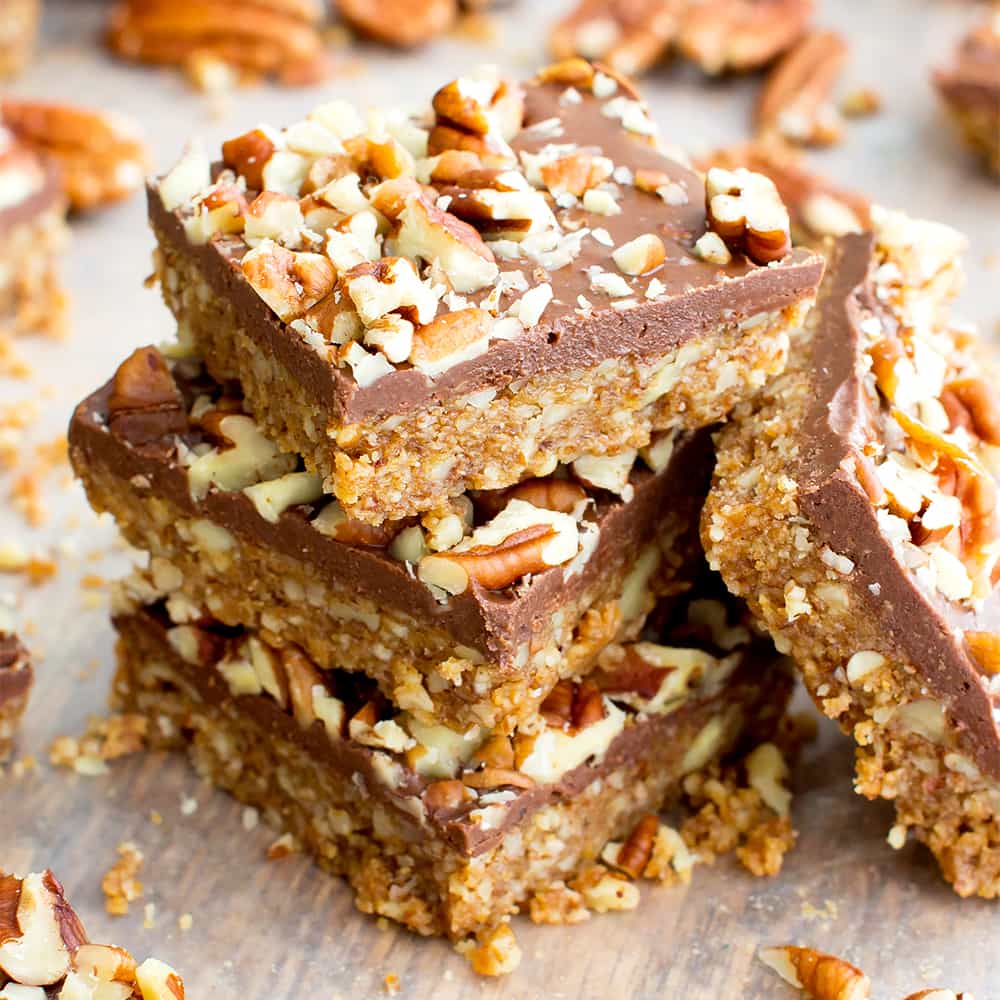 Vegan Cranberry Chocolate Chip Cookies (Vegan, Gluten Free, Whole Grain, Dairy-Free)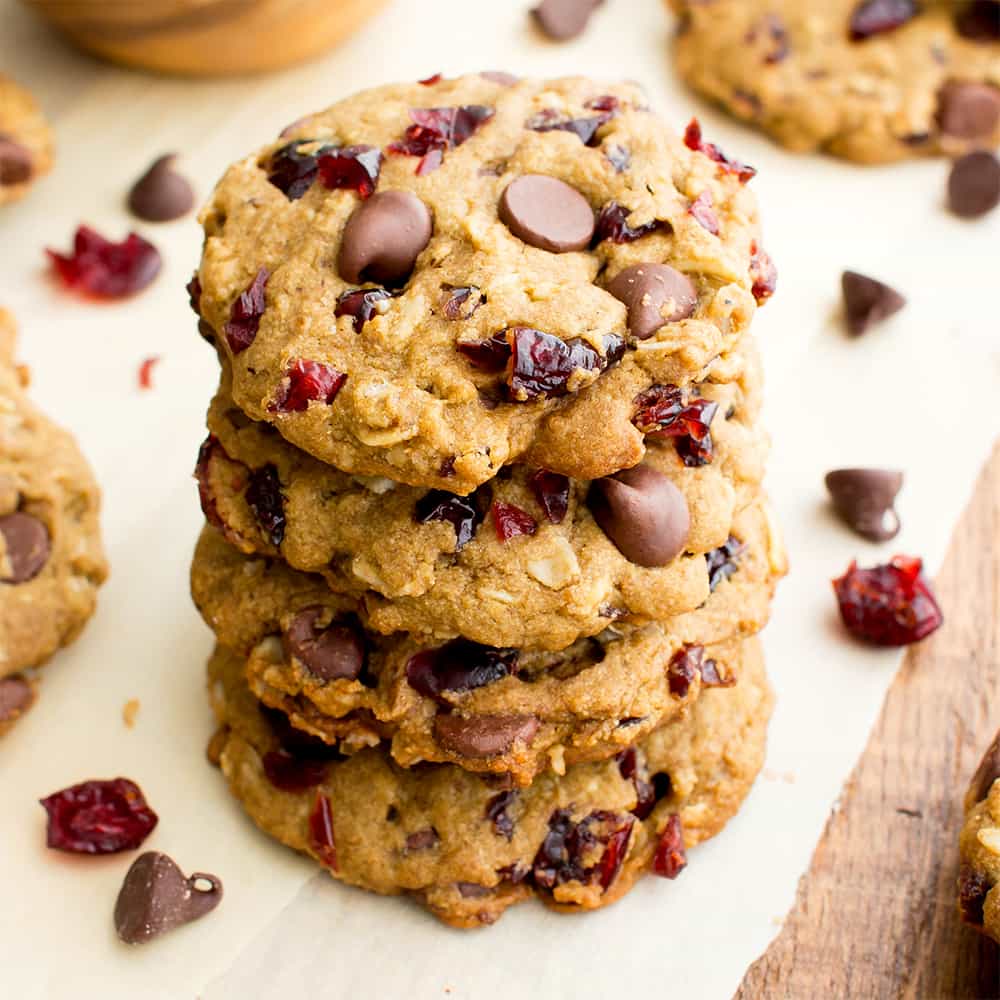 Even more delicious recipes…
Vegan Bourbon Pecan Pie by Vanilla and Bean
No Bake Pecan Pie Bites (Paleo, V, GF, DF) by me
Vegan Pecan Shortbread Cookies by Connoisseurus Veg
Gluten Free Mini Caramel Pecan Tarts via My Baking Addiction