3 Ingredient Mango Coconut Paleo Milkshake (V, GF, Paleo): an easy, 3 ingredient recipe for super thick and frosty mango coconut milkshakes! Paleo, Vegan, Dairy-Free, Gluten Free.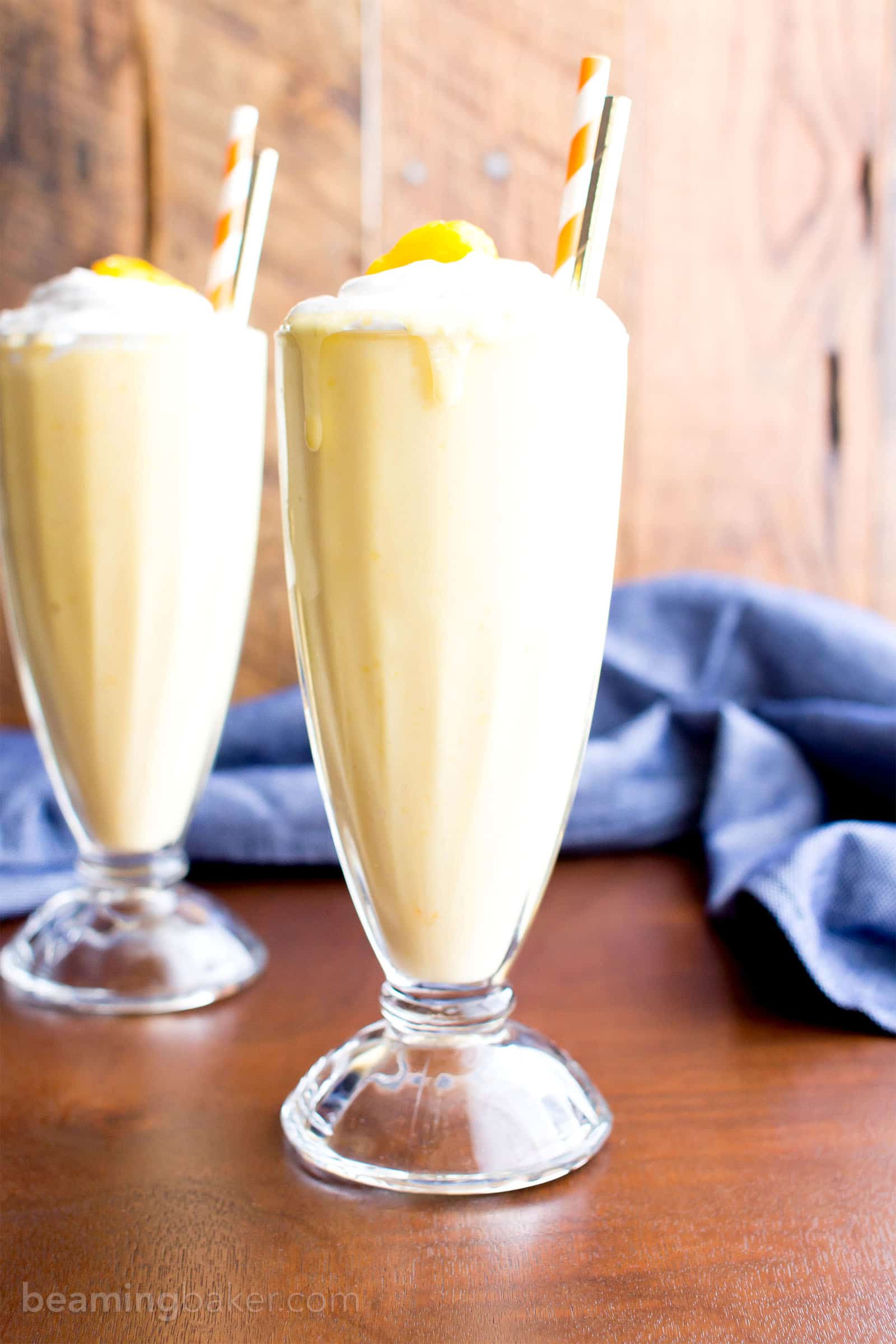 Happy almost Summer!! Now that we're safely nestled into June, we can say that without hesitation, right? This year, winter and that sorry excuse for spring totally dragged out waaaaaay longer than I thought was necessary. Didn't it feel like that cold, blustery weather was never ending?
How was the weather where you were?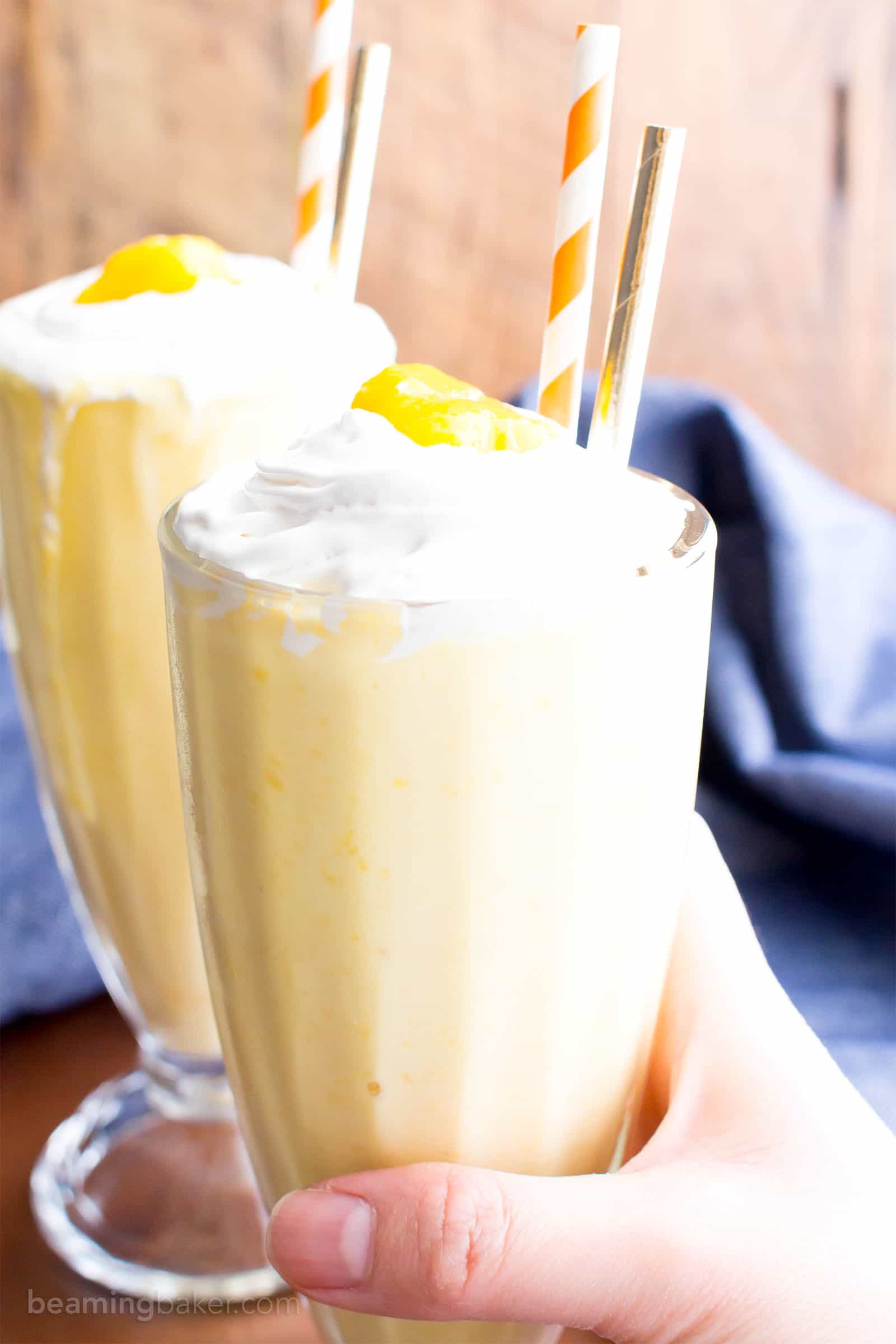 Anywho, now that that gloominess is all behind us (hopefully), we can hop and skip merrily into the summer with bubble wands in one hand and perhaps a certain 3 Ingredient Mango Coconut Paleo Milkshake in the other? 😉 Okay, fine, skipping with a milkshake is probably not the best idea. Plus, knowing me, I'd totally accidentally end up sipping the bubble solution and then tripping on a lovely camouflaged rock and there'd be this huge, bubbly, mango mess. .
So, on second thought, let's just sit lazily on that sun-warmed hammock on a grassy knoll and safely, steadily enjoy our mango milkshakes. You in? I promise there won't be bubbles. At least until after the shakes are done…
Meanwhile, last year, at this time, I did not think that milkshakes were gonna be much of a hit on the blog. After all, this is a baking blog, riiiiight? But it turns out that my love for making all things sweet (whether baked, or no-baked, or even just plain old frozen) is equal and flourishing.
So last year, I shared a strawberry coconut milkshake with you…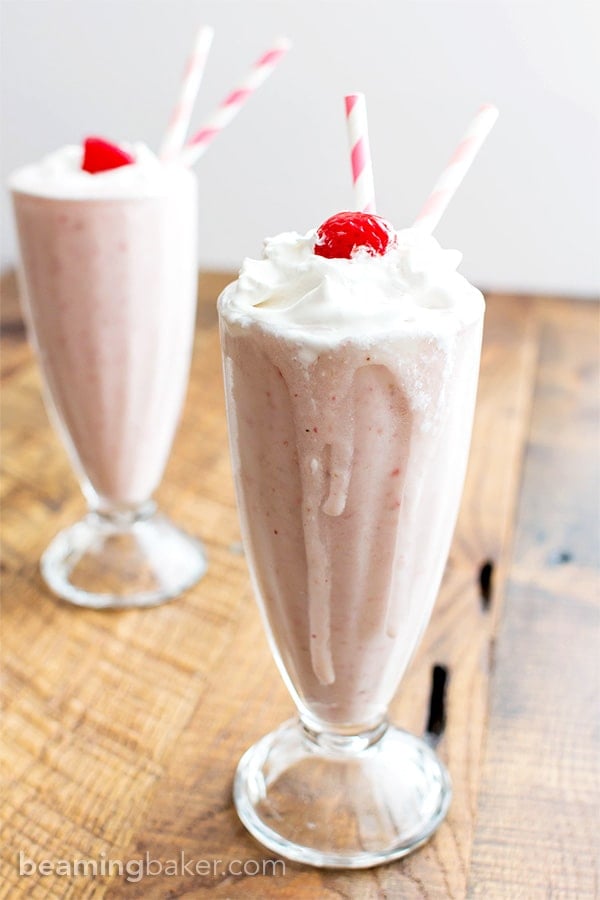 And it turns out, you kinda like it, too. 🙂 I mean, it definitely helps to not have to crank up that hot oven while it's already hot outside, don't ya think?
Last year's strawberry coconut milkshake was made special, just for my sister Jenny (it was her birthday, after all). But this year, it's my mom's turn to have her very own milkshake. She's been raving about mango everything since Jenny took her to Hawaii.
Which was… oh, I don't know… just TWO YEARS ago. Seems like it was yesterday. At least to my momma. So to help her recapture that delicious tropical bliss, I thought I'd whip up something mango-special. Yes, mango-special is totally a thing.
As usual, I wanted to make this 3 Ingredient Mango Coconut Paleo Milkshake as low in sugar as possible for my mom. I also wanted her to think it was just as good, or better, than any super guilt-ridden milkshake she could get at any fast food shop. And guess what??
It's GOOD. It's really, really good. You won't believe how thick, creamy, and wonderfully frosty this 3 Ingredient Mango Coconut Paleo Milkshake is. And best of all, you can control how much added sugar you want going into this milkshake. You can add that 1 tablespoon of maple syrup, skip it altogether if that's not your thing, or even do 2 tablespoons for an extra-sweet treat.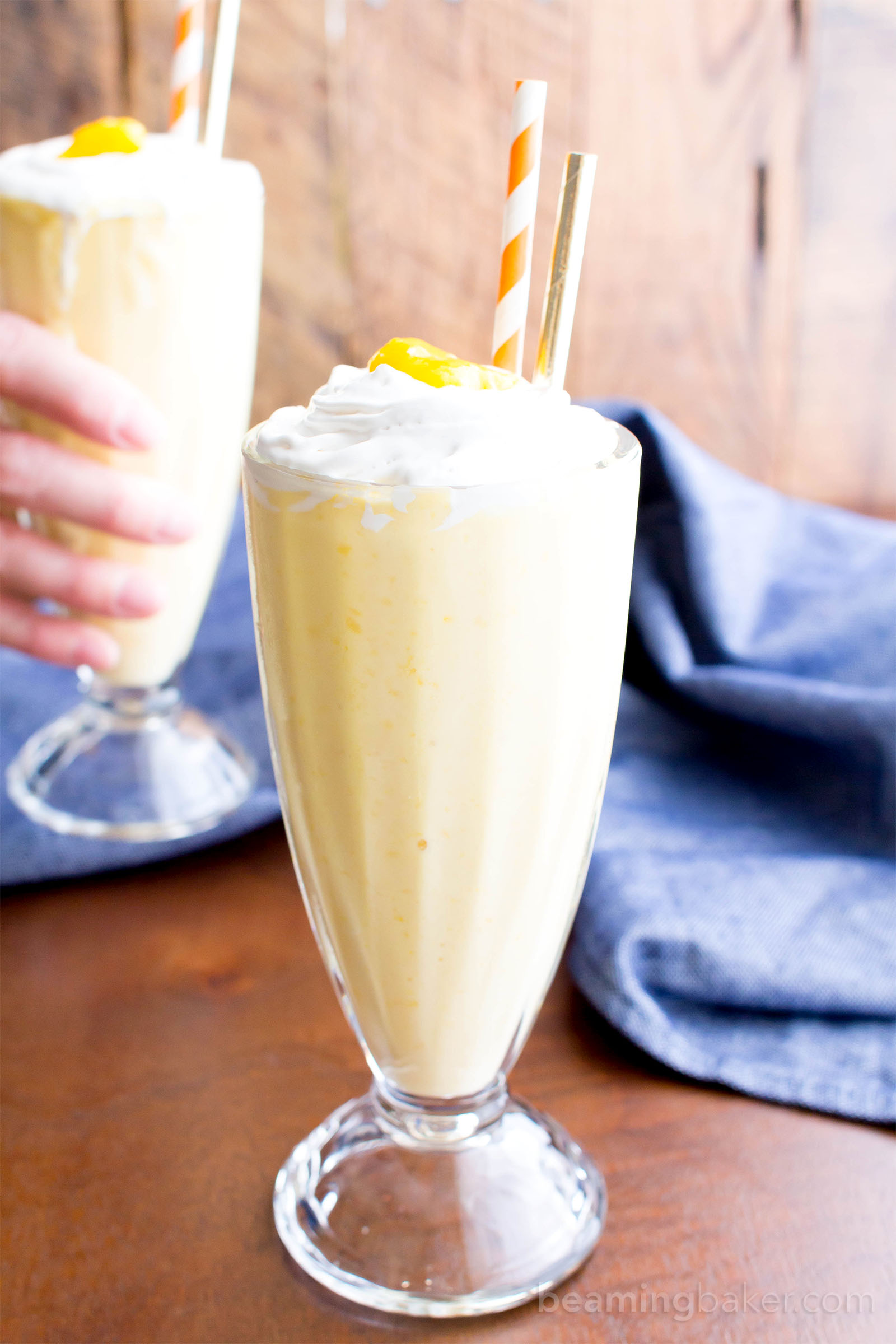 But just in case you and/or Grams aren't convinced of how awesome this 3 Ingredient Mango Coconut Paleo Milkshake is, let me tell you all about it. It's:
so easy to make
whipped up with just 3 ingredients
paleo, vegan, dairy-free, gluten-free
don't forget, refined sugar-free
rich, thick, creamy
bursting with coconut and mango flavor
plant-based and allergy-friendly
made with healthy ingredients you can feel good about
ready in just minutes, you'll see 😉
perfect for your well-deserved frozen dessert, a midday snack, or even breakfast (because: SUMMER!!)
So whaddya think? Doesn't just staring at this perfectly sunny shade of 3 Ingredient Mango Coconut Paleo Milkshake awesomeness make you feel good about the day? I'm sooo looking forward to enjoying the summer with you, inside and outside of the kitchen! Thank you for spending it with me. 🙂 I can't wait to hear what you think of this recipe. In the meantime, tell me:
What's your favorite Summer treat?
Sending you all my love and maybe even a dove, xo Demeter ❤
P.S. Update: Yep, I totally turned this frosty milkshake into an irresistible, creamy ice cream. Find out how in my 3 Ingredient Mango Coconut Vegan Ice Cream recipe post. 😉
☀︎ Click below to Pin ☀︎

☀︎ Did you make this recipe? Take a pic and share it on Instagram with the hashtag #beamingbaker and tag @beamingbaker. I would love to see it! ☀︎
Print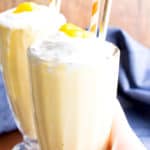 3 Ingredient Mango Coconut Paleo Milkshake (Vegan, Gluten Free, Dairy-Free, Paleo)
---
Description
3 Ingredient Mango Coconut Paleo Milkshake (V, GF, Paleo): an easy, 3 ingredient recipe for super thick and frosty mango coconut milkshakes! Paleo, Vegan, Dairy-Free, Gluten-Free.
---
Milkshake
3 cups

frozen mangoes

1

can full-fat coconut milk (

13.66 oz

.)

1 tablespoon

pure maple syrup (optional)
Optional Toppings
Dairy-free whip
Mango chunks
---
Instructions
Add mangoes to a blender or food processor. Blend until crumbly.
Add coconut milk and maple syrup, if using, blending until smooth, thick and creamy. Scrape down the sides of the blender as needed.
Pour into two cups. Optional: top with coconut whip and mango pieces. Enjoy!
Category:

Frozen Drinks, Paleo, Vegan, Dairy-Free, Gluten-Free
© beamingbaker.com. All content and images are protected by copyright. Please do not use my images or recipe without my permission. If you wish to republish this recipe, please re-write the entire recipe using your own words and include a link to this post for the recipe.
If you enjoyed this 3 Ingredient Mango Coconut Paleo Milkshake recipe, then you'll just love these plant-based, allergy-friendly recipes:
☀︎ Paleo Vegan Dairy-Free Gluten-Free Frozen Drink Recipes
All you need is 4 simple ingredients to make this frosty, frozen, fantastic Paleo Mocha Frappe!
Three berries are always better than one… especially in vegan Triple Berry Smoothie form.
If blueberries are more your style, try my Paleo Blueberry Banana Chia Smoothie. Packed with antioxidants and deliciously made without added sugar. 😉
Sometimes your java fix tastes better when it's homemade… try my Coffee Coconut Frappuccino!
This post may contain affiliate links, which allow me to make a small commission for my referral, at no additional cost to you. Thank you for supporting Beaming Baker.
Facebook ☀︎ Pinterest ☀︎ Twitter ☀︎ Instagram