Deliciously Healthy Orange Bread
Soft 'n moist healthy orange bread made with healthy, whole ingredients. Bursting with delicious orange flavor.
My favorite orange bread is secretly healthy! It's packed with the best citrus delight–oranges! Learn how to make delightfully moist orange bread with just the right amount of sweetness.
Back when we were living in Boston, Erik and I would always have a competition with my mom on who could find the juiciest oranges at the supermarket.
We'd each separately go to the market and find the heaviest, plumpest oranges we could get our paws on and run back home to compare.
Erik and I would, naturally, buy extra oranges so we could leave what we suspected to be dry ones (upon closer inspection) at home, then strut over to my mom's place and low-key throw (okay, gently, reverently place) a couple oranges on my mom's kitchen counter.
She'd already have her best oranges on display in a high, proud pyramid stacked just so in her best hand-painted fruit bowl, with the lighting angled just right to make those oranges gleam.
Then, we'd each select an orange—just randomly, of course—from our respective large piles of oranges and slice 'em open. If you got orange juice in your eye, that's how you just knew you'd won.
And if you didn't, well it was time to sweep that orange into a Tupperware you'd hidden under the table and make a quick swap to the pre-cut orange you had already sitting in the Tupperware. Okay, fine, we didn't cheat that badly, but I sure wish we had. 😉
Whoever had the best, juiciest oranges would be smug all day, and generously "gift" said oranges to the dry losers. Then, we'd make orange bread!! Okay, I'd make orange bread to distract my mom from her 3rd consecutive win. But who's counting?
So are you ready to make the most deliciously healthy orange bread that is so yumtown that it can distract your opponent from your recent string of losses and have you coming out on top? Lololol. Let's bake this!
How to Make Healthy Orange Bread
Preheat
Preheat your oven to 350°F. Now, line an 8-inch loaf pan with parchment paper.
Sift
Sift together all of your dry ingredients.
Whisk
Warm up your water and milk to prevent your coconut oil from solidifying. Then, add all of your wet ingredients, including the water and milk to a medium mixing bowl. Whisk it all together until well mixed. You've just made your healthy orange bread batter!
Pour
Pour your orange bread batter into the loaf pan you prepped earlier. Smooth it out.
Bake, Cool and Enjoy
Bake, cool and enjoy the yummiest healthy orange bread. You can also whip up a super easy orange glaze. Easy peasy, orange squeezy, right?
Healthy Bread Recipes That Delight: Easy Gluten Free Banana Bread Recipe · Best Moist Chocolate Chip Banana Bread · Vegan Gluten Free Banana Bread (GF)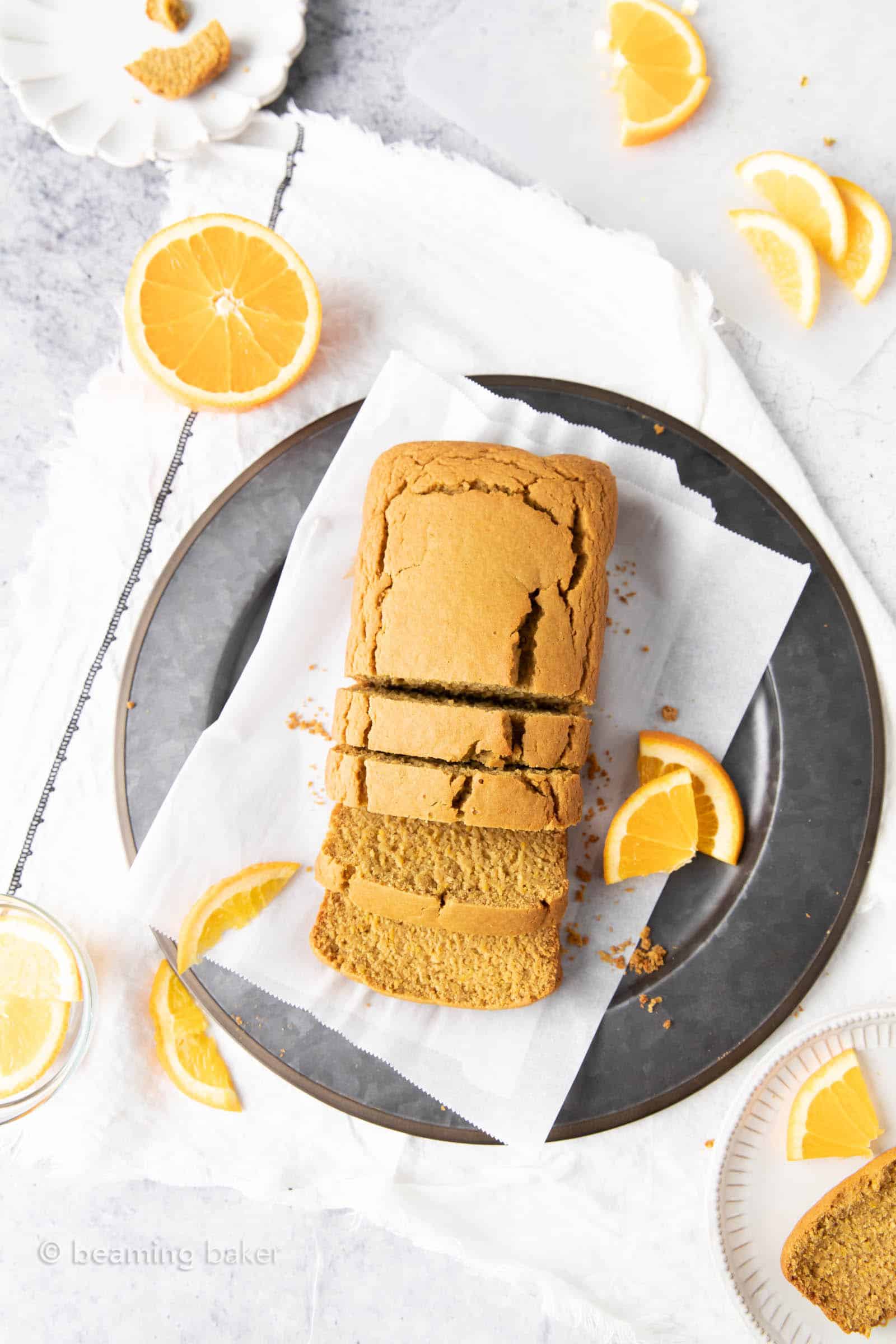 The Taste & Texture
This healthy orange bread is one of my favorite healthy quick breads because it's so easy to make and so delicious!
Texture: Soft, moist and tender crumb. Think orange bread that's just lightly fluffy with a satisfying dense texture.
Taste: this healthy orange bread is bursting with citrus flavor—imagine sweet orange notes from fresh squeezed orange juice and a generous amount of orange zest. YUM.
Storing and Freezing Your Healthy Orange Bread
Room Temperature
Allow your healthy orange bread to cool completely. Then, store your orange bread in an airtight container at room temperature for up to 1 week.
Freezer
You can also freeze your orange bread for up to 1-2 months. Just make sure to store it in a freezer-friendly container and away from savory, aromatic foods that can affect the taste of your delicious orange bread. 😉
Tips for Perfect Orange Bread
Cool completely. I know, I know, it seems so obvious to cool your orange bread completely before slicing. But when that loaf comes out and you've been smelling those mouthwatering orange scents for hours… your mouth is in control, not your reason. Lol. Just make sure to cool your bread for 2-3 hours before slicing–trust me, this bread is worth it!
Use fresh-squeezed orange juice. It's so tempting to grab a bottle of orange juice and just measure out what you need–I know, it's so much easier! But if you have the time, try using fresh-squeezed orange juice. There's just something brighter and fresher about using orange juice you just squeezed.
Don't change the recipe. Not to be so stern or anything, but changing the recipe means… I have no idea what kind of texture you're gonna get in your orange bread. Some folks worry the orange bread batter is too thick or too thin when they pour it into the loaf pan. Not to worry, if you follow the recipe, the texture you have is just right. 😉 If you have any questions… just leave a comment and I'll help you out. 🙂
Deliciously moist orange bread with a soft crumb & made with healthy ingredients.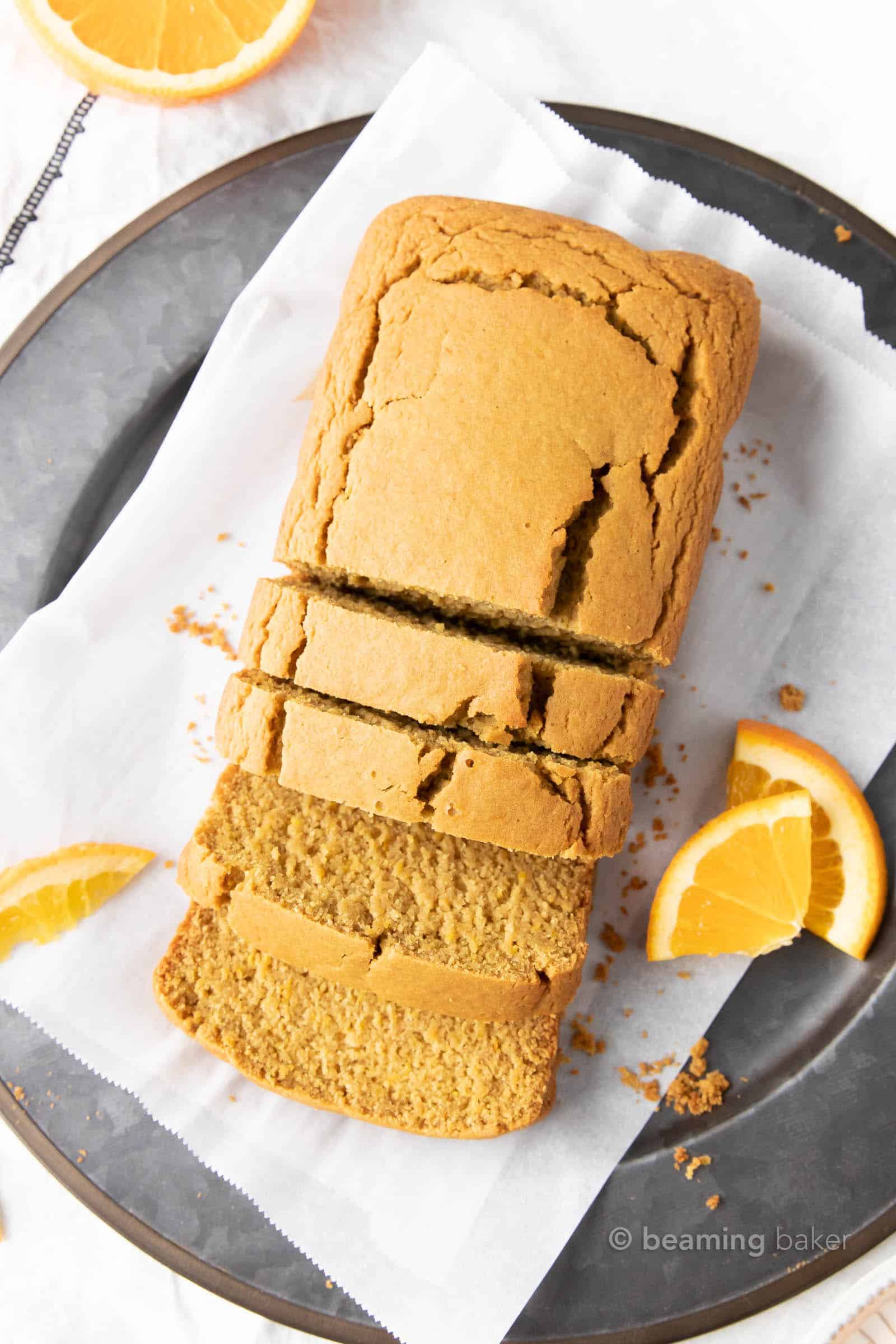 But, like, who really won? It's not like we weighed the orange juice afterward or anything… Haha. I can't wait to hear what you and your loved ones think of my healthy orange bread. 'Til the next tasty baking adventure…
Sending you all my love and maybe even a dove, xo Demeter ❤️
☀ Click below to Pin ☀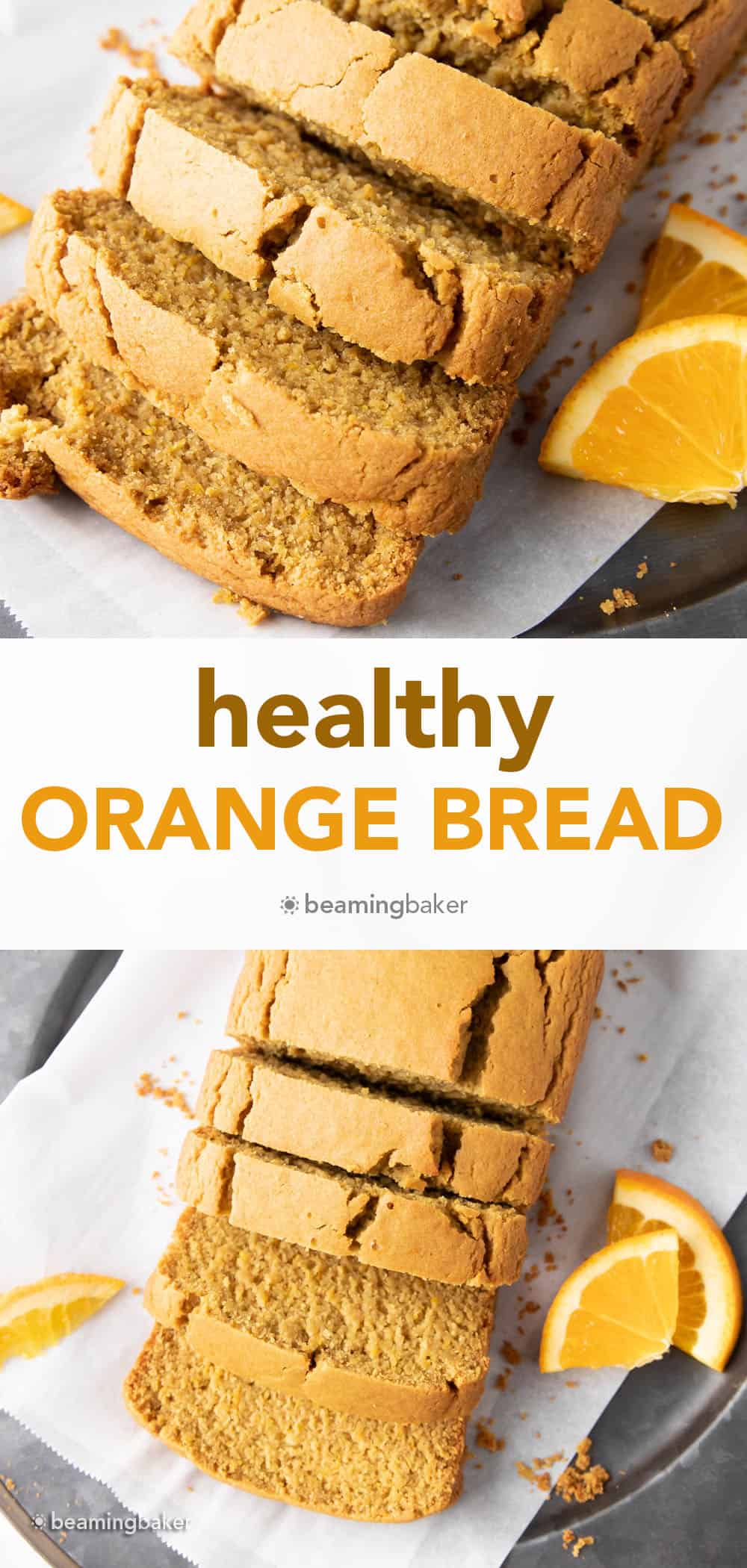 📸 Did you make this healthy orange bread recipe? Take a pic and share it on Instagram with the hashtag #beamingbaker & tag @beamingbaker. I'd love to see it! 📸
Wonderfully Delicious Healthy Bread + Muffin Recipes
Print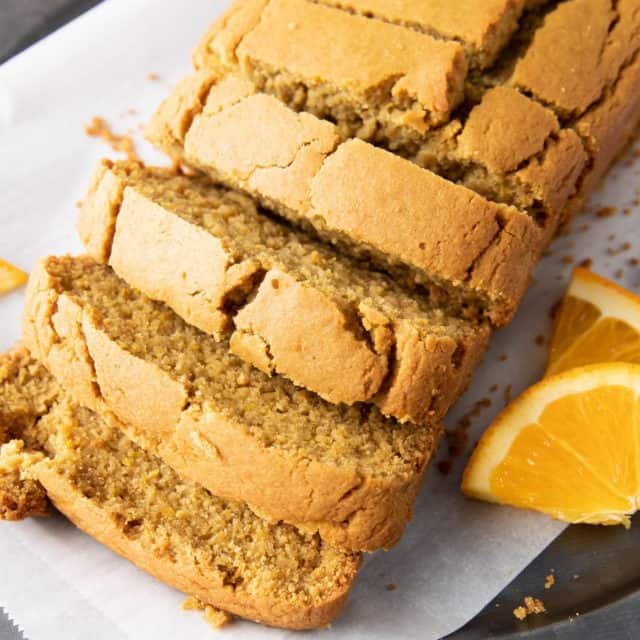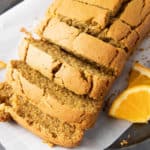 Deliciously Healthy Orange Bread
---
Description
Deliciously Healthy Orange Bread: soft 'n moist healthy orange bread made with healthy, whole ingredients. Bursting with bright orange flavor.
---
Dry Ingredients
2 ¼ cups

oat flour

½ cup

finely ground, blanched almond flour

½ teaspoon

baking powder

1 teaspoon

baking soda

¼ teaspoon

salt
Wet Ingredients
½ cup

water

½ cup

non-dairy milk

¼ cup

fresh orange juice
zest of

1

orange

3 tablespoons

melted coconut oil

¼ cup

coconut sugar

¼ cup

pure maple syrup
Optional Glaze
1 ½ teaspoons

orange juice (start with less, make sure it's white and thick, not too translucent)
---
Instructions
Preheat oven to 350°F. Line an 8-inch loaf pan with parchment paper or greased foil. Set aside.
In a large bowl, sift together all the dry ingredients: oat flour, almond flour, baking powder, baking soda and salt.
Add water and milk to a microwave-safe bowl. Heat in 10-second increments until just warm. This will prevent the melted coconut oil from solidifying once mixed with these liquids.
In a medium bowl, whisk together all wet ingredients: water, milk, orange juice, orange zest, oil, sugar, and maple syrup. Whisk until well incorporated.
Add wet ingredients to dry ingredients. Whisk until just incorporated, making sure no flour patches remain.
Pour batter evenly into prepared pan. Using a rubber spatula, smooth batter into an even layer. Bake for 45-55 minutes. Mine took 50 minutes. Insert a toothpick in the center to check for doneness—once it comes out clean with just a few moist bits (no wet batter!), it's done.
Allow to cool on a cooling rack for 1 hour. Then, lift out of pan, transferring loaf along with parchment paper directly onto the cooling rack. Optionally, in a small bowl, whisk together Glaze ingredients until thickened: confectioners' sugar and orange juice. Drizzle loaf. Allow to finish cooling for 1-2 hours. Slice loaf into 12 slices. Enjoy! Storing instructions below.
Notes
Storing Instructions: Store in an airtight container for up to 1 week in the refrigerator, or in a cool, dark environment. Glaze when ready to eat, or day of.
Freezing Instructions: Store in an airtight container or bag, unglazed, in the freezer for up to 1-2 months. Allow to thaw for about 30 minutes at room temperature before enjoying. Or, heat in the microwave in 15-second increments until just warm.
*Powdered sugar substitutes: Swerve is a good sugar-free, low carb substitute. You can also grind the sweetener of your choice, such as Xylitol, in a coffee grinder or small blender until you get a powder. Since Swerve is a bit drier, use about 2 ½ teaspoons orange juice to make the glaze.
*You can also add more powdered sugar if you'd like a thicker glaze.
Prep Time:

25 mins

Cook Time:

50 mins

Category:

Breakfast, Snack

Method:

Bake

Cuisine:

American
Keywords: healthy orange bread
© beamingbaker.com. All content and images are protected by copyright. Please do not use my images or recipe without my permission. Please do not republish this recipe, instead, include a link to this post for the recipe.
This post may contain affiliate links, which allow me to make a small commission for my referral, at no additional cost to you.