Double Chocolate Frosted Peanut Butter Brownies (Vegan, Gluten Free, Dairy-Free)
Double Chocolate Frosted Peanut Butter Brownies (V, GF, DF): an easy recipe for rich, fudgy peanut butter brownies slathered in chocolate PB frosting. Vegan, Gluten Free, Dairy-Free, Whole Grain.
By now, you might have detected the fact that I have a sense of humor. Or, not… because I've totally failed on the humor front. Dagnabit! Also, in that case, what the peanut butter brownies have I been doing with my life? My life's mission, my meaning in this world?? For without jokes, chocolate, peanut butter, and skillfully-timed eyebrow raises, I am nothing.
Just nothing.
Wait a minute, you can't see my skillfully-timed eyebrow raises… can you?
J/k about being nothing!! But totally serious about the eyebrow thing. Man, I've got to fix that (somehow). . Anyway, every Christmas, I usually get to see my whole family, all in one place, and it's my opportunity to finally make them laugh. Or at least feed them all the treats that I've coerced Erik into helping me make Erik and I've been happily making as a festive team! In fact, I'm planning on making these very double chocolate frosted peanut butter brownies in like… 10 minutes. <– Last minute treat-making is the craziest!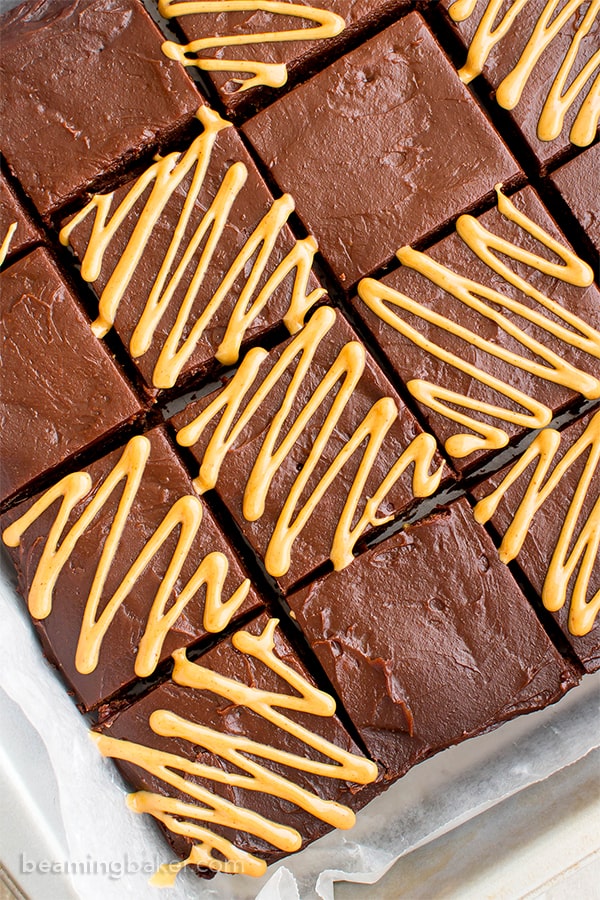 Anyway, back to what I was saying, by now, I've kind of got the whole treat thing down. Oh, alright, I've semi-got it down because people's tastes change every year. Can you imagine? What were they thinking, changing their taste preferences without notifying me in writing at least two months before Christmas? Pfft. 😉
But besides humoring and feeding folks, the one thing I've been trying to get us all to do is take a family portrait. With those goofily charming matching Christmas sweaters clearly tasteless people refer to as "ugly." J/k!! We all have good taste in our own way. Ahem. Anyway, one year, Erik and I even spent an entire weekend searching for matching sweaters, picking out everyone's sizes and everything.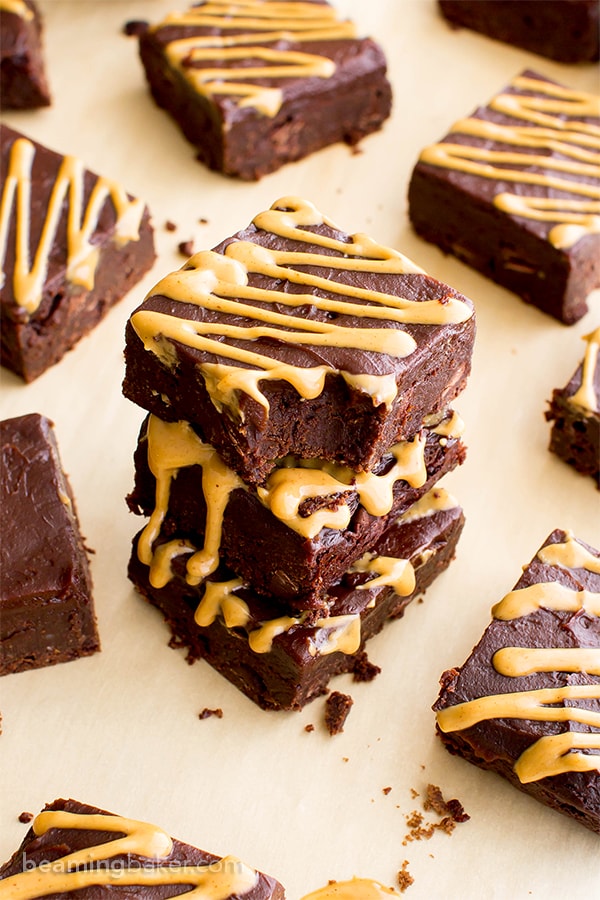 We even called a department store and booked an appointment for a family portrait session. We double-even purchased the very-necessary package that included our soon-to-be awesome portrait on cute glittery tumblers. Come on, now!!
We were SO excited to finally get this photo on the books. All schedules were coordinated to coincide with everyone being at the mall at the same time (what is up with my sisters needing to meet their "friends" while they're in town??? So selfish. .). It was actually about to happen.
Except it didn't. Who can even remember why at this point? Traffic on whatever freeway caused delays, a friend lunch thing ran over, my mom got lost shopping for purses… etc.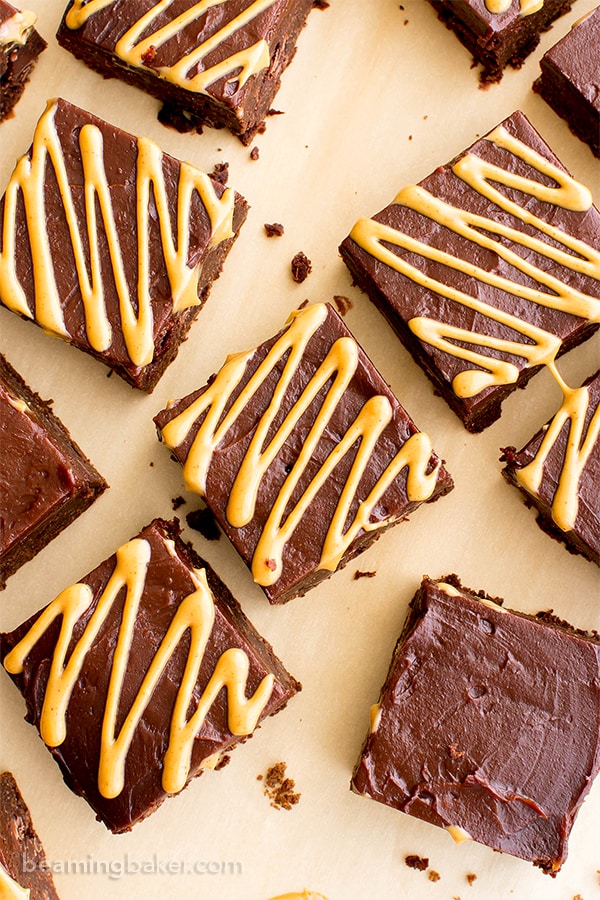 Anyway, I totally had it up to here. Clearly, you can see where I'm vigorously jutting my hand in the air. It's high. Like, slightly above my eyebrows, but not past my hairline. This is important because… who even knows why. It's HIGH. Okay?
But it didn't work out. So I took matters into my own hands. Well, Erik and I did. One of the only ways we knew how: Photoshop, baby! After some clever scanning of google's images search thingy, we found several charming photos of people who'd gotten their act together. They'd actually booked a family photo session and stuck to it. Can you imagine?
With our dear old friend Photoshop, we went to town. Would you like to see one of our very fine results? Here ya go: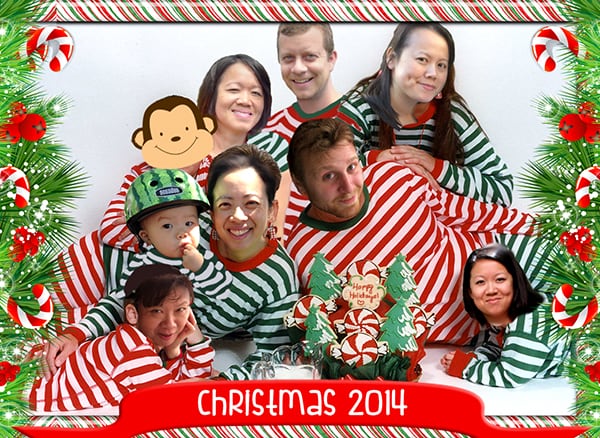 What do you think? Don't we all look so natural and just… REAL in this photo? Erik, Jenny and one-and-a-half-year-old PB are proudly gracing the center. I don't know why PB insisted on wearing his bike helmet to this very serious family portrait session. However, I will say that it matched wonderfully with our pj's.
See me on the far right bottom corner? For some reason, I'm just looking a bit tinier than Erik… Perhaps it was just an angling issue… On the far left bottom corner, my mom seems to be experiencing the same issue. Hmm… must've just been the lighting that day.
Now don't mind PB, Monica and Kevin's (top center) tops… there really isn't any reason why their shirts are oddly more squiggly than the rest. It's not like Erik and I had to hand draw them in. Or anything. There's my big sis Penny, lighting the entire portrait up like a Christmas tree with her awesome dimple. And um… don't mind the monkey above PB, uh… we simply had an opening in the portrait for a… cartoon. You know how those darn cartoons are always hanging out at department stores. 😉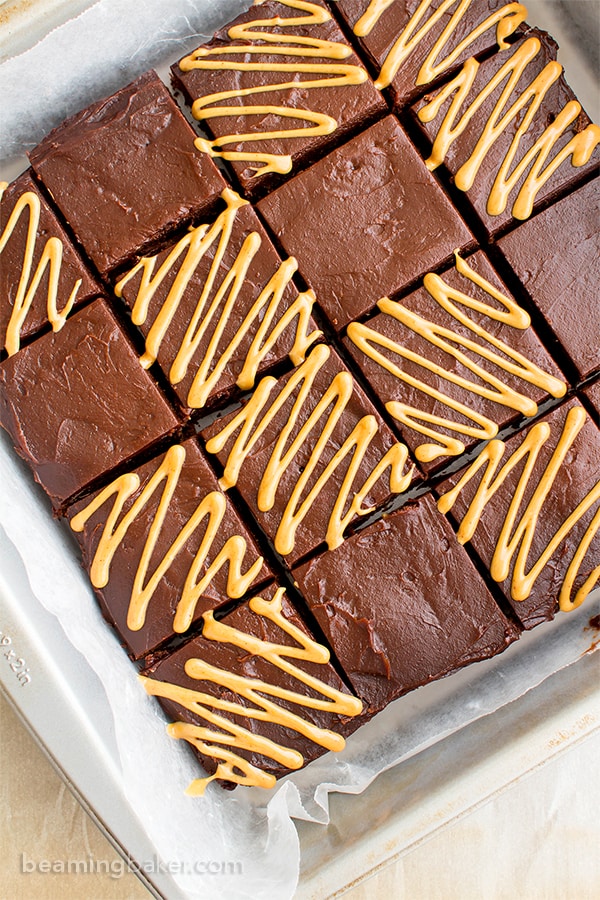 On Christmas Day, Erik and I handed out treat baskets, mini gifts, and most importantly, full-color, 8″ x 11″ prints of the most official family portraits we've ever taken. Seen above. 😉 We all had a good laugh over how stunningly attractive we all appeared… and Erik and I cooked up more ideas for years to come.
What kind of goofy lengths have you gone to to make something happen?
This year, Erik and I are skipping the 3-day long search of matching Xmas sweaters, and just sitting back to make a batch of these double chocolate frosted peanut butter brownies. We're also gonna go ice skating, hit up the mall with Grams, PB and Jenny. And hopefully, just maybe, we might swing by a certain department store for an impromptu family portrait session. 😉
And, we're obviously gonna be frosting All the Things with this chocolate peanut butter frosting. But just in case you're in the mood for a non-peanut-buttery frosting, you must try my talented friend Sharon from What the Fork's Vegan Chocolate Frosting. Just… look at it. .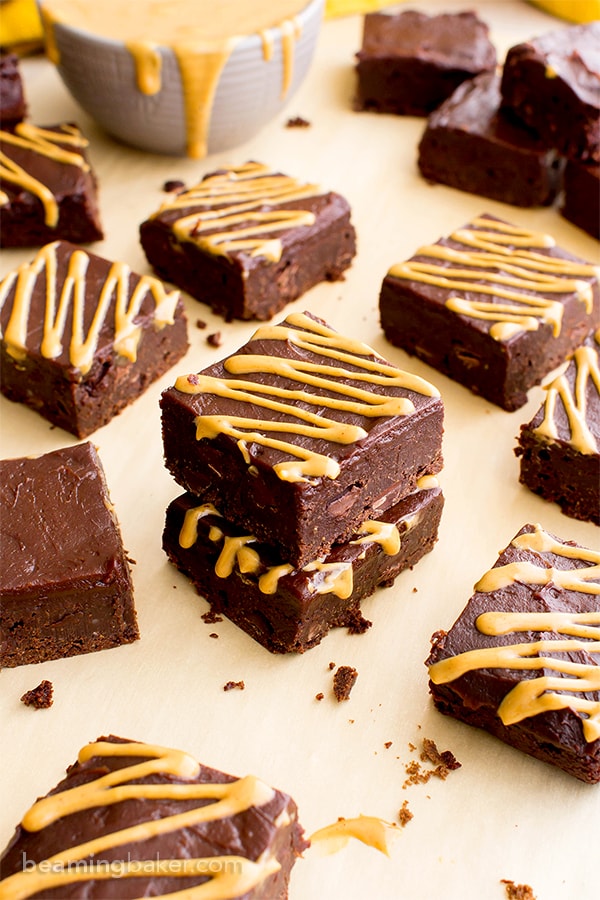 And while you're at it, why not indulge those chocolate cravings with these incredible low carb brownies with almond butter from Wholesome Yum! To veganize: swap the eggs for flax eggs.
While we finalize our last requests to Santa, allow me to tell you all about these double chocolate frosted peanut butter brownies. They're:
divinely rich and decadent
made especially for Chocolate Peanut Butter Lovers
vegan, gluten free, dairy-free, whole grain
so easy to make
thick, fudgy and simply put, Chocolate Heaven
slathered with a generous layer of chocolate peanut butter frosting
plant-based and allergy-friendly
one of my favorite recipes to date
perfect for holiday parties, gift giving and more
begging to be part of your dessert tonight
I hope you get everything you want this holiday season. Wishing you plenty of quality time filled with relaxation, bear hugs, corny jokes, cozy socks and cozier pajamas and fun! Thank you for spending the holidays getting ready with me. I can't wait to hear about how your holidays are going!
In the meantime, tell me:
What do you love to do most this time of year?
Sending you all my love and maybe even a dove, xo Demeter ❤️
☀︎ Click below to Pin ☀︎

☀︎ Did you make this recipe? Take a pic and share it on Instagram with the hashtag #beamingbaker and tag @beamingbaker. I would love to see it! ☀︎
Print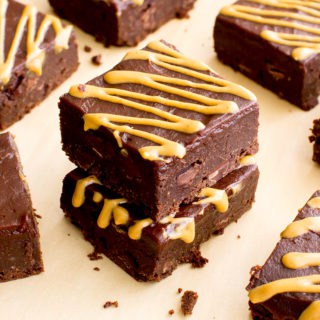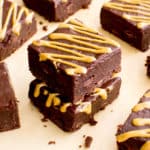 Double Chocolate Frosted Peanut Butter Brownies (Vegan, Gluten Free, Dairy-Free, Whole Grain)
---
Description
Double Chocolate Frosted Peanut Butter Brownies (V, GF, DF): an easy recipe for rich, fudgy peanut butter brownies slathered in chocolate PB frosting. Vegan, Gluten Free, Dairy-Free.
---
Gluten Free Vegan Brownies
¼ cup

natural, unsalted peanut butter*

½ cup

coconut sugar

1/3 cup

pure maple syrup

¼ cup

+

2 tablespoons

melted coconut oil

¾ cup

unsweetened cocoa powder

1 teaspoon

pure vanilla extract

¼ teaspoon

salt

2

flax eggs (

2 tablespoons

ground flax +

6 tablespoons

water, whisk together, set for 10 mins)

¼ cup

+

2 tablespoons

gluten free oat flour

½ cup

vegan chocolate chips
Chocolate PB Frosting
¼ cup

natural, unsalted peanut butter*

2 tablespoons

pure maple syrup

2 tablespoons

unsweetened cocoa powder

2 tablespoons

water
PB Drizzle
---
Instructions
Make the brownies: Preheat oven to 325°F. Line an 8-inch square baking pan with parchment paper or greased foil. Set aside.
In a medium bowl, whisk together peanut butter, coconut sugar, maple syrup and coconut oil. Whisk until it resembles caramel.
Add cocoa powder in ¼ cup increments, whisking until shiny and smooth. Scrape down the sides of the bowl as needed. Whisk in vanilla and salt. Add flax eggs, whisking until well incorporated. In thirds, whisk in the oat flour. As the batter gets harder to whisk, switch to folding with a rubber spatula.
Fold in chocolate chips. Pour batter into pan. Using a rubber spatula, smooth batter into an even layer.
Bake for 28-32 mins. Cool for about 2 hours. Once completely cool, it's time to make the frosting.
Make the frosting: In a medium bowl, whisk together all of the Chocolate PB Frosting ingredients: peanut butter, maple syrup, cocoa powder and water. Whisk until this mixture thickens and resembles frosting. Lift brownies out of the baking pan and set onto a baking sheet. Using a rubber spatula, pour and spread the frosting into an even layer. Freeze for 20-25 minutes to harden the frosting for easier slicing.
Drizzle the brownies: Remove from freezer and slice into 16 bars. Thoroughly stir your drippy, natural peanut butter and remove any clumps. Pour into a zip bag and cut off a tiny corner. Pipe peanut butter in a zigzag motion over one brownie. Repeat for all brownies. Enjoy! Storing notes below.
Category:

Brownies, Dessert, Vegan, Gluten Free, Dairy-Free, Whole Grain
© beamingbaker.com. All content and images are protected by copyright. Please do not use my images or recipe without my permission. If you wish to republish this recipe, please re-write the entire recipe using your own words and include a link to this post for the recipe.
☀︎ More Peanut Butter Love Recipes ☀︎
Peanut Butter Chocolate Truffles (5 Ingredients, Gluten Free, Vegan, Dairy-Free)
Peanut Butter Cups (Vegan, Gluten Free, Dairy-Free)
Peanut Butter Chocolate Chip Oatmeal Cookies (Vegan, Gluten Free, Dairy-Free, Whole Grain)
Peanut Butter Cup Brownies (Vegan, Gluten Free, Dairy-Free)
Facebook ☀︎ Pinterest  ☀︎ Twitter ☀︎ Instagram