Keto Berry Smoothie (Low Carb)
A creamy 'n dreamy fruit-filled keto berry smoothie that's easy to make and deliciously low carb!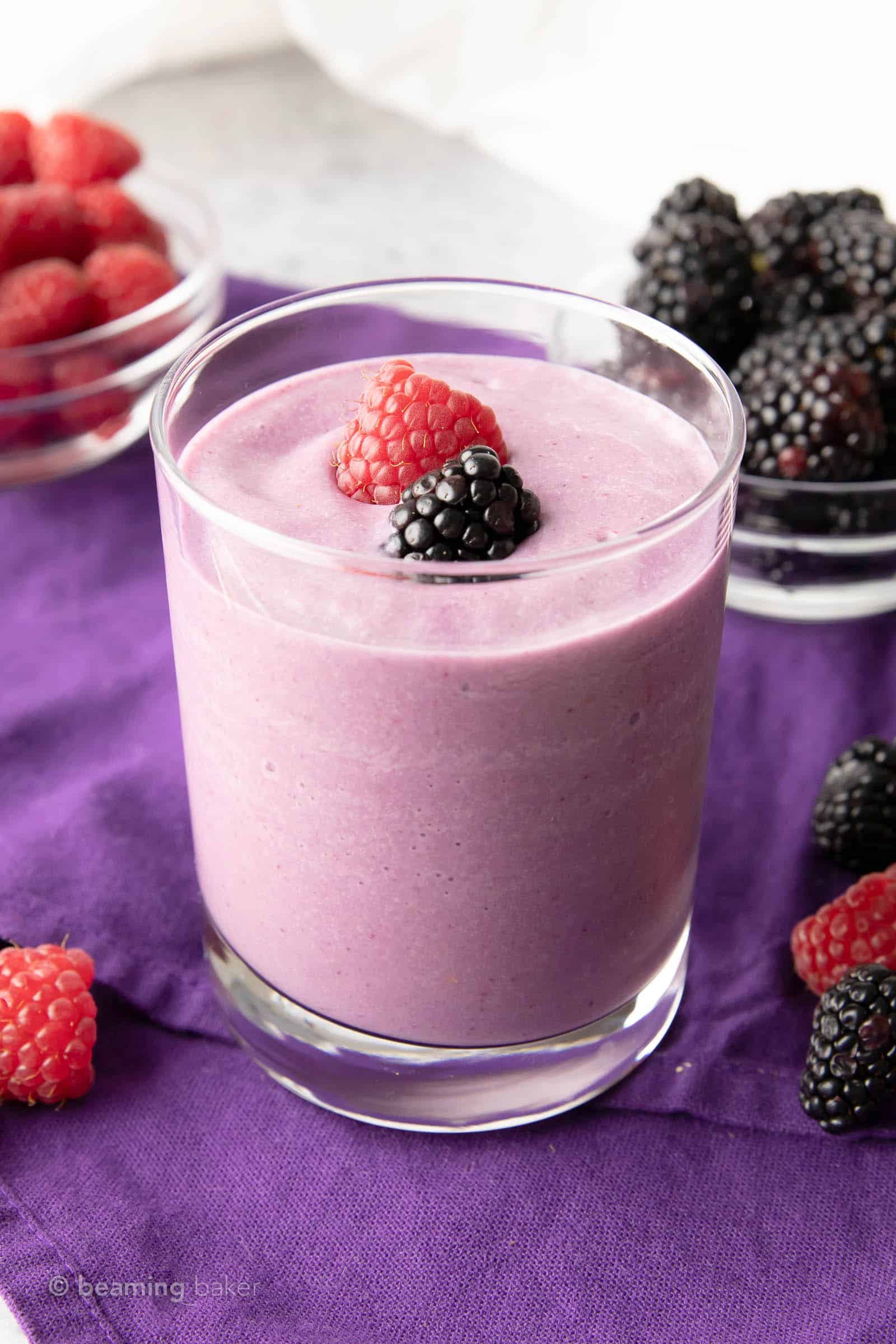 A Fruit-Filled Keto Berry Smoothie to Jazz Up Your Mornings
You can't have fruits on a keto diet! Yep, that's what they kept screaming at us… but guess what? You totally can! As long as you play it crafty, play it a touch lower than moderate, and you make sure everything nice and yummy, you can count on a few fruits in your keto diet. Try your hand at today's keto berry smoothie. It's so easy to make, refreshingly delicious, and oh-so satisfying. Let's get to it!
What You'll Need to Make a Low Carb Keto Berry Smoothie
A keto mixed berry smoothie… for real? Yes and yes! It might seem impossible to be able to eat any friggin' fruits while on keto, but I assure you, it can be done. Don't worry, I'll make these keto-friendly fruits count. The flavor in today's keto berry smoothie is sweet and fruit-filled, with creamy delicious at every corner. You won't miss out on the classic sweet smoothie flavor because it's all here, folks!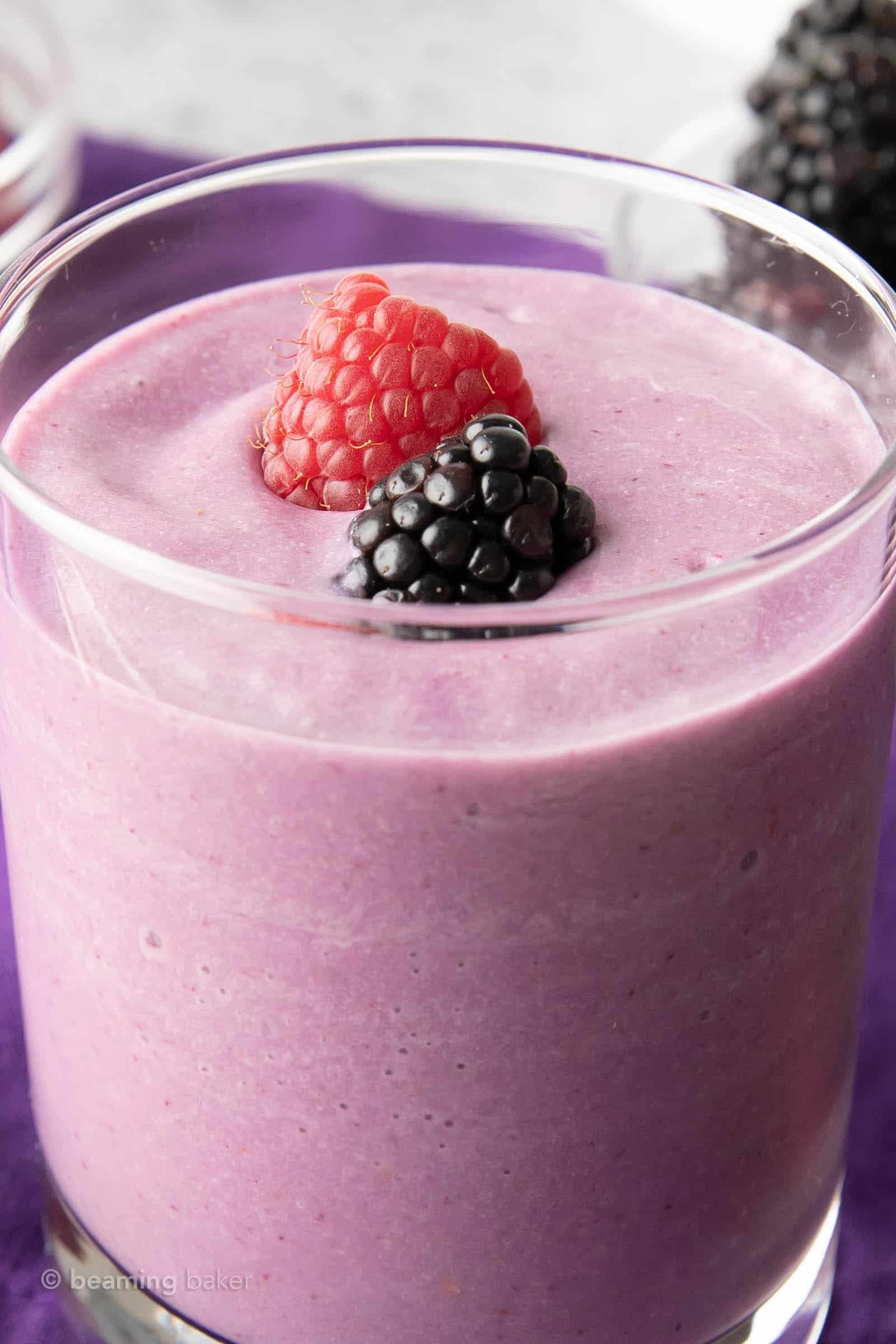 How to Make a Keto Berry Smoothie
All you have to do to make a keto berry smoothie is throw all the smoothie ingredients into a good high-speed blender. Then, blend the ingredients together until very well mixed and smooth. Watch out for any chunks of coconut cream or protein powder than remain. Then, pour into smoothie tumblers and enjoy! (And totally make a batch of these keto peanut butter balls to go with!)
Tips for a Great Keto Smoothie
Don't use sweetened almond milk. If you use a sweetened milk, you'll end up turning this low carb smoothie into a high carb one.
Use a quality high-speed blender. I was unconvinced about the need for a high-quality, more expensive blender until I finally got one (after making over 100s of smoothies in 10+ years). The moola is worth it. A quality high-speed blender will completely obliterate all tiny bits of fruits and other smoothie ingredients that can lead to chunky, gross smoothies. Bonus, with this blender, I find it much easier (and way less of an obligation) to make daily smoothies for Erik and me.
Pick your favorite mixed berries. But I recommend using raspberries and blackberries for the lowest net carbs at 1.4 net carbs per 1 ounces each. [1] Word to the wise: blackberries have a lotta seeds in them, so if that's not your thing, go ahead and make a raspberry keto smoothie. It's up to you!
Psst… you can also use strawberries. What's the next lowest carb fruit on the keto-friendly fruit totem pole? (Work with me here.) Strawberries! At just 1.7g net carbs per ounce, strawberries are another keto-friendly favorite fruit. If you're sick of eating raspberries and blackberries, go ahead and toss in strawberries instead.
Try vanilla almond milk. I love the taste and flavor of vanilla milk. I find that it enhances the sweetness of my smoothies. Try using your favorite one—just make sure it's unsweetened to keep this smoothie keto.
Select your favorite keto sweetener. I listed liquid stevia in this keto berry smoothie recipe, but you can absolutely use whatever keto sweetener is your favorite. As long as you know how much you like to use, and the potency (a few drops of stevia makes a big difference, while sometimes tablespoons of keto maple syrup do not), feel free to use your favorite. I like: monkfruit drops for highly-concentrated sweetness like liquid stevia, or this keto maple syrup or this keto maple syrup for less-concentrated sweetness… and this keto honey for a thicker and warmer sweetness to my keto smoothies.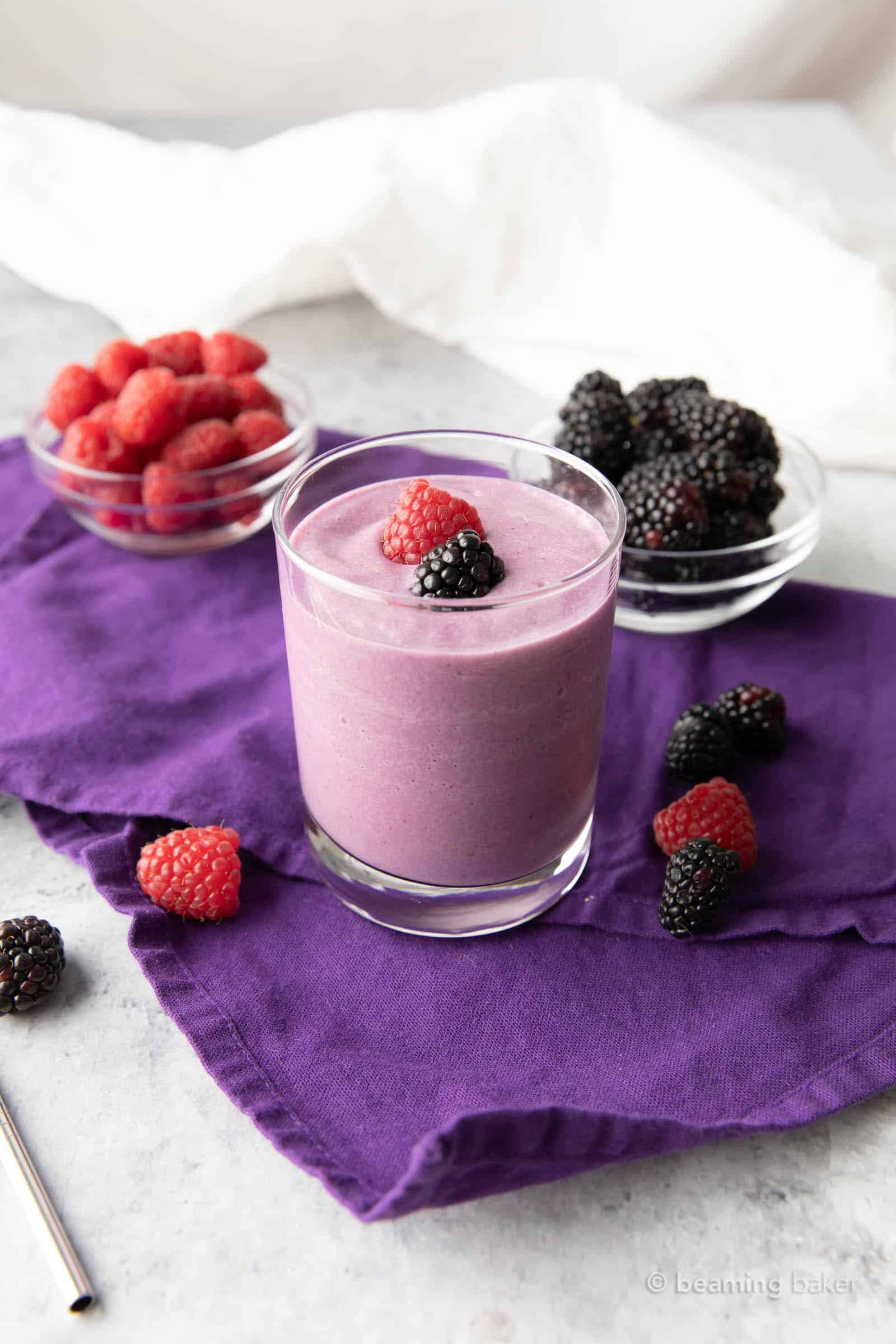 More Keto Recipes
Tools You Need
It's Nothin' But Smoothie Sailing From Here On Out
Come on… you love these puns as much as I do! Alright, I probably could've left that one out, but I couldn't resist. 🙂 I hope you enjoy blending up today's keto smoothie recipe. Let me know how you like it in the comments below, or by snapping a pic and sharing it on Instagram with the tag #beamingbaker and @beamingbaker. I can't wait to see it! 'Til our next smooth adventure…
Sending you all my love and maybe even a dove, xo Demeter ❤️
😋 📸 💜
📸 Did you make this keto mixed berry smoothie recipe? Take a pic and share it on Instagram with the hashtag #beamingbaker & tag @beamingbaker. I'd love to see it! 📸
Print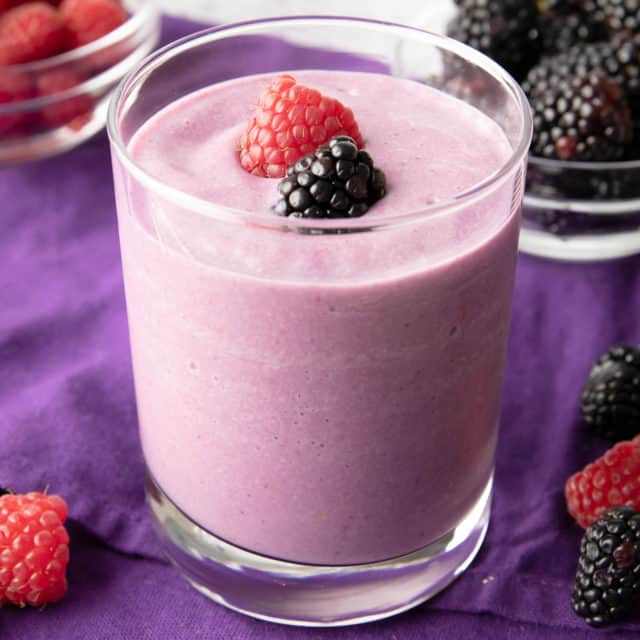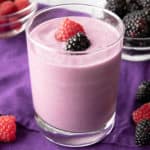 Keto Berry Smoothie (Low Carb)
---
Description
A creamy 'n dreamy fruit-filled keto berry smoothie that's easy to make and deliciously low carb!
---
Keto Berry Smoothie
1 cup

unsweetened vanilla almond milk

½ cup

frozen mixed berries (raspberries & blackberries)*

¼ cup

ice cubes

1/2

scoop vanilla vegan protein powder

1 tablespoon

MCT oil

3 tablespoons

coconut cream, melted & warm
Optional
3

–

8

drops liquid stevia (optional, but recommended) – more recommended keto sweeteners listed in post
---
Instructions
Add all ingredients into a blender: milk, ice cubes, vegan protein powder, MCT oil, vanilla, stevia and coconut cream. Here's the blender that I use.

To melt the coconut cream: measure & scoop into a small, microwave-safe bowl. Heat in 10-second increments until completely melted and warmed. If you skip this step, the coconut cream may become hardened coconut chips in the smoothie.

Close blender. Blend until smooth and no chunks remain. Optionally, top with keto-friendly berries.
Enjoy immediately!
Notes
The lowest net carb fruits are raspberries and blackberries, at 1.4g net carbs per ounce. The third lowest carb? Strawberries at 1.7g net carbs per ounce. If you're sick of raspberries and blackberries, go ahead and try strawberries in your smoothie instead.
Nutrition Info is an estimate, based on 2 servings from the full recipe.
Prep Time:

5 minutes

Category:

Breakfast, Drinks, Snacks

Method:

Blend

Cuisine:

American
Nutrition
Serving Size:

1/2 recipe

Calories:

164

Sugar:

1.4g

Sodium:

127mg

Fat:

13.6g

Carbohydrates:

6.3g, Net Carbs: 3.7g

Fiber:

2.6g

Protein:

3.8g

Cholesterol:

0mg
© beamingbaker.com. All content and images are protected by copyright. Please do not use my images or recipe without my permission. Please do not republish this recipe, instead, include a link to this post for the recipe.
Wanna help grow the Beaming Baker community? ☀️
You play such an important part in the livelihood of Beaming Baker–and just know that Erik and I truly appreciate it. 🧡 If you want to help grow the BB community, you can do the following:
📝 Leave a comment & rating. When you try a recipe, leave a comment and star rating to let us know how you liked the recipe. It truly helps all of our readers discover which recipe works best–and keeps us going in the right direction.
📸 Instagram. Made a recipe? Take a photo and share it on Instagram with the tag #beamingbaker and tag us at @beamingbaker. It makes our day to see how the recipe turned out for you!
👭 Tell a friend. You know when you love something, you can't help but tell others about it? If you love any of the recipes on Beaming Baker, tell a friend. 🙂 It truly helps to grow the BB community. ☀️
This post may contain affiliate links, which allow me to make a small commission for my referral, at no additional cost to you.