Healthy Lemon Poppy Seed Muffins Recipe (V, GF): wonderfully moist and fluffy muffins bursting with poppy seeds and lemon flavor. The perfect balance of sweet and tart! Vegan, Gluten-Free, Dairy-Free, Breakfast, Snacks.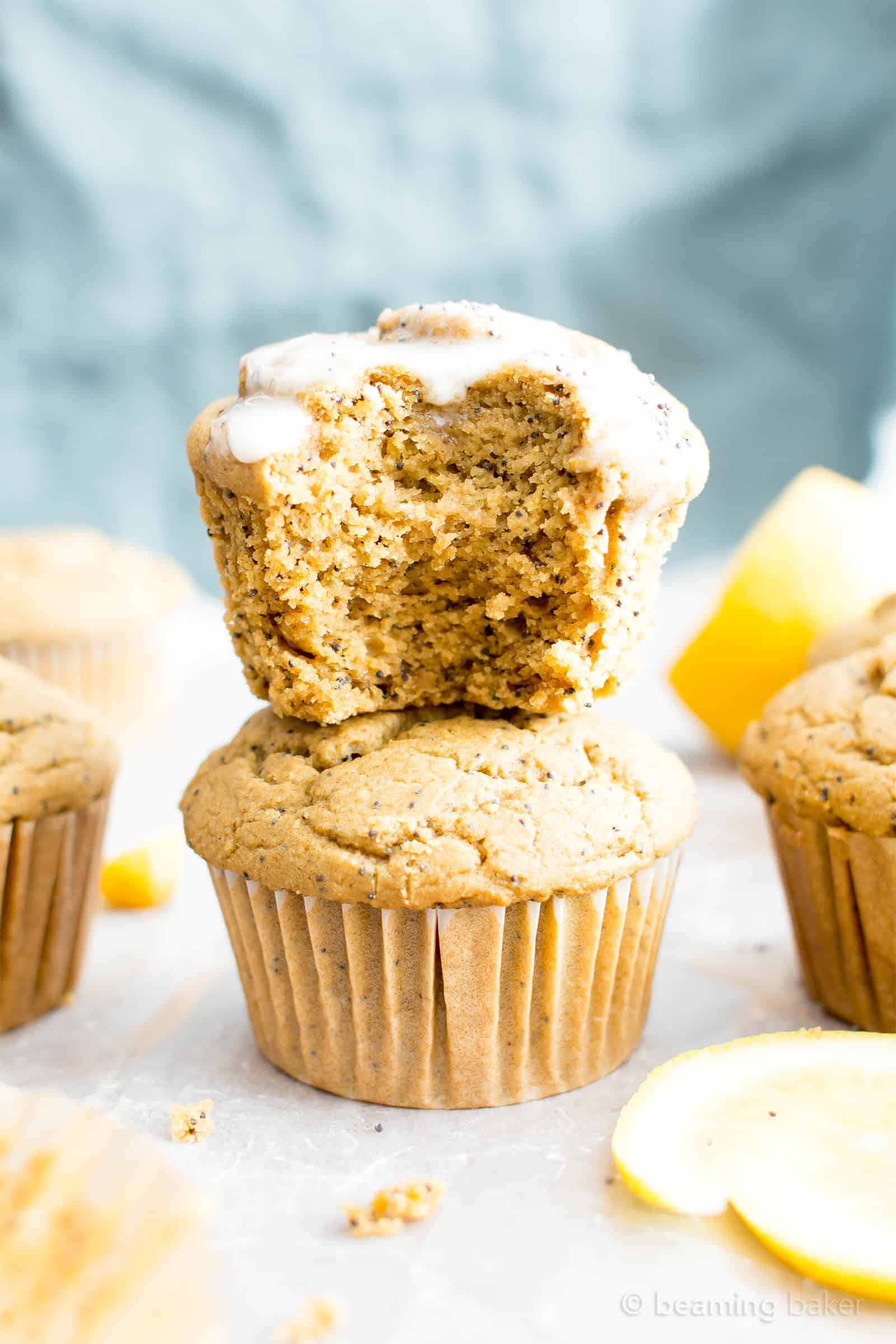 Good morning! It might not be morning in your part of the world right now, but I can basically promise that a good morning is in your future.
Nope, I didn't suddenly develop psychic powers (which would be equally cool and terrifying all at once), I just… FINALLY cracked my ultimate Healthy Lemon Poppy Seed Muffins recipe!! Yep, it's time for you to prepare for the best mornings EVER with these fresh-baked citrus delights. 🙂 Update: I recently shared an Easy Vegan Lemon Almond Poppy Seed Bread Recipe that you'll love!
For a long, long time, my strongest baking points have relied on the Beaming Baker Basics: peanut butter, oats, chocolate and coconut. You love them, I love them, but what about, ya know… all the other stuff.
Aka: the FRUIT.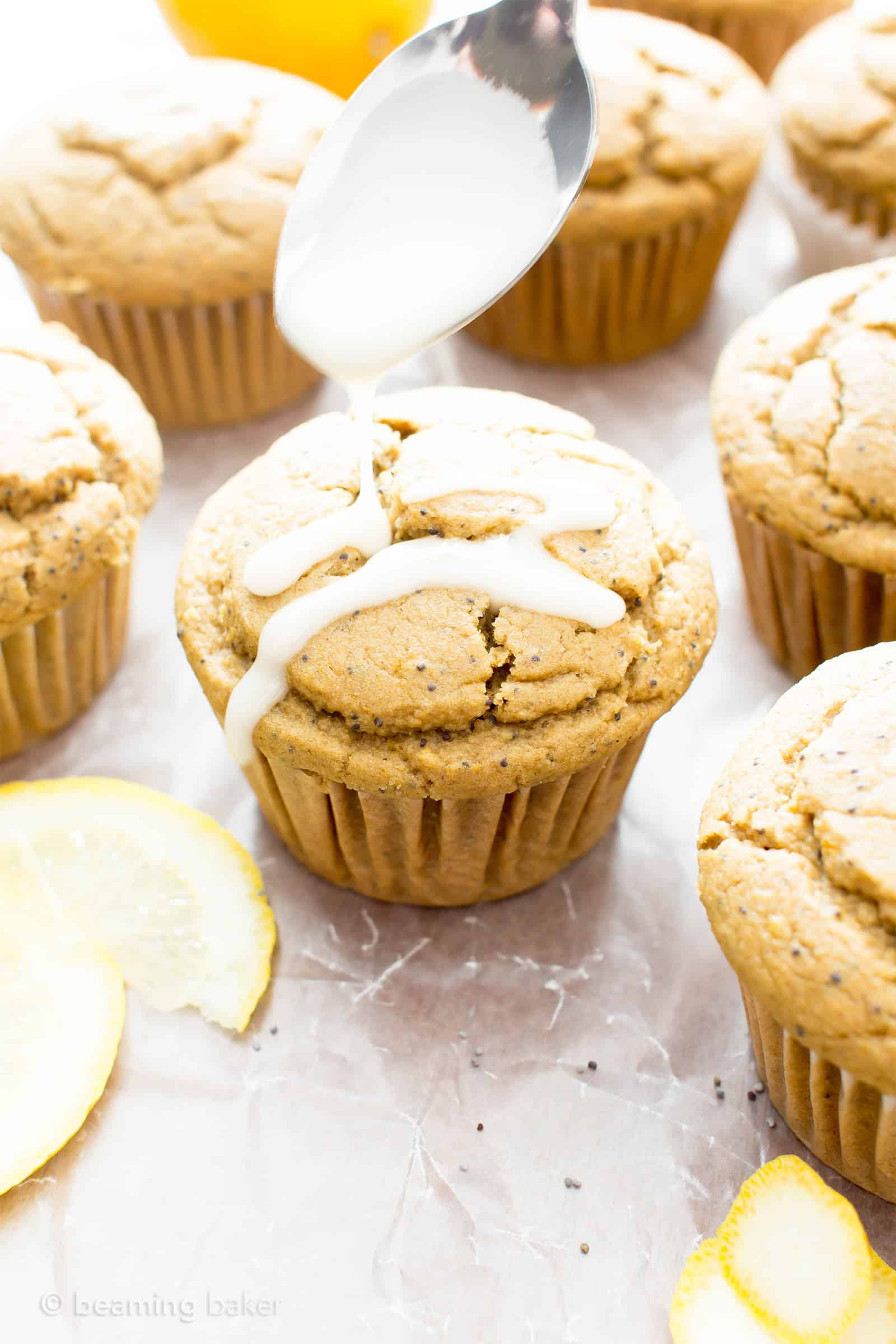 Aka, more specifically: LEMONS.
There's nary a trace of lemons on the blog and that's been fine for me. Ish. So many of you have been requesting lemon recipes, and I thought since the summer is approaching… and Spring finally for realsies is here, that it was finally time to share a lemon recipe.
Make that moist, soft, and the perfect balance between fluffy and dense healthy lemon poppy seed muffins. Guys, biting into these muffins are like biting into a basket of sunshine. Which sounds pretty bizarre and a tad risky with unexpected consequences, but you know what I mean!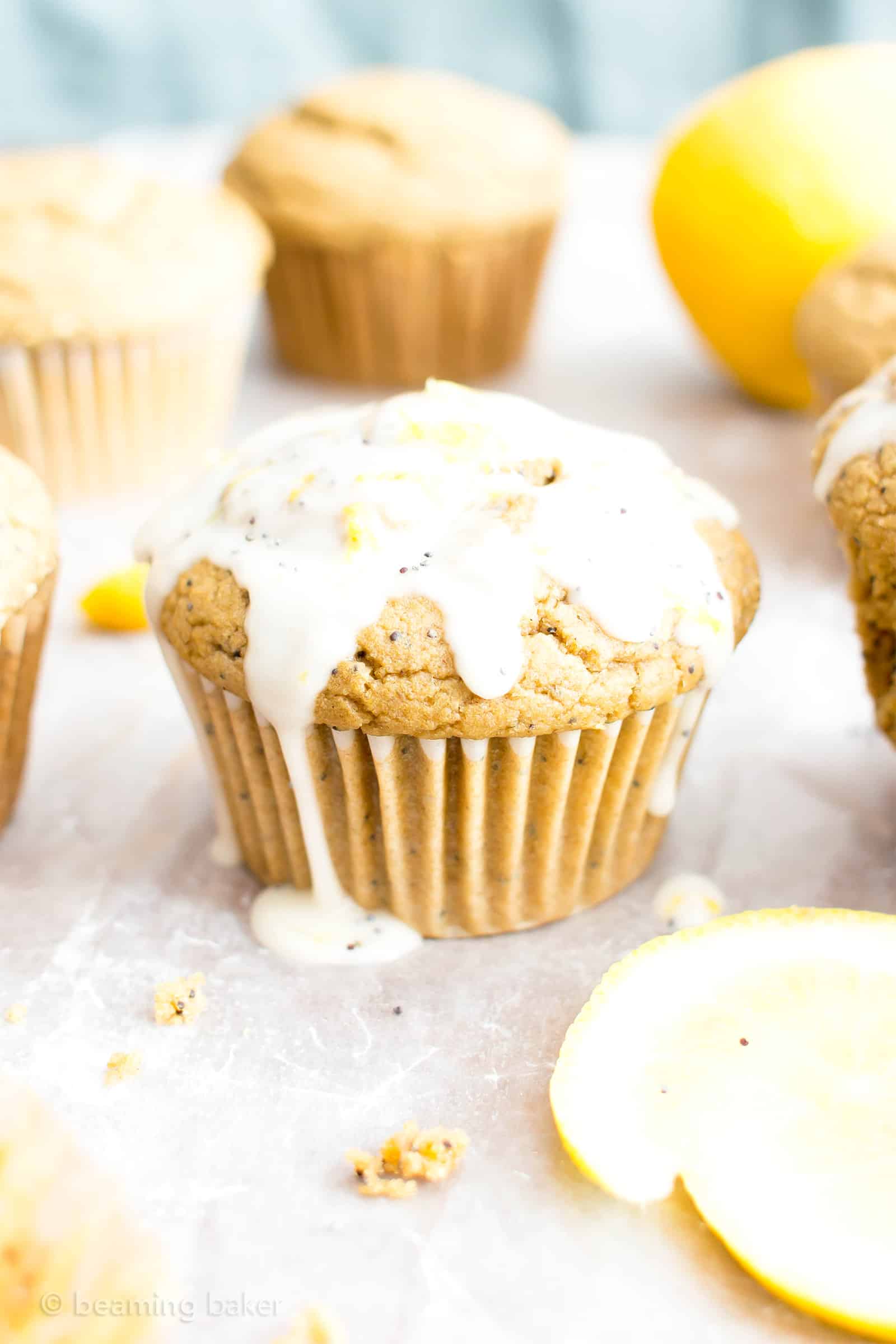 I've been working on a basic muffin batter for awhile now… and cataloging, learning and taste testing everything I could find: from store-bought muffins to these muffin recipes:
As you can see from that list, I really, truly had a hard time leaving chocolate out of this recipe… but where would chocolate go into a Healthy Lemon Poppy Seed Muffins Recipe anyway? (Don't worry, I'll still put some on a tiny chocolate-designated only plate on the side).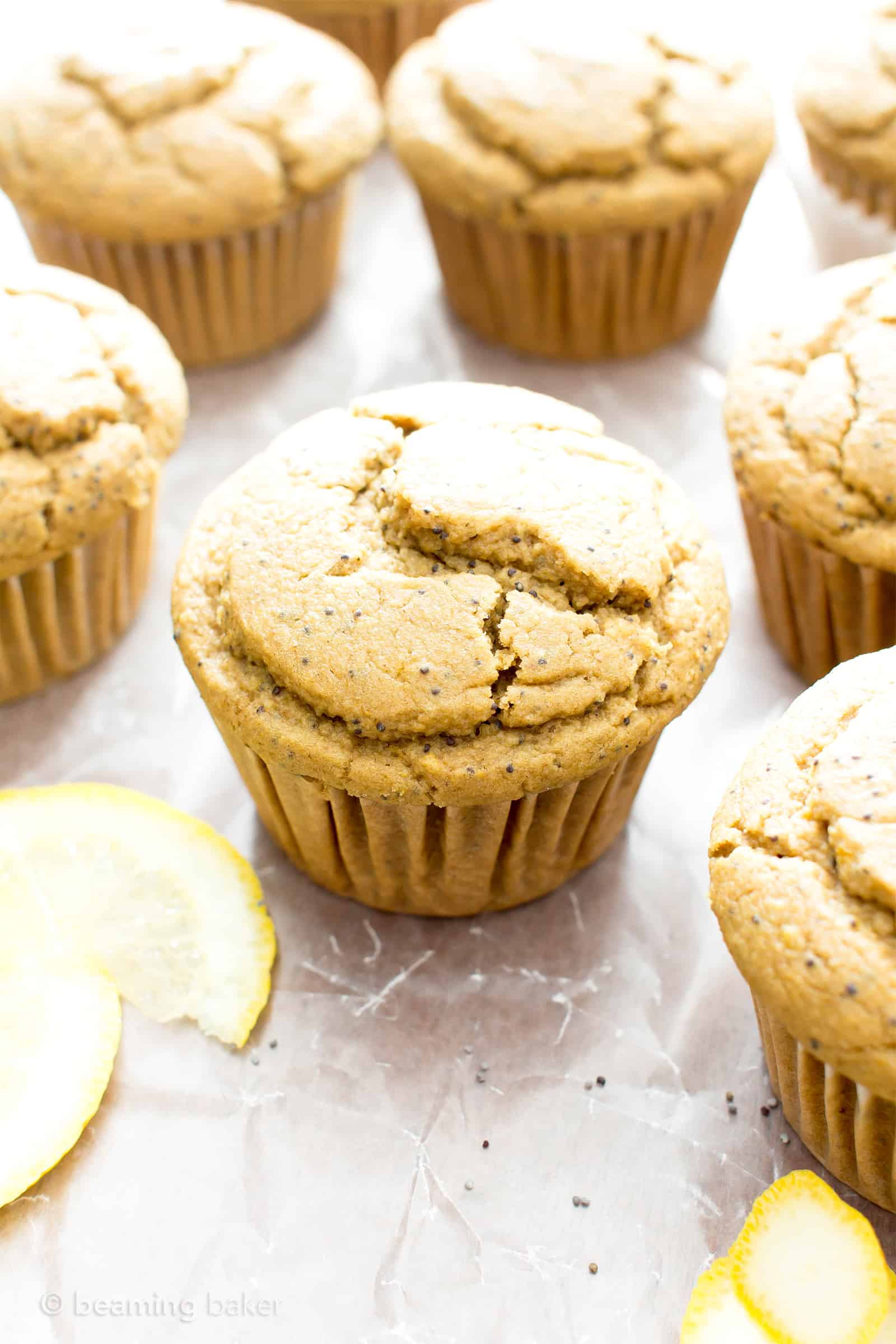 Anyway, the best parts of those muffins all got put into here, minus the pumpkin, banana, cocoa, blueberry… dang it. Alright, a lot of those parts where left out, but the basic reader-approved muffin batter elements remained.
These healthy lemon poppy seed muffins are just the right amount of moist. You know what I mean—not too moist that they seem unbaked (which is ONLY cool when it comes to ultimate fudgy paleo vegan brownies and gluten free vegan brownies); and not too dry that they're, well… dry.
They're just the right amount of fluffy—not too cake-like and not too dense–like what Erik and I joke as being the "artisanal bread" texture (i.e. hard as a freaking rock). Did I spell artisanal right??
Best of all, they're bursting with just the right amount of lemon. Lemon juice is mixed right into the wet ingredients and lemon zest makes a snazzy appearance in the batter.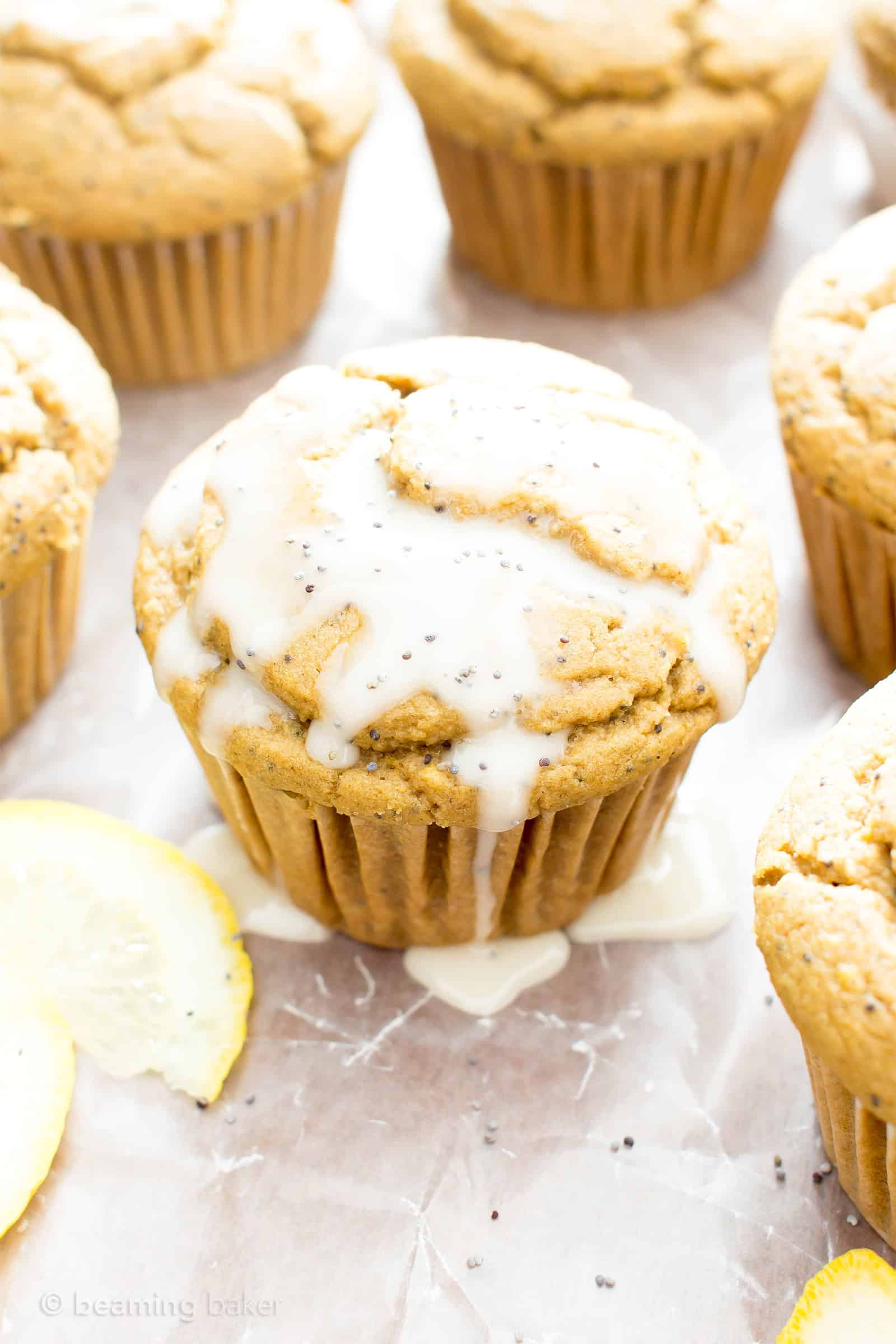 Long story short, which I know we totally passed ages ago, you've got to try these! My mom thinks they taste like donuts and my sister Jenny didn't stop long enough while eating two of them, one after another, to tell me anything negative. Woohoo!!! 😉 If you're not convinced yet, let me tell you all about these Healthy Lemon Poppy Seed Muffins. They're:
made in just two bowls
(okay, unless you use another for the glaze)
vegan, gluten-free, dairy-free
delightfully moist, and wonderfully fluffy
sooooooo goshdarn pretty with perfectly round, domed tops
just the vegan lemon poppy seed muffin you've been looking for
made with the healthy, whole ingredients you know and love
seriously taste like a bite of sunshine! (Alright, who even knows what that's supposed to taste like)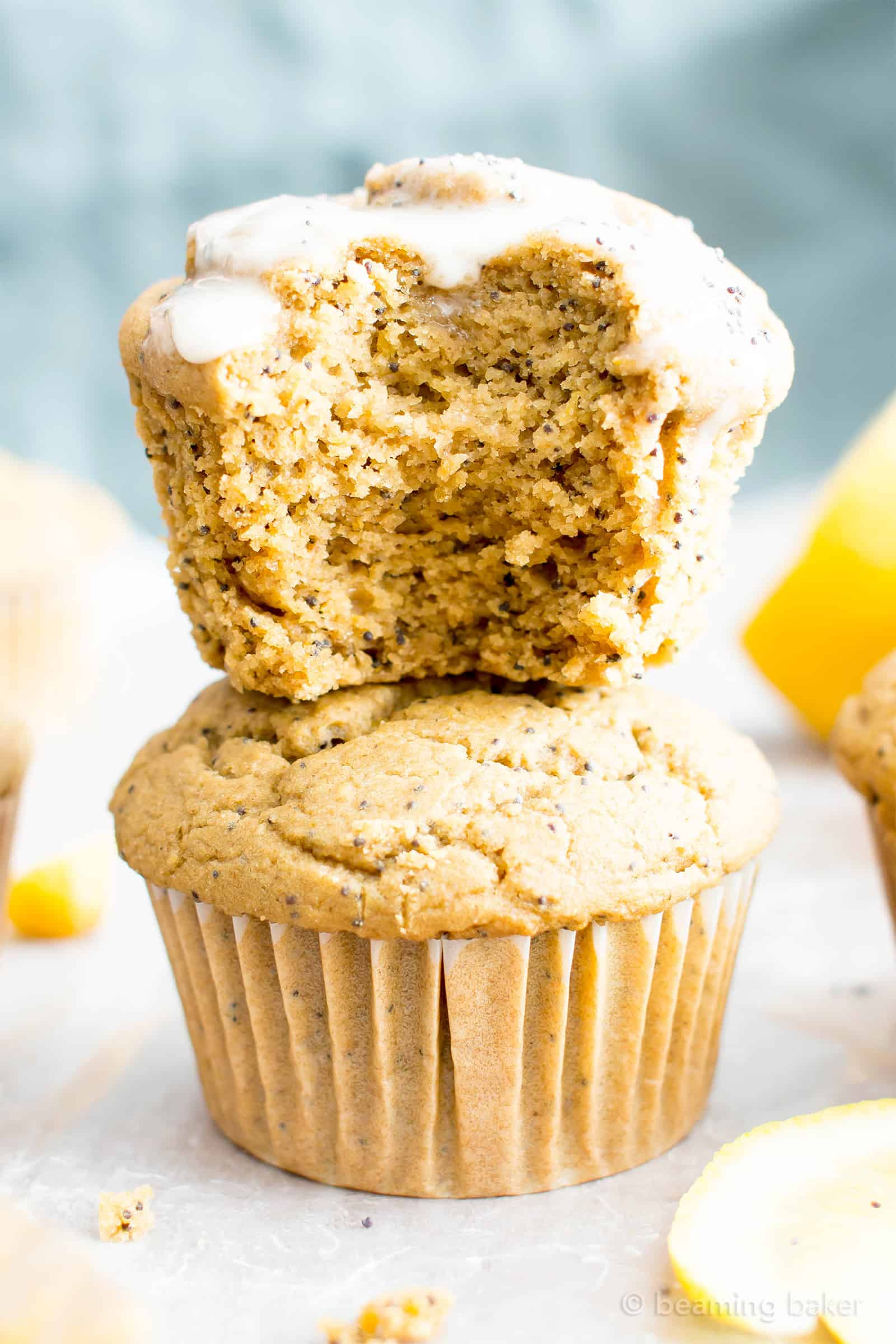 Grab your shiniest, peppiest lemons and meet me in the kitchen! I'm so excited to hear what you think of these muffins! As always, it's so wonderful experiencing these kitchen adventures with you. I truly appreciate your feedback, photos on IG and emails.
Sending you all my love and maybe even a dove, xo Demeter ❤
Click below to Pin

Did you make this recipe? Take a pic and share it on Instagram with the hashtag #beamingbaker and tag @beamingbaker. I would love to see it!
More Healthy Breakfast Recipes (Gluten Free, Dairy-Free, Vegan)
Healthy Lemon Poppy Seed Muffins Recipe (Vegan, Gluten Free, Dairy-Free)
Healthy Lemon Poppy Seed Muffins Recipe (V, GF): wonderfully moist and fluffy muffins bursting with poppy seeds and lemon flavor. The perfect balance of sweet and tart! Vegan, Gluten-Free, Dairy-Free.
Author:
Demeter | Beaming Baker
Recipe type:
Breakfast, Muffins, Vegan, Gluten-Free, Dairy-Free, Whole Grain
Ingredients
Dry Ingredients
2 ¼ cups gluten free oat flour
½ cup finely ground, blanched almond flour
1 teaspoon baking soda
½ teaspoon baking powder
¼ teaspoon salt
1 ½ tablespoons poppy seeds
Wet Ingredients
½ cup + 2 tablespoons water
½ cup non-dairy milk
2 tablespoons lemon juice
zest of 1 lemon (2 tablespoons)
3 tablespoons melted coconut oil
¼ cup coconut sugar
¼ cup pure maple syrup
½ teaspoon vanilla extract
Optional Glaze
Instructions
Preheat the oven to 350°F. Line a 12-cup muffin pan with cupcake liners. Set aside.
In a large bowl, sift together all the dry ingredients except salt and poppy seeds: oat flour, almond flour, baking soda, and baking powder. Whisk in salt and poppy seeds.
Add water and milk to a microwave-safe bowl. Heat in 10-second increments until just warm. This will prevent the melted coconut oil from solidifying once mixed with these liquids.
In a medium bowl, whisk together all wet ingredients: water, milk, lemon juice, lemon zest, oil, sugar, maple syrup and vanilla. Whisk until well incorporated.
Add wet ingredients to dry ingredients. Whisk until just incorporated, making sure no flour patches remain.
Pour batter evenly into prepared muffin pan—filling each cup all the way to the top for big, round tops, and ¾ of the way for a larger quantity of smaller muffins. Bake for 16-22 minutes. Mine took 20 minutes. Insert a toothpick to check for doneness—once it comes out clean, it's done.
Place muffin pan on a cooling rack to cool for 20 minutes. Remove muffins from muffin pan and transfer to a cooling rack to cool completely, about 1-3 hours. Optionally, in a small bowl, whisk together Glaze ingredients until thickened: confectioners' sugar and lemon juice. Drizzle muffins. Enjoy! Storing instructions below.
Notes
- *Powdered sugar substitutes:
Swerve
is a good sugar-free, low carb substitute. You can also grind the sweetener of your choice, such as Xylitol, in a coffee grinder or small blender until you get a powder. Since Swerve is a bit drier, use about 2 ½ teaspoons lemon juice to make the glaze.
- *You can also add more powdered sugar if you'd like a thicker glaze.
- Storage notes: Store in an airtight container for up to 1 week in the refrigerator, or in a cool, dark environment. Glaze when ready to eat, or day of.
- To Freeze: store in an airtight container or bag, unglazed, in the freezer for up to 1-2 months. Allow to thaw for about 30 minutes at room temperature before enjoying. Or, heat in the microwave in 15 second increments until just warm.
- More Gluten Free Vegan Muffins (all V, GF):
double chocolate banana muffins
,
banana blueberry muffins
,
chocolate cranberry almond muffins
.
© beamingbaker.com. All content and images are protected by copyright. Please do not use my images or recipe without my permission. Please do not republish this recipe, instead, include a link to this post for the recipe.
Facebook ☀︎ Pinterest  ☀︎ Twitter ☀︎ Instagram