4 Ingredient No Bake Coconut Macaroons (Gluten Free, Vegan, Paleo, Dairy-Free)
4 Ingredient No Bake Coconut Macaroons (V, GF): a one bowl recipe for perfectly sweet no bake macaroons bursting with coconut flavor. Paleo, Vegan, Gluten-Free, Dairy-Free.
Ahh… Mondays. Don't they call for something sweet? Don't they basically NEED something sweet? Ya know, to soften the blow of it being Monday.
And if that sweet something is super, ridiculously easy to make and comes together in just a few minutes?
EVEN BETTER.
You can even skip the baking involved in my 4 Ingredient Paleo Coconut Macaroons Recipe. 'Cuz sometimes, ain't nobody got time for baking (esp on Mondays).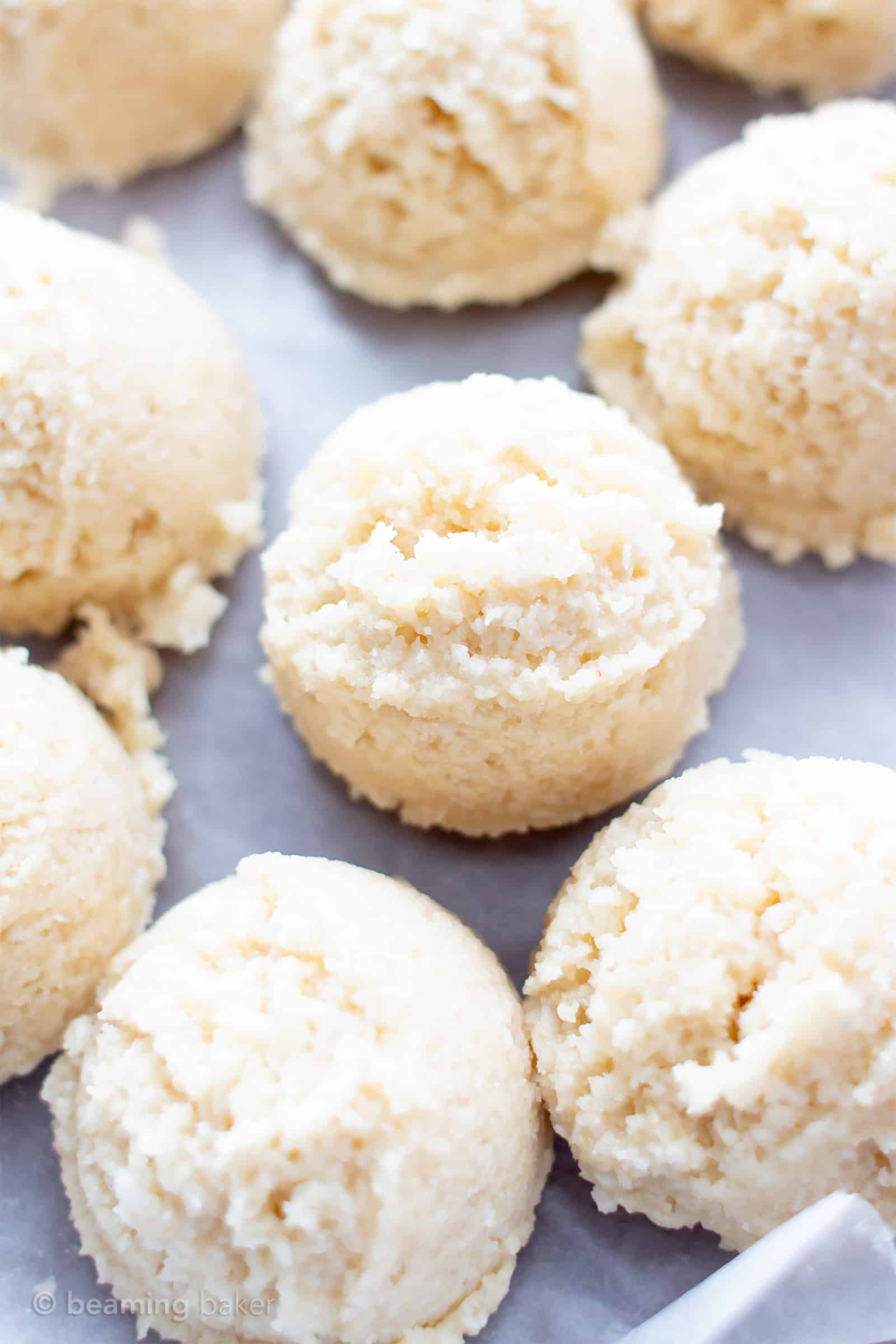 So gather 'round, all of my fellow No Bake Lovers'. I have something truly special for you: 4 Ingredient No Bake Coconut Macaroons.
Yep, I said it. No Bake. Coconut Macaroons. Woot woot! They're just the perfect way to kick of a sweet week, full of easy wins. (Here's hoping!) My mom, the official Coconut Expert on the Beaming Baker team, has already deemed these4 ingredient no bake coconut macaroons sooooo good, so wonderfully cool and satisfying, and just perfect for the summer.
And if mama likes them, then they're friggin GOLD. (Man… I don't know what it is about Mondays that has me shouting…) .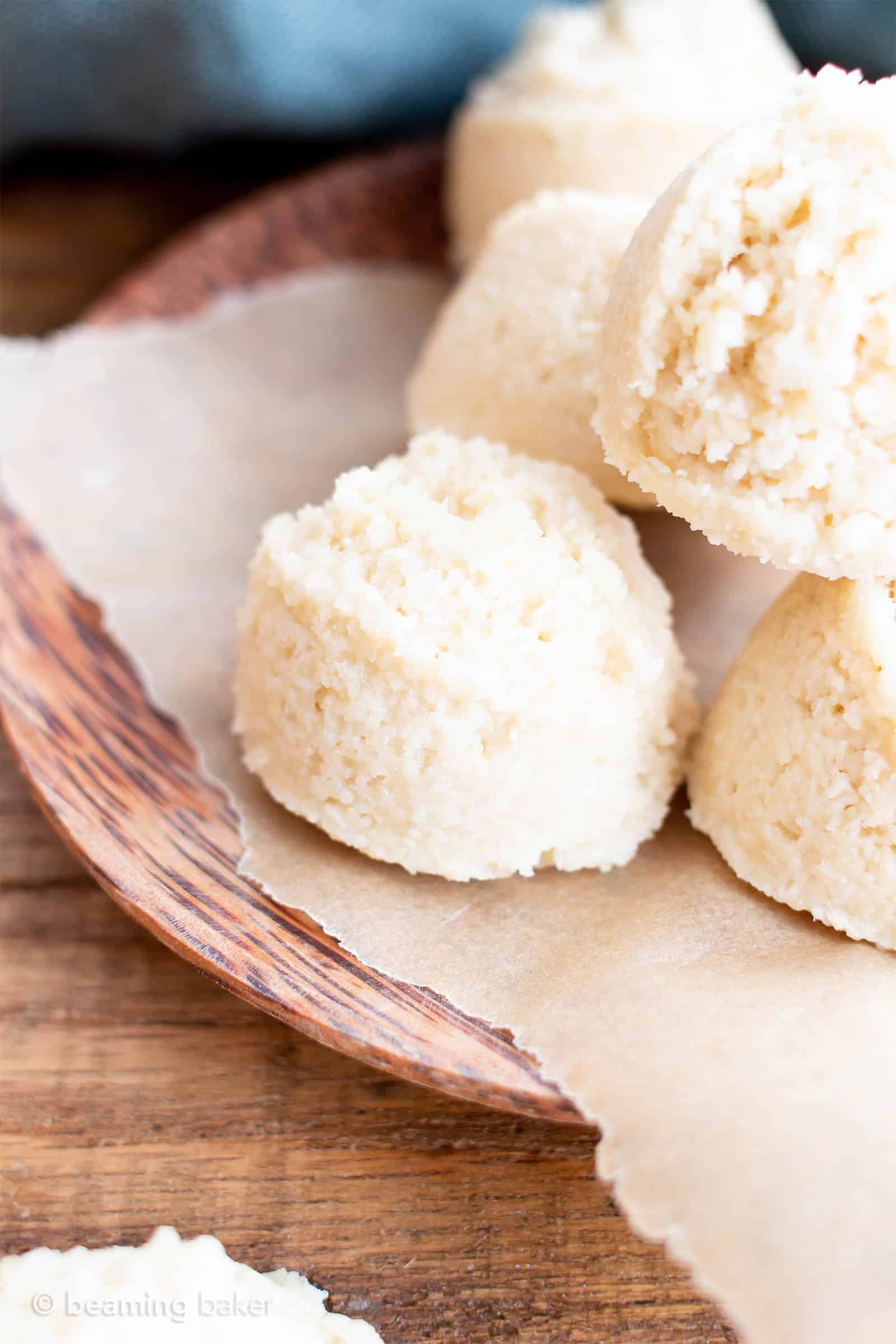 These coconut macaroons are made with just four ingredients, including: coconut, coconut oil, maple syrup and almond flour. The almond flour is really the trick to keeping these babies together. We've kicked out all the junk involved in traditional coconut macaroons and replaced them with only the good stuff. So…
no condensed milk
no egg whites
no powdered sugar
no dairy
no guilt
no baking!!!!
Just add everything to a food processor, blend, blend a bit more, scrape the processor down, blend a tad more, then scoop and drop onto a prepared baking sheet/plate and chill. Before you ask, here's the food processor that I use. 😉 Lots of folks have been asking on Instagram, but it's kinda hard to do the whole link thing there… bugger!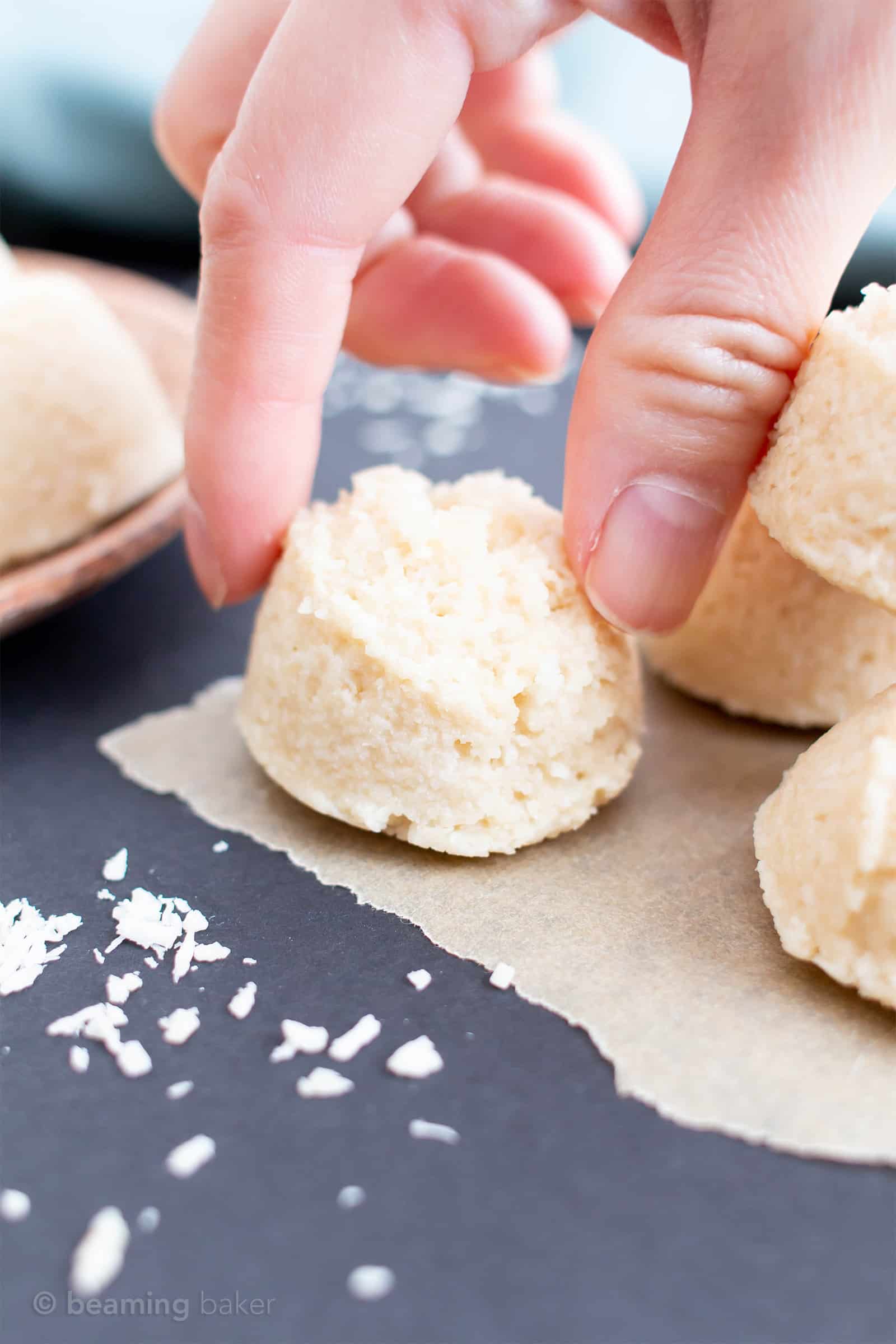 That's all, folks. And that's what I call a Monday WIN.
They're BURSTING with coconut flavor, the perfect balance between soft and dense and so incredible when chilled (think: ice cream bon bons, but minus the ice cream… okay, forget I said that!! Hehe).
In case you're hankering for more, more, MORE coconut, try these coconut recipes on for size (of course, totally approved by the Beaming Baker Coconut Expert aka my mama):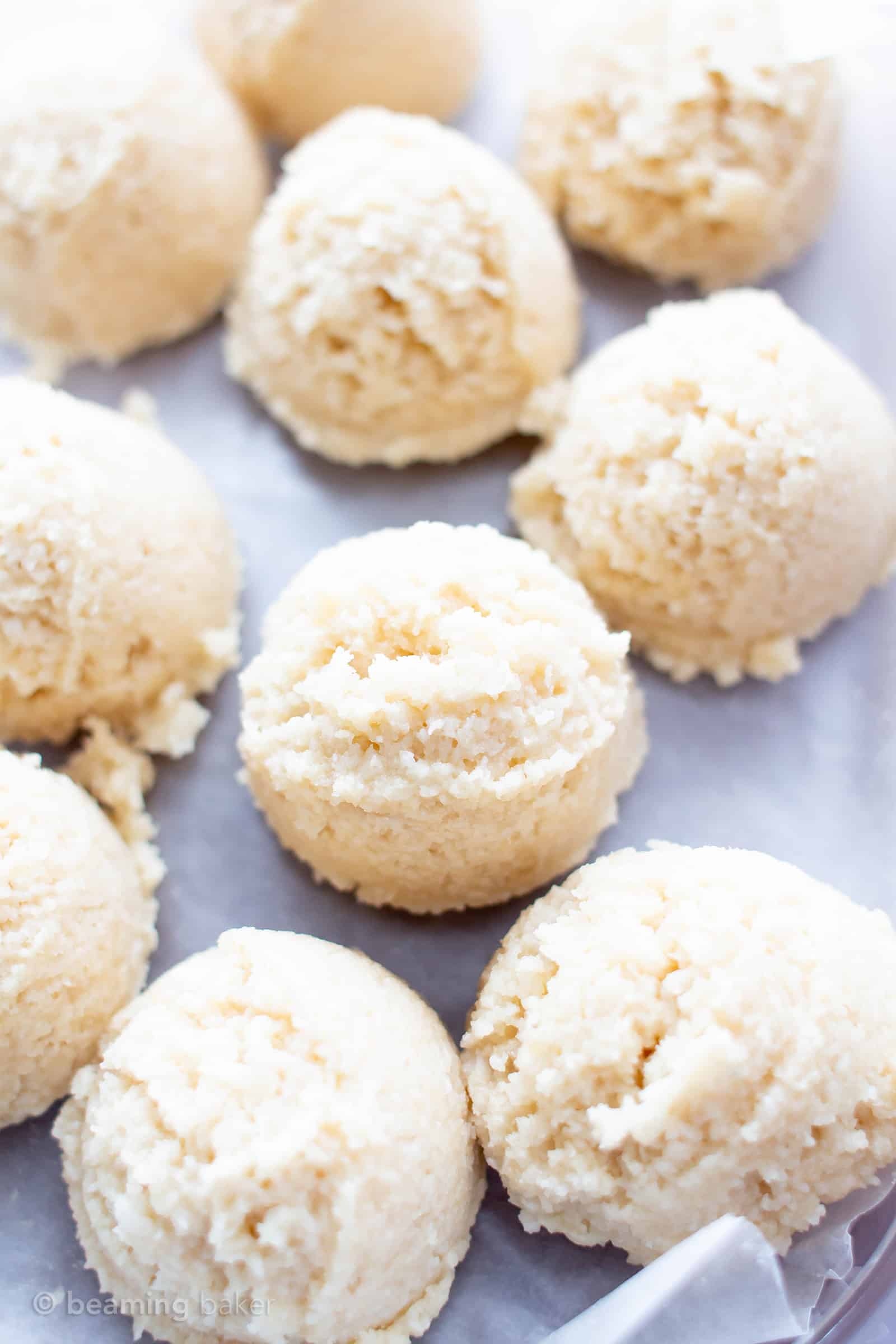 In case I don't have you convinced (and that coconut recipe list truly didn't get you craving ALL the coconut), allow me to show you with all the tasty bulletpoints of these 4 Ingredient No Bake Coconut Macaroons. They're:
made with just four ingredients
come together in just 5-10 minutes, depending on fast of a scooper you are!
FULL of COCONUT flavor… they'll seriously ruin you for those regular macaroons!
just about the easiest healthy coconut macaroons recipe you've ever encountered
paleo, vegan, dairy-free, gluten-free, egg-less
deliciously refined sugar-free
and obviously the tastiest no bake coconut macaroons cookies recipe you've tried
just the right amount of sweet
perfectly balanced between dense and soft
just the vegan coconut dessert you've been looking for
So whaddya waiting for? My mom to come over and guilt you into trying these? 😉 J/K! She'd probably trick you into making them, then "generously" offer to take them off your hands. I'll grab the coconut, you grab the cookie scoop. Let's no bake this! It's such a joy to bake and share in these wonderful kitchen adventures with you. I seriously can't wait to hear what you think.
In the meantime, make sure to sign up for my free email list so you don't miss a recipe!
. Sign up for the Beaming Baker Email List Here .
Sending you all my love and maybe even a dove, xo Demeter ❤
.︎ Click below to Pin .︎

. Did you make this recipe? Take a pic and share it on Instagram with the hashtag #beamingbaker and tag @beamingbaker. I would love to see it! .︎
If you enjoyed these sweet tooth satisfying 4 Ingredient No Bake Coconut Macaroons, then you'll just love these delicious healthy recipes:
More Paleo Vegan Dessert Recipes
Print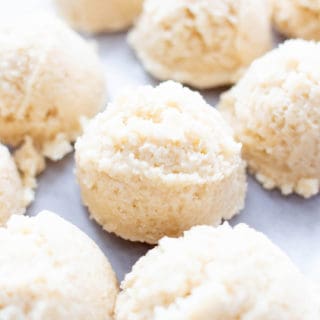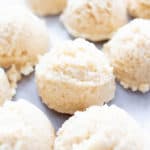 4 Ingredient No Bake Coconut Macaroons (Gluten Free, Vegan, Paleo, Dairy-Free)
---
Description
4 Ingredient No Bake Coconut Macaroons (V, GF): a one bowl recipe for perfectly sweet no bake macaroons bursting with coconut flavor. Paleo, Vegan, Gluten-Free, Dairy-Free.
---
1 ¼ cups

small, unsweetened coconut, shreds or flakes (I used Anthony's gluten-free small coconut flakes)*

¼ cup

finely ground, blanched almond flour

3 tablespoons

coconut oil, solid or melted

¼ cup

pure maple syrup
---
Instructions
Line a baking sheet with parchment paper or wax paper. Set aside for later.
Add all ingredients (coconut, almond flour, oil and maple syrup) to a food processor. Small coconut flakes are preferable, since large flakes will result in moister and softer macaroons. Here are the gluten-free small coconut flakes that I use.
Blend until you get a wet and sticky mixture, with smaller, but still noticeable coconut pieces. If any maple syrup remains at the bottom of the processor, fold into dough until well mixed.
Using a cookie scoop, scoop firmly packed balls of coconut mixture. Here are the 1-tablespoon cookie scoop and 2-tablespoon cookie scoop I use. Drop onto the prepared baking sheet, making sure to space balls evenly apart.
Place baking sheet into the freezer for 10-15 minutes, or until cookies are firm. Enjoy! Storing instructions below.
Notes
– *Small coconut flakes are best for this recipe, but large coconut flakes will work too. With the large coconut flakes, the macaroons will be more moist and soften quicker at room temperature. Keep them in the refrigerator.
– Storing instructions: the first day, macaroons are best kept in the refrigerator. After that, macaroons are fine to store at room temperature (if you used small coconut flakes). Always store in an airtight container, in a cool, dark environment.
– If freezing, store in an airtight, freezer-friendly container for up to 1-2 months. Allow to thaw for 10-15 minutes before enjoying.
– More Paleo Vegan Recipes: no bake paleo brownies, mounds cups, chocolate coconut candy clusters.
Category:

Dessert, Cookies, No Bake, Vegan, Paleo, Gluten-Free, Dairy-Free
© beamingbaker.com. All content and images are protected by copyright. Please do not use my images or recipe without my permission. Please do not republish this recipe, instead, include a link to this post for the recipe.
SHOP THE RECIPE
Here are a few items I used in today's recipe. 🙂
Blender | Gluten Free Unsweetened Coconut | Silicone Spatulas | Food Processor | 1-Tablespoon Cookie Scoop | Maple Syrup | Blanched Almond Flour | Cookie Sheet | Unbleached Parchment Paper | 2-Tablespoon Cookie Scoop
This post may contain affiliate links, which allow me to make a small commission for my referral, at no additional cost to you.
Facebook ☀︎ Pinterest  ☀︎ Twitter ☀︎ Instagram